You are not logged in. Consider these WOODWEB Member advantages:

A personal "member history" that displays your posts at WOODWEB
Your forms at WOODWEB will be filled in automatically
Create your personal "My Favorites" page
Numerous automatic notification options
Exterior Glue Failure - Part One!
10/3
About 3 years ago, we started having problems with exterior door panels opening up at the joints when we glued for width. We were using TiteBond III, thinking it the best for our application.
After repairing/replacing about 12-14 door panels, and $14,000 worth of effort, we probed a little deeper after we cleaned the shop of any TBIII.
We learned from the techs at Titebond that TBIII looses strength as temperatures increase. At 180F degrees, the glue looses about 60% of its strength. Go to 190F degrees, and it is about 80% of its strength. The glue does not regain its strength as the temperatures return to a more normal range.
The panel photos below typify what we found when we removed them from a door. These are flat panels, 1-1/2" thick, two plies for thickness, with epoxy sealed end grain. I admit it was hard to believe.
The first photo shows a white line in the black field that is the indicator of a failed joint. Just open a slight bit.
The second photo shows a cut out part of the panel. It is two ply in thickness, with the joint to the exterior the top. It is failed, with glue residue in an orange color. The wood broke in the second plies' thickness, showing the split, lighter color wood. This indicates the glue failed halfway thru the panel - 7/8" at this point.
The last photo shows the joint where the glue failed and where it held. The inside of the door was much cooler, and the heat from the exterior hot face penetrated about three quarters of the way thru the panel - all except for that last bit on the lower edge.
The problem panels were all dark. All faced East, with just one or two facing West. They were all Honduras Mahogany. They were made over the period of 2 years.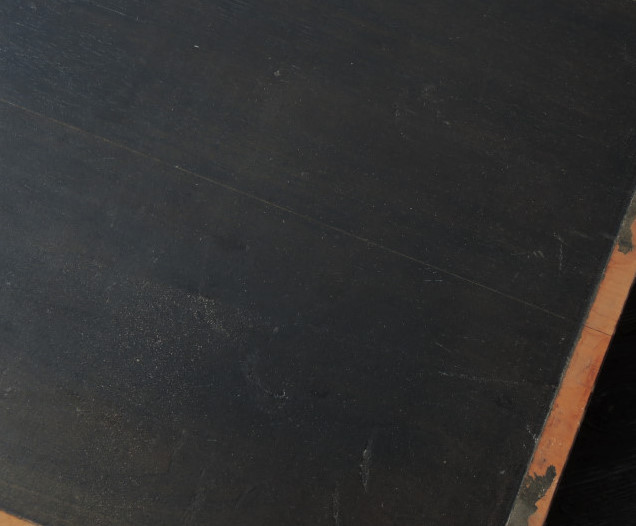 View higher quality, full size image (636 X 526)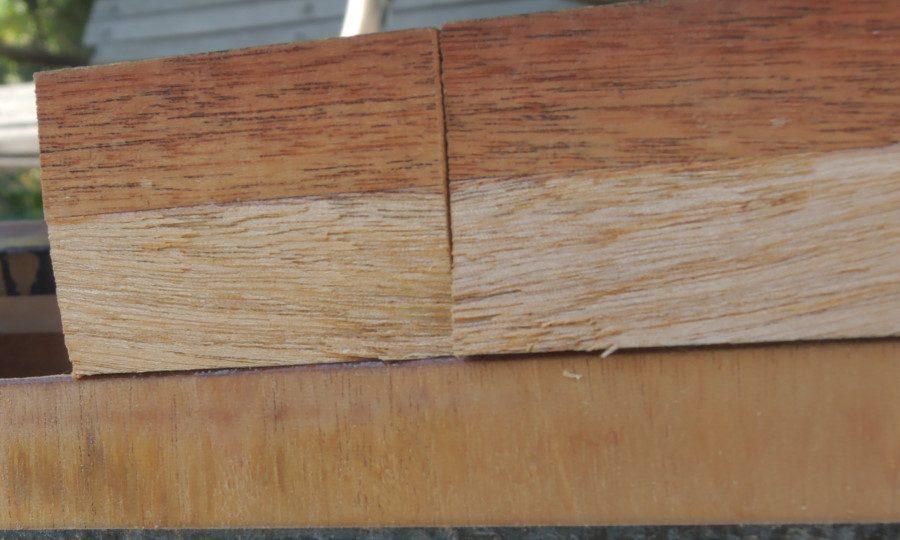 View higher quality, full size image (900 X 540)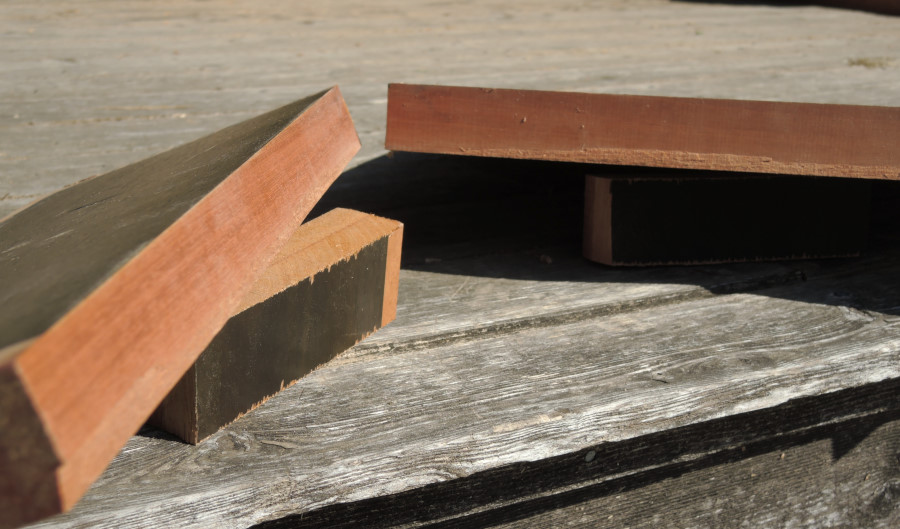 View higher quality, full size image (900 X 529)

---
10/3 #2: Exterior Glue Failure - Part One! ...
David,
I've never been a big fan of TB3. I've found it too expensive and with no benefit over TB2 other than it is water "proof" instead of water "resistant"......i.e. submersible. I've never felt a need for anything I've made to be that waterproof.
I feel for you in this situation. I had some curved base fail once because of a delaminated bending ply backer. It was a poor choice on my part but I was trying to save the customer some money using the ply backer instead of solid wood.
Neither the plywood distributor nor manufacturer would discuss the matter with me. In the end I turned to my liability insurance company for coverage on the repair. They were very good about it and covered the loss. It was the only time in 30+ years that I turned to insurance for any sort of business problem.
Good luck,
BH Davis
---
10/4 #3: Exterior Glue Failure - Part One! ...
Sorry to hear the extent of your TB3 whoas. You've alluded to the failure over the last year. This is the first time I've read the specifics.
I bought one of the small bottles of TB3 when it first came out. I didn't like it from the start. We didn't even finish the bottle. Gorilla Glue left the shop after one year of little use.
TB1 & epoxy(MAS, West System) only in our shop. TB1 is one of the few glues I've ever used that doesn't telegraph thru a really good paint job. Epoxy is the ideal waterproof wood glue. More expensive. More wasteful. Mixing takes seconds. At the end of the day the epoxy won't fail. However, we may fail in our construction method.
---
10/4 #4: Exterior Glue Failure - Part One! ...
I had the exact problem with a door using the same glue.
The good news foe me the door is mine .What I found as soon as the door gets hot with the sun the glue melts gets soft
The glue I used for my exterior doors is Elmer's Probond Max Wood Glue
Very thick glue gets in the pours no problems
---
10/4 #5: Exterior Glue Failure - Part One! ...
I've had the same problem with the veneer seams on the bottom rail of two doors. I glued the veneer seams with TB III and then glued those panels to the stave core with Plastic Resin Glue. These were wide rails at around 12" so each veneer was around 6" wide. Within a year both split right at the veneer seam. They didn't bat wing open proving the PRG was still holding each piece to the stave core; they just opened up at the seam like shown in your first photo. On one door I replaced the bottom rail. On the other I forced some finish into the split to hopefully preserve the integrity of the finish, and we're just watching to see what happens.
John
---
10/4 #6: Exterior Glue Failure - Part One! ...
While back here i posted about a set of cabinet doors that a customer picked up and left inside his truck with the windows up in the sun for over half a day even after i specifically told them to not let them sit in the heat. All the panel joints opened at the ends. This was with Titebond Original so i know Original loses its strength when exposed to excess heat too.
---
10/4 #7: Exterior Glue Failure - Part One! ...
TB 1 is a heat responsive adhesive. You can use it as a veneer contact cement by applying it to both surfaces, letting the glue dry, putting the pieces face to face and then heating the glue with an iron. The glue will soften under the heat and the two surfaces will bond. This is partially why it is a poor choice for the Workrite wood welder which in effect heats the glue to cure the joint. TB2 on the other hand hardens with heat which is why it works so well with the Workrite.
BH Davis
---
10/5 #8: Exterior Glue Failure - Part One! ...
We had a similar issue as the doors left in the car with TBIII. We cnc'd some plaques for a wholesale customer that were painted black on blanks laid up using hard maple with TBIII. They have a retail shop and we have repeatedly made it clear that putting them in their store front glass display case in direct sun was a guaranteed failure. One of the owners picked up the plaques and left them in the front seat, windows up, on a 90+ day in the full sun. Every glue joint failed and opened for inches on the ends. We spring joint hard maple almost daily and have never had a failure.
We credited the job and replaced with the customer after they somewhat insinuated it must have been a manufacturing issue.
When we replaced them we laid up three more identically and put them on the front seat of my car in the sun on a similar day and within 4 hours they failed identically.
---
10/14 #10: Exterior Glue Failure - Part One! ...
We very rarely need water proof glue. As it happens I'm about to start on a porch rail & balusters for my own house. I used to always use resorcinol phenol formaldehyde for exterior work. Totally water proof, expensive. About $130 a gallon! So I was considering TB3. Thanks guys, you talked me out of TB3. Porch project will be Cypress.
---
10/29 #11: Exterior Glue Failure - Part One! ...
Website: http://www.adamsarch.com
We recently had similar issues with a couple of our entry doors in the field. In all cases, the doors faced the afternoon sun. Panels either showed the glue lines or the panels were cupping.
We built our panels out of solid lumber and edge glued it with TBII.
Due to the recent issues, I have been feverishly trying to trouble shoot and correct the issue. I also have spoken to technical service at Franklin Adhesives and they also told me that TBII or TBIII lose its strength at around 150 degrees. They mentioned that we needed to use a more industrial type glue to hold up against the heat as well moisture. Tech. support suggested using Advantage 405. This is a two part glue with a catalyst.
I also spoke to Spectrum Adhesives, and they have sent me a sample of their equivalent of Advantage 405 that is a one part glue. We have not had a chance to try the glue from Spectrum as of yet.
Both Franklin and Spectrum said that the issues that I was having was due to too much moisture in the wood we were using. We usually make our exterior doors from Sapele Mahogany. I checked our current inventory and it was around 10% MC according to my pin tester. It was a little higher than the 6 - 8% that is suggested. We are keeping our eye on this.
We also looked into the construction of our doors. With Dave Sochar's input, he suggested that we build our doors using what we call a "clamp glazed" door. We are currently stopping in the panels from the interior of the door. This new "clamp glazing" construction would prevent the panels from cupping due to the tight fit. My guys in the shop are not convinced this is the direction they want to go. They believe that if we make a good panel, it should not have issues.
We are currently fabricating our panels differently. We are now sandwiching a piece baltic birch plywood with a skin of edge glued sapele on each side and gluing the sandwiched pieces by using a vacuum bag. We are thinking the plywood will give us a more stable panel. We are using the Advantage 405 right now but planning on trying the Spectrum glue in the near future.
We also set our panels in a bed of caulk and press it into the caulk. I am now looking for a new line of caulk that can also withstand the heat and moisture. We have recently moved to Tremco Dymonic FC after the quality issues but we are considering moving to NP1 or a caulk from Applied Adhesives. Looking for other suggestions.
---
10/30 #12: Exterior Glue Failure - Part One! ...
We Have not had any issues with TB3 but watching this thread closely. Early on we tried some catalyze type 3 glues but they were too fussy in our small shop with temperature and shelf life issues.
TB3 is very inconsistent. We buy in 5 gallon pails and used pressurized gluing. It is thick and thin and sometimes lumpy. We usually stir it before dumping in the pot. It will come apart when soaked in a bucket of water but doors and windows are usually not subject to this.
I am looking into trying some of the PVA glues Jowat offer for exterior work. We use a little epoxy on high risk work but would not like the hassle of that for everyday jobs. It's my understanding that epoxy will come apart with high heat if not heated during curing.
Our exterior panels are always double sided and glue joints reinforced with splines, t&g or glue joint cuts. Wide solid panels are always at risk. Panels are set like IGU on our Euro doors but still do some captured panels on traditional work.
---
10/30 #13: Exterior Glue Failure - Part One! ...