You are not logged in. Consider these WOODWEB Member advantages:

A personal "member history" that displays your posts at WOODWEB
Your forms at WOODWEB will be filled in automatically
Create your personal "My Favorites" page
Numerous automatic notification options
Insert rabbeting cutter
9/26
We recently purchased a 2" x 4" diameter insert style rabbeting cutter. The knifes are mounted in it at an angle to the face to give a shear cut. While using it to edge some material I found it is leaving a convex face on the lumber. I spoke with the company I purchased it from and was told it is not possible to build a insert style shear faced cutter that will give a straight edge?? This makes no sense to me at all. So are the people who use this cutter happy with the open joint on the face?
Does anyone have a insert style shear cutter that produces a straight edge?
TIA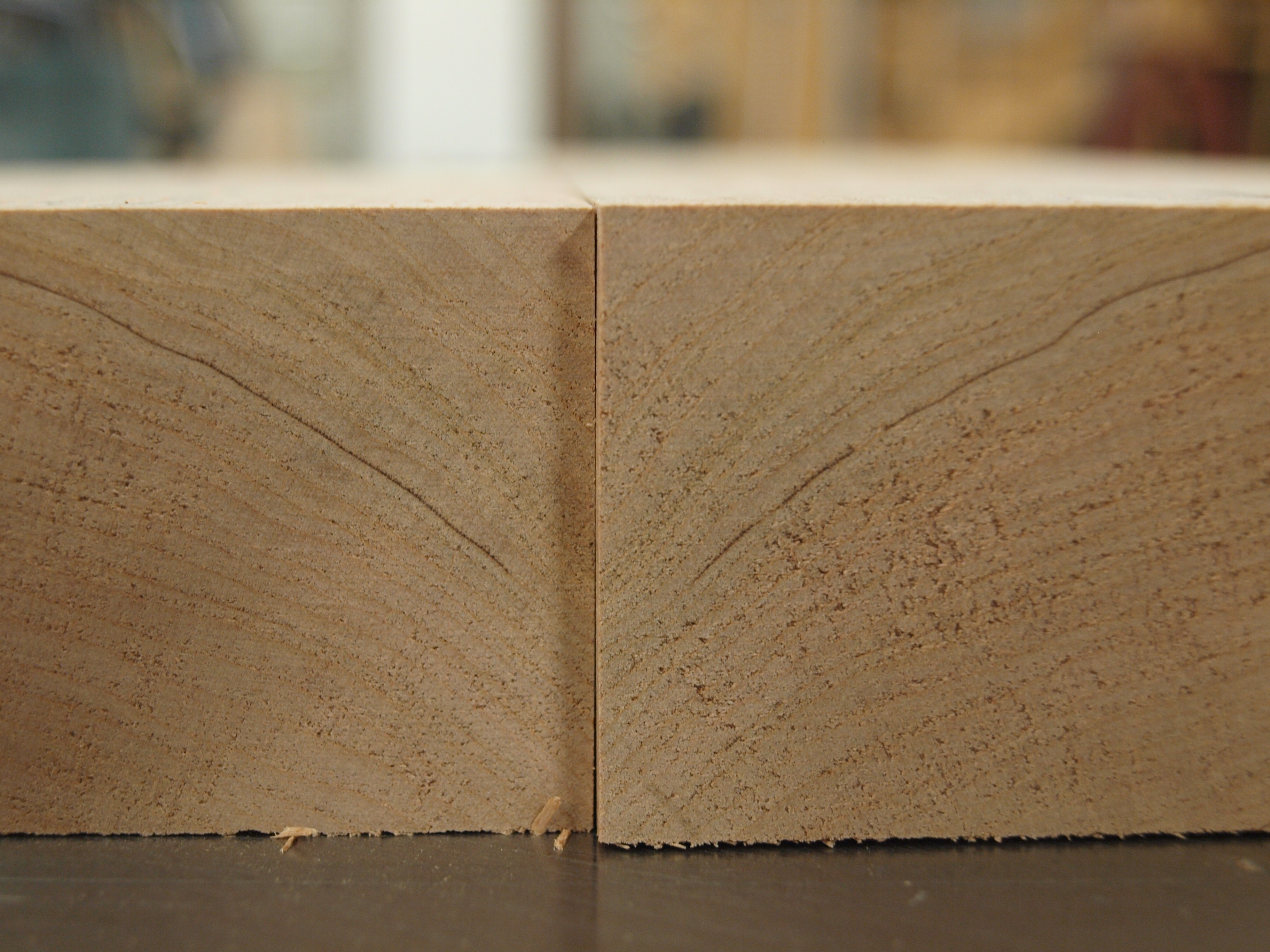 View higher quality, full size image (3648 X 2736)

---
9/26 #2: Insert rabbeting cutter ...
Gerry,
When a straight knife is slanted in a round cutter body, to create the shear cut, the ends of the knife project ever so slightly outside of the cutting circle. The issues are compounded with a longer straight knife and a smaller diameter cutter head.
To say an insert shearing cutter head can't be made to produce a flat surface is not accurate. It absolutely can be done, the problem is the blade would have to have a slight curve to match the line it follows on the cutter head. I suspect the cost would be too great to manufacture which is why we see so many of the shelix style insert cutterheads where the "curve" is achieved by using multiple smaller inserts.
---
9/26 #3: Insert rabbeting cutter ...
Hi Pete,
Why could the body of the cutter not be milled to have the blade move in the amount they now project? A cutter that leaves a curved surface is really of no use unless you are ok with gaps in your woodwork.
Thanks
---
9/26 #4: Insert rabbeting cutter ...
In theory I think you're correct, the cutter body could also be milled to accommodate the curve, however that would rely on some combination of thin and flexible knife steel. Carbide is too brittle without a backing plate and wouldn't flex much without snapping. Can't speak to HSS knives, maybe someone with more insight can answer that. My guess is it's more complicated to engineer a solution that involves a flexing knife than cutting a curve with modern CAD programs. Anything can be done if there's a demand, but I doubt there's any real need for a more expensive shear cutter when either a traditional rebate insert straight knife or the smaller insert shelix/helical style cutters work for most if not all applications and materials.
I agree that the surface left from these cutters is unacceptable. I have a 125mm x 50mm with the same shear setup and it's been sitting on the shelf for years. I do have a shorter version at 30mm tall that I still use on thinner stock as the imperfection in the surface cut isn't as noticeable as the taller cutter. I don't work with tear out prone woods and have great results using a standard (non-shear) insert straight knife rebate head. If tear out is an issue you might consider one of the shelix/helical style heads.
---
9/27 #5: Insert rabbeting cutter ...
Hi Pete,
I had no idea when I bought this cutter I was making a compromise to get a shear cut. These cutters should be sold with a disclaimer.
Fortunately I am able to return it. I will track one down with no shear.
Thanks for your input.
---
9/27 #6: Insert rabbeting cutter ...
Gerry - You are right. In fact, I just bought a larger insert rabbet head to replace our 30 yr old Amana aluminum head. I saw the shear angle and thought the blade could be spiral, like in some planers from the 80's and 90's, or curved in some way to machine a straight line. It is not.
I am considering returning it since we count on straight surfaces for our joinery. For many things it may not matter, but for some, it simply will not work as hoped.
I reasoned (but still bought...) that if one were to take the straight knife and lean its slot over further for a much stronger shear, then the effect would obvious and intolerable. Unless the knife had a concave edge, which it does not.
---
9/29 #7: Insert rabbeting cutter ...
David,
Sounds like we went down the same road. I was replacing an old brazed carbide head we have been using forever.
I sent the cutter back and found an Amana insert rabbeting cutter with no shear. I have not found we get a lot of chipping without the shear cut on the head.
Thanks,
Gerry
---
10/3 #8: Insert rabbeting cutter ...
I had no clue this happened.
We've got a Dimension in Tooling opposite shear four wing cutter. We use it for sizing face frame material, and sizing door sticking after the profile cut. There's been miles and miles of material passed across this thing.
I ran a piece of 8/4 through it this morning because I hadn't noticed it making a not flat cut in the past. It's definitely convex, but it doesn't look as extreme as your picture. It's a 4" diameter head, with a 1-1/4" bore running on a 1-1/4" spindle.
I wonder if the angle of the knife plays a roll in this?
I wonder if the opposite shear cancel's some of it out?
I don't think it would matter, but mine is just a straight cutter, no rabet knickers.
I wonder if spindle run out affects this as well?
What kind of shaper are you running? This was done on a medium duty SCM T130N. The machine is fairly tight, and I put a set of bearings in it a couple of years ago.
---
10/3 #9: Insert rabbeting cutter ...