You are not logged in. Consider these WOODWEB Member advantages:

A personal "member history" that displays your posts at WOODWEB
Your forms at WOODWEB will be filled in automatically
Create your personal "My Favorites" page
Numerous automatic notification options
Units of measurement for cut lists
5/5
We build all of our cabinets in millimeters but communicate with our customers using inches. The conversion can be a little tedious but is a big step up from the days we were using cubits as our unit of measurement.
We round everything up or down at the half point. 2.5 mm is considered 2 mm for fabrication purposes. 2.51 would be considered as 3 mm. We don't worry too much about rounding errors because when you're dividing an inch by 50 increments the difference becomes insignificant. Humidity changes will cause that much expansion and contraction and we we're probably going to maul our doors on the edge sander anyway.
When using imperial dimensions how important is a 32nd of an inch? Do you guys that use this measurement system parse things this finely or do you stop at 1/16 increments when chasing your math?
I am asking this question because I'm building a piece of software for driving our shop math. Components of this software may be useful to others so I want to know what denominators of measurement are important.
How many of you guys would prefer to input & output your information in decimal format? For me it is seems easier to key it in as decimals and output it as millimeters.
---
5/5 #2: Units of measurement for cut lists ...
David Waldmann

Member

Member
Website: vermonthardwoods.com
"a big step up from the days we were using cubits as our unit of measurement"
Wow, you've got some real heritage at your company!
I don't have any real useful feedback to your problem, as we only use the semi-old-fashioned imperial system. On the rare occasion we get an order in metric we convert it manually. However, I really REALLY wish the US would follow the rest of the world and convert. Metric is SOOO much easier.
That said, we do use decimal (which is the essence of metric) for our moulding profile specs. We round to the nearest thousandth, as our specs are +/- .005 and hundredths start looking wonky even at 1/8s.
Our picture frames are ordered and sold based on inch-fractions, as that's how most people are comfortable ordering them. But we use software to convert fractions to decimals and print them as bar codes for our Tiger Stop measuring system. These are rounded to 5 decimal places, which allow full resolution of a 32nd; not that it's necessary, but it's no more work.
---
5/5 #3: Units of measurement for cut lists ...
If you are developing a product, build in user choice. Why would you do it differently?
---
5/5 #4: Units of measurement for cut lists ...
This is what works for us.
We communicate in inches to the client. We engineer and build in mm's.
Most everything we do is frameless with full overlay doors. We order drawer boxes, drawer fronts, and doors with 0.1mm accuracy. We had to search a bit to find suppliers who would give us that accuracy and NOT round to the nearest whatever. Rounding errors on frameless can be a nightmare.
The good news is that there are some very good U.S. suppliers that do this quite well. Note: just taking the order in metric, then converting it by rounding, is not the same as producing it in metric. You may need to query the supplier's actual processes past the sales staff sometimes to be sure. Some sales team members have a clue; some do not.
We use Blum hardware; that mandates a 32mm system. No, 32mm is not "an inch and a quarter and then a little bit."
We do use CNC equipment for sheet processing. The CNC doesn't care which system is being used. It doesn't have feelings. We mostly use combination Imperial/Metric tape measures (FastCAP has these) or sometimes metric only tapes. Our table saw has a combination Imperial/Metric tape on it.
One inch is 25.4mm EXACTLY. Once you start rounding you are headed down a path to a potential disaster when all of the finished cabinets don't fit together on installation day. Do it right the first time.
And, as David stated, "Metric is SOOO much easier." If your staff can make change from a dollar, then they can be taught the metric system. In fact, they already understand the basic math. With metric, there are no concepts like numerators and common denominators. Be accurate. Avoid math errors. Embrace a simpler system.
Just my $0.02. :-)
---
5/5 #5: Units of measurement for cut lists ...
Paul,
I agree with you that building in customer choice is the way to go. What I am trying to ascertain is how much choice is important. If the imperial dimension guys only parse to 1/16 inch level of detail then displaying information in 32nds is redundant and unnecessarily hard on the head. If you want to integrate iPads or other mobile devices into your workflow extra calculations increase processing time as this creates more packets of information that have to be uploaded to the server and re-drawn on the device.
Charles makes a good point about the handoff from inches to millimeters. If the information is being displayed in inches it's a design issue. If the data is in metric it's a production issue.
---
5/5 #6: Units of measurement for cut lists ...
well every system has internal units and external units, conversion should be pretty simple.
Conversion needs to support
Input units, display units, cad unit, machining units, reporting units.
We have customers that subtract 100mm from 34".
What an installer needs to see on a report is a different increment that is sent to a machine.
Our shop engineers in inches and details in inches, we cut in inches and machine in inches converted to MM at the machine.
We do engineer, machine and cut in Metric when building for European customers who design on a metric module.
Yes metric is simpler but there are some major roadblocks.
A) you can't easily buy a 1.5 or 2 Meter panel in the US.
B) US building codes, major board suppliers and framing modules are all on the 48 x 96 module.
Studs and codes are either 16" OC 12" oc or 24" oc, and occasionally 19.2 for trusses and joists.
To really have a functioning metric system the whole base needs to change, otherwise at some point it gets converted to inch panels or fitting in an inch based room design.
When we built shelves that were a wood veneer and 625MM x 1250MM the yield was horrible. They had to stay that size so they could be shipped anywhere and fit.
---
5/5 #7: Units of measurement for cut lists ...
David Waldmann

Member

Member
Website: vermonthardwoods.com
"One inch is 25.4mm EXACTLY."
I find that fascinating. Most other conversions are (almost?) infinite. For instance, 1 quart = 1.0566882094325936128 liters (according to Mr Google).
---
5/5 #8: Units of measurement for cut lists ...
David Waldmann

Member

Member
Website: vermonthardwoods.com
"Yes metric is simpler but there are some major roadblocks.
A) you can't easily buy a 1.5 or 2 Meter panel in the US..." etc.
That's because the US has not converted to metric. No matter how industry adapts to metric, unless we, as a nation, actually convert to metric, there will be these issues.
We don't really deal in sheet goods (except to resell), but we use solid lumber. In our primary industry of picture framing, much of our "competitor's" stock is from overseas. They use a 3m length as their standard, and a lot of framers get upset because they only get 9.85' or so sticks. Some distributors actually charge for 10' while others charge for 9.8 or 9.85, but regardless, from a yield perspective, sometimes 9.85 versus 10 is a killer.
I grant, it would be a LOT of work to truly convert. Not to simply change the UOM to 9.85' per stick, but actually make it 3m, or 2.5m, 4m, etc. It has to go all the way from the size of log trucks (and the fed and state rules that govern transportation) to the mills that make it into lumber, the kilns that are designed to be FILLED with lumber, to the finished sizes of construction material, finish material, and everything between and beyond.
Take, for instance, the current standard that 1" lumber finishes at 3/4". Ok, I can see 25mm lumber (pretty "round" number) finishing at 19mm. But, believe it or not, trying to get 20mm (a more "logical" "round" number) out of 25mm is a much harder task if you want it flat and straight. 5mm is much less to work with than 5.95mm; in fact, it's over 15% less material. That, to me, is huge. BTW, what are the standard rough and finished lumber sizes in the rest of the world?
And so, we bungle along.
---
5/5 #9: Units of measurement for cut lists ...
133 years later.............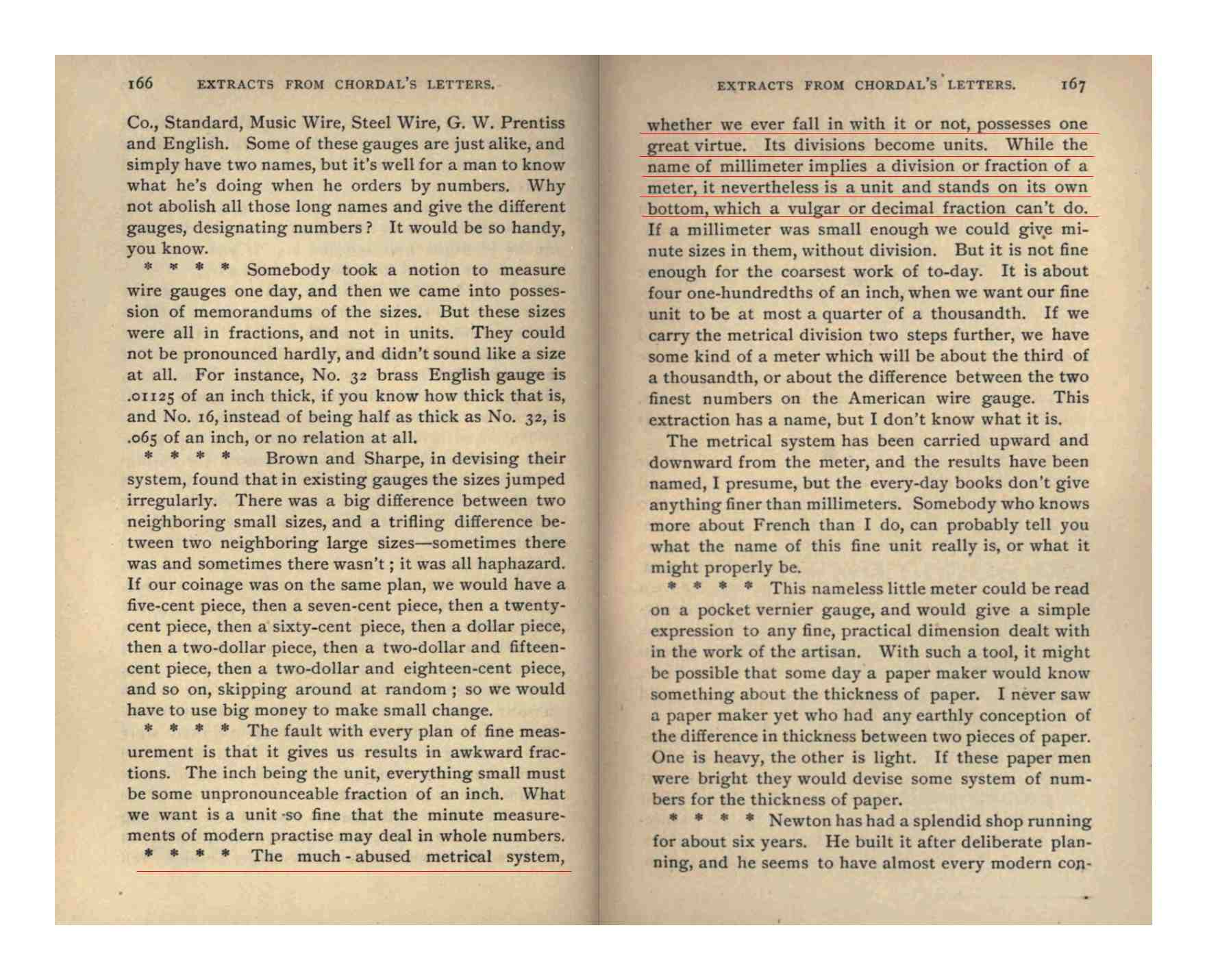 View higher quality, full size image (1762 X 1431)

---
5/5 #10: Units of measurement for cut lists ...
Wait--why does it matter that you cant get 2 m panels? Whatever piece you need out of that panel will be the same size no matter what unit of measurement you use.
Not being cheeky--just not sure I get why available sheet size matters.
The big difference in the two systems lies in ease of manipulation--anything in tens is cognitively more adaptable then things in 12s, 16s, 32s, for the simple fact that the entire world's numerical system is based in tens.
Pretty happy and surprised that you great southern neighbors are using metric tho--news to me! Is this a CNC born thing?
---
5/6 #11: Units of measurement for cut lists ...
On paper I work to a 1/32. Usually I'll put the 16th fraction down and put a plus or minus sign inside a circle after it to designate heavy or light.
On the machines I operate to 0.005" which is the limit of the digital device. Little errors can add up so the finer you can keep them the better the end result will be.
---
5/6 #12: Units of measurement for cut lists ...
David Waldmann

Member

Member
Website: vermonthardwoods.com
"On paper I work to a 1/32. Usually I'll put the 16th fraction down and put a plus or minus sign inside a circle after it to designate heavy or light."
Funny - I just posted this on another forum yesterday:
I once learned a really cool method that makes it easy to verbally convey accuracy to 1/64" quickly, easily and without much consternation. I read it in a Fine Homebuilding article by a trim carpenter who would have a crew of two, where one person would measure, call out the measurement, and the other would cut it while the previous piece was being installed. I consisted of calling out the measurement in inch + fraction, down to 1/16 if necessary, then adding "and a half" if 1/32 over or "long" for 1/64 over. Therefore 21/64 became "5/16, long", 11/32 was "5/16 and a half", and 23/64 became "5/16 and a half, long". It requires neither person to know anything more than /16s and the process.
Unfortunately, I read that article probably 20 years ago, and while I remember it quite well I've never had opportunity to use it...
---
5/6 #13: Units of measurement for cut lists ...
Website: http://closetexperts.com
I do not envy the precision required in working with steel. Only in metric could you have countries around the globe contribute modules to be assembled thousands of miles away in space for the International Space Station.
That said, I think vertically in metric, and horizontally in imperial. I always separated parts that way too. Like you Tim, I much prefer decimal equivalents. The darn / sign is messy and confusing. Four place precision is easier for spreadsheets and computing.
The humidity changes affect not only the wood, but also where components are installed. I have always appreciated the giving nature of the materials we work with. I have "stretched" a few walls in my day.
Finally, I never used feet/inches, only inches in imperial. One less conversion to screw up.
---
5/6 #14: Units of measurement for cut lists ...
David. I never read that article, just something I thought up myself. If I want a 64th over I put a +64 after the fraction.
If I need to verbally convey it I'll tell someone it's a R C H over. Can't say what it means, I'd be reprimanded...
---
5/6 #15: Units of measurement for cut lists ...
I field measure in inches, then convert to millimeters in the shop. All of the drawings and cnc programing is in millimeters, rounded to the nearest whole millimeter. This helps when in comes to hardware because most of what we use is metric. Dimensioning in the submittal drawings shows both inches (to the sixteenth) and millimeters. Sometimes the conversion gives you an odd number (a part the architect is expecting to be 36" dimensions at 36-1/16" for example). In that case I just shrink or grow the cabinet by a millimeter to get a nice round imperial number. The installers work in inches. A run of cabinets may vary a couple of millimeters plus or minus from what is dimensioned in inches on the drawings, but you could get that amount of discrepancy simply due to variations of material thickness. Fillers will take care of that.
---
5/6 #16: Units of measurement for cut lists ...
Leo, a ch is approximately 2/1000". It's a good standard measurement-- holds up cross culturally. Maybe one day both other systems will be replaced!
---
5/6 #17: Units of measurement for cut lists ...
Leo,
I'm slow. What does the R stand for?
Mark
---
5/7 #18: Units of measurement for cut lists ...
Mark--R is for red. Having tested an array of ph with a micrometer, I can testify in court that there is a very small range variation in genetic typology. Rch would be of the smallest of specimens.
But at that point, you may be splitting hairs....
---
5/7 #19: Units of measurement for cut lists ...
I have been metric for over twenty five years and consider it a non issue. I do my rough job layout in inches but it ends there. My layout, cut list and drawings are in metric and I give them to the contractors. They can convert it as easily as I can if needed. I tell my customers I cut metric which ends the issue of exact dimensions, they will accept what I give them. Wall scribes fill in the space to the end wall. I make all double door cabinets an even number and single door cabinets might be odd. I also cut on 38mm increments, which works most of the time, and I try and stay on 32mm layout. It is as easy or hard as you want to make it.
---
5/18 #21: Units of measurement for cut lists ...
Website: http://www.cratepro.com
Tim - I have software for crating and was surprised to find customers who wanted precision to 1/64". In crating, the US is all Imperial but we sell globally so about 1/2 of our customers are metric. In my experience, a company (or location at least) will only require Imperial OR metric as a basis.
When a customer gets the software, they indicate if they want Imperial or metric then that's the default. Optionally they can select the precision from 1/4" to 1/64" or 1mm to .001mm. The fields will always display in decimal but there's a hover tool-tip that will display the converted value or a fraction depending on the user setting.
Overall, this has been well received and I haven't heard any negative feedback. The conversions are handled on demand in the interface so it doesn't add much weight to the software. An issue you may run into though is if you go with a mobile platform the user may need to click on the screen value to see the fraction or converted value.
HTH
---
10/17 #22: Units of measurement for cut lists ...
We draw in CAD in millimeters. Site surveys are done in mm. All shop drawing submittals are o n imperial. Unless you have a terribly neurotic architect, designer, or end client NO one will eve ask to see things dimmensioned to the 32nd.
Since we draw in mm our cut list rounding issues disappeared. We round to 0.5 mm when there is an odd number divided by even which would typically be on a two door cabinet. 0.5 mm adds up in a ten foot running of cabinets ...... I'd round to the 0.5 mm.
---
---
Buy & Sell Exchanges | Forums | Galleries | Other Resources | Site Map
---



Buy and Sell Exchanges



Job Opportunities and Services Exchange
Employment opportunities and services within the woodworking industry

Lumber Exchange
A worldwide buy/sell exchange for lumber and wood products

Machinery Exchange
A worldwide buyer and seller exchange for woodworking machinery and equipment.

Classified Ad Exchange
Classified advertising for the woodworking industry (for advertisements that do not include machinery, lumber products and employment listings)


---



Forums



Adhesives Forum
Discussing topics related to adhesives within the woodworking industry

Architectural Woodworking Forum
Discussing quality standards and production of architectural wood products

Business and Management Forum
A forum for the discussion of business topics: from sales and marketing to dealing with difficult customers.

Cabinet and Millwork Installation Forum
Discussing all aspects of installation issues encountered by cabinet and millwork installers.

Cabinetmaking Forum
Discussing 32mm and face frame cabinet construction including fabrication, casegoods design, and installation.

CAD Forum
Shedding light on the all-too-often shadowy world of CAD.

CNC Forum
Discussing CNC (computer numerically controlled) woodworking equipment, software, and automated product manufacturing.

Dust Collection, Safety and Plant Operation Forum
Discussing topics related to maintaining a safe and productive working environment.

Professional Finishing Forum
Finishing issues for the production environment

Forestry Forum
The science and art of forest cultivation and timber management, planting, surveying, tree diseases, silviculture and timber harvesting

Professional Furniture Making Forum
Helping professional furniture makers improve quality, save time, and increase profits

Laminating and Solid Surfacing Forum
Issues related to laminating and solid surface materials and processes

Commercial Kiln Drying Forum
Discussions covering issues faced be commercial drying operations that process at least 750,000 bd. ft. of lumber per year

Sawing and Drying Forum
Discussing topics related to primary processing and drying of lumber

Solid Wood Machining Forum
Discussing topics related to the machining of solid wood

Value Added Wood Products Forum
Learn how to improve your output, find new markets, and boost sales of your lumber products

Veneer Forum
Discussing topics related to veneer processing, manufacturing, and fabrication

WOODnetWORK
An electronic discussion group for woodworkers throughout the world


---



Galleries



Project Gallery
Where professional woodworkers can post examples of their work

Sawmill Gallery
Professional primary processing companies display and describe their sawmill facilities

Shop Gallery
Professional woodworkers display and describe their shop facilities, products and equipment

Shopbuilt Equipment Gallery
Professional woodworker's jigs, rigs, and shopbuilt equipment


---



Other Resources



Industry News
Late-breaking news from all sectors of the wood industry

Video Library
Index of industrial woodworking related digital videos on the web

Auctions, Sales and Special Offers
Advertisers offering woodworkers discounted prices on good and services, and announcements of upcoming auctions


FORUM GUIDELINES: Please review the guidelines below before posting at WOODWEB's Interactive Message Boards
(return to top)
WOODWEB is a professional industrial woodworking site. Hobbyist and homeowner woodworking questions are inappropriate.
Messages should be kept reasonably short and on topic, relating to the focus of the forum. Responses should relate to the original question.
A valid email return address must be included with each message.
Advertising is inappropriate. The only exceptions are the Classified Ads Exchange, Machinery Exchange, Lumber Exchange, and Job Opportunities and Services Exchange. When posting listings in these areas, review the posting instructions carefully.
Subject lines may be edited for length and clarity.
"Cross posting" is not permitted. Choose the best forum for your question, and post your question at one forum only.
Messages requesting private responses will be removed - Forums are designed to provide information and assistance for all of our visitors. Private response requests are appropriate at WOODWEB's Exchanges and Job Opportunities and Services.
Messages that accuse businesses or individuals of alleged negative actions or behavior are inappropriate since WOODWEB is unable to verify or substantiate the claims.
Posts with the intent of soliciting answers to surveys are not appropriate. Contact WOODWEB for more information on initiating a survey.
Excessive forum participation by an individual upsets the balance of a healthy forum atmosphere. Individuals who excessively post responses containing marginal content will be considered repeat forum abusers.
Responses that initiate or support inappropriate and off-topic discussion of general politics detract from the professional woodworking focus of WOODWEB, and will be removed.
Participants are encouraged to use their real name when posting. Intentionally using another persons name is prohibited, and posts of this nature will be removed at WOODWEB's discretion.
Comments, questions, or criticisms regarding Forum policies should be directed to WOODWEB's Systems Administrator
(return to top).

Carefully review your message before clicking on the "Send Message" button - you will not be able to revise the message once it has been sent.

You will be notified of responses to the message(s) you posted via email. Be sure to enter your email address correctly.

WOODWEB's forums are a highly regarded resource for professional woodworkers. Messages and responses that are crafted in a professional and civil manner strengthen this resource. Messages that do not reflect a professional tone reduce the value of our forums.

Messages are inappropriate when their content: is deemed libelous in nature or is based on rumor, fails to meet basic standards of decorum, contains blatant advertising or inappropriate emphasis on self promotion (return to top).

Libel: Posts which defame an individual or organization, or employ a tone which can be viewed as malicious in nature. Words, pictures, or cartoons which expose a person or organization to public hatred, shame, disgrace, or ridicule, or induce an ill opinion of a person or organization, are libelous.

Improper Decorum: Posts which are profane, inciting, disrespectful or uncivil in tone, or maliciously worded. This also includes the venting of unsubstantiated opinions. Such messages do little to illuminate a given topic, and often have the opposite effect. Constructive criticism is acceptable (return to top).

Advertising: The purpose of WOODWEB Forums is to provide answers, not an advertising venue. Companies participating in a Forum discussion should provide specific answers to posted questions. WOODWEB suggests that businesses include an appropriately crafted signature in order to identify their company. A well meaning post that seems to be on-topic but contains a product reference may do your business more harm than good in the Forum environment. Forum users may perceive your references to specific products as unsolicited advertising (spam) and consciously avoid your web site or services. A well-crafted signature is an appropriate way to advertise your services that will not offend potential customers. Signatures should be limited to 4-6 lines, and may contain information that identifies the type of business you're in, your URL and email address (return to top).

Repeated Forum Abuse: Forum participants who repeatedly fail to follow WOODWEB's Forum Guidelines may encounter difficulty when attempting to post messages.

There are often situations when the original message asks for opinions: "What is the best widget for my type of shop?". To a certain extent, the person posting the message is responsible for including specific questions within the message. An open ended question (like the one above) invites responses that may read as sales pitches. WOODWEB suggests that companies responding to such a question provide detailed and substantive replies rather than responses that read as a one-sided product promotion. It has been WOODWEB's experience that substantive responses are held in higher regard by our readers (return to top).

The staff of WOODWEB assume no responsibility for the accuracy, content, or outcome of any posting transmitted at WOODWEB's Message Boards. Participants should undertake the use of machinery, materials and methods discussed at WOODWEB's Message Boards after considerate evaluation, and at their own risk. WOODWEB reserves the right to delete any messages it deems inappropriate. (return to top)



Forum Posting Form Guidelines

Your Name
The name you enter in this field will be the name that appears with your post or response (return to form).
Your Website
Personal or business website links must point to the author's website. Inappropriate links will be removed without notice, and at WOODWEB's sole discretion. WOODWEB reserves the right to delete any messages with links it deems inappropriate. (return to form)
E-Mail Address
Your e-mail address will not be publicly viewable. Forum participants will be able to contact you using a contact link (included with your post) that is substituted for your actual address. You must include a valid email address in this field. (return to form)
Subject
Subject may be edited for length and clarity. Subject lines should provide an indication of the content of your post. (return to form)
Thread Related Link and Image Guidelines
Thread Related Links posted at WOODWEB's Forums and Exchanges should point to locations that provide supporting information for the topic being discussed in the current message thread. The purpose of WOODWEB Forums is to provide answers, not to serve as an advertising venue. A Thread Related Link that directs visitors to an area with inappropriate content will be removed. WOODWEB reserves the right to delete any messages with links or images it deems inappropriate. (return to form)
Thread Related File Uploads
Thread Related Files posted at WOODWEB's Forums and Exchanges should provide supporting information for the topic being discussed in the current message thread. Video Files: acceptable video formats are: .MOV .AVI .WMV .MPEG .MPG .FLV .MP4 (Image Upload Tips) If you encounter any difficulty when uploading video files, E-mail WOODWEB for assistance. The purpose of WOODWEB Forums is to provide answers, not to serve as an advertising venue. A Thread Related File that contains inappropriate content will be removed, and uploaded files that are not directly related to the message thread will be removed. WOODWEB reserves the right to delete any messages with links, files, or images it deems inappropriate. (return to form)