You are not logged in. Consider these WOODWEB Member advantages:

A personal "member history" that displays your posts at WOODWEB
Your forms at WOODWEB will be filled in automatically
Create your personal "My Favorites" page
Numerous automatic notification options
First big several month long gig for a longtime millwork shop.
4/3
It's been interesting and I'm pretty sure some of you would find so too.
So having worked/studied in the land of LEAN manufacturing, and then going to custom woodworking, I've been paying a lot of attention to the differences in manufacturing and custom building and trying to see where LEAN goes in all of this.
The current place has been in business for close to 30 years, about 60 people on the floor alone by now. This is their first longterm gig-- 5-6 months long, at close to full shop capacity.
It's been interesting to see how seasoned custom guys tackle a more repeat, still custom build of this length. I'm seeing some manufacturing ideals getting brought up from folks who sure as sh!t don't know what LEAN even is.
We're about 1/5 in of the project. The start was awkward and rocky, as expected, but they are finding a groove that I can't wait to see what will look like, by 3/5 project in.
---
4/3 #2: First big several month long gig fo ...
Have the owners bought into Lean?
---
4/4 #3: First big several month long gig fo ...
Can you elaborate on what kinds of changes are happening that demonstrate Lean thinking?
Sixty guys on the shop floor sure seems like it would take a lot of choreography. How are you guys handling this?
---
4/5 #4: First big several month long gig fo ...
Mel
Remember the fan on the toothpaste line ? Usually the simplest works the best.
Lot's of times the owners or management can't see a few mock ups or retooling under the direction of the schedule for controlling chaos and taking a direction. When under the gun it's tough. I have 12 people and finaally taken the direction of IDGAF and started scheduling everything including file server maint.
Course- preventative is a lot more cost effective than the beating of the head against the wall. Sort of like Carbonite back ups for data...... huh, kinda simple
John Taffer (Bar Rescue) could some it up- KEEP DOING THE SAME STUPID SHIT AND GET THE SAME RESULTS. Can't buy a beer for 80 cents and sell it for a buck and make money !!!!!!!!!!!!!!!
Ya' no kidding.
---
4/6 #5: First big several month long gig fo ...
Actually, it's kinda funny.
What's got me remembering lean is a) the obligation factor b) the organic factor c) the sheer lacking of fudging space.
Corrections are slow. Directions are slow. But gaddang-- they are doing it. One. Slow. Step. At. A. Time.
But that's details. I was thinking about their "custom shop" mentality. How they have this humongous floor space that is always full---and always changes.
Machines move, people move, stations move.... Sometimes the project is vertical, others horizontal, others both.... These guys adapt to fast change. Slower change is changing their way of thinking. In a good way, I think. Balance. One is nothing without the other.

---
4/6 #6: First big several month long gig fo ...
That is a good question. I.E. how do you apply Lean to custom. Kitchens are not all that custom, neither is what Paul Akers does, neither is the store fixture company that he often shows as they make a stock line of fixtures.
Maybe that asks a bigger question, should you build stock items with a limited degree of custom. I suppose we all do that to some degree.
Is this a case of Eli Whitney and interchangeable gun parts?
This:
"In the US, Eli Whitney saw the potential benefit of developing "interchangeable parts" for the firearms of the United States military. In July 1801 he built ten guns, all containing the same exact parts and mechanisms, then disassembled them before the United States Congress. He placed the parts in a mixed pile and, with help, reassembled all of the firearms right in front of Congress, much like Blanc had done some years before.[7]
The Congress was captivated and ordered a standard for all United States equipment. Interchangeable parts removed problems concerning the inability to consistently produce new parts for old equipment without significant hand finishing that had plagued the era of unique firearms and equipment. If one firearm part failed, another could be ordered, and the firearm wouldn't have to be discarded. The catch was that Whitney's guns were costly and handmade by skilled workmen.
Whitney was never able to design a manufacturing process capable of producing guns with interchangeable parts. Charles Fitch credited Whitney with successfully executing a firearms contract with interchangeable parts using the American System,[5] but historians Merritt Roe Smith and Robert B. Gordon have since determined that Whitney never achieved interchangeable parts manufacturing. His family's arms company, however, did so after his death."
From this:
https://en.wikipedia.org/wiki/Interchangeable_parts#Eli_Whitney_and_an_ea
rly_attempt
---
4/6 #7: First big several month long gig fo ...
The easy answer to applying lean to custom work is to lower the batch size.
Lots of parts in process means lots of carts to store the parts. Lots of carts means lots of aisles to push the carts through. Lots of aisles means most of your shop is just a corridor to travel thru. If your shop is all corridor you soon run out of space to park dedicated machinery for setup reduction. (Setup takes time and enhances the opportunity for incorrect setups, increasing the need for more and more skilled labor to make sure the machine is set up accurately.)
It's kind of a knee-bone-connected-to-the-thigh-bone sort of story. The root cause of all your wastes is building something before you need it. Too much work in process will increase the need for more and more management and bury the root cause of defects (why figure out why something is not correct if you can just grab another stick?)
All of this is directly germane to custom.
Is also germane to not custom.
---
4/6 #8: First big several month long gig fo ...
Ok but...
The rub is on setup time. It is amazing to see the many ton injection mold changed out in minutes.
If the opportunity cost to do this is amortized over many it makes sense if it is amortized over one it is crazy.
---
4/6 #9: First big several month long gig fo ...
"The rub is on setup time. It is amazing to see the many ton injection mold changed out in minutes.
If the opportunity cost to do this is amortized over many it makes sense if it is amortized over one it is crazy."
I agree with Pat.
This is where what I would call the "art of management" enters.
We have one special piece of trim that is used on almost every job. The setup and processing time for the trim for a single job is about an hour. The setup and processing time for the trim for about 20 jobs is about 2-3 hours. The cost of the materials is about $300. The cost for storage is essentially zero as they take up little space and lean up against the wall behind another piece of equipment.
So, 20 jobs times 1 hour each = 20 man hours. 20 jobs processed all at once is at most 3 man hours. The cost of carrying $300 of inventory is real, but relatively small. And, the convenience of scheduling is a big plus. We processed the extra parts on a day when work was slow. That's not exactly "free labor" but pretty close to it. And, when we need this special trim, there is no need to add it to the schedule as it is ready and waiting.
Now, this special inventory does need to be "managed" so we never run out. When we are getting low, we add another batch to the schedule. The size of the batch is based on the current sales forecast. We have not formalized it to the point of using a kanban card system. We just keep an eye on it since we usually only pull from this supply once a week on average. We have enough time to react to low inventory before it causes a work stoppage event.
Obviously, a batch size of one is not always the ultimate answer. Common sense and experience need to be included. :-)
---
4/6 #10: First big several month long gig fo ...
Something important to bear in mind is that the concept of "one piece flow" is just a concept. It's a mathematical abstraction to describe a goal. In the perfect scenario you would have a batch size of all but this complete batch would be delivered via a "river of one".
As such this concept teaches us how to recognize which processes are adding value and which ones are not. This is not so obvious in larger quantities of production.
When a seasonal drought lowers the water level in a lake all of the navigation hazards become much more obvious. Lowering the quantity of work in process similarly shows you where the pinch point actually exists. Think of this as rowing a pram across that same lake. If the floor of the boat is empty it's real easy to see where the leak starts. When you have 3 inches of water in the bottom of your boat it becomes almost impossible to see which part needs repair.
Even Toyota, the progenitors of this system of manufacturing, have buffer built into their system. We should too.
---
4/6 #11: First big several month long gig fo ...
That seems more applicable to something that is repeatable.
---
4/8 #12: First big several month long gig fo ...
Cabmaker!!! F yes!!! Lower the batch size. Lower the batch size, lower the batch size.
So most of you know I have an office job manufacturing background before being a millwork grunt. And I read a lot. And I love things like LEAN.
But these guys have shown me something so opposite, and also so cool--- This huge arse series of shops, were everything moves, all the time. 2 x 3-axis CNCs, one 5-axis, two altendorfs, and other random machinery, get moved. Work benches go up and down. sections change. Perfectly level and plumb platforms get built.
Sometimes the project is high, wide, funky angled, you name it. And they shuffle that shop around like bosses. But they never spent too much time thinking about systems. Things like footsteps and information communication.
It's all out of necessity. But they are really rocking it. And one thing that is helping a lot is not something I would have ever thought to do-- limited batch sizes. Any change is tried by agreement, then goes from micro to macro. Central minds are clearly defined in what they do, and everyone knows who to refer what problem to whom.
It's a really fun time to be there.

---
4/11 #13: First big several month long gig fo ...
I love the statement "lean doesn't really apply to blank". Lean applies to everything. Its not just about 1 piece flow or easy repetition. Its about improving the process of how you add value to the products that you produce. It doesn't throw common sense out the window and say NO INVENTORY! Yes if you can make 1 or 20 and it has a 2 hour set up, make 20. Then, look at why it takes 2 hours to set it up and figure out how to do it in 1 hour or 10 minutes. I have heard the it doesnt apply from guys and you walk i to their shop and it has 6" of sawdust on the floor, piles of material everywhere and no layout for tools. They are also the guys that bemoan the fact they cant make any money at this.
Yesterday's custom is tomorrows standard. Once we figure out how to do something its no longer custom, then we can improve the process of doing it better.
---
4/11 #14: First big several month long gig fo ...
Derrek
IOW don't throw the baby out with the bath water.
The successes in Lean I see showcased are not custom.
That setup time has an opportunity cost that has to be amortized over one.
It seems to me that Lean is inadvertently saying don't do custom. Not a bad message?
---
4/11 #15: First big several month long gig fo ...
Lean is not suggesting that you want to stay away from custom.
It could well be that people who do primarily custom might be better off with more standard products but this in itself has nothing to do with lean. High Mix - Low Volume is actually the kind of work that benefits most from lean. Owing to the fact that you don't have quantity to amortize set up costs means you need to get really good at reducing set up costs.
Lean helps you reduce set up costs by putting the focus on those things that contribute little to the end result but just suck up minutes of labor nonetheless.
---
4/11 #16: First big several month long gig fo ...
A great example of setup reduction is shown in a video Derrek posted on the Millwork Installation Forum.
https://youtu.be/nZiES0NT4Es#sthash.KX0AQQF4.dpuf
In this video Derrek shows how they greatly reduced the excess motion associated with strapping parts for transport and loading the parts onto the truck.
Neither of these activities directly change the shape or color of the board, (the only thing the customer cares about). Strapping and loading would be considered waste in the eyes of the customer. The customer will not give you any extra money to strap or load the cabinets. They simply do not care how you make this happen.
Customers care only about the shape and color of a board. They don't care if you make the part with a wooden mallet & chisel while wearing a leather apron or you choose instead to sprinkle pixie dust on the wood (i.e., hire the UPS man to build it). They give you the same amount of money whether you have to push the cart 10 feet or 100 feet.
The customer only pays you to push the board over the jointer. All else is waste. Some of the waste can be eliminated. Some of the waste can not be eliminated.
How is this concept any different for repeatable vs non-repeatable work?
---
4/11 #17: First big several month long gig fo ...
What Derrick said
I see so many "Custom Shops" just struggle and struggle.
Lean is about "Balance." The absolute truth. Living and embracing life and work in its simplest forms provide balance.
Absoluetly mind boggling: the "Mind-F---It to Death Mentality" that "Custom" is something so special, we should not treat it like any another job. Since it is " Custom" it cannot be broken down into the simplest form and eat it one bite at a time.
Guess what, if it was so custom, then how in the hell did you price it ? Lean is definitely a good if not great tool in controlling shops and runaway expectations of all invoolved
---
4/11 #18: First big several month long gig fo ...
Website: http://closetdr.com
Which brings up a great question, What is custom? Do you make cabinets that aren't standard size or do you hand carve fireplace mantles from fro slabs on old growth trees? Do you make things that are 1 of 1 that nobody else will ever have?
A custom kitchen is still a bunch of boxes with doors on it. So you made a range hood that was different than the last one.
Even if you make 1 off hand carved mantles, the process can be improved through lean principles. Do you sit it on the floor and carve it or do you have a workbench that is ergonomically correct maybe even adjustable? Are your tools thrown in a box or or do you have them in holders within easy reach of where you are working? is it just sitting on the bench or do you have a unique way of clamping it down, for the repetitive items that you do do you have a template? Is the broom and dustpan on a hook next to the work area with label that says broom and dust pan or is it left wherever you last used it and you have to go look for it?
---
4/11 #19: First big several month long gig fo ...
Again. What Derrick said. I would say the biggest obstacle to Lean application in business is in ones mind. Unfortunately, in some businesses, you cannot convince the top of the food chain. Therefore, the entire organization dies a slow death
---
4/11 #20: First big several month long gig fo ...
The term LEAN is overworked. So are CUSTOM and HIGH END! I totally agree about reduced batch size being valuable. To be effective, elimination of handling & setup needs to happen. As shops get bigger the wastes involved get bigger. In a very small shop parts can just be laid on the table between machines, a bit bigger and carts "might" make sensebut they will always introduce a waste, moving them when empty. Roller conveyors work great as long as the "system" has been well worked out. Optimizing system is where lean then becomes the driving factor. Make that "custom" gizzmo using standardized methods and as many standard parts as possible.
If that really big job envolves a lot of relationships that didn't exist, evaluate the value of a layout/process change, then do it if applicable.
I've been in many shops that are still doing it the same way it was done 30 years ago. 30 year old dust still in the corners. If you are happy with the results, why change?
---
4/11 #21: First big several month long gig fo ...
I would point out that neither Derrek nor Tim do custom. I.E. they are parametricly non custom.
Larry does custom but usually in higher volume.
In either case it boils down to setup time.
I.E. Larry amortizes the setup over many. And so do Tim & Derrek.
The benefit in either case is that you get really good and things that repeat and you leverage your marketing through strategic advantage.
Not to say that I have anything against Lean.
I remember reading where Toyota offers a package that includes many features rather than dealing with many different individual options on each order.
---
4/11 #22: First big several month long gig fo ...
Those big jobs are killers. What happens to your regular customers when you are tied up for 5-6 months on one job?

---
4/11 #23: First big several month long gig fo ...
That is a transgression against the commandment Rick Thaler used to talk about, "Don't take any jobs that are bigger than 10% of your annual gross."
---
4/12 #24: First big several month long gig fo ...
Pat, wouldn't lean also be thought of as having all of your tools in the same spot at the work table? Along that vein, having tools organized and standardized at the work tables make it so the person doesn't have to look for the tool, knows where it is.
Concerning setups, not all of them can be eliminated but there are ways to reduce them. Example: having many routers set up with different bits with the depths already set. Examples are the different sizes of roundovers that we use. We use 3 different sizes and have separate routers on the plates for our router tables that we can just drop in. For the one size we use the most we have an extra router chucked up with the bit ready to go. Therefore when the first bit starts to get dull, we just swap it out and keep production running.
Yes, someone has to take the time later to change the bit, but we keep the job running. To change the bit takes a little time and we have a jig to get the depth correct right away. We get it done in about 5 minutes.
Small increments of saving time in the production process is what lean looks like in my world. Not seeking large 5 minute savings. Looking for 2 second improvements. Eventually they all add up to 5 minutes without all of the huge disturbance and the workers don't even realize how they got that much quicker. When you point it out, then they see it.
The journey is never complete, but the journey is small steps, sometimes in starts and fits but keep moving forward looking for making life easier.
---
4/12 #25: First big several month long gig fo ...
Good Point Puzzleman.
And I don't discount what you say. I attached a picture how I used that idea, most of the tools I use are plugged in ready to go, they are in a back bench so to speak so are out of the way, the cords never get tangled, their is cow catcher on the front to keep the cords away from the casters.
But I can't help but wonder about the strategic paradigm. IOW do you look through the magnifying glass or the binoculars. Lean is about the magnifying glass, which I do not discount, but it is not a strategic goal.
Yet the successes that Paul Akers showcases are great examples of creating strategic advantage. I'm sure Paul would argue that their success was born out of Lean. However I would argue that they were able to maximize their advantage because they made products. This way they were constantly improving the same product. This is something Tim and Derrek have done as well.
Of course the argument goes that China has the ultimate competitive advantage. Which IMO is because of mercantilism (lowering the value of the Yuan). But at some point they are going to have to and have revalued their currency. Which has been helpful to Mexico et al.. Also as more and more automation happens this has an influence as well.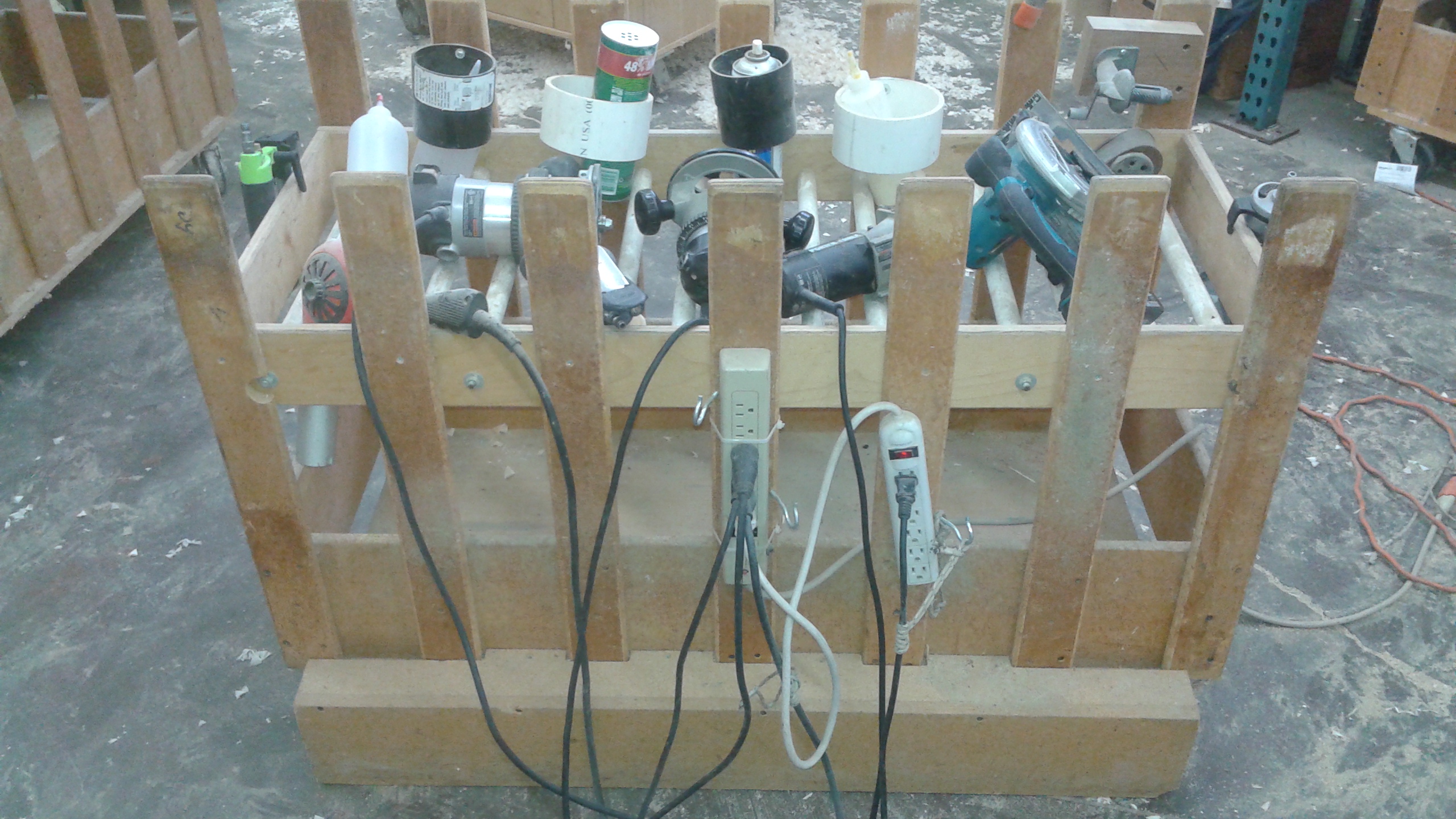 View higher quality, full size image (2560 X 1440)

---
4/12 #26: First big several month long gig fo ...
This thread got hijacked in to a discussion of LEAN.
Time to start a new one.
---
4/12 #27: First big several month long gig fo ...
Larry,
Mel started this thread as a discussion of Lean. It didn't get hijacked.
I agree with you that it is time to start a new one. It's actually time to start a forum dedicated to Lean.
Lean topics tend to get more discussion than any other other on these pages. They also tend to be the most nutritious.
The Woodweb is a for-profit enterprise. I would imagine they derive 99% of their revenue from advertisement dollars. These dollars are directly correlated to traffic on the the site.
Adding a forum dedicated to Lean Thinking would be the leanest thinking the people who own Woodweb could do.
---
4/17 #28: First big several month long gig fo ...
BTW I'm not very happy with any of you right now but it still begs a mention--this long gig has them thinking about process a lot more then the previous shorter custom gigs.
And storage. And working space. And working surface. They are not ready to get gifted literature or anything on LEAN (knowledge is uber scary ya know) but they are headed that way despite themselves :)
---
---
Buy & Sell Exchanges | Forums | Galleries | Other Resources | Site Map
---



Buy and Sell Exchanges



Job Opportunities and Services Exchange
Employment opportunities and services within the woodworking industry

Lumber Exchange
A worldwide buy/sell exchange for lumber and wood products

Machinery Exchange
A worldwide buyer and seller exchange for woodworking machinery and equipment.

Classified Ad Exchange
Classified advertising for the woodworking industry (for advertisements that do not include machinery, lumber products and employment listings)


---



Forums



Adhesives Forum
Discussing topics related to adhesives within the woodworking industry

Architectural Woodworking Forum
Discussing quality standards and production of architectural wood products

Business and Management Forum
A forum for the discussion of business topics: from sales and marketing to dealing with difficult customers.

Cabinet and Millwork Installation Forum
Discussing all aspects of installation issues encountered by cabinet and millwork installers.

Cabinetmaking Forum
Discussing 32mm and face frame cabinet construction including fabrication, casegoods design, and installation.

CAD Forum
Shedding light on the all-too-often shadowy world of CAD.

CNC Forum
Discussing CNC (computer numerically controlled) woodworking equipment, software, and automated product manufacturing.

Dust Collection, Safety and Plant Operation Forum
Discussing topics related to maintaining a safe and productive working environment.

Professional Finishing Forum
Finishing issues for the production environment

Forestry Forum
The science and art of forest cultivation and timber management, planting, surveying, tree diseases, silviculture and timber harvesting

Professional Furniture Making Forum
Helping professional furniture makers improve quality, save time, and increase profits

Laminating and Solid Surfacing Forum
Issues related to laminating and solid surface materials and processes

Commercial Kiln Drying Forum
Discussions covering issues faced be commercial drying operations that process at least 750,000 bd. ft. of lumber per year

Sawing and Drying Forum
Discussing topics related to primary processing and drying of lumber

Solid Wood Machining Forum
Discussing topics related to the machining of solid wood

Value Added Wood Products Forum
Learn how to improve your output, find new markets, and boost sales of your lumber products

Veneer Forum
Discussing topics related to veneer processing, manufacturing, and fabrication

WOODnetWORK
An electronic discussion group for woodworkers throughout the world


---



Galleries



Project Gallery
Where professional woodworkers can post examples of their work

Sawmill Gallery
Professional primary processing companies display and describe their sawmill facilities

Shop Gallery
Professional woodworkers display and describe their shop facilities, products and equipment

Shopbuilt Equipment Gallery
Professional woodworker's jigs, rigs, and shopbuilt equipment


---



Other Resources



Industry News
Late-breaking news from all sectors of the wood industry

Video Library
Index of industrial woodworking related digital videos on the web

Auctions, Sales and Special Offers
Advertisers offering woodworkers discounted prices on good and services, and announcements of upcoming auctions


FORUM GUIDELINES: Please review the guidelines below before posting at WOODWEB's Interactive Message Boards
(return to top)
WOODWEB is a professional industrial woodworking site. Hobbyist and homeowner woodworking questions are inappropriate.
Messages should be kept reasonably short and on topic, relating to the focus of the forum. Responses should relate to the original question.
A valid email return address must be included with each message.
Advertising is inappropriate. The only exceptions are the Classified Ads Exchange, Machinery Exchange, Lumber Exchange, and Job Opportunities and Services Exchange. When posting listings in these areas, review the posting instructions carefully.
Subject lines may be edited for length and clarity.
"Cross posting" is not permitted. Choose the best forum for your question, and post your question at one forum only.
Messages requesting private responses will be removed - Forums are designed to provide information and assistance for all of our visitors. Private response requests are appropriate at WOODWEB's Exchanges and Job Opportunities and Services.
Messages that accuse businesses or individuals of alleged negative actions or behavior are inappropriate since WOODWEB is unable to verify or substantiate the claims.
Posts with the intent of soliciting answers to surveys are not appropriate. Contact WOODWEB for more information on initiating a survey.
Excessive forum participation by an individual upsets the balance of a healthy forum atmosphere. Individuals who excessively post responses containing marginal content will be considered repeat forum abusers.
Responses that initiate or support inappropriate and off-topic discussion of general politics detract from the professional woodworking focus of WOODWEB, and will be removed.
Participants are encouraged to use their real name when posting. Intentionally using another persons name is prohibited, and posts of this nature will be removed at WOODWEB's discretion.
Comments, questions, or criticisms regarding Forum policies should be directed to WOODWEB's Systems Administrator
(return to top).

Carefully review your message before clicking on the "Send Message" button - you will not be able to revise the message once it has been sent.

You will be notified of responses to the message(s) you posted via email. Be sure to enter your email address correctly.

WOODWEB's forums are a highly regarded resource for professional woodworkers. Messages and responses that are crafted in a professional and civil manner strengthen this resource. Messages that do not reflect a professional tone reduce the value of our forums.

Messages are inappropriate when their content: is deemed libelous in nature or is based on rumor, fails to meet basic standards of decorum, contains blatant advertising or inappropriate emphasis on self promotion (return to top).

Libel: Posts which defame an individual or organization, or employ a tone which can be viewed as malicious in nature. Words, pictures, or cartoons which expose a person or organization to public hatred, shame, disgrace, or ridicule, or induce an ill opinion of a person or organization, are libelous.

Improper Decorum: Posts which are profane, inciting, disrespectful or uncivil in tone, or maliciously worded. This also includes the venting of unsubstantiated opinions. Such messages do little to illuminate a given topic, and often have the opposite effect. Constructive criticism is acceptable (return to top).

Advertising: The purpose of WOODWEB Forums is to provide answers, not an advertising venue. Companies participating in a Forum discussion should provide specific answers to posted questions. WOODWEB suggests that businesses include an appropriately crafted signature in order to identify their company. A well meaning post that seems to be on-topic but contains a product reference may do your business more harm than good in the Forum environment. Forum users may perceive your references to specific products as unsolicited advertising (spam) and consciously avoid your web site or services. A well-crafted signature is an appropriate way to advertise your services that will not offend potential customers. Signatures should be limited to 4-6 lines, and may contain information that identifies the type of business you're in, your URL and email address (return to top).

Repeated Forum Abuse: Forum participants who repeatedly fail to follow WOODWEB's Forum Guidelines may encounter difficulty when attempting to post messages.

There are often situations when the original message asks for opinions: "What is the best widget for my type of shop?". To a certain extent, the person posting the message is responsible for including specific questions within the message. An open ended question (like the one above) invites responses that may read as sales pitches. WOODWEB suggests that companies responding to such a question provide detailed and substantive replies rather than responses that read as a one-sided product promotion. It has been WOODWEB's experience that substantive responses are held in higher regard by our readers (return to top).

The staff of WOODWEB assume no responsibility for the accuracy, content, or outcome of any posting transmitted at WOODWEB's Message Boards. Participants should undertake the use of machinery, materials and methods discussed at WOODWEB's Message Boards after considerate evaluation, and at their own risk. WOODWEB reserves the right to delete any messages it deems inappropriate. (return to top)



Forum Posting Form Guidelines

Your Name
The name you enter in this field will be the name that appears with your post or response (return to form).
Your Website
Personal or business website links must point to the author's website. Inappropriate links will be removed without notice, and at WOODWEB's sole discretion. WOODWEB reserves the right to delete any messages with links it deems inappropriate. (return to form)
E-Mail Address
Your e-mail address will not be publicly viewable. Forum participants will be able to contact you using a contact link (included with your post) that is substituted for your actual address. You must include a valid email address in this field. (return to form)
Subject
Subject may be edited for length and clarity. Subject lines should provide an indication of the content of your post. (return to form)
Thread Related Link and Image Guidelines
Thread Related Links posted at WOODWEB's Forums and Exchanges should point to locations that provide supporting information for the topic being discussed in the current message thread. The purpose of WOODWEB Forums is to provide answers, not to serve as an advertising venue. A Thread Related Link that directs visitors to an area with inappropriate content will be removed. WOODWEB reserves the right to delete any messages with links or images it deems inappropriate. (return to form)
Thread Related File Uploads
Thread Related Files posted at WOODWEB's Forums and Exchanges should provide supporting information for the topic being discussed in the current message thread. Video Files: acceptable video formats are: .MOV .AVI .WMV .MPEG .MPG .FLV .MP4 (Image Upload Tips) If you encounter any difficulty when uploading video files, E-mail WOODWEB for assistance. The purpose of WOODWEB Forums is to provide answers, not to serve as an advertising venue. A Thread Related File that contains inappropriate content will be removed, and uploaded files that are not directly related to the message thread will be removed. WOODWEB reserves the right to delete any messages with links, files, or images it deems inappropriate. (return to form)