Allowing foreign competition to destroy this country is defenseless and senseless. Some foreign competition is a good thing. See auto industry. Allowing them to all be better of at our GREAT expense is suicidal. These things have real consequences. Take me. I worked so hard for so long for so little I lost it. Now I am on the public dole. I would love to get off as I have all these skills but why would I spend my whole week working on someones nice home when I can't even afford a modest one for myself? In CT that means $25 plus. That seems kinda like a slave who has it good. All set.
I just hate to see an industry I could be successful in be so crappy.
Country Living Report
---
1/23 #21: Hatin ...

Nice rant, Joel
Let's break up this endless debate of things we know, things we don't know, etc and get back to the OP with his problem/rant.
You will get a lot of shared sympathy here since our chosen and beloved industry is still in the 1920's when it comes to organization and self promotion. While you and I may conduct ourselves as professionals, most of our customers and all our potential customers are not so sure. Indeed, if you walk into a plastic lam shop with your hand planes, mortise chisels and spokeshave, you will be treated worse for it. We gladly trip each other and belittle our coworkers, but that makes it harder for all of us to rise as a whole. We are our own worst enemies.
Everyone has their own story, but I can say that after 45 years as a professional, my little shop is doing the finest work in the area. We keep raising prices ($100 per man hour currently) and we still have 3 months lead time. The two of us produce about 380K per year - and we will see more this year, with a little luck. We get what we charge, have no deadbeats, have never used contracts or lawyers. We work in the country in a great small shop with lots of windows for the long views of the countryside, good heat and AC, and work with fine hardwoods and we even use hand planes and chisels almost daily. We choose what we want to do, how we want to do it, and do not work off site or do any finishing. This is exactly the way we want it.
My one employee has become one of the finest woodworkers I have ever worked with, and we enjoy putting our heads together to see what we come up with. We experiment a bit, play a bit, and produce a helluva lot. My employee is more of a peer, a partner, than anything, equal to my skills and a real joy of a man to spend my day with. Everyday, I stop and realize how fortunate I am.
We do sweat bullets every now and then, but it is mostly to meet our own demanding standards. We are our own worst enemies, again. But we make a decent wage, comfortable middle class, with some time off and such. And we have job satisfaction that is truly off the charts.
Should you have to wait 40 years to achieve this? Most will not last that long. I am stubborn - among other things. I worked in some terrible situations to learn a few things. Hell, I even had to fire a guy for being funny (Skip - was that you?). I walked out of running that 20 man shop to my little shop that was 90% complete as a hobby shop. Next day my wife withdrew some savings and we went machinery shopping. Phone was ringing while we were gone, and I have been busy ever since.
The first years were very lean since I lacked the self confidence to charge what I should have - what the work was worth - but I gradually built the pricing up and the quality was always better than expected. The reputation soon followed. Never have advertised more than answering the phone. Took down the website due to all the tire kickers. During the last growth period, a shop of 6 benchmen was shipping work from the Hamptons to San Diego at 1.2m per year sales. But that was short lived, thanks to the banks.
We do a mix of architectural work and some furniture and a few 'cabinets' - by cabinets, I mean old school - solid wood, matched veneers for backs and door. While typing this, I got a request for 18 dining chairs to go with a 14' table we will deliver this week.
A friend was once the premier period furniture guy in the US and was busy as can be and very well known in the late 80's and early 90's. He then taught, and now he has a position doing period research that keeps him in the shop, but not dependent upon customers. He got what he wanted with the period work, but then it changed to what he does now, and he loves it. I'm not sure how long one wants to stay on top if I look around. But I can easily - happily - do what I do until I drop.
How will you do it? I don't know, but I suggest you formulate your dream position, and then find a few things to do to lead you there, keeping your eye on the eventual goal all the time. Nothing wrong with eating beans as long as there is a better thing in the future. Build and maintain your self respect and your confidence without becoming cocky. We have a rule that we can be cocky and tell each other how good (or bad) we are, but it never leaves the shop. Out there, we are just humble woodworkers, glad for the work, polite, professional and on our way. Anything you do should be in that profesional context - reading, vacations, friends, etc. I live in a world of wood, and I like it a lot.
Also, keep posting here on Woodweb. You are not unique in your frustration, and you are not alone. You'll get more sympathy here than anywhere else since we all know.
---
1/23 #22: Hatin ...

On a cheerier note:


View higher quality, full size image (699 X 265)

---
1/23 #23: Hatin ...

Excellent post and excellent point David
I would love to see a picture of that table.
Joel
Trade is what has driven the standard of living of the world since time began.
At the end of the day we create our own reality through trade.
Cabmaker that comic is a quote from John Maynard Keynes.
---
1/23 #24: Hatin ...

Apologies to Keynes, I think the Buddha's first teachings are that all life is pain. One of the pillars of Buddhism.
The table should be delivered this week.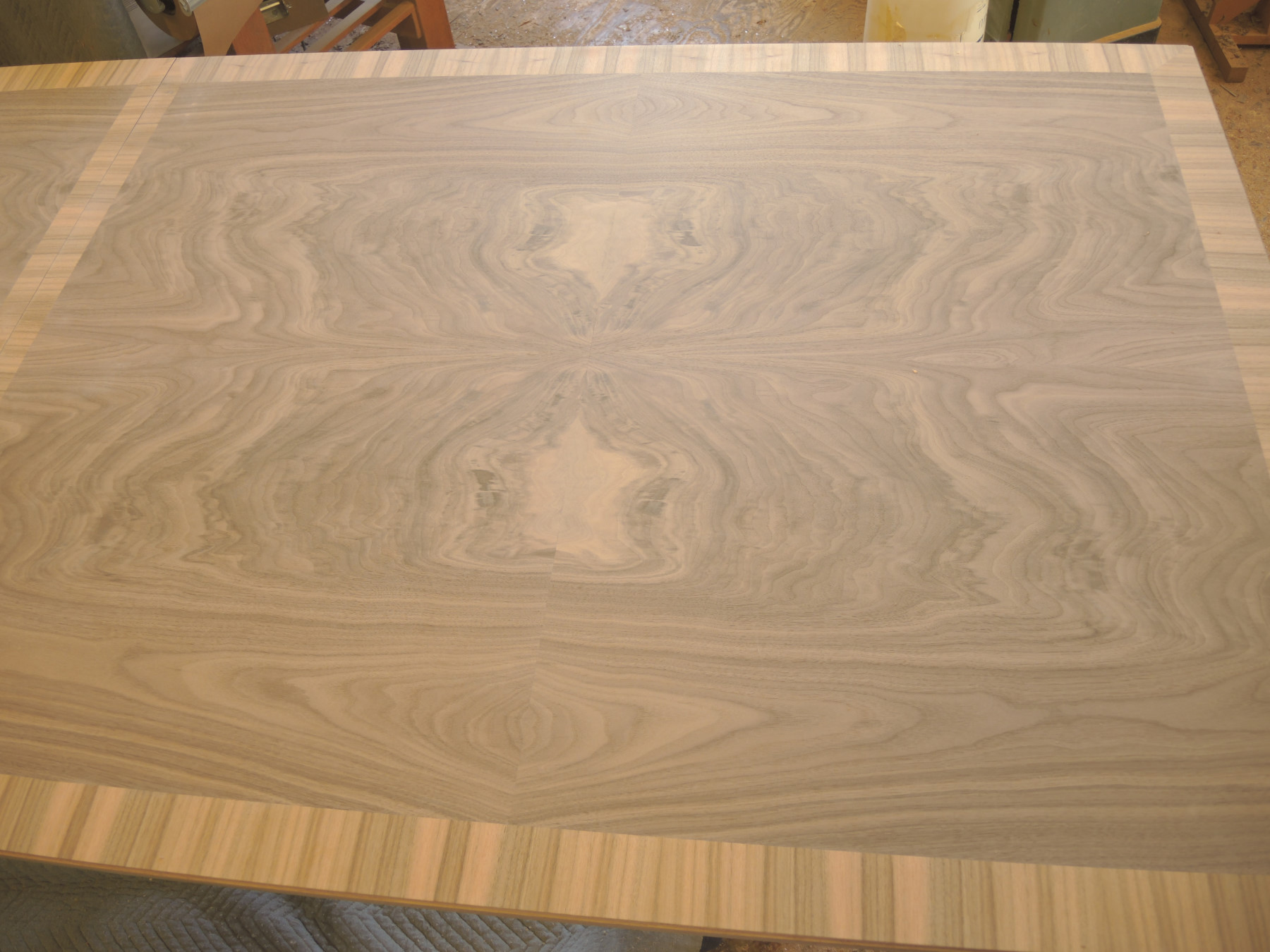 View higher quality, full size image (1800 X 1350)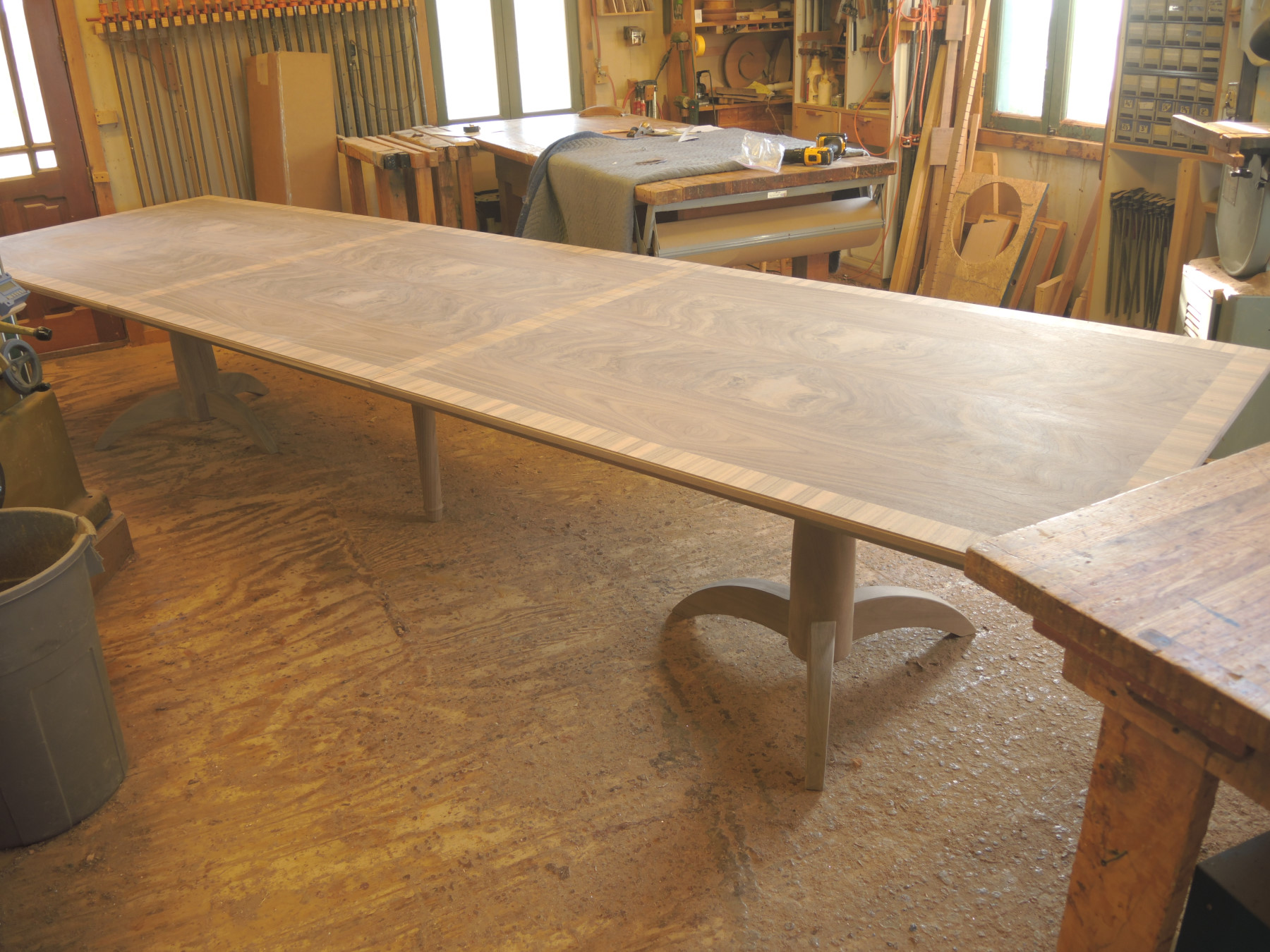 View higher quality, full size image (1800 X 1350)

---
1/23 #25: Hatin ...

Thanks David, beautiful work.
Do you do the veneer layup? How thick is the Top?
Keynes said: "in the long run we are all dead."
Keynesian economics is useless economics BTW, of which you would say all economics is useless...
---
1/23 #26: Hatin ...

There is an economic law called Say's Law that states all demand is created by production.
This is contrary to the popular myth that demand just exists.
You David are a great example of Say's Law. Which is apt to Joel's point.
---
1/23 #27: Hatin ...

Thanks for the nice comments.
We lay up our own veneers. No one cares about our work as much as we do. The top is 3/4" with a B grade 1/16" Walnut on the underside. All the faces are cross banded - again with 1/16th B grade. We also make a fairly extensive framework underneath to carry the MDF core. This framework anchors the extension slides, the two pedestals and the drop down center leg. The 3rd leg drops automatically when opened far enough.
Economics and economics are mostly useless, unless they would like some really nice woodwork! Then I am all ears.
While the macro is interesting and probably is relevant in some realities, the micro is much more relevant to me and Joel and then rest of us. Not to be selfish or arrogant, but I am just one person in a two man shop. It doesn't take a huge plan or an understanding of globalization to keep our body and soul together. That is all that matters to us.
---
1/23 #28: Hatin ...

This is an 18' table I made a couple of weeks ago.
Not trying to convince anyone, however this concept is very useful.
Say's Law is micro economics.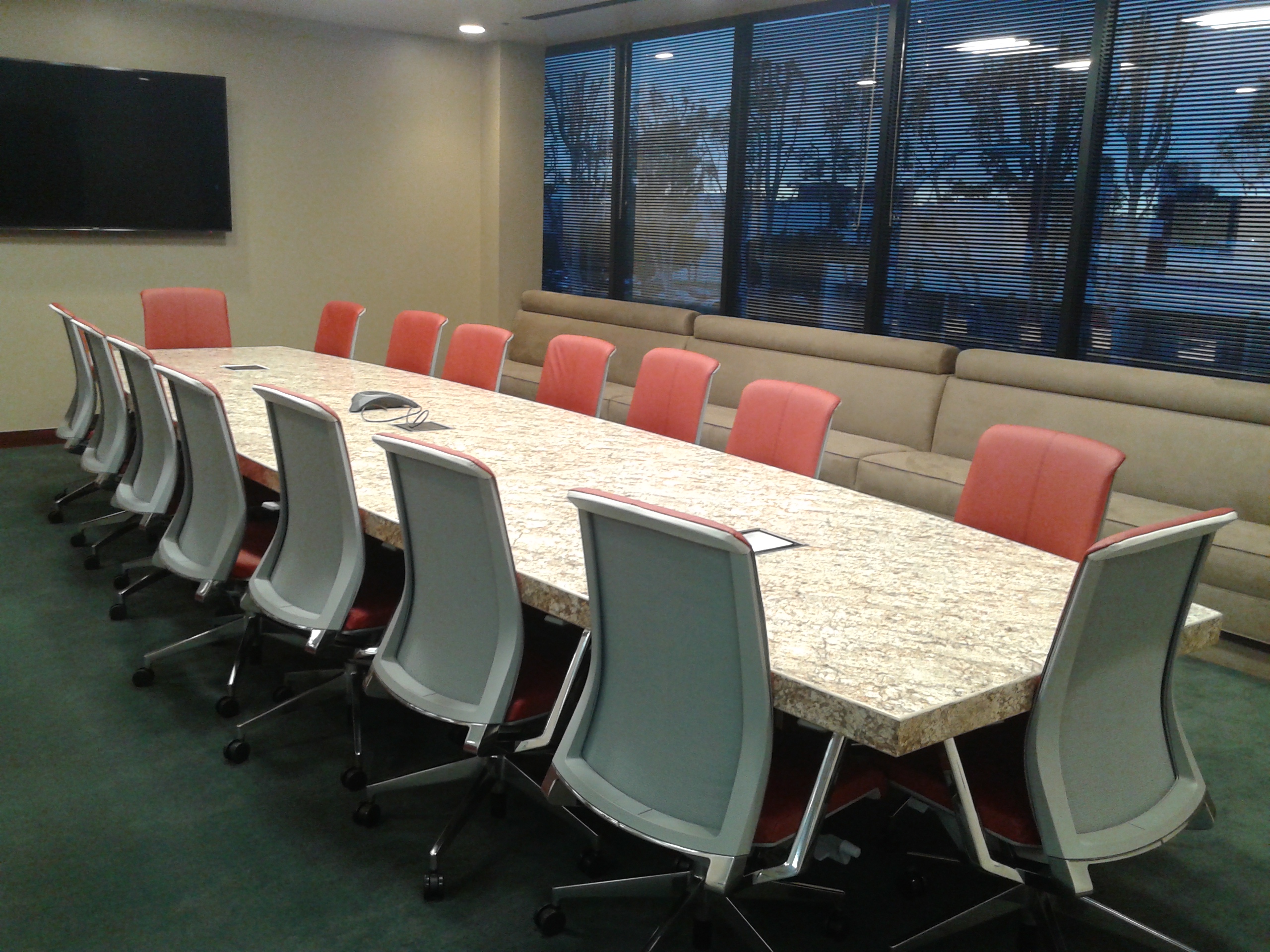 View higher quality, full size image (2560 X 1920)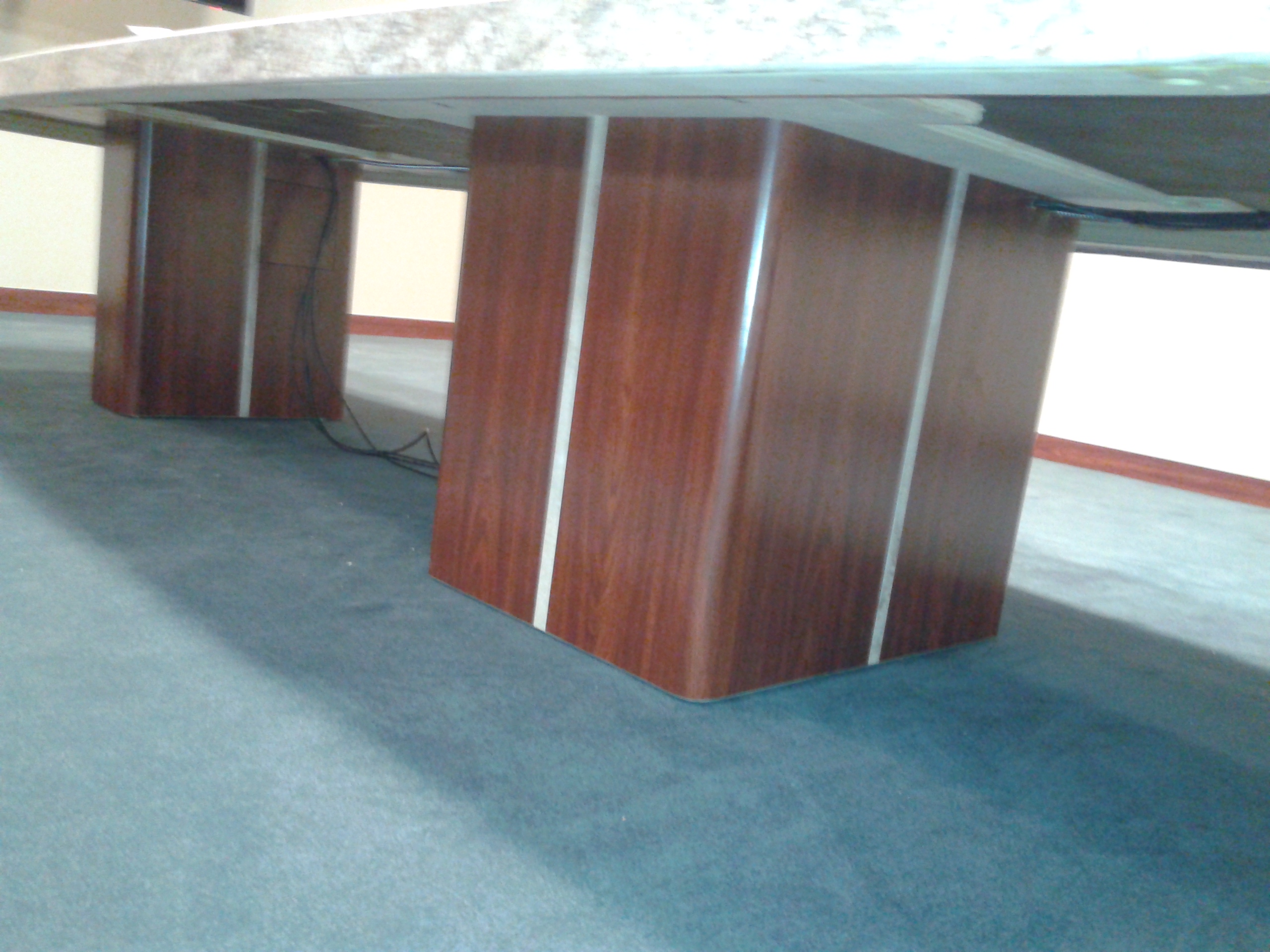 View higher quality, full size image (2560 X 1920)

---
1/23 #29: Hatin ...

OK, folks, here is what one woodworker took home over the 28 years. I don't call myself much of a business man, as I'm sure that others could have wrung more profit out of my operation, but I'm still here. It IS possible to make a decent wage in this game, although it isn't easy. I did it by lucking into a niche and then working on getting more efficient. And I had a lot of luck in my journey from single man shop to where I am today.
This is a slide from the talk I gave at AWFS 2015 in Vegas. I'm going to do an update this year.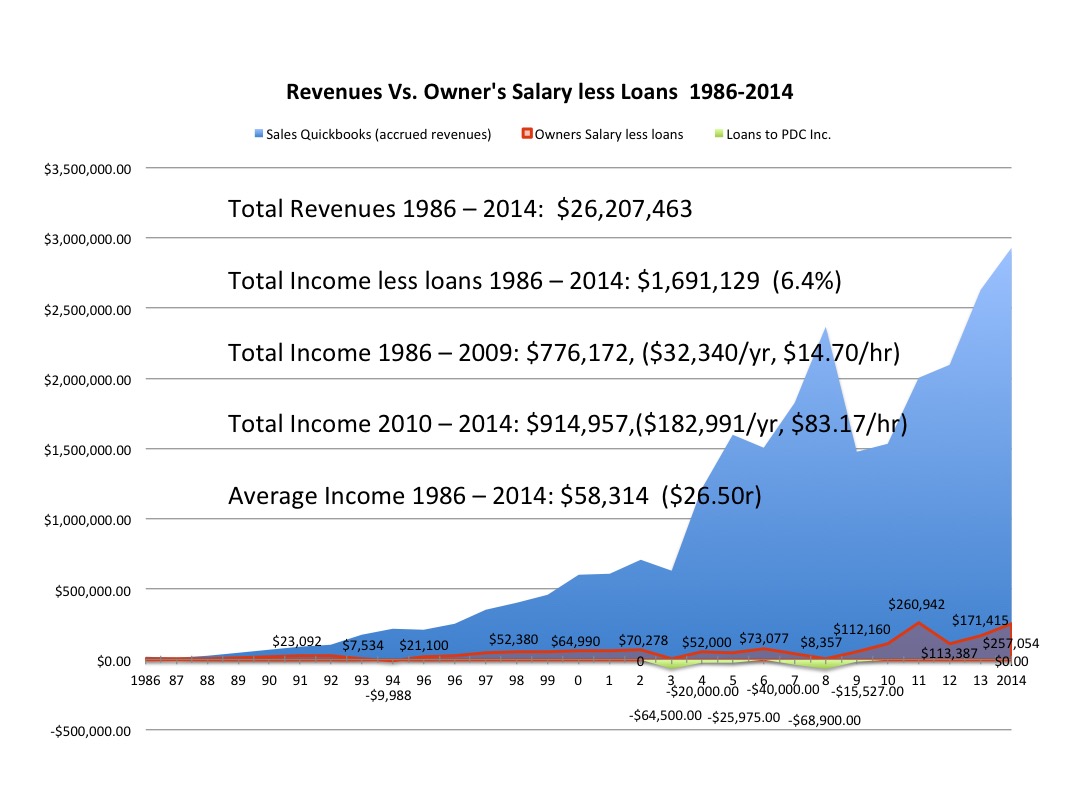 View higher quality, full size image (1080 X 810)

---
1/24 #30: Hatin ...

Joel,
I tend to agree with everything you have said. I have given up on building cabinetry, but my issues are mostly with local shops who are willing to build cabinets with no profit margin.
In smaller, rural communities I would imagine this is a problem for many of us.
I have moved back into remodels and typically buy the cabinets, because that is the price that local citizens think cabinets should cost.
I'm on a 2 year plan to move closer to a major city with real jobs and a real economy. That may allow me to go back into cabinetry somewhat.
You just have to realize this is probably the worst paying trade there is. We have a ton of competition from big boxes, and also lots of guys who like to do this trade with no appreciation for real life business costs.
If you enjoy working in the trades, find another trade... They all pay better.
---
1/24 #31: Hatin ...

I will plug Paul Downs' book - "Boss Life: Surviving My Own Small Business" as the best example of a typical (?) woodworker's story. He went from a one man custom furniture to a larger, more stable niche company that appears very successful. He'll be the first to wonder how stable it is, but he has a good reputation, and has made a good living, and I think he still enjoys what he does, though it has changed over the years.
Read the book - it is excellent.
The fact is (no alternate facts, please!) that we all travel a similar road, but the path is not plain to see. I think niche work is far better than straight up kitchens as for eliminating the competition. "Anyone can make a kitchen" seems to be the thought with prospective customers, builders, and other alleged cabinetmakers, while the opposite is true for really good cabinetry. Niche work saved Paul Downs, and it has saved my company, as well as others.
---
1/25 #32: Hatin ...

The facts (which may be "alternate facts") as I see them after working in this line of work for 4 decades. Having built and shipped work to almost every state.
The best paying areas of woodworking are connected to marketing. This would be hotel lobbies, retail stores, trade show exhibits, rich peoples houses, conference tables.
The key to success in any business is in the exchange. Apple gave the people more than they were used to, Toyota does the same, Porche does the same.
The key to the above is machinery, you may not need as much in some niches.
But the very definition of a factory is using machinery to facilitate the fabrication of a product.
A key to any business is contacts, people who buy your product. Identifying and promoting/networking to them is the single most important aspect of business.
A key part of exchange is treating people with respect and being friendly.
I got interested in economics through someone on the WoodWeb who very successfully sold kitchens, he no longer is in the kitchen business. The thing I found interesting was how things work the way they do in the economy.
The current slump in construction is going to change big time in the coming years. Because of the large group of young people coming into the home buying age. This is going to happen, not my opinion.
I don't know if this bodes well for the cabinet shop. Things always change after a slump so the growth comes in new ways. Toll Brothers and K & B homes are investing in building factories that build homes, this may be the future in home building. This would hurt most of the trades.
The bureau of labor statistics projects 15% growth for electricians in the next 7 years. They project a negative growth of 1.5% for cabinetmakers in the same time frame.
In my experience I have yet to see an electrical contractor go out of business and I have yet to see a cabinet shop that didn't go out of business. The overhead in a down market appears to be the back breaker.
The ones that seem to be doing ok are the big dogs doing big jobs, mostly IMO because of low interest rates, and the guys doing high end residential are also seem to be doing well.
I would say your odds of duplicating what David or Paul are doing is low.
Whatever you do work hard at it and become good at it. As Mike Rowe says don't look for your passion look for opportunity and bring your passion/enthusiasm with you.
---
1/25 #33: Hatin ...

Pat,
You are right that there are a large group of young people coming into the home-buying age but this doesn't necessarily mean there will be homes available for them to buy.
According to the Wall Street Journal, Fannie Mae just agreed to insure the debt for rental home purchases by BlackStone Inc. It used to be they would only insure mortgages on owner-occupied real estate.
With this agreement there is now no risk for investors who want to buy rental homes. The amount of capital flowing to this niche will soon overtake the residential market. If you have a house for sale they will write you a check this afternoon and throw in some extra money if you can be out by 5pm.
It will take just one generation of home owners to completely deed residential ownership to Wall Street.
---
1/25 #34: Hatin ...

Yeah well there is always the chicken little narrative. But think about it, this country has a GDP of 20 trillion dollars per year, there are 165 million people employed with 4.6 unemployment. You can go on and on about the chicken little scenario all you want, but but you lock yourself in by coloring your viewpoint with this.
There are going to be some real opportunities after 10 years of construction paucity, put down the chicken little story and pick up the Horatio Alger's story.
They may both be wrong but it is more fun to read the Horatio Alger story.
Let's go with this narrative?
---
1/26 #35: Hatin ...

Pat,
Just because this is a bleak outlook does not necessarily make it a "chicken little" scenario. That same WSJ article indicated that according to US Census Bureau data "the home ownership rate reached it's lowest level in at least 50 years".
The story about Wall Street creating REITs to buy residential rental properties may just a be another data point but it is part of a trend in data points. Home ownership is becoming more and more an unattainable achievement for more and more people in our country. Our children certainly do not have the opportunity to own the house they live in that we had when we were their age.
You don't have to actually be Nostradamus to interpret this information.
Wall Street has successfully lobbied the government to remove risk from their portfolios. As such more and more capital will find its way into these portfolios because when the risk disappears the ROI increases.
The only reason people invest in these REITs is to receive a return on their investment. Renters aren't as sentimental about new kitchens as homeowners are. Since they don't own the property renters would rather have lower quality cabinets from China than increased rents associated with nicer kitchens from Woodweb guys.
---
1/26 #36: Hatin ...

I will make this short as this is hijacking the thread which was not my intent.
Younger people rent, people don't buy until they start families. Since the millennials are taking longer to move into this phase, the homes sales are at historic low as you indicate.
This chart indicates the change to single family from multifamily.
Anything beyond this fact is minor.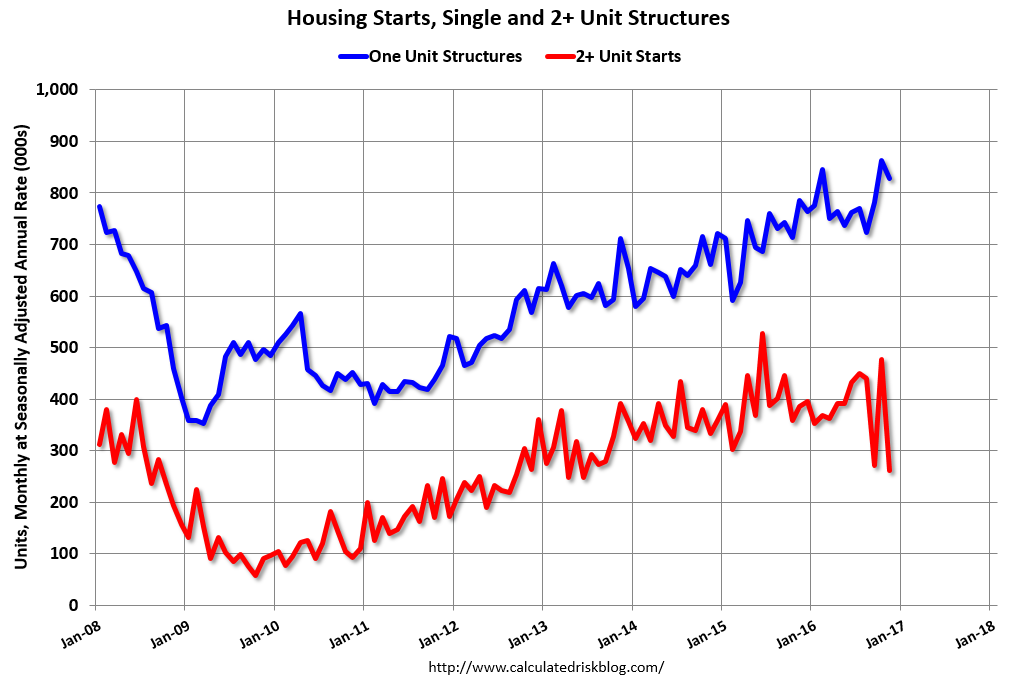 View higher quality, full size image (1011 X 684)

---
1/26 #37: Hatin ...

Joel,
Find your niche and get after it. Since you're quite possibly the only person making goo gaws you'd have a head start there. Create the demand. Start the worlds first goo gaw blog, make people feel like they need a goo gaw and how ownership will increase their quality of life. There's lots of people selling "woodwork and craftsmanship" so you need to differentiate and stand out, focus the marketing on a way of life. As you take the market by storm capitalize on the wave and write a book "How the goo gaw saved me from corporate exile", roll out new products like "the children's goo gaw" or "goo gaws for pets". The possibilities are endless.
Above all else make sure you take care of yourself...as in be confident in your skills, use the forum's expertise to fill in any voids you're less experienced with and charge accordingly so you can work your way out of the apt you can't afford to paint. If you really feel stuck in a dead end, scraping to get by, don't feel beholden to woodworking, look into other options.

---
1/26 #38: Hatin ...

This is one that I totally agree with, Pat's line "A key to any business is contacts, people who buy your product. Identifying and promoting/networking to them is the single most important aspect of business."
Get known. Might be hard to do starting out, but you have to make the effort. I've never been particularly good @ it but by default because I've been at it so long I have gotten some recognition. Still there are contractors in my town that don't know I exist. You have no opportunity to get their work if they don't know you exist! Get out there and be seen. Look for an under filled niche. Most likely you will find it by accident. Gota look though.
---
1/26 #39: Hatin ...

We can make a good living in this industry.
1) We Need constant sales, so always be bidding /quoting.
2) We need constant production to keep a stable workforce so see #1.
3) We need systems and methods
4) we need to be able to collect and get paid so when working on #1, stay away from those that can't or don't pay or charge them more
5) the lower the risk, the tighter the price, can be, the higher risk, the higher the price needs to be.
.
Find your niche and make a profit, if you are beating you head against the wall competing against x, then find a different market.
Sell what you want to make or get paid enough to make what someone else wants you to make.
make sales. every day.
---
1/28 #40: Hatin ...

I actually found a niche. Buying tools and equipment, especially chainsaws, and fixing for re-sale. It works and I usually find it enjoyable. If your from CT don't read this! Kidding..Sorry for hatin but I think it needed to be said.
---
1/28 #41: Hatin ...

Sorry for hatin forget about the needed to be said.
---
2/1 #42: Hatin ...

Joel, I feel your pain. Nobody tells you when you get into the trade that woodworking is a horrible way to make a living. I have 14 years in the industry and I even in the hottest remodeling market in the country (world?) I can't make a decent living, either working for others or with my own business. Make your money elsewhere, and do your woodworking as a hobby. At least then you get to keep all the beautiful things you make.
It seems you have already come to that conclusion, and you have found a smart niche that can run out of a garage. Stay small and lean, overhead kills!
---
---
Buy & Sell Exchanges | Forums | Galleries | Other Resources | Site Map
---

Buy and Sell Exchanges

Job Opportunities and Services Exchange
Employment opportunities and services within the woodworking industry

Lumber Exchange
A worldwide buy/sell exchange for lumber and wood products

Machinery Exchange
A worldwide buyer and seller exchange for woodworking machinery and equipment.

Classified Ad Exchange
Classified advertising for the woodworking industry (for advertisements that do not include machinery, lumber products and employment listings)


---

Forums

Adhesives Forum
Discussing topics related to adhesives within the woodworking industry

Architectural Woodworking Forum
Discussing quality standards and production of architectural wood products

Business and Management Forum
A forum for the discussion of business topics: from sales and marketing to dealing with difficult customers.

Cabinet and Millwork Installation Forum
Discussing all aspects of installation issues encountered by cabinet and millwork installers.

Cabinetmaking Forum
Discussing 32mm and face frame cabinet construction including fabrication, casegoods design, and installation.

CAD Forum
Shedding light on the all-too-often shadowy world of CAD.

CNC Forum
Discussing CNC (computer numerically controlled) woodworking equipment, software, and automated product manufacturing.

Dust Collection, Safety and Plant Operation Forum
Discussing topics related to maintaining a safe and productive working environment.

Professional Finishing Forum
Finishing issues for the production environment

Forestry Forum
The science and art of forest cultivation and timber management, planting, surveying, tree diseases, silviculture and timber harvesting

Professional Furniture Making Forum
Helping professional furniture makers improve quality, save time, and increase profits

Laminating and Solid Surfacing Forum
Issues related to laminating and solid surface materials and processes

Commercial Kiln Drying Forum
Discussions covering issues faced be commercial drying operations that process at least 750,000 bd. ft. of lumber per year

Sawing and Drying Forum
Discussing topics related to primary processing and drying of lumber

Solid Wood Machining Forum
Discussing topics related to the machining of solid wood

Value Added Wood Products Forum
Learn how to improve your output, find new markets, and boost sales of your lumber products

Veneer Forum
Discussing topics related to veneer processing, manufacturing, and fabrication

WOODnetWORK
An electronic discussion group for woodworkers throughout the world


---

Galleries

Project Gallery
Where professional woodworkers can post examples of their work

Sawmill Gallery
Professional primary processing companies display and describe their sawmill facilities

Shop Gallery
Professional woodworkers display and describe their shop facilities, products and equipment

Shopbuilt Equipment Gallery
Professional woodworker's jigs, rigs, and shopbuilt equipment


---

Other Resources

Industry News
Late-breaking news from all sectors of the wood industry

Video Library
Index of industrial woodworking related digital videos on the web

Auctions, Sales and Special Offers
Advertisers offering woodworkers discounted prices on good and services, and announcements of upcoming auctions

FORUM GUIDELINES: Please review the guidelines below before posting at WOODWEB's Interactive Message Boards (return to top)


WOODWEB is a professional industrial woodworking site. Hobbyist and homeowner woodworking questions are inappropriate.
Messages should be kept reasonably short and on topic, relating to the focus of the forum. Responses should relate to the original question.
A valid email return address must be included with each message.
Advertising is inappropriate. The only exceptions are the Classified Ads Exchange, Machinery Exchange, Lumber Exchange, and Job Opportunities and Services Exchange. When posting listings in these areas, review the posting instructions carefully.
Subject lines may be edited for length and clarity.
"Cross posting" is not permitted. Choose the best forum for your question, and post your question at one forum only.
Messages requesting private responses will be removed - Forums are designed to provide information and assistance for all of our visitors. Private response requests are appropriate at WOODWEB's Exchanges and Job Opportunities and Services.
Messages that accuse businesses or individuals of alleged negative actions or behavior are inappropriate since WOODWEB is unable to verify or substantiate the claims.
Posts with the intent of soliciting answers to surveys are not appropriate. Contact WOODWEB for more information on initiating a survey.
Excessive forum participation by an individual upsets the balance of a healthy forum atmosphere. Individuals who excessively post responses containing marginal content will be considered repeat forum abusers.
Responses that initiate or support inappropriate and off-topic discussion of general politics detract from the professional woodworking focus of WOODWEB, and will be removed.
Participants are encouraged to use their real name when posting. Intentionally using another persons name is prohibited, and posts of this nature will be removed at WOODWEB's discretion.
Comments, questions, or criticisms regarding Forum policies should be directed to WOODWEB's Systems Administrator
(return to top).

Carefully review your message before clicking on the "Send Message" button - you will not be able to revise the message once it has been sent.

You will be notified of responses to the message(s) you posted via email. Be sure to enter your email address correctly.

WOODWEB's forums are a highly regarded resource for professional woodworkers. Messages and responses that are crafted in a professional and civil manner strengthen this resource. Messages that do not reflect a professional tone reduce the value of our forums.

Messages are inappropriate when their content: is deemed libelous in nature or is based on rumor, fails to meet basic standards of decorum, contains blatant advertising or inappropriate emphasis on self promotion (return to top).

Libel: Posts which defame an individual or organization, or employ a tone which can be viewed as malicious in nature. Words, pictures, or cartoons which expose a person or organization to public hatred, shame, disgrace, or ridicule, or induce an ill opinion of a person or organization, are libelous.

Improper Decorum: Posts which are profane, inciting, disrespectful or uncivil in tone, or maliciously worded. This also includes the venting of unsubstantiated opinions. Such messages do little to illuminate a given topic, and often have the opposite effect. Constructive criticism is acceptable (return to top).

Advertising: The purpose of WOODWEB Forums is to provide answers, not an advertising venue. Companies participating in a Forum discussion should provide specific answers to posted questions. WOODWEB suggests that businesses include an appropriately crafted signature in order to identify their company. A well meaning post that seems to be on-topic but contains a product reference may do your business more harm than good in the Forum environment. Forum users may perceive your references to specific products as unsolicited advertising (spam) and consciously avoid your web site or services. A well-crafted signature is an appropriate way to advertise your services that will not offend potential customers. Signatures should be limited to 4-6 lines, and may contain information that identifies the type of business you're in, your URL and email address (return to top).

Repeated Forum Abuse: Forum participants who repeatedly fail to follow WOODWEB's Forum Guidelines may encounter difficulty when attempting to post messages.

There are often situations when the original message asks for opinions: "What is the best widget for my type of shop?". To a certain extent, the person posting the message is responsible for including specific questions within the message. An open ended question (like the one above) invites responses that may read as sales pitches. WOODWEB suggests that companies responding to such a question provide detailed and substantive replies rather than responses that read as a one-sided product promotion. It has been WOODWEB's experience that substantive responses are held in higher regard by our readers (return to top).

The staff of WOODWEB assume no responsibility for the accuracy, content, or outcome of any posting transmitted at WOODWEB's Message Boards. Participants should undertake the use of machinery, materials and methods discussed at WOODWEB's Message Boards after considerate evaluation, and at their own risk. WOODWEB reserves the right to delete any messages it deems inappropriate. (return to top)



Forum Posting Form Guidelines

Your Name
The name you enter in this field will be the name that appears with your post or response (return to form).
Your Website
Personal or business website links must point to the author's website. Inappropriate links will be removed without notice, and at WOODWEB's sole discretion. WOODWEB reserves the right to delete any messages with links it deems inappropriate. (return to form)
E-Mail Address
Your e-mail address will not be publicly viewable. Forum participants will be able to contact you using a contact link (included with your post) that is substituted for your actual address. You must include a valid email address in this field. (return to form)
Subject
Subject may be edited for length and clarity. Subject lines should provide an indication of the content of your post. (return to form)
Thread Related Link and Image Guidelines
Thread Related Links posted at WOODWEB's Forums and Exchanges should point to locations that provide supporting information for the topic being discussed in the current message thread. The purpose of WOODWEB Forums is to provide answers, not to serve as an advertising venue. A Thread Related Link that directs visitors to an area with inappropriate content will be removed. WOODWEB reserves the right to delete any messages with links or images it deems inappropriate. (return to form)
Thread Related File Uploads
Thread Related Files posted at WOODWEB's Forums and Exchanges should provide supporting information for the topic being discussed in the current message thread. Video Files: acceptable video formats are: .MOV .AVI .WMV .MPEG .MPG .FLV .MP4 (Image Upload Tips) If you encounter any difficulty when uploading video files, E-mail WOODWEB for assistance. The purpose of WOODWEB Forums is to provide answers, not to serve as an advertising venue. A Thread Related File that contains inappropriate content will be removed, and uploaded files that are not directly related to the message thread will be removed. WOODWEB reserves the right to delete any messages with links, files, or images it deems inappropriate. (return to form)