Logan
---
2/26 #17: Business Outlook & Plan ...

Pat,
I understand what you are saying but I don't look at things optimistically or pessimistically- I just look for reality and then hedge my bets. Right now I'm set up to receive a good portion of the upside if things go good and do better than most if things go bad. I won't get all of the upside and i sure won't get all of the bad. And I'm happy with that. You could say I'm diversified.
But there are some here I respect and wanted to get their thoughts. I don't plan on changing my strategy, but I love data- I'm an information junkie and even if I don't agree with the others knowing what they think helps me in my implementation of my strategy. I always like to know what the word on the street is.
---
2/26 #18: Business Outlook & Plan ...

At the precipice of the crash debt was brutal. Debt is usually not a good idea. But with interest rates so low it is not a bad idea on the other hand interest rates figure to stay low for a long time. In charts the trend is you friend.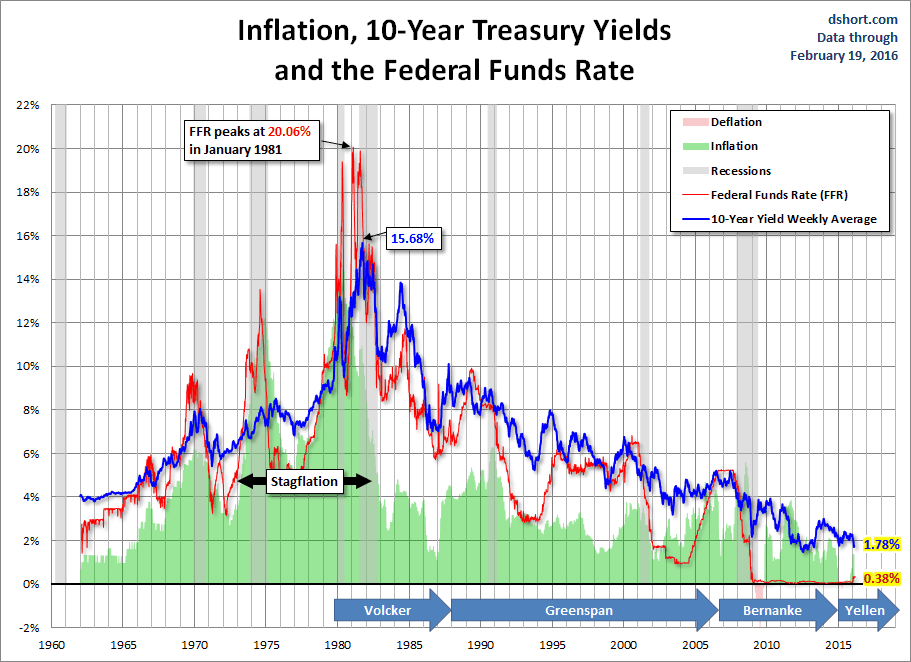 View higher quality, full size image (911 X 662)

---
2/26 #19: Business Outlook & Plan ...

Pat
Stay healthy dude ,and make sure you enjoy whats left.I know it goes without saying ,everyday is a gift for all of us.
Best Regards RC
---
2/26 #20: Business Outlook & Plan ...

Thanks Rick and FM
---
2/27 #21: Business Outlook & Plan ...

Well, Tim, I see that you have many questions, some for me, some not.
I'll start with your basic misunderstanding of the '08 problems.
The Community Reinvestment Act, dating from the days of Carter, required banks to make, what shall we say? Questionable? Yes, that's it, questionable loans.
Later HUD guidelines ("Affordable Housing Goals") put the force of law into unilateral declarations from HUD about the volume of "low and moderate income" loans lenders should make, as in by Cuomo, then the HUD Secretary under Clinton, who jacked the requirement up to 50% of all loans in 2001.
Combine all of that with a swarm of operatives from Fannie and Freddie and HUD and the Federal Reserve (the biggest bank regulator of all) lecturing meetings of bankers about how to comply with the new and much higher requirements for super-easy credit to people who shouldn't have gotten it.
Remember that the Fed and other federal regulators had and have absolute power to deny any bank the right to expand here or there or do this or that. If they weren't complying with HUD and/or CRA loan requirements, too bad for your planned expansion or acquisition.
What did we get? Nothing down loans, down-strokes financed by grants, then later little or no documentation of anything, indeed what ultimately became known as NINJA loans -- no income, no job, no assets loans.
What are known as Alt-A and sub-prime loans. Total junk. All at the behest and unspoken threat of the government.
No sane banker would have done this on their own. Banks only went along with it because they 1) had a regulatory gun at their head and, 2) more importantly, F&F would buy every single piece of crap loan they could originate. And so they did. And there were, of course, a LOT of them to buy. Literally trillions of dollars worth of crap loans.
Fannie and Freddie always insisted that these garbage loans were a small part of their portfolios. Tiny percentages. Those claims were outright (now proven) lies. F&F's financial statements were chock-full of outright lies.
Remember Franklin Raines? Former Clinton OMB director. Then Chairman of Fannie. He was made to give back $24.7 million, years later. Should have gone to prison.
The evil Bush tried (twice) to rein in this HUD/F&F nonsense. No such luck. Representative Barney Frank (MA-D) said (famously, or perhaps infamously) Gee, "let's roll the dice a little longer" during one Congressional hearing on F&F when the idea proposed was to put a stop to the insanity.
Ultimately, about 75% -- 75 PERCENT -- of F&F's portfolios turned out to be made up of absolute JUNK loans -- Alt-A and sub-prime.
All that junk was securitized by F&F, mostly as AAA risks, which turned out not to be the case as defaults snowballed after prices peaked.
The greater fool theory of investment only works for so long. And if the bag-holders at the top have no reserves, which they didn't, the theory doesn't work at all, not even for a month or two.
And F&F went bankrupt anyway -- they couldn't securitize all of the junk and they were stuck with the dregs.
And there you have a government-caused "crisis" which never should have happened AT ALL. And never would have but for the feel-good idea that more people should own their own home ASAP.
100% government's fault. Primarily Carter and Clinton, but ALSO Bush. Bush agreed it was a good idea to increase home ownership rates, and didn't do nearly enough to stop the insane lowering of lending standards. Bush tried, but failed miserably to raise a sufficient stink about what was going on.
Increasing home ownership is always a good thing as long as it's happening because people can afford it and do it of their own volition in their own interest.
If it's caused by ridiculously low lending standards FORCED on lenders by the government (as it was) along with a public perception that "RE can never go down" it will all eventually crumble, the only question is exactly when.
I recommend that you read everything by Peter J. Wallison about it, including his book on the topic "Hidden in Plain Sight."
As far as I can tell he is the foremost expert on how and what really happened. His analysis is much more detailed than my brief summary.
And fully documented, with all of the ugly facts about F&F. And it is ugly.
As for the banks, they got what amounted to LOANS (in the form of agreements to purchase "troubled" assets above current market prices) whether they wanted them or not (apparently some at the point of the Federal Reserve gun in the hand of Treasury Secretary Henry Paulson.)
"That's a nice bank you've got there, it would be a shame if something happened to it." Which was the message to the few who didn't want any Fed money. Can't have you guys who weren't suckers for "AAA" CMOs embarrassing all of these other fine, upstanding dopes who fell for it, hook, line and sinker. When the Secretary of the Treasury delivers that message to you, you take the money, go home, give it back at the earliest possible moment and keep your head down.
The government via TARP handed out $425+ billion to PURCHASE DISTRESSED SECURITIES from banks (which were causing problems on their balance sheets) and we got it ALL back plus about $15 billion in interest and stock gains, although there are apparently still a handful of small banks who owe $300 million or so. About .007% of the $425 billion. Pretty good for government work. They spill more than that ($300 million) every day in waste, fraud and abuse.
The government has no business GIVING a dime to anyone who made a bad real estate investment, whether a bank or individual.
On top of it all, the government screwed over GM and Chrysler bondholders, in favor of the UAW. In a routine bankruptcy proceeding. NEVER happened before. Nice precedent, government. Introduce more uncertainty to bond investments where it used to be guaranteed that you were first in line to be paid if there are problems.
Not to mention that if GM and Chrysler been allowed to liquidate, ALL of their valuable assets would have been acquired routinely in bankruptcy proceedings. Only difference is that the cars they're making today would have Toyota or Volkswagen or Ford nameplates on them. All the suppliers would be happily making parts for the new owners.
As a final aside on that, I own a small position in Ford. Why? I like auto industry prospects and F never asked for or took a dime from the federal government. They were smart enough to not need any help from anyone. Maybe these guys know what they're doing.
As for grocery stores, they're not going anywhere, at least not in the next 15-20 years. Sure there'll be some attrition, starting with the unionized ones.
Gosh, that'll probably create new "food deserts" in places like Chicago. I guess that'll create new demands for "free internet" so one can order from AMZN or WMT or whoever.
As for the economy in general, we have achieved a lousy average growth rate of about 2% per year for 8 years IN SPITE of the empty suit formerly in the White House, not because of him.
This is the guy who tried to kill the entire coal industry and almost did it, would have restricted oil and gas development EVERYWHERE but only managed to do it on federal lands.
The same guy who said we could never drill our way out of high prices, who said we would never see $2 gas again. And there was something about keeping your plan and keeping your doctor.
And was happy to burden everyone with new regulations of all sorts, for example, ridiculous overtime regulations. There are hundreds of examples.
Oh, and of particular note to thousands of cabinet shop owners who have worked countless 100-hour weeks creating and carefully nurturing their businesses, "You didn't build that."
I reject the conspiracy theories about him being a Muslim. But, when it comes to foreign policy, what would he have done differently in Egypt, Libya, Iran, Syria or Iraq if he actually was a Muslim? Nothing I can think of. None of his actions were beneficial to us.
You know, when you run around bowing to people like the Saudis, people might get the impression that you aren't really big on the idea the America is the most important country in the world. Which leads to conspiracy theories, ad infinitum.
Not my theories, but after 8 years it's understandable how they might have arisen.
---
2/27 #22: Business Outlook & Plan ...

Econ 101,
You're doing the KellyAnne thing again.
Obama is not the President. Trump is the President. We have one President at a time.
Trump selected General Flynn to be the top National Security Advisor. Flynn was apparently representing Russian interests rather than ours.
It a binary evaluation:
1) Did the Trump people vet General Flynn?
If they didn't know about these connections they should have known about them.
If they did know about the connections, what was the reason they kept him in the position?
Even GOP Rep Daryl Issa (the man who wouldn't let Benghazi go) says we need an independent investigation of the Trump campaign connection with Russia.
The rest of your arguments are just misdirection, like Kelly Anne Conway used to do before she lost credibility and Trump stopped putting her in front of TV cameras.
---
2/27 #23: Business Outlook & Plan ...

Huh. I refute you point by point, and all you want to talk about is evil Russkies?
Wait a minute. Are not these the same Russkies our previous glorious dear leader told (when he thought the mic was off) "This is my last election. Tell him [Putin] that after my election I'll have more flexibility."?
The same Russkies to whom our previous disaster of a Secretary of State gave a misspelled, ridiculous plastic "reset" button thereby making a total fool of herself?
Those Russkies? Who, just 2 years later took the Crimea and a good hunk of southeastern Ukraine?
Oops. No more mister nice guys.To the great consternation of all and sundry liberals? Particularly some alleged smart-guy running for president in 2012 who said to Romney in a presidential debate "The '80s called, and they want their foreign policy back."
You can't have it both ways. Make up your mind.
Not that it matters, I suspect that Trump is laughing at the pretzels you have to twist yourselves into, Issa notwithstanding. Poor Issa had a close call last time around, so he's trying to cover his butt by acting like a Democrat. He is in Cali, after all.
Not a problem. It's all good. I won't convince you and you'll never convince me. Other people can read your claims and my responses and make their own minds up.
All I can say is that if you want more Trump, keep up the non-stop silly attacks, that's how you convince a few thousand voters every day, day in and day out, that they need more Trump, not less..
---
2/27 #24: Business Outlook & Plan ...

So how can you hire a guy for NATIONAL SECURITY director and 24 days later have to let him go?
Who's driving this clown car?
---
2/28 #25: Business Outlook & Plan ...

I clicked on this thread hoping for some enlightening information and discussion about business plans. Instead, I get this stupid tinfoil hat conversation. Lay off the politics. Stick to woodworking.
---
2/28 #26: Business Outlook & Plan ...

Cept when you lift your head from the dust bowl, economics/politics and business are inseparably connected.
Most woodworkers got into woodworking to get away from the noise, but business activity, the interaction of exchange, is where the noise is.
---
2/28 #27: Business Outlook & Plan ...

My plan going forward is to invest in good used machinery, use components and quality parts to help me gain output, and not expand with a new shop or adding employees, but to raise pricing to match demand. This way the balence of exposure to reward is maximized.
---
2/28 #28: Business Outlook & Plan ...

Robert,
Although I disagree with your forecast for the future, I have nevertheless changed my tactics a bit since the last recession. As you know, I am fortunate to be located in one of the healthiest parts of the country economically. This is pure luck on my part, thanks to Great Grandpa for moving his family here back in the 1930's. I have spent the last 25 years setting myself up for this very moment, and I am taking full advantage of it. This year we are producing at double the volume of years past. This has required some new machinery, some new vehicles, some more employees, and more space. A younger me would have done this more recklessly. The older and wiser me does this much more conservatively, much to the chagrin of the banks. I now pay cash for machines and vehicles. We occupy all 5 units in a 5 unit warehouse style condo. Each unit lease is negotiated separately for no longer than 12 months. We can expand and contract our square footage like a lung. I outsource everything I can, and am careful to spread this out among several vendors lest they stumble and fall. We buy a lot of doors and drawers, probably $50,000 per month, the last thing I need is one of my vendors dropping the ball. I use contract labor for sales, shop help, installation, delivery, drafting, and project management.
In short, I can go from an organization doing $300,000 a month with 20 people to $50,000 a month with 2 people within 30 days and do it debt free.
This is the lessen I've learned. My new, younger project manager scoff's at this approach and I'm sure is planning how he's going to do it bigger and better someday.
DS
---
2/28 #29: Business Outlook & Plan ...

DS, your plan is much like mine just on a quarter of the scale. Being about the size you were back when you started me in this industry is I have found my sweet spot or more accurately the limit of my comfort level. But we are able to scale up and down quickly much like you to limit risk and leverage other people's risk-outsourcing. Good to hear from you. Hope the family is well. Take care.
---
2/28 #30: Business Outlook & Plan ...

My plan going forward is to invest in good used machinery, use components and quality parts to help me gain output, and not expand with a new shop or adding employees, but to raise pricing to match demand. This way the balence of exposure to reward is maximized.
---
2/28 #31: Business Outlook & Plan ...

Matt, yes that also rings familiar or in sync with what I'm trying to do. Although I did invest in a spray building this last year and that has paid dividends.
---
2/28 #32: Business Outlook & Plan ...

FWIW the consensus is to wait and see how the tax cuts roll out from Trump which should materialize in Aug.
If he goes forward with the tariffs all bets are off as it will be detrimental to commerce.
---
2/28 #33: Business Outlook & Plan ...

Watch the President's speech tonight.
There is some conjecture that he will offer citizenship to undocumented immigrants who do not have a criminal record. This could go a long ways to raising wages for workers and productivity for businesses. This will in turn help lift the economy and help us all sell more cabinets.
If you think about it, the primary complaint between granting citizenship to those who are already in the country is that they are lawbreakers and we are a nation of laws.
If all you had to do was re-write the law then these arguments simply disappear.
In this scenario the path to citizenship would be just like it was for my father when his mom carried him across the Canadian border in 1913.
Badabing! Baddaboom!
No more consternation about criminals.
Now there is still the color of their skin. That's the big white elephant in the room that nobody can actually own up to. It's kind of like us trying to create systems for our employees to indemnify weakness when the real problem (that they are not allowed to say) is that they really are quite ambivalent about our profit margins.
By getting these people out of the shadows we eliminate employers paying them the low wages that depress wages for everybody else. By getting them onto legitimate payrolls all the Fica & Fed taxes get paid. Who cares whether or not they choose therefore to send their money home to their family.
Family centric behavior is a good thing. We can use these people as a role model and help get the crops in for everybody.
I hope he does it. We could then re-direct all those dollars from the wall to higher & better use.
---
---
Buy & Sell Exchanges | Forums | Galleries | Other Resources | Site Map
---

Buy and Sell Exchanges

Job Opportunities and Services Exchange
Employment opportunities and services within the woodworking industry

Lumber Exchange
A worldwide buy/sell exchange for lumber and wood products

Machinery Exchange
A worldwide buyer and seller exchange for woodworking machinery and equipment.

Classified Ad Exchange
Classified advertising for the woodworking industry (for advertisements that do not include machinery, lumber products and employment listings)


---

Forums

Adhesives Forum
Discussing topics related to adhesives within the woodworking industry

Architectural Woodworking Forum
Discussing quality standards and production of architectural wood products

Business and Management Forum
A forum for the discussion of business topics: from sales and marketing to dealing with difficult customers.

Cabinet and Millwork Installation Forum
Discussing all aspects of installation issues encountered by cabinet and millwork installers.

Cabinetmaking Forum
Discussing 32mm and face frame cabinet construction including fabrication, casegoods design, and installation.

CAD Forum
Shedding light on the all-too-often shadowy world of CAD.

CNC Forum
Discussing CNC (computer numerically controlled) woodworking equipment, software, and automated product manufacturing.

Dust Collection, Safety and Plant Operation Forum
Discussing topics related to maintaining a safe and productive working environment.

Professional Finishing Forum
Finishing issues for the production environment

Forestry Forum
The science and art of forest cultivation and timber management, planting, surveying, tree diseases, silviculture and timber harvesting

Professional Furniture Making Forum
Helping professional furniture makers improve quality, save time, and increase profits

Laminating and Solid Surfacing Forum
Issues related to laminating and solid surface materials and processes

Commercial Kiln Drying Forum
Discussions covering issues faced be commercial drying operations that process at least 750,000 bd. ft. of lumber per year

Sawing and Drying Forum
Discussing topics related to primary processing and drying of lumber

Solid Wood Machining Forum
Discussing topics related to the machining of solid wood

Value Added Wood Products Forum
Learn how to improve your output, find new markets, and boost sales of your lumber products

Veneer Forum
Discussing topics related to veneer processing, manufacturing, and fabrication

WOODnetWORK
An electronic discussion group for woodworkers throughout the world


---

Galleries

Project Gallery
Where professional woodworkers can post examples of their work

Sawmill Gallery
Professional primary processing companies display and describe their sawmill facilities

Shop Gallery
Professional woodworkers display and describe their shop facilities, products and equipment

Shopbuilt Equipment Gallery
Professional woodworker's jigs, rigs, and shopbuilt equipment


---

Other Resources

Industry News
Late-breaking news from all sectors of the wood industry

Video Library
Index of industrial woodworking related digital videos on the web

Auctions, Sales and Special Offers
Advertisers offering woodworkers discounted prices on good and services, and announcements of upcoming auctions

FORUM GUIDELINES: Please review the guidelines below before posting at WOODWEB's Interactive Message Boards (return to top)


WOODWEB is a professional industrial woodworking site. Hobbyist and homeowner woodworking questions are inappropriate.
Messages should be kept reasonably short and on topic, relating to the focus of the forum. Responses should relate to the original question.
A valid email return address must be included with each message.
Advertising is inappropriate. The only exceptions are the Classified Ads Exchange, Machinery Exchange, Lumber Exchange, and Job Opportunities and Services Exchange. When posting listings in these areas, review the posting instructions carefully.
Subject lines may be edited for length and clarity.
"Cross posting" is not permitted. Choose the best forum for your question, and post your question at one forum only.
Messages requesting private responses will be removed - Forums are designed to provide information and assistance for all of our visitors. Private response requests are appropriate at WOODWEB's Exchanges and Job Opportunities and Services.
Messages that accuse businesses or individuals of alleged negative actions or behavior are inappropriate since WOODWEB is unable to verify or substantiate the claims.
Posts with the intent of soliciting answers to surveys are not appropriate. Contact WOODWEB for more information on initiating a survey.
Excessive forum participation by an individual upsets the balance of a healthy forum atmosphere. Individuals who excessively post responses containing marginal content will be considered repeat forum abusers.
Responses that initiate or support inappropriate and off-topic discussion of general politics detract from the professional woodworking focus of WOODWEB, and will be removed.
Participants are encouraged to use their real name when posting. Intentionally using another persons name is prohibited, and posts of this nature will be removed at WOODWEB's discretion.
Comments, questions, or criticisms regarding Forum policies should be directed to WOODWEB's Systems Administrator
(return to top).

Carefully review your message before clicking on the "Send Message" button - you will not be able to revise the message once it has been sent.

You will be notified of responses to the message(s) you posted via email. Be sure to enter your email address correctly.

WOODWEB's forums are a highly regarded resource for professional woodworkers. Messages and responses that are crafted in a professional and civil manner strengthen this resource. Messages that do not reflect a professional tone reduce the value of our forums.

Messages are inappropriate when their content: is deemed libelous in nature or is based on rumor, fails to meet basic standards of decorum, contains blatant advertising or inappropriate emphasis on self promotion (return to top).

Libel: Posts which defame an individual or organization, or employ a tone which can be viewed as malicious in nature. Words, pictures, or cartoons which expose a person or organization to public hatred, shame, disgrace, or ridicule, or induce an ill opinion of a person or organization, are libelous.

Improper Decorum: Posts which are profane, inciting, disrespectful or uncivil in tone, or maliciously worded. This also includes the venting of unsubstantiated opinions. Such messages do little to illuminate a given topic, and often have the opposite effect. Constructive criticism is acceptable (return to top).

Advertising: The purpose of WOODWEB Forums is to provide answers, not an advertising venue. Companies participating in a Forum discussion should provide specific answers to posted questions. WOODWEB suggests that businesses include an appropriately crafted signature in order to identify their company. A well meaning post that seems to be on-topic but contains a product reference may do your business more harm than good in the Forum environment. Forum users may perceive your references to specific products as unsolicited advertising (spam) and consciously avoid your web site or services. A well-crafted signature is an appropriate way to advertise your services that will not offend potential customers. Signatures should be limited to 4-6 lines, and may contain information that identifies the type of business you're in, your URL and email address (return to top).

Repeated Forum Abuse: Forum participants who repeatedly fail to follow WOODWEB's Forum Guidelines may encounter difficulty when attempting to post messages.

There are often situations when the original message asks for opinions: "What is the best widget for my type of shop?". To a certain extent, the person posting the message is responsible for including specific questions within the message. An open ended question (like the one above) invites responses that may read as sales pitches. WOODWEB suggests that companies responding to such a question provide detailed and substantive replies rather than responses that read as a one-sided product promotion. It has been WOODWEB's experience that substantive responses are held in higher regard by our readers (return to top).

The staff of WOODWEB assume no responsibility for the accuracy, content, or outcome of any posting transmitted at WOODWEB's Message Boards. Participants should undertake the use of machinery, materials and methods discussed at WOODWEB's Message Boards after considerate evaluation, and at their own risk. WOODWEB reserves the right to delete any messages it deems inappropriate. (return to top)



Forum Posting Form Guidelines

Your Name
The name you enter in this field will be the name that appears with your post or response (return to form).
Your Website
Personal or business website links must point to the author's website. Inappropriate links will be removed without notice, and at WOODWEB's sole discretion. WOODWEB reserves the right to delete any messages with links it deems inappropriate. (return to form)
E-Mail Address
Your e-mail address will not be publicly viewable. Forum participants will be able to contact you using a contact link (included with your post) that is substituted for your actual address. You must include a valid email address in this field. (return to form)
Subject
Subject may be edited for length and clarity. Subject lines should provide an indication of the content of your post. (return to form)
Thread Related Link and Image Guidelines
Thread Related Links posted at WOODWEB's Forums and Exchanges should point to locations that provide supporting information for the topic being discussed in the current message thread. The purpose of WOODWEB Forums is to provide answers, not to serve as an advertising venue. A Thread Related Link that directs visitors to an area with inappropriate content will be removed. WOODWEB reserves the right to delete any messages with links or images it deems inappropriate. (return to form)
Thread Related File Uploads
Thread Related Files posted at WOODWEB's Forums and Exchanges should provide supporting information for the topic being discussed in the current message thread. Video Files: acceptable video formats are: .MOV .AVI .WMV .MPEG .MPG .FLV .MP4 (Image Upload Tips) If you encounter any difficulty when uploading video files, E-mail WOODWEB for assistance. The purpose of WOODWEB Forums is to provide answers, not to serve as an advertising venue. A Thread Related File that contains inappropriate content will be removed, and uploaded files that are not directly related to the message thread will be removed. WOODWEB reserves the right to delete any messages with links, files, or images it deems inappropriate. (return to form)