You are not logged in. Consider these WOODWEB Member advantages:

A personal "member history" that displays your posts at WOODWEB
Your forms at WOODWEB will be filled in automatically
Create your personal "My Favorites" page
Numerous automatic notification options
Hiring New Shop Employees
10/23
Website: http://www.longspeakcab.com
Hello All,
I work at a custom cabinetry shop in Loveland, CO. Currently our shop produces between 10k-15k a week. We have been doing well but had to let one employee go and another is moving out of state. This puts us in a position of needing to fill 2 spots. I've posted on CL and Indeed with only a few resumes sent back from retired hobbyists looking for 5-10 hours per week. We need 2 people that are either experienced or hardworking with the desire to learn. The job market in CO is tough given the construction boom. What are some thoughts on places I could advertise the position to get some candidates in the door?
---
10/23 #2: Hiring New Shop Employees ...
There is a classified section here on Woodweb
YMMV.
There are other woodworking job boards
Also things like zip recruiter, if you have a FB page post it there, add a job openings to your website with an online application.
Let sales reps know you have an opening.
---
10/23 #3: Hiring New Shop Employees ...
Brogan,
How many people in the shop is it taking to produce 10k-15k a week in work? What are you outsourcing?
---
10/23 #4: Hiring New Shop Employees ...
What did your CL ad say?
---
10/23 #5: Hiring New Shop Employees ...
Any technical schools or training centers in the region? Junior college? CL would be the last place I would look for a career position.
---
10/24 #6: Hiring New Shop Employees ...
We have had very good luck with Craigslist. Whenever we run an ad we get 20-25 responses with at least a half dozen stellar candidates. We build a more or less similar product to yours and build about the same dollar volume as you.
Some of this may have to do with how we write our ad and some just plain serendipity for being located in a city with a community college woodworking program.
We aim our ads at the people who are currently on the waiting list for enrollment. We want to get in front of the people who think they want to do woodworking but we want to get to them before the college has a chance to contaminate their thinking.
The second part of this equation is decent training systems .......and choreography. For them to like the job they have to be successful and they need to have opportunities to learn. If you are not willing to invest in your training systems you won't get very far with inexperienced people.
You also won't get very far with most of the experienced people in the market today. It takes about ten years to develop enough experience to reliably bring intuition to bear on a problem that needs to be solved. While there are plenty of people who started woodworking ten years ago most of them sat on the bench for 4 or 5 years during the apocalypse.
We use something called bucket brigade manufacturing for most of our product. For this to be successful you need to have people working contiguous with each other. Instead of having one person building 20 drawers you put 4 people together each building a portion of the job. On our last kitchen we built assembled drawer boxes in 22 minutes. This was still 88 minutes of production time but only 11 minutes of management time.,,,and it was self-managing.
Breaking the project into smaller steps allowed us to better understand where the weak spots were. The weak spot could be the guy or it could be the method. The important thing is that the weak spot is identified instantly by virtue of where the queue puddles up.
Bucket brigade is also a team building exercise. It's a social event much like a sewing bee and it is very fast paced.
That's the part where the community college kills them. According to the school the only thing that is important is getting it right. I agree with them about the safety part but after that the only thing that matters is speed.
Quality is a by-product of of good systems. Good systems will out-perform any cowboy any time.
---
10/24 #7: Hiring New Shop Employees ...
I forgot to mention, bucket brigades always crash the first time you try to run one.
They usually also crash on the second. By the time you get to the third campaign you and your crew start to understand the logic of this manufacturing system and how to structure the staffing for it.
It's kind of like converting to metric. Everybody fights like hell to use imperial inches till they metric. It is much like the first time someone discovers they could eat pudding with a spoon instead of a fork.
---
10/24 #8: Hiring New Shop Employees ...
Cabmaker,
How many guys do you employee to make "about" 10k-15k a week in cabinetry? The numbers aren't adding up in my head with the number of guys in the bucket brigade and your zip code's overhead.
---
10/24 #9: Hiring New Shop Employees ...
Thanks for the input everyone. We have a community college about 15 min away. Going to start with some research on what they offer and see if they have a career center and go from there. Thanks!
---
10/24 #10: Hiring New Shop Employees ...
FamilyMan,
I thought you lived out in the sticks, not in the weeds.
I would have thought you'd be more curious about how bucket brigades work to level production, identify weak spots improve technique or assist in training.
Others might be, so I will elaborate.
There are two differences between our custom shop and most others. The first one is that we are the designers for every project we produce. We are 100% retail. We evolved to this position from a background of being Winston Wolf in Pulp Fiction. It was our job to identify all the snakes in a project and kill them in a way that made the architect think it was their idea.
The second difference is we are committed to continuous improvement.
We are always improving either something in our product line or the process we use to produce it.
On our last project we changed how we shape face frame parts to dimension. We added a powerfed shaper with a 4 inch tall tersa head. The dimension indexing is set up via a library of positive stops. The stops are calibrated to produce a finished product that is oversize .7 mm.
Our widebelt sander has a limit switch to that stops elevating the bed when the lumber comes into contact with a sensing switch. The first pass removes a consistent .5mm. The sander also has a button that allows you to recalibrate in .2mm increments. This is how 50.7 at the shaper always produces 50 sanded both sides.
The primary difference between using this system with a complete greenhorn and a master cabinetmaker using what ever cowboy method comes to mind is that our parts are always accurate to dimension and take only half the time.
We use this time savings to improve our product line. The kitchen in our shop this week is getting a combination cookie tray / pot lid on the back of the door cabinet. It's a new combination for us and will be blog-worthy.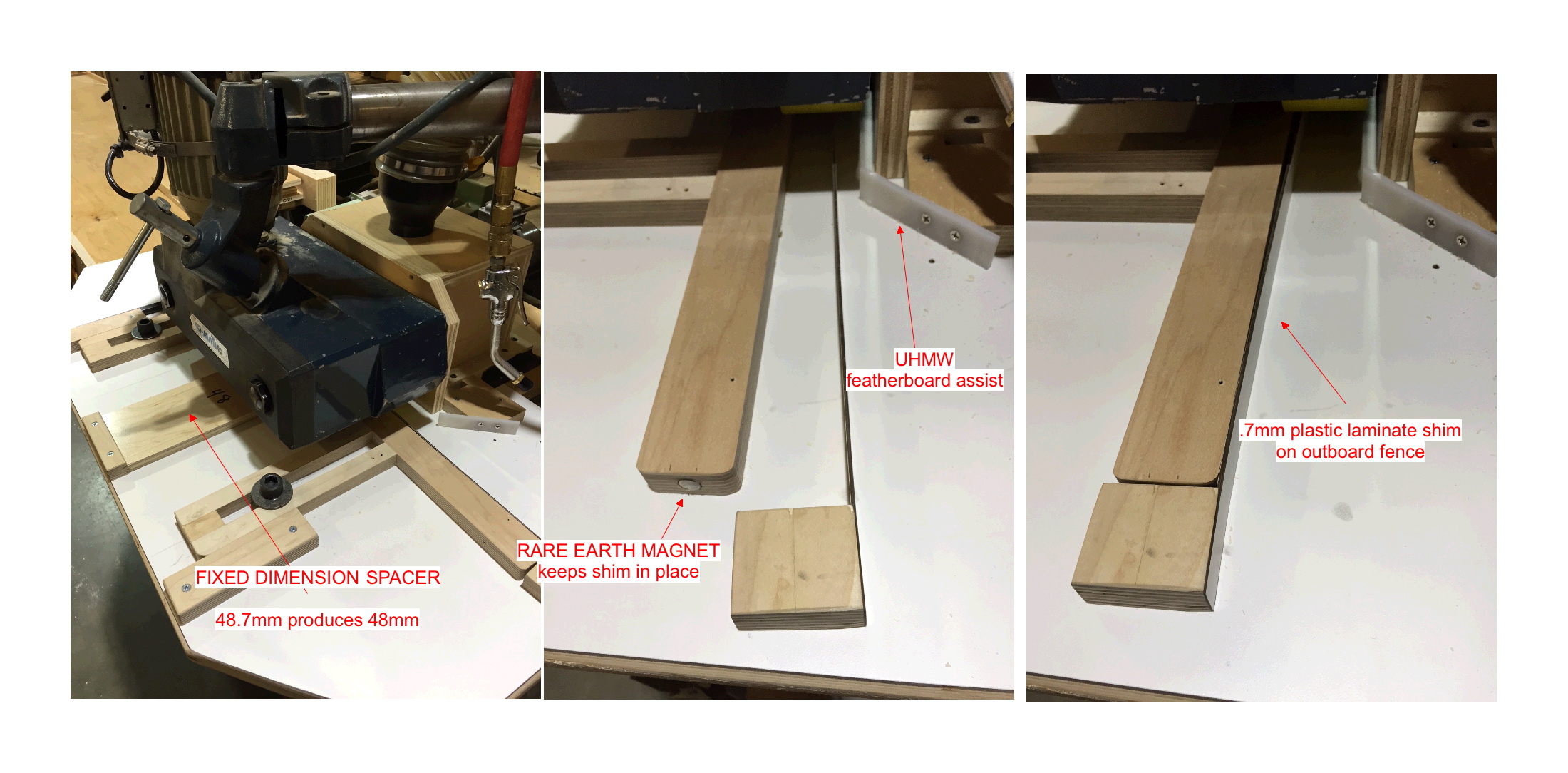 View higher quality, full size image (2200 X 1084)

---
10/24 #11: Hiring New Shop Employees ...
Family Man,
You mixed up two posters. It's the OP @Brogan who said 10-15k/wk, not @cabmaker.
---
10/24 #12: Hiring New Shop Employees ...
Cabmaker,
All that's nice, but this is a business. Are you making money?
Because you don't finish or install and because you make your own doors I'm going to assume your material costs are low, 20-25%. Overhead, non-wages 5-10%- shop lease/payment, taxes, insurance, etc.
Again, assuming (and I now what assume makes of u & me) 4 guys. Let's say $25 an hour plus 30% for all the taxes, fees and regulation you love.
$15,000 a week
-$3,750 for materials (I'm being generous, I'm sure it's higher)
$5,200 a week minimum for labor for four bucket brigade men (assuming no benefits and what good hearted progressive wouldn't be offering benefits)
$1,500 overhead (assuming no CNC payments)
=4,550 left over with no break downs, and assuming the absolute best of each category.
My guess is another 25% of that gets eaten up easily because things are never best case scenario.
In your market, the hottest in the country, that is the bare minimum an owner should be making with the cost of living in your city, regulations to deal with, in what we all know is a make it while the hay shines as it's a roller coaster market.
I'm happy to be completely wrong. I hope I am. But with just the info given it seemed like a formula that I would not follow.
Bottom line. I love what I do, but I love my family far more and for me it's about making money and getting back to my family at the point where the axis' of least stress, most money and least liability (& most freedom) all cross.
Your numbers did not come across to me to be that point from my viewpoint in the weeds. So I was very much curious about your production- but I was working from the the end result forward. Something I find very helpful in seeing if a system works and is worth implementing.
Sorry, not trying to be nosy and certainly to expect you tell me what you make-please don't. But all that continual fine tuning seems to be taking a toll on your bottom line- the exact opposite of what you are trying to do. Are you trying to perfect your business or the cabinet? And by the time you have it done will you have missed the window?
Respectfully, Family "always examining the data" Man
---
10/24 #13: Hiring New Shop Employees ...
K Man,
Read cabmaker's post. I didn't mix up anything.
---
10/24 #14: Hiring New Shop Employees ...
F.M.
I've read all his posts, three times now. First time was just in-line. Then, before I responded I read again to make sure I remembered correctly. Now you just made me read them all again. So far I haven't seen a single statement or even implied reference to volume in his posts.
---
10/24 #15: Hiring New Shop Employees ...
K man, first paragraph last sentence of first post
---
10/24 #16: Hiring New Shop Employees ...
Sorry man...
---
10/24 #17: Hiring New Shop Employees ...
Brogan,
As you have probably already concluded recruitment and training will be ongoing issues. You can hope someone with experience walk in the door. You have to further hope that their experience is relevant and you can somehow integrate this experience in a statistically significant way.
I chose the path of starting with inexperienced people because there are a whole lot more of them to pick from. Starting with this criteria I only have to grade for availability & good citizenship characteristics.
---
10/24 #18: Hiring New Shop Employees ...
"Good citizenship characteristics"? How do you filter for that? Play the Star Spangled Banner to see if they take a knee? Give them the notoriously difficult US Citizenship Examination?
I agree that it is good to see candidates with good citizenship skills, but I have the feeling that many shops hope for candidates that have their pants on correctly. Warm bodies used to be the phrase. Citizenship would be set aside early in the game.
It is a good starting point - good citizens, good parents, good neighbors. I know they are easier to train than to try to put up with random bad practice with the 'experienced' folk. One group wants to learn, the other 'don't need to'.
I had more than one boss that wanted "them dumb, but not too dumb that they can't do the job". What he really wanted was people that were smart, but not any smarter than he was since he did not want to feel threatened. The smart ones that were not smart enough to dumb it down went back out the door quickly.
When I started running their new shop, pre-hung door orders were written on 2x4 or other scrap wood by the alleged salesmen. That complained the shop was stupid and could never get anything right.
48 hours later, we had nice new pre-hung door forms printed up and distributed to the salesmen that then refused to use them. They had perfect scapegoats in the shop people, and could blame them at will. Dumb and dumber. No one is a threat to the middle or upper management.
Once I walked around the table at a sales meeting, re-enacting the scene from the godfather, with a waffle bat in my hands and talked about the importance of the forms, they started using them. Rejects dropped to zero.
It was a little like the wild Amazon Adventurers in the big black cooking pot flicking a lighter to get the natives to change their minds about what they wanted for dinner.
---
10/24 #19: Hiring New Shop Employees ...
David,
"Good citizenship characteristics" was not intended as a dog whistle for the base.
This to me is shorthand for people who will do what they say they are going to do, show up sober & alert, be interested and engaged.
It should not be too difficult for Brogan to find these characteristics if he recruits from the local college. These candidates have already self-selected into the group who have decided they want a better life for themselves.
---
10/25 #20: Hiring New Shop Employees ...
I guess he is ignoring the question.....
---
10/25 #21: Hiring New Shop Employees ...
Bill,
Do you have anything to contribute to the OP's question?
Would love to hear it.
---
10/25 #22: Hiring New Shop Employees ...
Bill,
To be fair to cabmaker it's not like he could answer it without telling us (and the whole world with an internet connection)how much he is making...and the IRS, but we know he loves the government and it is friendly...just giving you a hard time cabmaker.
But the bottom line is it takes no particular rock star to make that in a week in his market right now. I wouldn't take advice from somebody how to run my shop with that many guys that was pulling in twice that and paying his guys better than I made up my equation with.
So the OP needs to ask himself...do I need to hire? Is that what is really best for us. A one man shop can do that figure fairly easily if he outsources doors in a week, bank half of it and not have the stresses and liability of employees IF, and it's a big IF, he has his system down- from sales, marketing, design, manufacturing and delivery. And that is the question I want the OP to ask himself. Do I need to hire or do I need to get more organized and efficient? Or both? Is his goal to grow his shop or to make the most money at his comfort level and skill level? But one must know himself, sharpen his weaknesses and then get down to the hardwork of improving himself. Maybe another one or two warm bodies are needed but only he can answer that.
---
10/25 #23: Hiring New Shop Employees ...
Cabmaker,
I did, I asked him what was in his ad and he did not reply so I let it go.
How did that bucket brigade tangent answer his question? The question was:
"What are some thoughts on places I could advertise the position to get some candidates in the door?"
You began to pontificate so I thought the question asked of you was appropriate. It put your thoughts and operation in perspective. I just wondered how many employees you have?
---
10/25 #24: Hiring New Shop Employees ...
Bill,
The OP asked where to look for employees.
I told him that I had great success with Craigslist. I indicated that I directed my ad to the people who were on waiting lists for the community college woodworking program.
I followed that up with the caveat that the people I was most successful with were those who who did not arrive with pre-conceptions about woodworking or manufacturing processes.
My recommendation about bucket brigade was not meant as pontification but rather a way to mitigate for a lack of experience and a way to make inexperienced people useful right away.
I have four people in my company plus myself. I am ready to hire one or two more. The people I have in my company today can between them build almost anything I sell without my direct involvement. I telecommute mostly. I am in the shop for about three hours three days a week and maybe a full day every now and then.
The dollar volumes I allude to are not easy to compare with other shops. My prices include paint grade cabinets FOB my shop. The only thing we outsource is rip & banding for prefinished plywood. Our plywood arrives in 2X8 format with one long PVC edge. We used to own a Brandt bander but concluded it wasn't worth all the voodoo required.
We do not finish, deliver or install. We have drilled handle holes for two kitchens in the last ten years but are about to add this extra service for a project we have in our shop today. If you extrapolate for these extra things that other shops typically include our dollar volumes probably approximate what FamilyMan thinks is necessary for him to get out of bed each morning.
---
10/25 #25: Hiring New Shop Employees ...
FamilyMan raises a good question about whether or not the OP just needs to get more organized and efficient.
There are some reasonably successful people on this forum who contend that now is not the time to focus on anything other than fabrication. Is hard to argue with success.
---
10/25 #26: Hiring New Shop Employees ...
Brogan
Whatever you do, do drug-testing, it will save you a lot of frustration.
For entry level people just look at the resumes.
If above entry level professional testing is useful.
Back in the day (if it is as easy to get candidates as Tim implies) I like to have a boatload of people ( like 20 or so) show up between such and such time. It is very interesting to observe the candidates mulling around the shop.
Even if you have severe myopia you will be able to ascertain the keepers in the group.
They will walk around with interest in the products and the machines. They are upbeat people.
Another tip hire only upbeat people, DO NOT hire people who are down beat.
Paul Akers says you have to be careful about who you allow on the bus.
IOW I would NEVER hire myself or Tim.
Advertise that you pay top wages, then I would ask them what top wages were. Maybe not appropriate for entry level though.
The best entry level guy were usually in their mid 20s and were hungry to make something of themselves. If they have a family all the better. IOW look for someone with purpose.
I have never had luck with the community college or high school types.
The name of the game is that it is a numbers game blow through lots of people. Do not agonize over picking the "right one".
If you need one hire two if you need 2 hire 4. Don't waste time blow through lots of people and find the keepers.
I don't care too much about unsavory histories etc. In fact some of the best workers were did some outrageous crap. I always look for purpose and interest.
If they say oh that sounds interesting that is NOT your hire.
They don't say crap like that, they are JUST interested, not something you talk about.
BTW Mexicans are great workers, I prefer those who worked piece work as pickers.
They have purpose and KNOW how to work hard and have families.
---
10/25 #27: Hiring New Shop Employees ...
Another tip
I generally found two type of candidates, ones who were of a spiritual ilk. And those of a mechanical ilk
The better workers have hobbies like motorcycle riding or dune buggies et.al.
---
10/25 #28: Hiring New Shop Employees ...
I agree with Pat.
I wouldn't hire me either.
When I was younger I could get any job I wanted. I just couldn't keep it.
A big influence on how I handle pay raises has to do with a job I had in college. I was a professional dishwasher. I liked my job. I could make myself a crab sandwich, make a couple of bucks and sometimes go out with a waitress.
Management noticed my chipper attitude and came to tell me what a great job I was doing. To prove they were sincere he told me I would be getting an extra 25˘ an hour. That was all it took to put this into perspective.
"You're telling me what a great job I'm doing and you want to give me two-bits?"
"It's obvious you must need the money more than I do so you can keep it! And you can keep your job too!"
I quit on the spot.
Ever since then the pay raises I pass out come in a minimum of $2 increments.
---
10/25 #29: Hiring New Shop Employees ...
I want to go back to training.
The OP is concerned that he can't find enough skilled labor. This is a problem that is not going to go away. The only thing that seems certain is that this economy is going to continue to boom.........until it doesn't. Pat seems to think that demographics will solve everything and he is right that it eventually will. The last time it crashed it took about 5 years until it rebounded.
The WSJ is filled with articles about companies whose outgoing CEO said they should have focused on lowering costs much sooner than they did. The biggest cost we have in our industry is payroll. Fortunately this is also the lowest hanging fruit.
You see all around you people who are willing to invest in very high quality machinery. I bought a Martin jointer rather than an SCM because I was planning to be in business for the long haul. An investment in a quality system was a no brainer for me. That our industry has no viable training system or standards is significant. Every other industry that actually pays a decent wage has continuing education & certification. But us cabinetmakers are magic. Arithmetic doesn't apply to us.
I agree with those who think they shouldn't slow down long enough to fix and identify & weak spots. They are, after all, making money hand over fist and why mess with success. This makes perfect sense for the bottleneck guys in your company. Keep them making it rain. Just because, however, that your time is too valuable to squander doesn't mean you cannot or should not delegate this project to someone else.
Lowering costs is a capacity generator.
Plain & Simple. Lowering costs means lowering labor. Lowering labor means you can get done by Thursday what used to take you until Friday. During boom times this gives you one extra day each week, one extra week each month and one extra quarter each year.
If a rocket flies off in the China Sea or we have a terrorist attack or the newspaper starts talking about "Housing Bubbles" we will see an immediate pause in housing optimism. Two months ago Zillow said my house had appreciated $82K in the previous month. A month ago the thirty day appreciation was $52K. Today's report only has it only increasing by $31K each month.
My point is that we should make money while we can and lower costs while we can. If the economy falls apart ain't nobody going to be spending any money on their shop.
Brogan would be well served to develop a system that can usefully integrate people with no experience. If he does this he will have what the economists call "a durable advantage".

---
10/26 #30: Hiring New Shop Employees ...
I mention the Zillow report as this is part of how I help customers manage expectations. As part of the protocol I usually take a look to see what Zillow says about their house. I figure the customers are pretty much in tune with whats' going on with their property and this helps them to understand what they are up against.
I tell them that the same market forces that drove up the value of their property $100K last year are working against them in recruiting people to work on their house.
As housing gets more and more expensive it becomes harder and harder for tradespeople to compete for this scarce resource. Add to this the tech sector. Amazon is hiring 500 people a day it seems. They are paying 22 year olds $130K a year to start. These kids are so rich they're not going to mow their own lawn. They're also not going to paint their own apartment. (WSJ featured this topic recently) This puts pressure on painters, particularly good painters.
Windows that used to take 3 weeks to procure now take 10 weeks. This is because we no longer have any Mexicans left to work in the factories. This also means I'm not going to start your job until I'm sure I have a place to store the cabinets. People that have on-site storage get preferential treatment from me.
FamilyMan isn't smack in the middle of Amazonia like I am but his family is just as impacted. After I have tricked out my customer's kitchen and built them a world class media room they turn their attention to a weekend getaway in the Methow. There is no way a young couple that went to high school in the Okanogan can compete with my customers for housing. So they become sharecroppers or else move to the big city. Since immigrants aren't going to be allowed in the state of Cascadia there isn't going to be some sweet old big bosomed Jamaican woman to tell FamilyMan "it's okay" when his time comes.
---
11/3 #31: Hiring New Shop Employees ...
Operational Excellence = Income Insurance
---
11/4 #32: Hiring New Shop Employees ...
Unemployment rate is about 4-5% right now. My belief is 10-15% of the workforce shouldn't be working, which means all the good ones have jobs and we are scraping the bottom of the barrel when hiring. You need to pay top of the market because nobody is going to leave a job and take a major pay cut to come work for you. We use Craigslist and indeed. We have recently added Facebook into the mix and you can easily target people in the sponsored
Content. Our last hire came from that.
As far as volume vs efficiency, I'll take efficiency over growth any day. If you are having trouble being profitable at XXX don't doubling your sales to 2XXX won't make you anymore money. A 3% increase in efficiency goes right to the bottom line. A 10% increase in sales can quickly be eaten up by the 1 or 2 employees that you need to add to process the work
By the way, we routinely process $35-50k per week with 2 shop guys and 1 production manager.
---
11/4 #33: Hiring New Shop Employees ...
"My belief is 10-15% of the workforce shouldn't be working"
I believe that 100% of the workforce should be working. Maybe that's because my opinion is philosophical and yours is economic? I don't know - curious why you think 10-15% unemployment is healthy.
---
11/4 #34: Hiring New Shop Employees ...
Sarcasm
10-15% of the workforce is to underqualfied,dumb, lazy, believe they are entitled, just plain bad at their job and shouldn't be working in the position they have, and still complaining they don't get paid enough. Since we are at 4% unemployment these people get a job and a participant pay check to go along with the 9th place trophy they got playing soccer in their youth.
---
11/4 #35: Hiring New Shop Employees ...
Another tip that I have found to be useful, and timely, is to look for guys looking to make a change at the start of the new year.
---
11/4 #36: Hiring New Shop Employees ...
@Derreck - OK, I get it. And agree in principle. But not because I want to, because I have to.
---
11/8 #37: Hiring New Shop Employees ...
@Derrek I am curious about the processing the 35-50k a week with only 3 guys. Are you a full custom cabinet shop? Are you doing your own finish work, install work? What all are you outsourcing? CNC? Face frame or Frameless?
---
---
Buy & Sell Exchanges | Forums | Galleries | Other Resources | Site Map
---



Buy and Sell Exchanges



Job Opportunities and Services Exchange
Employment opportunities and services within the woodworking industry

Lumber Exchange
A worldwide buy/sell exchange for lumber and wood products

Machinery Exchange
A worldwide buyer and seller exchange for woodworking machinery and equipment.

Classified Ad Exchange
Classified advertising for the woodworking industry (for advertisements that do not include machinery, lumber products and employment listings)


---



Forums



Adhesives Forum
Discussing topics related to adhesives within the woodworking industry

Architectural Woodworking Forum
Discussing quality standards and production of architectural wood products

Business and Management Forum
A forum for the discussion of business topics: from sales and marketing to dealing with difficult customers.

Cabinet and Millwork Installation Forum
Discussing all aspects of installation issues encountered by cabinet and millwork installers.

Cabinetmaking Forum
Discussing 32mm and face frame cabinet construction including fabrication, casegoods design, and installation.

CAD Forum
Shedding light on the all-too-often shadowy world of CAD.

CNC Forum
Discussing CNC (computer numerically controlled) woodworking equipment, software, and automated product manufacturing.

Dust Collection, Safety and Plant Operation Forum
Discussing topics related to maintaining a safe and productive working environment.

Professional Finishing Forum
Finishing issues for the production environment

Forestry Forum
The science and art of forest cultivation and timber management, planting, surveying, tree diseases, silviculture and timber harvesting

Professional Furniture Making Forum
Helping professional furniture makers improve quality, save time, and increase profits

Laminating and Solid Surfacing Forum
Issues related to laminating and solid surface materials and processes

Commercial Kiln Drying Forum
Discussions covering issues faced be commercial drying operations that process at least 750,000 bd. ft. of lumber per year

Sawing and Drying Forum
Discussing topics related to primary processing and drying of lumber

Solid Wood Machining Forum
Discussing topics related to the machining of solid wood

Value Added Wood Products Forum
Learn how to improve your output, find new markets, and boost sales of your lumber products

Veneer Forum
Discussing topics related to veneer processing, manufacturing, and fabrication

WOODnetWORK
An electronic discussion group for woodworkers throughout the world


---



Galleries



Project Gallery
Where professional woodworkers can post examples of their work

Sawmill Gallery
Professional primary processing companies display and describe their sawmill facilities

Shop Gallery
Professional woodworkers display and describe their shop facilities, products and equipment

Shopbuilt Equipment Gallery
Professional woodworker's jigs, rigs, and shopbuilt equipment


---



Other Resources



Industry News
Late-breaking news from all sectors of the wood industry

Video Library
Index of industrial woodworking related digital videos on the web

Auctions, Sales and Special Offers
Advertisers offering woodworkers discounted prices on good and services, and announcements of upcoming auctions


FORUM GUIDELINES: Please review the guidelines below before posting at WOODWEB's Interactive Message Boards
(return to top)
WOODWEB is a professional industrial woodworking site. Hobbyist and homeowner woodworking questions are inappropriate.
Messages should be kept reasonably short and on topic, relating to the focus of the forum. Responses should relate to the original question.
A valid email return address must be included with each message.
Advertising is inappropriate. The only exceptions are the Classified Ads Exchange, Machinery Exchange, Lumber Exchange, and Job Opportunities and Services Exchange. When posting listings in these areas, review the posting instructions carefully.
Subject lines may be edited for length and clarity.
"Cross posting" is not permitted. Choose the best forum for your question, and post your question at one forum only.
Messages requesting private responses will be removed - Forums are designed to provide information and assistance for all of our visitors. Private response requests are appropriate at WOODWEB's Exchanges and Job Opportunities and Services.
Messages that accuse businesses or individuals of alleged negative actions or behavior are inappropriate since WOODWEB is unable to verify or substantiate the claims.
Posts with the intent of soliciting answers to surveys are not appropriate. Contact WOODWEB for more information on initiating a survey.
Excessive forum participation by an individual upsets the balance of a healthy forum atmosphere. Individuals who excessively post responses containing marginal content will be considered repeat forum abusers.
Responses that initiate or support inappropriate and off-topic discussion of general politics detract from the professional woodworking focus of WOODWEB, and will be removed.
Participants are encouraged to use their real name when posting. Intentionally using another persons name is prohibited, and posts of this nature will be removed at WOODWEB's discretion.
Comments, questions, or criticisms regarding Forum policies should be directed to WOODWEB's Systems Administrator
(return to top).

Carefully review your message before clicking on the "Send Message" button - you will not be able to revise the message once it has been sent.

You will be notified of responses to the message(s) you posted via email. Be sure to enter your email address correctly.

WOODWEB's forums are a highly regarded resource for professional woodworkers. Messages and responses that are crafted in a professional and civil manner strengthen this resource. Messages that do not reflect a professional tone reduce the value of our forums.

Messages are inappropriate when their content: is deemed libelous in nature or is based on rumor, fails to meet basic standards of decorum, contains blatant advertising or inappropriate emphasis on self promotion (return to top).

Libel: Posts which defame an individual or organization, or employ a tone which can be viewed as malicious in nature. Words, pictures, or cartoons which expose a person or organization to public hatred, shame, disgrace, or ridicule, or induce an ill opinion of a person or organization, are libelous.

Improper Decorum: Posts which are profane, inciting, disrespectful or uncivil in tone, or maliciously worded. This also includes the venting of unsubstantiated opinions. Such messages do little to illuminate a given topic, and often have the opposite effect. Constructive criticism is acceptable (return to top).

Advertising: The purpose of WOODWEB Forums is to provide answers, not an advertising venue. Companies participating in a Forum discussion should provide specific answers to posted questions. WOODWEB suggests that businesses include an appropriately crafted signature in order to identify their company. A well meaning post that seems to be on-topic but contains a product reference may do your business more harm than good in the Forum environment. Forum users may perceive your references to specific products as unsolicited advertising (spam) and consciously avoid your web site or services. A well-crafted signature is an appropriate way to advertise your services that will not offend potential customers. Signatures should be limited to 4-6 lines, and may contain information that identifies the type of business you're in, your URL and email address (return to top).

Repeated Forum Abuse: Forum participants who repeatedly fail to follow WOODWEB's Forum Guidelines may encounter difficulty when attempting to post messages.

There are often situations when the original message asks for opinions: "What is the best widget for my type of shop?". To a certain extent, the person posting the message is responsible for including specific questions within the message. An open ended question (like the one above) invites responses that may read as sales pitches. WOODWEB suggests that companies responding to such a question provide detailed and substantive replies rather than responses that read as a one-sided product promotion. It has been WOODWEB's experience that substantive responses are held in higher regard by our readers (return to top).

The staff of WOODWEB assume no responsibility for the accuracy, content, or outcome of any posting transmitted at WOODWEB's Message Boards. Participants should undertake the use of machinery, materials and methods discussed at WOODWEB's Message Boards after considerate evaluation, and at their own risk. WOODWEB reserves the right to delete any messages it deems inappropriate. (return to top)



Forum Posting Form Guidelines

Your Name
The name you enter in this field will be the name that appears with your post or response (return to form).
Your Website
Personal or business website links must point to the author's website. Inappropriate links will be removed without notice, and at WOODWEB's sole discretion. WOODWEB reserves the right to delete any messages with links it deems inappropriate. (return to form)
E-Mail Address
Your e-mail address will not be publicly viewable. Forum participants will be able to contact you using a contact link (included with your post) that is substituted for your actual address. You must include a valid email address in this field. (return to form)
Subject
Subject may be edited for length and clarity. Subject lines should provide an indication of the content of your post. (return to form)
Thread Related Link and Image Guidelines
Thread Related Links posted at WOODWEB's Forums and Exchanges should point to locations that provide supporting information for the topic being discussed in the current message thread. The purpose of WOODWEB Forums is to provide answers, not to serve as an advertising venue. A Thread Related Link that directs visitors to an area with inappropriate content will be removed. WOODWEB reserves the right to delete any messages with links or images it deems inappropriate. (return to form)
Thread Related File Uploads
Thread Related Files posted at WOODWEB's Forums and Exchanges should provide supporting information for the topic being discussed in the current message thread. Video Files: acceptable video formats are: .MOV .AVI .WMV .MPEG .MPG .FLV .MP4 (Image Upload Tips) If you encounter any difficulty when uploading video files, E-mail WOODWEB for assistance. The purpose of WOODWEB Forums is to provide answers, not to serve as an advertising venue. A Thread Related File that contains inappropriate content will be removed, and uploaded files that are not directly related to the message thread will be removed. WOODWEB reserves the right to delete any messages with links, files, or images it deems inappropriate. (return to form)