The straight dope
---
11/23 #2: Something to be thankful for ...

Robert Mueller
---
11/23 #3: Something to be thankful for ...

I am thankful that I don't live in this camp.
This could be a temporary communal kitchen after a hurricane or earthquake.
It's actually a year round kitchen for people living in tents in Seattle.
It's one of four tent villages in the city today.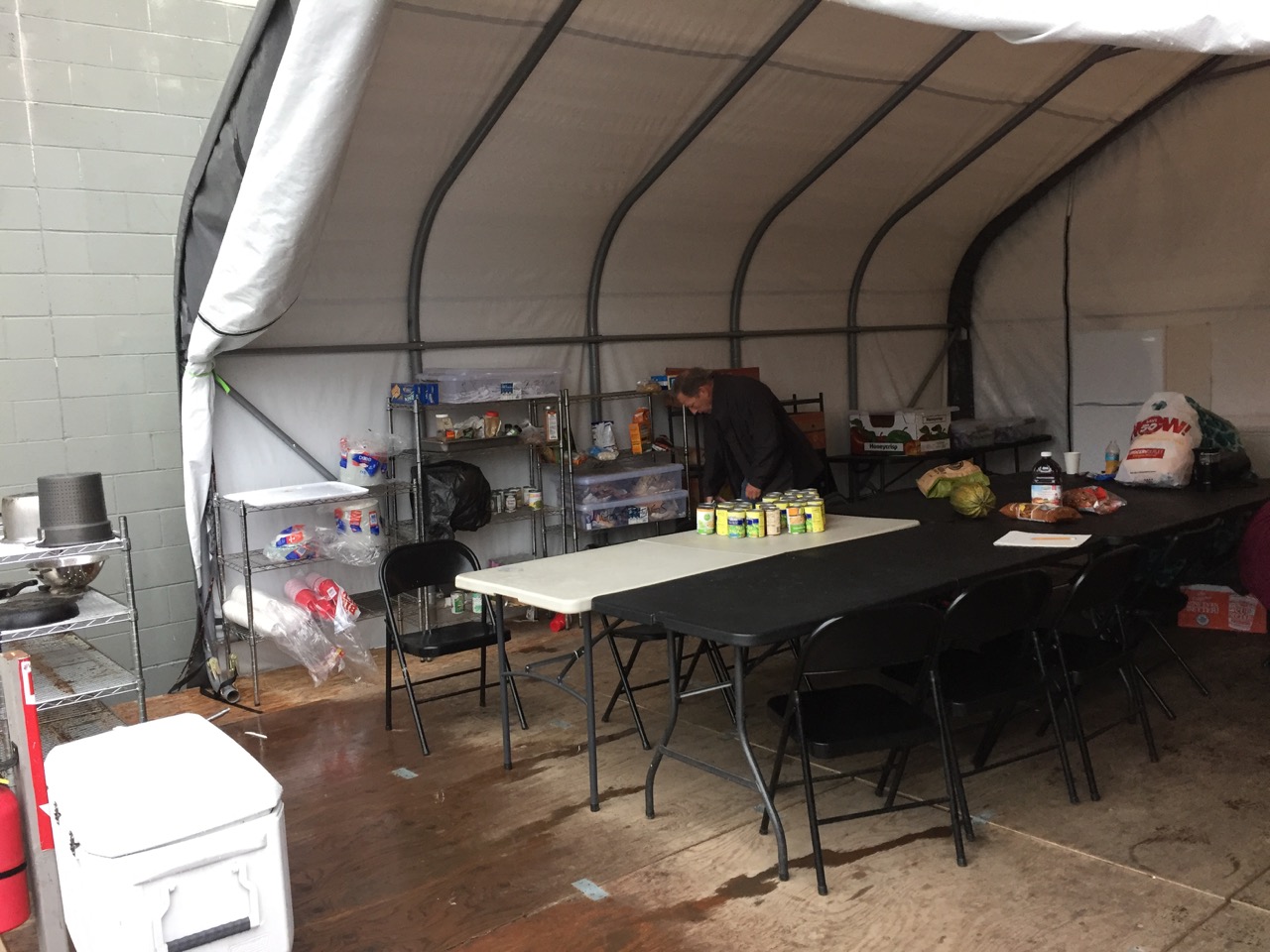 View higher quality, full size image (1280 X 960)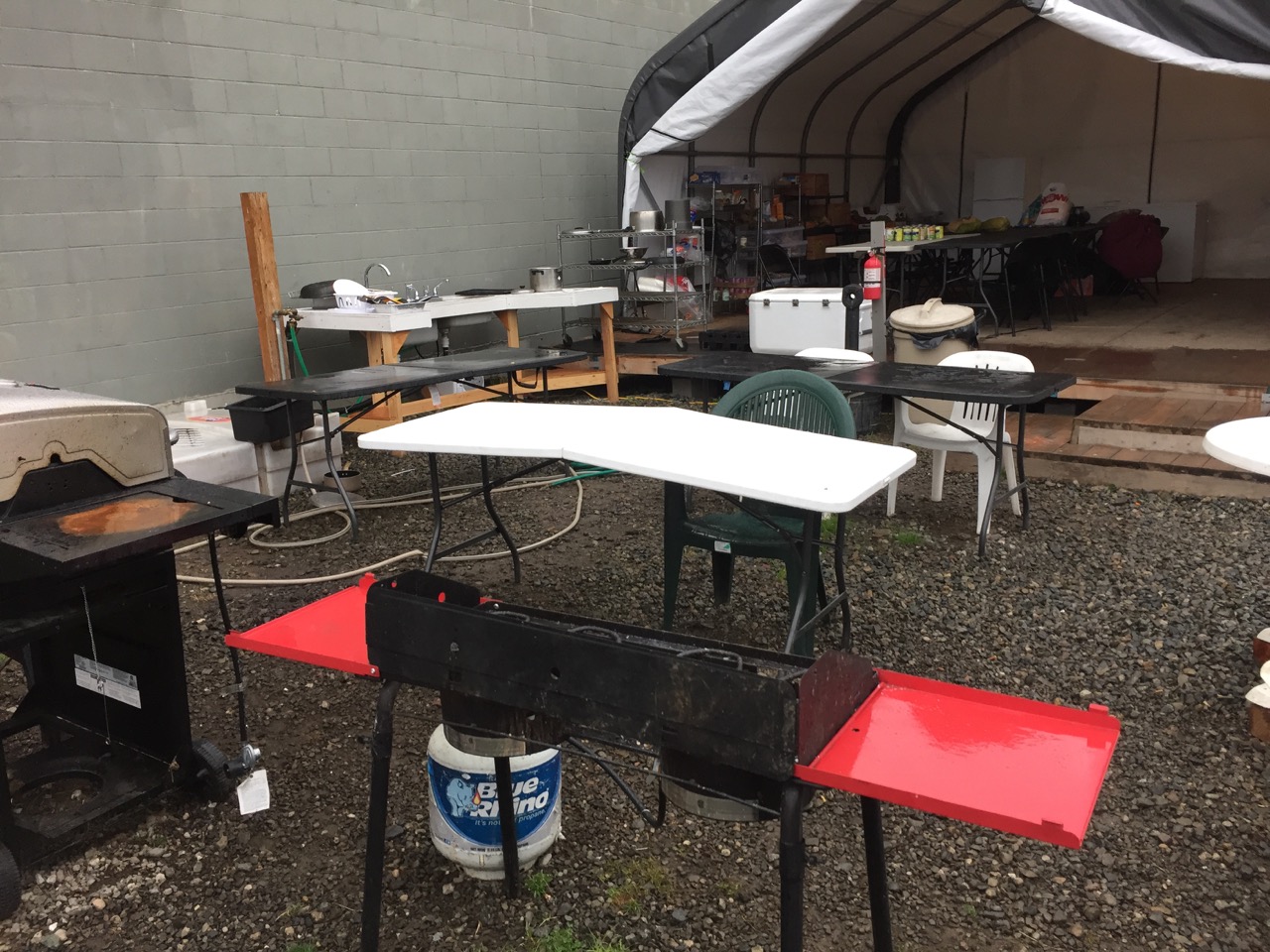 View higher quality, full size image (1280 X 960)

---
11/23 #4: Something to be thankful for ...

I am thankful also for the help we got to produce this kitchen for the tent city. It just got installed a couple of days ago.
Some volunteers contacted us about a month ago to see if we had any orphan cabinets lying around that they could use to improve their communal cooking space. They were having a problem keeping rats & moisture out of the groceries.
We offered instead to just build them what they needed. My company put up the engineering and the labor. All of the people I buy materials from donated the rest.
Continental Hardwoods & Limback Lumber provided the plywood. EB Bradley Company & Ballard Industrial provided the castors & hardware. Ballard Sheetmetal produced the countertop.
What I found really interesting was that all of the merchants I asked to help wanted to talk about the homeless crisis. They all have people sleeping in their doorway. They know that the problem is not going away and they need to be part of the solution. They were all very happy to help.
This particular camp serves about 65 people every day. There are 28 one room houses about half the size of my office plus a dormitory tent in the middle of the camp. The one room shacks have been really effective towards helping people get their lives organized enough to start helping themselves. Each shack has a key to the door and an electric outlet. People don't stay in the shacks very long before they transition to improved housing elsewhere in the community.
The shacks are effective because they help people get the fear and fatigue out of their lives. When you see shopping carts surrounding ad hoc housing you need to recognize that this constitutes a fort. The shopping carts provide a barrier that is noisy to penetrate and hard to breach. It doesn't do anything to protect from the cold but it does provide a small measure of protection.
When you see all the trash around these camps it's easy to think about how terrible these people are. Imagine instead, however, what your front yard would look like if you didn't have regular trash pickup. Think about how much trash 5 or 6 people can generate in a week.
A lot of these people are in this situation because of bad choices. A lot of them suffer from mental illness. Some of them just missed a paycheck and couldn't pay their rent.
Think for a second about your own employees. How many of them could go without a paycheck for just one week? What would happen to them if they lost their job for just one month?
This project was a no-brainer for my company. We build kitchens all the time. This was not a reach for us. In fact it's just simply part of the vig for being lucky enough to live in a city where we have so many tech workers.
It is the tech sector that pushed the price of housing through the sky. Amazon, for example, provides the majority of my customer base. They pay tremendous wages and this pushes up the price of housing for every one. AirBNB, another disruptive industry, sucks the remaining housing off the market. Soon AirBNB will form an alliance with UBER and offer to rent you a car to sleep in when half the UBER drivers become redundant.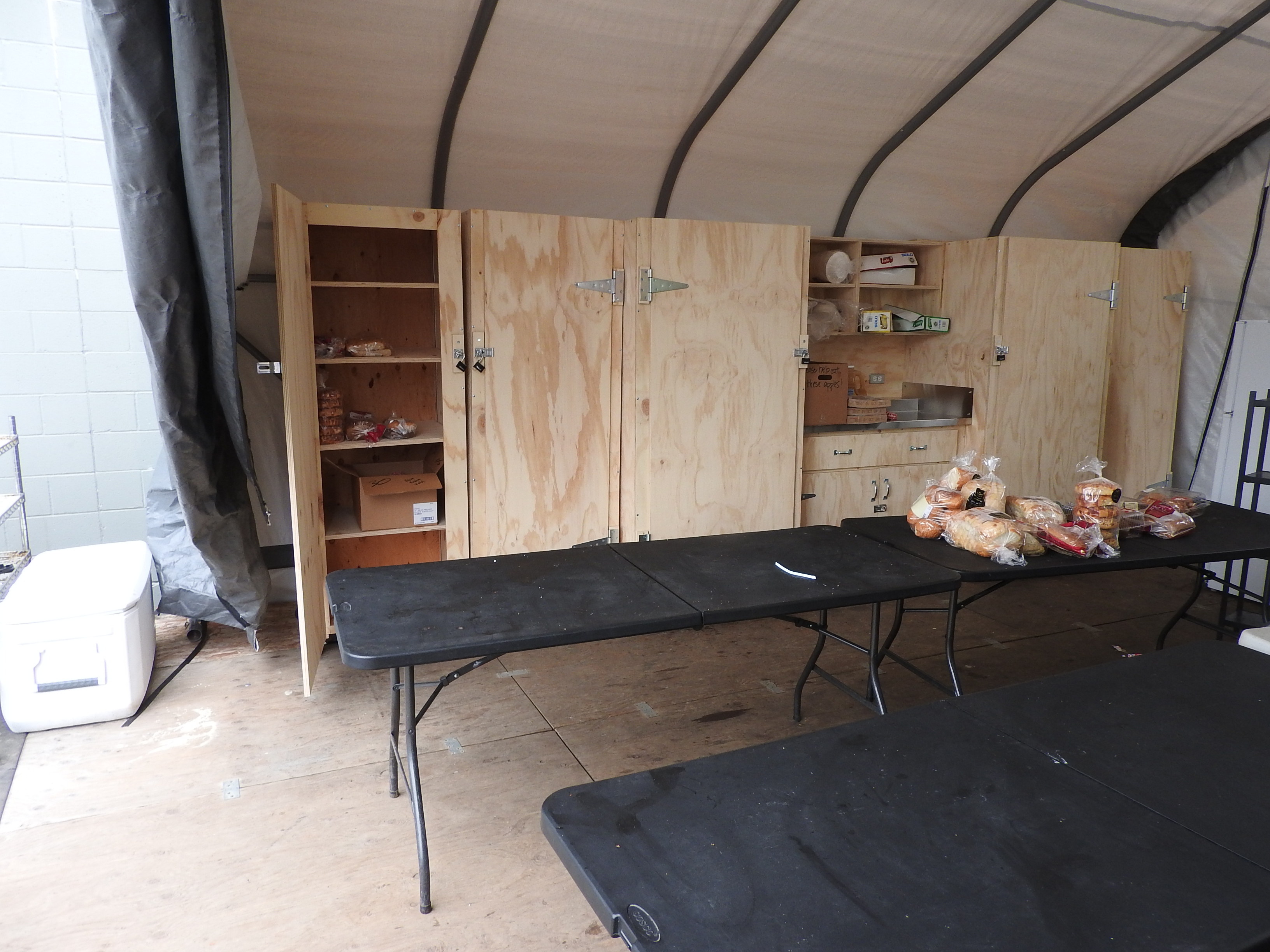 View higher quality, full size image (3264 X 2448)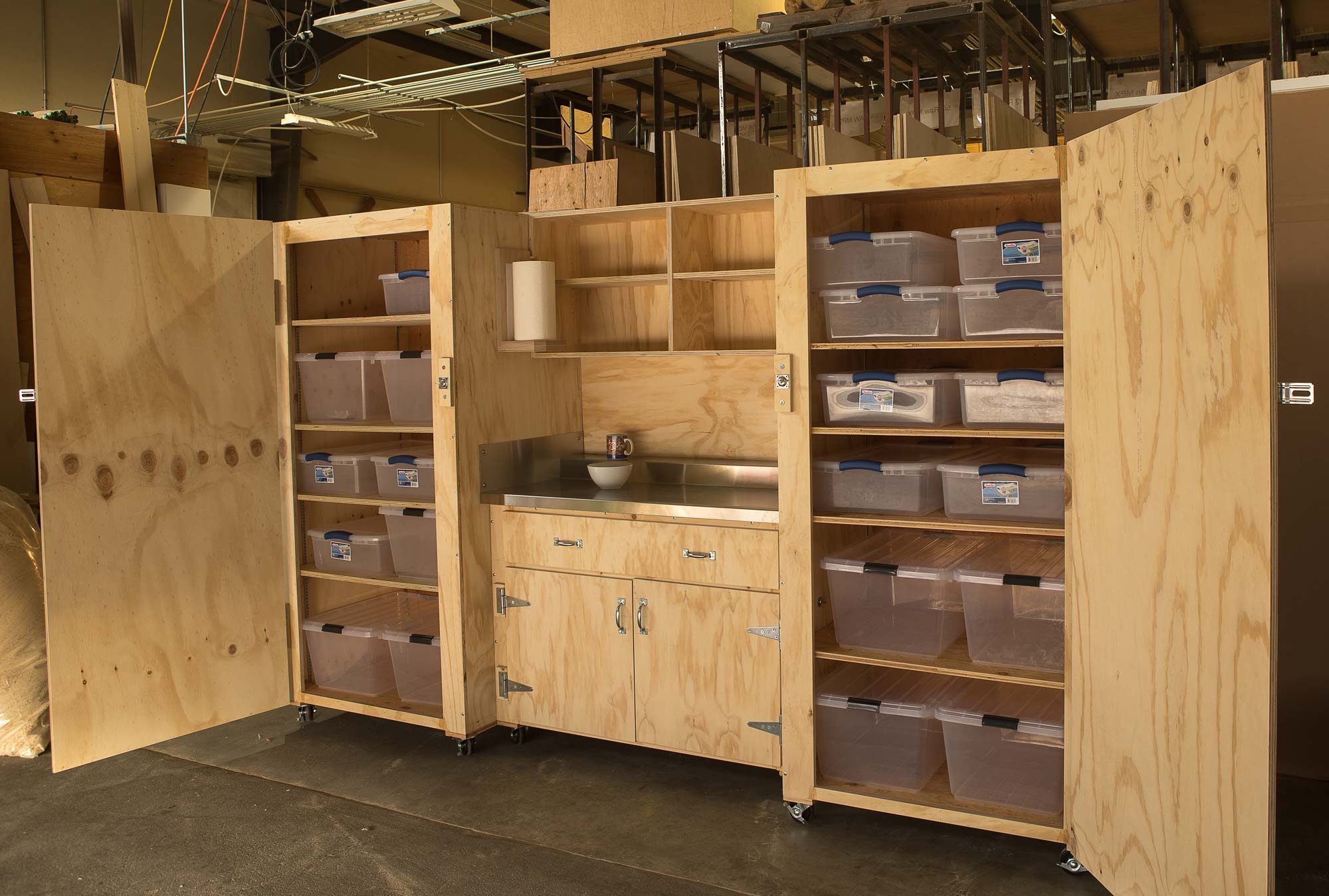 View higher quality, full size image (2000 X 1349)

---
11/23 #5: Something to be thankful for ...

I will get back to this topic in the future.
This is the kind of project that cabinet shops are uniquely positioned to participate in. Lots of people have money to donate. We're the only ones that know how to build cabinets.
The hardest part of this job was the engineering. We had to optimize for material yield and still make it fit two standard size tupperware containers.
Initially we planned to have rubber gaskets around the doors but couldn't get the gasket to bond reliably to the radiata pine plywood. We probably would have gotten a better yield if the front faceframe could have been made a bit smaller.
The actual fabrication is pretty simple. Each box has under two hours to assemble. The longest part for us was the cut out because we do everything the hard way.
The plastic boxes were made by the Sterilite company. I am sure we could get them or maybe Rubbermaid to provide as many boxes as needed.
The plywood could be donated by the mills that manufacture it. They've been recently gifted a trade protection tariff and will soon be wealthy enough to give some back.
Transportation could be provided by our distributors. They already have trucks on the road and relationships with the mills. If they drop shipped the sheetgoods to someone with a beam saw the load would be lighter for everybody.
This is a project that all of us can participate in. I think it would be particularly rewarding for those of us who absolutely hate government involvement in anything.
As I said before, it is the prosperity of our community that gives us our customers.
There are three more camps like this in Seattle that need some cabinets. There are camps like this all over the country that need some help.
We just have to give up a day of labor.
Sixty five people were served by this camp last night and sixty five people will use it again today and tomorrow. If you do the math (65 X 365) you can help out 23,750 every year and it only takes a day of your time.
If anybody is interested I will be happy to provide the engineering documents to make this happen. You only got to give up a day. If you can get some buddies to help it might only take you a couple of hours.
---
11/23 #6: Something to be thankful for ...

Great work Tim. A job well done.
My favorite Seattle mission is Operation Nightwatch. They do great work feeding and housing those not at fortunate.
Happy Thanksgiving
---
11/23 #7: Something to be thankful for ...

Thank you Robert.
Happy Thanksgiving to your family as well.
---
11/23 #8: Something to be thankful for ...

It is also useful to note, as the photographs suggest, these camps have no shortage of food donations. They have a pretty good network of grocery stores, restaurants & bakeries that keep them supplied with food. They do come up short on meat sometimes but for the most part have plenty of calories available.
What they are short of is tupperware boxes, long underwear, socks, paper towels & lawn furniture.
They use the tupperware to segregate & protect food. The larger bins are used to hold personal clothing and effects in the dormitory tents.
They don't have a viable laundromat so the warm, clean clothing is really appreciated.
They go through paper towels like it is oxygen. With 40 people sleeping in the dormitory tent the lawn furniture is really nice on a sunny day.
One lady I met named Karen said that what she missed the most was having a garden. She's just like Pat Gilbert. She misses eating fresh tomatoes with that perfect blend of acidity & sugar. I grow my tomatoes in 5 gallon buckets. When I launch next year's crop I'm going to make sure she and her neighbors get a half dozen tomato plants and potting soil.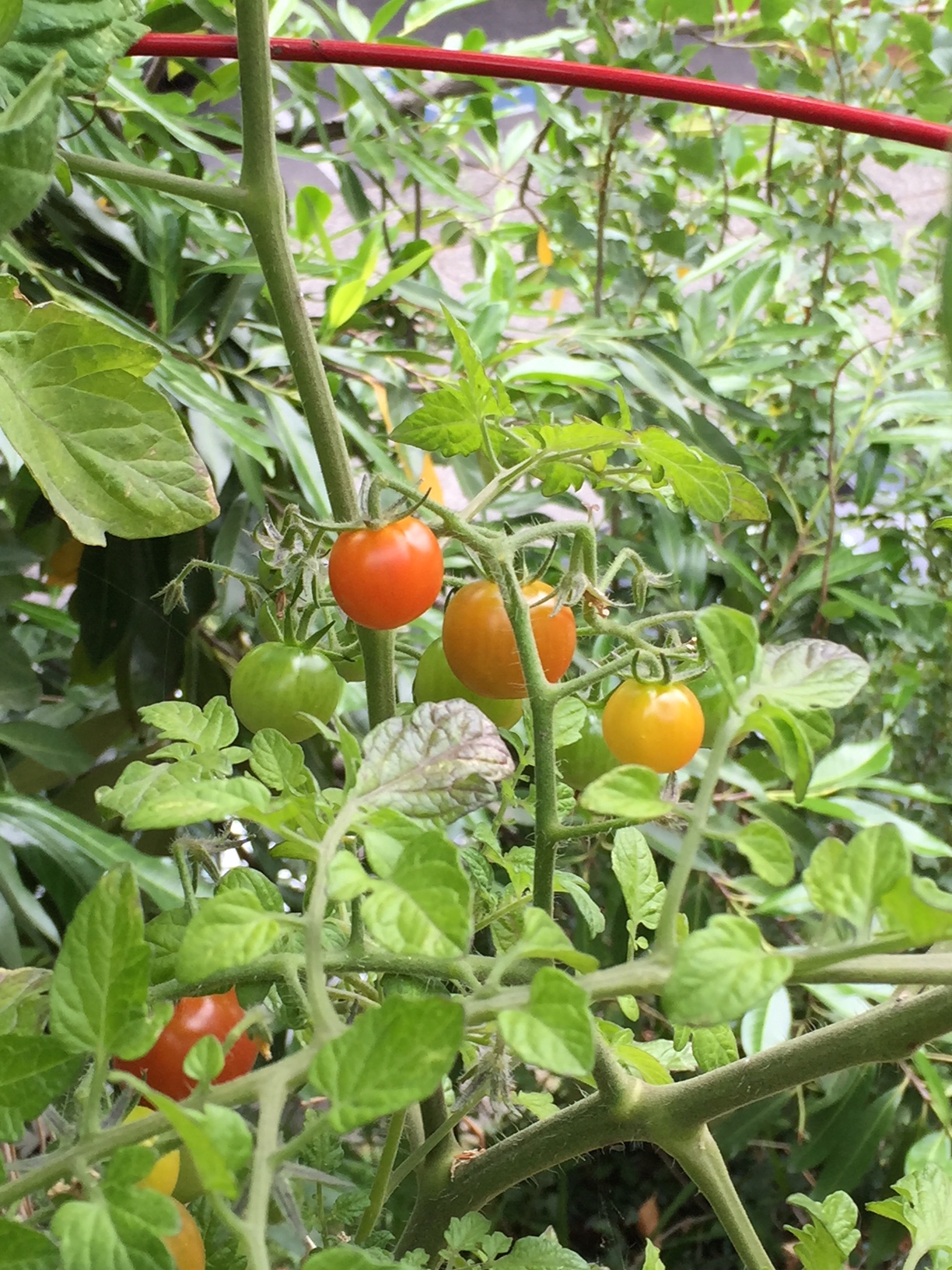 View higher quality, full size image (1224 X 1632)

---
11/23 #9: Something to be thankful for ...

What you did for the indigent camps is very cool Tim.
Happy Thanksgiving.
BTW are those the containers you mentioned before for produce?
---
11/23 #10: Something to be thankful for ...

I would be remiss if I did not respond to the economic side of Tim's post.
If you think the future is dour or you think the future is bright, you are right.
The housing market increase in cost is the cause of the homelessness in certain areas.
Those areas have high salary jobs which brings more money for housing.
Historically low interest rates have a huge effect on how much money is available.
NIMBY (not in my back yard) regulations have a huge effect on the cost of housing.
Another factor is the inflation is not even as it comes from one source the central bank and it benefits those who receive the new money ahead of the rest of the population. (this is called the Cantillon Effect see the definition below ) IOW if you invest ahead of the increased money supply you will reap windfall benefits.
"Cantillon further showed that monetary inflation does not affect all prices equally or at the same time, but in sequences that depend on the spending behavior of money holders all along the channels of monetary flows. These ideas have been adopted and extended by Knut Wicksell, Ludwig von Mises, and F.A.Jan 17, 2017"
https://wiki.mises.org/wiki/Richard_Cantillon
Give the Robert Mueller thing a rest, the Clintons had more dealings with the Russians.
The down side of charity is what is described in this sign.
The reason the California has the most homeless is because 1/3 of the welfare in the US goes to California with 1/8 of the US population.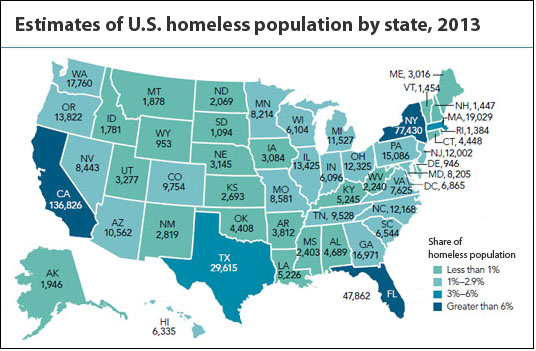 View higher quality, full size image (536 X 351)

Homelessness by states
---
11/23 #11: Something to be thankful for ...

Sign mentioned in previous post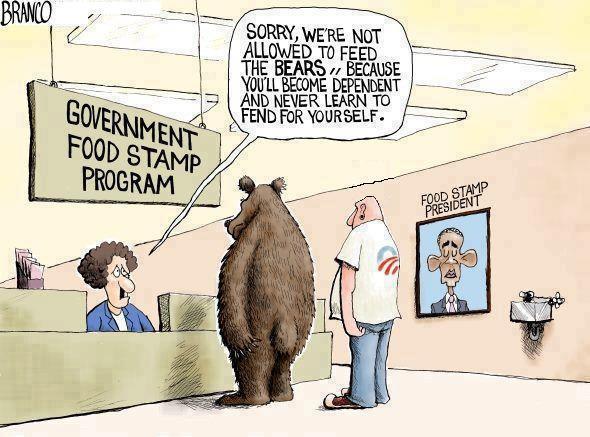 View higher quality, full size image (590 X 437)

---
11/23 #12: Something to be thankful for ...

Pat,
One of the major factors in the high cost of housing is tech sector salaries. Another one is just simple money laundering.
There are a lot of bad actors out there in the world. A lot of profit is being made by a lot of gangsters but this profit is hard to spend unless you can find a way to wash the money.
Much of laundered money makes it's way into high end condominium and/or hotel properties. Wire transfers from offshore accounts make it difficult to trace the original source of the money. This is a win-win situation for the developer and for the gangster.
Money laundering is also a pretty good deal for cabinet makers because since the money is free nobody cares what anything costs and high end condominiums and hotel properties mean more work for us.
---
11/23 #13: Something to be thankful for ...

Tim,
Very admirable what you did for the homeless camp.
Regarding your money laundering assetion, if that were true then cabinet projects would consistently be awarded to the highest bidder. Is it your contention that I'm losing out on these bids because my prices are in fact too low?
---
11/23 #14: Something to be thankful for ...

I agree on the salary thng.
An overarching point is that what is valuable is always changing. 60 years ago if you had graduate school math skills your only option was teachng, today you can go into many jobs that command salaries well into 6 figures.
My understanding of money laundering is that it is done with interstate cash businsses. Can you explain how they would hide/launder the cash in real estate?
---
11/23 #15: Something to be thankful for ...

As Tim indicated this is much of the reason for housing inflation.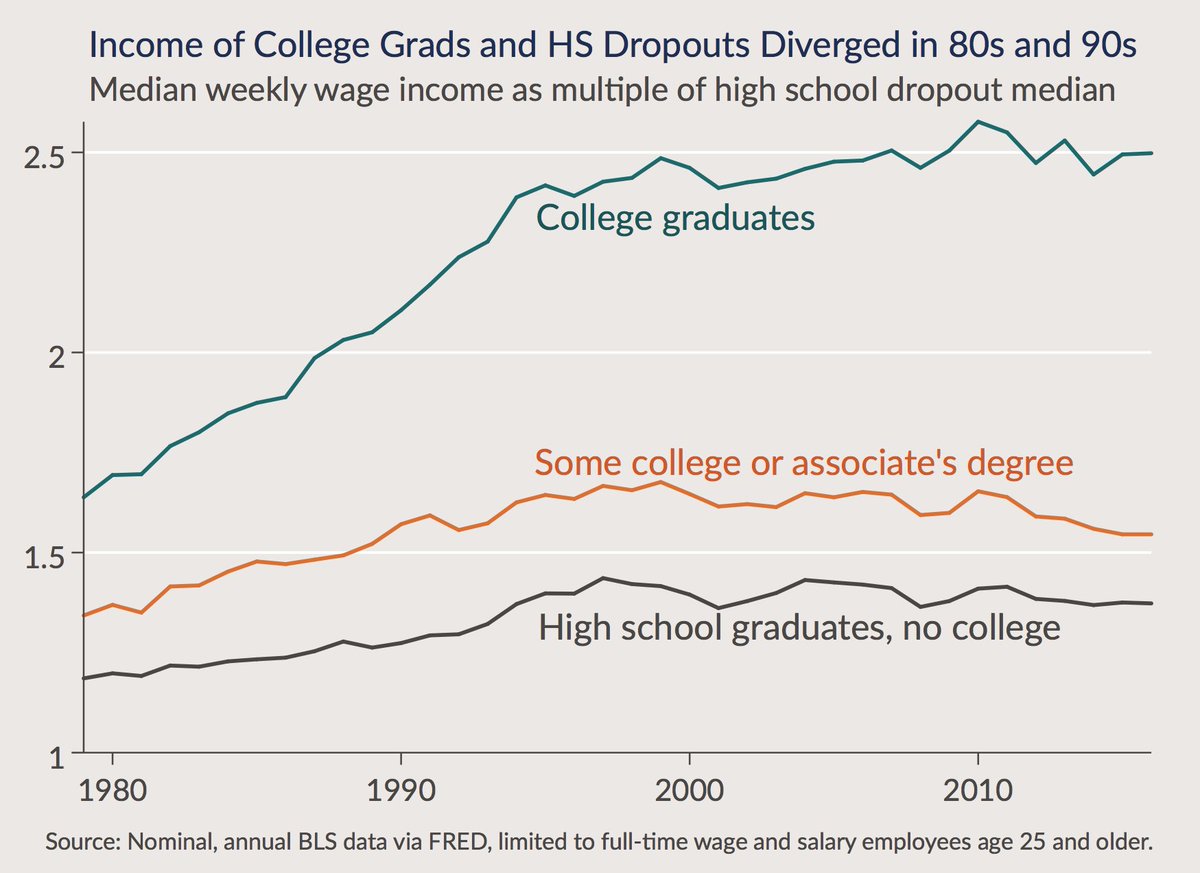 View higher quality, full size image (1200 X 873)

---
11/23 #16: Something to be thankful for ...

The cartels buy real estate, rent it or sell it, cash is clean then. Casino's get used a lot also.
But just as big of factor are the hedge funds Tim is always talking about buying up homes for rentals and vacations.
But they both pale in comparison to the money trying to get out of China and lock it up into US real estate.
Generally the last two, and sometimes the first, are concentrated in certain cities. Usually the same cities that have a tech boom or are living off the government teet.
Housing in middle America is WAY below the top. Same house in middle America goes for 1/10-1/20th of what it does in one of these cities and even 1/5th of what it does in one of the communities they either flee to during the weekend or their retirement.
We are a nation of haves and have nots. It has less to do with who has an education then it does who is writing the rules that everyone has to play by. The current fight is for who gets to write the rules the rest of us have to live by when you boil it down.
---
11/23 #17: Something to be thankful for ...

Both of you are dialogues, one on the right one on the left.
The reason for the higher priced housing is above. Those are the facts.
Very little of the housing sales are from the Chinese. I would have to look it up but the facts don't bear out what you indicate.
If you deposit over $10,000 cash in a bank the authorities are notified. As in I don't see how that would work as a money laundering scheme if you pay for a house in cash. If it does I have to think it is even a smaller share of the home sales than Chinese buyers.
The vast majority are neither.
---
11/23 #18: Something to be thankful for ...

Pat, you put a chart up of Vancouver BC homes prices for the last five years and set one of Seattle on it. Go ahead and put Montreal on there also. Mark when Vancouver put their tax on foreign real estate on the graph and see what it did afterwards and what happened to Seattle and Montreal preceding that date. Then come back and apologize.
You are right that regulations play a huge part in housing prices. As does the shortage of labor. Even more so the hot money coming off of the printing presses.
If by right you mean small government then you have me pigeonholed correctly. The rest of my support is choosing the lesser of many evils, which I have to do a lot because it seems like everyone wants the government to either fund them or enforce their rules. So until small government is a choice I will select the option that does me and mine the least amount of damage. It's all tribal now. Like it or not. I don't. But I will accept reality.
As far as your demographics I disagree with you. The Western world is aging and dying. Even the generations that are usually home buyers at this time in their lives have too much debt, too little faith in the system, different values and way of life.
I know you disagree and that is okay. We've both looked at the numbers and come to different conclusions. That's how the world works and we all have to bet our chips how we see the hand playing out.
---
11/24 #19: Something to be thankful for ...

Australia & New Zealand have had a huge problem with foreign investors buying up properties. AU raised the taxes. Hasn't done much to dissuade them. The Kiwis banned foreigners from buying real estate period.
There was already a speculation market in AU which has been the longest in the world .
---
11/24 #20: Something to be thankful for ...

You have to consider that the housing market in Canada and Australia are a fraction of the US housing market.
So they are more easily influenced by money from China.
Certain areas are getting bought up heavy by the Asians.
But in the US As a total it is less than 300K homes out of 6,000,000.
Your lurid stories are great for getting people excited but in the scheme of things Meh.
---
11/24 #21: Something to be thankful for ...

Pat,
You are not considering how concentration matters. Dropping 300k pebbles in a good sized pond evenly scattered does almost nothing. Dropping 3 100k pebbles all glued together in three spots makes huge ripples.
I'm on the ground. I know dozens of real estate agents on the ground. It's real, ignore it if you'd like, but it would be incorrect to do so.
---
11/24 #22: Something to be thankful for ...

Pat, you are usually excellent about providing a reputable source for your statistics. Can you show us where you got your information re the percentage of foreign buyers in the US housing market? I don't have a point of view, would love to work from facts towards conclusions.
FWIW, my son just graduated from MIT and decided to take a job with a tech company in Seattle. He has worked in San Francisco, and rejected it because housing is so expensive. He told me that the price of apartments in Seattle is relatively cheap, at least SF and Cambridge MA standards, and attributed that to the fact that new housing is being built. He also thinks that SF is a hellhole - extreme inequality at work.
I haven't been to Seattle yet, but I'll probably be visiting next year. Tim, I'm looking forward to dropping by.
---
11/24 #23: Something to be thankful for ...

Family Man
I get it, we went through something similiar with Japan.
You're right localized effect is more extreme.
But in the bigger picture this is not a big deal. And i suspect this phenomenon will fade. This accounts for a half a percent of the sales at very depressed sales at that.
Paul
Statistics are not always easy to get.
For this one i just asked Logan.
There may be a chart on FRED or the BEA or the census bureau.
He is a fantastic source. If you're interested friend him on FB. He rarely misses on the nmbers and I have learned a ton from him.
---
11/24 #24: Something to be thankful for ...

Pat,
I thought people would find the au/nz info(not stories) interesting.
Do I think we should ban Russian mafia money from buying the White House? Its a tight market. Might have serious implications.
The solution to pollution is dilution theory of life generally does not fit. Real estate is a local market.
You could certainly compare cities of Melbourne with San Fran.
---
11/24 #25: Something to be thankful for ...

If yous want more statistics go get them i'm not the libarian.
---
---
Buy & Sell Exchanges | Forums | Galleries | Other Resources | Site Map
---

Buy and Sell Exchanges

Job Opportunities and Services Exchange
Employment opportunities and services within the woodworking industry

Lumber Exchange
A worldwide buy/sell exchange for lumber and wood products

Machinery Exchange
A worldwide buyer and seller exchange for woodworking machinery and equipment.

Classified Ad Exchange
Classified advertising for the woodworking industry (for advertisements that do not include machinery, lumber products and employment listings)


---

Forums

Adhesives Forum
Discussing topics related to adhesives within the woodworking industry

Architectural Woodworking Forum
Discussing quality standards and production of architectural wood products

Business and Management Forum
A forum for the discussion of business topics: from sales and marketing to dealing with difficult customers.

Cabinet and Millwork Installation Forum
Discussing all aspects of installation issues encountered by cabinet and millwork installers.

Cabinetmaking Forum
Discussing 32mm and face frame cabinet construction including fabrication, casegoods design, and installation.

CAD Forum
Shedding light on the all-too-often shadowy world of CAD.

CNC Forum
Discussing CNC (computer numerically controlled) woodworking equipment, software, and automated product manufacturing.

Dust Collection, Safety and Plant Operation Forum
Discussing topics related to maintaining a safe and productive working environment.

Professional Finishing Forum
Finishing issues for the production environment

Forestry Forum
The science and art of forest cultivation and timber management, planting, surveying, tree diseases, silviculture and timber harvesting

Professional Furniture Making Forum
Helping professional furniture makers improve quality, save time, and increase profits

Laminating and Solid Surfacing Forum
Issues related to laminating and solid surface materials and processes

Commercial Kiln Drying Forum
Discussions covering issues faced be commercial drying operations that process at least 750,000 bd. ft. of lumber per year

Sawing and Drying Forum
Discussing topics related to primary processing and drying of lumber

Solid Wood Machining Forum
Discussing topics related to the machining of solid wood

Value Added Wood Products Forum
Learn how to improve your output, find new markets, and boost sales of your lumber products

Veneer Forum
Discussing topics related to veneer processing, manufacturing, and fabrication

WOODnetWORK
An electronic discussion group for woodworkers throughout the world


---

Galleries

Project Gallery
Where professional woodworkers can post examples of their work

Sawmill Gallery
Professional primary processing companies display and describe their sawmill facilities

Shop Gallery
Professional woodworkers display and describe their shop facilities, products and equipment

Shopbuilt Equipment Gallery
Professional woodworker's jigs, rigs, and shopbuilt equipment


---

Other Resources

Industry News
Late-breaking news from all sectors of the wood industry

Video Library
Index of industrial woodworking related digital videos on the web

Auctions, Sales and Special Offers
Advertisers offering woodworkers discounted prices on good and services, and announcements of upcoming auctions

FORUM GUIDELINES: Please review the guidelines below before posting at WOODWEB's Interactive Message Boards (return to top)


WOODWEB is a professional industrial woodworking site. Hobbyist and homeowner woodworking questions are inappropriate.
Messages should be kept reasonably short and on topic, relating to the focus of the forum. Responses should relate to the original question.
A valid email return address must be included with each message.
Advertising is inappropriate. The only exceptions are the Classified Ads Exchange, Machinery Exchange, Lumber Exchange, and Job Opportunities and Services Exchange. When posting listings in these areas, review the posting instructions carefully.
Subject lines may be edited for length and clarity.
"Cross posting" is not permitted. Choose the best forum for your question, and post your question at one forum only.
Messages requesting private responses will be removed - Forums are designed to provide information and assistance for all of our visitors. Private response requests are appropriate at WOODWEB's Exchanges and Job Opportunities and Services.
Messages that accuse businesses or individuals of alleged negative actions or behavior are inappropriate since WOODWEB is unable to verify or substantiate the claims.
Posts with the intent of soliciting answers to surveys are not appropriate. Contact WOODWEB for more information on initiating a survey.
Excessive forum participation by an individual upsets the balance of a healthy forum atmosphere. Individuals who excessively post responses containing marginal content will be considered repeat forum abusers.
Responses that initiate or support inappropriate and off-topic discussion of general politics detract from the professional woodworking focus of WOODWEB, and will be removed.
Participants are encouraged to use their real name when posting. Intentionally using another persons name is prohibited, and posts of this nature will be removed at WOODWEB's discretion.
Comments, questions, or criticisms regarding Forum policies should be directed to WOODWEB's Systems Administrator
(return to top).

Carefully review your message before clicking on the "Send Message" button - you will not be able to revise the message once it has been sent.

You will be notified of responses to the message(s) you posted via email. Be sure to enter your email address correctly.

WOODWEB's forums are a highly regarded resource for professional woodworkers. Messages and responses that are crafted in a professional and civil manner strengthen this resource. Messages that do not reflect a professional tone reduce the value of our forums.

Messages are inappropriate when their content: is deemed libelous in nature or is based on rumor, fails to meet basic standards of decorum, contains blatant advertising or inappropriate emphasis on self promotion (return to top).

Libel: Posts which defame an individual or organization, or employ a tone which can be viewed as malicious in nature. Words, pictures, or cartoons which expose a person or organization to public hatred, shame, disgrace, or ridicule, or induce an ill opinion of a person or organization, are libelous.

Improper Decorum: Posts which are profane, inciting, disrespectful or uncivil in tone, or maliciously worded. This also includes the venting of unsubstantiated opinions. Such messages do little to illuminate a given topic, and often have the opposite effect. Constructive criticism is acceptable (return to top).

Advertising: The purpose of WOODWEB Forums is to provide answers, not an advertising venue. Companies participating in a Forum discussion should provide specific answers to posted questions. WOODWEB suggests that businesses include an appropriately crafted signature in order to identify their company. A well meaning post that seems to be on-topic but contains a product reference may do your business more harm than good in the Forum environment. Forum users may perceive your references to specific products as unsolicited advertising (spam) and consciously avoid your web site or services. A well-crafted signature is an appropriate way to advertise your services that will not offend potential customers. Signatures should be limited to 4-6 lines, and may contain information that identifies the type of business you're in, your URL and email address (return to top).

Repeated Forum Abuse: Forum participants who repeatedly fail to follow WOODWEB's Forum Guidelines may encounter difficulty when attempting to post messages.

There are often situations when the original message asks for opinions: "What is the best widget for my type of shop?". To a certain extent, the person posting the message is responsible for including specific questions within the message. An open ended question (like the one above) invites responses that may read as sales pitches. WOODWEB suggests that companies responding to such a question provide detailed and substantive replies rather than responses that read as a one-sided product promotion. It has been WOODWEB's experience that substantive responses are held in higher regard by our readers (return to top).

The staff of WOODWEB assume no responsibility for the accuracy, content, or outcome of any posting transmitted at WOODWEB's Message Boards. Participants should undertake the use of machinery, materials and methods discussed at WOODWEB's Message Boards after considerate evaluation, and at their own risk. WOODWEB reserves the right to delete any messages it deems inappropriate. (return to top)



Forum Posting Form Guidelines

Your Name
The name you enter in this field will be the name that appears with your post or response (return to form).
Your Website
Personal or business website links must point to the author's website. Inappropriate links will be removed without notice, and at WOODWEB's sole discretion. WOODWEB reserves the right to delete any messages with links it deems inappropriate. (return to form)
E-Mail Address
Your e-mail address will not be publicly viewable. Forum participants will be able to contact you using a contact link (included with your post) that is substituted for your actual address. You must include a valid email address in this field. (return to form)
Subject
Subject may be edited for length and clarity. Subject lines should provide an indication of the content of your post. (return to form)
Thread Related Link and Image Guidelines
Thread Related Links posted at WOODWEB's Forums and Exchanges should point to locations that provide supporting information for the topic being discussed in the current message thread. The purpose of WOODWEB Forums is to provide answers, not to serve as an advertising venue. A Thread Related Link that directs visitors to an area with inappropriate content will be removed. WOODWEB reserves the right to delete any messages with links or images it deems inappropriate. (return to form)
Thread Related File Uploads
Thread Related Files posted at WOODWEB's Forums and Exchanges should provide supporting information for the topic being discussed in the current message thread. Video Files: acceptable video formats are: .MOV .AVI .WMV .MPEG .MPG .FLV .MP4 (Image Upload Tips) If you encounter any difficulty when uploading video files, E-mail WOODWEB for assistance. The purpose of WOODWEB Forums is to provide answers, not to serve as an advertising venue. A Thread Related File that contains inappropriate content will be removed, and uploaded files that are not directly related to the message thread will be removed. WOODWEB reserves the right to delete any messages with links, files, or images it deems inappropriate. (return to form)