I usually get these phone calls while I am at my desk doing CAD work.
I politely tell them I am very interested then ask if they could wait for a second while I take something off the stove.
telemarketer link
---
12/13 #4: How are you all handling telemarket ...

First, I have a desk phone in the office and shop that has caller blocking. Two buttons, and they are blocked.
Secondly, I will answer and tell them that they have contacted a business, and there is a $25 connection fee already charged. I ask for a credit card number, or their supervisor. I mention they should hurry, since the charges will increase while we wait. I stay on point, and have gotten a few card numbers. Really renews my faith in the intelligence of my fellow citizens.
Beyond that, I'm on all the no call lists I can find. It is criminal that our government, sworn to protect us and encourage good business, does not do more to prevent the barrage of calls.
---
12/14 #5: How are you all handling telemarket ...

Yeah the government should do something about that
---
12/14 #6: How are you all handling telemarket ...

Register all your number on do not call list. Yeah, I know your a business and it doesn't appky but it helps.
Second take the time to make their life miserable. There are some that will continue to call if you hang up, so I will take time andspend 10 minutes saying yes then tell them that im wasting their time everytimenthey call and they will then remove me. I do this if Im driving or doing desk work and make it a game.
---
12/14 #7: How are you all handling telemarket ...

I tell them that all new vendors have to become an "approved vendor" first. They do that by flying out here and making a pitch in person at our annual vendor open house. That gets rid of them fast. Joke will be on me if someone actually shows up in person!
---
12/14 #8: How are you all handling telemarket ...

I am not a fan of having "them" do something about whatever complaint happens to be current.
However, in my area, every politician brings up the Do Not Call list as an example of how they have given the great unwashed the Holy Grail, and how government really works for the people. But then they are quickly reminded that BigPhoneCo and their 'partner' telemarketers have worked around all constraints, and no one has ever been fined for violating the call list, and they quiet down.
It is the job of our government to protect its citizens. This would include our right to conduct legitimate business. Chasing ghosts like ISIS or renewing endless drug wars may grab headlines and spur TV shows and Blockbuster movies, but does little for the citizens.
There are simple answers to those problems also, but Gov refuses to enact those since it means they will then have to find/create other demons to chase in order to justify their jobs.

---
12/14 #9: How are you all handling telemarket ...

Pat,
Believe it or not one of the purposes of government is to fix the potholes.
These telemarketers are a pest, similar to 30 year old Judge Roy Moore pestering underage girls at the local mall. If the local police were able to banish him from the mall the government ought to be able to banish these people who constantly try to sell you time shares, offer to improve your google listings or qualify you for no-credit-check 24 hour loans.
If you have a better solution to make these people go away please tell us what it is.
---
12/14 #10: How are you all handling telemarket ...

I'm not sure that Judge Roy Moore and telemarketers are in the same category.
Telemarketers create jobs, they create commerce.
It used to be only way I got jobs.
The link Alan posted seems like a good way to handle the problem.
Samsung has great feature that alerts you when it is what they call a "Likely Scam"
I'm sure some smart feller will come up with a solution exponentially sooner than a new law would.
---
12/15 #11: How are you all handling telemarket ...

I get just a annoyed as anyone by these calls. It is a nuisance, but I think it is kind of funny that someone from our industry would actually advocate the government getting involved in this.
Who here hasn't "cold called" a prospective client or a contractor trying to drum up some new business. Is the government suppose to create a list of businesses that are allowed to search for work? If so, what makes you think that you would be on the "allowable" side of the list?
Not a topic our government should be involved in.
---
12/15 #12: How are you all handling telemarket ...

Adam,
You are conflating dogma with reality.
There really are good reasons for some regulations.
If these same telemarketers were to stand on your porch and ring your doorbell three times an hour you would likely call the police. There is a big difference between Pat calling a contractor to see if he would consider a new cabinet shop and a computer bot randomly dialing phone numbers to see if they are real or not. Do you ever wonder why there is dead air on the other line or the call immediately drops? This is a computer algorithm on a fishing expedition.
The problem could be handled very simply with technology. The phone service providers could easily differentiate a phone call made by an individual dialing a number and a computer program mass dialing that same number. The reason this does not happen is the same reason Facebook plays stupid when Russians post fake news on the internet. Eyeballs mean advertising revenue. Extra phone minutes mean extra revenue.
Think about it for a second. Try googling a pair of pajamas on Amazon some time and see how long and often that pair of pajamas follows you around the internet. If they can figure out exactly who you are they can also figure out who the phone Bots are.
The is a pot hole I would like the government to fix.
---
12/15 #13: How are you all handling telemarket ...

>phone call made by an individual dialing a number and a computer program mass dialing that same number
I don't touch the dial pad very often on my phone, I copy and paste new numbers into my desktop dial filed in the taskbar or I search my contacts and dial from there.
Don't know how they would know the difference between me and a auto dialer, wouldn't want to have to dial numbers when I don't have to.
Business VOIP is a wonderful thing; less expensive than regular land lines and highly configurable. Fax to PDF to email, PDF to fax via email to send. Dial from my cell if I want, follow me if I want.
You do need hi speed internet and the ability to prioritize QSP packets if you don't use your internet providers VOIP.
I can also create random phone numbers, we don't but we have the ability.
We save about $400 a month with voip for 10 lines, includes 800 inbound number.
---
12/15 #14: How are you all handling telemarket ...

What similiar pot holes has legislation/regulation fixed?
---
12/15 #15: How are you all handling telemarket ...

Pat,
Do you ever wonder why in a lot of countries a simple earthquake will kill 300 people but a similar size earthquake in our country usually doesn't? Probably has something to do with minimum standards for building construction. My guess is that these minimums standards are derived from a regulation.
Some states regulate the age of consent so that 30 year old prosecutors don't successfully make their case with underage children.
We used to have a regulation that said investment advisors had a fiduciary duty to make investment recommendations that optimized their customer's welfare. That regulation got rolled back and the bar they have to meet now is merely plausibility.
Regulations keep mining companies from trashing the streams below them. Without regulations our fish would eat a lot more mercury & arsenic and eventually we wouldn't have any fish.
I don't think it's too hard to find a regulation that benefits us. Do you?
---
12/15 #16: How are you all handling telemarket ...

If the very regulator of the environment wasn't doing this, your story would be more believable.
Regulators
---
12/15 #17: How are you all handling telemarket ...

Speaking of earthquakes, consider this story.
You would consider Chile a champion of regulations where as Haiti that was leveled by a much smaller 7.0 earthquake than the Chile 8.0 earthquake that caused little damage?
The fact is that the economy in Chile is the strongest in South America which afforded them the luxury of building regulations. Haiti the receiver of endless largess from the US did not have an economy capable of such regulations or much else.
Why not regulate all nations into safer better environments? IOW just mandate a higher standard of living for everyone? Just mandate air conditioning, no child labor, building regulations, cleaner air, free healthcare, lower child mortality, a chicken in every pot, for the people in the 19th century?
---
12/17 #18: How are you all handling telemarket ...

Pat,
I am interested in your input on a regulation I read about in yesterday's WSJ.
There is a new rule that requires electronic logs to monitor how long a truck driver has been behind the wheel. The new rules limit the driver to 11 hours in a 14 hour day. The ELD devices cost between $100 & $600 to install per truck.
The truck drivers are complaining.
They would prefer to rely on self-compliance rather than something that can be audited electronically.
On a separate note, I snapped this picture last night of a truck in the grocery store parking lot. My lumber comes to me in a truck half this size. I cannot imagine how they would drive this rig down the freeway, much less on crowded downtown Seattle streets.
How do you feel about this new regulation? Do you think we should leave it up to the discretion of hard working truck drivers about what is prudent or do you think the public is better served with some more formal boundaries?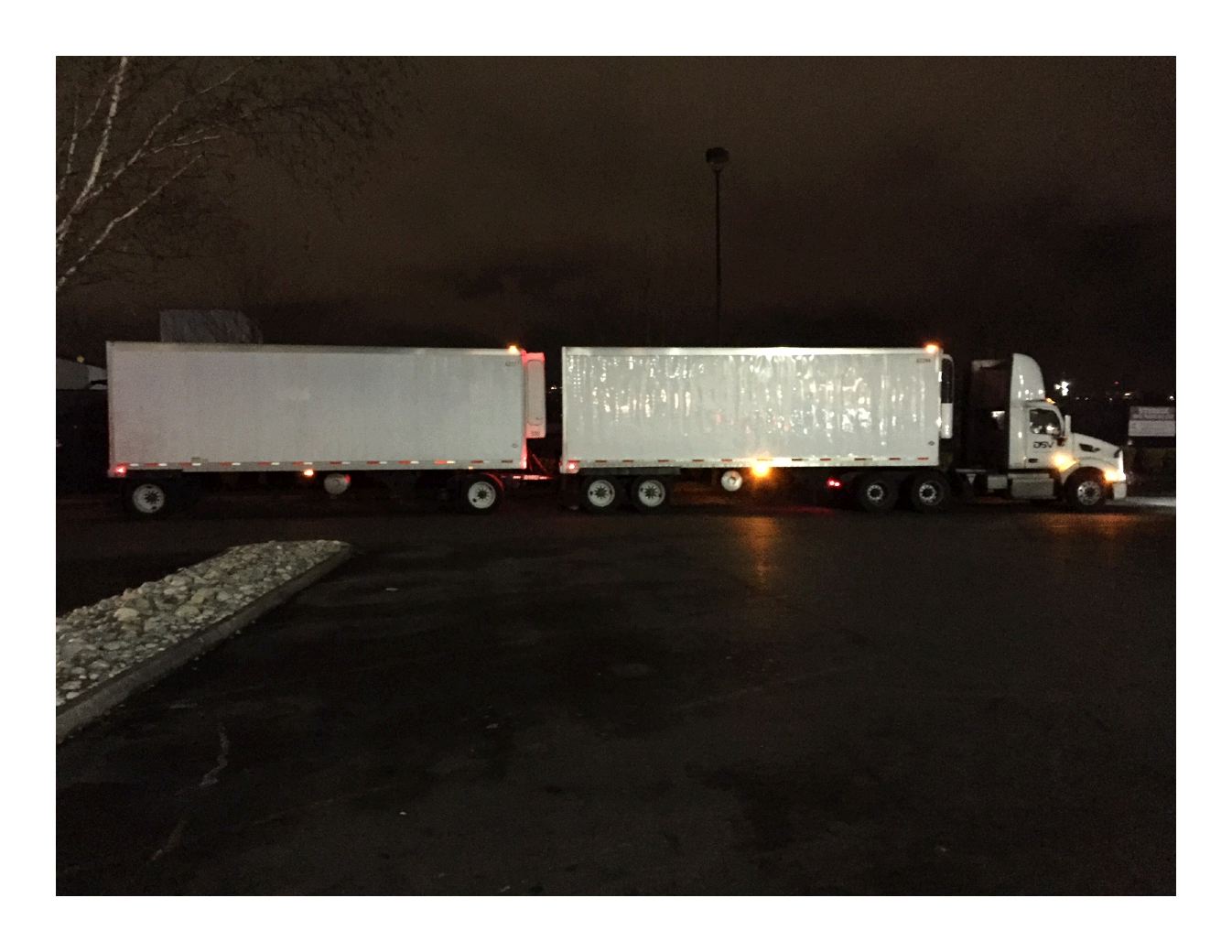 View higher quality, full size image (1346 X 1040)

---
12/17 #19: How are you all handling telemarket ...

First to the trucking regulations. Self policing did not work, the drivers cheat. Thus Big a Brother has upper the regs.
As to telemarketers, I used to hate them. Stopping work to answer the phone, kills 10 min by the time you got machine rolling again. Now that I am retired I love them. I carefully listen to their pitch, agree it is a great proposition, and wait for them to get their supervisor on the line where they carefully repeat the whole pitch. At that point I say, "ya know, it just didn't sound as good the second time through, good bye".
---
12/17 #20: How are you all handling telemarket ...

Was thinking some more about that monster truck. It was so unusual that I stopped to take a picture of it. It made me think of a couple other articles I read last week in the WSJ.
One of the stories was about the large grocery chains starting to penalize vendors for not shipping complete loads or not shipping on time (early or late).
Apparently the margins are so thin in the grocery industry there is not any fat at all left over to subsidize mismanaged inventory.
The other article had to do with grocery stores absorbing increased costs from their suppliers rather than passing these costs onto the the customer. They are afraid of losing customer base to the online stores. They can't take the risk of one of their customers having a good shopping experience with someone more convenient than them.
I wonder if these pressures had anything to do with that driver's decision to plough ahead and drive that monster truck through down town Seattle. Unless Pat can make a convincing argument otherwise it sounds like maybe some additional regulation might be useful here.
---
12/18 #21: How are you all handling telemarket ...

The practical reality is the we need Some regulations.
But the practical reality is that government regulation metastasizes.
IIRC there are now more people working for the farm bureau than there are farmers, the department of energy's sole mandate was to alleviate US dependency on foreign oil I has not reduced the US dependency on foreign oil one iota. Yet it employees 93,000 on contract and another 12,000 on payroll. With a budget of 28 billion dollars, In Calif we now have cap and trade to regulate pollutants, on top of the EPA and the AQMD, those are off the top of my head.
To just create more regulations is NOT the answer.
The best protector of these sorts of things is private property and the legal system. If truck drivers create problems then the best solution is a law suit. This causes the truck drivers liability insurance to go up. And the truck driver can no longer work.
The legal system too is subject to government influences therefore that too is best left to the private sector. Then if judges are found to be unfair people would avoid using them in an arbitration.
BTW improved technology also solves these problems as with fracking and the foreign oil situation. Self driving trucks could be the solution to the problem you bring up.
---
12/18 #22: How are you all handling telemarket ...

Larger trucks as you photographed are the result of squeezing every bit of the process to save a few more cents. One driver for two truckloads is less than 2 drivers and two trucks. It is not unusual to see lines of 7-10 of the UPS doubles running the Indianapolis to Chicago route every morning around 2 am. There are no railroads anymore for this transport.
Vendor abuse. As seen and documented with Wal-Mart, will become more prevalent as BigFoodCo merges with MassiveMarketCorp. Square tomatoes, genetic mods, radiation and all the things consumers do not want will be foisted onto us with marketing to match, so we will continue to chant the National chants as expected of us.
As for telemarketers, try Revenge on the Telemarketers on CD. Several hilarious strategies for having fun with them. In the vein of "If you can't beat them, then at least you should enjoy the encounter." This was given to me by a former employee after he heard me trying to collect $20 for answering the telephone.
---
12/18 #23: How are you all handling telemarket ...

Yous are making a mountain out of a mole hill.
Trucking companies usually have distribution, with singles or bobtails, at the local level.
Line haulers are doubles or triples, so what.
---
12/18 #24: How are you all handling telemarket ...

That truck didn't have a distributor.
He handled the last mile all by himself.
---
12/18 #25: How are you all handling telemarket ...

So create a policy for an anamoly?
---
1/16 #26: How are you all handling telemarket ...

We just hang-up
---
1/7 #27: How are you all handling telemarket ...

Website: http://www.springdalecustomcabinets.com
You can check to see if your phone system has IVR functions. Some have a feature where you can require the caller to press 1 to proceed. This will at least weed out the robo callers. You will have to deal with the cold callers individually.
---
---
Buy & Sell Exchanges | Forums | Galleries | Other Resources | Site Map
---

Buy and Sell Exchanges

Job Opportunities and Services Exchange
Employment opportunities and services within the woodworking industry

Lumber Exchange
A worldwide buy/sell exchange for lumber and wood products

Machinery Exchange
A worldwide buyer and seller exchange for woodworking machinery and equipment.

Classified Ad Exchange
Classified advertising for the woodworking industry (for advertisements that do not include machinery, lumber products and employment listings)


---

Forums

Adhesives Forum
Discussing topics related to adhesives within the woodworking industry

Architectural Woodworking Forum
Discussing quality standards and production of architectural wood products

Business and Management Forum
A forum for the discussion of business topics: from sales and marketing to dealing with difficult customers.

Cabinet and Millwork Installation Forum
Discussing all aspects of installation issues encountered by cabinet and millwork installers.

Cabinetmaking Forum
Discussing 32mm and face frame cabinet construction including fabrication, casegoods design, and installation.

CAD Forum
Shedding light on the all-too-often shadowy world of CAD.

CNC Forum
Discussing CNC (computer numerically controlled) woodworking equipment, software, and automated product manufacturing.

Dust Collection, Safety and Plant Operation Forum
Discussing topics related to maintaining a safe and productive working environment.

Professional Finishing Forum
Finishing issues for the production environment

Forestry Forum
The science and art of forest cultivation and timber management, planting, surveying, tree diseases, silviculture and timber harvesting

Professional Furniture Making Forum
Helping professional furniture makers improve quality, save time, and increase profits

Laminating and Solid Surfacing Forum
Issues related to laminating and solid surface materials and processes

Commercial Kiln Drying Forum
Discussions covering issues faced be commercial drying operations that process at least 750,000 bd. ft. of lumber per year

Sawing and Drying Forum
Discussing topics related to primary processing and drying of lumber

Solid Wood Machining Forum
Discussing topics related to the machining of solid wood

Value Added Wood Products Forum
Learn how to improve your output, find new markets, and boost sales of your lumber products

Veneer Forum
Discussing topics related to veneer processing, manufacturing, and fabrication

WOODnetWORK
An electronic discussion group for woodworkers throughout the world


---

Galleries

Project Gallery
Where professional woodworkers can post examples of their work

Sawmill Gallery
Professional primary processing companies display and describe their sawmill facilities

Shop Gallery
Professional woodworkers display and describe their shop facilities, products and equipment

Shopbuilt Equipment Gallery
Professional woodworker's jigs, rigs, and shopbuilt equipment


---

Other Resources

Industry News
Late-breaking news from all sectors of the wood industry

Video Library
Index of industrial woodworking related digital videos on the web

Auctions, Sales and Special Offers
Advertisers offering woodworkers discounted prices on good and services, and announcements of upcoming auctions

FORUM GUIDELINES: Please review the guidelines below before posting at WOODWEB's Interactive Message Boards (return to top)


WOODWEB is a professional industrial woodworking site. Hobbyist and homeowner woodworking questions are inappropriate.
Messages should be kept reasonably short and on topic, relating to the focus of the forum. Responses should relate to the original question.
A valid email return address must be included with each message.
Advertising is inappropriate. The only exceptions are the Classified Ads Exchange, Machinery Exchange, Lumber Exchange, and Job Opportunities and Services Exchange. When posting listings in these areas, review the posting instructions carefully.
Subject lines may be edited for length and clarity.
"Cross posting" is not permitted. Choose the best forum for your question, and post your question at one forum only.
Messages requesting private responses will be removed - Forums are designed to provide information and assistance for all of our visitors. Private response requests are appropriate at WOODWEB's Exchanges and Job Opportunities and Services.
Messages that accuse businesses or individuals of alleged negative actions or behavior are inappropriate since WOODWEB is unable to verify or substantiate the claims.
Posts with the intent of soliciting answers to surveys are not appropriate. Contact WOODWEB for more information on initiating a survey.
Excessive forum participation by an individual upsets the balance of a healthy forum atmosphere. Individuals who excessively post responses containing marginal content will be considered repeat forum abusers.
Responses that initiate or support inappropriate and off-topic discussion of general politics detract from the professional woodworking focus of WOODWEB, and will be removed.
Participants are encouraged to use their real name when posting. Intentionally using another persons name is prohibited, and posts of this nature will be removed at WOODWEB's discretion.
Comments, questions, or criticisms regarding Forum policies should be directed to WOODWEB's Systems Administrator
(return to top).

Carefully review your message before clicking on the "Send Message" button - you will not be able to revise the message once it has been sent.

You will be notified of responses to the message(s) you posted via email. Be sure to enter your email address correctly.

WOODWEB's forums are a highly regarded resource for professional woodworkers. Messages and responses that are crafted in a professional and civil manner strengthen this resource. Messages that do not reflect a professional tone reduce the value of our forums.

Messages are inappropriate when their content: is deemed libelous in nature or is based on rumor, fails to meet basic standards of decorum, contains blatant advertising or inappropriate emphasis on self promotion (return to top).

Libel: Posts which defame an individual or organization, or employ a tone which can be viewed as malicious in nature. Words, pictures, or cartoons which expose a person or organization to public hatred, shame, disgrace, or ridicule, or induce an ill opinion of a person or organization, are libelous.

Improper Decorum: Posts which are profane, inciting, disrespectful or uncivil in tone, or maliciously worded. This also includes the venting of unsubstantiated opinions. Such messages do little to illuminate a given topic, and often have the opposite effect. Constructive criticism is acceptable (return to top).

Advertising: The purpose of WOODWEB Forums is to provide answers, not an advertising venue. Companies participating in a Forum discussion should provide specific answers to posted questions. WOODWEB suggests that businesses include an appropriately crafted signature in order to identify their company. A well meaning post that seems to be on-topic but contains a product reference may do your business more harm than good in the Forum environment. Forum users may perceive your references to specific products as unsolicited advertising (spam) and consciously avoid your web site or services. A well-crafted signature is an appropriate way to advertise your services that will not offend potential customers. Signatures should be limited to 4-6 lines, and may contain information that identifies the type of business you're in, your URL and email address (return to top).

Repeated Forum Abuse: Forum participants who repeatedly fail to follow WOODWEB's Forum Guidelines may encounter difficulty when attempting to post messages.

There are often situations when the original message asks for opinions: "What is the best widget for my type of shop?". To a certain extent, the person posting the message is responsible for including specific questions within the message. An open ended question (like the one above) invites responses that may read as sales pitches. WOODWEB suggests that companies responding to such a question provide detailed and substantive replies rather than responses that read as a one-sided product promotion. It has been WOODWEB's experience that substantive responses are held in higher regard by our readers (return to top).

The staff of WOODWEB assume no responsibility for the accuracy, content, or outcome of any posting transmitted at WOODWEB's Message Boards. Participants should undertake the use of machinery, materials and methods discussed at WOODWEB's Message Boards after considerate evaluation, and at their own risk. WOODWEB reserves the right to delete any messages it deems inappropriate. (return to top)



Forum Posting Form Guidelines

Your Name
The name you enter in this field will be the name that appears with your post or response (return to form).
Your Website
Personal or business website links must point to the author's website. Inappropriate links will be removed without notice, and at WOODWEB's sole discretion. WOODWEB reserves the right to delete any messages with links it deems inappropriate. (return to form)
E-Mail Address
Your e-mail address will not be publicly viewable. Forum participants will be able to contact you using a contact link (included with your post) that is substituted for your actual address. You must include a valid email address in this field. (return to form)
Subject
Subject may be edited for length and clarity. Subject lines should provide an indication of the content of your post. (return to form)
Thread Related Link and Image Guidelines
Thread Related Links posted at WOODWEB's Forums and Exchanges should point to locations that provide supporting information for the topic being discussed in the current message thread. The purpose of WOODWEB Forums is to provide answers, not to serve as an advertising venue. A Thread Related Link that directs visitors to an area with inappropriate content will be removed. WOODWEB reserves the right to delete any messages with links or images it deems inappropriate. (return to form)
Thread Related File Uploads
Thread Related Files posted at WOODWEB's Forums and Exchanges should provide supporting information for the topic being discussed in the current message thread. Video Files: acceptable video formats are: .MOV .AVI .WMV .MPEG .MPG .FLV .MP4 (Image Upload Tips) If you encounter any difficulty when uploading video files, E-mail WOODWEB for assistance. The purpose of WOODWEB Forums is to provide answers, not to serve as an advertising venue. A Thread Related File that contains inappropriate content will be removed, and uploaded files that are not directly related to the message thread will be removed. WOODWEB reserves the right to delete any messages with links, files, or images it deems inappropriate. (return to form)