You are not logged in. Consider these WOODWEB Member advantages:

A personal "member history" that displays your posts at WOODWEB
Your forms at WOODWEB will be filled in automatically
Create your personal "My Favorites" page
Numerous automatic notification options
Small portable gluepot edgebanders
2/10
I'm thinking getting one of those small portable gluepot edgebanders, but I've been able to find only very little info on the usability of those or the quality of the results.
The ones I'm talking about are like this:
1. http://maksiwa.com/usa/edge-bander-cbce.html
or this one, which seems to be the same, only branded differently:
2. https://mcfaddens.com/p-136900-wurth-portable-edgebander.aspx
I do not need portability, the main reason I need it is to be able to move away from hot air preglued banding (because of it's very limited local availability in other colors besides white) and the price of the bigger machines which are now out of my range.
It would be used for PVC edgebanding on 3/4 melamine, and the thickness of the banding would not go over 2mm (most likely around 1mm or less 99% of the time).
Trimming would be done with something like this:
http://maksiwa.com/usa/edge-trimmer-rbb1000.html
The main questions is:
- Does (can) this setup produce comparable results to those produced by bigger machines in terms of quality? (I know it can not compete in terms of speed, quantity, usability and so on, but I'll leave those concerns for next year).
I know the final results mostly depend on what you do after gluing (trimming, beveling, sanding, buffing...), but is the actual gluing part good enough so that it won't be the limiting factor in the overall quality of the edgebanding, assuming subsequent operations are done properly.
The long term plan is to eventually switch to a bigger machine but that is not possible right now.
Any thoughts on this are appreciated.
Thank you
Oggie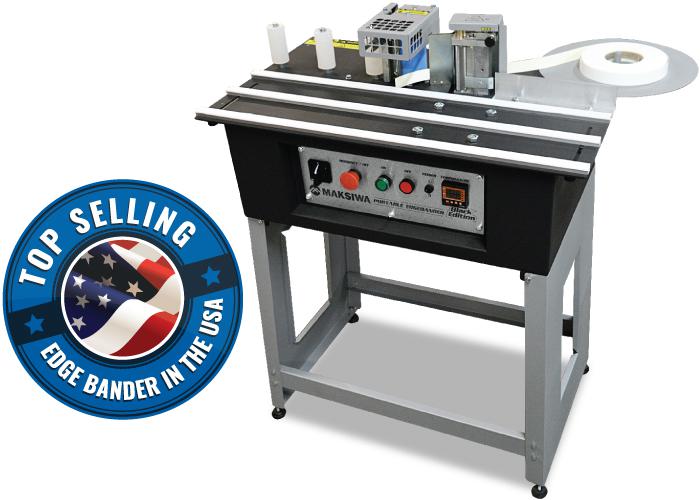 View higher quality, full size image (700 X 500)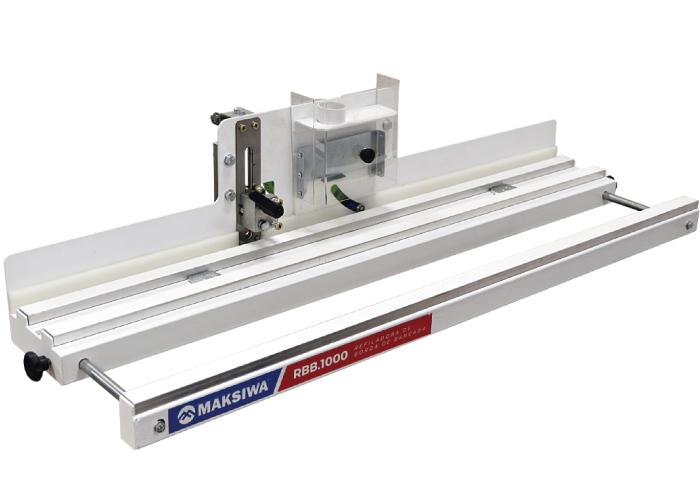 View higher quality, full size image (700 X 500)

---
2/11 #2: Small portable gluepot edgebanders ...
I know some people don't like doing this but have you looked at financing a larger machine. We have a Cantek mx350 which even has premill. They make a cheaper one that does not. When we compared the cost of the payment to the amount of time saved it was a no brainer. The payment is just over $200 a month. When you consider the time saved by having a bander that your panel will be perfect when it comes out the other end is wonderful. Any time savings can be used to build boxes or something else that is making you more money and increasing the amount of work you can put through. It also allowed us to get into frameless cabinets and be able to sell them at a good price and make money at them. Frameless cabinets are where the money is at. When we bought it we only used it for adjustable shelves for the first couple of months.
---
2/11 #3: Small portable gluepot edgebanders ...
Thank you for the reply.
The machine you suggested would certainly be a better option in general, but maybe not in my current circumstances.
The shop I have is not very suitable for cabinet building, it's small and has few obstructive walls and stubs here and there that complicate things.
At the moment, besides table saw and boring machine (which are to heavy to move all the time), almost any other tool has to be "brought into place" to do the required operation and "stored back somewhere aside" after it had been used in order to free space for something else . So, until I move to another shop there is really no space for anything bigger right now than those little ones.
"Proper" edgebanding machine is the first thing on the shopping list for the new shop.
But I need something soon for few upcoming projects that will be done in my current shop.
---
2/11 #4: Small portable gluepot edgebanders ...
You might have thought of this but didn't mention it in your post. If I were in your position and only needed better banding for a few jobs, I would outsource it to a local shop with a decent bander. It's the cheapest, simplest and best quality solution by a long shot. If that's not an option, consider buying a portable bander that you could still use for curved parts after relocating to more space. Otherwise you end up with a tiny bander that produces poor to mediocre quality and hasn't paid for itself in the few jobs you have lined up.
---
2/11 #5: Small portable gluepot edgebanders ...
If you want something that is small and will store easily I would look at the festool one. It will do curves also. This way when you get in a shop and have room for a larger bander the festool will still be useful just for curves. It is also handheld and or will mount in a table.
---
2/12 #6: Small portable gluepot edgebanders ...
Oggie i bought one of these and trimmer
I have only used it once so far but i agree with other guys I saw it on display in Iwf in atlanta and it looked really impressive but in reality its not now in saying that i prob have tweak it to get it running properly
The trimmer is very tricky and gets jammed quiet a bit I looked for longest time to buy a good quality edgemaster or virtulex and missed out by a day for one Im in same position regarding space but by time you buy both its same as size of virtulex Your welcome to come and see it if you want thanks tadhg
---
2/12 #7: Small portable gluepot edgebanders ...
Thank you guys for your valuable insights.
My reasons for leaning toward those two machines stem from the fact that I am a one man shop. If I opt for having an external service for edgebanding than it means I am the one who has to load the parts, drive them to that other shop and than come back for them when they are ready, repeating all loading, driving and unloading work myself. Work is not a problem, but the time is. With current traffic situation in Orlando FL, it would probably cost me 1-2 days just for that, unproductive part of work, and the value of of that time would reach the cost of those machines in less than two weeks.
And that is just a tiny bit of all things that get disrupted, no time and space here to elaborate more, but I'm sure those of you who have started as (or still are) one-man business know how much does it cost you to stop everything what are you doing to just pick up a ringing phone, let alone leave the shop and go somewhere in the middle of the day.
Currently, with my small hot air edgebander and manual blade tool for trimming I'm able to edgeband approximately 300 foot of PVC banding in about 2 hours. The 300 foot roll of white, preglued PVC band costs me a little bit less than $30.
Local shop that does edgebanding asks $1.50/foot, so it would be $450 and one day in time, for what I do myself for 2 hours and $30.
Of course, hot air, preglued PVC edgebanding is far from perfect, certainly not comparable to what they are able to produce. Hot air softens the PVC band, and the plywood/melamine board texture telegraphs through. But, most of my customers (lower end rental properties) are not perfect too, and do not care much for such things, they are interested only in price (the lower the better; if you offer them finest quality kitchen for $3000, and the worst quality one for $2900 they'll choose the latter), so it works ok for now.
But, from time to time I get to do some commercial offices and then I spend a lot of time gluing edge bands cut from laminate sheets with contact cement, and lot of manual trimming, filing, cleaning the glue and so on. The results are good, but not worth the effort.
So, I was hopping that I could at least save myself from gluing those with contact cement, and even if I still need to do most trimming manually after that, it would still be a considerable improvement for me in comparison to what I do now. Especialy if I could use manual, double side blade, trimmer that easily cuts PVC, instead of trimmer router you need to trim laminate sheets.
I have also tried to use preglued bands in the same color/design as the sheet material itself, but it was really bad: even if they were more than twice the price than simple white ones I buy locally, they were really bad: they did not stick well at the temperature they could withstand, and if you use higher temperature then they shrink, deform, wrinkle and so on... and still did not stick much better.
I have looked at the Festool, but don't know much about those either, has anyone tried to use it to glue 300-600 ft daily from a roll, by mounting it on a table and sliding straight edge parts through it?
I suppose it is well suited for gluing one part at a time, but what about 50 of them: i.e. how do you start it for next part, how do you stop it when the part is through, how do you cut (or do you need to precut) band for each part... all those things can complicate workflow if the machine is not well suited for such job, and both of your hands are busy holding the part you try to edgeband....?
Well, all that being said, is there any "beginner's" edge banding machine, that someone is familiar with and can confirm that it produces nice results (even if it may require additional operator's work on a parts after the machine in comparison to professional ones), that is smaller in size (maybe even movable if it's mounted on a platform with wheels)?
Tadhg, you mentioned Edgemaster or Virtuex, can you specify which models you had on your mind?
Thank you all,
Oggie
---
2/12 #8: Small portable gluepot edgebanders ...
Oggie,
We have two of the festool machines we use for curved edges. We run them every day. Great machines for the price.
---
2/12 #9: Small portable gluepot edgebanders ...
I have no doubt that they are great for curved (or straight) countertops and such things (where there're usually few per project), but are they good enough for efficiently banding a lot of (120+ pcs.) short (< 30") straight edges in a bulk, since that is a problem I'm trying to address?
---
2/12 #10: Small portable gluepot edgebanders ...
I also have the Festool Conturo. You have to cut the banding a few inches longer than the part and feed it into the machine for each part. I imagine it's the same for all portable banders that don't have a cutoff mechanism. Clamping and unclamping the panel takes longer than banding the part. I've considered buying the gizmo that lets you mount it upside down in a table. It'd be useful to band beveled edges quicker than spray glue.
---
2/12 #11: Small portable gluepot edgebanders ...
Jared,
my small hot air edgebander has a cutter (guillotine) that operates by hitting the lever with your palm, and then you just manually push the banding few inches forward and it's ready for the next part.
It works ok that way because you feed the band manually by pushing the piece yourself through the machine, and thus you control start, speed and stop.
I believe this Maksiwa (and other similar machines) work the same way, only they use glue roller instead of hot air blower.
On the other hand, it seems that the Festool has some "Start" button that you need to push at the start of each edging, and the band need to be precut to certain length and inserted into the feeder prior the operation, otherwise it will not stop by itself once your part is through. Also you have to synchronize your push with the start of band feed after you hit the start button... I'm not sure if I'm right about all this, but if I am I think that may not be the best solution for processing large number of straight short pieces, simply because of those additional preparation steps each piece requires.
Anyway, I think it's a great machine for doing countertops or shelves(straight or curved) and I have plans to purchase it in the future, but right now all my countertops are made with laminate sheets glued with contact cement, including edges too. But I don't have many of those and the speed is not concern, whereas with usually 120+ cabinet parts per job I would prefer something with less steps per each cycle.
But, like I said, I do not have direct experience with it, my opinion has been formed from watching few youtube videos. If anyone has managed to setup that machine for efficient edgebanding of large number of straight and short edges of cabinet parts and share that with us that would be great.
---
2/12 #12: Small portable gluepot edgebanders ...
Oggie virtulex eb 135 safety speed 70 ha
The 60 ha is hot air model only. Other is gluot. But there 10 thousand. For glue. 7500 for air. But I read posts on here saying stay clear of hot air models. I was one man shop at start with min room. So I know where your coming from. And itís hard to fork out that much. So. As I said for money for makwisa itís cheapest option for unit this small if I get mine run like demo model in Atlanta. Iíll be really happy. As I checked several of samples and they were perfect. Iíve only ran it for few short pieces but have few kitchens comming up so hopefully I can dial it in right thanks Tadhg
---
2/12 #13: Small portable gluepot edgebanders ...
Tadhg,
yes, that's what I'm basically interested in: can it produce good results - doesn't really matter now how, cause I'm sure I will find acceptable solution somehow. The only question is: is the gluing operation alone good enough so that will not be a problem in finished look if the subsequent operations like trimming, beveling, buffing... are done good.
All I'm expecting from that machine is to enable me me to apply various color edgebands by using melted glue, because preglued hot air edgebanding did not work well for me in the past, as described in one of my previous messages. What happens after gluing is not giving me problems right now.
---
2/12 #14: Small portable gluepot edgebanders ...
I canít tell you bout color options. All I run is birch. And. Pre finish maple. I never run white or any other color as most of my clients want edges same color as paint. On doors but there are great bargains on buy and sell on threads here. I missed out on virtulex. Buy one day. Gutted it was barely used and great price. So if you can wait ide search and search. Mabey you have better luck tadhg
---
2/12 #15: Small portable gluepot edgebanders ...
I suppose birch or maple, or any other genuine wood banding should be good regarding the heat caused problems.
I would be applying PVC edgebanding to melamine boards and it needs to match melamine color wise. But any other than white is not readily available as preglued hot air version so I have to order it and wait for it. And those that I tried before were not good: if the temperature is high enough for good bond - than it's to high for the PVC, it shrinks, deforms, wrinkles, softens to the point that it all wood particles in the melamine cut or layers in the plywood cut telegraph through. If I use lower temperature to prevent those problems, than the glue bond is not strong enough, you can peel it off easier than the low quality painters tape off the dusty wall.
My hope is that the pot-glue system will produce good bonding while not exposing PVC band to temperatures that will cause above mentioned problems (as the hot air system does), and that the glue line will be uniform (or hopefully invisible) along the edge.
Just need someone to confirm that is actually the case and not just my fantasy.
---
---
Buy & Sell Exchanges | Forums | Galleries | Other Resources | Site Map
---



Buy and Sell Exchanges



Job Opportunities and Services Exchange
Employment opportunities and services within the woodworking industry

Lumber Exchange
A worldwide buy/sell exchange for lumber and wood products

Machinery Exchange
A worldwide buyer and seller exchange for woodworking machinery and equipment.

Classified Ad Exchange
Classified advertising for the woodworking industry (for advertisements that do not include machinery, lumber products and employment listings)


---



Forums



Adhesives Forum
Discussing topics related to adhesives within the woodworking industry

Architectural Woodworking Forum
Discussing quality standards and production of architectural wood products

Business and Management Forum
A forum for the discussion of business topics: from sales and marketing to dealing with difficult customers.

Cabinet and Millwork Installation Forum
Discussing all aspects of installation issues encountered by cabinet and millwork installers.

Cabinetmaking Forum
Discussing 32mm and face frame cabinet construction including fabrication, casegoods design, and installation.

CAD Forum
Shedding light on the all-too-often shadowy world of CAD.

CNC Forum
Discussing CNC (computer numerically controlled) woodworking equipment, software, and automated product manufacturing.

Dust Collection, Safety and Plant Operation Forum
Discussing topics related to maintaining a safe and productive working environment.

Professional Finishing Forum
Finishing issues for the production environment

Forestry Forum
The science and art of forest cultivation and timber management, planting, surveying, tree diseases, silviculture and timber harvesting

Professional Furniture Making Forum
Helping professional furniture makers improve quality, save time, and increase profits

Laminating and Solid Surfacing Forum
Issues related to laminating and solid surface materials and processes

Commercial Kiln Drying Forum
Discussions covering issues faced be commercial drying operations that process at least 750,000 bd. ft. of lumber per year

Sawing and Drying Forum
Discussing topics related to primary processing and drying of lumber

Solid Wood Machining Forum
Discussing topics related to the machining of solid wood

Value Added Wood Products Forum
Learn how to improve your output, find new markets, and boost sales of your lumber products

Veneer Forum
Discussing topics related to veneer processing, manufacturing, and fabrication

WOODnetWORK
An electronic discussion group for woodworkers throughout the world


---



Galleries



Project Gallery
Where professional woodworkers can post examples of their work

Sawmill Gallery
Professional primary processing companies display and describe their sawmill facilities

Shop Gallery
Professional woodworkers display and describe their shop facilities, products and equipment

Shopbuilt Equipment Gallery
Professional woodworker's jigs, rigs, and shopbuilt equipment


---



Other Resources



Industry News
Late-breaking news from all sectors of the wood industry

Video Library
Index of industrial woodworking related digital videos on the web

Auctions, Sales and Special Offers
Advertisers offering woodworkers discounted prices on good and services, and announcements of upcoming auctions


FORUM GUIDELINES: Please review the guidelines below before posting at WOODWEB's Interactive Message Boards
(return to top)
WOODWEB is a professional industrial woodworking site. Hobbyist and homeowner woodworking questions are inappropriate.
Messages should be kept reasonably short and on topic, relating to the focus of the forum. Responses should relate to the original question.
A valid email return address must be included with each message.
Advertising is inappropriate. The only exceptions are the Classified Ads Exchange, Machinery Exchange, Lumber Exchange, and Job Opportunities and Services Exchange. When posting listings in these areas, review the posting instructions carefully.
Subject lines may be edited for length and clarity.
"Cross posting" is not permitted. Choose the best forum for your question, and post your question at one forum only.
Messages requesting private responses will be removed - Forums are designed to provide information and assistance for all of our visitors. Private response requests are appropriate at WOODWEB's Exchanges and Job Opportunities and Services.
Messages that accuse businesses or individuals of alleged negative actions or behavior are inappropriate since WOODWEB is unable to verify or substantiate the claims.
Posts with the intent of soliciting answers to surveys are not appropriate. Contact WOODWEB for more information on initiating a survey.
Excessive forum participation by an individual upsets the balance of a healthy forum atmosphere. Individuals who excessively post responses containing marginal content will be considered repeat forum abusers.
Responses that initiate or support inappropriate and off-topic discussion of general politics detract from the professional woodworking focus of WOODWEB, and will be removed.
Participants are encouraged to use their real name when posting. Intentionally using another persons name is prohibited, and posts of this nature will be removed at WOODWEB's discretion.
Comments, questions, or criticisms regarding Forum policies should be directed to WOODWEB's Systems Administrator
(return to top).

Carefully review your message before clicking on the "Send Message" button - you will not be able to revise the message once it has been sent.

You will be notified of responses to the message(s) you posted via email. Be sure to enter your email address correctly.

WOODWEB's forums are a highly regarded resource for professional woodworkers. Messages and responses that are crafted in a professional and civil manner strengthen this resource. Messages that do not reflect a professional tone reduce the value of our forums.

Messages are inappropriate when their content: is deemed libelous in nature or is based on rumor, fails to meet basic standards of decorum, contains blatant advertising or inappropriate emphasis on self promotion (return to top).

Libel: Posts which defame an individual or organization, or employ a tone which can be viewed as malicious in nature. Words, pictures, or cartoons which expose a person or organization to public hatred, shame, disgrace, or ridicule, or induce an ill opinion of a person or organization, are libelous.

Improper Decorum: Posts which are profane, inciting, disrespectful or uncivil in tone, or maliciously worded. This also includes the venting of unsubstantiated opinions. Such messages do little to illuminate a given topic, and often have the opposite effect. Constructive criticism is acceptable (return to top).

Advertising: The purpose of WOODWEB Forums is to provide answers, not an advertising venue. Companies participating in a Forum discussion should provide specific answers to posted questions. WOODWEB suggests that businesses include an appropriately crafted signature in order to identify their company. A well meaning post that seems to be on-topic but contains a product reference may do your business more harm than good in the Forum environment. Forum users may perceive your references to specific products as unsolicited advertising (spam) and consciously avoid your web site or services. A well-crafted signature is an appropriate way to advertise your services that will not offend potential customers. Signatures should be limited to 4-6 lines, and may contain information that identifies the type of business you're in, your URL and email address (return to top).

Repeated Forum Abuse: Forum participants who repeatedly fail to follow WOODWEB's Forum Guidelines may encounter difficulty when attempting to post messages.

There are often situations when the original message asks for opinions: "What is the best widget for my type of shop?". To a certain extent, the person posting the message is responsible for including specific questions within the message. An open ended question (like the one above) invites responses that may read as sales pitches. WOODWEB suggests that companies responding to such a question provide detailed and substantive replies rather than responses that read as a one-sided product promotion. It has been WOODWEB's experience that substantive responses are held in higher regard by our readers (return to top).

The staff of WOODWEB assume no responsibility for the accuracy, content, or outcome of any posting transmitted at WOODWEB's Message Boards. Participants should undertake the use of machinery, materials and methods discussed at WOODWEB's Message Boards after considerate evaluation, and at their own risk. WOODWEB reserves the right to delete any messages it deems inappropriate. (return to top)



Forum Posting Form Guidelines

Your Name
The name you enter in this field will be the name that appears with your post or response (return to form).
Your Website
Personal or business website links must point to the author's website. Inappropriate links will be removed without notice, and at WOODWEB's sole discretion. WOODWEB reserves the right to delete any messages with links it deems inappropriate. (return to form)
E-Mail Address
Your e-mail address will not be publicly viewable. Forum participants will be able to contact you using a contact link (included with your post) that is substituted for your actual address. You must include a valid email address in this field. (return to form)
Subject
Subject may be edited for length and clarity. Subject lines should provide an indication of the content of your post. (return to form)
Thread Related Link and Image Guidelines
Thread Related Links posted at WOODWEB's Forums and Exchanges should point to locations that provide supporting information for the topic being discussed in the current message thread. The purpose of WOODWEB Forums is to provide answers, not to serve as an advertising venue. A Thread Related Link that directs visitors to an area with inappropriate content will be removed. WOODWEB reserves the right to delete any messages with links or images it deems inappropriate. (return to form)
Thread Related File Uploads
Thread Related Files posted at WOODWEB's Forums and Exchanges should provide supporting information for the topic being discussed in the current message thread. Video Files: acceptable video formats are: .MOV .AVI .WMV .MPEG .MPG .FLV .MP4 (Image Upload Tips) If you encounter any difficulty when uploading video files, E-mail WOODWEB for assistance. The purpose of WOODWEB Forums is to provide answers, not to serve as an advertising venue. A Thread Related File that contains inappropriate content will be removed, and uploaded files that are not directly related to the message thread will be removed. WOODWEB reserves the right to delete any messages with links, files, or images it deems inappropriate. (return to form)