You are not logged in. Consider these WOODWEB Member advantages:

A personal "member history" that displays your posts at WOODWEB
Your forms at WOODWEB will be filled in automatically
Create your personal "My Favorites" page
Numerous automatic notification options
Wood Cad Cam outline geometry constraint options needing elaboration
3/30
Hi all,
I am using Wood Cad Cam and I'm having trouble understanding the various constraint options for outline geometries. Here is a screenshot of some of the available options:
https://www.dropbox.com/s/9kjk3ouvv86ggj5/OG_constraint_options.PNG?dl=0
What is the implication of using a relative or absolute coordinate? A linear division, length and angle, endpoint, etc? Here's what I'm trying to do at this moment, and perhaps someone can illustrate what settings need to be employed to accomplish it: I am designing an L shaped upper corner cabinet which must be able to grow and shrink parametrically, both in overall dimensions, and also the depth of the left and right sides. By default, the cabinet would be 60X60cm with a depth of 30cm. But sometimes it may be 65X90, and 25 deep on the 65 wall and 38 deep on the 90 wall. The adjustable shelves must stretch accordingly, and maintain a consisent offset of 1cm from the front face of the L shape. (The front, back, left, right offsets used for regular shelves don't work for L shaped cabinets.). Here's an example of what happens when I stretch a badly defined adjustable shelf:
https://www.dropbox.com/s/y8xe9wiy0r05wbo/badly_configured_L_shelves.PNG?dl=0
What do I need to do to make this work properly please?
Thanks!
Benjamin.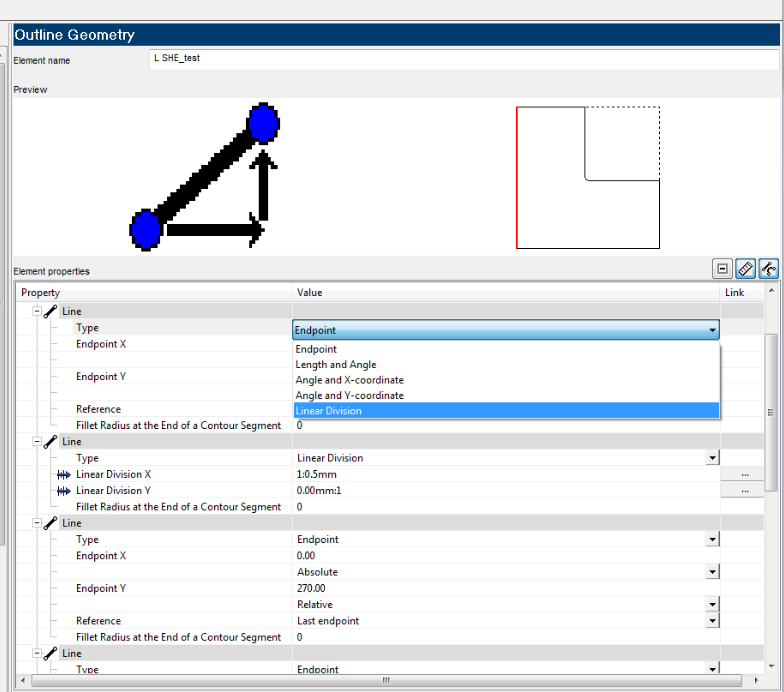 View higher quality, full size image (784 X 692)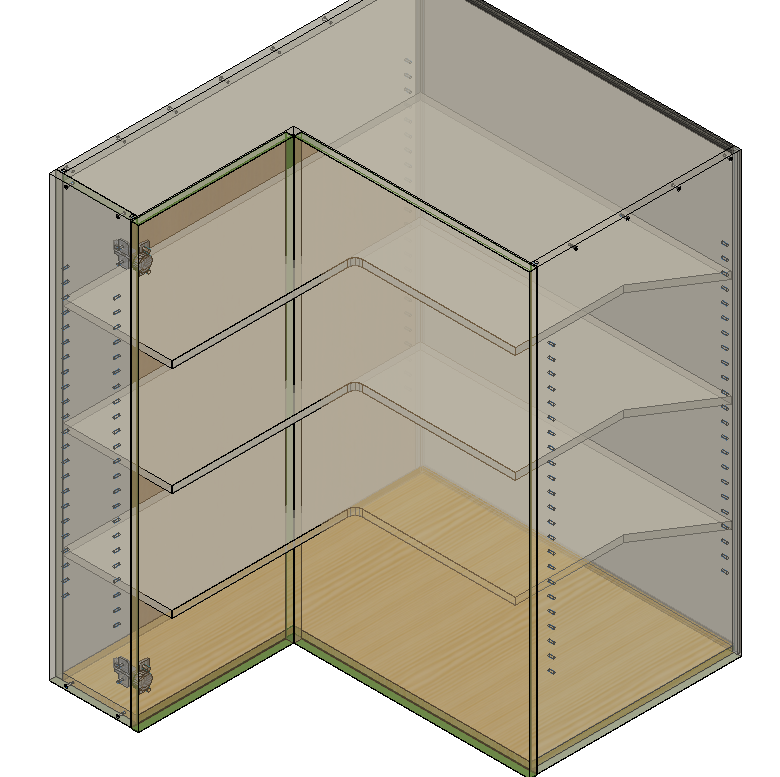 View higher quality, full size image (780 X 777)

---
4/2 #3: Wood Cad Cam outline geometry const ...
We have been able to do this type of shape inserting a variable for depth on each side. To use a variable on the geometry you need set it as an absolute value.
The ones that will change in the article editor (overall width, depth & Height, etc.) can be left as relative values.
This will hold the values of the "side" depth until you change the variable on one side, the other or both.

---
4/2 #4: Wood Cad Cam outline geometry const ...
Sorry, I realized I should have been more specific.
That type of geometry can work on a division but may be easier to set up with endpoints using variables for the "fixed" values. Variables can only be used with absolute reference if in endpoint mode.
If your cases' left side was $UdpthL the shelf side would look like $UdepthL-25 or whatever value you need.
This means you can create the geometry variables for the outer shell and apply the offsets on the shelf geometry.
---
4/2 #5: Wood Cad Cam outline geometry const ...
Dan, that was one awesome answer!
Here's my L corner cabinet, set up forever with any dimension possible on any side, thanks to your variables solution.
Thank you so much!!
Really appreciated.
All the best,
Benjamin.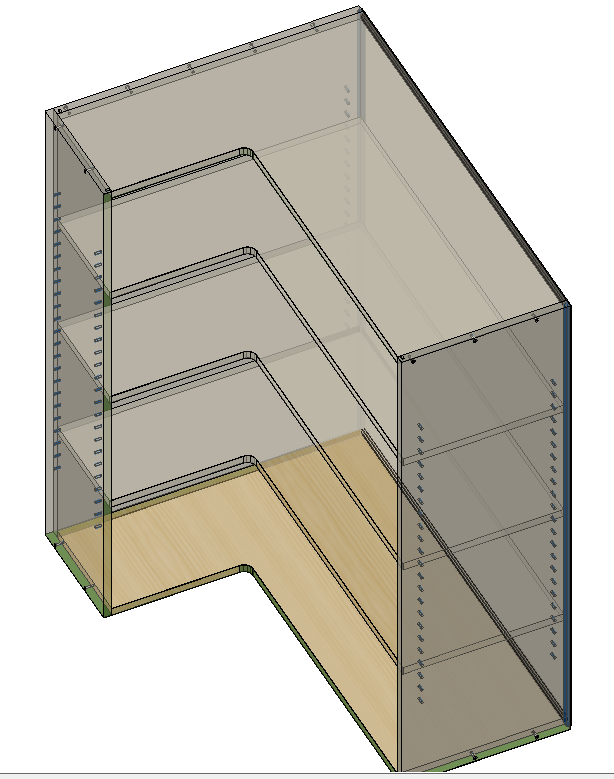 View higher quality, full size image (614 X 779)

---
4/2 #6: Wood Cad Cam outline geometry const ...
Glad to assist.
Now to the hitch in the giddyup. If you are doing multiples in a room with different values, you need to set up at least two, with different variables but you could do that on the fly if it ever comes up.
---
4/3 #7: Wood Cad Cam outline geometry const ...
Got it. Thanks again.
---
4/6 #8: Wood Cad Cam outline geometry const ...
Dan:
Someone else responded to my question by direct email to me. He used the same concept overall (numeric variable), with the following improvement that might help you reduce your data:
You said that if there is more than one such cabinet in a job one would have to create a second set of variables. I assumed the reason for that is because the element manager cannot hold multiple values concurrently for the same geometry. I was actually concerned this could cause problems if you have multiple jobs going at the same time: If you open yesterday's job based on today's value it could wreak havoc.
Viliam tells me that this is not so: In other words, you can happily change your Left and Right depth per cabinet via the "article related variables."
Viliam:
I tried to set the shelves back using a zone reveal and/or a divider inset like you described. Nothing happened to the shelf. I tried changing the shelf's OG constraints from a variable to absolute to relative. Either the shelf didn't get an offset, or it offset in both directions by different amounts, so I must be missing something. In the instances where I did get the shelf to move via a zone reveal, it "stuck" that way even after I undid the zone reveal, and the offset also got transferred to subsequent cabinets. What settings are required in the OG to make the shelf react as it should please?
Also, you said the OG has to start in the left bottom corner which is the back of the left side of the cabinet. So the shape looks like an L rotated 90 degrees clockwise. I notice that the many OGs supplied with the software have starting points in other corners as well. Is the start corner arbitrary, is it a convention to be kept consistent by each user, or per cabinet type, or is there something inherently important about which corner one sets the start point?
Thanks Viliam and Dan!
Benjamin.
---
4/6 #9: Wood Cad Cam outline geometry const ...
I'm speaking to comments not addressed to me as well as ones that were because I'm learning too.
There's several approaches that I'm sure will work.
I intended and perhaps did not explain well enough that our "custom" shelf has its' own geometry created from the case geometry and we apply offsets there and not in the article editor. When we use this shelf in that cabinet, it works in all directions.
Take your case geometry, copy (new name for the shelf) & edit with the offsets.
If you want fixed offsets, enter a value, if you want to change them relatively easily, create and use another variable.
We have been experimenting with different start points trying to get the editor to find the "front". I don't know if you have the same problem we do but the more complex the shape the more careful you have to be with connections, doors and edging because even though we have placed a door on a 'side', wcc sees the part as a side and tries to connect it. I'll find a door hinged with a screw in it once in a while.
Variables will be carried with the job once your order value has been changed and saved. Set the default as normal and change an order value for the custom. Order values will not be carried to another job, even if they are opened at the same time, each job will keep its' own.
I haven't tried it but surmised that a variable can only have one value in any job.
On the zone reveals:
We've found the US library a bit wonky (if that's what you are using) and applying variables in the article editor "trims" section usually requires adding an mm for it to work in metric measure. We also had difficulty partly due to the problem with part indentification noted above and that is the main reason we went to the geometry solution/workaround. We found what we entered as a face reveal could end up applied to the end or back of the shelf. We don't seem to have an easy way to tell the program that the article is not a six sided box and the "sides" are not parallel. I haven't found the way to rotate the part cube.
---
4/6 #10: Wood Cad Cam outline geometry const ...
Ditto to your issues Dan.
I also made a separate OG for the shelf so you explained that just fine.
Note: If you change the part that defines the "reference edge" within a zone or independent division, it is sometimes possible to overcome badly drawn OGs, such as if you couldn't figure out the correct start point, you can rotate a shelf within the article via an independent division and a different reference edge. If that's too cryptic I can explain more.
Some further points of interest:
*I mentioned that the zone reveal method was not working for me i.e the shelf was not setting itself back. This is true if using OG from PD for the shelf. If you uncheck that then the zone reveal method works just fine. So at this moment its a tradeoff because I really do want the inner radius on the shelves (it enables us to curve a single piece of thick PVC edgebanding on it.) I suppose I could make 3 independent CP/PD/OGs for shelves 1,2&3, with 3 different variables so I can control the offsets independently. But that does sound rather involved! If anyone knows of a simpler fix to use both zone reveal and PD from OG that would be appreciated!
*I created a cabinet with staggered stadium type shelves as pictured below, first dividing the cabinet with virtual shelves, then adding a single shelf in each zone using a 0:1 division, then applying an incremental zone reveal to each one. In order to get the dedicated shelf pin borings for each stagger, you must apply a connection situation manually to the empty "sides" in each zone. I had made sure to align the dedicated holes to the lineboring both via the checkbox in the CP and also by making sure that the linear divisions were the same. Something quite neat happens when the shelf is only minimally set back (say 25mm): The dedicated holes do not get added unnecessarily because the software detects that the shelf is still sitting on the front lineborings!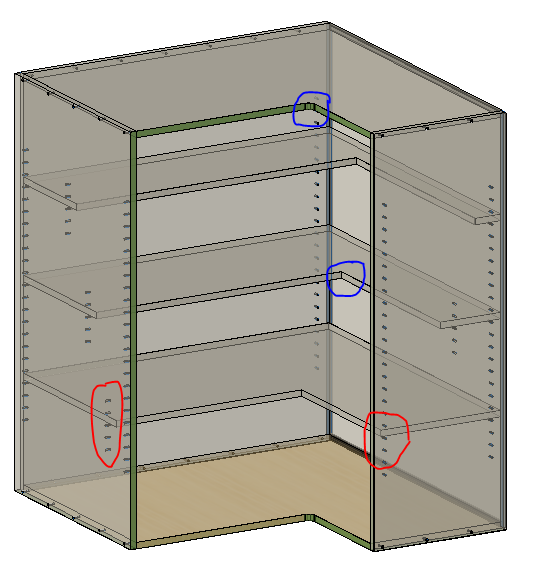 View higher quality, full size image (537 X 574)

---
4/6 #11: Wood Cad Cam outline geometry const ...
Benjamin,
You use the Zone reveal in the Article Designer group just before you create your linear division for adj. shelves. As for the start point, that is only for your consistency knowing where to expect Edge 1.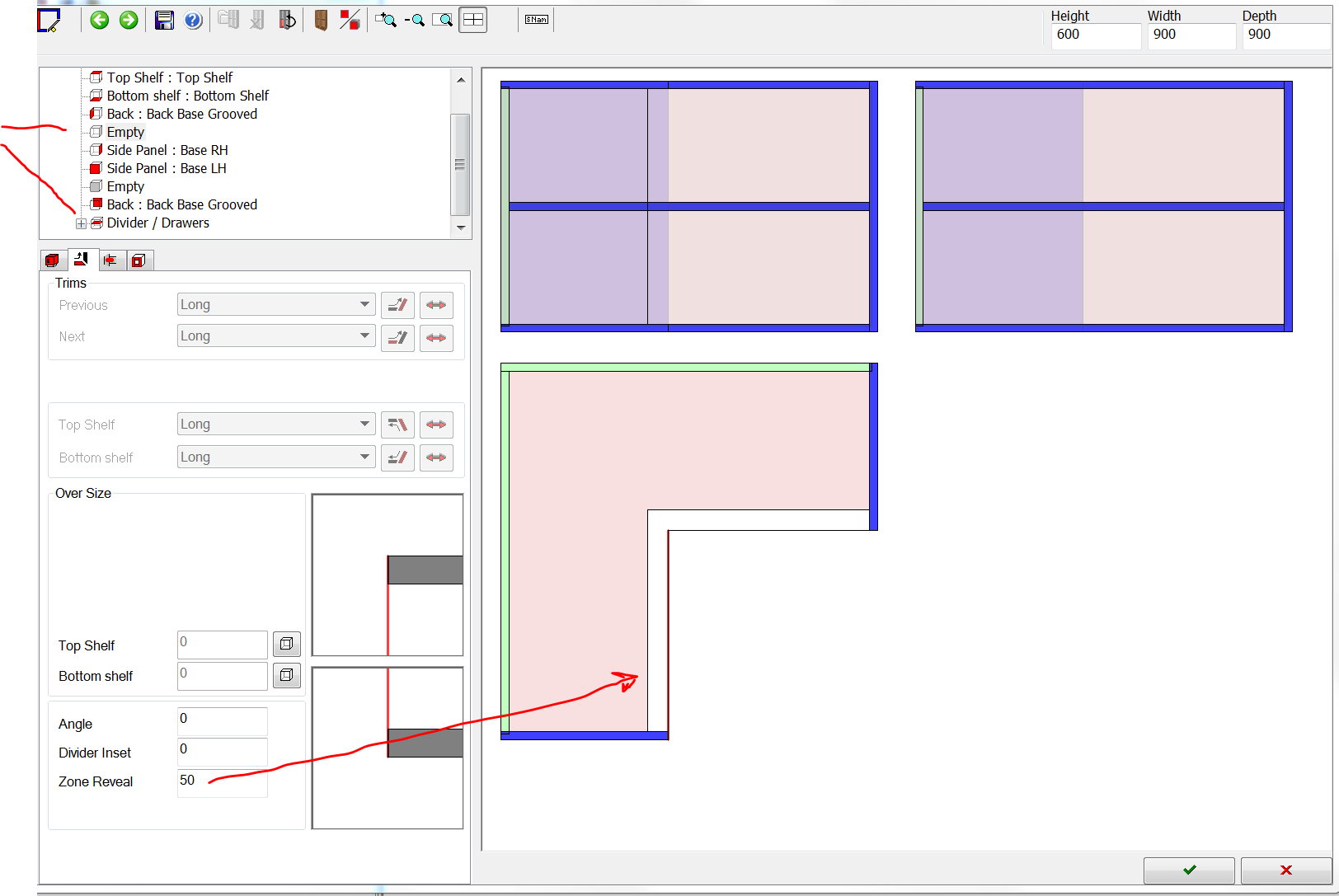 View higher quality, full size image (1624 X 1087)

---
4/7 #12: Wood Cad Cam outline geometry const ...
I just tested that with the following results:
1. OG from PD works ok.
2. However, the shelf gets set back in BOTH directions based on the zone reveal value of the reference edge only, so you can't have different backset values for either side should you ever desire to do that.
2. You can only do it once. After that, it's set.
3. Due to limitation 2, if you try to make incremental zone reveals to set back each shelf by a different amount, the article in general sticks to the first reveal you make.
Unless I am still missing something, here are the conclusions of this discussion:
a. If you want to contend with as few variables as possible, have a $Left_side_depth and $Right_side_depth only, and create the backset for the shelves via a reveal, with the above limitations.
b. If you need different back-set values for left and right sides, create another 2 variables $Left_shelf_backset and $Right_shelf_backset to control them, and do not control them via a zone reveal.
c. If you also require incremental back-set values for each shelf (stadium style), you must have a separate CP/PD/OG +separate pairs of L&R back-set variables for each shelf. You must divide your cabinet first by virtual zones, and then put a single uniquely defined shelf in each zone. Now you can control the back-set of each one independently via the back-set variables.
d. Should you desire to do all the above, and also have the option to combine different shaped shelves (not just a plain L) in an article, you can create one final set of variables to control the PD and hence the outline geometries via another variable set
$PD_shelf_1
$PD_shelf_2
$PD_shelf_3
Problem is, I don't see the option to use a variable for a PD within the construction principle, nor a variable for outline geometry.
I'm not sure if I'm even understanding myself here, so if it's mumbo jumbo to you guys I admit I've got myself in a real tangle.
At any rate, some food for thought...
---
4/7 #13: Wood Cad Cam outline geometry const ...
"Problem is, I don't see the option to use a variable for a PD within the construction principle, nor a variable for outline geometry"
I have to say I don't think i'm understanding the question fully either but (as long as the upload works) I've attached an example of variable geometry. Not necessarily a good one but....
Ignore the start point.
Your cabinet is complex and so will be the solution but If you draw the geometry for each part with variable based formulas, it can work.
You will need to create a 'family' of variables and separate geometries for each part to keep it organized but once that's done, inserting or changing an order value on each leg of each part should give you full control of it and you can keep your inside radius on all parts.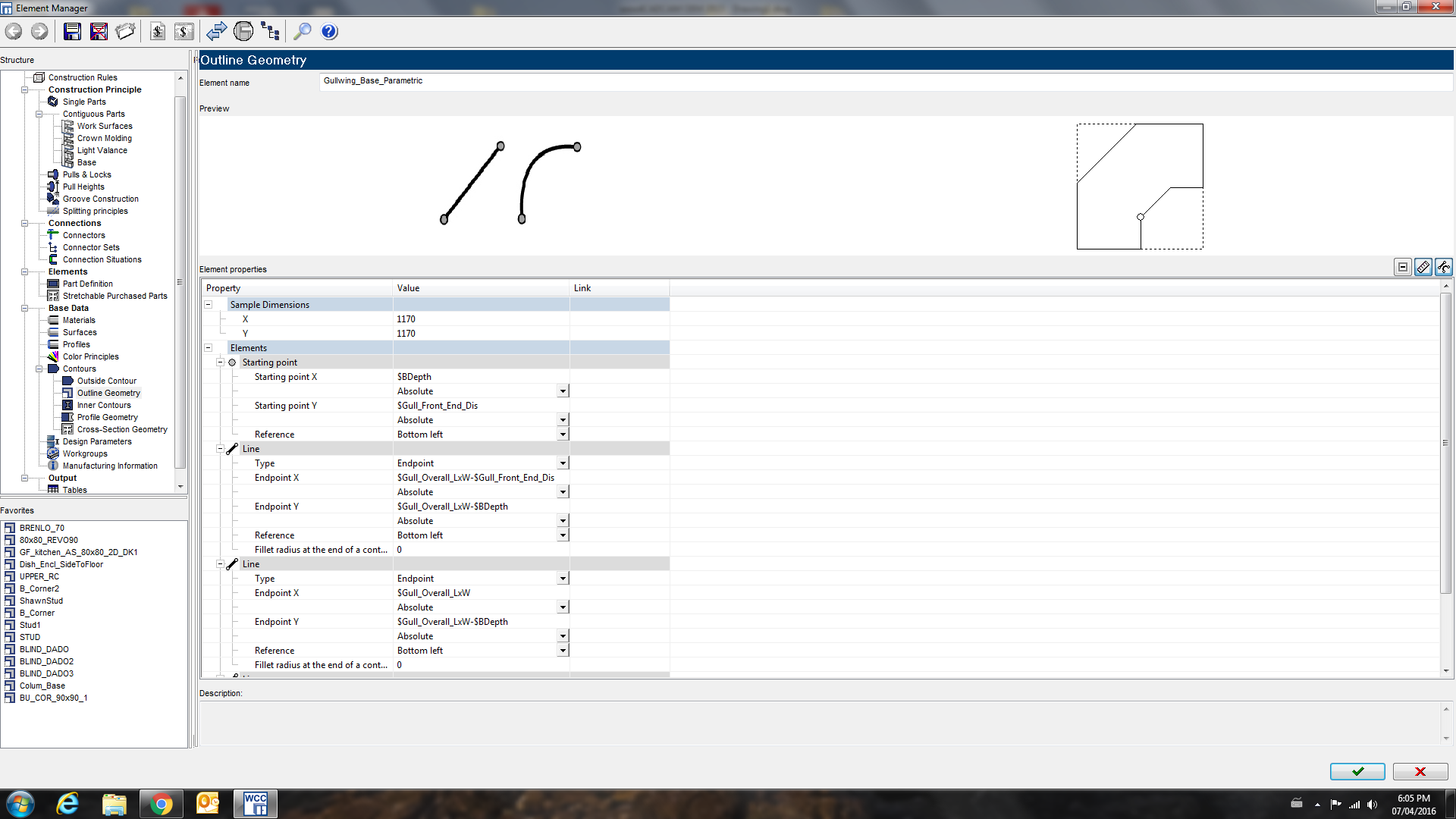 View higher quality, full size image (1920 X 1080)

---
4/7 #14: Wood Cad Cam outline geometry const ...
"Problem is, I don't see the option to use a variable for a PD within the construction principle, nor a variable for outline geometry. "
This is indeed possible, but it is a different procedure than within the article editor. You will have noticed that in the article editor you right click within the field that you want to assign the variable to. However, to assign a variable to a construction principle, this works:
1) Choose the construction principle
2) Click on the ellipse beside part definition
3) Choose the correct variable from within the "Variables" folder at the top of the list
Hopefully I understood your question.
---
4/7 #15: Wood Cad Cam outline geometry const ...
After reading Russell's response and re-reading I may be catching on.
He dealt with how to pick up the part definition as a variable.
Your conclusions seem logical.
"nor a variable for outline geometry"
The part definition is pretty much (I'll use the term) a primary element. If you change its' geometric base you would most likely have to change other elements like edges, machining and so on, meaning you need a new part definition that you can pick up with a variable.
---
4/10 #16: Wood Cad Cam outline geometry const ...
I would make my final comments here, hope you take it as advise and not as critique.
1, When building a library of your own products concentrate on having what you really need as opposed to "what IF I want" scenario. Meaning setup your Stadium shelves only if you really sell that type of product.
2, If you really need to have different shape of your shelves in the L type article then you could use Multipart PD as your Primary PD referenced in your CP, and the Multipart would use the Variable PD linking to PDs with their own shapes. In the Article designer You will NOT check the box "Outline Geometry from Part Definition". This was the old approach before that check box even existed. The advantage here is that MPE (Multipart PD) will be "consumed" for the shape of available space in Article and child PD will keep its shape within the overall size of MPE. It gives you the flexibility of rotating edges if needed.
3, Regarding Variables. These are the most powerful elements of the software IMHO. Use them but be in control. For numeric variables make sure you are using the shortest name possible and you add a comment to each numeric variable i.e. a variable $TKH has a comment "Toe Kick Height". the reason for this is that when you use linear divisions the dialog is limited in length you can type.
$My_Long_Name_Variable_Here mm:$Second_Long_Name_Variable_Here mm:1 or something similar will hit the wall rather sooner than later. Yes, there is a workaround for this using another variable referencing the linear division. but it could be confusing to other users.
4, Outline Geometry: As mentioned by others there is no Variable for, as it would not make any sense. Just try to apply a geometry of your L shape to any existing box article you have. It's not pretty. Saying this the Outline geometry used in part definitions is used for same part definition with and without the toe-kick for example, so once you see it as 4 edges part other times as 6 edges part. (PD has always 6 edges but using Numeric Variables some edges are = 0 mm). This approach gives you control over applying same Profile to each edge.
And as a last off topic comment I am interested to hear from any IMOS/WCC user looking for a job willing to relocate to NC just reply to my name. (I hope I am not breaking any rules here)
Hope it helps.
Viliam
---
4/11 #17: Wood Cad Cam outline geometry const ...
I for one am very grateful indeed for all this advice!
Yes these types of customized corner cabinets are frequently requested, and since I see that you guys are spouting such detailed information I'm taking it to the nth degree! But point taken, it has to stop somewhere.
Viliam: I will be looking into your MPE method in the future as I have only just started tapping the surface of the Multipart planet, but for the meantime I now have a pretty diverse and satisfactory solution, using a single set of variables for the L shaped shelf only, as in the image below. This customer of ours wants to combine tall and short items in the corner for maximum space utilization. I achieved the 3 types of shelves shown as follows:
*Divide the cabinet into virtual horizontal zones.
*The top shelf follows the geometry of the cabinet, with a "divider inset" of 15mm.
*The L shaped shelf you all know takes its set-back from the variables, with OG from PD checked.
*The straight shelf at the bottom was created by first dividing the bottom zone virtually, using perpendicular partitions. Then the adjustable shelf was inserted in the new rectangular zone, which constrained its shape.
Thanks to everyone for this very beneficial discussion!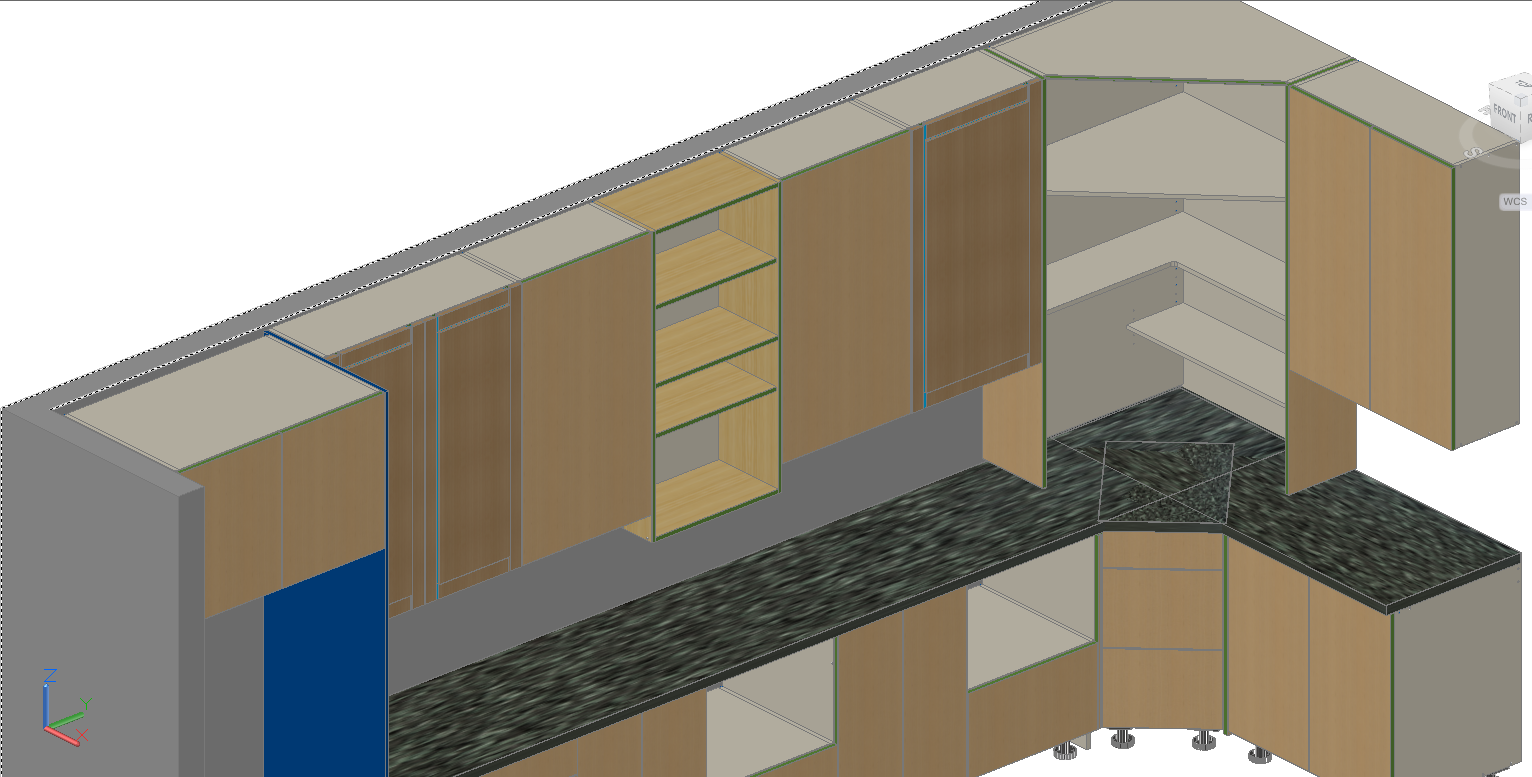 View higher quality, full size image (1532 X 777)

---
5/31 #18: Wood Cad Cam outline geometry const ...
Hi, me again! I been using the tips in this forum with really good results.
A couple of further questions:
1. When working in the article designer, the article related variables tab is locked. Is there any shortcut to work with both simultaneously to avoid having to yo-yo between them?
2. As peopled warned above, the list of variables can get very long. In the example pictured, the same set of variables for corner cabinet depth are good for both base and upper cabinets, but the upper cabinet reverts to the global default of 585mm which means I have to fix it manually every time. Is there a way to save modified article related variables to that particular library article (like you can for "article related modifications")?
3. It is apparently not possible to have a connection situation on a variable. So how does one easily switch a job from Blum to Grass drawers for example without applying each drawer manually as a "connector" variable. (my connection situations for drawers are set up with a cache/catalog which, until you want to change brand, automates the selection of drawer size perfectly.).
4. Somewhat off-topic: A "construction RULE" can be applied globally to a job to set up the default CPs in the article designer. Is there a way to choose a new rule inside the article designer (like you can for design parameters?). This would really automate the process and avoid having to dig into all the CPs to find the correct set for each occasion!
Thanks and regards to all!
Benjamin.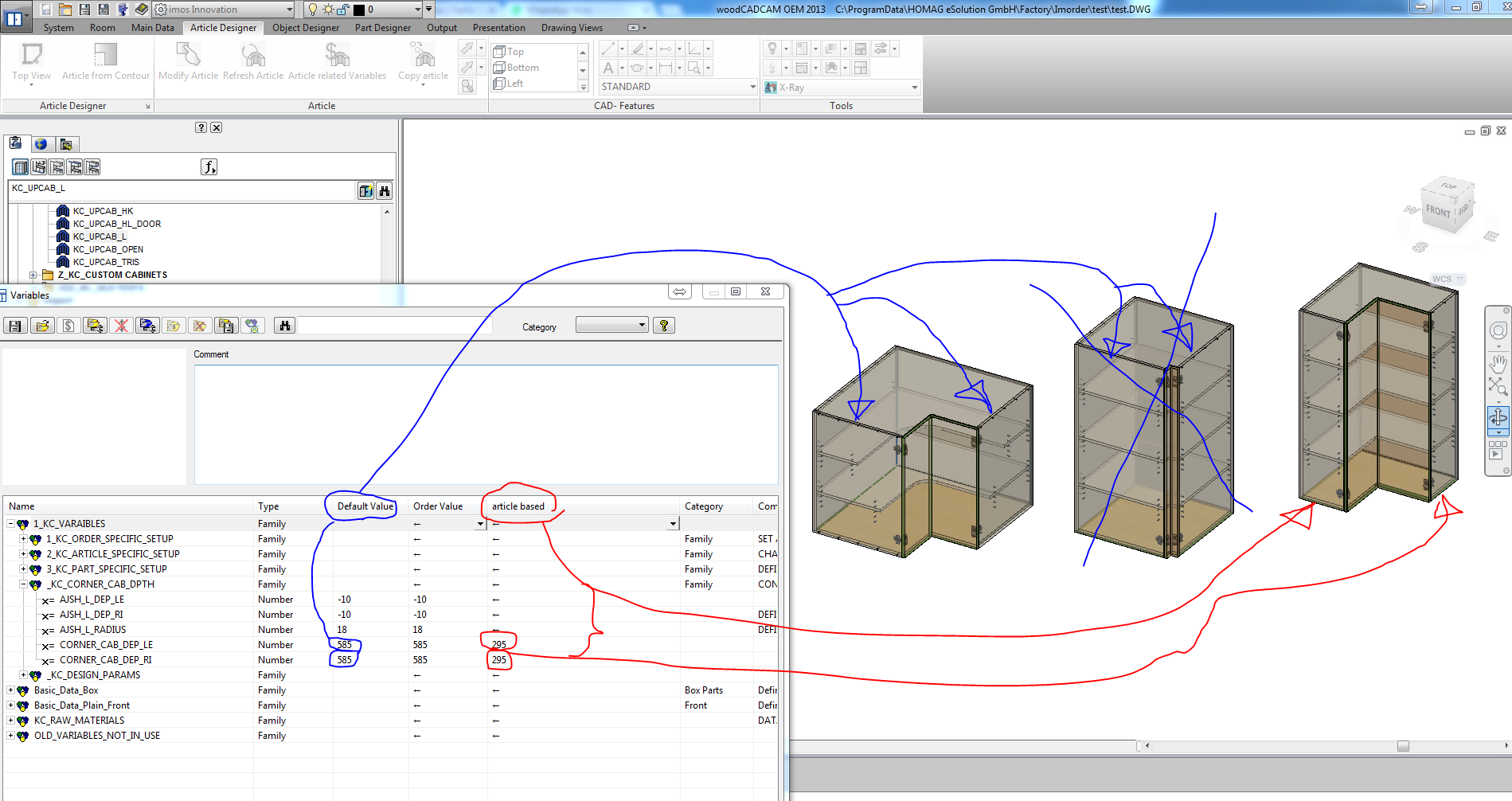 View higher quality, full size image (1899 X 1006)

---
5/31 #19: Wood Cad Cam outline geometry const ...
I'm not certain about question 1 but your example shown takes us back to the "hitch" post.
Re #2 The variables list will get long but if you need one you need it. If that is a common cabinet for you and you regularly use both in the same job, you would be better off with a set of depth variables for each. If you organize it well...
Re #3 If you are using system drawers and the set-up variables to assign the type then all you should need to do is apply filters.
Re # 4 Are you trying to take the fun out of it?
---
5/31 #20: Wood Cad Cam outline geometry const ...
The "filter on a variable" answers question 3 perfectly. Thanks!
As for your amusing comment, my idea of fun is getting the most function out of as little main data as possible. The advancement of the automation is in itself a fascinating journey for me! But even if we streamline cabinet making to perfection there is still endless potential for creativity in WCC, so I don't see the fun ending too soon...
---
5/31 #21: Wood Cad Cam outline geometry const ...
Some times at least I think I'm amusing.
Not sure which version you have but your column display of article based variables doesn't come up on mine (11). We can make article specific modifications and these can be applied globally to that article if saved but that seems to me maybe a bit tedious for your purpose.
I do think you want to take the 20 minutes or so and create your upper data separately from your base geometry with some upper variables applied.
That is assuming you use both regularly.
I'm reluctant to set up an article and then attach too many modifications to it. THAT's hard to follow.
I know you want to keep it streamlined but its' not ai, at least, not yet.
I re-read a few of the earlier posts. I think the point to the variables warning was as much about keeping the name short as not using more than one. I personally find it easier to keep track of a more descriptive name for some things but do try to limit the ones going into formulae.
Back to your # 4, the construction rule can be changed during the job and (somebody may correct me here) should not have any effect other than changing the defaults that populate the various part positions as you create an article going forward. I don't think you'll access that ability from within the article designer but before you start it, save as, change your default, ok.

---
6/1 #22: Wood Cad Cam outline geometry const ...
(0
. > )
(0
I'm taking your advice on all counts.
Now that question #4 is resolved, I am even considering having dozens of different construction rules for common cabinet types, so instead of editing an article from the library it would be equally easy to create one from scratch using the type specific rules as a starting point. The advantage of working this way is it forces you to consciously consider each part as you double click it in the article designer. This will eliminate oversights. Of course the article library has its merits for standard cabinets, but when you are constructing something a little unique I think method #4 is best. I'll give it a try.
Thanks Dan! Really appreciate your input!
---
6/1 #23: Wood Cad Cam outline geometry const ...
...the missing column only appears if you click on article related variables and then the article. I'm also using V11.0
---
6/8 #24: Wood Cad Cam outline geometry const ...
I had been out for a few days but thanks for that. I must have missed that day in school.
I'll have to try it out and see if it makes anything simpler.
---
10/21 #25: Wood Cad Cam outline geometry const ...
Hi again all.
I have a new question in case anyone can help:
http://www.woodweb.com/cgi-bin/forums/cad.pl?rev=801866
Thanks!
Benjamin.
---
---
Buy & Sell Exchanges | Forums | Galleries | Other Resources | Site Map
---



Buy and Sell Exchanges



Job Opportunities and Services Exchange
Employment opportunities and services within the woodworking industry

Lumber Exchange
A worldwide buy/sell exchange for lumber and wood products

Machinery Exchange
A worldwide buyer and seller exchange for woodworking machinery and equipment.

Classified Ad Exchange
Classified advertising for the woodworking industry (for advertisements that do not include machinery, lumber products and employment listings)


---



Forums



Adhesives Forum
Discussing topics related to adhesives within the woodworking industry

Architectural Woodworking Forum
Discussing quality standards and production of architectural wood products

Business and Management Forum
A forum for the discussion of business topics: from sales and marketing to dealing with difficult customers.

Cabinet and Millwork Installation Forum
Discussing all aspects of installation issues encountered by cabinet and millwork installers.

Cabinetmaking Forum
Discussing 32mm and face frame cabinet construction including fabrication, casegoods design, and installation.

CAD Forum
Shedding light on the all-too-often shadowy world of CAD.

CNC Forum
Discussing CNC (computer numerically controlled) woodworking equipment, software, and automated product manufacturing.

Dust Collection, Safety and Plant Operation Forum
Discussing topics related to maintaining a safe and productive working environment.

Professional Finishing Forum
Finishing issues for the production environment

Forestry Forum
The science and art of forest cultivation and timber management, planting, surveying, tree diseases, silviculture and timber harvesting

Professional Furniture Making Forum
Helping professional furniture makers improve quality, save time, and increase profits

Laminating and Solid Surfacing Forum
Issues related to laminating and solid surface materials and processes

Commercial Kiln Drying Forum
Discussions covering issues faced be commercial drying operations that process at least 750,000 bd. ft. of lumber per year

Sawing and Drying Forum
Discussing topics related to primary processing and drying of lumber

Solid Wood Machining Forum
Discussing topics related to the machining of solid wood

Value Added Wood Products Forum
Learn how to improve your output, find new markets, and boost sales of your lumber products

Veneer Forum
Discussing topics related to veneer processing, manufacturing, and fabrication

WOODnetWORK
An electronic discussion group for woodworkers throughout the world


---



Galleries



Project Gallery
Where professional woodworkers can post examples of their work

Sawmill Gallery
Professional primary processing companies display and describe their sawmill facilities

Shop Gallery
Professional woodworkers display and describe their shop facilities, products and equipment

Shopbuilt Equipment Gallery
Professional woodworker's jigs, rigs, and shopbuilt equipment


---



Other Resources



Industry News
Late-breaking news from all sectors of the wood industry

Video Library
Index of industrial woodworking related digital videos on the web

Auctions, Sales and Special Offers
Advertisers offering woodworkers discounted prices on good and services, and announcements of upcoming auctions


FORUM GUIDELINES: Please review the guidelines below before posting at WOODWEB's Interactive Message Boards
(return to top)
WOODWEB is a professional industrial woodworking site. Hobbyist and homeowner woodworking questions are inappropriate.
Messages should be kept reasonably short and on topic, relating to the focus of the forum. Responses should relate to the original question.
A valid email return address must be included with each message.
Advertising is inappropriate. The only exceptions are the Classified Ads Exchange, Machinery Exchange, Lumber Exchange, and Job Opportunities and Services Exchange. When posting listings in these areas, review the posting instructions carefully.
Subject lines may be edited for length and clarity.
"Cross posting" is not permitted. Choose the best forum for your question, and post your question at one forum only.
Messages requesting private responses will be removed - Forums are designed to provide information and assistance for all of our visitors. Private response requests are appropriate at WOODWEB's Exchanges and Job Opportunities and Services.
Messages that accuse businesses or individuals of alleged negative actions or behavior are inappropriate since WOODWEB is unable to verify or substantiate the claims.
Posts with the intent of soliciting answers to surveys are not appropriate. Contact WOODWEB for more information on initiating a survey.
Excessive forum participation by an individual upsets the balance of a healthy forum atmosphere. Individuals who excessively post responses containing marginal content will be considered repeat forum abusers.
Responses that initiate or support inappropriate and off-topic discussion of general politics detract from the professional woodworking focus of WOODWEB, and will be removed.
Participants are encouraged to use their real name when posting. Intentionally using another persons name is prohibited, and posts of this nature will be removed at WOODWEB's discretion.
Comments, questions, or criticisms regarding Forum policies should be directed to WOODWEB's Systems Administrator
(return to top).

Carefully review your message before clicking on the "Send Message" button - you will not be able to revise the message once it has been sent.

You will be notified of responses to the message(s) you posted via email. Be sure to enter your email address correctly.

WOODWEB's forums are a highly regarded resource for professional woodworkers. Messages and responses that are crafted in a professional and civil manner strengthen this resource. Messages that do not reflect a professional tone reduce the value of our forums.

Messages are inappropriate when their content: is deemed libelous in nature or is based on rumor, fails to meet basic standards of decorum, contains blatant advertising or inappropriate emphasis on self promotion (return to top).

Libel: Posts which defame an individual or organization, or employ a tone which can be viewed as malicious in nature. Words, pictures, or cartoons which expose a person or organization to public hatred, shame, disgrace, or ridicule, or induce an ill opinion of a person or organization, are libelous.

Improper Decorum: Posts which are profane, inciting, disrespectful or uncivil in tone, or maliciously worded. This also includes the venting of unsubstantiated opinions. Such messages do little to illuminate a given topic, and often have the opposite effect. Constructive criticism is acceptable (return to top).

Advertising: The purpose of WOODWEB Forums is to provide answers, not an advertising venue. Companies participating in a Forum discussion should provide specific answers to posted questions. WOODWEB suggests that businesses include an appropriately crafted signature in order to identify their company. A well meaning post that seems to be on-topic but contains a product reference may do your business more harm than good in the Forum environment. Forum users may perceive your references to specific products as unsolicited advertising (spam) and consciously avoid your web site or services. A well-crafted signature is an appropriate way to advertise your services that will not offend potential customers. Signatures should be limited to 4-6 lines, and may contain information that identifies the type of business you're in, your URL and email address (return to top).

Repeated Forum Abuse: Forum participants who repeatedly fail to follow WOODWEB's Forum Guidelines may encounter difficulty when attempting to post messages.

There are often situations when the original message asks for opinions: "What is the best widget for my type of shop?". To a certain extent, the person posting the message is responsible for including specific questions within the message. An open ended question (like the one above) invites responses that may read as sales pitches. WOODWEB suggests that companies responding to such a question provide detailed and substantive replies rather than responses that read as a one-sided product promotion. It has been WOODWEB's experience that substantive responses are held in higher regard by our readers (return to top).

The staff of WOODWEB assume no responsibility for the accuracy, content, or outcome of any posting transmitted at WOODWEB's Message Boards. Participants should undertake the use of machinery, materials and methods discussed at WOODWEB's Message Boards after considerate evaluation, and at their own risk. WOODWEB reserves the right to delete any messages it deems inappropriate. (return to top)



Forum Posting Form Guidelines

Your Name
The name you enter in this field will be the name that appears with your post or response (return to form).
Your Website
Personal or business website links must point to the author's website. Inappropriate links will be removed without notice, and at WOODWEB's sole discretion. WOODWEB reserves the right to delete any messages with links it deems inappropriate. (return to form)
E-Mail Address
Your e-mail address will not be publicly viewable. Forum participants will be able to contact you using a contact link (included with your post) that is substituted for your actual address. You must include a valid email address in this field. (return to form)
Subject
Subject may be edited for length and clarity. Subject lines should provide an indication of the content of your post. (return to form)
Thread Related Link and Image Guidelines
Thread Related Links posted at WOODWEB's Forums and Exchanges should point to locations that provide supporting information for the topic being discussed in the current message thread. The purpose of WOODWEB Forums is to provide answers, not to serve as an advertising venue. A Thread Related Link that directs visitors to an area with inappropriate content will be removed. WOODWEB reserves the right to delete any messages with links or images it deems inappropriate. (return to form)
Thread Related File Uploads
Thread Related Files posted at WOODWEB's Forums and Exchanges should provide supporting information for the topic being discussed in the current message thread. Video Files: acceptable video formats are: .MOV .AVI .WMV .MPEG .MPG .FLV .MP4 (Image Upload Tips) If you encounter any difficulty when uploading video files, E-mail WOODWEB for assistance. The purpose of WOODWEB Forums is to provide answers, not to serve as an advertising venue. A Thread Related File that contains inappropriate content will be removed, and uploaded files that are not directly related to the message thread will be removed. WOODWEB reserves the right to delete any messages with links, files, or images it deems inappropriate. (return to form)