You are not logged in. Consider these WOODWEB Member advantages:

A personal "member history" that displays your posts at WOODWEB
Your forms at WOODWEB will be filled in automatically
Create your personal "My Favorites" page
Numerous automatic notification options
Pinholes - Waxed Polyester - Help Needed
12/27
Hi,
I have recently started using a clear waxed polyester, and I have been having issues with tiny pinholes that show up when the polyester is drying and when the polyester has been buffed. Clear Polyester coatings are not commonly used in Australia, so I'm hoping someone here can help give me some guidance and help me solve the issues I'm battling. Below is the process I have been using:
The product I have been using is the Sayerlack PFL6269, and I had similar results with the Sherwin William PL4234.
My process:
∑ Apply one to two coats of 2k polyurethane isolator to the timber veneer surface, which has been sanded to180g. If applying two coats, I usually let the isolator flash off for 5-10mins. I then allow the isolator dry for 2-4 hrs (sometimes leave it overnight) depend on temperature and weather.
∑ Mix Polyester with 2-4% Cobalt and 2-6% catalyst, depending on if it is the fast or medium catalyst, I use up to 10% acetone to thin. I have played with different mixes though get the same troubles. I know these mixes aren't standard for polyester, I have been following the Sayerlack datasheet.
∑ Gun settings. 1.8mm tip, 20-22psi, fan wide open and 3.5 turns on the fluid control. I have recently experimented with winding the fluid nozzle in a bit and making the fan a little narrower (about a hand-span wide) though I still get the same results.
I apply the first coat of polyester. It is important to note that I often get tiny air bubbles/pinholes as soon as the first coat is sprayed. In recent experiments, this hasn't happened since winding in the fluid control and spraying with a narrower spray fan.
It's important to note. I get the same result if I'm spraying over the polyurethane isolator or a panel that has already been sealed with polyester or polyurethane sealer and sanded back for recoating.
I apply the second coat as the first coat starts to gel (anywhere from 3-9mins depending on the weather) and repeat for the 3rd, 4th and 5th coats sticking to the interval as determined from the first coat. My second, third, fourth and fifth coats alway lay down nice and clean with no sign of pinholes or bubbles.
The pinholes show up when the coating starts drying. When I sand the coating flat before buffing (normally 240g-1500g) the pinholes cannot be seen but once the panel is buffed the pinholes show on certain angles. They are tiny.
Please note; before mixing up a batch of polyester, I clean the mixing cups with acetone and rinse the spray gun with acetone before spraying.
My airline runs through a refrigerated air dry at the spray booth than through another filter at the booth.
The first photo is the polyester wet after the 3rd coat and the second photo is the polyester drying after the 4th coat with the pin holes coming out.
Thanks
Steve

View higher quality, full size image (1080 X 1920)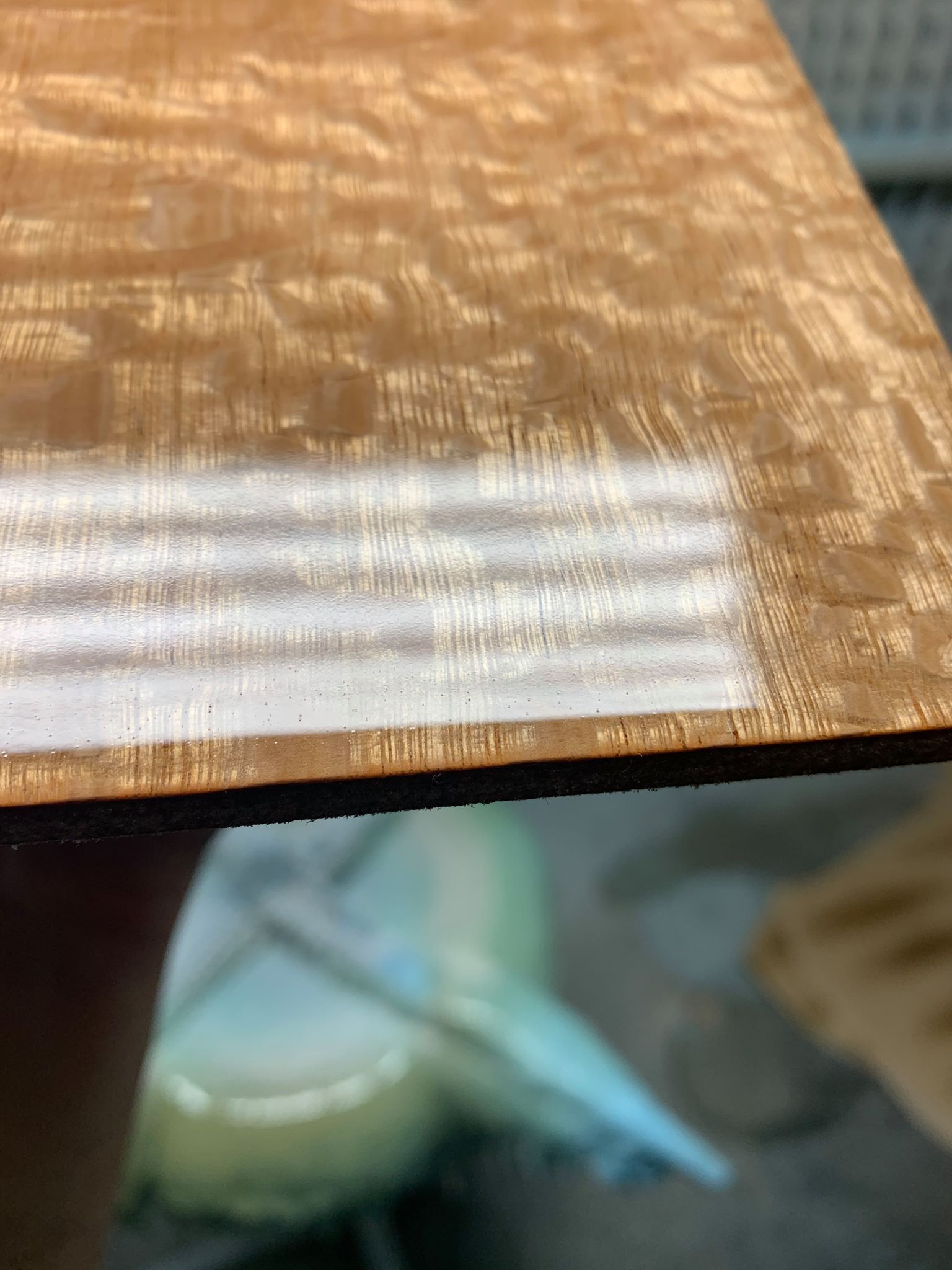 View higher quality, full size image (1536 X 2048)

---
12/27 #2: Pinholes - Waxed Polyester - Help N ...
How heavy are you applying? If too heavy, could be airbubbles that werent able to escape
---
12/27 #3: Pinholes - Waxed Polyester - Help N ...
Itís possible that the coats are a bit heavy. I need to get a thickness gauge and play with that. I am applying full wet coats but Iím not dumping it on. All of my work is sprayed vertically so I canít apply too heavy or it will just run.
I am planning on doing a few more samples next week with thinner coats to see if I get a different result.
---
12/27 #4: Pinholes - Waxed Polyester - Help N ...
Steve,
I have never used the sayerlack/sw polyesters, though I have used other brands through the years. My initial thoughts are in the area of solvent pop - ie I would look at the acetone you are using. Also, there are a number of polyesters available that allow for a much lower percentage of cobalt in your batch formula. This allows for a greater open window for the cross linking/ gelling process. for instance, rather than the 2% cobalt add, one can use .5% ( let's say ) which then creates a longer open time which then allows for a greater opportunity for the coating to level/flow out.
Using recommended acetone or off the shelf?
Do look at your mil thickness per coating.
Also, esp. with initial coatings, you can dramatically thin back your first couple of coats. Up to 50%.
Also, how much are you reducing your isolante? I typically reduce at least 50% +.
scuff lightly 320 if left for an hour or so.
Also not mentioned is air turbulence/flow. have you tried lowering you exhaust, if you can, or shutting fan off?
Good luck with the fires. May you get rain.
---
12/27 #5: Pinholes - Waxed Polyester - Help N ...
Shenendoah, thanks very much for your input.
I actually thought the acetone may of been part of the issue so I have also tried a slow polyester thinner from SW though I got the same results. The acetone I use was recommend and is from SW. It might be worth getting a different acetone and seeing if it helps.
Unfortunately with the current drum of Sayerlack Polyester the supplier pre mixed in the cobalt when shipping it out so I haven't been able to adjust the cobalt on this batch. On the last batch of SW Polyester I had control of the cobalt and tried mixing in less cobalt but has a similar result as well.
Regarding the isolator, It is a SW product (TL4570), a 1:1 mix with no thinning required. I often scuff sand with 320g before applying and polyester.
On the next samples I will thin the polyester more as an experiment and see if it helps.
Re air flow. I was hiring different booths for a while and recently had a new booth installed in to my workshop. With the new spray booth we had the fan geared down so it's not moving the air too quickly, one thing we wanted to make sure that the paint has enough time to settle on the substrate before the over-spray is evacuated. I have had this issue in all the booths I have used.
We definitely need the rain, the conditions are pretty bad at the moment.
---
12/27 #6: Pinholes - Waxed Polyester - Help N ...
Website: niemeyerrestoration.com
Steve, Spray your PE mixture on glass or laminate just as if you are finishing wood.
I want to see if it is the mixture itself.
Since your PE is parrafinated are you waiting to recoat when your PE gets to the "string" stage. This is when you touch it and it will pull strings.
Also like Shenendoah says very dry Acetone is needed. Or try Styrene monomer as a reducer.
Have you had a chance to look at it under some magnification? How deep the the pinhole go? I have seen this occur due to Isolante not getting to the bottom of the pore in the substrate, try thinning the first Isolante coat 30%. Also, most Isolantes that I have used like at least an hour between coats. Check your TDS on the Isolante on recoat times for PE as a topcoat.
Are you using a HVLP gun? if so, get rid of it and just use a conventional gun. Goal is to dump it on, not atomize the crap out of it.
Also my PE gun I run a 2.0 or a 2.2 tip.
Main thing is look at it under magnification we need to know does the bubble go all the way down to wood.
---
12/27 #7: Pinholes - Waxed Polyester - Help N ...
Thanks for the advice, Bob, it's greatly appreciated.
I actually have done a sample on a piece of glass to see eliminate that the issue was coming from the veneer substrate. I will see if I can dig up a photo. My results were the same when I sprayed the glass. I will try again next week.
At first I was struggling to get the gel time right though now I'm more comfortable In your experience would you let it set up a bit more?
I haven't had a chance to get the coating under a magnifying glass. I will try get my hands on one and have a look. I do get the pin holes even if I spray a surface that is already grain filled and sealed with either polyester or 2k urethane.
I use a Star Evo T 1.8mm gun, I believe it's a LVLP, do you think this is suitable or would you recommend a different gun? could the pin holes be from applying coats that are too heavy?
https://www.vektools.com.au/air-tools/star-spray-guns-equipment-air/star
-professional-evo-t-lvlp-v3-gravity-spray-gun.html
Thanks again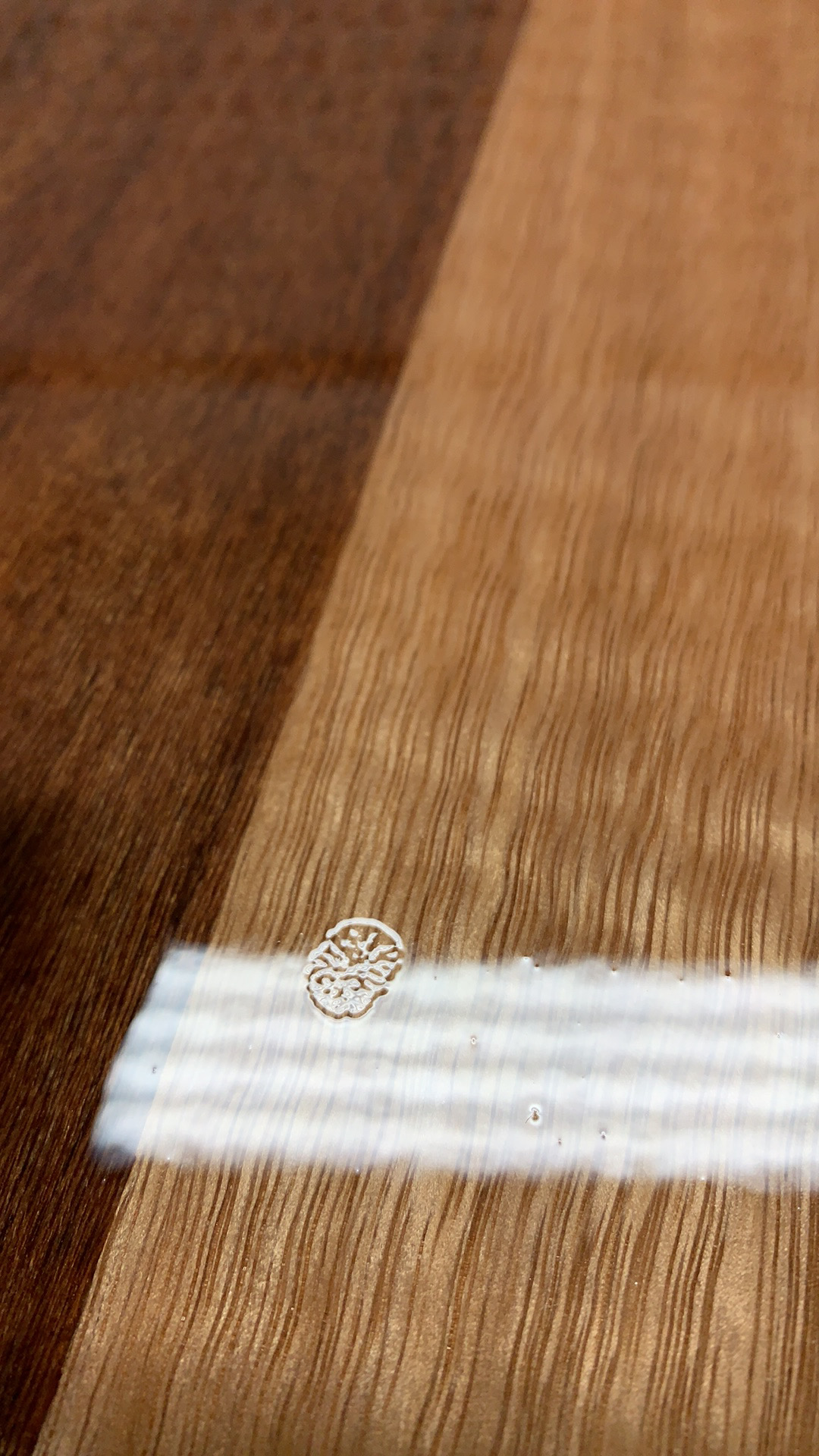 View higher quality, full size image (1080 X 1920)

---
12/28 #8: Pinholes - Waxed Polyester - Help N ...
Website: niemeyerrestoration.com
Since you had the same issue on glass it is your Polyester mixture. Most PE will work fine @ 4-6 mills wet per coat. I looked up the TDS on your products to better understand the product.
One question, when sprayed on glass did it bubble everywhere evenly or just in some areas?
Also I have to ask are you adding cobalt and peroxide at the right amounts? I have seen people doing the math all wrong.
Just so I understand, you will have coats that lay down nice but as it drys(gels) the bubbles/pinholes start to appear?
---
12/28 #9: Pinholes - Waxed Polyester - Help N ...
Thanks, Bob.
When I sprayed on glass I only sprayed one coat, and straight away it looked a little bubbly in areas, Photo attached. Note, This generally happens on my first coat over veneer substrate or a sealed substrate, the first coat always seems a bit funny, but the subsequential coats go down nicely. I did a sample on a veneer substrate the other day and it didn't seem as bad after I wound in the fan and fluid control a little bit. I think I also need to try another gun.
Re the mixture, based on the information provided by my supplier, I have been mixing by volume. I could very well be wrong here though an example of my mix would be, based off a mix with 4% cobalt, 2% catalyst and 10% acetone the mix would be.
100ml Polyester Resin
4ml Cobalt
2ml Catalyst
10ml Acetone
Correct, the pinholes show when the coating is drying. When the coats have been built up and wet the coating looks very clean. The pin holes don't show between coats, they come out when I have finished a session and the piece is drying, I tend to notice it when the wax starts coming to the surface. When the coating is fully dry I can't see them with my eye. I can sand the panel flat and it looks fine, once buffed they are obvious. I have attached a photo of a buffed finish showing the pinholes (at it's worst).
I hope this makes sense. I don't have any issue with other coating, lacquers, 2k urethane, acid cat lacquer etc.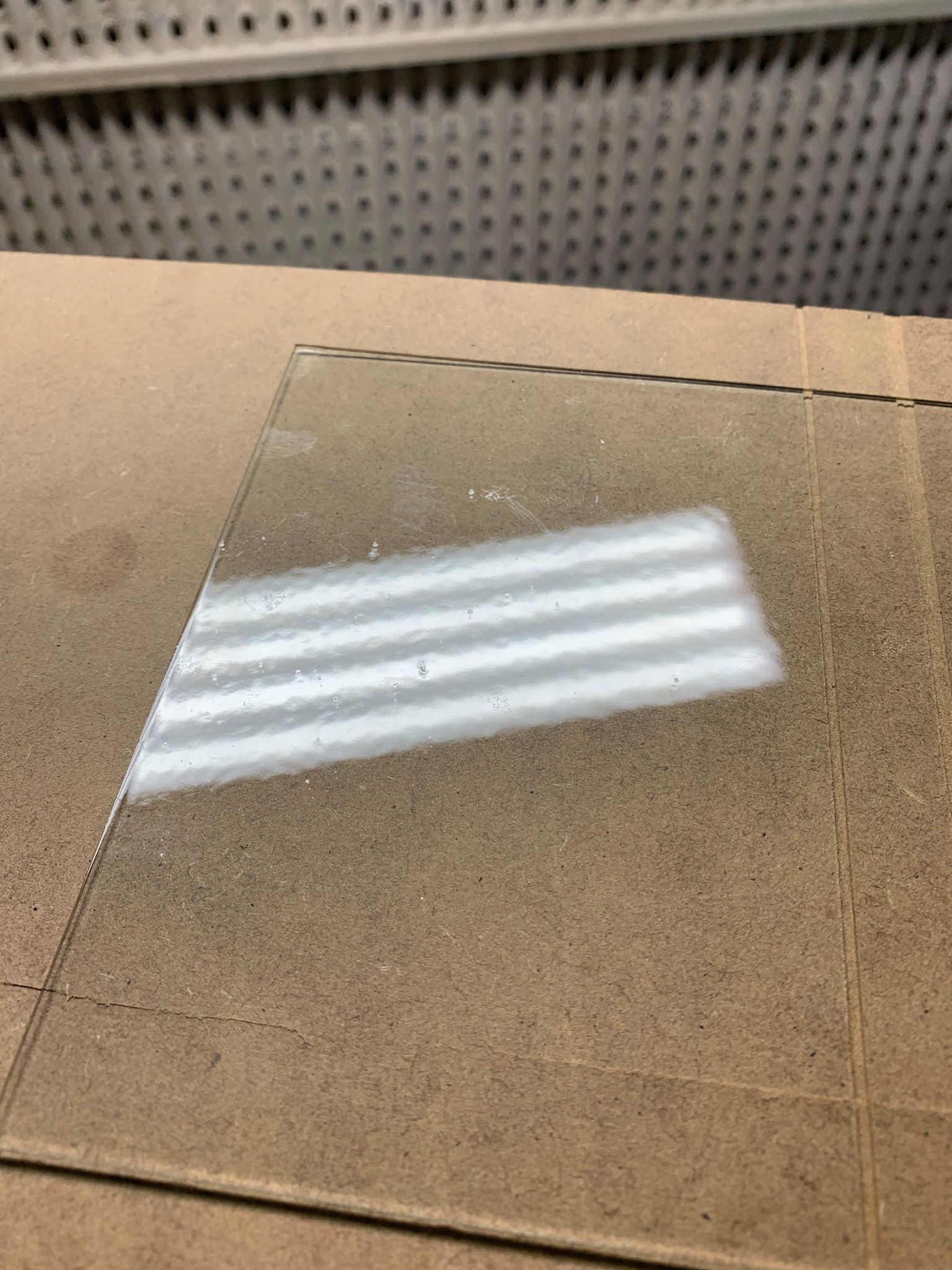 View higher quality, full size image (1536 X 2048)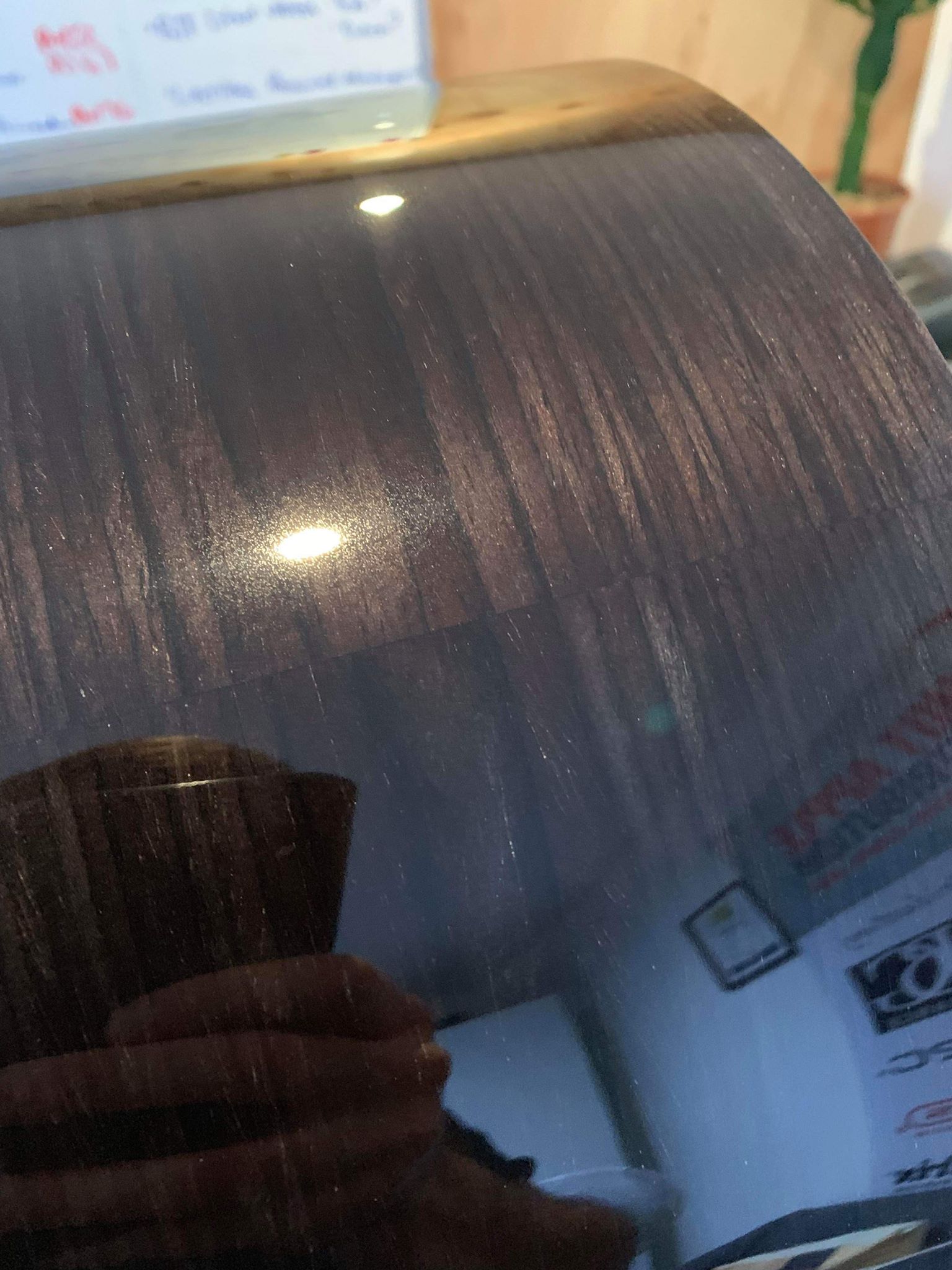 View higher quality, full size image (1536 X 2048)

---
12/30 #10: Pinholes - Waxed Polyester - Help N ...
Hi Steve,
Most PU/PE formulations are given as percentages by weight, not volume. PE has a density of around 8.5 lbs/gal and acetone has a density of about 6.5 lbs/gal. This would mean that you are under reducing the mix.
RonB
---
12/30 #11: Pinholes - Waxed Polyester - Help N ...
How much airflow is going past the product while it's curing?
I cannot speak to polyester finishes but I've worked in booths before that had a lot more CFM than I'd care for blowing by my freshly sprayed product.
The result, even in cool weather, was a type of solvent pop that looked a lot like this. It was on solvent based lacquer and conversion varnishes (we tried several).
The airflow would skin over the surface faster than the underlying solvent could do anything to keep the film open, and you'd get pinholes.
---
12/30 #12: Pinholes - Waxed Polyester - Help N ...
Website: niemeyerrestoration.com
Steve, what is your temp in the booth?
---
1/1 #13: Pinholes - Waxed Polyester - Help N ...
Hi Ron,
Thanks for the heads up. I will keep this in mind and run some experiments when I'm back in the workshop. Hopefully it helps.
Steve
---
1/1 #14: Pinholes - Waxed Polyester - Help N ...
Hi Matt,
Thanks for commenting. I have considered this and do need to run a couple of experiments as generally I leave the jobs in the booth with the ventilation on while they dry. I'll spray some panels and leave them out of the booth between coats and while drying.
I've haven't had any issues with other types of coatings while leaving them in the booth between coats and while drying. While I cannot tell you exactly what the airflow is in the booth, it's definitely only subtle and you cannot feel the air moving while the fan is running.
Cheers
Steve
---
1/1 #15: Pinholes - Waxed Polyester - Help N ...
Hi Bob,
I have an open face spray booth so temperature in the booth varies with the weather and ambient room temp.
Thanks
Steve
---
---
Buy & Sell Exchanges | Forums | Galleries | Other Resources | Site Map
---



Buy and Sell Exchanges



Job Opportunities and Services Exchange
Employment opportunities and services within the woodworking industry

Lumber Exchange
A worldwide buy/sell exchange for lumber and wood products

Machinery Exchange
A worldwide buyer and seller exchange for woodworking machinery and equipment.

Classified Ad Exchange
Classified advertising for the woodworking industry (for advertisements that do not include machinery, lumber products and employment listings)


---



Forums



Adhesives Forum
Discussing topics related to adhesives within the woodworking industry

Architectural Woodworking Forum
Discussing quality standards and production of architectural wood products

Business and Management Forum
A forum for the discussion of business topics: from sales and marketing to dealing with difficult customers.

Cabinet and Millwork Installation Forum
Discussing all aspects of installation issues encountered by cabinet and millwork installers.

Cabinetmaking Forum
Discussing 32mm and face frame cabinet construction including fabrication, casegoods design, and installation.

CAD Forum
Shedding light on the all-too-often shadowy world of CAD.

CNC Forum
Discussing CNC (computer numerically controlled) woodworking equipment, software, and automated product manufacturing.

Dust Collection, Safety and Plant Operation Forum
Discussing topics related to maintaining a safe and productive working environment.

Professional Finishing Forum
Finishing issues for the production environment

Forestry Forum
The science and art of forest cultivation and timber management, planting, surveying, tree diseases, silviculture and timber harvesting

Professional Furniture Making Forum
Helping professional furniture makers improve quality, save time, and increase profits

Laminating and Solid Surfacing Forum
Issues related to laminating and solid surface materials and processes

Commercial Kiln Drying Forum
Discussions covering issues faced be commercial drying operations that process at least 750,000 bd. ft. of lumber per year

Sawing and Drying Forum
Discussing topics related to primary processing and drying of lumber

Solid Wood Machining Forum
Discussing topics related to the machining of solid wood

Value Added Wood Products Forum
Learn how to improve your output, find new markets, and boost sales of your lumber products

Veneer Forum
Discussing topics related to veneer processing, manufacturing, and fabrication

WOODnetWORK
An electronic discussion group for woodworkers throughout the world


---



Galleries



Project Gallery
Where professional woodworkers can post examples of their work

Sawmill Gallery
Professional primary processing companies display and describe their sawmill facilities

Shop Gallery
Professional woodworkers display and describe their shop facilities, products and equipment

Shopbuilt Equipment Gallery
Professional woodworker's jigs, rigs, and shopbuilt equipment


---



Other Resources



Industry News
Late-breaking news from all sectors of the wood industry

Video Library
Index of industrial woodworking related digital videos on the web

Auctions, Sales and Special Offers
Advertisers offering woodworkers discounted prices on good and services, and announcements of upcoming auctions


FORUM GUIDELINES: Please review the guidelines below before posting at WOODWEB's Interactive Message Boards
(return to top)
WOODWEB is a professional industrial woodworking site. Hobbyist and homeowner woodworking questions are inappropriate.
Messages should be kept reasonably short and on topic, relating to the focus of the forum. Responses should relate to the original question.
A valid email return address must be included with each message.
Advertising is inappropriate. The only exceptions are the Classified Ads Exchange, Machinery Exchange, Lumber Exchange, and Job Opportunities and Services Exchange. When posting listings in these areas, review the posting instructions carefully.
Subject lines may be edited for length and clarity.
"Cross posting" is not permitted. Choose the best forum for your question, and post your question at one forum only.
Messages requesting private responses will be removed - Forums are designed to provide information and assistance for all of our visitors. Private response requests are appropriate at WOODWEB's Exchanges and Job Opportunities and Services.
Messages that accuse businesses or individuals of alleged negative actions or behavior are inappropriate since WOODWEB is unable to verify or substantiate the claims.
Posts with the intent of soliciting answers to surveys are not appropriate. Contact WOODWEB for more information on initiating a survey.
Excessive forum participation by an individual upsets the balance of a healthy forum atmosphere. Individuals who excessively post responses containing marginal content will be considered repeat forum abusers.
Responses that initiate or support inappropriate and off-topic discussion of general politics detract from the professional woodworking focus of WOODWEB, and will be removed.
Participants are encouraged to use their real name when posting. Intentionally using another persons name is prohibited, and posts of this nature will be removed at WOODWEB's discretion.
Comments, questions, or criticisms regarding Forum policies should be directed to WOODWEB's Systems Administrator
(return to top).

Carefully review your message before clicking on the "Send Message" button - you will not be able to revise the message once it has been sent.

You will be notified of responses to the message(s) you posted via email. Be sure to enter your email address correctly.

WOODWEB's forums are a highly regarded resource for professional woodworkers. Messages and responses that are crafted in a professional and civil manner strengthen this resource. Messages that do not reflect a professional tone reduce the value of our forums.

Messages are inappropriate when their content: is deemed libelous in nature or is based on rumor, fails to meet basic standards of decorum, contains blatant advertising or inappropriate emphasis on self promotion (return to top).

Libel: Posts which defame an individual or organization, or employ a tone which can be viewed as malicious in nature. Words, pictures, or cartoons which expose a person or organization to public hatred, shame, disgrace, or ridicule, or induce an ill opinion of a person or organization, are libelous.

Improper Decorum: Posts which are profane, inciting, disrespectful or uncivil in tone, or maliciously worded. This also includes the venting of unsubstantiated opinions. Such messages do little to illuminate a given topic, and often have the opposite effect. Constructive criticism is acceptable (return to top).

Advertising: The purpose of WOODWEB Forums is to provide answers, not an advertising venue. Companies participating in a Forum discussion should provide specific answers to posted questions. WOODWEB suggests that businesses include an appropriately crafted signature in order to identify their company. A well meaning post that seems to be on-topic but contains a product reference may do your business more harm than good in the Forum environment. Forum users may perceive your references to specific products as unsolicited advertising (spam) and consciously avoid your web site or services. A well-crafted signature is an appropriate way to advertise your services that will not offend potential customers. Signatures should be limited to 4-6 lines, and may contain information that identifies the type of business you're in, your URL and email address (return to top).

Repeated Forum Abuse: Forum participants who repeatedly fail to follow WOODWEB's Forum Guidelines may encounter difficulty when attempting to post messages.

There are often situations when the original message asks for opinions: "What is the best widget for my type of shop?". To a certain extent, the person posting the message is responsible for including specific questions within the message. An open ended question (like the one above) invites responses that may read as sales pitches. WOODWEB suggests that companies responding to such a question provide detailed and substantive replies rather than responses that read as a one-sided product promotion. It has been WOODWEB's experience that substantive responses are held in higher regard by our readers (return to top).

The staff of WOODWEB assume no responsibility for the accuracy, content, or outcome of any posting transmitted at WOODWEB's Message Boards. Participants should undertake the use of machinery, materials and methods discussed at WOODWEB's Message Boards after considerate evaluation, and at their own risk. WOODWEB reserves the right to delete any messages it deems inappropriate. (return to top)



Forum Posting Form Guidelines

Your Name
The name you enter in this field will be the name that appears with your post or response (return to form).
Your Website
Personal or business website links must point to the author's website. Inappropriate links will be removed without notice, and at WOODWEB's sole discretion. WOODWEB reserves the right to delete any messages with links it deems inappropriate. (return to form)
E-Mail Address
Your e-mail address will not be publicly viewable. Forum participants will be able to contact you using a contact link (included with your post) that is substituted for your actual address. You must include a valid email address in this field. (return to form)
Subject
Subject may be edited for length and clarity. Subject lines should provide an indication of the content of your post. (return to form)
Thread Related Link and Image Guidelines
Thread Related Links posted at WOODWEB's Forums and Exchanges should point to locations that provide supporting information for the topic being discussed in the current message thread. The purpose of WOODWEB Forums is to provide answers, not to serve as an advertising venue. A Thread Related Link that directs visitors to an area with inappropriate content will be removed. WOODWEB reserves the right to delete any messages with links or images it deems inappropriate. (return to form)
Thread Related File Uploads
Thread Related Files posted at WOODWEB's Forums and Exchanges should provide supporting information for the topic being discussed in the current message thread. Video Files: acceptable video formats are: .MOV .AVI .WMV .MPEG .MPG .FLV .MP4 (Image Upload Tips) If you encounter any difficulty when uploading video files, E-mail WOODWEB for assistance. The purpose of WOODWEB Forums is to provide answers, not to serve as an advertising venue. A Thread Related File that contains inappropriate content will be removed, and uploaded files that are not directly related to the message thread will be removed. WOODWEB reserves the right to delete any messages with links, files, or images it deems inappropriate. (return to form)