You are not logged in. Consider these WOODWEB Member advantages:

A personal "member history" that displays your posts at WOODWEB
Your forms at WOODWEB will be filled in automatically
Create your personal "My Favorites" page
Numerous automatic notification options
problem with 2k AAA pump, time to replace?
7/24
Website: http://www.nathanscustomcabinets.com
Looking for some advice here. I am one man shop and value efficient workflow.
I think it may be time to change my paint equipment. I have a CA Technologies Catalyser 2k pump which I have used for the last 8 years to spray CV clear and opaque. It has needed modification from the beginning to properly mix paint. Anyway we've used it to spray many jobs and when it works, it works great! I love being able to spray from 5g pail.
However, when it starts under catalyzing it is very difficult to identify root cause or problems. Sometimes it is in the catalyst pump not pumping(pump rod seals), sometimes the pressure relief/diverter valves in the quad block allow high pressure material to return to catalyst storage tank instead being injected into pressure stream to gun, sometime the shuttle valve and trip rod assembly leaks fluid (externally).
I am not sure if I should identify certain wear components and regularly replace (before pump fails). Perhaps i need to keep a large inventory of spare parts on hand or a second "rebuilt" unit ready to put into service when problems arise.
At any rate, I am now considering other options, like Kremlin's Cyclomix Micro - a electronic metering 2k pump setup, which is MUCH more expensive, but appears to be dummy proof.
What do you guys use for paint equipment to spray CV 2k materials?
Sincerely,
Nathan
---
7/24 #2: problem with 2k AAA pump, time to r ...
I use a graco promix 2KE to spray 2k urethane with a kremlin 10-14 and graco pump for catalyst.
---
7/24 #3: problem with 2k AAA pump, time to r ...
if you are spraying CV then the potlife should be long enough where you don't need an electronic mix system. my 2k urethane from ilva has a 2 hr potlife.
i think you'll be fine with an AAA system and mixing a gallon or 2 at a time.
---
7/24 #4: problem with 2k AAA pump, time to r ...
Website: http://www.nathanscustomcabinets.com
Hi Chris, I am interested in this promix system with electronic dosing. I am not interested in hot potting. How much appx did you pay for the setup? Any regrets?
---
7/25 #5: problem with 2k AAA pump, time to r ...
Website: http://www.nathanscustomcabinets.com
Also Chris, do you have the mechanical or electronic dosing version (variable ratio). I think that is what I would want.
---
7/25 #6: problem with 2k AAA pump, time to r ...
I have the electronic one which is very easy to use. Can be complicated but once set up you donít have to change anything.
Iíve had it about 10 years with very few issues.
Itís nice as it doesnít need electrical hook up unlike the kremlin. Self generating.
Grace support has been very good..
Cost about $15,000 but had to get a special catalyst pump for 2k urethane catalyst.
Hope this helps
Chris Barnard
---
7/25 #7: problem with 2k AAA pump, time to r ...
the promix 2ke and cyclomix micro cost about the same.
If you read the cyclomix micro manual, they consider a lot of stuff to be wear parts with 1 year life, including parts that cost about 2k.
(the rest are between 50-300 bucks)
---
7/25 #9: problem with 2k AAA pump, time to r ...
So far Iíve spent no money on my promix.The only issues have been my fault by not cleaning it well enough even though it has a flush cycle.The metering gears are very close tolerance and any junk can cause problems.
When I bought this the compatible kremlin was about $1000 more.
---
7/25 #10: problem with 2k AAA pump, time to r ...
To be fair, it may just be Kremlin being Kremlin.
Here's the cyclomix micro manual, check out page 32 (and look up the cost of the parts)
http://notices.kremlinrexson-sames.com/prod/download.php?path=notices/57
3191112-1412.pdf
---
7/26 #11: problem with 2k AAA pump, time to r ...
Website: http://www.nathanscustomcabinets.com
Do I need catalyst flush, or okay to leave CV acid in it all year?
I don't spray much volume (one man shop), I wonder if the wear items listed on that page (I downloaded the pg32) would degrade due to volume used or time exposed to the acid. It's a fairly long list!
I was reading on the metered promix that if one of the pumps sucks up air it may not trip the pump as the meter wheels would still turn. This is a bit concerning, is this your experience?
Any experience with Wagner's 2k products? Should I consider something there (im going for cheapest option)
I was thinking of re-using the base and catalyst pump that comes with my CATech 2k manual pump (I would need a separate air motor for the catalyst pump).
Finally, what do you think about the manual vs metered promix. I didn't realize with the manual it still allows variable ratios and tracks the piston position vs material meter wheel.
---
7/26 #13: problem with 2k AAA pump, time to r ...
Sorry Iíve never sprayed CV through mine.only2 K urethane.
I find that if I have a problem with the catalyst pump not working then an alarm goes off pretty quickly.
Most common problem I have is the metering gears on catalyst side occasionally stick but alarm goes off within 10 secs.of that happening.
At the end of the day I flush out the system which cleans all parts of the promix but leaves the 2 components in the hoses to it.
The flush time can be set for how long your fluid hose to the gun is .
---
7/27 #14: problem with 2k AAA pump, time to r ...
I don't understand the cost versus benefit of spraying only C.V. through a metering rig. If your a one man shop and spray less than 20 gallons a week of material why on earth would you benefit from the extra cost of a metering system if your not spraying material with a very short potlife. Your application just calls for a regular AAA rig and mix only the material you are going to spray at that moment and then properly flush and shut down your equip. until the next use. Sure.. some occasional 2K... mix what you need.. shoot it out and flush/clean properly....If your going to start over with a new rig just go regular AAA of your choice.
---
7/27 #15: problem with 2k AAA pump, time to r ...
Website: http://www.nathanscustomcabinets.com
Good morning Shane, thanks for your question. Yes you are correct I would spray less than 20 g / week. So the cost-benefit is definitely questionable (I don't want to spend over 25k, which I'm being quoted double that for Cyclomix Micro PH complete, plus install). I don't want to hot pot and currently have a mechanical 2k pump (Catalyzer from CAT) where I can spray from 5g pail with agitator and heat (if neccessary). I love the benefits of this system vs hot pot (manual mix batches), however after various issues over the last 8 years with the system I would like to upgrade to a dummy proof setup.
Finishing is my main bottleneck with production and is therefore my focus on improving workflow. I currently have too small of a finishing room (with booth), so I have to do multiple sprays per kitchen (can only fit two portable door racks inside), and cannot spray trims with any racks in booth. I am looking at re-configuring the shop to address this - by tripling the finish room (also with larger entry doors vs current 37" wide which is difficult to get doors in and out on the rack). My target scenario is to be able to finish two entire kitchens within the finish room without having to remove any material from the room. I do all my sanding in the booth as well.
My shop is only 1600sqft, including vertical panel saw, edgebander, and dbl line boring etc, bathroom and finish room (with booth).
Any suggestions would be great. I cannot outsource finishing in my area of atlantic Canada.
---
7/27 #16: problem with 2k AAA pump, time to r ...
Website: http://www.nathanscustomcabinets.com
I'm looking at this auction which closed several months ago for only 14k USD and was in Canada. What a shame I missed it!
http://machinerymax.com/Event/LotDetails/21267811/KREMLIN-CYCLOMIX-MICRO-PH
-FINISHING-SYSTEM-yr-2008-3-COLOR-PAINT-VARNISH
---
7/27 #17: problem with 2k AAA pump, time to r ...
I see not reason not to just use a kremlin 10:1 or 15:1 wall mounted pump with 5 gallon siphon tube for your setup. In that small of a booth area there is no reason not to mix one gallon batches and do your spray out. you will learn how much material is needed to get one setup done rather quickly. It shouldn't take more than a few minutes to catalyze and reduce a batch and keep shooting. This is coming from a person who manages over a dozen open face booths as well as a few automated finishing lines. We shoot well over hundreds of gallons a week and still only catalyze 2-3 gallons of CV, Sealer,Primer or poly at a time... We use poly/plastic throw away 5 gal bucket liners. This is done in a common mixing area between all finishers so they can recipe up grab the material and keep rolling. This gives us flexibility to change materials/jobs/colors at a moments notice. As a guy that has seen countless AAA rigs nothing will beat the longevity of a kremlin 10:1 or 15:1 pump... yes pay more up front and pay more for parts but the quality of the spraying and longevity far outweighs the others.... I have well over 25 pumps in service everyday and we have ran others.... When you run that many pumps 50-60 hours a week you start to see a real world scenario of just how good some of these are...
---
7/27 #18: problem with 2k AAA pump, time to r ...
Website: http://www.nathanscustomcabinets.com
Thanks Shane! I used to do it that way 10 yrs ago with a pressure pot, but maybe I should reconsider it (and a good 1k pump like the 15-1 eos). I think having larger batches of doors and trims to spray at once would really help as well. You're right it doesn't take long to mix a batch.
How do they do a 1g batch? My mix disposable mix cups are only 2liter(1/2g).
---
7/27 #19: problem with 2k AAA pump, time to r ...
We use 5 quart tubs that we buy from sherwin... EZmix.... so technically we say gallon or 2 gallon batches but we are really over per say by the time you add catalyst and reducer.... pour up 2 gallons of material... add required catalyst... reducers and retarders if necessary etc etc... if differs depending on the weather and material type... but essentially we try to focus on get coating laid down more so than having an exact science on how much material is mixed.... The 15:1 eos is an excellent setup... we really like the 15C25's..... they spray great and pump thousands of gallons of material before a throat seal/cartridge needs replacing.... they usually run about 2 years in a booth before I change the cartridge seal and piston seal.... If you have a serious flush regimen they will last a very long time in service. I had posted a very thorough video for proper pump flushing on here.
---
7/27 #20: problem with 2k AAA pump, time to r ...
I would second what Shane said. I bought a Kremlin 30:1 pump and I just mix everything as needed. You will be thousands of dollars ahead and there is not much to go wrong with these pumps when they are maintained. You can buy the pump and gun and you will be closer to the $5k mark, you can take the other $10k or more and expand your paint area or preferably your shop if you have the space.
---
7/27 #21: problem with 2k AAA pump, time to r ...
Website: http://www.nathanscustomcabinets.com
Well after spending the better part of my day working on the catalyzer CA Technologies pump I now have it running and probably good for another year! So I will keep it and think I've got all the quirks figured out on it.
Here's what I've learned today:
Do regular maintenance on your spray pump (especially if it is an acid catalyst pump). I think I'll tear it down every six months and do a complete cleaning and replace parts on catalyst side that appear to be overly corroded. I found the check valve for catalyst was almost completely plugged. Cleaning fixed that.
The catalyst pump would not produce if hold pressure on the up stroke. Discovered the seal was loose on shaft. I enlarged the u shaped spring sections inside seal and they now tightly fit shaft, minimal leaking now. Pump rod lower has almost zero chrome left after 1-2 years.
I will order replacements and extra spares to keep on hand for next rebuild. Expect that will be a couple thousand but other than that it seems to be a new pump! Sprayed a sample tonight and it cured nicely with no glossy sheen.
I will try to immediately do a teardown next time the pump starts tripping the out of balance safety , indicating off ratio. It has been doing that since first of the year but I have pushed it to the point of coating failure, shame on me!
So I guess I'll happily keep this 2k manual pump running for years to come (hopefully). As a backup I can always disconnect the catalyst side and spray through base pump with hot pot (manually mixed batches).
Thanks for the input guys! As the owner I have the luxury of picking the equipment I run. Tools got me into this business and I still enjoy tweaking and optimizing the workflow (and buying better tools). God bless, Nathan Barnard
---
7/29 #23: problem with 2k AAA pump, time to r ...
Website: http://www.nathanscustomcabinets.com
Wanted to do a quick follow-up on the paint pump rebuild. I've been spraying two days now with it and having excellent results. It's surprising how quickly the paint cures and the sheen is flattened when correctly mixed!
The trip rod will go off balance still if the pump sits idle for five minutes, but doesn't affect paint operation. Pretty quick to reset and continue. I suspect the catalyst shaft needs to be re-chromed to have a better seel. Has anyone ever looked at resurfacing the pump rods? I have four now that can be redone instead of continuing to replace yearly or semi yearly.
---
7/30 #24: problem with 2k AAA pump, time to r ...
i understand what you want to do but you would need to buy a new one to get the proper od and then you would then need to give that od to your plater so that the od would be in spec so that the rod would work with the oem packings. i would almost bet cat wouldn't give you the od of the rod over the phone. are you sure there is a small pressure worm on the ball seat that is causing the pump to shift?
good luck
herb j.
---
7/30 #25: problem with 2k AAA pump, time to r ...
Website: http://www.nathanscustomcabinets.com
Here is the used pump shafts from the past seven years. The leak is on the center portion of the shaft (there are three surfaces on the double shaft). Top has v packing with jamb but, bottom has a ball and seal center just a seal. I don't know what condition these shafts should be considered, are they extremely worn or just ready to be replaced, etc?
I have been quoted by a hard chrome machine shop $275 to grind and chrome one 6" section. I also sent them the link below to kremlin's process of triple playing and they quoted $875 each. The price of a new shaft is about $200 IIRC. I don't know the quality of CA Technologies process vs Kremlin vs 3rd party chrome plating.
https://www.sames-kremlin.com/canada/en/technologies-triple-chrome-lay
er.html
As for precision diameter I don't think that is critical as the seals are spring "u" shaped and can adjust to diameter. What's more important I think is a very smooth surface. When etched like they are now, probably microscopically, it is hard for the nylon/teflon seals to work.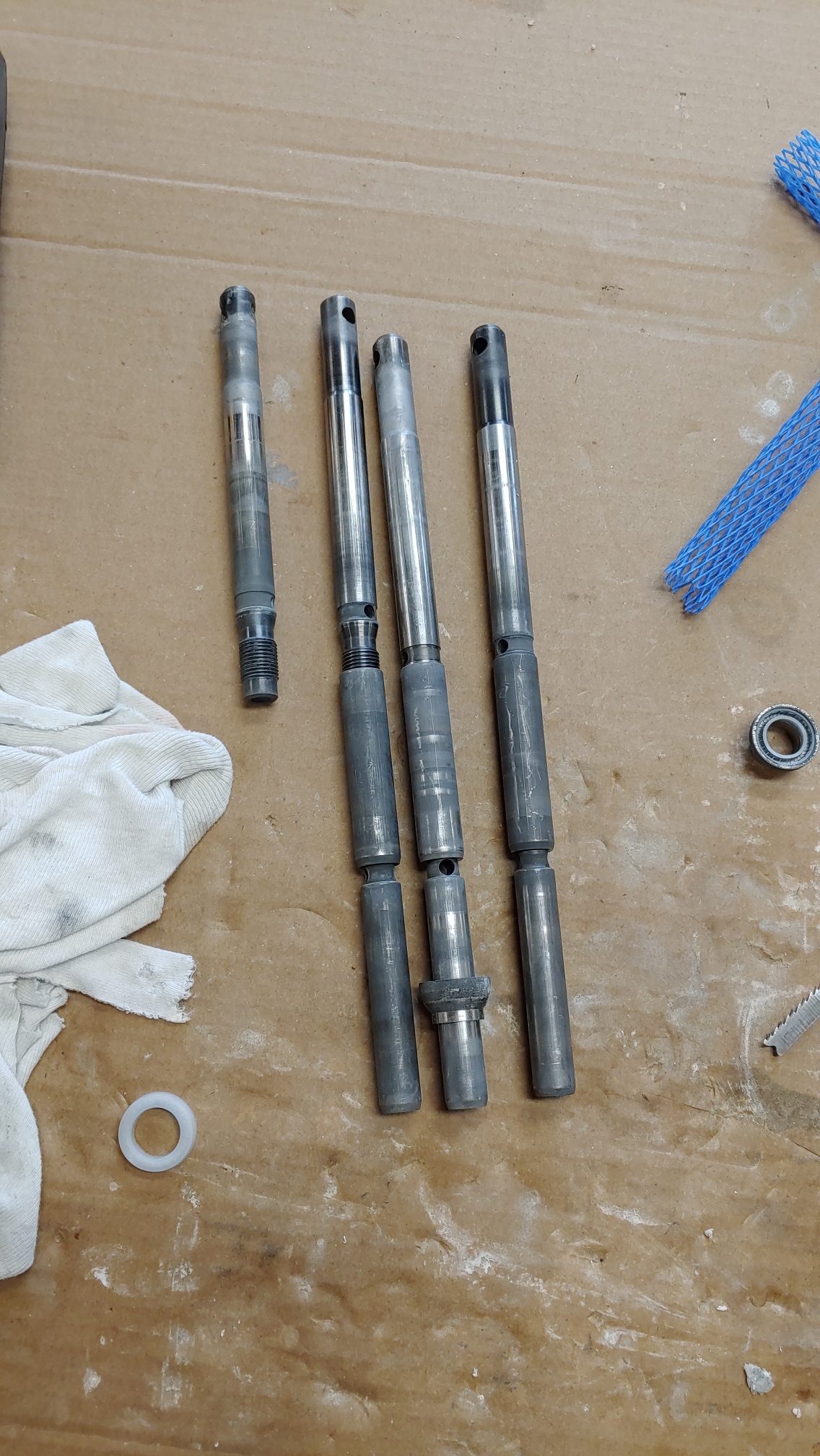 View higher quality, full size image (1136 X 2016)

---
7/30 #26: problem with 2k AAA pump, time to r ...
Website: http://www.nathanscustomcabinets.com
Hey Herb I forgot to respond to you. I have tried several of these different shafts when I was working on it a couple days ago. All had the same problem. I did take a couple of the lower pump rods apart to inspect the internal ball and seat and they looked pristine. A little tricky to get them back together (cat recommends not taking them apart).
Turned out it was the seal was quite loose on the shaft (it would almost fall off the shaft by gravity on the bench). After stretching the metal springs with a curved pick it was quite tight and the pump worked MUCH better. The trip guard mechanism is extremely precise so the smallest imbalance in the two pumps especially over time, will set it off. With the catalyst pump under 20psi air pressure the seals will hold now in both directions without shaft moving. I think Cliff at cat explained at 20psi on air motor the catalyst pump is producing 1000 psi liquid, anything over that it will push past the seals OR the spring pressure relief valves in the quad block.
---
---
Buy & Sell Exchanges | Forums | Galleries | Other Resources | Site Map
---



Buy and Sell Exchanges



Job Opportunities and Services Exchange
Employment opportunities and services within the woodworking industry

Lumber Exchange
A worldwide buy/sell exchange for lumber and wood products

Machinery Exchange
A worldwide buyer and seller exchange for woodworking machinery and equipment.

Classified Ad Exchange
Classified advertising for the woodworking industry (for advertisements that do not include machinery, lumber products and employment listings)


---



Forums



Adhesives Forum
Discussing topics related to adhesives within the woodworking industry

Architectural Woodworking Forum
Discussing quality standards and production of architectural wood products

Business and Management Forum
A forum for the discussion of business topics: from sales and marketing to dealing with difficult customers.

Cabinet and Millwork Installation Forum
Discussing all aspects of installation issues encountered by cabinet and millwork installers.

Cabinetmaking Forum
Discussing 32mm and face frame cabinet construction including fabrication, casegoods design, and installation.

CAD Forum
Shedding light on the all-too-often shadowy world of CAD.

CNC Forum
Discussing CNC (computer numerically controlled) woodworking equipment, software, and automated product manufacturing.

Dust Collection, Safety and Plant Operation Forum
Discussing topics related to maintaining a safe and productive working environment.

Professional Finishing Forum
Finishing issues for the production environment

Forestry Forum
The science and art of forest cultivation and timber management, planting, surveying, tree diseases, silviculture and timber harvesting

Professional Furniture Making Forum
Helping professional furniture makers improve quality, save time, and increase profits

Laminating and Solid Surfacing Forum
Issues related to laminating and solid surface materials and processes

Commercial Kiln Drying Forum
Discussions covering issues faced be commercial drying operations that process at least 750,000 bd. ft. of lumber per year

Sawing and Drying Forum
Discussing topics related to primary processing and drying of lumber

Solid Wood Machining Forum
Discussing topics related to the machining of solid wood

Value Added Wood Products Forum
Learn how to improve your output, find new markets, and boost sales of your lumber products

Veneer Forum
Discussing topics related to veneer processing, manufacturing, and fabrication

WOODnetWORK
An electronic discussion group for woodworkers throughout the world


---



Galleries



Project Gallery
Where professional woodworkers can post examples of their work

Sawmill Gallery
Professional primary processing companies display and describe their sawmill facilities

Shop Gallery
Professional woodworkers display and describe their shop facilities, products and equipment

Shopbuilt Equipment Gallery
Professional woodworker's jigs, rigs, and shopbuilt equipment


---



Other Resources



Industry News
Late-breaking news from all sectors of the wood industry

Video Library
Index of industrial woodworking related digital videos on the web

Auctions, Sales and Special Offers
Advertisers offering woodworkers discounted prices on good and services, and announcements of upcoming auctions


FORUM GUIDELINES: Please review the guidelines below before posting at WOODWEB's Interactive Message Boards
(return to top)
WOODWEB is a professional industrial woodworking site. Hobbyist and homeowner woodworking questions are inappropriate.
Messages should be kept reasonably short and on topic, relating to the focus of the forum. Responses should relate to the original question.
A valid email return address must be included with each message.
Advertising is inappropriate. The only exceptions are the Classified Ads Exchange, Machinery Exchange, Lumber Exchange, and Job Opportunities and Services Exchange. When posting listings in these areas, review the posting instructions carefully.
Subject lines may be edited for length and clarity.
"Cross posting" is not permitted. Choose the best forum for your question, and post your question at one forum only.
Messages requesting private responses will be removed - Forums are designed to provide information and assistance for all of our visitors. Private response requests are appropriate at WOODWEB's Exchanges and Job Opportunities and Services.
Messages that accuse businesses or individuals of alleged negative actions or behavior are inappropriate since WOODWEB is unable to verify or substantiate the claims.
Posts with the intent of soliciting answers to surveys are not appropriate. Contact WOODWEB for more information on initiating a survey.
Excessive forum participation by an individual upsets the balance of a healthy forum atmosphere. Individuals who excessively post responses containing marginal content will be considered repeat forum abusers.
Responses that initiate or support inappropriate and off-topic discussion of general politics detract from the professional woodworking focus of WOODWEB, and will be removed.
Participants are encouraged to use their real name when posting. Intentionally using another persons name is prohibited, and posts of this nature will be removed at WOODWEB's discretion.
Comments, questions, or criticisms regarding Forum policies should be directed to WOODWEB's Systems Administrator
(return to top).

Carefully review your message before clicking on the "Send Message" button - you will not be able to revise the message once it has been sent.

You will be notified of responses to the message(s) you posted via email. Be sure to enter your email address correctly.

WOODWEB's forums are a highly regarded resource for professional woodworkers. Messages and responses that are crafted in a professional and civil manner strengthen this resource. Messages that do not reflect a professional tone reduce the value of our forums.

Messages are inappropriate when their content: is deemed libelous in nature or is based on rumor, fails to meet basic standards of decorum, contains blatant advertising or inappropriate emphasis on self promotion (return to top).

Libel: Posts which defame an individual or organization, or employ a tone which can be viewed as malicious in nature. Words, pictures, or cartoons which expose a person or organization to public hatred, shame, disgrace, or ridicule, or induce an ill opinion of a person or organization, are libelous.

Improper Decorum: Posts which are profane, inciting, disrespectful or uncivil in tone, or maliciously worded. This also includes the venting of unsubstantiated opinions. Such messages do little to illuminate a given topic, and often have the opposite effect. Constructive criticism is acceptable (return to top).

Advertising: The purpose of WOODWEB Forums is to provide answers, not an advertising venue. Companies participating in a Forum discussion should provide specific answers to posted questions. WOODWEB suggests that businesses include an appropriately crafted signature in order to identify their company. A well meaning post that seems to be on-topic but contains a product reference may do your business more harm than good in the Forum environment. Forum users may perceive your references to specific products as unsolicited advertising (spam) and consciously avoid your web site or services. A well-crafted signature is an appropriate way to advertise your services that will not offend potential customers. Signatures should be limited to 4-6 lines, and may contain information that identifies the type of business you're in, your URL and email address (return to top).

Repeated Forum Abuse: Forum participants who repeatedly fail to follow WOODWEB's Forum Guidelines may encounter difficulty when attempting to post messages.

There are often situations when the original message asks for opinions: "What is the best widget for my type of shop?". To a certain extent, the person posting the message is responsible for including specific questions within the message. An open ended question (like the one above) invites responses that may read as sales pitches. WOODWEB suggests that companies responding to such a question provide detailed and substantive replies rather than responses that read as a one-sided product promotion. It has been WOODWEB's experience that substantive responses are held in higher regard by our readers (return to top).

The staff of WOODWEB assume no responsibility for the accuracy, content, or outcome of any posting transmitted at WOODWEB's Message Boards. Participants should undertake the use of machinery, materials and methods discussed at WOODWEB's Message Boards after considerate evaluation, and at their own risk. WOODWEB reserves the right to delete any messages it deems inappropriate. (return to top)



Forum Posting Form Guidelines

Your Name
The name you enter in this field will be the name that appears with your post or response (return to form).
Your Website
Personal or business website links must point to the author's website. Inappropriate links will be removed without notice, and at WOODWEB's sole discretion. WOODWEB reserves the right to delete any messages with links it deems inappropriate. (return to form)
E-Mail Address
Your e-mail address will not be publicly viewable. Forum participants will be able to contact you using a contact link (included with your post) that is substituted for your actual address. You must include a valid email address in this field. (return to form)
Subject
Subject may be edited for length and clarity. Subject lines should provide an indication of the content of your post. (return to form)
Thread Related Link and Image Guidelines
Thread Related Links posted at WOODWEB's Forums and Exchanges should point to locations that provide supporting information for the topic being discussed in the current message thread. The purpose of WOODWEB Forums is to provide answers, not to serve as an advertising venue. A Thread Related Link that directs visitors to an area with inappropriate content will be removed. WOODWEB reserves the right to delete any messages with links or images it deems inappropriate. (return to form)
Thread Related File Uploads
Thread Related Files posted at WOODWEB's Forums and Exchanges should provide supporting information for the topic being discussed in the current message thread. Video Files: acceptable video formats are: .MOV .AVI .WMV .MPEG .MPG .FLV .MP4 (Image Upload Tips) If you encounter any difficulty when uploading video files, E-mail WOODWEB for assistance. The purpose of WOODWEB Forums is to provide answers, not to serve as an advertising venue. A Thread Related File that contains inappropriate content will be removed, and uploaded files that are not directly related to the message thread will be removed. WOODWEB reserves the right to delete any messages with links, files, or images it deems inappropriate. (return to form)