Shop heat
---
3/17 #8: too much clamping pressure - starve ...


I know this is always met with disagreement at the hands of years of experience but there was a very good article in FWW several years back that use to be free on their site but has now been moved to the paid version it seems. But that article covered in detail the specific amounts of clamping force an array of different clamps could apply and then showed graphically how many clamps you would have to use to adequately clamp an average joint and the clamp spacing was so close that virtually no shop I have ever been in would possibly be over clamping their joints. The end result of the article was, as I recall, that with average clamps (being anything from an F clamp, to a pipe clamp, to an I bar) there is no physical way you can over clamp (starve) a long grain joint.
I dont have the years all of you do but in 20+ I have put every ounce of clamping force on every long grain joint I can and never had a problem. Now a cope and stick or M&T, no, but long grain to long grain that has been the rule for us. I wish could link to the article because unless David has seen it and discounted it, it may be a bit of the information your looking for.
No answer to original problem but when we have done large end grain glue ups (edge glue, cut, flip 90 degrees, glue up) I have noticed that excessive pressure without the use of cauls can seem to compress certain segements of the glue up more than others. This would seem to create great shearing forces within the block after glue up but its just a guess. Softer woods like Walnut would seem to be more susceptible.
---
3/17 #9: too much clamping pressure - starve ...


I would look at the wood prep. I know that Dr. Gene Wengert ALWAYS says that the sawn or jointed material should be freshly cut before you glue it and that you need to make sure if it's jointed that that material isn't "burnished". That's where I would start.
---
3/17 #10: too much clamping pressure - starve ...


With regard to glue starvation, I did a test on six identical joints of cherry 6" x 1 1/2". Two each of light clamping with heavy Jorgensen 12" clamps, regular clamp force and as tight as possible with three clamps (what I would consider excessive force). I left the joints to cure overnight. When I broke the joints by splitting them with a chisel in the end, the lightly clamped joints failed easily with very little wood failure. The regularly clamped joints had at least half wood failure and the tight as f*** joints were the best with none of the glue joint visible. The failure drifted into the body of the wood. It is in no way a definitive test but it led me to believe that glue starvation is overstated and maybe not relevant with PVA adhesive.
When this was last discussed I seem to recall that some issues to look for are too long open time leading to wood swelling and distortion of glue surfaces, dull tooling, and too long a period between machining and gluing causing humidity related wood distortion.
One other consideration is whether a wide belt yields a decent glue surface. Wouldn't it tend to leave a crowned surface?
---
3/17 #11: too much clamping pressure - starve ...


mark - i know the article with clamp placement but didn't remember the pressure part of it. i have that issue and will see about digging it out and revisiting it. i've cited the spacing part to my guys on a couple of occasions and keep our panel clamps pretty close together (maybe 3-5" of unclamped space in between each one).
we didn't and don't typically use cauls to clamp. we're working with over-sized pieces so any dents the clamps would cause are inconsequential. i'm also not sure about compression.
the large majority of the joints that have opened up are between pieces that would have been initially glued up in edge grain construction.
see the pics.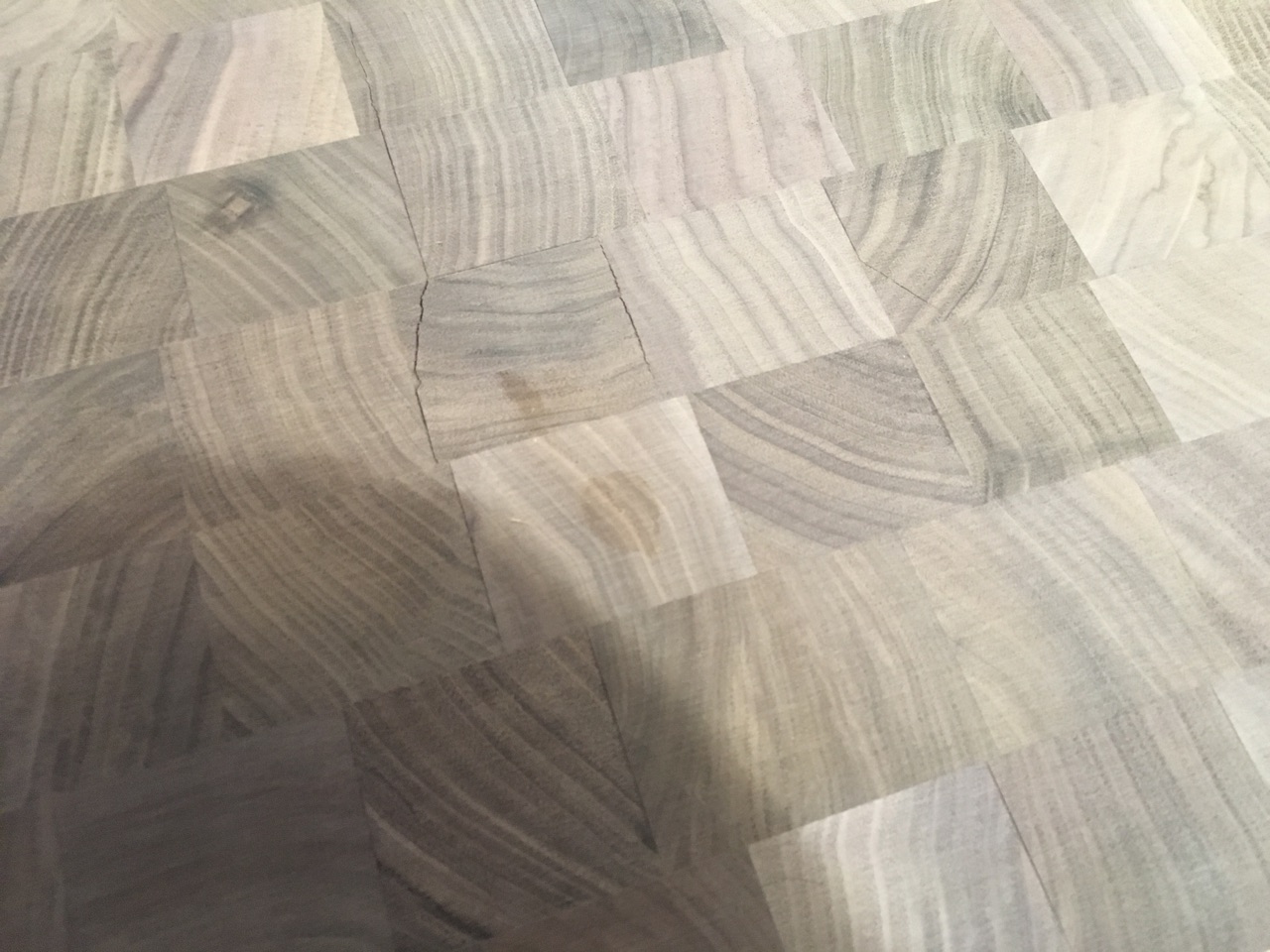 View higher quality, full size image (1280 X 960)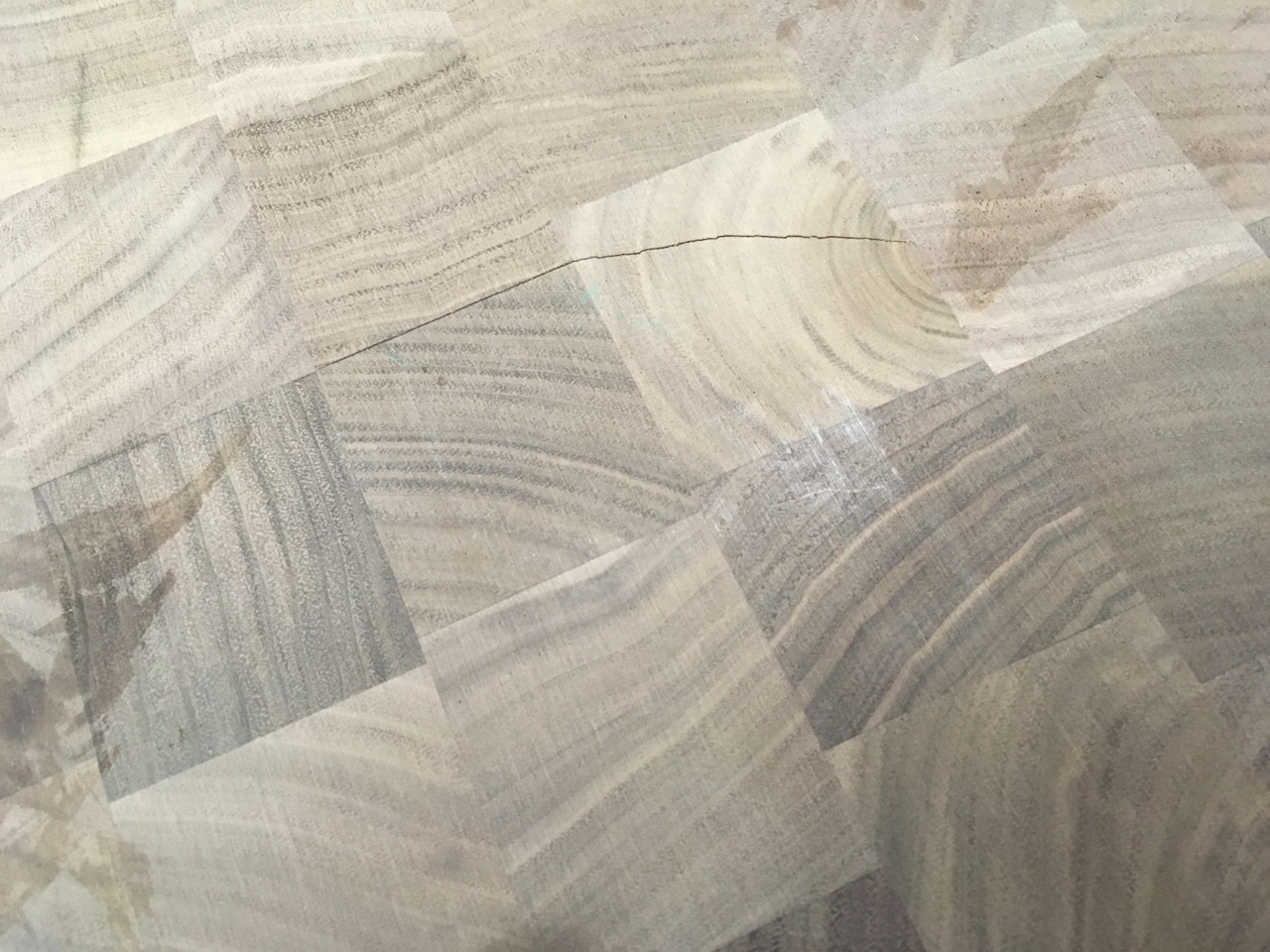 View higher quality, full size image (1280 X 960)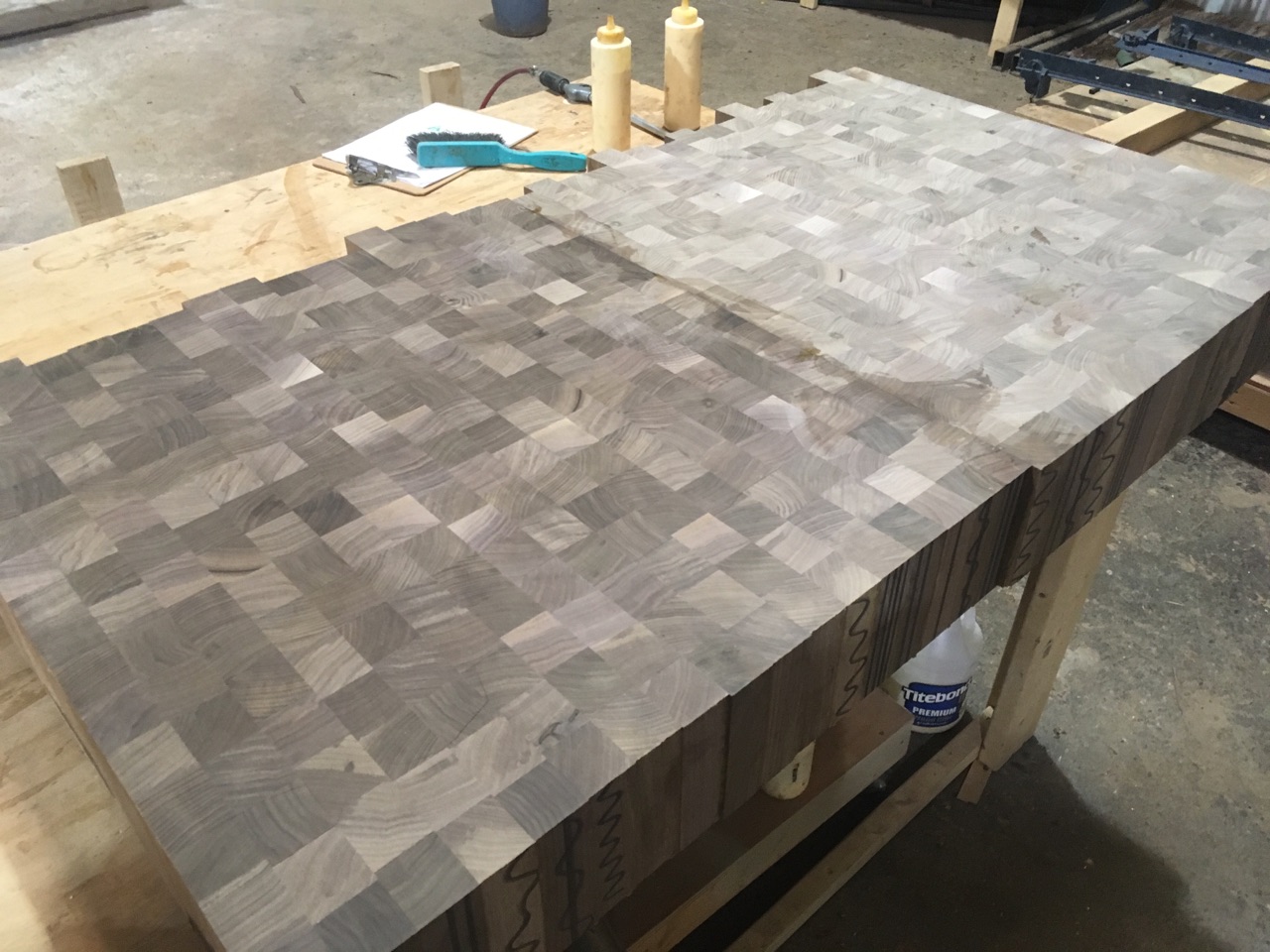 View higher quality, full size image (1280 X 960)

---
3/17 #12: too much clamping pressure - starve ...


joints are freshly prepped via our planer for edge grain and wide belt for the end grain glue up. everything is glued up within a couple hours of being machined. the quality of the joints should be pretty good (knives aren't that old).
we use thick lines of glue instead of spreading it thin since it can take 10 minutes or so to get everything clamped up. we get plenty of squeeze out.
---
3/17 #13: too much clamping pressure - starve ...


You sure somebody didn't drop it? You have breakage and cracks in the wood. That doesn't have anything to do with glue and pressure. Maybe some of those cracks were there before you started working the wood?
---
3/17 #14: too much clamping pressure - starve ...


rich,
it wasn't dropped. we glued it up on a low cart and my best employee reported the bad news. my guys don't have any problem reporting problems.
there are probably 20% of these splits not along a joint and they seem to be in line with two joints that split apart. i'm guessing the joint splits just caused enough pressure to crack some blocks down the middle. and they could have been there before. highly unlikely that we would have missed them for the sheen number of them present. plus, our edge grain glue ups were 20-30" long so unless there was some weird honeycombing going on, all of the splits should have been at either end of these pieces, resulting in more consistent and less split blocks.
we glued this up on a low cart and had pieces of dunnage beneath the clamps. this put the block 4-5" off the cart, but still within 20" of the floor. the bottom side does look better (not as many cracks) but is still far from repairable.
---
3/17 #15: too much clamping pressure - starve ...


It takes a lot to split a piece of wood from the side. You can drive a wedge in from the end and it splits easily, but try and drive it in from the side to do it. How would you get sideways pressure from a glue joint failure? No way! There should be nothing forcing the boards apart, the boards should just sit there with a little gap in the glue line. For the glue joint to fail and split the board across from it, there has to be a lot of stress in the assembly. There has to be some boards that didn't work out, and were forced into alignment. For a normal glue up, you just tighten enough to force out the air, you don't have to squeeze the hell out of it. So something is wrong with the wood before it is being glued together, or in the glue up procedure. I don't feel it is a glue issue.
---
3/17 #16: too much clamping pressure - starve ...


I agree with the other guys. I have never seen a clamped to tight pva glue line fail. It loves smooth surfaces(straight off the joiner) and thin invisible glue lines(as Leo mention .002", paper thickness at the most).
The glue joint failures from too much clamping pressure are always epoxy. It loves thick visible glue lines on rough surfaces(80 grit).
One of the best examples of this situation are curved 1/8" veneer jambs(huge bending/delam forces for doors & windows. Any interior ones we have made are done with pva. Exterior ones are always done with epoxy. I have seen several fail because the guy ratched the clamps down as tight as possible.
I'm guessing you are having two problems. TB2 hates cold temp. You can find several threads in the Knowledge base. The other is your gluelines may be too thick. It takes you so much time to get the locks together that you use extra glue and it gaps at some places and not others. The whole setup of using a hundred blocks that are perfect squares can lead to glueing problems.
Switching to epoxy resin would solve all of your problems.

---
3/18 #17: too much clamping pressure - starve ...


Two possibilities: have a look at the culprits in the glue-up. Can you identify a common board(s) from the end-grain that is failing? Imagine locking in a high moisture block around dry ones. It then shrinks quickly because of the end-grain exposure. That would create a lot of stress on the joints.
How warm was the new wood? If it was at or below freezing it would take several hours to come up to optimal gluing temperature.
---
3/18 #19: too much clamping pressure - starve ...


Im in agreement with Tom. My thought was a rogue board or two and possibly a bad luck chance that a certain combination of alignment resulted in a concentration of stress all over the part. Some of the crack seem to emanate/or terminate at the pith. You can see some concentrations of segments in close proximity that are in alignment. All just guesses.
Really sucks. Lot of work and a lot of stock value there.
---
3/18 #20: too much clamping pressure - starve ...


" i don't suspect improperly dried material as we used new wood as well as wood that has been in the shop for some time."
That sets off an alarm bell for me. Did you check the MC of both stocks of wood? How long was the new stuff allowed to acclimate prior to use? Given usable glue and the milling and clamping procedures you have described I would suspect inconsistent MC in the lumber used or perhaps a major change in RH between storage and shop conditions.
The second photo shows a split running from one glueline extending across an adjacent block well away from a glueline. It looks like some local shrinkage is going on.What are the storage conditions for the old stock? If it was kept in the same conditions as the shop floor I would guess that the new stock included some material of a higher MC.
---
3/18 #21: too much clamping pressure - starve ...


I don't have a clue what the answer is.
Could grain direction have something to do with it?
Also what Tom states, seems like a likely cause.
How are you going to fix it?
---
3/18 #22: too much clamping pressure - starve ...


looking at the orientation of your boards in your glue up , there is face grain to edge grain, all random... I would think this would cause great stress, especially if the boards all vary in moisture content...just a thought
---
3/18 #23: too much clamping pressure - starve ...


My first thought is moisture content varying from piece to piece, seeing some split right through the block rather than on the glue line.
---
3/18 #24: too much clamping pressure - starve ...


If you can see the pva gluelines in a photo then they are definitely too thick.
I hadn't noticed that the top was 5" thick. Between all the difference pieces and the length of them, there is a ton of waterbased glue. Huge amount of moisture to be absorbed into the wood and slowly let go.
Any minor differences in moisture content between the old wood on the shelf and the new wood from the distributer would be exaggerated by all of this new moisture. The stuff in your shop could be 9% and the stuff coming in could be 6%.
Get a moisture meter and test the remaining scrap. People often think their shops are dry, when in fact they are not.
---
3/19 #25: too much clamping pressure - starve ...


I also noticed the face to edge grain is very random and we all know that alone is a lot of stresses working against each other.
My other thought is are you using a "Panel Flattner" fixture on your JLT clamp rack to pull the glueups together? I have always thought that was a terrible idea as well.
Are you prepping your stock on the jointer or just ripping and gluing?
Also i like to keep my shop a constant temp night and day all year long. For me its well worth the little bit of extra cost on the gas bill to know i wont have temp. problems. When you are dropping the temp. every night, you are letting everything get cold soaked and it takes a lot for the cores of everything to get heated back up again.
---
3/19 #26: too much clamping pressure - starve ...


I'd heard the thing about excessive clamp pressure starving the joint. I decided to test it. I fished a few pieces out of the scrap barrel that had been run though the molder, sharp knives, 30'/min, two knives per head, unjointed, so figure single knife finish. Original Titebond, shop above 65*. Bock size relatively small, a few inches. Clamping, in a hydraulic press, to it's max pressure 40,000 lb. 1" thick steel press blocks were used. Left overnight, removed from press and let sit a couple of days. Cut a shallow groove at the joint line so the steel wedge would be right on the glue line. Back to the press, forced the wedge into the glue line until something gave. The result: no glue line failure. The hard maple failed. I did 3 of these tests, same results. Everything was done wrong: not fresh surface, excessive glue, excessive pressure, extreme force on the glue line. But temperature was within specs. Open time was short. We normally glue right off the SL rip saw on a Taylor clamp, no problems. When we must glue wide thin parts for curves, we do widebelt (80g) the faces after they have been resawn on a band resaw. The laminations are made extra wide because the widebelt will always dub the edges some. Again no problems.
---
3/20 #27: too much clamping pressure - starve ...


thanks for the replies and ideas.
i said this before and i'm not sure if it changes anything or not but... the majority of the open joints are between pieces that would have been edge glued together in one of our initial glue ups. these would have been glued up 2-3 days before the last glue up (3-4 days before we noticed the open joints). again, there were no signs of anything wrong until the 2 days after last glue up.
it seems like varying moisture content is likely the culprit but i'm stumped on why the delay for the joints to open up.
lastly, the bottom side (when glued was 4-5" off the bottom of a cart) shows way less open joints. maybe 15 total (vs. 40-50 on the top side). thoughts?
lastly, lastly, a few years ago we glued up a maple end grain top that was approximately 8'x 6' x 2.5" thick. it was spray finished so we sprayed the bottom one day, let it dry overnight, and were planning on spraying the top the next day. that next day was warmer and dryer. the top side (yet to be sprayed) began to curl up around lunch time. so much so that it showed a 1.5" gap when we put a straight edge on it from end to end. fearing it would break itself apart, we flooded the surface with water and the top flattened itself back out. it dried for a couple of hours, we resanded, and shot the top side. we shipped it to texas and it is still in good shape (i hear this about a year ago from the homeowner). almost none of the individual joints opened up and there were no (if i remember correctly) open joints or cracks in the top. thoughts?
---
3/20 #28: too much clamping pressure - starve ...


End grain gains and loses moisture a lot faster than long grain. So any moisture differences become obvious quickly once fresh crosscuts open up what was formerly the middle of a board. With a thick end grain top, this gets magnified even more because the outer faces lose moisture and shrink while the center of the assembly is still absorbing moisture from the glue and swelling. That puts a lot of stress on the faces of the joints.
When you see parts crack through the solid wood, it is a sign that that particular piece has shrunk and the outer edges were held in place by a strong glue line.
I'm certainly no expert, but I did read Brue Hoadley's book "understanding Wood" a few years ago. It is a great resource.
---
3/20 #29: too much clamping pressure - starve ...


Your issue with more broken joints on the top surface versus the bottom is due to air movement. You let the shop temp drop at night, then crank up the heat in the morning. You are getting warm air flowing more easily over the top than the bottom so the top surface changes faster. You do this everyday to all the work in progress in your shop. Surprised we haven't heard more issues from you on table tops or solid panel doors. All this wood movement discussion is solid woodworking 101. As mentioned, read Hoadley's book!
---
3/20 #30: too much clamping pressure - starve ...


rich - i'm curious as to how much room you leave under your panels. i left 4-5" for the last glue up. we would normally leave them on the clamps on a table (so 2" off the table).
i'm aware of what can happen if you leave a panel on a table top with no space in between. i figured i was allowing for adequate air flow.
---
3/20 #31: too much clamping pressure - starve ...


Put a piece of cardboard over things like this. It prevents the tops from overheating.
Do you have radiant tube heaters? Those are the worst.
---
3/20 #32: too much clamping pressure - starve ...


I don't leave anything near a bench after gluing up panels. I stand them up so air circulation is equal all around. Figured that out 40 years ago when I glued up some panels, took them out of the clamps, then stacked them on a bench for the weekend. The top panel was badly bowed on Monday morning.
---
3/21 #33: too much clamping pressure - starve ...


When we know that we have to seal the backside to prevent warpage on countertops or big panels. We typically spray the backside wait about 30 minutes for the finish to more or less dry. Then flip it over and spray the top. We don't care if the backside gets smudged or slightly damaged. Its amazing how quickly a panel can warp when sealed completely on one side.
Personally I would setup some sawhorses. Glue up the countertop on the bench. Lift it onto the sawhorses so that it can dry at the same rate top to bottom.
As I've mentioned a couple of times, switch to epoxy and it will solve all of your problems. What are your reasons for using TB2 in the first place?
---
3/21 #34: too much clamping pressure - starve ...


" switch to epoxy and it will solve all of your problems"
If the problem is due strictly to uneven drying from one face to another and more rapid drying at the faces than the core, this may be true. If the issue is a mix of material with differing moisture contents and grain orientation, not so much. It's quite possible that all these factors are involved to some degree.
To the original poster, you said that you had done similar glueups in the past without problems. What changed this time? 5" is a very thick panel; were your previous ones thinner? Did you orient the grain randomly this time but not previously? Were previous examples done in a season when you didn't have hot dry air blowing over the panel? Were they glued up from one batch of consistently dry material?
Bad glue is the least likely culprit. The worst that happens to TII is congealing over time, and you would have noticed if it did not flow freely.
It seems like a moisture/uneven drying problem related to the factors mentioned above. You could reduce the risk in future by ensuring that the material is accclimated to shop conditions, keeping temp and RH stable through the process, allowing equal access to air movement both sides, orienting the blocks' grain direction consistently, making thinner slabs and using a non-water based glue. Best of luck.
---
3/22 #35: too much clamping pressure - starve ...


thanks again everyone for the comments and suggestions. i've only been at this for a little over 15 years and still have things to learn.
kevin - the only real difference from before is the thickness. clamping, use of mixed-supplied wood (old and new wood), grain orientation, and glue up and finish procedure were all the same as we've been successful with previously. thickest previously was 3" teak and that's even less friendly to glue than walnut.
ironically, and if i'm understanding wood movement correctly, most of the cracks and open glue joints have closed up. not enough to make use of this piece, but you have to look pretty hard to find them. i'd think all of the swelling from water from the glue would have left when the cracks developed. our temps have been pretty steady for a week+ now and we've actually had the block closer to the heater.
adam - epoxy. we don't have any real experience with it other than filling holes, but...
expense
clean up
specific clamping pressures
these would be my objections to using it in place of tb2.
---
3/22 #36: too much clamping pressure - starve ...


the google,
If the only real difference is thickness, that lends force to JR Rutter's comment above (#28) about the faces drying out while the core is still wet. As the moisture equalized, the cracks closed up. This would suggest that switching to epoxy would be helpful.
Be aware that the mating surfaces should be rough (sawn or sanded at 80#). In my experience that plus moderate clamping pressure gives a reliable glue joint.
The added expense of epoxy is negligible compared to the situation you have now. If you intend to stick with waterbased glue, perhaps covering the panel on both sides would slow down the surface drying sufficiently to avoid cracking.
---
3/22 #37: too much clamping pressure - starve ...


Hi everyone! Nobody mention glueing tactic.
I would gluing 2"x2"x8' in to slab first to wide capacity of your machine : planer or wide belt sander. Than cros sliced to 5" plank and glue it.
---
3/22 #38: too much clamping pressure - starve ...


We built near the exact top out of black wallnut 1 years ago. The top was fine when we installed it. Our top did the same thing after 3 months in the heating season. We sealed the top and the bottom with oil. We did everything possible to prevent any issues when we built the new top. I got the dreaded call about 4 weeks back that the top was split one morning. The splits start near glue joints but actually go across the top. I am convinced that we can not do a 6" thick end grain wallnut top. We have built many end grain hard maple tops with no issues other than the normal stuff (seal the bottom and do not dry one side faster than the other) Please let me know what the answer is to this issue. I need to replace this top again. I am thinking we will produce the top with a thick veneer, glued to a man made core to get the same look.
---
5/25 #39: too much clamping pressure - starve ...


All I can say is that this has happened to me before. The moisture content has to be right or you will have way to much stress on the joint for it to fail.
---

---
Buy & Sell Exchanges | Forums | Galleries | Other Resources | Site Map
---

Buy and Sell Exchanges

Job Opportunities and Services Exchange
Employment opportunities and services within the woodworking industry

Lumber Exchange
A worldwide buy/sell exchange for lumber and wood products

Machinery Exchange
A worldwide buyer and seller exchange for woodworking machinery and equipment.

Classified Ad Exchange
Classified advertising for the woodworking industry (for advertisements that do not include machinery, lumber products and employment listings)


---

Forums

Adhesives Forum
Discussing topics related to adhesives within the woodworking industry

Architectural Woodworking Forum
Discussing quality standards and production of architectural wood products

Business and Management Forum
A forum for the discussion of business topics: from sales and marketing to dealing with difficult customers.

Cabinet and Millwork Installation Forum
Discussing all aspects of installation issues encountered by cabinet and millwork installers.

Cabinetmaking Forum
Discussing 32mm and face frame cabinet construction including fabrication, casegoods design, and installation.

CAD Forum
Shedding light on the all-too-often shadowy world of CAD.

CNC Forum
Discussing CNC (computer numerically controlled) woodworking equipment, software, and automated product manufacturing.

Dust Collection, Safety and Plant Operation Forum
Discussing topics related to maintaining a safe and productive working environment.

Professional Finishing Forum
Finishing issues for the production environment

Forestry Forum
The science and art of forest cultivation and timber management, planting, surveying, tree diseases, silviculture and timber harvesting

Professional Furniture Making Forum
Helping professional furniture makers improve quality, save time, and increase profits

Laminating and Solid Surfacing Forum
Issues related to laminating and solid surface materials and processes

Commercial Kiln Drying Forum
Discussions covering issues faced be commercial drying operations that process at least 750,000 bd. ft. of lumber per year

Sawing and Drying Forum
Discussing topics related to primary processing and drying of lumber

Solid Wood Machining Forum
Discussing topics related to the machining of solid wood

Value Added Wood Products Forum
Learn how to improve your output, find new markets, and boost sales of your lumber products

Veneer Forum
Discussing topics related to veneer processing, manufacturing, and fabrication

WOODnetWORK
An electronic discussion group for woodworkers throughout the world


---

Galleries

Project Gallery
Where professional woodworkers can post examples of their work

Sawmill Gallery
Professional primary processing companies display and describe their sawmill facilities

Shop Gallery
Professional woodworkers display and describe their shop facilities, products and equipment

Shopbuilt Equipment Gallery
Professional woodworker's jigs, rigs, and shopbuilt equipment


---

Other Resources

Industry News
Late-breaking news from all sectors of the wood industry

Video Library
Index of industrial woodworking related digital videos on the web

Auctions, Sales and Special Offers
Advertisers offering woodworkers discounted prices on good and services, and announcements of upcoming auctions

FORUM GUIDELINES: Please review the guidelines below before posting at WOODWEB's Interactive Message Boards (return to top)


WOODWEB is a professional industrial woodworking site. Hobbyist and homeowner woodworking questions are inappropriate.
Messages should be kept reasonably short and on topic, relating to the focus of the forum. Responses should relate to the original question.
A valid email return address must be included with each message.
Advertising is inappropriate. The only exceptions are the Classified Ads Exchange, Machinery Exchange, Lumber Exchange, and Job Opportunities and Services Exchange. When posting listings in these areas, review the posting instructions carefully.
Subject lines may be edited for length and clarity.
"Cross posting" is not permitted. Choose the best forum for your question, and post your question at one forum only.
Messages requesting private responses will be removed - Forums are designed to provide information and assistance for all of our visitors. Private response requests are appropriate at WOODWEB's Exchanges and Job Opportunities and Services.
Messages that accuse businesses or individuals of alleged negative actions or behavior are inappropriate since WOODWEB is unable to verify or substantiate the claims.
Posts with the intent of soliciting answers to surveys are not appropriate. Contact WOODWEB for more information on initiating a survey.
Excessive forum participation by an individual upsets the balance of a healthy forum atmosphere. Individuals who excessively post responses containing marginal content will be considered repeat forum abusers.
Responses that initiate or support inappropriate and off-topic discussion of general politics detract from the professional woodworking focus of WOODWEB, and will be removed.
Participants are encouraged to use their real name when posting. Intentionally using another persons name is prohibited, and posts of this nature will be removed at WOODWEB's discretion.
Comments, questions, or criticisms regarding Forum policies should be directed to WOODWEB's Systems Administrator
(return to top).

Carefully review your message before clicking on the "Send Message" button - you will not be able to revise the message once it has been sent.

You will be notified of responses to the message(s) you posted via email. Be sure to enter your email address correctly.

WOODWEB's forums are a highly regarded resource for professional woodworkers. Messages and responses that are crafted in a professional and civil manner strengthen this resource. Messages that do not reflect a professional tone reduce the value of our forums.

Messages are inappropriate when their content: is deemed libelous in nature or is based on rumor, fails to meet basic standards of decorum, contains blatant advertising or inappropriate emphasis on self promotion (return to top).

Libel: Posts which defame an individual or organization, or employ a tone which can be viewed as malicious in nature. Words, pictures, or cartoons which expose a person or organization to public hatred, shame, disgrace, or ridicule, or induce an ill opinion of a person or organization, are libelous.

Improper Decorum: Posts which are profane, inciting, disrespectful or uncivil in tone, or maliciously worded. This also includes the venting of unsubstantiated opinions. Such messages do little to illuminate a given topic, and often have the opposite effect. Constructive criticism is acceptable (return to top).

Advertising: The purpose of WOODWEB Forums is to provide answers, not an advertising venue. Companies participating in a Forum discussion should provide specific answers to posted questions. WOODWEB suggests that businesses include an appropriately crafted signature in order to identify their company. A well meaning post that seems to be on-topic but contains a product reference may do your business more harm than good in the Forum environment. Forum users may perceive your references to specific products as unsolicited advertising (spam) and consciously avoid your web site or services. A well-crafted signature is an appropriate way to advertise your services that will not offend potential customers. Signatures should be limited to 4-6 lines, and may contain information that identifies the type of business you're in, your URL and email address (return to top).

Repeated Forum Abuse: Forum participants who repeatedly fail to follow WOODWEB's Forum Guidelines may encounter difficulty when attempting to post messages.

There are often situations when the original message asks for opinions: "What is the best widget for my type of shop?". To a certain extent, the person posting the message is responsible for including specific questions within the message. An open ended question (like the one above) invites responses that may read as sales pitches. WOODWEB suggests that companies responding to such a question provide detailed and substantive replies rather than responses that read as a one-sided product promotion. It has been WOODWEB's experience that substantive responses are held in higher regard by our readers (return to top).

The staff of WOODWEB assume no responsibility for the accuracy, content, or outcome of any posting transmitted at WOODWEB's Message Boards. Participants should undertake the use of machinery, materials and methods discussed at WOODWEB's Message Boards after considerate evaluation, and at their own risk. WOODWEB reserves the right to delete any messages it deems inappropriate. (return to top)



Forum Posting Form Guidelines

Your Name
The name you enter in this field will be the name that appears with your post or response (return to form).
Your Website
Personal or business website links must point to the author's website. Inappropriate links will be removed without notice, and at WOODWEB's sole discretion. WOODWEB reserves the right to delete any messages with links it deems inappropriate. (return to form)
E-Mail Address
Your e-mail address will not be publicly viewable. Forum participants will be able to contact you using a contact link (included with your post) that is substituted for your actual address. You must include a valid email address in this field. (return to form)
Subject
Subject may be edited for length and clarity. Subject lines should provide an indication of the content of your post. (return to form)
Thread Related Link and Image Guidelines
Thread Related Links posted at WOODWEB's Forums and Exchanges should point to locations that provide supporting information for the topic being discussed in the current message thread. The purpose of WOODWEB Forums is to provide answers, not to serve as an advertising venue. A Thread Related Link that directs visitors to an area with inappropriate content will be removed. WOODWEB reserves the right to delete any messages with links or images it deems inappropriate. (return to form)
Thread Related File Uploads
Thread Related Files posted at WOODWEB's Forums and Exchanges should provide supporting information for the topic being discussed in the current message thread. Video Files: acceptable video formats are: .MOV .AVI .WMV .MPEG .MPG .FLV .MP4 (Image Upload Tips) If you encounter any difficulty when uploading video files, E-mail WOODWEB for assistance. The purpose of WOODWEB Forums is to provide answers, not to serve as an advertising venue. A Thread Related File that contains inappropriate content will be removed, and uploaded files that are not directly related to the message thread will be removed. WOODWEB reserves the right to delete any messages with links, files, or images it deems inappropriate. (return to form)