Message Thread:
Need advice on bits
5/16

First I would like to thank anyone with advice and everyone on the forum for the amazing info I've found.
I'm working with a great material called EGGER HPL Eurodekor with a chip core. Its 3/4" (19mm I believe). The only issue its thats EXTREMELY hard on bits.
I've done some test with appropriate manufacturer suggested feeds and speed on the following bits and all have been destroyed by this material (dulled out and chips aligned with HPL surfaces, enough to start creating 1/16" chip of top surface).
Vortex 3110 412ipm (4 sheets)
Vortex 3130xp 750ipm (9 sheets)
Amana 46171-k 200ipm (2 sheets)
Amana 46367-k 200ipm (2 sheets)
Onsrud 60-126PLR 800ipm (10-12 sheets)
Freud 12-128 350ipm (1 small scrap of material)
All I've picked the low end of the chip load per tooth on each manufacturer suggested speed and feeds charts.
I feel people are going to suggest PCD bits. (they are sooo expensive and im quite scared of wasting that money). Is there someone with experience on a similar situation with advice/guidance?
I've considered using a rougher bit that will leave a 1/32 allowance and then use a good bit to finish it off.
Just to give you an idea. I read a really nice post where someone suggested using a straight bit for HPL. I grabbed a scrap 29"x18" (74cmx49cm) and ran a test with a Freud 12-128. I did the profile and a 1/2" pocket. It shattered the edge at 1/2" exactly. Pictures below.
If the suggestion is changing material, its not an option as we work with a designer that could be sponsored by this brand and its all they like. So we are trapped on that regard.
1)Should I try a roughing and finishing strategy or should I try 2)PCD bits (rather not, though)
Again, I am so grateful for any guidance or advice on the matter.
Attentively,
AT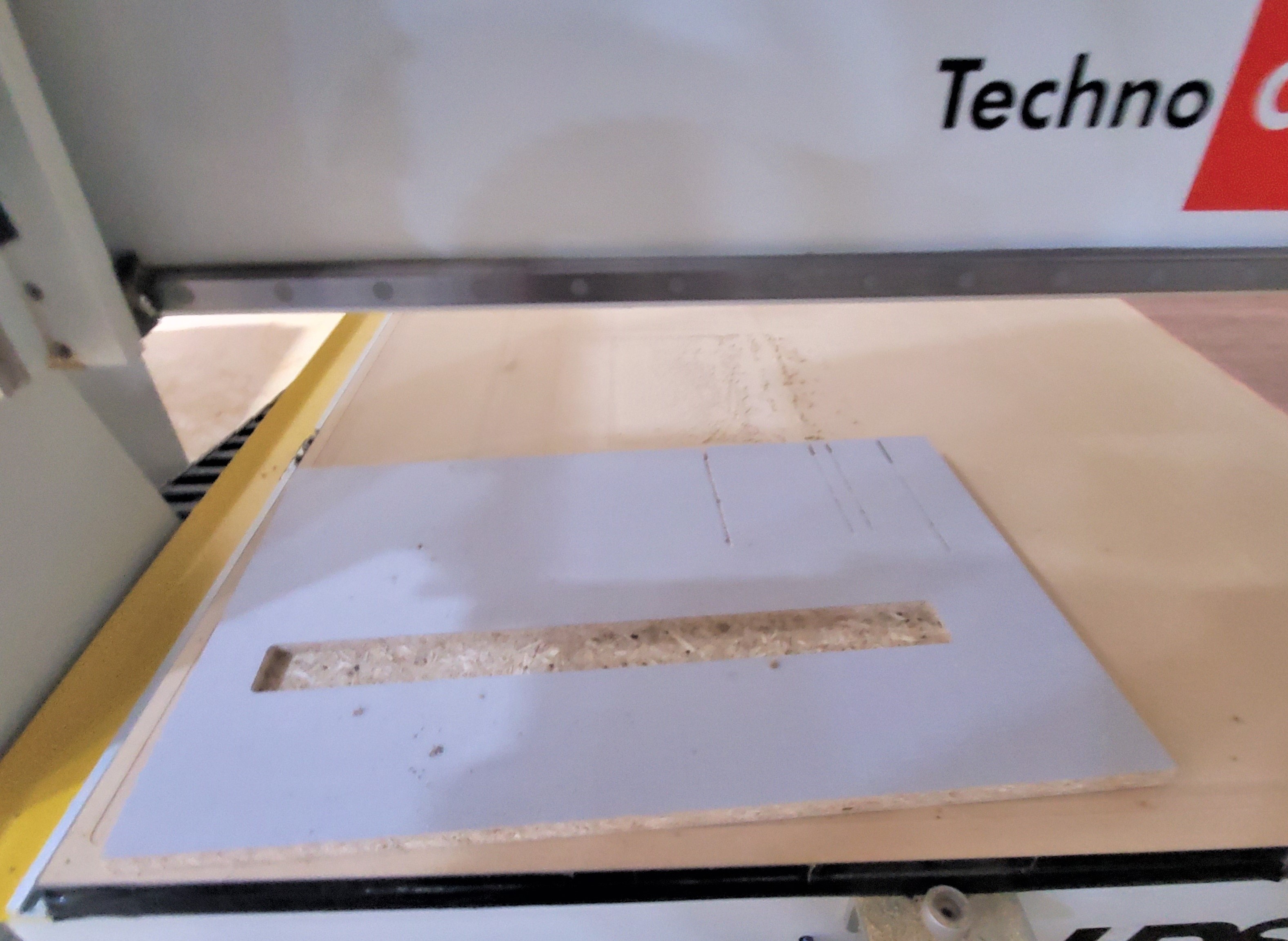 View higher quality, full size image (3155 X 2305)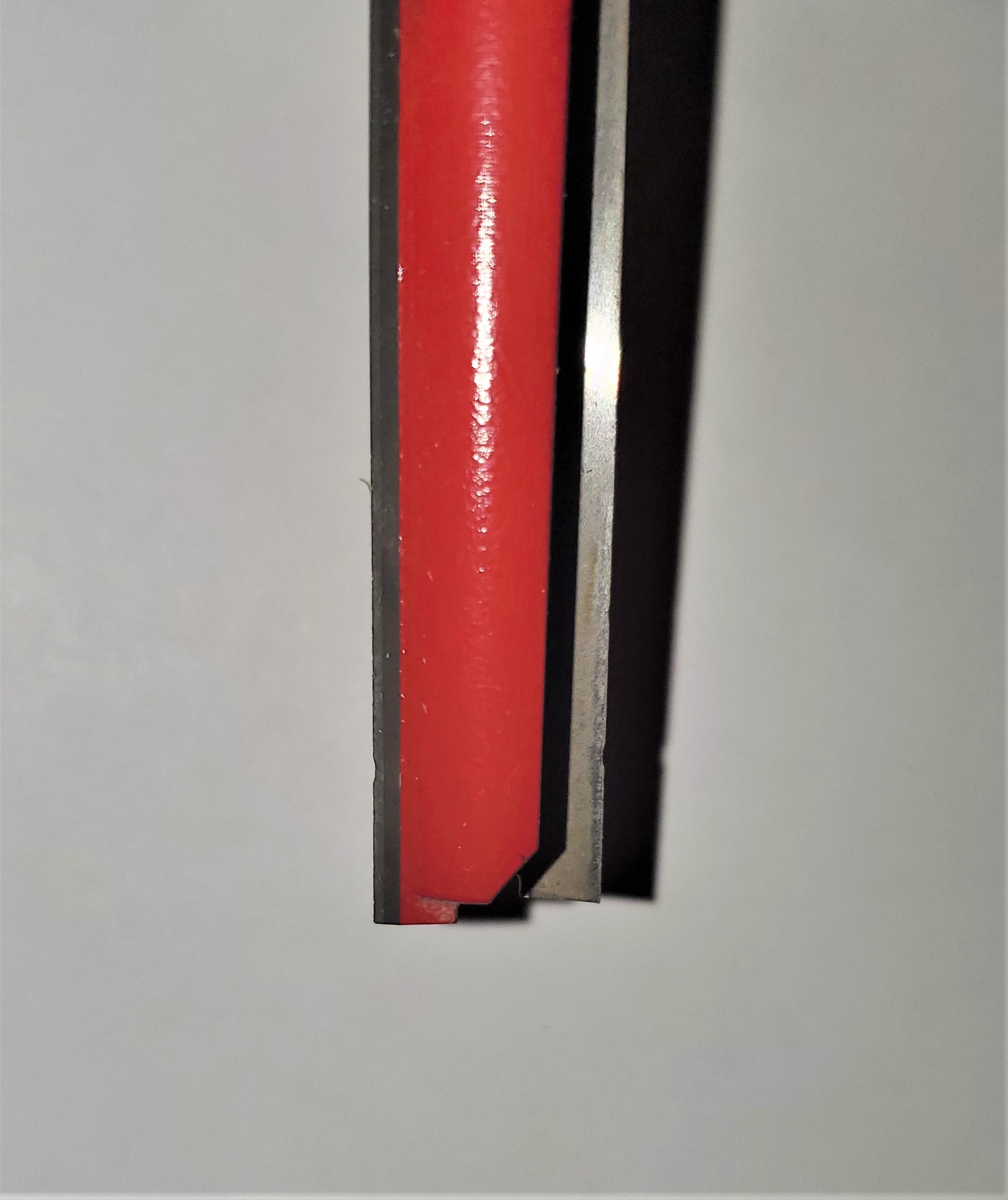 View higher quality, full size image (1949 X 2320)

---
5/17 #2: Need advice on bits ...

RPM?
Depth of cut?
Climb or conventional?
I ran several hundred sheets of 5/8 of this stuff last year with an FS Tool coated compression spiral with no issues. First a climb cut roughing pass .020 oversize and then a conventional finish pass. 16K RPM, 7500 or 800 IPM.
I've tried other coated bits but FS Tool works best for me.
---
5/17 #3: Need advice on bits ...

Here is a picture of all my bits feeds and speed and speeds.
On 3/8" bits, I do one pass plus onion skin. usually 0.015" (0.4mm) the onion skin.
1/4" bits on 2 pases and onion skin. But 3/8" are my go to.
I will definitely try that technique the 0.02" finish pass and slower RPM. I feel maybe lowering RPM to the 16K range might reduce wear and impact on bits.


View higher quality, full size image (1015 X 262)

---
5/19 #4: Need advice on bits ...

Definitely reduce your rpms. The Egger board has a very thick paper and melamine layer that seems abrasive like cutting laminate. Keep your chipload as large as you can without losing edge quality. Which either means higher feed speeds or lower rpm. Incidentally I have one diamond bit for slotting that cuts like the day I got it while I went through cemented carbide bits in minutes of cutting. Sometimes expensive bits work out to be cheap per foot.
---
5/19 #5: Need advice on bits ...

Is that straight 2 flute bit ground for plunge cutting? Most aren't.
---
5/20 #6: Need advice on bits ...

Ok that actually is a good idea. Higher end of chip load and lower rpms. I will try it out this week and post if it helps.
And for the pocket I did a very shallow angle ramp. 2 degrees. The straight bit seem to be able to handle that pocket path well. Apart from getting shattered hahaha. Nevertheless I don't think I'll be using more straight bits.
Thanks for the advice.

---
5/20 #7: Need advice on bits ...

We've tried a lot of different bits. So far the best has been the Onsurd Marathon coated 3/8". Typically about 22 sheets of 2 sided HPL. We tried Onsrud's latest coated bit, can't remember the name. It cost more and might have gotten one more sheet.
I've seen people claim 200 sheets. Our machine is in good condition with a fairly recent spindle overhaul.
Maybe if we had a bander with premill we could run the bits until they are totally trashed.
---
5/23 #8: Need advice on bits ...

Website: http://www.southeasttool.com
We are seeing great results with our MOAB Bits.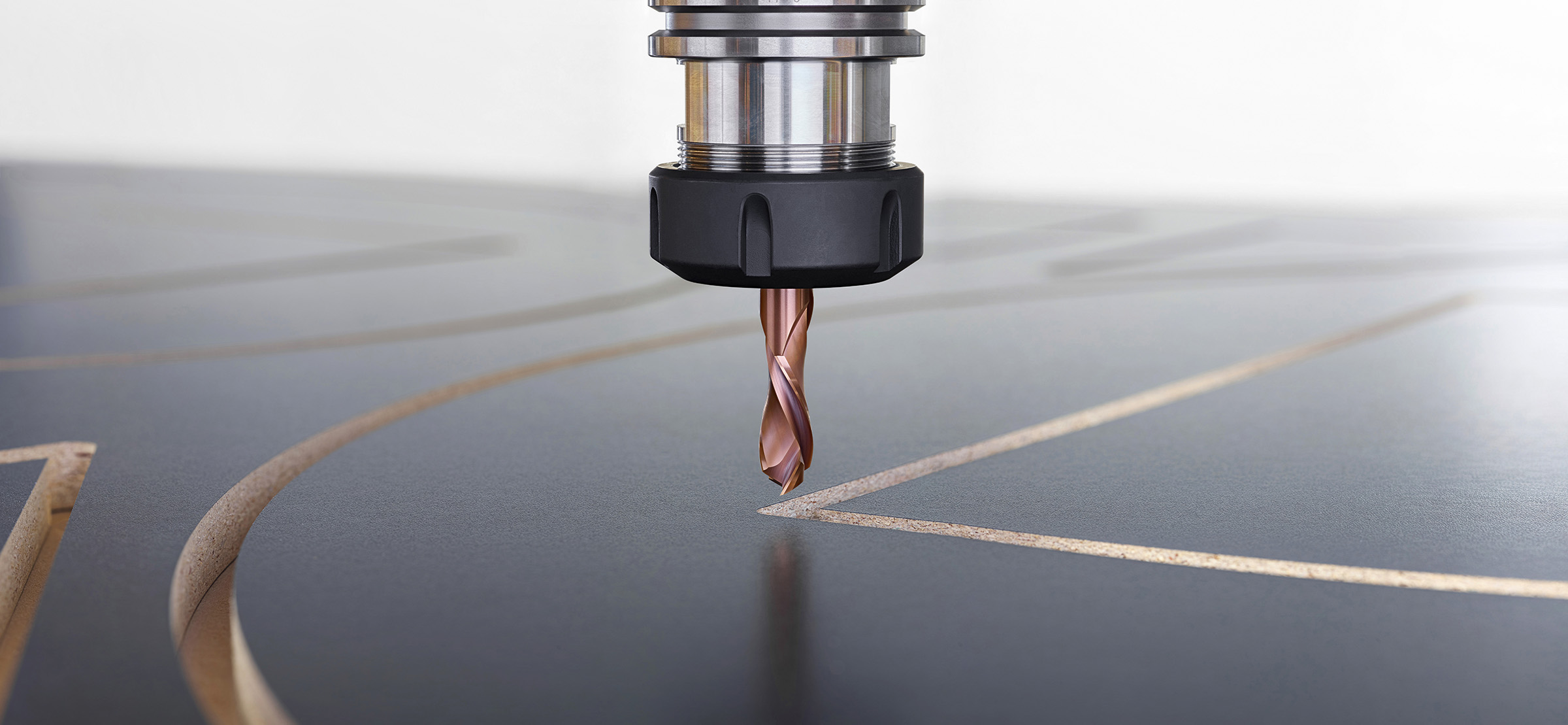 View higher quality, full size image (2400 X 1109)

---
6/7 #9: Need advice on bits ...

Good news,
I Followed your advice of lowering revs, increasing chip load. Itsa worked great.
Also, I'm using a roughing pass with a down cut Onsrud 57-300 bit that takes most of the punishment and leaves 0.03 on the sides and a onion skin to be cut by the compression bit Vortex 3130xp.
I ordered 3 flute bits now as myprodiction time got significantly slower. But with the faster speeds of 3 fluted bits I might brake even.
One question if anyone read this, whats the firence between low helix and regular helix. I ordered regular, but was wondering about any potential benefit. For example something like a Onsrud 60-038 Hogger.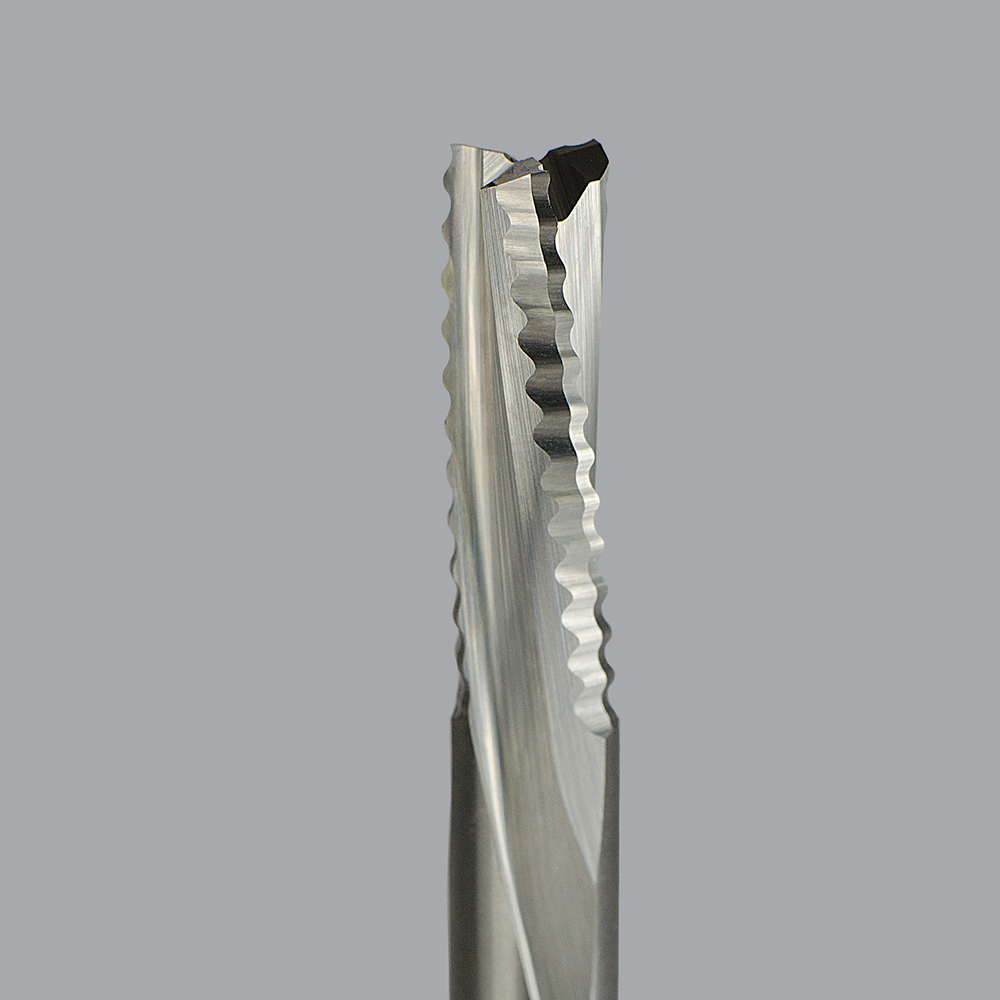 View higher quality, full size image (1000 X 1000)

---
6/7 #10: Need advice on bits ...

Website: http://www.southeasttool.com
Alex,
I cannot speak on the other companies bits, but on ours, the low helix or slow spiral is about half of the regular helix. This is great where HP maybe an issue or lifting of the part being cut is an issue. Hope this helps,
Safe routing,


View higher quality, full size image (3456 X 816)

---