You are not logged in. Consider these WOODWEB Member advantages:

A personal "member history" that displays your posts at WOODWEB
Your forms at WOODWEB will be filled in automatically
Create your personal "My Favorites" page
Numerous automatic notification options
Hand written punchlists
10/27
We are all familiar with using handwritten punchlists to finish up projects. These are the ones that start out neat & legible on ruled paper and end up looking like graffitti art with all kinds of random notes, measurements and tasks crossed off the list.
I am doing a video project in which I will be comparing this hand-written approach with a more formal database driven system. I am in need of some good examples of the hand written approach.
If anybody has one of those artful punchlists and would be willing to let me use it in my video could you please contact me via woodweb reply or perhaps post an image here?
I'm not interested in identifying anybody or any firm in this video. I just want use it as a demonstration that compares different methods of construction management.
Thanks in advance to anybody who can help me with this project.
---
10/28 #2: Hand written punchlists ...
Hey Tim
In the granite/quartz shop we use lists where the customer initials the seams, sink cut out, edge detail, the installers performance as courteous and professional, etc and they make notes at the bottom
in the cabinet shop they use an install check list for tools and job shipments the back sheets have tips for install and a lined sheet of paper that lists for that job room by room needed items to finish.
It has lessened the load tremendously as to the client actually walking the work and and them signing off and the cabinet guys getting together a comprehensive detailed list to complete the job
---
10/30 #3: Hand written punchlists ...
Website: http://www.atlantacloset.com/
Hi Tim,
I'm curious to see your video. Here's my latest punch list, which starts out as a list if things to bring to the jobsite (beside what we keep on the truck). I do find it to be an effective system as long as it's just me both making the list and making sure everything gets done. Once you get more than one person involved it's a whole different story.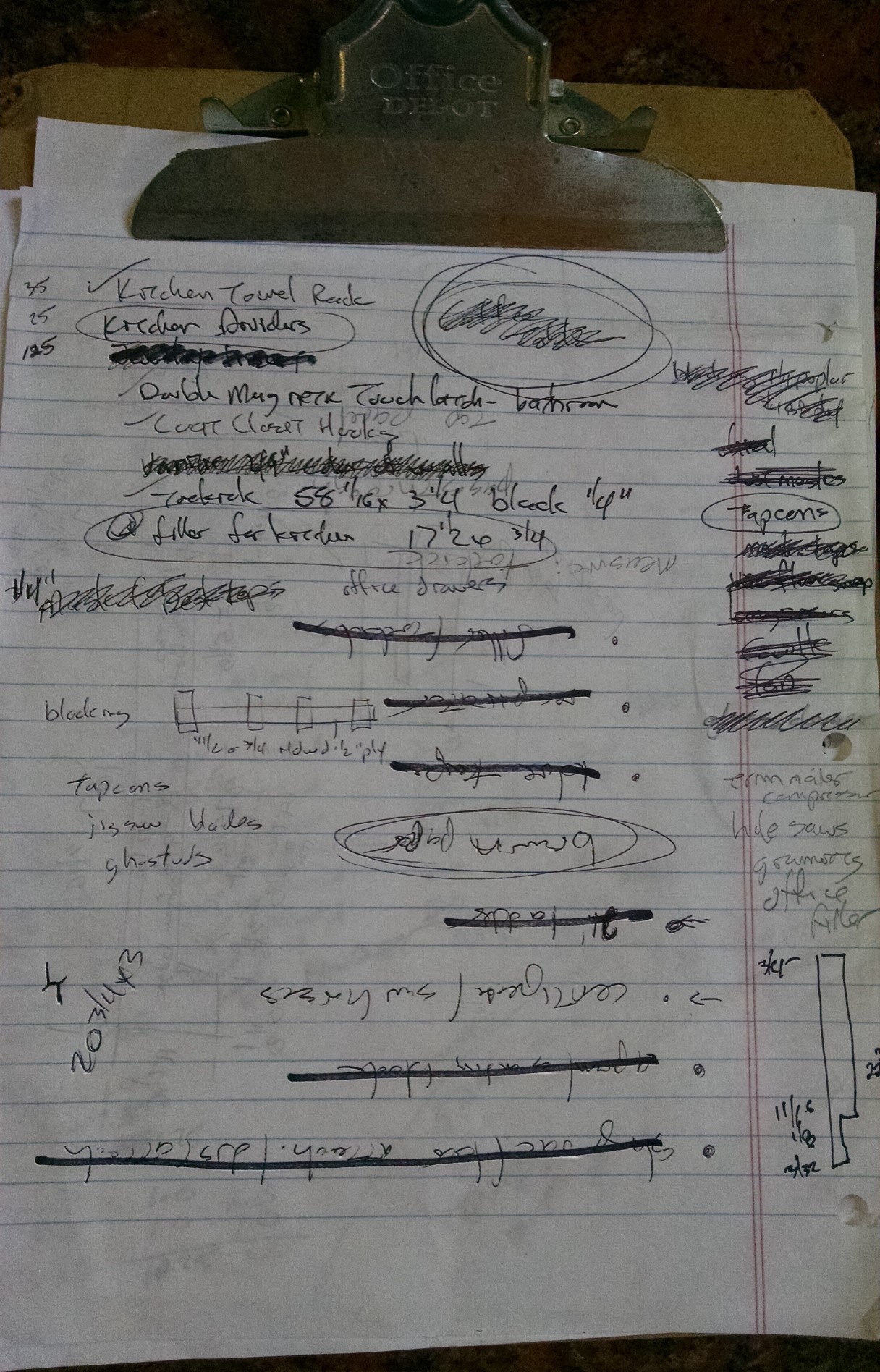 View higher quality, full size image (1216 X 1896)

---
10/30 #4: Hand written punchlists ...
Thanks guys. That's the kind of stuff I am looking for.
Cabinetmaker: I like your idea about having a list of the tools etc that need to be taken to the job site.
When we used to do install work we would carry along a tackle box that was designed to just hold screws. It had 24 compartments where you could put things like beauty rings, or shelf pins etc. This box would hold a couple of hinge mount plates and the fat screws that sometimes get loose and fall out. Just having the box in truck kept you from sometimes making a trip all the way back to the shop for 50¢ worth of hardware.
Our screwbox also had a list of hand tools and supplies taped to the cover of the box. This list was laminated and lived behind a piece of plexiglass that was pop-riveted to the lid of the toolbox.
The purpose of this lid was to serve as a visual reminder of things you might want to take along to the jobsite. It's one thing to keep this list in your head and quite another to write it down. If it's written down you can scan it to prompt you to remind the list in your head that you should include some painters tape or cabinet shims.
A written down list also allows someone else to participate. The install foreman can put a check by all the things he wants his helper to collect before you head to the install.
A check list like this can also remind you to make sure you collect all the tools you used before you head back to the shop. This will keep you from leaving a battery drill inside a cabinet.
We already have enough stimulation competing for the limited RAM in our heads. Writing stuff down just frees your brain up to think about strategy rather than logistics.
---
10/30 #5: Hand written punchlists ...
David,
I remember those lists well. After a while they kind of start to look like a Rorschach test, don't they?
Somewhere on one of my hard drives is a picture of a handwritten punch list like that. One of my 50 year old journeymen kept it taped to front of iMac screen so he could find it.
The funny thing was this guy had 25 years of experience but complained long and loud about how he wasn't making enough money. He could use the web at ease to check a sports score or check his email but somehow couldn't make a simple list in Microsoft Excel or GoogleDocs. My hunch was this had something to do with attitude rather than aptitude.

---
10/30 #6: Hand written punchlists ...
I gave up on trying to stimulate the guys on tools they might need for casework, corian or granite installs and just printed out lists and now the office packs it in with the job binder forget to fill it out or use it and it goes in your personal file. No excuses
All trucks are emptied, tools and supplies come out another cleans them and the installer repack their tools and red tag for repairs or damaged equipment
As for pinch lists it is reninded in writing all punch list items are to written in cutlist and shop delegation style to facilitate the list getting cut or filled properly to close out the job as soon as possible
---
10/30 #7: Hand written punchlists ...
Out of curiosity, are travelers against some Lean precept?
---
10/30 #8: Hand written punchlists ...
what is a "traveler"?
---
10/30 #9: Hand written punchlists ...
A checklist that travels with the job or travels to the desk of the person who's job it is to perform the function next on the list.
---
10/30 #10: Hand written punchlists ...
Travelers - they are great if you have the software like we do but not everyone has it or, they refuse to discipline themselves to generate them
---
10/30 #11: Hand written punchlists ...
Technically David has software.
It's just very soft software.
---
10/30 #12: Hand written punchlists ...
Something that is either rarely mentioned or rarely seen by me, is the importance of policy.
A traveler is a good way to ensure that policy gets followed.
---
10/31 #13: Hand written punchlists ...
Probably a great place to use the cloud. Google docs and google drive to share, and allow specific persons to make changes, along with revision control.
---
10/31 #14: Hand written punchlists ...
Website: http://atlantacloset.com
Allow me to clarify. That tool list/punch list was for a custom project that I personally handled. It's definitely the old way of doing it. For our closet installs I made a checklist in Word that gets printed out and attached to every job clipboard. Most of the stuff on the checklist is kept on the truck anyway but the checklist alerts them to make sure in case something was removed, which happens for various reasons. It has been made painfully clear to them that if they call in from the field because they are missing something on that list, it's on them. First time verbal warning, second time written, third time goodbye. They have another list they check off at the end of the job, then sign, certifying that everything was completed. There is also a (small) space on the job traveler for them to write any missing or punch list items. That gets turned back into the office so we can make sure they get taken care of.
About 15 years ago I got tired of scouring the shop for installation tools, filling up milk crates etc. to ready the truck for an installation. I bought duplicates of everything and outfitted the truck with everything I needed for my typical installs, including a duplicate personal toolbox. That alone saved hours each month.
---
11/3 #15: Hand written punchlists ...
anyone care to post an example of what their traveler looks like? Ive been wanting to upgrade our check system for some time now
---
11/3 #16: Hand written punchlists ...
The software for all handwritten lists can be found here below
---
11/5 #17: Hand written punchlists ...
Tim,
We use Microsoft One Note (a free app) for all paperwork traveling through the shop. One Note is synced between all office computers, my computer at home, my tablet and tablets at work stations in the shop and the installers phone.
From the start each job gets a notebook in one note and each notebook has sections (tabs) for each room in the job. Every room section gets some standard pages, Room Notes, Room Job Info, Room Cut Lists, Room Line Drawings, Room Punch List and Room Photos. Anyone can add more pages if needed.
At the initial meeting with clients, Notes are entered on specific pages and One note allows us to imbed or link to documents (appliance specs, design idea photos etc.) As the project continues cut lists and all line drawings are added so all information is available to everyone on the network from anywhere.
Punch lists are handled the same way. They are usually created by the Installers onsite with pictures from their phones as they find issues and then completed with the finial walkthrough with the customer.
This list is a bulleted list with checkboxes to show when this issue is corrected. One Note allows you to highlight, circle or underline specific items to bring attention to them.
The goal is no more sticky notes and piles of scrap paper.
---
11/6 #18: Hand written punchlists ...
I am amazed that this is even a topic. For all you guys who endlessly prattle on about lean, it seems you are trying to needlessly digitize, and add unnecessary levels of bureaucracy, to an otherwise efficient manual process.
Perhaps you can use Alan's software to create a legible project punchlist during a walkthrough, have the customer sign it as complete, have someone correct those project issues, have the customer approve the corrections, get your money and move on. Make someone responsible for this process from start to finish, and you will have eliminated the major stumbling block in punchlist problems.
For someone whose penmanship has been compared to a doctor's prescription, I can nonetheless generate a legible list that others can read. Perhaps your employees can be persuaded to do likewise.
Seriously, people.
---
11/6 #19: Hand written punchlists ...
OTOH I read somewhere that Google Calendar has had a lot of impact on people.
Blaine's suggestion is a very good one. The utility of the cloud is fantastic. As illustrated by Kerry.
---
11/6 #20: Hand written punchlists ...
A few more thoughts.
Paper notes get left at the shop, hotel, or the truck, washed, eaten by the dog, you get the idea.
Folks often take pictures of notes with smartphones, not a bad start to lessen or eliminate the effects of the above.
The same physical note can't be in 2 places at once, and if it's just a picture of a note on the cloud, that you have scribbled on physically or digitally, you can archive it and learn from it, have revision control, and hopefully, have less items to cover on your next note or traveler with the same type of job.
This allows a note to easily used for process improvement, instead of having the same items listed over and over on different notes, maybe even have less to note, or eventually no note at all.
I like Kerry's post regarding One Note, makes sense to me.
This part is not Lean, you've been warned...;) But it can help with construction management.
A digital solution can allow you to be discrete. Sometimes simple embarrassing items need attention that you may not want to broadcast are identified by a note. Tools left in cabinets, Red Bull cans, notes left in cabinets :), things like that. It's usually more difficult for a customer to see a device screen than a piece of paper, not a bad thing to keep in mind.
Something cloud based allows pictures to be taken of the job site before, during, and after installation to be archived for training, things like field conditions, evidence of work delivered, in progress, completed, damaged or stolen, or not damaged or stolen. You get the idea. It can be tough out there, documenting what happens in the field can save a lot of headache, heartache, and money.
Being able to bring up a recent relevant picture has shut down many accusations regarding work done with project managers.
---
11/6 #21: Hand written punchlists ...
It also allows easy transfer of large files in pictures.
Or you can record the project manager "promising" that change order.
You can record meetings via FaceTime or Skype.
---
11/6 #22: Hand written punchlists ...
Yes Pat after reading Kerry's post I looked into what google apps had to offer because this is what I have started using over the last few months, and I found a very similar note/check list feature in the "google sheets" app which allows you to check off and or cross out items on the list. All automatically saved in google drive. I think Im going to start working on using this feature right away.
Allan and Tony, yes the almighty pencil and piece of paper is most lean and more simple, my shop has used this method for 25 years. But putting you notes into "the cloud" makes the information accessible to everyone involved immediately no matter where they are. Even if you forget your tablet or phone you could borrow someone's and still be in the game. If you forget or loose that piece of paper you're SOL. For the last two years I have been using the measures app on my phone to take job site pics with dimensions added to them, then emailing them back to my dad in the office. This has been an awesome way to put him on site with me and get his input/feedback. Several times he has been able to bring things to my attention things I would have forgotten. I really see a lot of potential in adding a cloud based check list/"traveler" to our jobs. I would be interested to see how some of you have yours laid out/organized.
---
11/6 #23: Hand written punchlists ...
I was just trying to had some humor with the picture.
Our punch lists come from the GC or ARCH. 90% of them are sorted by trade, room, wall and have an index as a PDF file. The rest are typed lists with pictures.
So we may get a 160 page punch list and have 4 items on it.
For the truck the shop foreman adds a list to the delivery and the PM also make them aware of items they need depending on whether we are installing or which sub is installing.
---
---
Buy & Sell Exchanges | Forums | Galleries | Other Resources | Site Map
---



Buy and Sell Exchanges



Job Opportunities and Services Exchange
Employment opportunities and services within the woodworking industry

Lumber Exchange
A worldwide buy/sell exchange for lumber and wood products

Machinery Exchange
A worldwide buyer and seller exchange for woodworking machinery and equipment.

Classified Ad Exchange
Classified advertising for the woodworking industry (for advertisements that do not include machinery, lumber products and employment listings)


---



Forums



Adhesives Forum
Discussing topics related to adhesives within the woodworking industry

Architectural Woodworking Forum
Discussing quality standards and production of architectural wood products

Business and Management Forum
A forum for the discussion of business topics: from sales and marketing to dealing with difficult customers.

Cabinet and Millwork Installation Forum
Discussing all aspects of installation issues encountered by cabinet and millwork installers.

Cabinetmaking Forum
Discussing 32mm and face frame cabinet construction including fabrication, casegoods design, and installation.

CAD Forum
Shedding light on the all-too-often shadowy world of CAD.

CNC Forum
Discussing CNC (computer numerically controlled) woodworking equipment, software, and automated product manufacturing.

Dust Collection, Safety and Plant Operation Forum
Discussing topics related to maintaining a safe and productive working environment.

Professional Finishing Forum
Finishing issues for the production environment

Forestry Forum
The science and art of forest cultivation and timber management, planting, surveying, tree diseases, silviculture and timber harvesting

Professional Furniture Making Forum
Helping professional furniture makers improve quality, save time, and increase profits

Laminating and Solid Surfacing Forum
Issues related to laminating and solid surface materials and processes

Commercial Kiln Drying Forum
Discussions covering issues faced be commercial drying operations that process at least 750,000 bd. ft. of lumber per year

Sawing and Drying Forum
Discussing topics related to primary processing and drying of lumber

Solid Wood Machining Forum
Discussing topics related to the machining of solid wood

Value Added Wood Products Forum
Learn how to improve your output, find new markets, and boost sales of your lumber products

Veneer Forum
Discussing topics related to veneer processing, manufacturing, and fabrication

WOODnetWORK
An electronic discussion group for woodworkers throughout the world


---



Galleries



Project Gallery
Where professional woodworkers can post examples of their work

Sawmill Gallery
Professional primary processing companies display and describe their sawmill facilities

Shop Gallery
Professional woodworkers display and describe their shop facilities, products and equipment

Shopbuilt Equipment Gallery
Professional woodworker's jigs, rigs, and shopbuilt equipment


---



Other Resources



Industry News
Late-breaking news from all sectors of the wood industry

Video Library
Index of industrial woodworking related digital videos on the web

Auctions, Sales and Special Offers
Advertisers offering woodworkers discounted prices on good and services, and announcements of upcoming auctions


FORUM GUIDELINES: Please review the guidelines below before posting at WOODWEB's Interactive Message Boards
(return to top)
WOODWEB is a professional industrial woodworking site. Hobbyist and homeowner woodworking questions are inappropriate.
Messages should be kept reasonably short and on topic, relating to the focus of the forum. Responses should relate to the original question.
A valid email return address must be included with each message.
Advertising is inappropriate. The only exceptions are the Classified Ads Exchange, Machinery Exchange, Lumber Exchange, and Job Opportunities and Services Exchange. When posting listings in these areas, review the posting instructions carefully.
Subject lines may be edited for length and clarity.
"Cross posting" is not permitted. Choose the best forum for your question, and post your question at one forum only.
Messages requesting private responses will be removed - Forums are designed to provide information and assistance for all of our visitors. Private response requests are appropriate at WOODWEB's Exchanges and Job Opportunities and Services.
Messages that accuse businesses or individuals of alleged negative actions or behavior are inappropriate since WOODWEB is unable to verify or substantiate the claims.
Posts with the intent of soliciting answers to surveys are not appropriate. Contact WOODWEB for more information on initiating a survey.
Excessive forum participation by an individual upsets the balance of a healthy forum atmosphere. Individuals who excessively post responses containing marginal content will be considered repeat forum abusers.
Responses that initiate or support inappropriate and off-topic discussion of general politics detract from the professional woodworking focus of WOODWEB, and will be removed.
Participants are encouraged to use their real name when posting. Intentionally using another persons name is prohibited, and posts of this nature will be removed at WOODWEB's discretion.
Comments, questions, or criticisms regarding Forum policies should be directed to WOODWEB's Systems Administrator
(return to top).

Carefully review your message before clicking on the "Send Message" button - you will not be able to revise the message once it has been sent.

You will be notified of responses to the message(s) you posted via email. Be sure to enter your email address correctly.

WOODWEB's forums are a highly regarded resource for professional woodworkers. Messages and responses that are crafted in a professional and civil manner strengthen this resource. Messages that do not reflect a professional tone reduce the value of our forums.

Messages are inappropriate when their content: is deemed libelous in nature or is based on rumor, fails to meet basic standards of decorum, contains blatant advertising or inappropriate emphasis on self promotion (return to top).

Libel: Posts which defame an individual or organization, or employ a tone which can be viewed as malicious in nature. Words, pictures, or cartoons which expose a person or organization to public hatred, shame, disgrace, or ridicule, or induce an ill opinion of a person or organization, are libelous.

Improper Decorum: Posts which are profane, inciting, disrespectful or uncivil in tone, or maliciously worded. This also includes the venting of unsubstantiated opinions. Such messages do little to illuminate a given topic, and often have the opposite effect. Constructive criticism is acceptable (return to top).

Advertising: The purpose of WOODWEB Forums is to provide answers, not an advertising venue. Companies participating in a Forum discussion should provide specific answers to posted questions. WOODWEB suggests that businesses include an appropriately crafted signature in order to identify their company. A well meaning post that seems to be on-topic but contains a product reference may do your business more harm than good in the Forum environment. Forum users may perceive your references to specific products as unsolicited advertising (spam) and consciously avoid your web site or services. A well-crafted signature is an appropriate way to advertise your services that will not offend potential customers. Signatures should be limited to 4-6 lines, and may contain information that identifies the type of business you're in, your URL and email address (return to top).

Repeated Forum Abuse: Forum participants who repeatedly fail to follow WOODWEB's Forum Guidelines may encounter difficulty when attempting to post messages.

There are often situations when the original message asks for opinions: "What is the best widget for my type of shop?". To a certain extent, the person posting the message is responsible for including specific questions within the message. An open ended question (like the one above) invites responses that may read as sales pitches. WOODWEB suggests that companies responding to such a question provide detailed and substantive replies rather than responses that read as a one-sided product promotion. It has been WOODWEB's experience that substantive responses are held in higher regard by our readers (return to top).

The staff of WOODWEB assume no responsibility for the accuracy, content, or outcome of any posting transmitted at WOODWEB's Message Boards. Participants should undertake the use of machinery, materials and methods discussed at WOODWEB's Message Boards after considerate evaluation, and at their own risk. WOODWEB reserves the right to delete any messages it deems inappropriate. (return to top)



Forum Posting Form Guidelines

Your Name
The name you enter in this field will be the name that appears with your post or response (return to form).
Your Website
Personal or business website links must point to the author's website. Inappropriate links will be removed without notice, and at WOODWEB's sole discretion. WOODWEB reserves the right to delete any messages with links it deems inappropriate. (return to form)
E-Mail Address
Your e-mail address will not be publicly viewable. Forum participants will be able to contact you using a contact link (included with your post) that is substituted for your actual address. You must include a valid email address in this field. (return to form)
Subject
Subject may be edited for length and clarity. Subject lines should provide an indication of the content of your post. (return to form)
Thread Related Link and Image Guidelines
Thread Related Links posted at WOODWEB's Forums and Exchanges should point to locations that provide supporting information for the topic being discussed in the current message thread. The purpose of WOODWEB Forums is to provide answers, not to serve as an advertising venue. A Thread Related Link that directs visitors to an area with inappropriate content will be removed. WOODWEB reserves the right to delete any messages with links or images it deems inappropriate. (return to form)
Thread Related File Uploads
Thread Related Files posted at WOODWEB's Forums and Exchanges should provide supporting information for the topic being discussed in the current message thread. Video Files: acceptable video formats are: .MOV .AVI .WMV .MPEG .MPG .FLV .MP4 (Image Upload Tips) If you encounter any difficulty when uploading video files, E-mail WOODWEB for assistance. The purpose of WOODWEB Forums is to provide answers, not to serve as an advertising venue. A Thread Related File that contains inappropriate content will be removed, and uploaded files that are not directly related to the message thread will be removed. WOODWEB reserves the right to delete any messages with links, files, or images it deems inappropriate. (return to form)