You are not logged in. Consider these WOODWEB Member advantages:

A personal "member history" that displays your posts at WOODWEB
Your forms at WOODWEB will be filled in automatically
Create your personal "My Favorites" page
Numerous automatic notification options
5 axis for nesting
4/17
We are a busy commercial shop with a varied product line in search of a new CNC to replace our 15 year old 3 axis. ****PLEASE NOTE: I am not yet looking to hear from salesmen extolling the virtues of My Great Machine**** I will get to that stage in due time.
We cut a lot of sheet goods of varied type, casework parts, diewalls and panels mostly and this is the bulk of use on our router. We want a nesting machine, with pods for occasional fixturing, not a dedicated pod and rail.
We also have need of some 5 axis capability for cutting odd angles in sheet goods for reception desks, joinery in solid wood for furniture and odd carving projects. I have seen the "older" setup for a 5 axis head, where the spindle is attached to a yoke which in turn spins 360 degrees (potentially) making 5 axis motion possible. A more recent setup is an angled plate that separates the 4th and 5th axis, which looks to my eye more robust and versatile, allowing (I think) for true unlimited rotation with no unwinding.
There are a ton of other considerations and features to consider, drill banks, tool changers, aggregates, compensation and such, but for now my question is to those who actually use them: should we be looking at 2 separate heads, one 5 axis and one 3 axis on the same gantry, (like for example a Biesse Rover C FT and others), or is a well-engineered modern 5 axis head sufficiently robust (like for example a Holz-Her Dynestic 7535 and others) to use in a day to day nesting operation?
I get that there are differences in how well one machine vs another is actually constructed. All 5 axis heads are not equal. I am trying to think through a general principle here and want to get some independent feedback.
---
4/17 #2: 5 axis for nesting ...
How much nesting for you do? I have had similar thoughts. We nest a lot of sheets per day. My instinct says itís a compromise.
Iíll be interested to hear other peopleís thoughts.
---
4/19 #3: 5 axis for nesting ...
You listed these goals:
"We also have need of some 5 axis capability for cutting odd angles in sheet goods for reception desks, joinery in solid wood for furniture and odd carving projects."
Except for the last one, i wouldn't buy a 5 axis, i'd use angle aggregates or ...
Like, if you want to expand your business into new areas and are trying to get these to become more of your business, maybe.
But it sounds like you are just looking to do some of the small odder stuff faster/easier?
5 axis machines are much more complicated to maintain, harder to keep accurate/precise, definitely more expensive.
They are also much harder to program.
They are *also* really cool in what they can do.
I just have a lot of trouble reading your post and thinking "this person is going to make more money and improve their business if they buy a 5 axis"
---
4/19 #4: 5 axis for nesting ...
Danny and Bill,
These perspectives are what I am looking for. I definitely can see downsides to adding a 5th axis.
Yes, I am looking to do the odd stuff faster and easier, and also more accurately and reliably. There is a fair amount of odd stuff, perhaps more than the average shop, but it is of course swamped in volume by the mundane box work. For us, the initial cost of 5 axis capabilities is likely worth it, but I canít say that for sure until I really get into pricing machines and options. The complexity of programming is definitely a challenge but not one I am really worried about overcoming. Programming has costs too, and that needs thoughtful consideration.
My main concern at this point is whether I am compromising the robustness or reliability of the overall machine by relying on one 5 axis head to do all of the work, or whether running two heads on the same gantry is a better option. Not buying 5 axis at all is an issue that will wring itself out when the numbers get crunched. In the end that may well be the decision.
---
4/22 #5: 5 axis for nesting ...
Website: http://www.bhdavis.net
I think Danny pretty much nailed the response. The only thing I'd add is that unless 5-axis work equaled at least 25% of your work load.....if not even more..... I couldn't justify the negative factors Danny points out.
BH Davis
---
4/22 #6: 5 axis for nesting ...
We bought a 5 axis convertible table Biesse a few years ago (Rover A 1643 5 Axis ). We mostly run pod and rail but can add a flat table in 6 segments in about an hour, and run parts of the table on one side can do pod and rail on the other side.
The Bsolid program which was included made 5 axis simpler and saved the price of Alphacam which we would have needed at the time for the other 5 axis machines we were looking at.
We had the 5 axis trainer come to our shop after we had the machine for about 6 months or a year to train us on advanced programming for 5 axis. Its very useful when we need it. The 5 axis spindle is a 25hp spindle.
There are some limitations on aggregates because of the tooling geometry.
---
4/22 #7: 5 axis for nesting ...
I have to disagree with Danny about aggregates.
They are costly, buy three or four and you have paid for a 5 axis upgrade. They are light duty angle drive units, they have duty cycles, and they require rebuilding and maintenance that a 5 axis machine does not. They are fixed angles or if adjustable you have to manually change the angle the operator never gets this right every time the same. I would avoid aggregates anytime I could
---
4/22 #8: 5 axis for nesting ...
Look, I think it depends heavily what you are using it for.
I agree, if you start expanding the work you do, or are trying to, buying a 5 axis makes sense.
If you are just trying to handle random one off, probably would not do it.
In any case, Mark said he would run the numbers and let them dictate, so not gonna belabor it.
Reasonable people can disgree no matter what :)
Mark asked about robustness and reliability.
Both are double edged swords. The 5 axis systems are more complex systems of moving parts. But they are also fully integrated and planned to be that way.
So in the 3 axis + stuff case, the rotary or turret or whatever might break, and you still probably have a functional 3 axis machine.
Probably unlikely in the 5 axis - if it breaks, it's probably not functional in this way.
At the same time, the 5 axis is probably less likely to break - they sold you a 5 axis, and the manufacturer planned out the failure time/etc as a unit.
As long as your manufacturer does not suck (sometimes a big if), it should be more reliable than having done all the pieces separately ;)
So if i actually felt i needed 5 axis, i'd go that route rather than try to have two heads, etc.
IMHO It's just not worth trying to go halfway in something like this if you actually need it.
---
4/22 #9: 5 axis for nesting ...
Fair assessment Danny.
All the best.
---
4/22 #10: 5 axis for nesting ...
I am in the same type of situation. We are architectural millwork with heavy commercial cabinets mixed in. I have a 4 axis machine with a fixed 0-90į saw, drills, and 3 aggregates. Not much I haven't been able to make with that set up. The machine is long in the tooth so before the Corvid thing put us on hold I was ready to buy. I would love a 5 axis, but the more I considered it, the more I realized it wasn't worth the money or the downsides that come with a 5 axis, some of which were mentioned above. What I did settle on was a main spindle with C axis for aggregate work, a moulder/saw unit that can handle all of our corrugated knife stock for curved moulding plus mitre saw or kerfing blades. For the total outlay, this is the biggest bang for the buck with what we produce. I still wish I had a 5 axis for certain items, but most can be done with my current set up or my future one. The items that I want the 5 axis for are less than 1% of our total business. Good luck on your search, I know what you are going thru!
---
4/22 #11: 5 axis for nesting ...
What is the difference between a C axis and 5 axis?
---
4/23 #12: 5 axis for nesting ...
Website: http://www.bhdavis.net
A C-axis mounts to the bottom of the normal vertical spindle and then can be rotated like a record player turntable. Your aggregates then mount to the C-axis.
Typically from what I've read (I've never used one) the C-axis fixture is manual and locks in at different rotational positions. I suspect there could be motor driven C-axis devices out there as well though.
The aggregate that mounts to the C-axis is then adjustable in its own ways, an example being a horizontal bit for edge boring that can tilt up and down for upward or downward angle drilling off of horizontal.
The combination of the C-axis and the tilting aggregate head give the ability to machine or drill an any sideways angle anywhere around the 360į C-axis circle.
BH Davis
---
4/23 #13: 5 axis for nesting ...
Thanks for all of the responses, a lot of viewpoints to consider.
These are some C axis and some modern 5 axis setups. Like BH Davis points out, in woodworking C axis rotates on the bottom of a vertically mounted spindle. In metalworking it can have more varied orientations.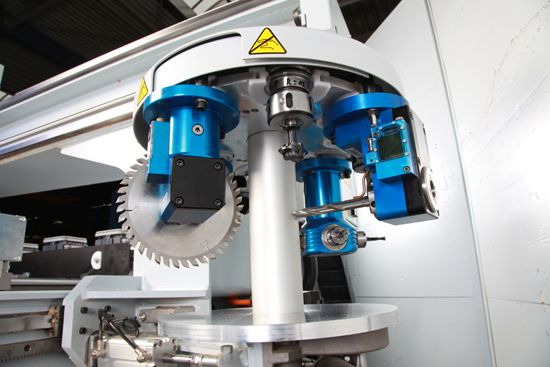 View higher quality, full size image (550 X 367)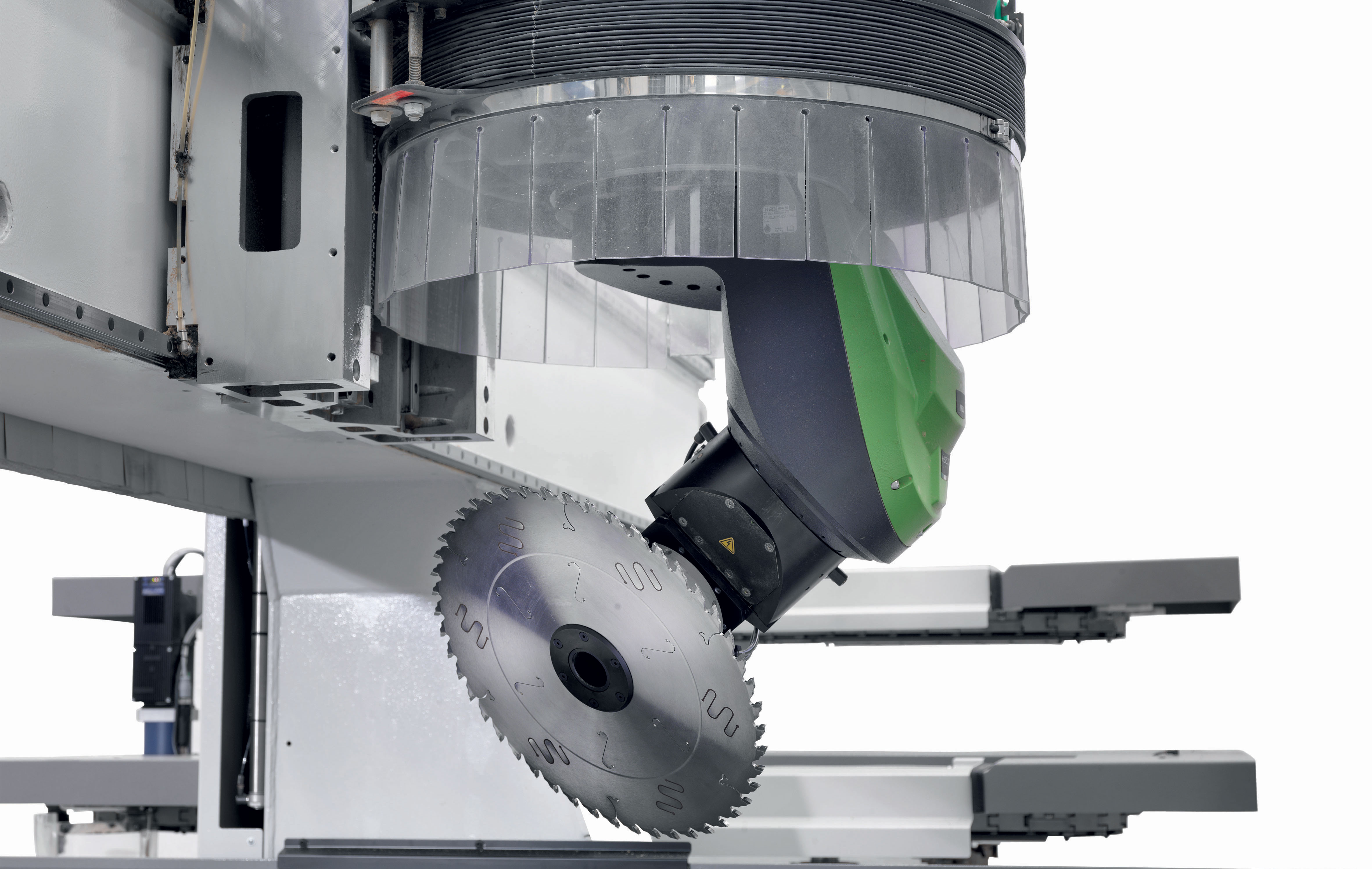 View higher quality, full size image (4724 X 2991)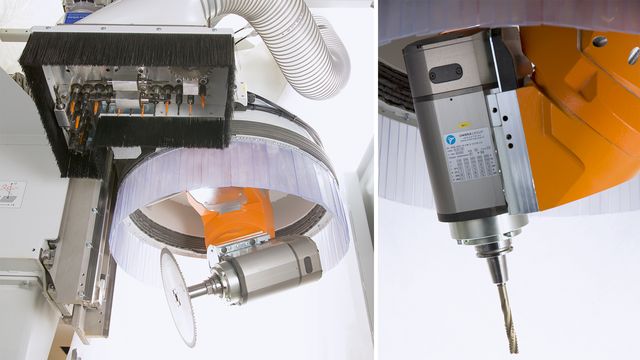 View higher quality, full size image (640 X 360)

---
4/23 #14: 5 axis for nesting ...
Thanks for the responses.
A local shop told me about their Biesse that had a C axis. He used it to make some house doors to bore for the lock set and rout for the butt hinges. He made it sound like the software that comes with the Biesse made it not too bad.
As Alan indicated, I wonder how easy this would be in Alpha Cam
---
4/23 #15: 5 axis for nesting ...
This comes from the perspective of a total neophyte running a 3 axis machine but if the 5 axis work is limited and somewhat random would it not be wise (given you have the space) to look into you 3-4/C axis machine and a second hand Kuka for the odd stuff? They seem to be able to be had relatively reasonably and programing is getting easier and easier.
Just a thought.
---
4/24 #16: 5 axis for nesting ...
Our 5 axis spindle rotates and changes angles while it is cutting, its also a magnetic connection so it can continuously spin in 360 degree rotations around the work-piece.
Some 5 axis machines the spindle is a cable connection so it has to move back and forth in 180 degree increments. On our old C axis machine we had to manually setup the offset of the tool from 0,0,0.
Our old C-axis machine rotated around the Z axis at some fixed angle relative to Z.
Our 5 axis machine can rotate around the x, y and z axis and move between them.
Because the spindle can do different rotations and tools we don't use / need the aggregates we used to use. Because our old machine use a proprietary connection to the aggregates a new machine would have required new aggregates.
My cost analysis was the cost of the machine, cost of additional 5 axis software, if required, and cost of aggregates.
In the end the total cost of ownership of the Rover was less than the other machines we looked at and we believed it to be the better machine. Most the machine dealers wanted to sell us what the thought was best.
Biesse really listened and spent a lot of time with us and quoted a machine that did what we wanted and needed.
For us standard cabinet parts are cut on a beam saw, then edge banded, then face drilled /machined on the Rover and edge drilled with dowel insertion on a Gannomat.
The Gannomat also does hinge and pull boring as well as any 90 degree pocket screw boring connections
---
4/27 #17: 5 axis for nesting ...
Again, thanks for all of the input.
Pat: Being an AlphaCam guy itís a breeze. Alphacam is very versatile in its parametrics this way. I am very familiar and comfortable with AlphaCam, but both the HolzHer Campus and Biesseworks suite of softwares have advantages as well (also others but just to stay with the two examples from before), it depends on your shop setup and needs. It's a complicated decision on which software to go to, I am a believer in keeping an open mind and staying willing to evolve, provided the benefits are clear.
Mark: Valid thought. We need to keep our current machine at least until the new one is not only functioning well but also until we are completely productive with it, say a year. The Kuka line you mentioned might not fit our production needs, but point taken.
Alan: This is really at the core of what I am questioning here. You have gone 5 axis, it seems without regrets, although you donít nest day to day. I have heard that others do nest with 5 axis, still researching and looking for real world feedback. Danny B, Bill and BH Davis have similar concerns as I do, but we are not using the machines day to day.
Frank, do you use 5 axis now, and what is your workflow like?
---
---
Buy & Sell Exchanges | Forums | Galleries | Other Resources | Site Map
---



Buy and Sell Exchanges



Job Opportunities and Services Exchange
Employment opportunities and services within the woodworking industry

Lumber Exchange
A worldwide buy/sell exchange for lumber and wood products

Machinery Exchange
A worldwide buyer and seller exchange for woodworking machinery and equipment.

Classified Ad Exchange
Classified advertising for the woodworking industry (for advertisements that do not include machinery, lumber products and employment listings)


---



Forums



Adhesives Forum
Discussing topics related to adhesives within the woodworking industry

Architectural Woodworking Forum
Discussing quality standards and production of architectural wood products

Business and Management Forum
A forum for the discussion of business topics: from sales and marketing to dealing with difficult customers.

Cabinet and Millwork Installation Forum
Discussing all aspects of installation issues encountered by cabinet and millwork installers.

Cabinetmaking Forum
Discussing 32mm and face frame cabinet construction including fabrication, casegoods design, and installation.

CAD Forum
Shedding light on the all-too-often shadowy world of CAD.

CNC Forum
Discussing CNC (computer numerically controlled) woodworking equipment, software, and automated product manufacturing.

Dust Collection, Safety and Plant Operation Forum
Discussing topics related to maintaining a safe and productive working environment.

Professional Finishing Forum
Finishing issues for the production environment

Forestry Forum
The science and art of forest cultivation and timber management, planting, surveying, tree diseases, silviculture and timber harvesting

Professional Furniture Making Forum
Helping professional furniture makers improve quality, save time, and increase profits

Laminating and Solid Surfacing Forum
Issues related to laminating and solid surface materials and processes

Commercial Kiln Drying Forum
Discussions covering issues faced be commercial drying operations that process at least 750,000 bd. ft. of lumber per year

Sawing and Drying Forum
Discussing topics related to primary processing and drying of lumber

Solid Wood Machining Forum
Discussing topics related to the machining of solid wood

Value Added Wood Products Forum
Learn how to improve your output, find new markets, and boost sales of your lumber products

Veneer Forum
Discussing topics related to veneer processing, manufacturing, and fabrication

WOODnetWORK
An electronic discussion group for woodworkers throughout the world


---



Galleries



Project Gallery
Where professional woodworkers can post examples of their work

Sawmill Gallery
Professional primary processing companies display and describe their sawmill facilities

Shop Gallery
Professional woodworkers display and describe their shop facilities, products and equipment

Shopbuilt Equipment Gallery
Professional woodworker's jigs, rigs, and shopbuilt equipment


---



Other Resources



Industry News
Late-breaking news from all sectors of the wood industry

Video Library
Index of industrial woodworking related digital videos on the web

Auctions, Sales and Special Offers
Advertisers offering woodworkers discounted prices on good and services, and announcements of upcoming auctions


FORUM GUIDELINES: Please review the guidelines below before posting at WOODWEB's Interactive Message Boards
(return to top)
WOODWEB is a professional industrial woodworking site. Hobbyist and homeowner woodworking questions are inappropriate.
Messages should be kept reasonably short and on topic, relating to the focus of the forum. Responses should relate to the original question.
A valid email return address must be included with each message.
Advertising is inappropriate. The only exceptions are the Classified Ads Exchange, Machinery Exchange, Lumber Exchange, and Job Opportunities and Services Exchange. When posting listings in these areas, review the posting instructions carefully.
Subject lines may be edited for length and clarity.
"Cross posting" is not permitted. Choose the best forum for your question, and post your question at one forum only.
Messages requesting private responses will be removed - Forums are designed to provide information and assistance for all of our visitors. Private response requests are appropriate at WOODWEB's Exchanges and Job Opportunities and Services.
Messages that accuse businesses or individuals of alleged negative actions or behavior are inappropriate since WOODWEB is unable to verify or substantiate the claims.
Posts with the intent of soliciting answers to surveys are not appropriate. Contact WOODWEB for more information on initiating a survey.
Excessive forum participation by an individual upsets the balance of a healthy forum atmosphere. Individuals who excessively post responses containing marginal content will be considered repeat forum abusers.
Responses that initiate or support inappropriate and off-topic discussion of general politics detract from the professional woodworking focus of WOODWEB, and will be removed.
Participants are encouraged to use their real name when posting. Intentionally using another persons name is prohibited, and posts of this nature will be removed at WOODWEB's discretion.
Comments, questions, or criticisms regarding Forum policies should be directed to WOODWEB's Systems Administrator
(return to top).

Carefully review your message before clicking on the "Send Message" button - you will not be able to revise the message once it has been sent.

You will be notified of responses to the message(s) you posted via email. Be sure to enter your email address correctly.

WOODWEB's forums are a highly regarded resource for professional woodworkers. Messages and responses that are crafted in a professional and civil manner strengthen this resource. Messages that do not reflect a professional tone reduce the value of our forums.

Messages are inappropriate when their content: is deemed libelous in nature or is based on rumor, fails to meet basic standards of decorum, contains blatant advertising or inappropriate emphasis on self promotion (return to top).

Libel: Posts which defame an individual or organization, or employ a tone which can be viewed as malicious in nature. Words, pictures, or cartoons which expose a person or organization to public hatred, shame, disgrace, or ridicule, or induce an ill opinion of a person or organization, are libelous.

Improper Decorum: Posts which are profane, inciting, disrespectful or uncivil in tone, or maliciously worded. This also includes the venting of unsubstantiated opinions. Such messages do little to illuminate a given topic, and often have the opposite effect. Constructive criticism is acceptable (return to top).

Advertising: The purpose of WOODWEB Forums is to provide answers, not an advertising venue. Companies participating in a Forum discussion should provide specific answers to posted questions. WOODWEB suggests that businesses include an appropriately crafted signature in order to identify their company. A well meaning post that seems to be on-topic but contains a product reference may do your business more harm than good in the Forum environment. Forum users may perceive your references to specific products as unsolicited advertising (spam) and consciously avoid your web site or services. A well-crafted signature is an appropriate way to advertise your services that will not offend potential customers. Signatures should be limited to 4-6 lines, and may contain information that identifies the type of business you're in, your URL and email address (return to top).

Repeated Forum Abuse: Forum participants who repeatedly fail to follow WOODWEB's Forum Guidelines may encounter difficulty when attempting to post messages.

There are often situations when the original message asks for opinions: "What is the best widget for my type of shop?". To a certain extent, the person posting the message is responsible for including specific questions within the message. An open ended question (like the one above) invites responses that may read as sales pitches. WOODWEB suggests that companies responding to such a question provide detailed and substantive replies rather than responses that read as a one-sided product promotion. It has been WOODWEB's experience that substantive responses are held in higher regard by our readers (return to top).

The staff of WOODWEB assume no responsibility for the accuracy, content, or outcome of any posting transmitted at WOODWEB's Message Boards. Participants should undertake the use of machinery, materials and methods discussed at WOODWEB's Message Boards after considerate evaluation, and at their own risk. WOODWEB reserves the right to delete any messages it deems inappropriate. (return to top)



Forum Posting Form Guidelines

Your Name
The name you enter in this field will be the name that appears with your post or response (return to form).
Your Website
Personal or business website links must point to the author's website. Inappropriate links will be removed without notice, and at WOODWEB's sole discretion. WOODWEB reserves the right to delete any messages with links it deems inappropriate. (return to form)
E-Mail Address
Your e-mail address will not be publicly viewable. Forum participants will be able to contact you using a contact link (included with your post) that is substituted for your actual address. You must include a valid email address in this field. (return to form)
Subject
Subject may be edited for length and clarity. Subject lines should provide an indication of the content of your post. (return to form)
Thread Related Link and Image Guidelines
Thread Related Links posted at WOODWEB's Forums and Exchanges should point to locations that provide supporting information for the topic being discussed in the current message thread. The purpose of WOODWEB Forums is to provide answers, not to serve as an advertising venue. A Thread Related Link that directs visitors to an area with inappropriate content will be removed. WOODWEB reserves the right to delete any messages with links or images it deems inappropriate. (return to form)
Thread Related File Uploads
Thread Related Files posted at WOODWEB's Forums and Exchanges should provide supporting information for the topic being discussed in the current message thread. Video Files: acceptable video formats are: .MOV .AVI .WMV .MPEG .MPG .FLV .MP4 (Image Upload Tips) If you encounter any difficulty when uploading video files, E-mail WOODWEB for assistance. The purpose of WOODWEB Forums is to provide answers, not to serve as an advertising venue. A Thread Related File that contains inappropriate content will be removed, and uploaded files that are not directly related to the message thread will be removed. WOODWEB reserves the right to delete any messages with links, files, or images it deems inappropriate. (return to form)