You are not logged in. Consider these WOODWEB Member advantages:

A personal "member history" that displays your posts at WOODWEB
Your forms at WOODWEB will be filled in automatically
Create your personal "My Favorites" page
Numerous automatic notification options
Tinting Sherwood Sealer T67F3
3/25
I am working out a finishing schedule for a set of medium brown\golden colored cabinets in maple, and want to include a tinting toner coat or two.
Schedule:
-Sand bare wood to 150 grit
-3 mist coats sherwood dye stain concentrate in denatured alcohol to account for 70% of final color
-1 coat T67F3 reduced 200% wash coat
-Light scuff maroon scotchbrite
-BAC wipe stain to account for 10% of color
- 1 coat T67F3 reduced 10% sealer
-2 mist coats T67F3 reduced 200%, tinted with above mentioned dye concentrate colors, as a toner
-No sanding or scuffing, but make sure to start next coat of CV within (2?) hours
-1 coat Sherwood CV reduced 10%
-Scuff\sand 320 grit
-1 coat CV
I am reading in the Sherwin Williams "paint docs" for T67F3 that it can be tinted with Chroma Chem colorants, but no mention of using their dye stain concentrate.
The dye stain concentrate "paint docs" say that it can be used as a tinting dye toner, but no mention of what to mix it with.
Is this just SW wanting to sell more gallons by having "custom toners" blended in 1 gallon units, rather than the finisher adding a bit of dye to 32 ounces or whatever is needed?
Also, is the no-scuff after toner a problem with a 2 hr re-coat window?
---
3/25 #2: Tinting Sherwood Sealer T67F3 ...
FYI... your adding a lot of steps but if that is your comfort zone then go with it.
We use Sherwin finish schedules. with T67F7 Vinyl and V84F90037 40 gloss as our standard. you can absolutely add their S61 dye colors to sealer with no problems.... but toning that way scares the bejeesus out of me with streaking/overlap issues.
Why not lay down a dye stain thinned way out ( So you can lay it down wet to prevent that mottled look) and make multiple passes up to 80% color.... Do your wash coat ... take your wipe stain and reduce it with naptha and spray it multiple passes to bring it the rest of the way in... Do a step sample and count the number of wet passes to achieve the step colors...... You could esentialy do that sequence very fast without even having to move the parts out of the booth... almost wet on wet till you lock it all in with the full sealer coat.... then full dry and sand/topcoat
---
3/25 #3: Tinting Sherwood Sealer T67F3 ...
As I am new to building deep colors with multiple steps, I am trying to cover all my bases.. that said, your process sounds way faster for the 33 doors, drawers, multiple end panels, and face frames I will need to finish. When you spray the BAC stain, do you wipe off? If not, do you ever have any problems with adhesion?
---
3/25 #4: Tinting Sherwood Sealer T67F3 ...
get away from the BAC. its BAD.. Ask about their D59 series of stain. Thats solvent reducible and much better chemistry.
Also, you dont have to put a wash coat before the wiping stain for deep colors. You can just spray the dye then wipe stain. Personally i never put wiping stains over sealer (delamination risk). I would just spray the dye, then the d59 and seal that in.

---
3/25 #5: Tinting Sherwood Sealer T67F3 ...
What (in practice) do you like more about the stain you mentioned vs the BAC? My rep just gave me the BAC without telling me about anything else.
The actual brochure for the BAC and Dye concentrates shows a schedule with a wash coat under the BAC..
---
3/27 #6: Tinting Sherwood Sealer T67F3 ...
BAC (Blend-a-color) is very bland pigment. It looks muddy, and never really penetrates (just floats on top of the wood).
It lacks resins and binders that are critical to stain performance. Its nice to have if you want to tint some house paint, but as far as for wood coatings, it would be my last choice right before minwax.
The D59 SB stains are much better performing. The depth and clarity you can achieve with them paired with the S61 dyes is MUCH better than anything involving BAC.
Skip the wash coat my friend. Its an added step that adds no value in my opinion. If anything its making your finish schedule more susceptible to failures due to adhesion (ESPECIALLY having that bland pigment floating around on top of sealed wood)
Sounds like the guys that mix a little bit of wiping stain in with some acetone and spray it over sealed doors to "tone them". Then they "lock it in" with a topcoat.
Bad practice!! They look great -- until you put some tape on them and the finish pulls off up until that sealer that doesnt have crap floating under it.
---
3/27 #7: Tinting Sherwood Sealer T67F3 ...
Ditto about BAC stains. Extremely MUDDY.
Perfect for cheap builders using Poplar as a 'stain grade' wood in new housing.
---
3/27 #8: Tinting Sherwood Sealer T67F3 ...
Exactly.... We have the full line of D59 Tints with a 3 row fillon dispensing machine and gram scale setup to do all our mixes and use the Sherwin Aurora program to store our formulations. Much better to work with that the BAC colors...
---
3/27 #9: Tinting Sherwood Sealer T67F3 ...
Wow. Well, being that I am in the sample stage of this project, I can change it up.
I was using the wash coat to avoid blotching. I have not sone large enough samples to see if it was even needed yet. I will try skipping it.
I was surprised to see very little change with the BAC over dye. The toner at the end really did the last bit of color change.
Is D 59 sold in quarts?
---
3/27 #10: Tinting Sherwood Sealer T67F3 ...
Here is a photo of the first sample I played with. It is the schedule above, with different toners dramatically changing the look of the wood.
My question to those with experience:
Do I even want a wiping stain at all with this color over white hard maple? Would dye and toner be fine?
I had assumed that the wipe stain was to make it deeper looking..
---
3/27 #11: Tinting Sherwood Sealer T67F3 ...
Here is the photo of the sample board along with the casing they gave me to match for the cabinet color..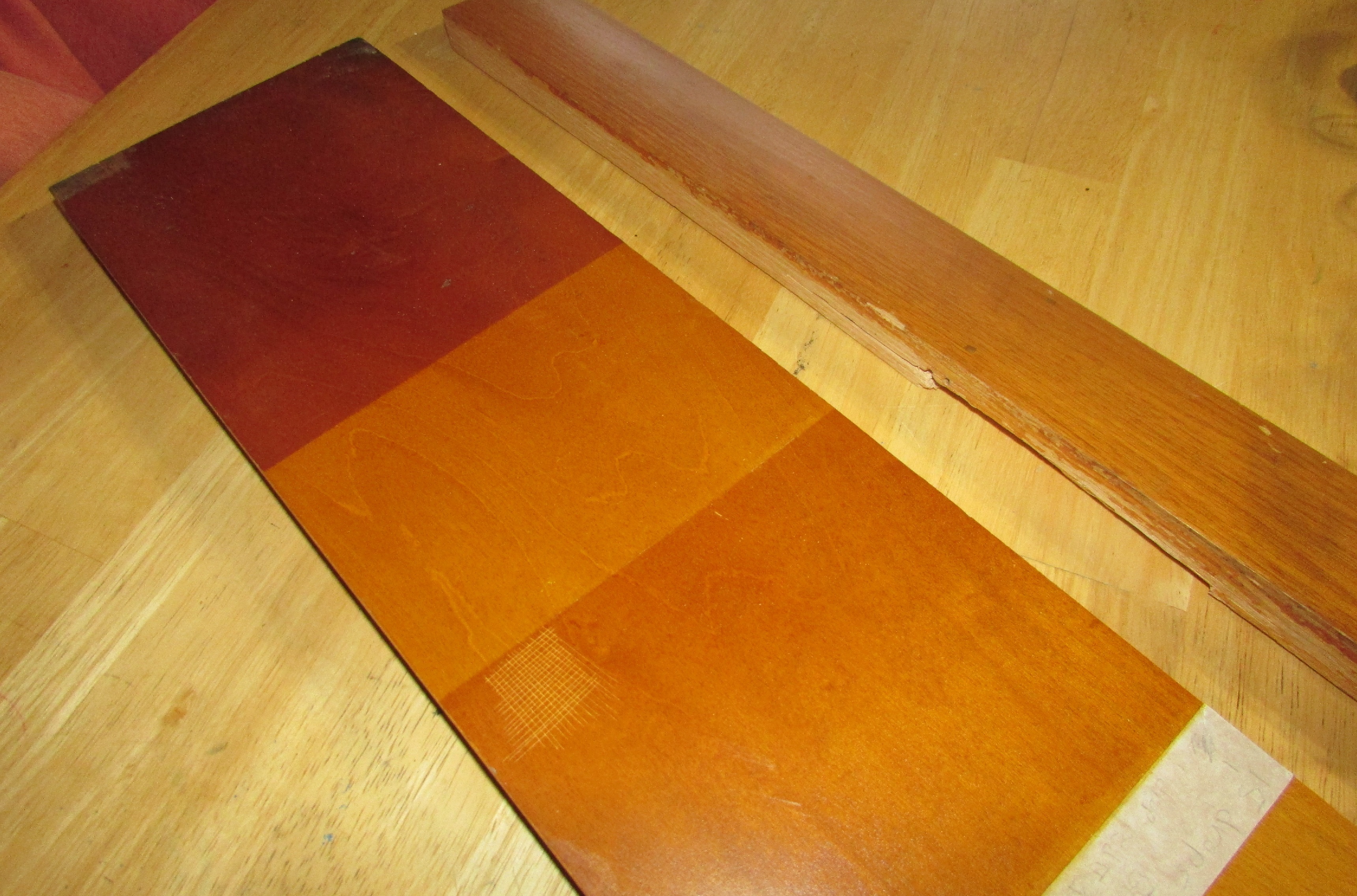 View higher quality, full size image (3440 X 2272)

---
3/27 #12: Tinting Sherwood Sealer T67F3 ...
l agree with BAC assessment; muddy with no binder pretty much sums it up. That said l use it a lot as the nearest SW wood finishes store to me is 300 miles away and my local SW paint store only carries the BAC. It' not all bad and l do get satisfactory results with it; l like the 1 hour recoat time, and muddy can also translate to less blotching even without a wash coat on maple/cherry/alder (especially if you use Shane's method).
l do like to use a wash coat over the dye concentrate if l'm wiping the stain as not only will control any blotching but it will 'set' your dye so it won't reactivate and get picked-up in your wiping rag.
---
3/28 #13: Tinting Sherwood Sealer T67F3 ...
Now seeing where you headed as far as color saturation I would see no need for a wipe or spray/no wipe combo. That color could be easily brought up to full saturation with simply laying down the color with diluted dye stain in one sitting on the spray horse....Looks pretty standard and you could get 95% there with one gun and pull in the rest of the color to the sample with a gun or two with some basic colors to pull it to the sample... Judging from my monitor it looks very much like what mohawks perect brown would be... Take 4 oz. and add 28 oz. acetone and build the color up with multiple passes... Then make up the same strength formula of Mohawk raw umber... and another with Mohawk burnt umber and add to taste to pull the sample in the rest of the way.... lock it in with sealer.. scuff & one pass of topcoat... check your control sample wetted down to check color.. adjust as necessary and lock it down with topcoat... You should be able to get there no problems with a 2-3 coat sytem and only twice in the booth
---
3/28 #14: Tinting Sherwood Sealer T67F3 ...
Shane, that is exactly what I would like to hear.
I was starting to suspect that, but with so little experience in the clear finishes, needed to hear it from someone else.
So to put it simply, diluted dye stain that requires 3 passes to achieve 90% color, then vinyl sealer with some tint that in two passes will do the last 10%?
Should I bother sealing over the dye clear first, or just hit the raw dyed wood with toner right away?
---
3/28 #15: Tinting Sherwood Sealer T67F3 ...
Wait, after re-reading your last post, Shane, I have a question:
Are you meaning I want to use two different dye colors?? First a gold, then a brown??
From my playing around, I see that it gets close by dying the wood yellow (a dye made of SW yellow and brown concentrates), then with the same yellow\brown dye (plus a single drop of red and a single drop of blue; to mute the bright yellow) in a toner..
I never thought of spraying first one dye color, then another..
By the way, thank you for your input.
---
3/28 #16: Tinting Sherwood Sealer T67F3 ...
A word of caution: Practice (alot) when using just a dye stain to achieve color.
Make sure you understand the fine nuances of spraying dye.
It is not easy to achieve uniform results; say 30 door fronts, 40 drawers, fillers, etc.
---
3/28 #17: Tinting Sherwood Sealer T67F3 ...
I like the adhesion test youve done there on the bottom of your sample! Checking your system is always a great idea!
Me personally, i would make that color in a spray on stain formulated with dye and p63.
The p63 is sherwin williams' vinyl basecoat system. When paired with s61 dye, it gives you the "body" you need to simulate a stain. Or in other words, it "muddies" the dye up. Also it ads a bit of sealer as a binder. This allows you to achieve what your aiming for in a single step. You just spray on the stain, seal it, scuff then topcoat.
So basically if i were to make the color at the top of your sample, i would start with 400 grams of acetone, 4 grams Burnt Umber P63, and .3 grams Yellow S61. Then i would spray it in medium passes until it reaches the tone desired. (If you spray light passes you will get a uniform color that blocks the grain out. Medium passes with just enough saturation in the grain to define, but wet passes starts to coagulate around the grain and looks bad)
From there, seal, review and adjust. May need a touch of orange dye. But i would definitely have that color dialed in within 4 or 5 tries on a single color application rather than having to add additional toner coats.
---
3/28 #18: Tinting Sherwood Sealer T67F3 ...
i must have posted at the same time as shane. Funny how similar our approaches would be
---
3/28 #19: Tinting Sherwood Sealer T67F3 ...
except i see no reason to layer different colors. you could easily get that color in a single stain. No toner. Just spray, seal, topcoat. Maybe im expecting too much of people who call themselves finishers, but spraying dye isnt difficult. Staying consistent requires nothing more then a well constructed step board as your control.
Make a sample sized piece of the same specie you will be spraying. (i use 8" x 10")
Spray your dye. Let it dry then tape off the first inch and a half with blue tape. Spray your sealer. Let it dry then tape off the next 1.5". scuff and topcoat.
Tada! now you have a step sample.
This is not rocket science guys. Consistency is in the execution.
Matching colors is a whole other ball of wax -- requiring knowledge in color theory and a good eye. But the color we are talking about is as basic as they come.
Little brown, little yellow, maybe some orange or red ... The orange and red would be fine tuning that cant be done from a picture.
---
3/28 #20: Tinting Sherwood Sealer T67F3 ...
You know what, here... this should get you on the right track... i keep a baseball card sized sample of all the colors i make (i have several catalogs) ... each one i put the job # and arch refference of the color, and i have a spreadsheet similar to aurora that i track the formula and finish schedule. I opened up one of them and right on the first page was a color similar to yours on maple.. here is the formula and schedule:
(adjust as necessary)
Acetone 230 grams
S61Y504 (yellow) 0.6 grams
S61N502 (brown) 0.9 grams
S61E501 (orange) 0.7 grams
1. Sand 150
2. Spray dye
3. Seal
4. Scuff
5. Topcoat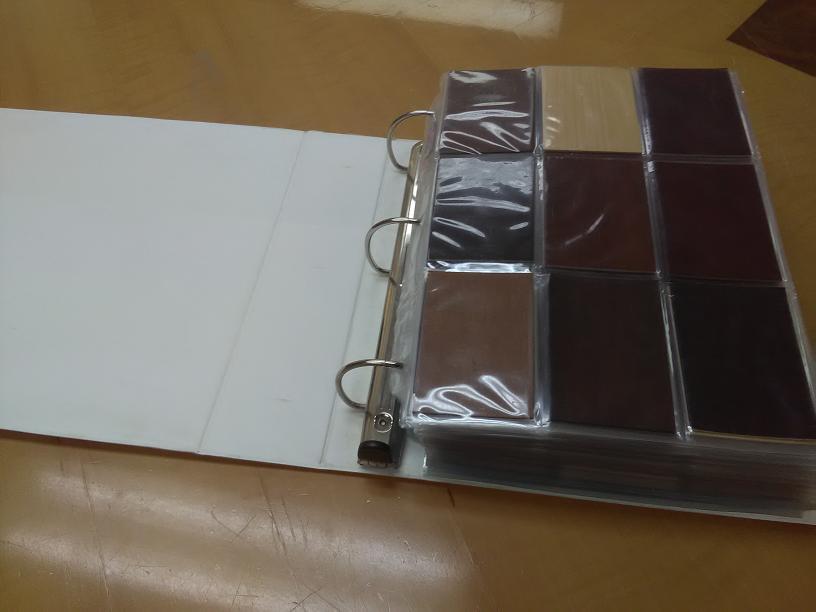 View higher quality, full size image (816 X 612)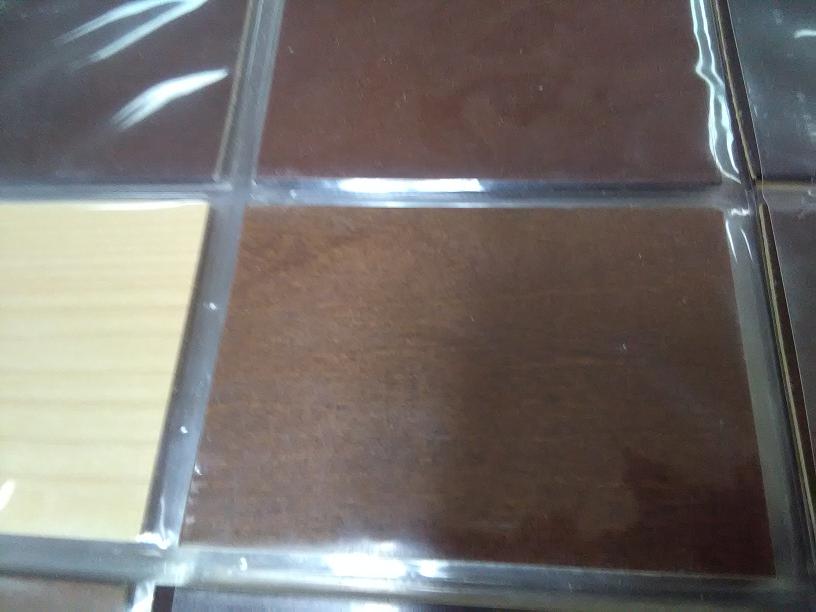 View higher quality, full size image (816 X 612)

---
3/28 #21: Tinting Sherwood Sealer T67F3 ...
I was suggesting that you would be able to get the color 90% there just by spraying a diluted dye stain. Obviously this is all based on how well you know the dyes strength your working with and how well you know the color between your eyes/brain communicating.. We normally have a basic mix of Mohawk dye colors blended together by weight or part/volume in our formulas. that is a starting point because we submit samples months before actuall production begins in our case... sometimes the sample is veneer flitch specific so later we are basically working with the same set of trees submitted but most times its generic so the recipe is just a starting point of reference. All my finishers use their eyes to spray other layers of dye on top of the basic formula to bring the color as close as we can before a light pass of sealer... This way we have very little color work to do when it hits the topcoat booths... those guys put the whole section together and bring it in to 100% match together so everything looks good together... It takes a lot of experience to nail it but is achievable as long as you don't go to far to fast... my guys might have five cup guns hanging with colors they use on a regular basis to bring a color in without even having to think about it much...typically we have guns loaded up daily with lemon yellow, burnt umber, raw umber, we use a custom mix dye for black to the green side and use Mohawk black for the redish/purplish black, yellow, red, green.... whatever we need to kick it the direction we need.... key is definitely not too far too fast Our normal diluted mixtures for Mohawk dyes are 4 oz. to 28 oz. of acetone and the S61 from Sherwin we reduce 100% on most colors and the red and green we reduce 200%.. they are strong!.
---
3/28 #22: Tinting Sherwood Sealer T67F3 ...
First off, thank you both so much for taking the time to explain all this. It will be put to use.
From the both of you, Kevin and Shane, I am getting that the idea is to spray the dye as close to final color as possible in multiple passes, up to 90%. Then you can either use a dilute finish with drops of dye (toner), -OR- continue with different colors of dye over top of the first dye coat, wetting with mineral spirits to see the actual effect..?
---
3/28 #23: Tinting Sherwood Sealer T67F3 ...
Also, I had been measuring the dye by drops.. is it better to weigh it? I do have a sensitive scale.
---
3/29 #24: Tinting Sherwood Sealer T67F3 ...
if you have a scale that is accurate to the tenth of a gram then I would use that for formulations over volume (tablespoons,ounces etc etc).
And yes it takes a while to train yourself what other colors of dye to spray over the top of what your doing to shift the color. when you really have it down you will just be wet checking with a light sealer pass and check color against a water wetted control sample in your hand... then make adjustments and lock it in with a full coat of sealer.
---
3/29 #25: Tinting Sherwood Sealer T67F3 ...
Thanks. I can't wait to get out in the shop and spend more time trying this stuff out.
Yes, my scale will do .01 grams. I will switch to that.
---
3/30 #26: Tinting Sherwood Sealer T67F3 ...
Another question..
Do I need to worry about fading with only the dye doing the coloring? (no wipe stain)
---
---
Buy & Sell Exchanges | Forums | Galleries | Other Resources | Site Map
---



Buy and Sell Exchanges



Job Opportunities and Services Exchange
Employment opportunities and services within the woodworking industry

Lumber Exchange
A worldwide buy/sell exchange for lumber and wood products

Machinery Exchange
A worldwide buyer and seller exchange for woodworking machinery and equipment.

Classified Ad Exchange
Classified advertising for the woodworking industry (for advertisements that do not include machinery, lumber products and employment listings)


---



Forums



Adhesives Forum
Discussing topics related to adhesives within the woodworking industry

Architectural Woodworking Forum
Discussing quality standards and production of architectural wood products

Business and Management Forum
A forum for the discussion of business topics: from sales and marketing to dealing with difficult customers.

Cabinet and Millwork Installation Forum
Discussing all aspects of installation issues encountered by cabinet and millwork installers.

Cabinetmaking Forum
Discussing 32mm and face frame cabinet construction including fabrication, casegoods design, and installation.

CAD Forum
Shedding light on the all-too-often shadowy world of CAD.

CNC Forum
Discussing CNC (computer numerically controlled) woodworking equipment, software, and automated product manufacturing.

Dust Collection, Safety and Plant Operation Forum
Discussing topics related to maintaining a safe and productive working environment.

Professional Finishing Forum
Finishing issues for the production environment

Forestry Forum
The science and art of forest cultivation and timber management, planting, surveying, tree diseases, silviculture and timber harvesting

Professional Furniture Making Forum
Helping professional furniture makers improve quality, save time, and increase profits

Laminating and Solid Surfacing Forum
Issues related to laminating and solid surface materials and processes

Commercial Kiln Drying Forum
Discussions covering issues faced be commercial drying operations that process at least 750,000 bd. ft. of lumber per year

Sawing and Drying Forum
Discussing topics related to primary processing and drying of lumber

Solid Wood Machining Forum
Discussing topics related to the machining of solid wood

Value Added Wood Products Forum
Learn how to improve your output, find new markets, and boost sales of your lumber products

Veneer Forum
Discussing topics related to veneer processing, manufacturing, and fabrication

WOODnetWORK
An electronic discussion group for woodworkers throughout the world


---



Galleries



Project Gallery
Where professional woodworkers can post examples of their work

Sawmill Gallery
Professional primary processing companies display and describe their sawmill facilities

Shop Gallery
Professional woodworkers display and describe their shop facilities, products and equipment

Shopbuilt Equipment Gallery
Professional woodworker's jigs, rigs, and shopbuilt equipment


---



Other Resources



Industry News
Late-breaking news from all sectors of the wood industry

Video Library
Index of industrial woodworking related digital videos on the web

Auctions, Sales and Special Offers
Advertisers offering woodworkers discounted prices on good and services, and announcements of upcoming auctions


FORUM GUIDELINES: Please review the guidelines below before posting at WOODWEB's Interactive Message Boards
(return to top)
WOODWEB is a professional industrial woodworking site. Hobbyist and homeowner woodworking questions are inappropriate.
Messages should be kept reasonably short and on topic, relating to the focus of the forum. Responses should relate to the original question.
A valid email return address must be included with each message.
Advertising is inappropriate. The only exceptions are the Classified Ads Exchange, Machinery Exchange, Lumber Exchange, and Job Opportunities and Services Exchange. When posting listings in these areas, review the posting instructions carefully.
Subject lines may be edited for length and clarity.
"Cross posting" is not permitted. Choose the best forum for your question, and post your question at one forum only.
Messages requesting private responses will be removed - Forums are designed to provide information and assistance for all of our visitors. Private response requests are appropriate at WOODWEB's Exchanges and Job Opportunities and Services.
Messages that accuse businesses or individuals of alleged negative actions or behavior are inappropriate since WOODWEB is unable to verify or substantiate the claims.
Posts with the intent of soliciting answers to surveys are not appropriate. Contact WOODWEB for more information on initiating a survey.
Excessive forum participation by an individual upsets the balance of a healthy forum atmosphere. Individuals who excessively post responses containing marginal content will be considered repeat forum abusers.
Responses that initiate or support inappropriate and off-topic discussion of general politics detract from the professional woodworking focus of WOODWEB, and will be removed.
Participants are encouraged to use their real name when posting. Intentionally using another persons name is prohibited, and posts of this nature will be removed at WOODWEB's discretion.
Comments, questions, or criticisms regarding Forum policies should be directed to WOODWEB's Systems Administrator
(return to top).

Carefully review your message before clicking on the "Send Message" button - you will not be able to revise the message once it has been sent.

You will be notified of responses to the message(s) you posted via email. Be sure to enter your email address correctly.

WOODWEB's forums are a highly regarded resource for professional woodworkers. Messages and responses that are crafted in a professional and civil manner strengthen this resource. Messages that do not reflect a professional tone reduce the value of our forums.

Messages are inappropriate when their content: is deemed libelous in nature or is based on rumor, fails to meet basic standards of decorum, contains blatant advertising or inappropriate emphasis on self promotion (return to top).

Libel: Posts which defame an individual or organization, or employ a tone which can be viewed as malicious in nature. Words, pictures, or cartoons which expose a person or organization to public hatred, shame, disgrace, or ridicule, or induce an ill opinion of a person or organization, are libelous.

Improper Decorum: Posts which are profane, inciting, disrespectful or uncivil in tone, or maliciously worded. This also includes the venting of unsubstantiated opinions. Such messages do little to illuminate a given topic, and often have the opposite effect. Constructive criticism is acceptable (return to top).

Advertising: The purpose of WOODWEB Forums is to provide answers, not an advertising venue. Companies participating in a Forum discussion should provide specific answers to posted questions. WOODWEB suggests that businesses include an appropriately crafted signature in order to identify their company. A well meaning post that seems to be on-topic but contains a product reference may do your business more harm than good in the Forum environment. Forum users may perceive your references to specific products as unsolicited advertising (spam) and consciously avoid your web site or services. A well-crafted signature is an appropriate way to advertise your services that will not offend potential customers. Signatures should be limited to 4-6 lines, and may contain information that identifies the type of business you're in, your URL and email address (return to top).

Repeated Forum Abuse: Forum participants who repeatedly fail to follow WOODWEB's Forum Guidelines may encounter difficulty when attempting to post messages.

There are often situations when the original message asks for opinions: "What is the best widget for my type of shop?". To a certain extent, the person posting the message is responsible for including specific questions within the message. An open ended question (like the one above) invites responses that may read as sales pitches. WOODWEB suggests that companies responding to such a question provide detailed and substantive replies rather than responses that read as a one-sided product promotion. It has been WOODWEB's experience that substantive responses are held in higher regard by our readers (return to top).

The staff of WOODWEB assume no responsibility for the accuracy, content, or outcome of any posting transmitted at WOODWEB's Message Boards. Participants should undertake the use of machinery, materials and methods discussed at WOODWEB's Message Boards after considerate evaluation, and at their own risk. WOODWEB reserves the right to delete any messages it deems inappropriate. (return to top)



Forum Posting Form Guidelines

Your Name
The name you enter in this field will be the name that appears with your post or response (return to form).
Your Website
Personal or business website links must point to the author's website. Inappropriate links will be removed without notice, and at WOODWEB's sole discretion. WOODWEB reserves the right to delete any messages with links it deems inappropriate. (return to form)
E-Mail Address
Your e-mail address will not be publicly viewable. Forum participants will be able to contact you using a contact link (included with your post) that is substituted for your actual address. You must include a valid email address in this field. (return to form)
Subject
Subject may be edited for length and clarity. Subject lines should provide an indication of the content of your post. (return to form)
Thread Related Link and Image Guidelines
Thread Related Links posted at WOODWEB's Forums and Exchanges should point to locations that provide supporting information for the topic being discussed in the current message thread. The purpose of WOODWEB Forums is to provide answers, not to serve as an advertising venue. A Thread Related Link that directs visitors to an area with inappropriate content will be removed. WOODWEB reserves the right to delete any messages with links or images it deems inappropriate. (return to form)
Thread Related File Uploads
Thread Related Files posted at WOODWEB's Forums and Exchanges should provide supporting information for the topic being discussed in the current message thread. Video Files: acceptable video formats are: .MOV .AVI .WMV .MPEG .MPG .FLV .MP4 (Image Upload Tips) If you encounter any difficulty when uploading video files, E-mail WOODWEB for assistance. The purpose of WOODWEB Forums is to provide answers, not to serve as an advertising venue. A Thread Related File that contains inappropriate content will be removed, and uploaded files that are not directly related to the message thread will be removed. WOODWEB reserves the right to delete any messages with links, files, or images it deems inappropriate. (return to form)