You are not logged in. Consider these WOODWEB Member advantages:

A personal "member history" that displays your posts at WOODWEB
Your forms at WOODWEB will be filled in automatically
Create your personal "My Favorites" page
Numerous automatic notification options
Bed design help
7/13
I have finally been asked to build some actual furniture again (well, its still a box, but HEY!) They want drawers below. Im wondering if the sizes and thicknesses I have chosen for the rails will support 2 adults (maybe some kids and a dog on the weekends) without deflection. Material will be hard Maple (paint grade) Mid span gets "U" shaped steel beam with cutoffs of angle iron let in and screwed into head and foot board. Connection type will be hook type doo dad mortised into rail end and face of head and foot panels
Thanks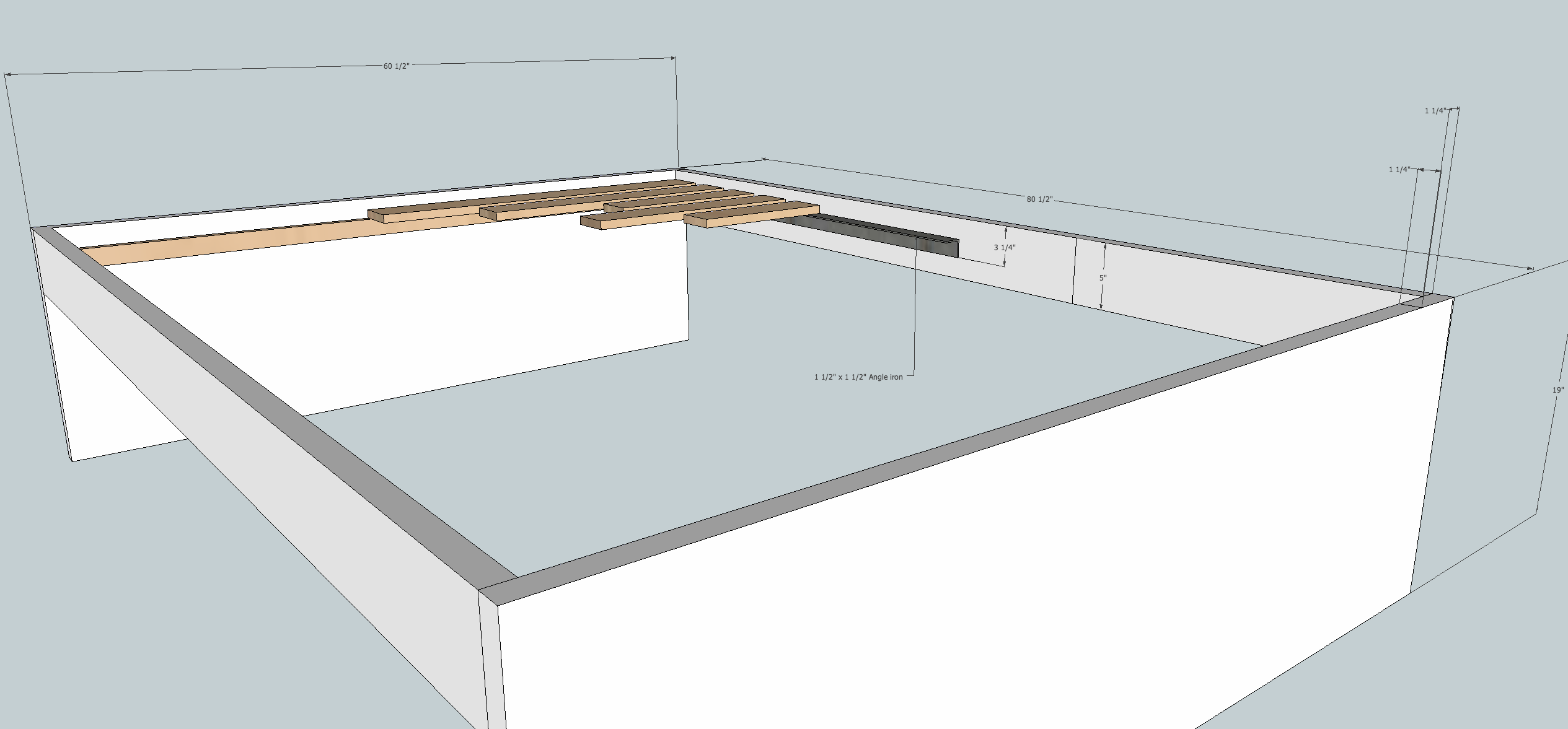 View higher quality, full size image (2530 X 1177)

---
7/13 #2: Bed design help ...
By the way, the matress is 14" thick (thats right, 14" thin) which sits in 1" lip. drawers are omitted in drawing for clarity. Looks like a racking might need to be addressed also?
---
7/13 #3: Bed design help ...
Instead of trying to build one BIG box that will support both drawers and the bed platform, I took a different approach.
I built a king-size platform bed this way. (I have also used this method on smaller beds as well.) I built 8 cabinet boxes that each held one or more drawers. I then fastened them side-by-side into two groups of 4 boxes each. The groups are placed back-to-back to form a very solid base. On top of this base I placed a "tray" to hold the mattress. The tray consists of 3/4" plywood with a solid wood lip (about 3/4" high and well-rounded to be smooth on the user's legs) that keeps the mattress from sliding off the tray. The tray also extends over the front of the cabinet boxes by about 3-4". (Think of a recessed toe-kick here. You don't want anyone stubbing their bare toes while trying to climb into bed.) I used biscuits and pocket-screws to hold two pieces of plywood together since any mattress above a twin-size will require two sheets of plywood.
With the king-size bed, the cabinet boxes were quite long. I used extra-length side-mount drawer slides. If I remember correctly the drawer boxes are 30" deep. This left some space between the backs of the two groups. I covered this up with a piece of plywood attached on the sides of the cabinet boxes at the foot of the bed. This gives a much nicer look to the foot of the bed than seeing box sides, and also keeps the box groups in alignment during assembly. (If you were clever, you could put a door in the middle and have a place to store a fishing pole or other long object.)
Since there were to be night-stands near the head of the bed on each side, I stopped the drawers short of them. I built a simple 4-sided box frame that attached to the head-end of the 2 groups that support the tray. I used a few counter-sunk screws to attach the tray to the top of the cabinet boxes. (Be sure to counter-sink the screws so they do not tear the mattress material.) It does not move around at all and is quite stable. I believe we only used 4 screws.
The result is a very strong platform bed with lots of very big drawers for storage under the bed. Entire blanket sets, sheets, and comforters easily fit.
There was no headboard on this particular bed. But, one could be built and attached to the head end of the two groups of cabinets, or as part of the fillers (next to the nightstands) at the head. Or, your customer might attach a headboard to the wall. (I personally don't like that option, but I am not the customer.)
The dimensions can be virtually anything you want. I started by determining the desired top-of-mattress height, and working backwards. In your case, take that height, subtract 14" for the mattress, then subtract 3/4" for the plywood tray, then you have your cabinet box height. For determining the drawer-length, consider how much space is in the bedroom so the drawers can open fully.
I used frameless boxes for the cabinetry. I would imagine that face-frame boxes would work as well. I did not add a toe-kick underneath the 8 boxes. This takes advantage of the maximum storage space under the bed. Just be sure to leave some clearance underneath the drawer-fronts so the drawers open without hitting the floor.
One advantage of this design is on moving day. The only large piece to move is the mattress tray. The cabinet box groups are broken down into single cabinet boxes. The foot is a single piece. There are no long, extra-heavy duty support pieces; no steel-beam required. In fact, the only "steel" that is present is in the screws, the drawer-slides, and the drawer pulls.
I checked through my notes to see if there was a diagram available. None found. But I did determine that it was built in 2005 and I know it is still working fine. :-)
---
7/13 #4: Bed design help ...
I found some more notes. There are three (3) boxes on each side (not the 4 I thought). One of the boxes has two drawers in it. The others have single drawers.
Also, that 4-sided box I mentioned at the head: think of a box with an open top and open bottom. The "width" of the box is the distance between the wall and the first box. The "length" is the distance from the left to the right side of the bed. For a king that is a little bit short of 80" (depending on what recess distance is used to prevent the toe-stubbing mentioned in the previous post.) The main purpose of the 4-sided box is to support the mattress tray. But it also helps to keep things (think small animals, dust bunnies, etc.) from underneath the bed. And it helps to align the box groups in the correct position with each other and from the wall before placing the mattress tray on top.
For ease of moving, the 4-sided box could be assembled with RTA fasteners or pocket screws on site. Then it would be screwed to the sides of the first two boxes. We used 3/4" sheet stock for this, and all of the cabinet boxes. We used 3/4" solid stock for the lip on the tray. The drawer fronts can be whatever standard materials you decide. The point is: no angle iron, or other thick stock is needed.
I did not find any diagrams, so I created a quick SketchUp conceptual diagram (not to scale!!!) that should help illustrate my textual descriptions. The assembly on the left shows the 6 cabinet boxes, the footer, and the 4-sided support box at the head. The unit on the right includes the mattress tray.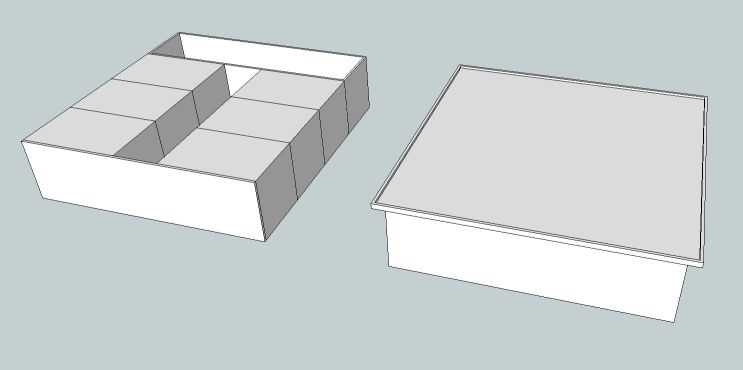 View higher quality, full size image (743 X 370)

---
7/13 #5: Bed design help ...
Thanks for the lengthy input. I think I get it. I think this will work great. Slats vs. ply...Seems I have a tendency to over-think things.
Thanks again Charles that helped alot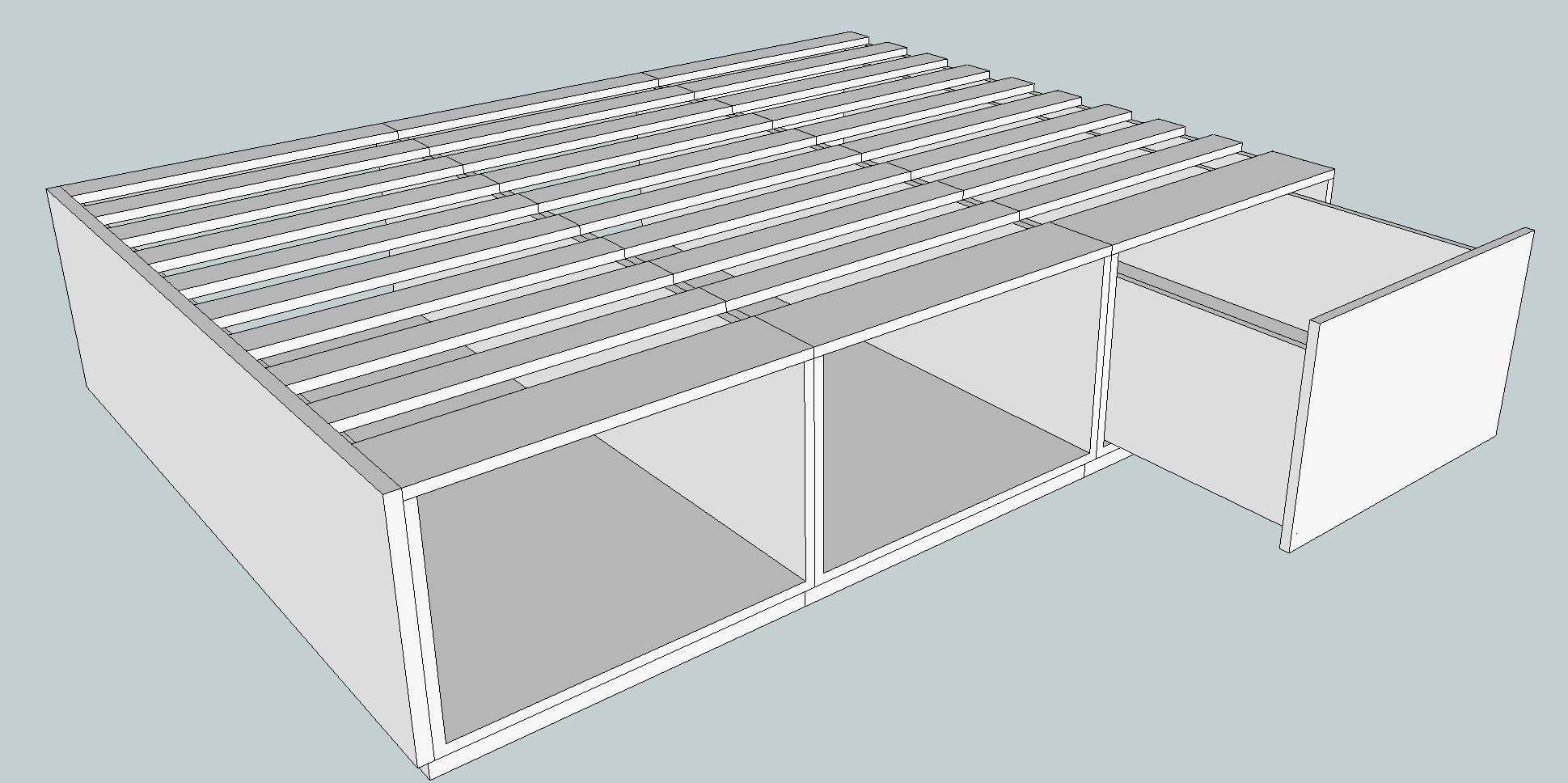 View higher quality, full size image (1939 X 968)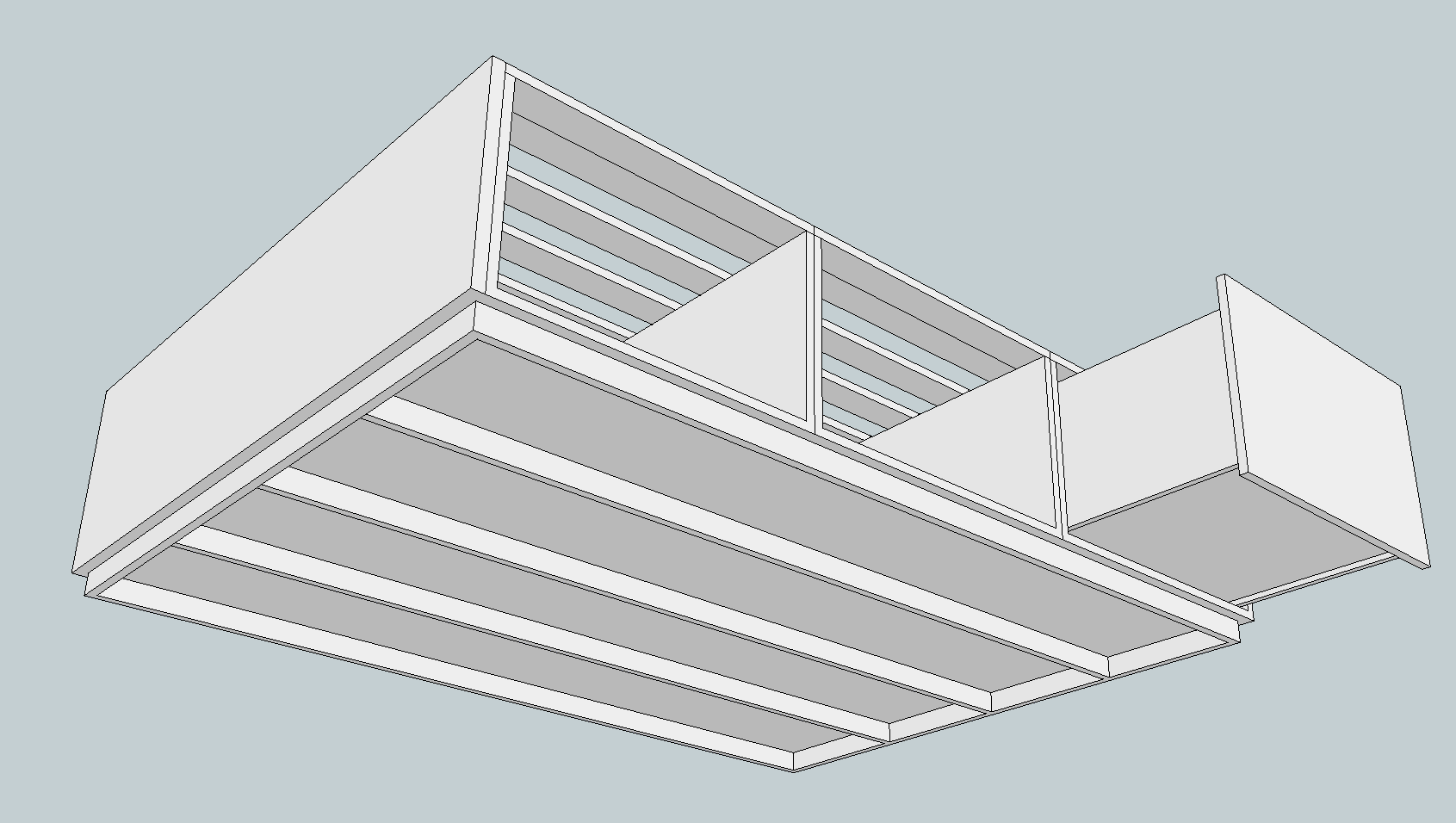 View higher quality, full size image (1691 X 956)

---
7/13 #7: Bed design help ...
Chris (err... sherlock?)
I think you do have the idea.
The addition of a ladder base underneath is a good idea to easily raise the boxes off the floor. I like that. The ladder base is also easy to level before the boxes are added in case the floor is not perfectly flat.
Now, slats vs. plywood: Why all of the extra labor? Also, the diagram you have makes it look like the mattress would not be completed supported. If I remember correctly, slats were used to support the box spring years ago. Then, the box spring supported the entire mattress. Therefore, the mattress would be completely supported from underneath. I am concerned that not doing so would damage the mattress.
Also, remember you still want to have some sort of lip to keep the mattress from sliding off. With a box spring the friction between the cloth materials keeps the mattress in place. With a platform bed you will need some type of physical constraint.
I still like the plywood mattress tray for its simplicity and lower labor costs. The only concern that may arise is moving a large tray in and out of the house. But it is only about 1.5" thick at most and even a king-size easily fits through a standard doorway. You might need to tilt it a bit. Also, check out very narrow and sharp hallway corners. If you need to travel up a small elevator to a condo unit, then be sure to measure the elevator cab, or check out the stairwell. At worst, you might need to construct it in two halves for transport, then fasten it to the box tops to make a single piece. (I would put the splice down the center from head to foot so there would be no splice in the lip where someone was climbing into the bed.)
Also, regarding the large tray, don't be taken in by someone saying: "well, if you can get the mattress down the hallway and into the room, then that plywood tray should fit." Maybe. Maybe not. Remember that the mattress IS thicker than the tray, but the mattress can BEND a bit to get around corners. The tray will not. :-(
Your turn...
---
7/13 #8: Bed design help ...
Website: http://www.larysanders.com
Charles, I really like your idea and description. Having done a fair amount of moving lots of people being able to take a king apart is crucial. I'd even look into a way to take your tray apart for the reason like curved stars etc. you mentioned. BTW it seems your design is crying for "secret" compartments for that "fishing pole" LOL.
I think the ladder underneath can help if it can be taken apart for moving at least down to a twin size (king = 2 twins).
However, the other type of move - is "lets rearrange the room and move the bed over by the other window" i.e. slide it around without taking it apart. For this reason I don't see leveling before assembly worth it. This thing will be very heavy so some glides on the ladders to help slide it around might be good. Most beds only touch the floor in 4-6 points I think.
---
7/13 #9: Bed design help ...
The slats are merely an attempt to allow for some air circulation. The lip is something the clients don't want for some reason. The couple is around 80 and they are moving into a retirement home by the way
---
7/13 #10: Bed design help ...
An interesting design but think about strength and things entering or falling into the drawers.
I would do full boxes and add 1x2 slats as they would tie everything together and give you the air circulation you want.
Also consider the bedding, I would recess the boxes a little so that the bedding can fall around the base It'll make for a neater look.
Chaim
---
7/13 #11: Bed design help ...
This would be nice but are you guys not concerned with air circulation?
I am. Chaim, I don't understand your response about the "1x2 slats tie everything together" Could you clarify? Thanks for the help again.
---
7/13 #12: Bed design help ...
Air circulation? Where? For the mattress?
With a standard mattress and box spring set, the mattress gets air on the top and 4 sides (through the sheets and blankets, of course). The bottom of the mattress is not exposed at all. The bottom is in complete contact with the box spring. With a platform bed, the same exposure exists.
Or, is there something else that needs air circulation? What am I missing?
---
7/13 #13: Bed design help ...
Well, I was under the impression air should be able to get to the bottom of the mattress. Just seems right. Perhaps I'm wrong. Ive seen that most beds have slats vs. solid sheetgood.

---
7/14 #14: Bed design help ...
What I meant by slats (I said 1x2 but I meant 1x4)
After you assemble the boxes which make up the bed screw down 1x4's to support the mattress and allow for air flow but make fully enclosed boxes so they are closed on all sides.
As far as air flow many mattresses are supposed to be rotated on a semi regular basis, but with new mattress technologies this is not recommended in all cases nowadays.
The slats usually provide support more than air flow but for senior citizens as well as children sometimes the air flow issues become just as important as the support.
Chaim
---
7/20 #15: Bed design help ...
I will be posting in the near future with some progress pics. Here the final version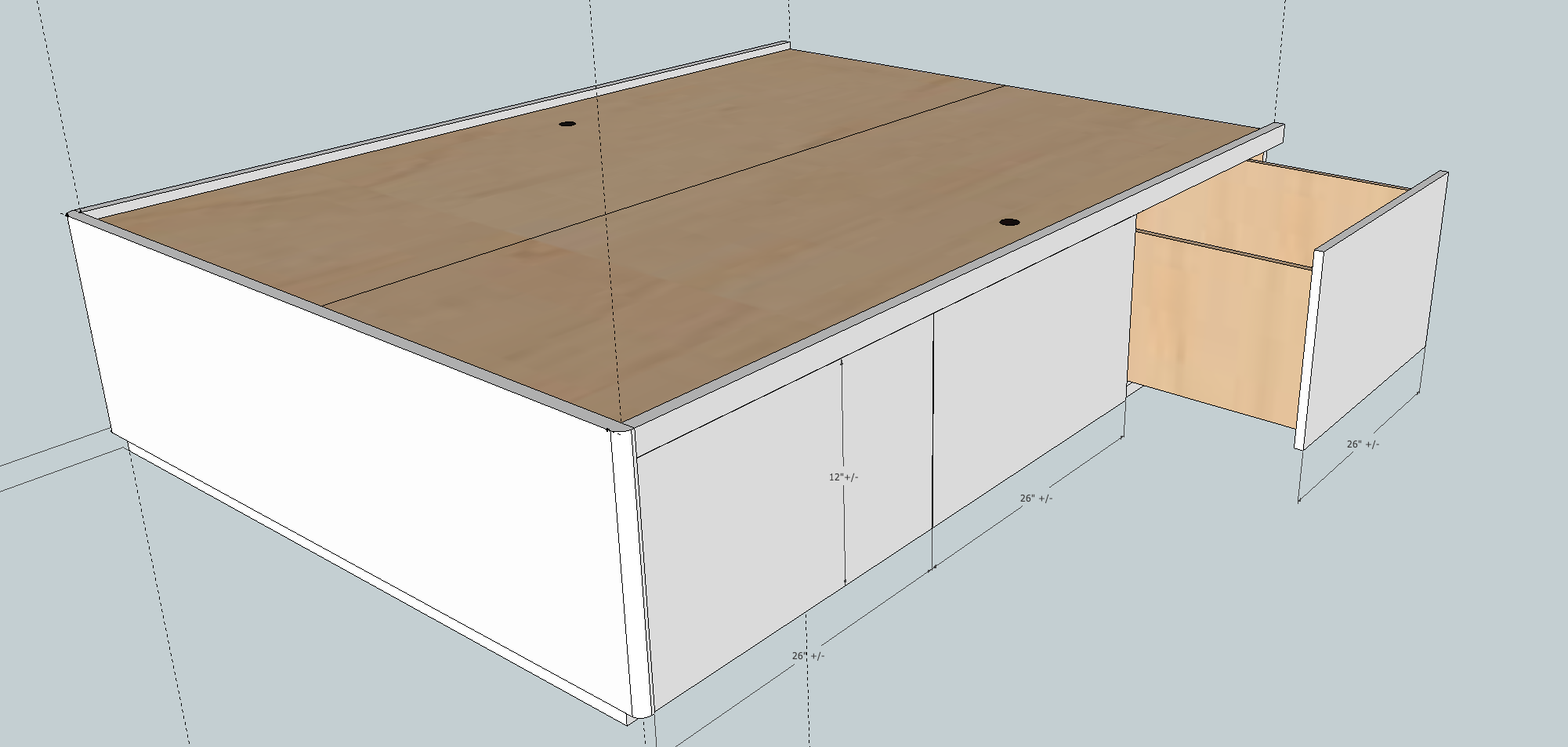 View higher quality, full size image (2001 X 953)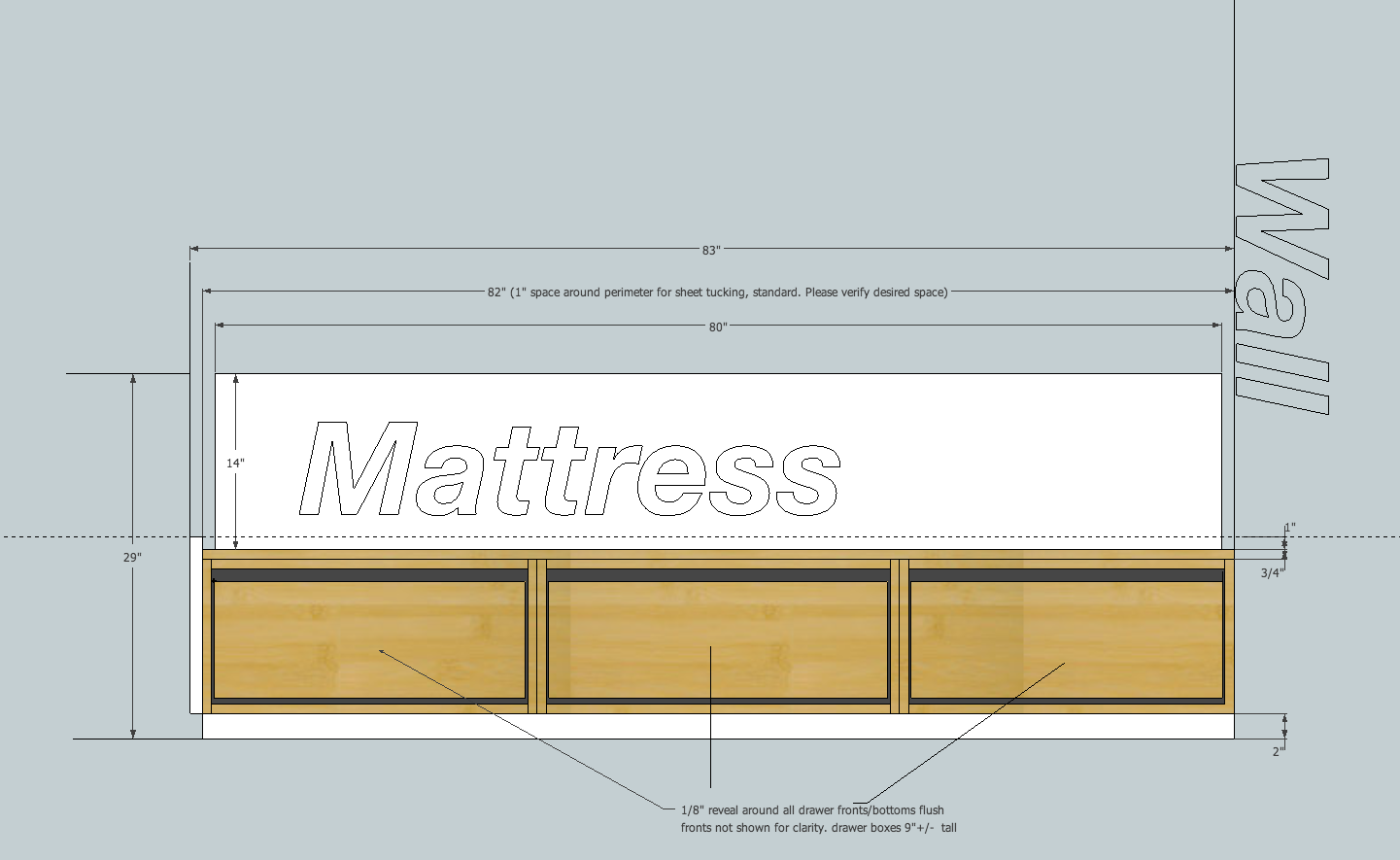 View higher quality, full size image (1441 X 885)

---
7/22 #16: Bed design help ...
Did you leave enough room at the head of the bed to open the drawers if the clients have nightstands?
---
7/22 #17: Bed design help ...
Another thought about the nightstands...
A floating shelf (or a carefully designed support) mounted on the wall next to the bed could serve as a nightstand. The drawer would simply open underneath it. The shelf might block some access to the drawer contents, but maybe not too much?
---
7/22 #18: Bed design help ...
Sweet!
Thanks again for the heads up. I completely forgot about adding a filler andd also how the baseboard may affect the bed being from wall. The nightstands will be floating made by me so no interference there Thanks Charles
---
8/14 #19: Bed design help ...
We usually do 4 drawers with the one at the head a dummy or working if the client really wants it. The first one of these beds I made was for myself and I have one big drawer that I can't really use because of the nightstands which I can't get rid of because they have sentimental value for my wife.
---
9/21 #20: Bed design help ...
thought Id share the project...not necessarily in its entirety so next time someone else doesn't have to re-invent the wheel. I went with a full overlay and added panel as a footboard. The drawer fronts/frame around mattress/footboard/toekick was high gloss white CV over MDF. The bed sat on a frame the same way a cab sits on a frame which is usually how I make my cabinets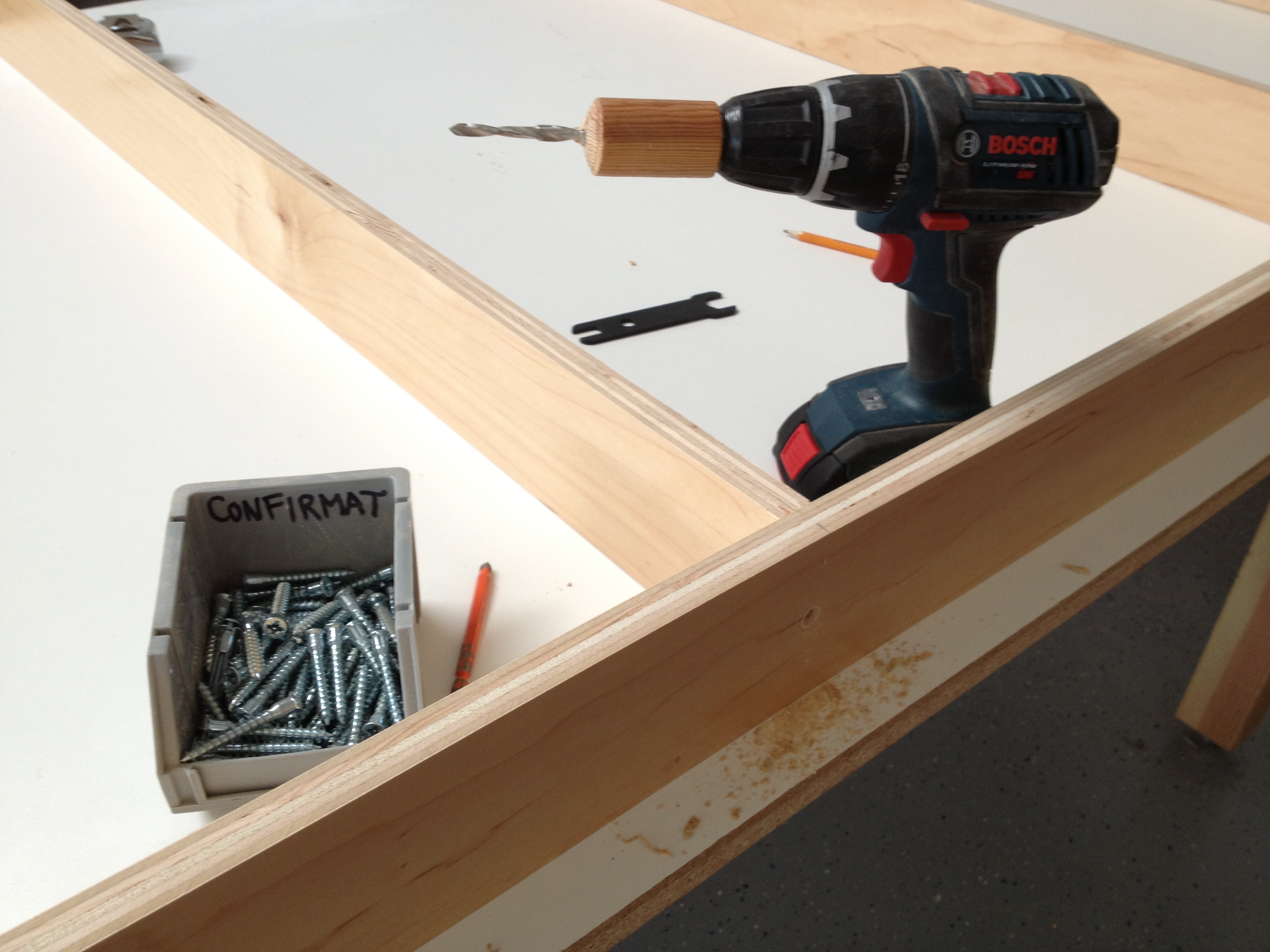 View higher quality, full size image (3264 X 2448)

---
9/21 #21: Bed design help ...
frame supports bed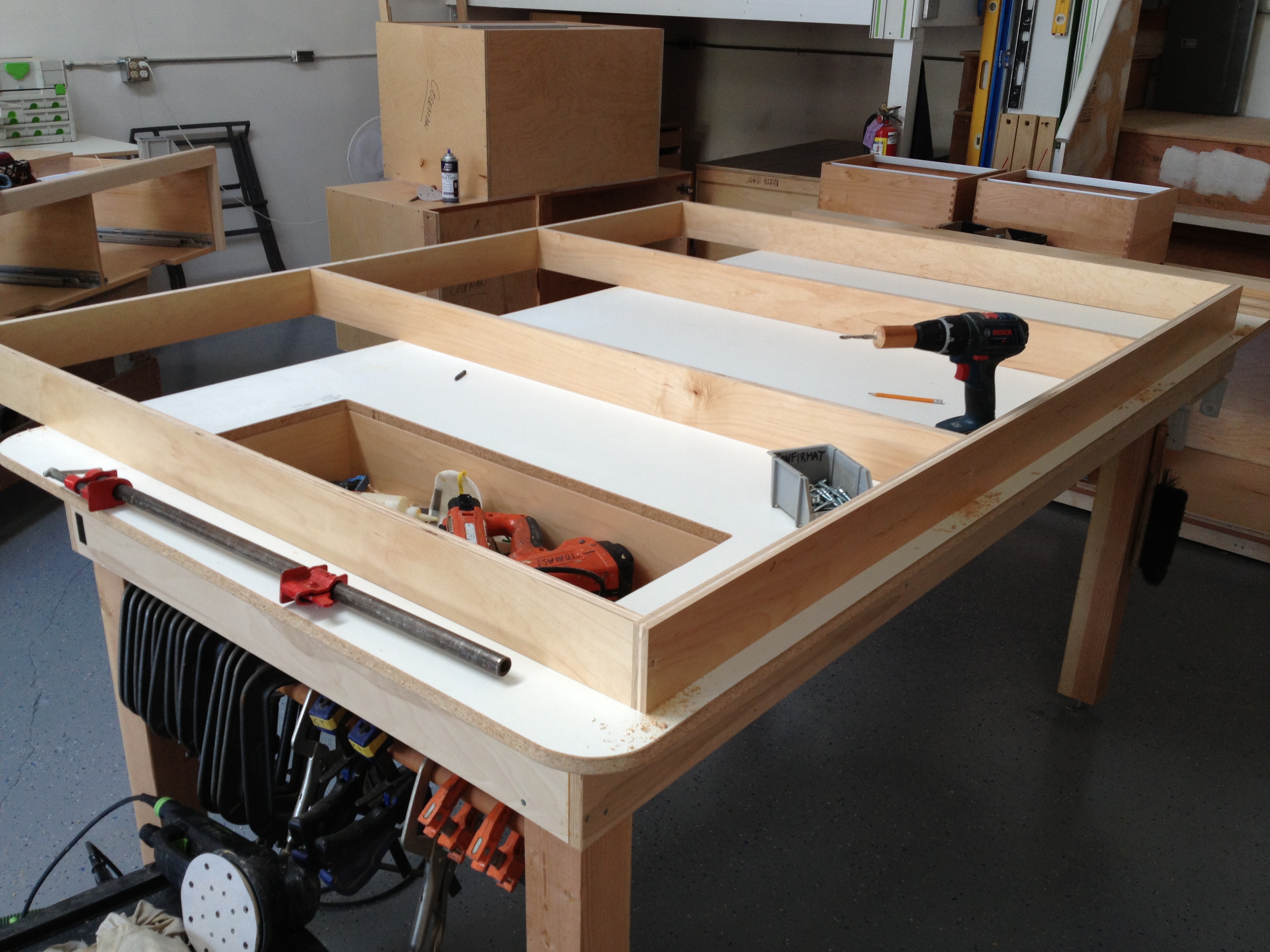 View higher quality, full size image (3264 X 2448)

---
9/21 #22: Bed design help ...
2 boxes in pre fin Maple edgebanded except top which got the hardwood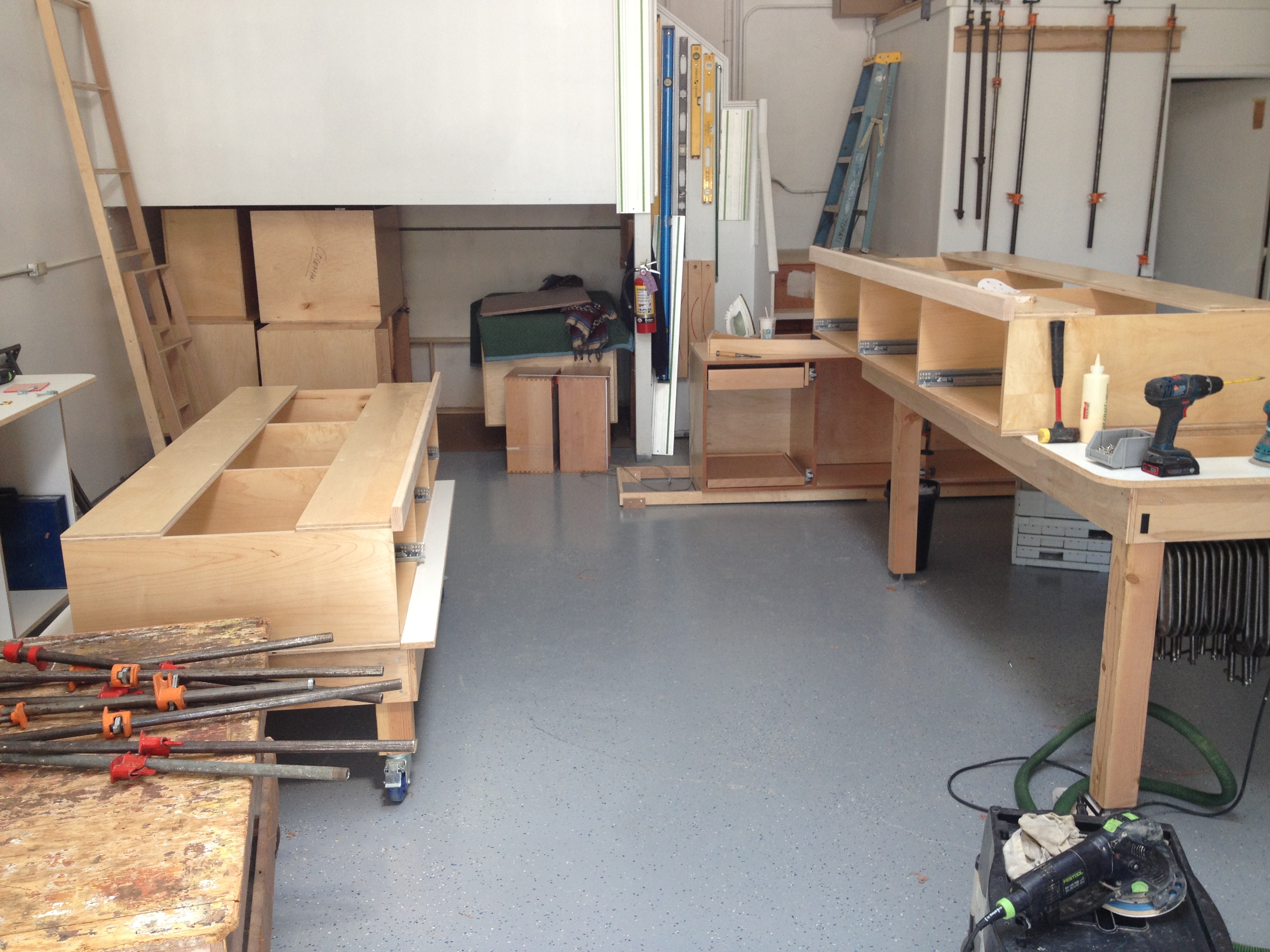 View higher quality, full size image (3264 X 2448)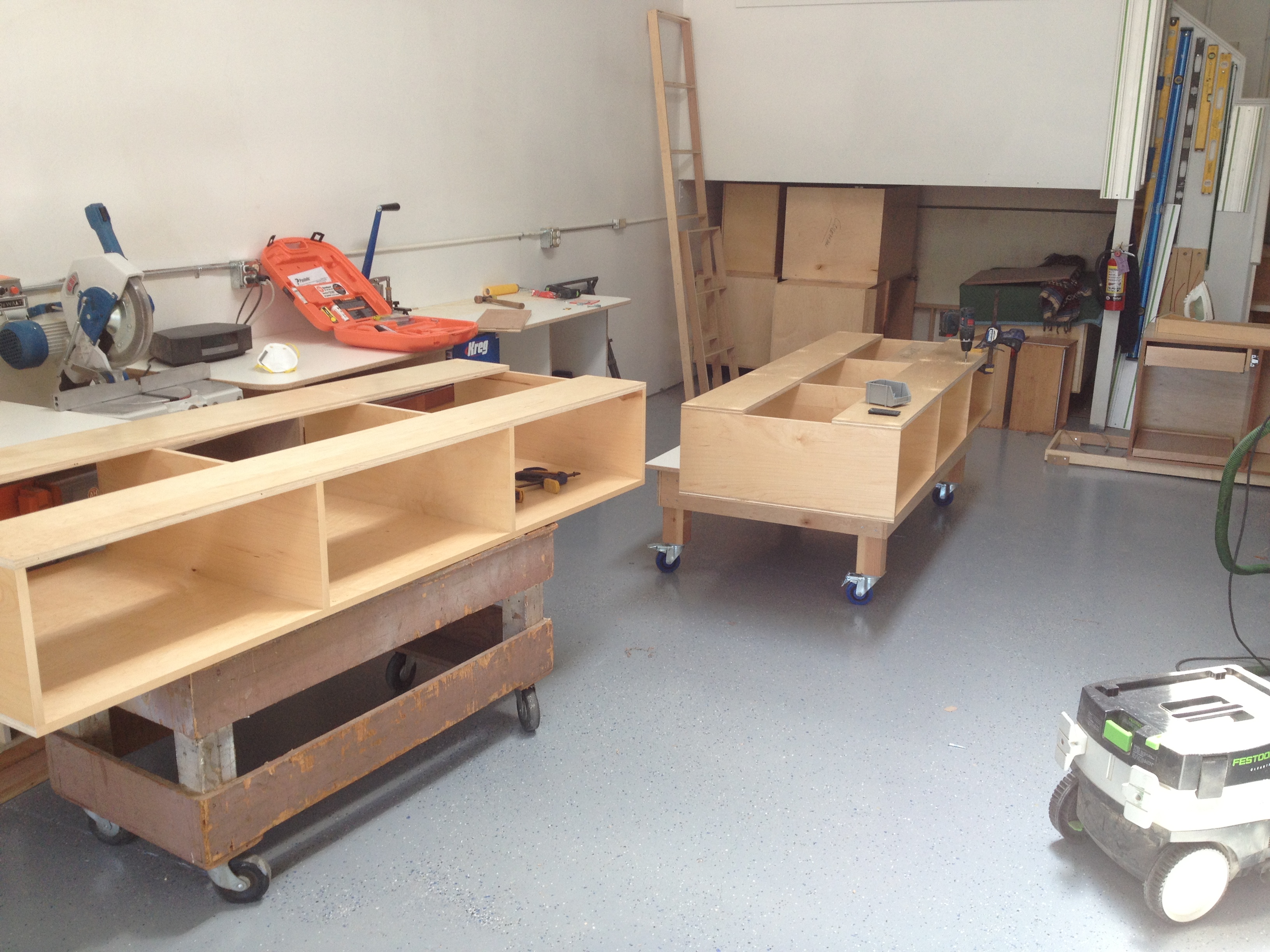 View higher quality, full size image (3264 X 2448)

---
9/21 #23: Bed design help ...
attach hardwood edge and slides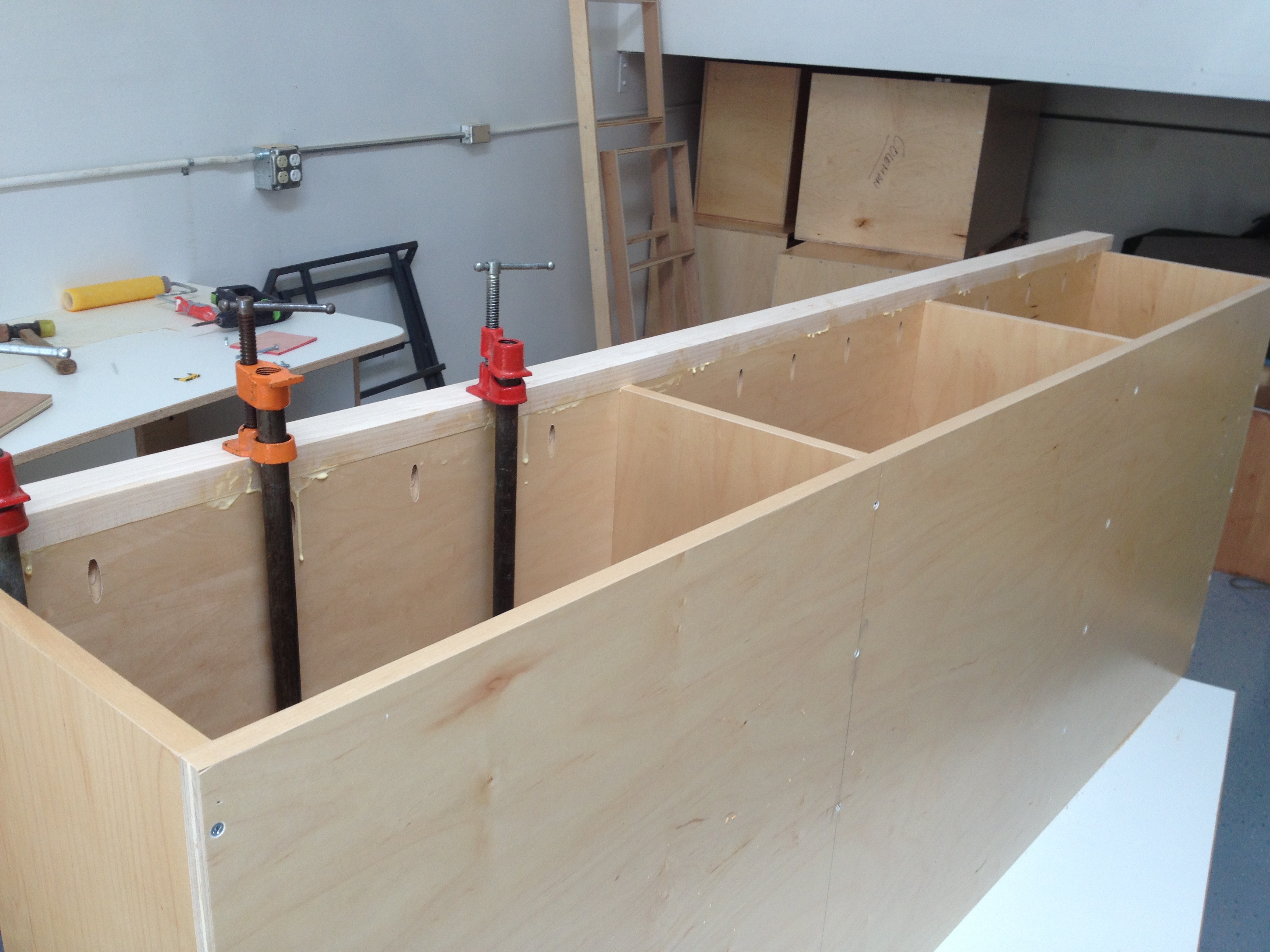 View higher quality, full size image (3264 X 2448)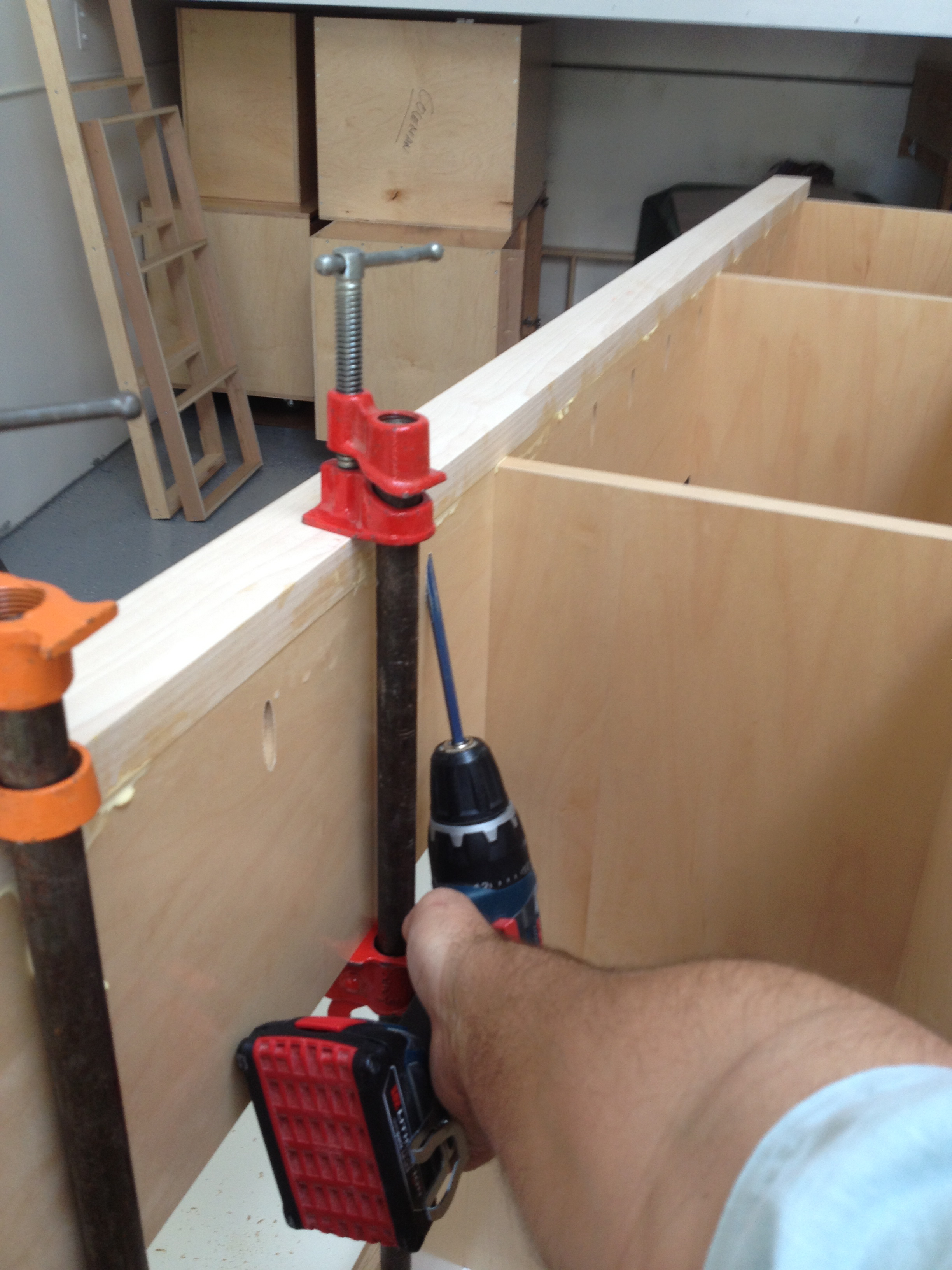 View higher quality, full size image (2448 X 3264)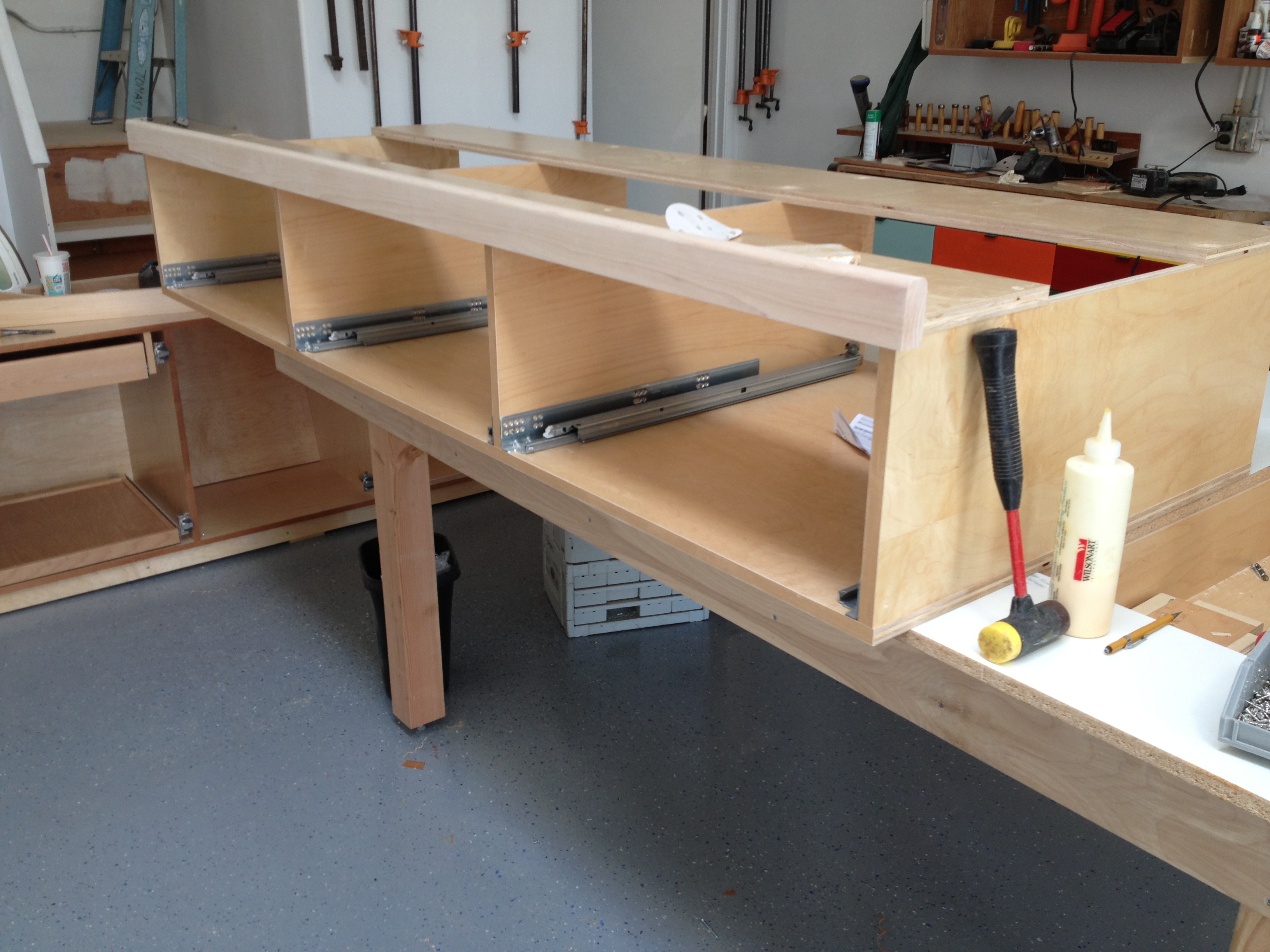 View higher quality, full size image (3264 X 2448)

---
9/21 #24: Bed design help ...
Make notches at bottom of box (they wanted soft close without pulls) and round over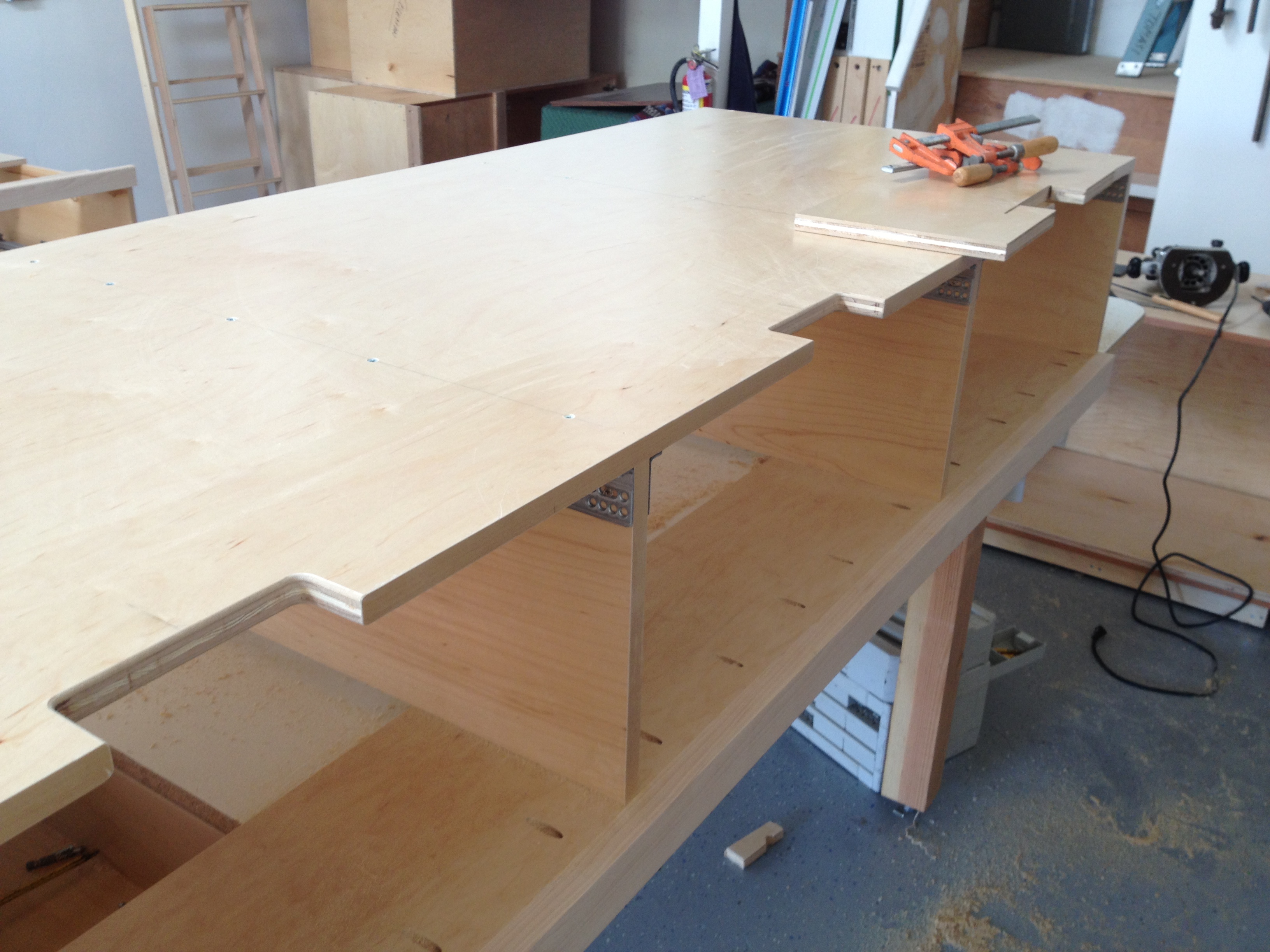 View higher quality, full size image (3264 X 2448)

---
9/21 #25: Bed design help ...
more notching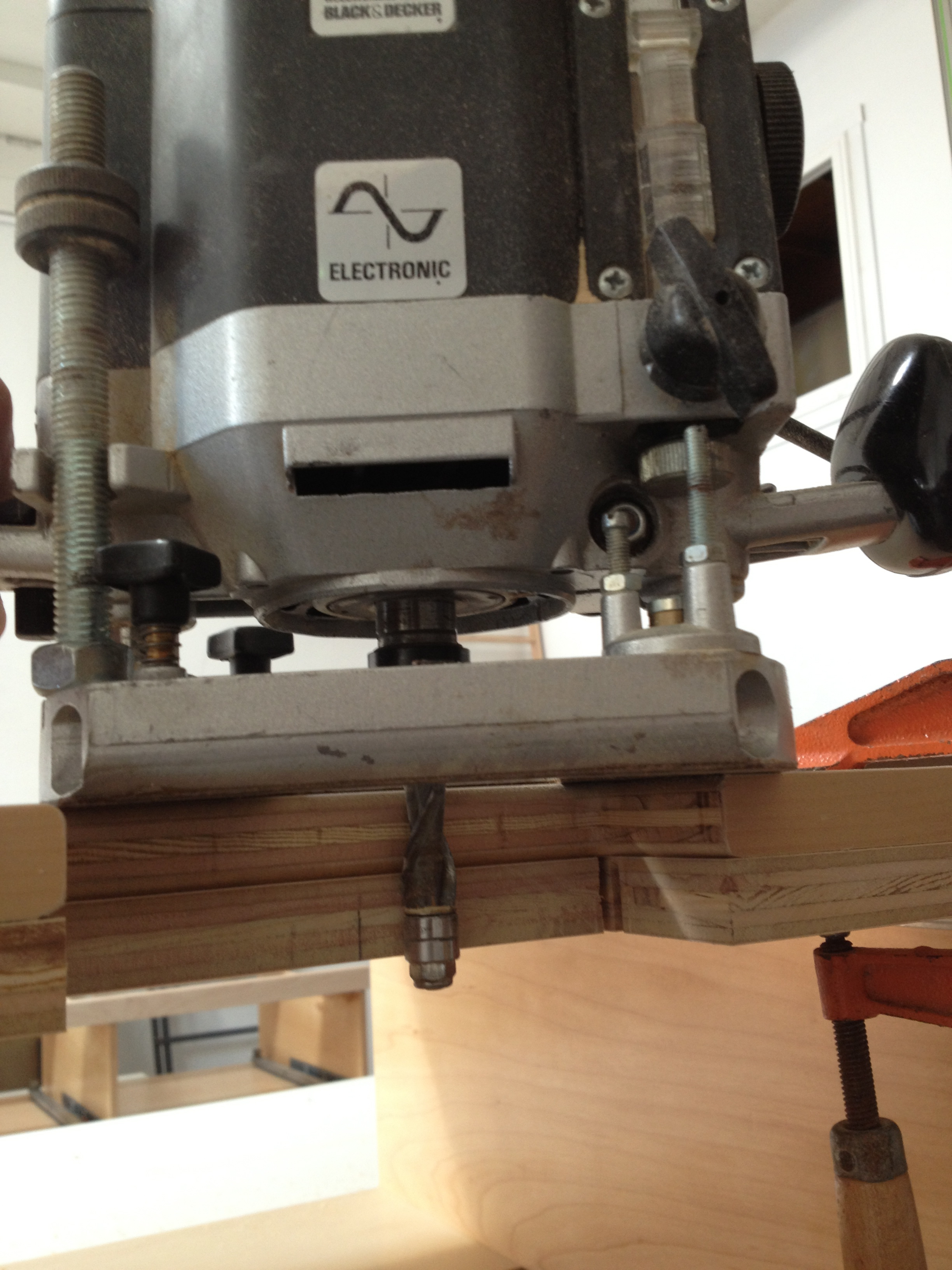 View higher quality, full size image (2448 X 3264)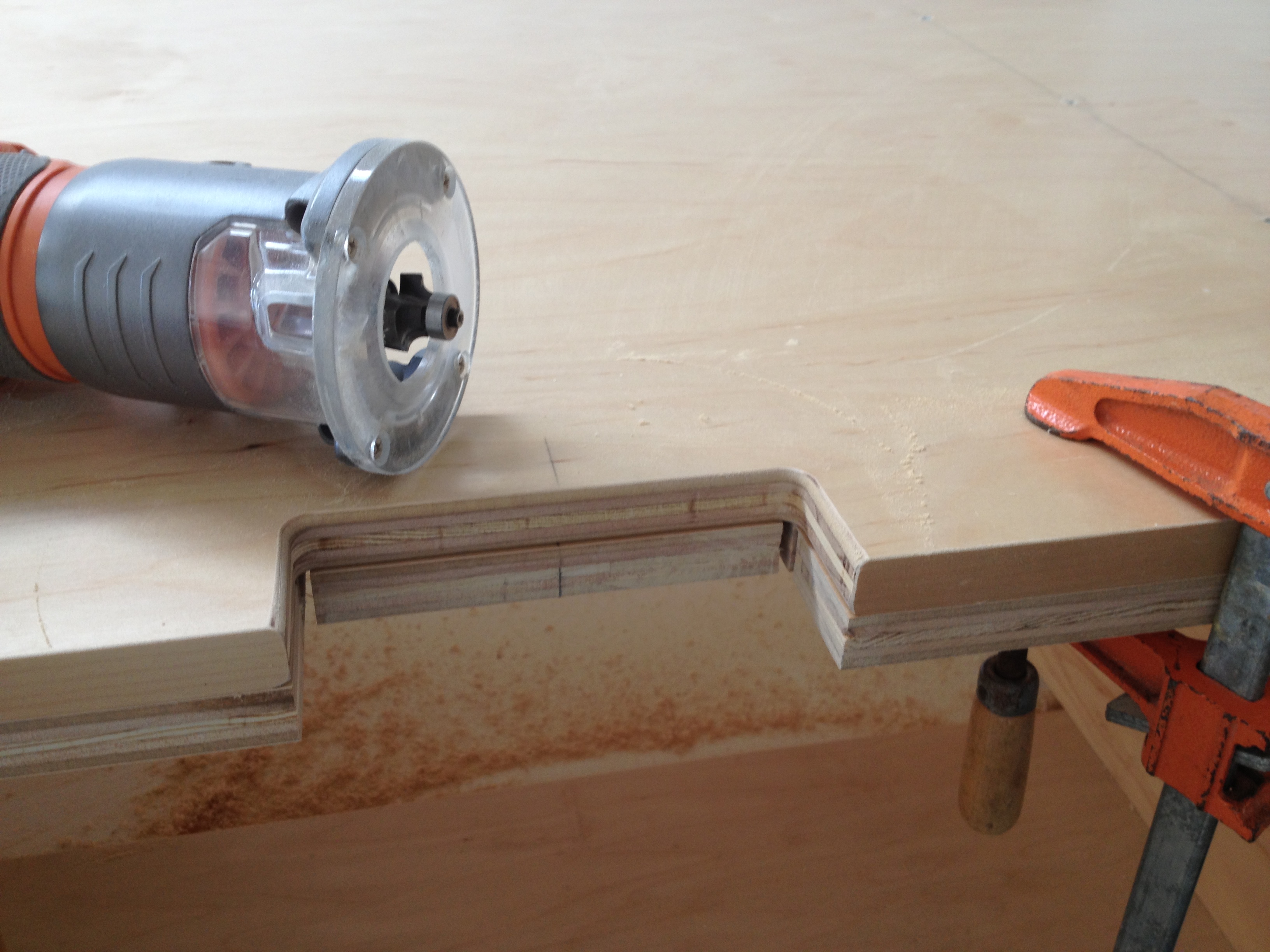 View higher quality, full size image (3264 X 2448)

---
9/21 #26: Bed design help ...
Screwed the boxes together after a back was applied to each box. Here's the only pic I have of the finished bed...iphone. Room was way to small to get a good pic.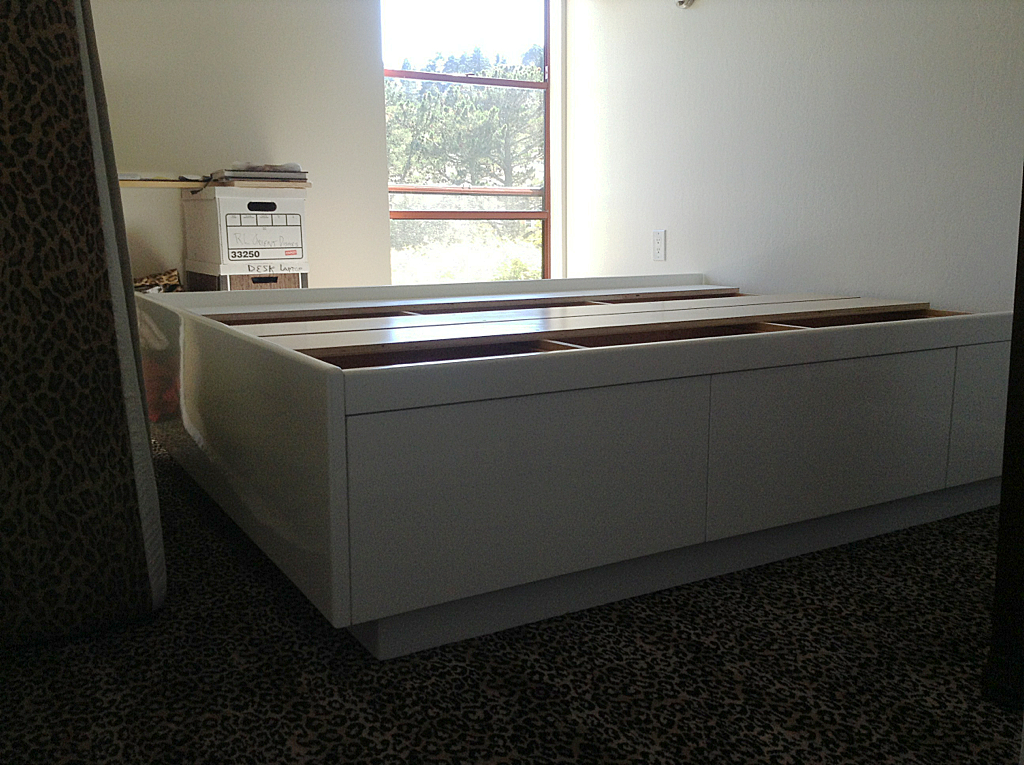 View higher quality, full size image (1024 X 765)

---
9/21 #27: Bed design help ...
2 pcs of 1/2" pre fin maple ply went on top of the boxes for full mattress support

---
10/1 #28: Bed design help ...
In answer to your original question, yes, two rails 5" deep x 1 1/4" thick will support a queen size bed.
Most of the beds of this sort I've done, I put in a center post leg on a removable strut, and join two pieces of 3/4" shop maple over it. I actually use 5/4 sides (1 1/16" finished) and their support is fine, it's just that I need the post for the underlayment.
I spend my time making enclosed wheels for the drawers and roll them directly on the floor. That way, you can pull them all the way out if you want to get to the back. Drawer slides on bed drawers always seemed somehow wrong to me. YMMV.
---
2/25 #29: Bed design help ...
Website: http://v-dubfurniture.com
One advantage of this design is on moving day. The only large piece to move is the mattress tray. The cabinet box groups are broken down into single cabinet boxes.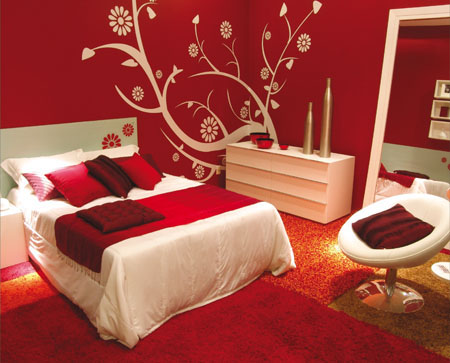 View higher quality, full size image (450 X 363)

---
---
Buy & Sell Exchanges | Forums | Galleries | Other Resources | Site Map
---



Buy and Sell Exchanges



Job Opportunities and Services Exchange
Employment opportunities and services within the woodworking industry

Lumber Exchange
A worldwide buy/sell exchange for lumber and wood products

Machinery Exchange
A worldwide buyer and seller exchange for woodworking machinery and equipment.

Classified Ad Exchange
Classified advertising for the woodworking industry (for advertisements that do not include machinery, lumber products and employment listings)


---



Forums



Adhesives Forum
Discussing topics related to adhesives within the woodworking industry

Architectural Woodworking Forum
Discussing quality standards and production of architectural wood products

Business and Management Forum
A forum for the discussion of business topics: from sales and marketing to dealing with difficult customers.

Cabinet and Millwork Installation Forum
Discussing all aspects of installation issues encountered by cabinet and millwork installers.

Cabinetmaking Forum
Discussing 32mm and face frame cabinet construction including fabrication, casegoods design, and installation.

CAD Forum
Shedding light on the all-too-often shadowy world of CAD.

CNC Forum
Discussing CNC (computer numerically controlled) woodworking equipment, software, and automated product manufacturing.

Dust Collection, Safety and Plant Operation Forum
Discussing topics related to maintaining a safe and productive working environment.

Professional Finishing Forum
Finishing issues for the production environment

Forestry Forum
The science and art of forest cultivation and timber management, planting, surveying, tree diseases, silviculture and timber harvesting

Professional Furniture Making Forum
Helping professional furniture makers improve quality, save time, and increase profits

Laminating and Solid Surfacing Forum
Issues related to laminating and solid surface materials and processes

Commercial Kiln Drying Forum
Discussions covering issues faced be commercial drying operations that process at least 750,000 bd. ft. of lumber per year

Sawing and Drying Forum
Discussing topics related to primary processing and drying of lumber

Solid Wood Machining Forum
Discussing topics related to the machining of solid wood

Value Added Wood Products Forum
Learn how to improve your output, find new markets, and boost sales of your lumber products

Veneer Forum
Discussing topics related to veneer processing, manufacturing, and fabrication

WOODnetWORK
An electronic discussion group for woodworkers throughout the world


---



Galleries



Project Gallery
Where professional woodworkers can post examples of their work

Sawmill Gallery
Professional primary processing companies display and describe their sawmill facilities

Shop Gallery
Professional woodworkers display and describe their shop facilities, products and equipment

Shopbuilt Equipment Gallery
Professional woodworker's jigs, rigs, and shopbuilt equipment


---



Other Resources



Industry News
Late-breaking news from all sectors of the wood industry

Video Library
Index of industrial woodworking related digital videos on the web

Auctions, Sales and Special Offers
Advertisers offering woodworkers discounted prices on good and services, and announcements of upcoming auctions


FORUM GUIDELINES: Please review the guidelines below before posting at WOODWEB's Interactive Message Boards
(return to top)
WOODWEB is a professional industrial woodworking site. Hobbyist and homeowner woodworking questions are inappropriate.
Messages should be kept reasonably short and on topic, relating to the focus of the forum. Responses should relate to the original question.
A valid email return address must be included with each message.
Advertising is inappropriate. The only exceptions are the Classified Ads Exchange, Machinery Exchange, Lumber Exchange, and Job Opportunities and Services Exchange. When posting listings in these areas, review the posting instructions carefully.
Subject lines may be edited for length and clarity.
"Cross posting" is not permitted. Choose the best forum for your question, and post your question at one forum only.
Messages requesting private responses will be removed - Forums are designed to provide information and assistance for all of our visitors. Private response requests are appropriate at WOODWEB's Exchanges and Job Opportunities and Services.
Messages that accuse businesses or individuals of alleged negative actions or behavior are inappropriate since WOODWEB is unable to verify or substantiate the claims.
Posts with the intent of soliciting answers to surveys are not appropriate. Contact WOODWEB for more information on initiating a survey.
Excessive forum participation by an individual upsets the balance of a healthy forum atmosphere. Individuals who excessively post responses containing marginal content will be considered repeat forum abusers.
Responses that initiate or support inappropriate and off-topic discussion of general politics detract from the professional woodworking focus of WOODWEB, and will be removed.
Participants are encouraged to use their real name when posting. Intentionally using another persons name is prohibited, and posts of this nature will be removed at WOODWEB's discretion.
Comments, questions, or criticisms regarding Forum policies should be directed to WOODWEB's Systems Administrator
(return to top).

Carefully review your message before clicking on the "Send Message" button - you will not be able to revise the message once it has been sent.

You will be notified of responses to the message(s) you posted via email. Be sure to enter your email address correctly.

WOODWEB's forums are a highly regarded resource for professional woodworkers. Messages and responses that are crafted in a professional and civil manner strengthen this resource. Messages that do not reflect a professional tone reduce the value of our forums.

Messages are inappropriate when their content: is deemed libelous in nature or is based on rumor, fails to meet basic standards of decorum, contains blatant advertising or inappropriate emphasis on self promotion (return to top).

Libel: Posts which defame an individual or organization, or employ a tone which can be viewed as malicious in nature. Words, pictures, or cartoons which expose a person or organization to public hatred, shame, disgrace, or ridicule, or induce an ill opinion of a person or organization, are libelous.

Improper Decorum: Posts which are profane, inciting, disrespectful or uncivil in tone, or maliciously worded. This also includes the venting of unsubstantiated opinions. Such messages do little to illuminate a given topic, and often have the opposite effect. Constructive criticism is acceptable (return to top).

Advertising: The purpose of WOODWEB Forums is to provide answers, not an advertising venue. Companies participating in a Forum discussion should provide specific answers to posted questions. WOODWEB suggests that businesses include an appropriately crafted signature in order to identify their company. A well meaning post that seems to be on-topic but contains a product reference may do your business more harm than good in the Forum environment. Forum users may perceive your references to specific products as unsolicited advertising (spam) and consciously avoid your web site or services. A well-crafted signature is an appropriate way to advertise your services that will not offend potential customers. Signatures should be limited to 4-6 lines, and may contain information that identifies the type of business you're in, your URL and email address (return to top).

Repeated Forum Abuse: Forum participants who repeatedly fail to follow WOODWEB's Forum Guidelines may encounter difficulty when attempting to post messages.

There are often situations when the original message asks for opinions: "What is the best widget for my type of shop?". To a certain extent, the person posting the message is responsible for including specific questions within the message. An open ended question (like the one above) invites responses that may read as sales pitches. WOODWEB suggests that companies responding to such a question provide detailed and substantive replies rather than responses that read as a one-sided product promotion. It has been WOODWEB's experience that substantive responses are held in higher regard by our readers (return to top).

The staff of WOODWEB assume no responsibility for the accuracy, content, or outcome of any posting transmitted at WOODWEB's Message Boards. Participants should undertake the use of machinery, materials and methods discussed at WOODWEB's Message Boards after considerate evaluation, and at their own risk. WOODWEB reserves the right to delete any messages it deems inappropriate. (return to top)



Forum Posting Form Guidelines

Your Name
The name you enter in this field will be the name that appears with your post or response (return to form).
Your Website
Personal or business website links must point to the author's website. Inappropriate links will be removed without notice, and at WOODWEB's sole discretion. WOODWEB reserves the right to delete any messages with links it deems inappropriate. (return to form)
E-Mail Address
Your e-mail address will not be publicly viewable. Forum participants will be able to contact you using a contact link (included with your post) that is substituted for your actual address. You must include a valid email address in this field. (return to form)
Subject
Subject may be edited for length and clarity. Subject lines should provide an indication of the content of your post. (return to form)
Thread Related Link and Image Guidelines
Thread Related Links posted at WOODWEB's Forums and Exchanges should point to locations that provide supporting information for the topic being discussed in the current message thread. The purpose of WOODWEB Forums is to provide answers, not to serve as an advertising venue. A Thread Related Link that directs visitors to an area with inappropriate content will be removed. WOODWEB reserves the right to delete any messages with links or images it deems inappropriate. (return to form)
Thread Related File Uploads
Thread Related Files posted at WOODWEB's Forums and Exchanges should provide supporting information for the topic being discussed in the current message thread. Video Files: acceptable video formats are: .MOV .AVI .WMV .MPEG .MPG .FLV .MP4 (Image Upload Tips) If you encounter any difficulty when uploading video files, E-mail WOODWEB for assistance. The purpose of WOODWEB Forums is to provide answers, not to serve as an advertising venue. A Thread Related File that contains inappropriate content will be removed, and uploaded files that are not directly related to the message thread will be removed. WOODWEB reserves the right to delete any messages with links, files, or images it deems inappropriate. (return to form)