You are not logged in. Consider these WOODWEB Member advantages:

A personal "member history" that displays your posts at WOODWEB
Your forms at WOODWEB will be filled in automatically
Create your personal "My Favorites" page
Numerous automatic notification options
Curly Maple Top
9/18
Have a beautiful curly maple plank that I was able to plane down to 5/8" to get rid of saw marks. However it was plain sawn so am concern about it bowing. It is 14" wide and I really would like to not cut the plank. So any suggestions?
---
9/19 #2: Curly Maple Top ...
Website: http://www.dcnchair.com
Breadboard ends?
---
9/19 #3: Curly Maple Top ...
Is it bowed now? Was it kiln dried, and kiln dried by someone that knows what he is doing? Is it acclimated to your shop? What is the current moisture level of the wood? Top top? Table design? Are you shipping it across the country to some weather extreme? I don't know why everyone is so afraid of wood these days. Start out with good material, follow the rules of proper furniture construction and proper finishing techniques to balance moisture absorbtion, and go to the next peice.
---
9/19 #4: Curly Maple Top ...
Kiln dried by company that knows how to kiln dry wood. It is acclimated to my shop and all, does have a slit bow in it, do not have a moisture content meter. It will be a top without "aprons" for the top nor will it be shipped else where in the country. Do have good material and this is a great piece of wood.
---
9/19 #5: Curly Maple Top ...
Breadboard ends, had not thought about it but it would work due to having enough ot the same wood from the same board.
---
9/19 #6: Curly Maple Top ...
I'm no fan of bread board ends on a modern design. Are you just going to fasten the legs to a 5/8 thick top, or run the legs through the top and wedge them? You sure won't have much for screw engagement if you use them to fasten on the legs.
---
9/19 #7: Curly Maple Top ...
Well the big issue for me is keeping the 5/8" maple plank flat since it is sawn flat. Have any suggestions?
---
9/20 #8: Curly Maple Top ...
Battens on the underside, screwed near the center with tight pilot holes and near the edges with slotted holes and pan head screws.
---
9/20 #9: Curly Maple Top ...
Okay I know battens are strips of wood. So the middle batten would be tightly screwed while the end battens would have slots in the battens to allow movement in the curly maple plank if I understand you right?
---
9/20 #10: Curly Maple Top ...
Here's a hall table that is similar to what I am making. So tell me a little more about the battens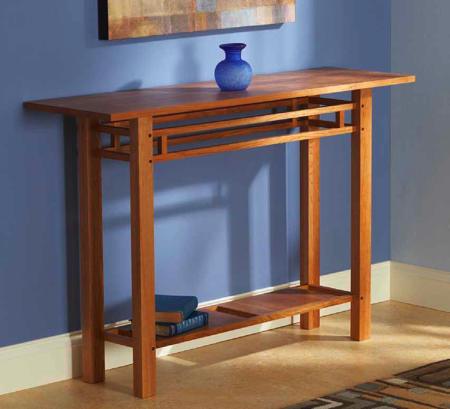 View higher quality, full size image (450 X 409)

---
9/21 #11: Curly Maple Top ...
One of the hallmarks of a professional furniture maker is problem solving. One of the first tasks of problem solving is to determine the goals of a solution, and the parameters within which the solution will be workable.
All of this requires knowledge, much more so than can be acquired in a few paragraphs online.
If this knowledge is beyond your ability, then it is time to up your contribution to your efforts. Attend a class, do research, visit museums, look at furniture and develop strategies that will work for what you want to make. Or work with a professional that is willing to let you learn while you work.
Or, you may be better off shopping for plans.
Beyond that, here is your first question for you to answer: Why will the flat sawn board warp?
---
9/21 #12: Curly Maple Top ...
The flat sawn plank is similar to the attached pic and this would general mean some bowing at some point. Over the last few years I've attempted to learn new techniques here and there, but classes that would interest me are expensive. Am saving some funds for next year for a week long class in Philly that takes teaches Nakashima's work. Classes are expensive. So if the good wood workers would offer classes at a more reasonable rate I would be taking them. Am just a forester -- not the doctor that's into wood working or retired engineer or the successful businessman, etc. They have the professional Grizzlies, Delta Unisaws, etc. So if they would have the classes then I'd take more. The one in Philly is $1100.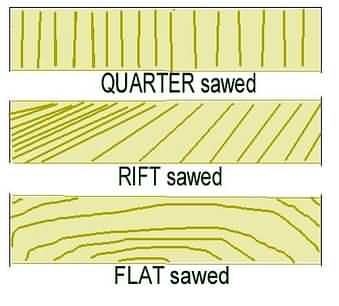 ---
9/21 #13: Curly Maple Top ...
I have a four week furlough that lasts from mid January to mid February and I do try to connect with a woodworker that building style I like. And ask if I can visit his workshop and learn from them while working free with them. Once almost ended up with a Master Japanese Woodworker during my furlough but his cancer came back so that did not work out. Other reasons involve insurance.
---
9/21 #14: Curly Maple Top ...
that table design in your picture would definitely look good with bread board ends.
it has a little bit of a Greene and Greene look to it.
nicko
---
9/22 #15: Curly Maple Top ...
Why will the flat sawn board warp?
---
9/22 #16: Curly Maple Top ...

Trout , As a professional in as many words used to tell the OP why he should learn more , couldn't you have offered a solution ?
Or should each person complete the school of hard knocks with little help ?
Or should we only give tips and advice to those who seem to know what they are doing ?
Part of the issue here is to be in business and call yourself a professional has little to do with ability or skills so the field , since no degrees are usually required is open to all .
I would do much better on a test now then 35 years ago , how bout you ?
---
9/22 #17: Curly Maple Top ...
The most simple method for milling a log into planks, plain sawing, involves making a series of parallel cuts through the log. This method is quick and leaves the least amount of waste. Because of the directional tension across the grain as the wood dries, ages and wears, flat sawn boards can be subject to cupping, twisting and bowing. Often, dry boards will absorb moisture from the atmosphere and will become distorted. Plain sawn lumber has a large variety of appearances based on the angle of the growth rings relative to the surface of the board. Often, these rings can be nearly parallel to the board, creating large, open patterns. When the angle of the growth rings nears perpendicular to the surface of the board, there are tighter stripes across the face of the plank.
---
9/22 #18: Curly Maple Top ...
As a forester one of the areas of my study was wood technology not the building of furniture.
---
9/22 #19: Curly Maple Top ...
Website: http://www.dcnchair.com
Just out of curiosity, since I see that you're from PA, did you go to Penn State? I studied forestry at Penn State in the seventies.
---
9/22 #20: Curly Maple Top ...
Ken , a couple of things , were you a Silviculturist when you were with the forest service ? I did a kitchen for one , like you he told me he engineered the species geneticly to be the board he wanted .
When he looked at one of the large glued up drawer faces he asked me if that was one piece of wood .
It became obvious to me that he may know how to grow the trees but he did not know what he was looking at .
To help guide you with your original question , design with wood movement in mind , now with each application you may have different parameters .
The design you have shown is not one that allows for movement imo .Slice the board into veener and make a stable top the correct thickness or redesign would be my choice .
" Knowledge without experience is simply information "
MT

---
9/22 #21: Curly Maple Top ...
No, did not go to Penn State, went to University of Tennessee and now work with the NPS at the Great Smoky Mountains national park.
---
9/22 #22: Curly Maple Top ...
D. Brown, this is just such a nice piece of wood and that was the reason to make a hall table out of it. Regular I would rip the boards and glue them together to make the top, but really did not want to do this. Besides I do not think I have the ability to slice a veneer out of this board. So was looking for a way to ensure good movement minus any bowing and such.
---
9/23 #23: Curly Maple Top ...
Oh the suspense is killing me. Will Ken ever ring in with the correct answer to Kilgore's question? Will seasonal or moisture swelling of wood ever get mentioned? Will anyone ever tell Ken the proper slotting of cleats? Will anyone ever suggest that Ken reads Hoadley's book Understanding Wood? Will anyone ever tell Ken that the wood must be finished top an bottom to allow equal moisture absorbtion? These questions and more on "As Wood Moves".
---
9/23 #24: Curly Maple Top ...
I'm not sure how many master craftsmen this website has on board, but there's no shortage of master wise asses.
---
9/23 #25: Curly Maple Top ...
I think Ken already knows that but is looking for an solution to his unforgiving design . Where the cleats going to go with the design as it is ?
After a degree and a career in forestry he knows little about wood movement or design but the table pictured looks nice .
---
9/23 #26: Curly Maple Top ...
It's called humor Dave.
---
9/23 #27: Curly Maple Top ...
Sorry, I haven't followed this thread since my earlier post, didn't think it needed elaboration. By battens I mean solid wood strips thick enough to restrain the panel's tendency to cup (say 3/4" to 1" in this case) screwed to the panel's underside with their grain direction at right angles to that of the panel in such a way that the screws do not restrict the panel's movement in width due to varying humidity levels. Thus the battens would be screwed tight at the panel's center, and the screws at the ends of the battens would run through slots, allowing the solid wood panel to grow and shrink while remaining flat. A breadboard end might accomplish the same thing, although if only as thick as the panel it's doubtful, and the relative movement of the two pieces would be apparent at various seasons. The panel could be restrained by a frame, but its movement would still have to be designed into the system. The most common system for harnessing table top cupping is to use metal s-clips or cabinetmaker's buttons (L-shaped wooden clips) screwed to the underside of the top and their tongues caught in a groove or pockets in the apron of a leg and apron frame, or the stretchers of a trestle frame. It's not clear how large your panel is, you may need intermediate cross stretchers between the ends of your frame depending on the length.
It would pay you to get a copy of Joyce's "Encyclopedia of Furnituremaking". It will answer most questions of this nature, as they have been dealt with for centuries.
---
9/27 #28: Curly Maple Top ...
Kevin I've gone with the cleat idea which sounds best and can add it to my design as some contrast to the maple and cherry. Just did get back from a week long backcountry trip at work. Enjoyed the humor and discussion guys,
---
9/27 #29: Curly Maple Top ...
"The most simple method for milling a log into planks, plain sawing, ..."
http://www.northendhardwoods.com/2010/09/quarter-sawn-vs-plain-sawn-v
s-rift-sawn-lumber/
...not that this is an answer to Mr. Trout's question, but here's my best guess citation for you anyway.
Here's two more really easy questions to point you in the right direction:
Is the posted picture your work?
Did you use the posted picture to sell this job?
---
9/27 #30: Curly Maple Top ...
I asked the question because the OP is concerned about the board 'bowing' - apparently since it was plain sawn. He continues by mentioning he does 'not want to cut the plank'. This confuses things, because he proposes that cutting the plank will somehow prevent bowing. Not a good linkage of cause and effect. His OP in fact has two statements that utilize defective cause and effect. This is the reason for all the confusion that follows. His statements presuppose conditions that are faulty, or at least unclear, and the conclusions are based on that, as well as many of the responses.
I asked why he is concerned about it bowing (whatever is meant by that could be another discussion...). Does plain sawing affect its proclivity to bow? -- as an attempt to explore the faulty (in my opinion) connection.
>> Answer: Why does wood move (assumed to include 'bowing')? Wood moves in response to changes in Moisture Content (MC). This is normally caused by changes in the Relative Humidity (RH) in the environment of the board. A reading of Hoadley or any basic book on wood technology, or even here on Woodweb, will get that basic bit of info.
So, is the piece going to be in an area where MC is likely to change from changes in RH? What will be the parameters of that change in RH > MC?
Then, how will that affect the board? "Bowing" is one response. Cupping, twisting, cracking, moving, winding, splitting, or more are other responses.
Battens, assumed to be cross grain, can prevent cupping. I'm unsure about preventing bowing since I don't know what is meant by that term. The battens (cleats, sticks, things) placed cross grain will do nothing to prevent most of the other defects that can happen.
Natural curiosity is good thing, but must be countered by logical and rational thought, generating a sound line of reasoning. Without those simple basics, we would have a planet full of religious wars and hatred.
---
9/28 #31: Curly Maple Top ...
There you go!
---
9/29 #32: Curly Maple Top ...
Well, technically bowing refers to curvature of a board throughout its length, i.e. "rocker", whereas cupping refers to rounding across its width and crook to a bend in the edge direction. I addressed the issue of cupping as that is the most common problem with a wide plainsawn board, and seemed to be what the O.P. was concerned with. Bowing would be addressed with the same technique for a tabletop, pulling the board down onto a frame with clips.
On the issue of free advice, it's worth every penny. If the questioner brings nothing to the fray but uninformed curiosity, perhaps he will exit with some useful information, and may actually be able to put it to good use. Perhaps he will be inspired to do some research before asking again, or maybe he will be sufficiently rebuked by the gadflies that he will never return. I am willing to share my experience, such as it is, with anyone who cares enough to ask,but it is only reasonable to expect an informed question on a "professional" forum.
---
4/1 #33: Curly Maple Top ...
Website: http://v-dubfurniture.com
One of the first tasks of problem solving is to determine the goals of a solution, and the parameters within which the solution will be workable.
---
---
Buy & Sell Exchanges | Forums | Galleries | Other Resources | Site Map
---



Buy and Sell Exchanges



Job Opportunities and Services Exchange
Employment opportunities and services within the woodworking industry

Lumber Exchange
A worldwide buy/sell exchange for lumber and wood products

Machinery Exchange
A worldwide buyer and seller exchange for woodworking machinery and equipment.

Classified Ad Exchange
Classified advertising for the woodworking industry (for advertisements that do not include machinery, lumber products and employment listings)


---



Forums



Adhesives Forum
Discussing topics related to adhesives within the woodworking industry

Architectural Woodworking Forum
Discussing quality standards and production of architectural wood products

Business and Management Forum
A forum for the discussion of business topics: from sales and marketing to dealing with difficult customers.

Cabinet and Millwork Installation Forum
Discussing all aspects of installation issues encountered by cabinet and millwork installers.

Cabinetmaking Forum
Discussing 32mm and face frame cabinet construction including fabrication, casegoods design, and installation.

CAD Forum
Shedding light on the all-too-often shadowy world of CAD.

CNC Forum
Discussing CNC (computer numerically controlled) woodworking equipment, software, and automated product manufacturing.

Dust Collection, Safety and Plant Operation Forum
Discussing topics related to maintaining a safe and productive working environment.

Professional Finishing Forum
Finishing issues for the production environment

Forestry Forum
The science and art of forest cultivation and timber management, planting, surveying, tree diseases, silviculture and timber harvesting

Professional Furniture Making Forum
Helping professional furniture makers improve quality, save time, and increase profits

Laminating and Solid Surfacing Forum
Issues related to laminating and solid surface materials and processes

Commercial Kiln Drying Forum
Discussions covering issues faced be commercial drying operations that process at least 750,000 bd. ft. of lumber per year

Sawing and Drying Forum
Discussing topics related to primary processing and drying of lumber

Solid Wood Machining Forum
Discussing topics related to the machining of solid wood

Value Added Wood Products Forum
Learn how to improve your output, find new markets, and boost sales of your lumber products

Veneer Forum
Discussing topics related to veneer processing, manufacturing, and fabrication

WOODnetWORK
An electronic discussion group for woodworkers throughout the world


---



Galleries



Project Gallery
Where professional woodworkers can post examples of their work

Sawmill Gallery
Professional primary processing companies display and describe their sawmill facilities

Shop Gallery
Professional woodworkers display and describe their shop facilities, products and equipment

Shopbuilt Equipment Gallery
Professional woodworker's jigs, rigs, and shopbuilt equipment


---



Other Resources



Industry News
Late-breaking news from all sectors of the wood industry

Video Library
Index of industrial woodworking related digital videos on the web

Auctions, Sales and Special Offers
Advertisers offering woodworkers discounted prices on good and services, and announcements of upcoming auctions


FORUM GUIDELINES: Please review the guidelines below before posting at WOODWEB's Interactive Message Boards
(return to top)
WOODWEB is a professional industrial woodworking site. Hobbyist and homeowner woodworking questions are inappropriate.
Messages should be kept reasonably short and on topic, relating to the focus of the forum. Responses should relate to the original question.
A valid email return address must be included with each message.
Advertising is inappropriate. The only exceptions are the Classified Ads Exchange, Machinery Exchange, Lumber Exchange, and Job Opportunities and Services Exchange. When posting listings in these areas, review the posting instructions carefully.
Subject lines may be edited for length and clarity.
"Cross posting" is not permitted. Choose the best forum for your question, and post your question at one forum only.
Messages requesting private responses will be removed - Forums are designed to provide information and assistance for all of our visitors. Private response requests are appropriate at WOODWEB's Exchanges and Job Opportunities and Services.
Messages that accuse businesses or individuals of alleged negative actions or behavior are inappropriate since WOODWEB is unable to verify or substantiate the claims.
Posts with the intent of soliciting answers to surveys are not appropriate. Contact WOODWEB for more information on initiating a survey.
Excessive forum participation by an individual upsets the balance of a healthy forum atmosphere. Individuals who excessively post responses containing marginal content will be considered repeat forum abusers.
Responses that initiate or support inappropriate and off-topic discussion of general politics detract from the professional woodworking focus of WOODWEB, and will be removed.
Participants are encouraged to use their real name when posting. Intentionally using another persons name is prohibited, and posts of this nature will be removed at WOODWEB's discretion.
Comments, questions, or criticisms regarding Forum policies should be directed to WOODWEB's Systems Administrator
(return to top).

Carefully review your message before clicking on the "Send Message" button - you will not be able to revise the message once it has been sent.

You will be notified of responses to the message(s) you posted via email. Be sure to enter your email address correctly.

WOODWEB's forums are a highly regarded resource for professional woodworkers. Messages and responses that are crafted in a professional and civil manner strengthen this resource. Messages that do not reflect a professional tone reduce the value of our forums.

Messages are inappropriate when their content: is deemed libelous in nature or is based on rumor, fails to meet basic standards of decorum, contains blatant advertising or inappropriate emphasis on self promotion (return to top).

Libel: Posts which defame an individual or organization, or employ a tone which can be viewed as malicious in nature. Words, pictures, or cartoons which expose a person or organization to public hatred, shame, disgrace, or ridicule, or induce an ill opinion of a person or organization, are libelous.

Improper Decorum: Posts which are profane, inciting, disrespectful or uncivil in tone, or maliciously worded. This also includes the venting of unsubstantiated opinions. Such messages do little to illuminate a given topic, and often have the opposite effect. Constructive criticism is acceptable (return to top).

Advertising: The purpose of WOODWEB Forums is to provide answers, not an advertising venue. Companies participating in a Forum discussion should provide specific answers to posted questions. WOODWEB suggests that businesses include an appropriately crafted signature in order to identify their company. A well meaning post that seems to be on-topic but contains a product reference may do your business more harm than good in the Forum environment. Forum users may perceive your references to specific products as unsolicited advertising (spam) and consciously avoid your web site or services. A well-crafted signature is an appropriate way to advertise your services that will not offend potential customers. Signatures should be limited to 4-6 lines, and may contain information that identifies the type of business you're in, your URL and email address (return to top).

Repeated Forum Abuse: Forum participants who repeatedly fail to follow WOODWEB's Forum Guidelines may encounter difficulty when attempting to post messages.

There are often situations when the original message asks for opinions: "What is the best widget for my type of shop?". To a certain extent, the person posting the message is responsible for including specific questions within the message. An open ended question (like the one above) invites responses that may read as sales pitches. WOODWEB suggests that companies responding to such a question provide detailed and substantive replies rather than responses that read as a one-sided product promotion. It has been WOODWEB's experience that substantive responses are held in higher regard by our readers (return to top).

The staff of WOODWEB assume no responsibility for the accuracy, content, or outcome of any posting transmitted at WOODWEB's Message Boards. Participants should undertake the use of machinery, materials and methods discussed at WOODWEB's Message Boards after considerate evaluation, and at their own risk. WOODWEB reserves the right to delete any messages it deems inappropriate. (return to top)



Forum Posting Form Guidelines

Your Name
The name you enter in this field will be the name that appears with your post or response (return to form).
Your Website
Personal or business website links must point to the author's website. Inappropriate links will be removed without notice, and at WOODWEB's sole discretion. WOODWEB reserves the right to delete any messages with links it deems inappropriate. (return to form)
E-Mail Address
Your e-mail address will not be publicly viewable. Forum participants will be able to contact you using a contact link (included with your post) that is substituted for your actual address. You must include a valid email address in this field. (return to form)
Subject
Subject may be edited for length and clarity. Subject lines should provide an indication of the content of your post. (return to form)
Thread Related Link and Image Guidelines
Thread Related Links posted at WOODWEB's Forums and Exchanges should point to locations that provide supporting information for the topic being discussed in the current message thread. The purpose of WOODWEB Forums is to provide answers, not to serve as an advertising venue. A Thread Related Link that directs visitors to an area with inappropriate content will be removed. WOODWEB reserves the right to delete any messages with links or images it deems inappropriate. (return to form)
Thread Related File Uploads
Thread Related Files posted at WOODWEB's Forums and Exchanges should provide supporting information for the topic being discussed in the current message thread. Video Files: acceptable video formats are: .MOV .AVI .WMV .MPEG .MPG .FLV .MP4 (Image Upload Tips) If you encounter any difficulty when uploading video files, E-mail WOODWEB for assistance. The purpose of WOODWEB Forums is to provide answers, not to serve as an advertising venue. A Thread Related File that contains inappropriate content will be removed, and uploaded files that are not directly related to the message thread will be removed. WOODWEB reserves the right to delete any messages with links, files, or images it deems inappropriate. (return to form)