Message Thread:
winter cracks and what do about them
1/8

it has been unseasonably cold here (as it has been in other parts of the country, for sure) and we're experiencing some cracks in glued and single piece lumber that we've never experienced before. the attached pictures are some examples. none of the pieces that have cracked have been secured or have any finish applied, and all have been elevated off work tables slightly to allow for even airflow. most are in the path of our forced air heater but none really that close (halfway across the shop). the results (cracks) are new but our procedures, lumber sources, etc. are all the same. we do not have a humidifier and humidity levels have been dry for a couple weeks now. this would be around 15-20% humidity. this is our second winter in this location but our tenth year in business. the cracking problem has been limited to a handful of pieces. these have been a few different wood species and most have not been glued up.
1. are these cracks some how there and just open up as the wood contracts?
2. for glued pieces, like the pictures, the crack can originate at the joint or not, but does seem to incorporate some part of the joint in the separated lumber section. is this some sort of failure in our joint preparation? wouldn't the crack only open, or be in, the joint not properly prepared area?
3. is there an easy solution for these? will epoxy save the day?
thanks, and stay warm.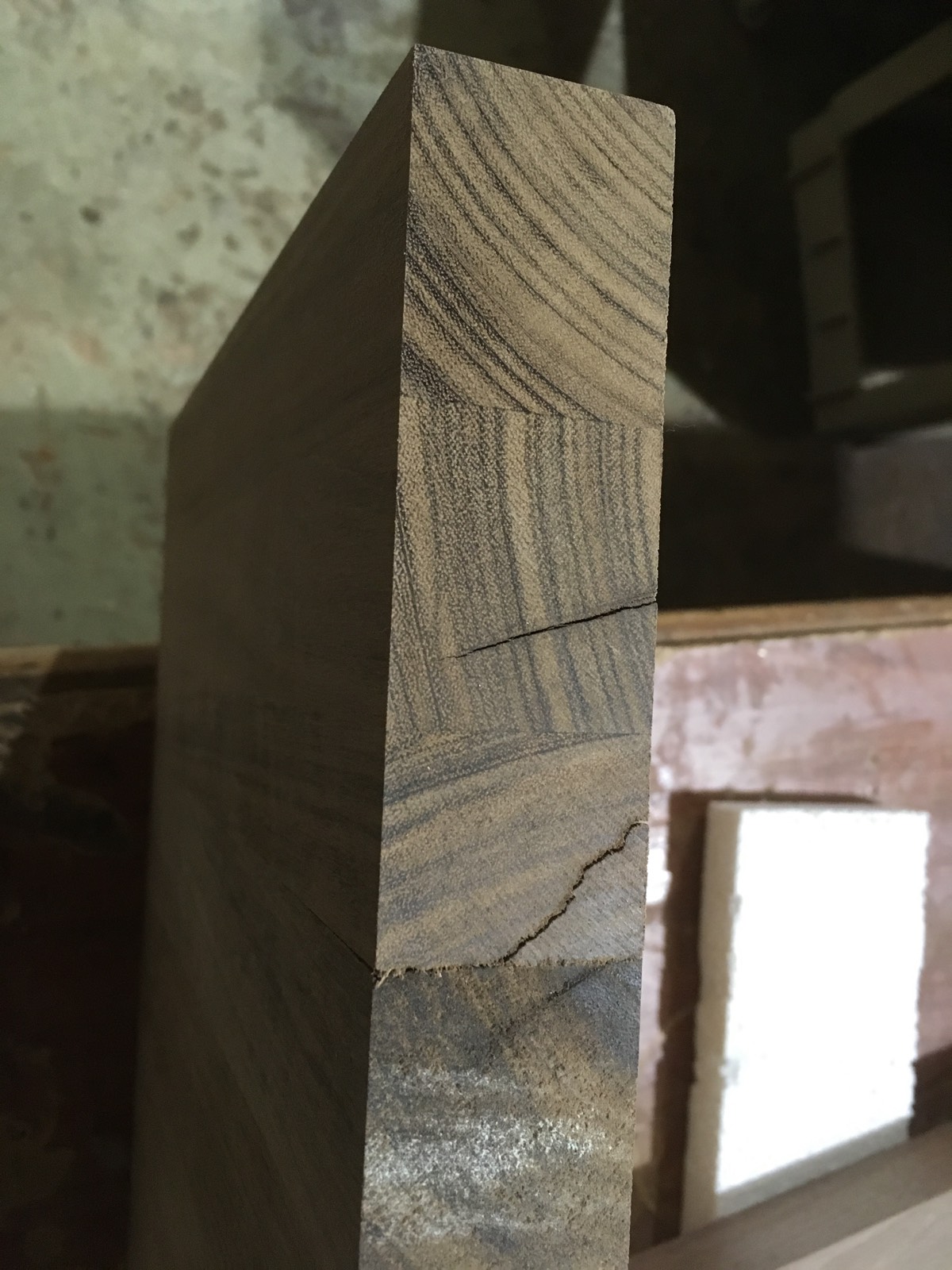 View higher quality, full size image (1200 X 1600)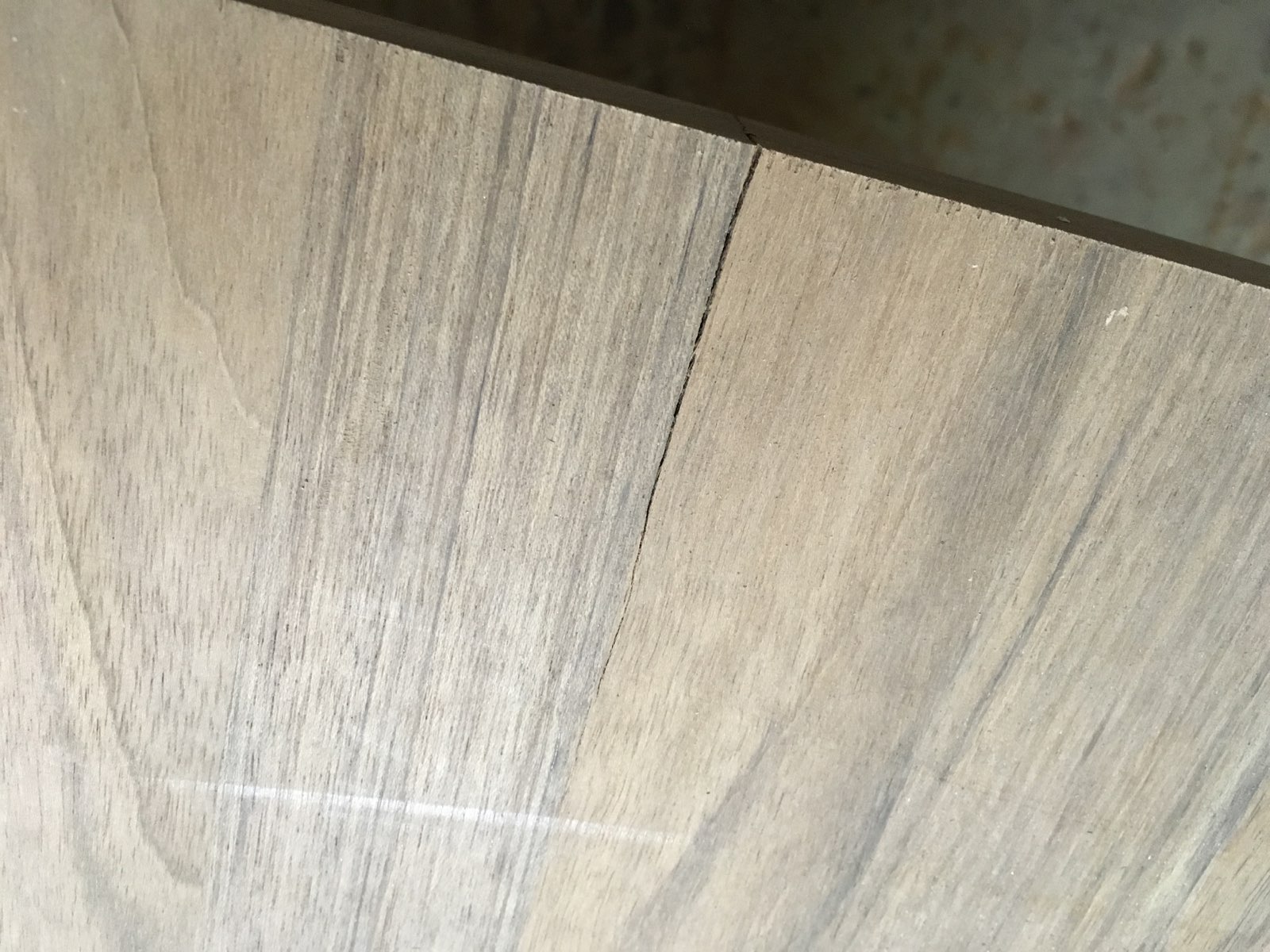 View higher quality, full size image (1600 X 1200)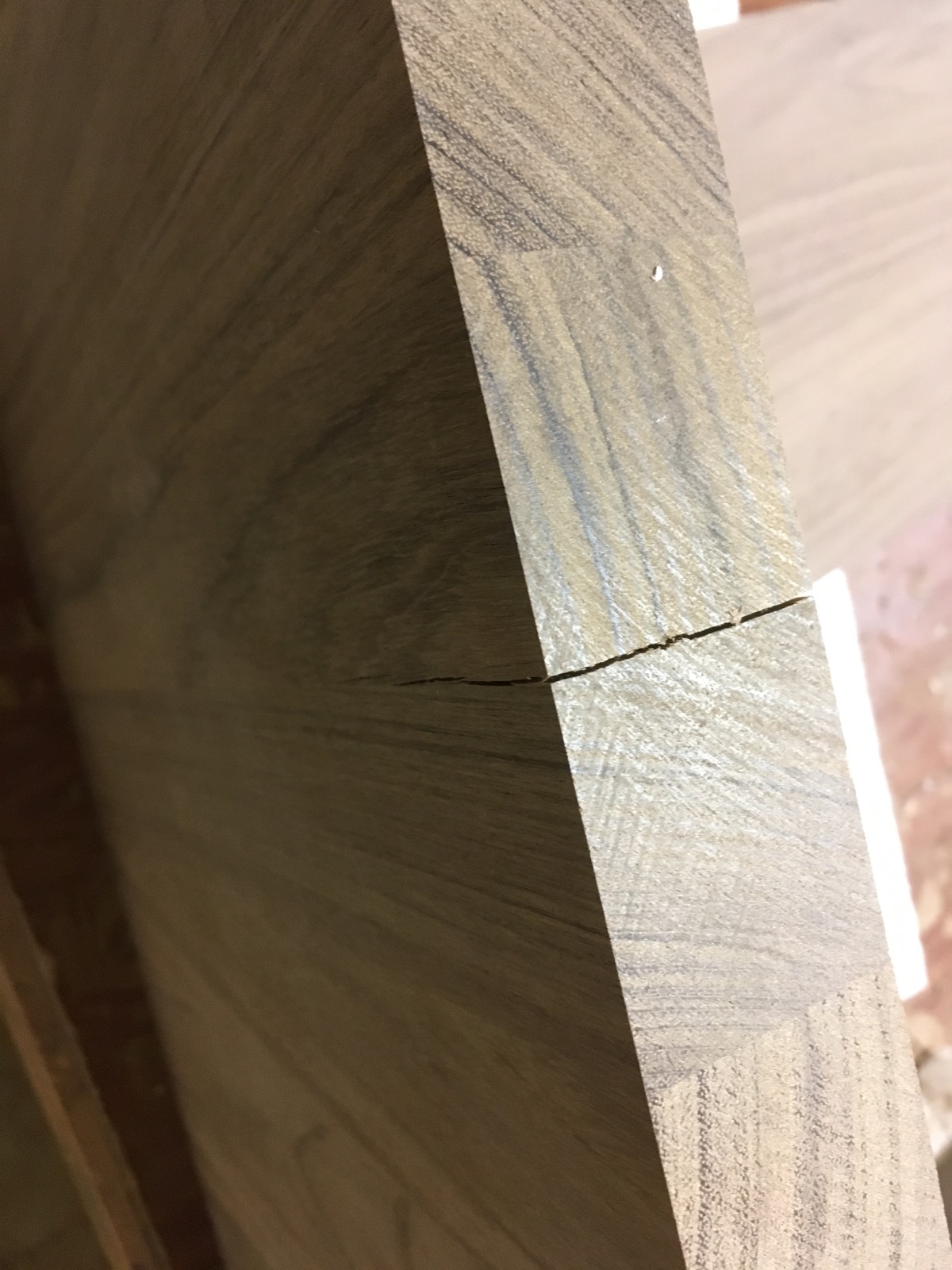 View higher quality, full size image (1200 X 1600)

---
1/8 #2: winter cracks and what do about the ...

I'd say that any crack that only goes part way through a board, was there before the glue up. A structural or drying crack in the wood that you did not see. Be more liberal with you end trimming. The crack that runs on the joint is from improperly dried or acclimated wood, poor glue spread, too cold for proper glue setup, or poor joinery. Glue choice has nothing to do with any of the failures in my opinion. Consider your shop conditions, temp and humidity swings, and add a humidifier if the levels are too low.
---
1/8 #3: winter cracks and what do about the ...

rich,
thanks for your reply.
what about a combination of the two split conditions - along a joint with in-the-middle-of-a-piece splitting? what do you think would be the cause of this - hidden existing split or improper gluing causing a weakness that pulls the wood apart close to the improperly glued area? chicken or egg?
we generally do a very good job of cutting end checks out and all of the shop splits looked good initially and suddenly appeared.
---
1/8 #4: winter cracks and what do about the ...

To my eye the first photo shows some discoloration around the crack suggesting that was already there but enlarged when exposed.
Keep a drop cloth or use a piece of board to protect wood from direct forced air flow.
Let your wood acclimate in the shop before glue up. If you can't afford the 2 weeks of acclimatization then at least make sure that the wood comes to room temperature before machining and gluing. It takes a long time for wood to rise to temperature throughout. Glue joint will be weakened if the wood is too cold.
Have you checked wood with meter? In my shop (Ottawa Canada) the walnut I am working is below 5 percent.
---
1/8 #5: winter cracks and what do about the ...

tom,
thanks for your reply.
we're working wood mostly in stock so it has been with us for some time. with these cracks, everything looked fine and then the next day we had cracks. for the pieces we hadn't glued together, and for those glue ups as well, i would have figured they would simpy contract, since there is nothing to inhibit the wood movement. maybe the heated air flow is more to blame than i am thinking. i guess a humidifier is the way to go.
moisture is between 4-7%.
---
1/8 #6: winter cracks and what do about the ...

The wood itself actually inhibits even shrinkage. End grain dries faster because of it's "straw like" composition. As it dries faster it shrinks faster than the rest of the panel causing cracks.
---
1/8 #7: winter cracks and what do about the ...

The wood may have been it stock but now you are cross cutting it exposing new end grain. Humidification is the way to go.
---
1/8 #8: winter cracks and what do about the ...

I think this is a combination of pre-glue up checks and newly developed with all failures being akin to end-checking in dried boards.
Check the moisture content of the wood before glue up and then after the crack developed. If you are going to toss the current cracked pieces then cut one about a foot in from the end and do an end grain moisture content check. Then compare that to the moisture content at the cracked end. My guess is you are going to find the wood significantly drier at the exposed cracked end.
You can also go back the next day and do a second measurement on the newly cut internal butt end. If it is even a couple percent lower than it had been the day before you've found the cause of your problem.
BH Davis
---
1/9 #9: winter cracks and what do about the ...

To clarify my previous comment. Photo 1, preexisting cracks, (agree that the darkness in the crack indicates it was there previously) Photo 2 and 3, shrinkage or improper jointing and glue spread.
Do you have overhead heaters? If you are getting hot air and high air flow going over freshly machined wood and glue ups, you'll quickly see that cracking as shown in photo 2 and 3. Just because you've had the stock a long time doesn't mean it won't move when you blow hot, dry air over it.
---
1/9 #10: winter cracks and what do about the ...

Is humidification practical? My shop is in a multiple bay concrete block industrial building. It's a sieve. I figure the air exchange is several times per hour.
---
1/9 #11: winter cracks and what do about the ...

I use 3 units from Banson Humidification and they work great. They hang from the ceiling have their own 1/4" flexible waterline supplying them and no wicks to mess with. We run two exhaust fans for finishing so we exchange the air a lot in the shop. The Banson's are controlled by a humidistat and turn on and off as needed.
---
1/9 #12: winter cracks and what do about the ...

thanks for all the comments. i appreciate all of the help.
so what is the answer? keep everything out of the line of the heater and/or looking into a humidifier. what is the best way to seal the cracks that have opened up and save any larger pieces?
---
1/9 #13: winter cracks and what do about the ...

I would never seal a crack and send it out. I rip out the crack and add another piece to the assembly. On a split seam, I'd rip it on the crack and also add more material if you have it cut to size already. When I end trim a piece of rough stock, I don't accept a visual inspection. I rap every cutoff on the saw table. If there is a hidden crack, the piece will still break on the impact. When the cutoffs stop breaking, I don't trim any further. It's not an either/or on the air flow and humidification, it's both required. Limiting hot air blowing over the glue up, should be as easy as just redirecting air or moving the work station. A baffle added near the front of the overhead furnace can be as simple as a piece of cardboard. Adding humidification is a lot cheaper than reworking parts.
---
1/10 #14: winter cracks and what do about the ...

We also do what rich describes: cut off the end and rap it on the saw table to see it if splits easily. If so, pull the board up and cut off another inch or two. This is done at rough length, usually the first stop when processing rough lumber.
Then we do it again after glue up and cutting to size. This second one is moot since we have things to size already, and by now it is too late, except to feed the paranoia.
I have seen several of our wood tops split on the ends or faces after install or even before we get them out the door. We used various fixes - remove, rip and reglue, epoxy with wood dust, slivers and cyan, wax, bubble gum - whatever seemed appropriate.
Quietly, I am glad the fad is fading. Nice money makers and always attractive, but we had more callbacks on tops than all other products combined.
Spekva, a Swedish Cabinetmaker that has made wood tops for decades has a 16 page owner's manual that starts off with this:
"As wood is a "living" product and works in accordance with moisture levels, it is important for the relative humidity in the room to be approximately 50%, which is normal in a setting where the temperature is 20°C (68 F)." 50% is high, and would be avoided in most US houses as a mold generator. I do not know how they tie the RH to the temp and arrive at their numbers.
I could not get a customer to read 16 pages, must less hold the house at 50% RH.
Steinway has this to say:
"The most favorable environment for your piano is a relative humidity ranging between 45% and 70% and a constant temperature of approximately 20˚C. Sudden fluctuations in temperature must be avoided as the tuning and regulation might be influenced negatively".
So..we could all squeak out on such a warranty restriction if we wanted to. However, I usually had an otherwise good customer standing there and tooling me "...that is all fine and good, but what will you do about the crack?"
Spekva Downloads
---
1/10 #15: winter cracks and what do about the ...


thanks for the replies.
we're supposed to cut back the ends and do drop the drops on the floor to check for hidden splits. if they bust apart we cut back further until the drops don't. the piece in the picture, and other pieces not pictured, were supposed to have been treated this way. these cracks didn't exist to the naked eye previously.
david - have you found epoxy to be a permanent remedy? i'm sure it depends on the details and detailed eye of the end user. also, given the warranties and guidelines you quoted, what has been your response when problems have arisen after a top has been installed (so what have you done)? have you ever pulled one and repaired it at your shop?
---
1/10 #16: winter cracks and what do about the ...


Website: http://harmonicdesignworks.com
Is that jatoba? In our experience, that is the worst wood for end checking with humidity changes. When it is really cold and dry, we will soak the freshly cut end grain with thin cyanoacrylate to seal it. A couple of coats of seal coat would probably work as well. Typically everything gets wide belted and end sanded, so it disappears visually.
A few years ago, I had a solid jatoba raised panel kitchen job that shipped to Wasilla, AK in November. The homeowners were remodeling, so they sat exposed to very cold, dry air, then once the house was closed up, the wood heat dried them out even more. Splits everywhere. I had to fly up there with humidity gauge and copy of Understanding Wood in hand to talk them out of suing my customer. Remade half the doors to maintain good will. Changed my warranty on jatoba to "none".
---
1/10 #17: winter cracks and what do about the ...


What does this mean "we're supposed to cut back the ends.... "? Does that not get done all the time? I'd suggest you get a stronger light at that work station.
---