You are not logged in. Consider these WOODWEB Member advantages:

A personal "member history" that displays your posts at WOODWEB
Your forms at WOODWEB will be filled in automatically
Create your personal "My Favorites" page
Numerous automatic notification options
Is Selling And Installing Rollout Shelves A Viable Business
10/22

My son and I are in the window treatment business and we've been thinking of adding another product line to our existing business. Someone recommended getting into kitchen rollout shelves. We're have been seriously looking into it since if I'm not mistaken one would not really have to be a finish carpenter to install rollout shelves. According to this same individual a franchise called Shelf Genie gets $600 on average per opening for rollout shelves. If true It would seem like there's good money in it. Though I do not want to go down the franchise route. To the kitchen experts out there do you think it's viable business opportunity. If so where would one get more info such videos on how to build and install kitchen roll outs and drawer dividers.
---
10/22 #3: Is Selling And Installing Rollout S ...

I'm skeptical.
People at the age most likely do that are also notoriously frugal.
---
10/22 #4: Is Selling And Installing Rollout S ...

We offered them for a while as an add on sale. We were getting about 100 bucks a roll-out. We were buying them ready to go from a place that sold them for 1 price for any size, in 1" increments. They came with the guide mounted. We did alright if they did the whole kitchen. We got out of it as it wasn't our core business. Its viable just plan on an avg. Sale of 500-1500.
As for "That" demographic if you are referring to the 55+ age group, while they may be frugal, they actually have money as opposed to available credit and like things in there home to be nice and are a great market segment to target.
---
10/23 #5: Is Selling And Installing Rollout S ...

$600 for 2 rollout shelves? Wow! They must work in better neighborhoods than I did! I think it would a hard marketing nut to crack! I can't imagine people go out and look for someone to just put in pullout shelves.
---
10/23 #6: Is Selling And Installing Rollout S ...

Derrek
Doesn't matter they are notoriously frugal and not going to pay $600 for roll out shelves in one opening.
That is my opinion, I could be wrong but I doubt it.
OTH the 50 to 60 year olds will buy a kitchen remodel. But not so much after 60.
---
10/23 #7: Is Selling And Installing Rollout S ...

Yeah, I'm probably wrong on that. That 10 million in sales that I have had to that age group over the last 18 years is probably just an anomoly.
---
10/23 #8: Is Selling And Installing Rollout S ...

I'm extremely skeptical, of that statement.
Just to be clear you are saying that you have sold 10 million dollars worth of cabinet work to people over the age of 60?
---
10/23 #9: Is Selling And Installing Rollout S ...

This chart indicates what I'm talking about.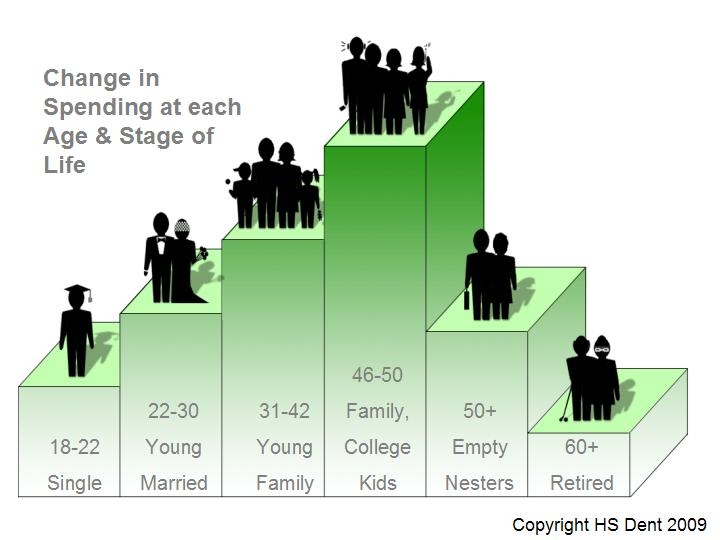 View higher quality, full size image (720 X 540)

---
10/23 #10: Is Selling And Installing Rollout S ...

Tony,
Retro-fitting existing cabinets with full extension roll out trays is a very viable business, but not at $300 a tray.
You should be able to do very well at a $150 a pop and sell quite a few.
As with any business the hard part is marketing and finding the customers.
---
10/24 #11: Is Selling And Installing Rollout S ...

Tony, I think this could be a great sideline business for your window treatment.
I wouldn't listen to people telling you about pricing amounts, your market could be entirely different and will dictate the price you charge. You just need to beat ShelfGenie.
I would think the system is relatively easy to learn, and you would need only 1 or 2 suppliers.
I would keep it simple and charge per roll-out. Maybe there is some sort of savings as they go up in qty.?
Also, how to market? Could you slip in a section under a current window treatment ad?
The one tricky area, if you ask me, is that you need a minimum amount of work to make each trip worthwhile. Also, don't be tempted to expand into other cabinet work, just keep it as simple as possible to start.
Would be curious to hear about your results if you decide to take this on. Good luck making the decision.
---
10/25 #12: Is Selling And Installing Rollout S ...

Sounds like that $600 figure came from one individual. Maybe someone trying to promote the franchise.
As far as what empty nesters spend their money on I would say a substantial part of it is on their home after the kids have moved out.
---
10/25 #13: Is Selling And Installing Rollout S ...

We've been an empty nester for 17 years, I've been retired for 2+ years. I'm not spending anything on our home. Only big expenditure has been a new car and planning on investing in our 9 month old grandson's college education. Also saving big time for my self-funding long term care as well, since my Mom will soon be paying $4,000+ per month on assisted living!
---
10/25 #14: Is Selling And Installing Rollout S ...

Just to be clear empty nesters are a prime target for kitchen remodels.
But not after the age of 60
---
10/26 #15: Is Selling And Installing Rollout S ...

As far as not over 60 , it depends on your location , in my area about 50% of the population is of retirement age or older .
in the last 40 years I have prolly done 75% of all my custom kitchens for older than 60 clients , so they can and do spend.
---
10/26 #16: Is Selling And Installing Rollout S ...

That would be an anomaly.
What state are you located in?
---
10/26 #17: Is Selling And Installing Rollout S ...

Pat,
Its not an anomoly, its a market segment that some of us have figured out how to work with and profit from. A graph from the Internet and you repeating doesn't make it correct. There are over 40 million people in America over 60 years old. I don't care that 90% are frugal, I care that the 10 % spend boatloads and that I can target a very small percentage of that 10% and be very profitable with the work that I do.
When I firststarted, I would judge people by age, thinking that old people dont spend money. Luckily I figured it out. I will take estimates for people over 60 all day long over anyone under 50. My own research and success tells the story. Its no anomoly.
---
10/27 #18: Is Selling And Installing Rollout S ...

" I don't care that 90% are frugal, I care that the 10 % spend boatloads and that I can target a very small percentage of that "
That is by definition an anomaly. However profitable it might be.
The odds would be better marketing to the largest percentage.
---
10/27 #19: Is Selling And Installing Rollout S ...

Let's point out that the population that would most benefit from the roll out shelves is those over 60
---
10/27 #20: Is Selling And Installing Rollout S ...

Pat , I'm located in Southern Oregon a regionally and economically depressed former timber town that has always been a difficult market to flourish in . The good thing is many retirement age folks already have the money and are ready to write a check for the new project. They are not dependent on current economics to support themselves.
Also it seems in my area we have the highest savings per capita in the state , so out of 65,000 draw , there are prolly 5,000 that are extremely wealthy , they and all their friends are my target market .
BTW I do not love roll out shelves except in pantry units and do not push them , mainly because they are not easily accessed from a wheel chair where full extension drawers are easier to access , especially for my over 60 clients . Just saying .
---
10/27 #21: Is Selling And Installing Rollout S ...

Is this soon after they bought a house in the new location?
---
10/27 #22: Is Selling And Installing Rollout S ...

Somebody mentioned shelf Genie.
From their website:
"According to an article published by the AARP Public
Policy Institute entitled "What is Livable? Community
Preferences of Older Adults," 87% of adults ages 65 and
older want to stay
in their homes and
communities as they
age. Among people
ages 50 to 64, 71%
want to age in place.
Baby boomers
and senior citizens
are the wealthiest
demographic, and they
are half of ShelfGenie's
growing client base.
Baby boomers and
senior citizens choose
ShelfGenie because our
customized shelving"
As some of you have indicated this is something that people do buy after the age of 60
---
10/28 #23: Is Selling And Installing Rollout S ...

we own a a cabinetshop and counter top shop with granite, corian and p-lam Tops go in and requests to fix front doors, garage doors, rollouts, etc come and we do a lot for the customer, we have a large crew and can handle it it is all scheduled in advance and use other shops when we can Our core business is tops and cabinets, but we take on more if there is a profit in it
---
10/28 #24: Is Selling And Installing Rollout S ...

Pat , sometimes they have lived in the same house for many years , some are new purchases and regular remodels.
They perhaps have figured out that they can not take the money with them so some want to up grade the kitchen and such maybe because they have been frugal their
whole lives and want to have something beautiful in the last parts of life , I give them the great products and personal service that they deserve and they pay my price with a smile .
---
10/28 #25: Is Selling And Installing Rollout S ...

You will have to excuse my aversion to anecdotal information.
The majority come to the conclusion that you are talking about between 50 and 60.
Anyway this industry is all about niches and this one is actually quite interesting.
My theory is that making money is about control and prediction (same thing if you think about it). You only make money from activities from which you have good prediction.
This business, if you can create demand, beats being a clay pigeon in the commercial world.
---
10/28 #26: Is Selling And Installing Rollout S ...

15 years ago that over 60 is frugal was much more prevalent. That age group was the end of the depression era demographic, who were much more frugal and kept everything because they knew what it was like to go without. Todays 60-70 year olds are the first wave of the baby boomers, who are an entirely different demographic. They have also been described as a pog in a python going through our economy, ahuge demo that hit there key spending years in the early to mid 2000's. They have a totally different outlook than the depression era, and many of them have done well.
Todays 2 installs, both over 60, totalling $7000. Yesterday's design appts, 3 people over 60, one $5500 sale, one $3700 sales, one pending of $4000.
Todays appts, 2 of the 3 over 60
Some are new mover, some are long time in home.
---
10/28 #27: Is Selling And Installing Rollout S ...

Derrek , I think you hit it on the head , I'm a mid range boomer and like nice things , even travel and cruises , we don't live above our means on a daily basis but we have worked hard for many years and have our health still so if we don't do it now , when will we do it ?
---
10/29 #28: Is Selling And Installing Rollout S ...

Website: http://atlantacloset.com
A fellow I ate lunch next to at the Closet Summit a couple of weeks ago said he did $1M last year with Shelf Genie somewhere in the midwest and that they wanted him to take over another market. So apparently it is a real thing. If I remember correctly he said he did all the sales himself and had one guy who did all his installations.
---
10/31 #29: Is Selling And Installing Rollout S ...

Website: http://www.jordonscabinets.com
In my area Shelf Genie gets about $300 for a maple/butt joint rollout depending on size.
I sell a bunch for about half that in conjunction with refacing/refinishing jobs.
The challenge with just doing rollouts would be 3 customer trips (estimate, contract, install) for a small project.
---
10/31 #30: Is Selling And Installing Rollout S ...

Jordon,
Offering roll-outs in conjunction with refacing/refinishing sounds very smart. Nice job. :-)
I would think that selling roll-outs by themselves could be reduced to two trips at most.
First trip: Estimate. I don't sell roll-outs, but I can price my product on the first trip (most of the time). I use a 3-part NCR (No Carbon Required) form that has my company name and info pre-printed with lines for items, total price, deposit amount, and final balance. I use an old-fashioned ballpoint pen to fill in the description and dollar amounts. If the customer is ready to go, I have them sign and give me a deposit check. I leave one copy of the form with them.
Second trip: Install, collect final check.
If the customer is not ready to commit, I sign the estimate, leave two copies with the prospect, and also hand them a pre-stamped, pre-addressed #10 envelope. I then ask them to simply sign when they are ready, write a check, and include one of the copies with the check in the envelope. Then, simply mail it back to me. The postage is already there. This still keeps the job down to two trips.
Optionally, if this works for some jobs AND the way you want to do business, this could be done in one trip. Often the customer has a good idea of what they want ahead of time. Sometimes they will even tell you on the phone/email before you visit. (If they don't know, I do NOT try to ask them ahead of time. That is what the sales visit is designed to do.) Carry an inventory in your vehicle along with your tools. Give the estimate (use the same form as above), have the customer sign, do the job, and collect the check. Go home happy, stopping at the bank on the way. Or, if you have mobile banking on your phone, deposit the check after you leave the job. Then, drive home happier. You just saved the cost of a trip to the bank as well. As I said at the beginning of this paragraph, this is an option that you may or may not want to offer. It's your business: run it the way it makes the most sense for you.
Yes, there will be some jobs that will require some design work back at the office, or some special items that I need to get pricing. In that case, I get their email address and send them the estimate ASAP. I have already made a personal impression by visiting them the first time. So, I don't feel that I need to make a second in-person trip to get the project. I send them a PDF of the same form (I call it a Sales Order) that I mentioned above. Instead of my signature on the PDF, I simply type in my name and date. I ask them to print it, sign it, include a check, and mail it back. In this case they provide their own envelope. Works well for me.
---
12/20 #31: Is Selling And Installing Rollout S ...

All,
Update my son and I installed our first rollout shelves for a pantry. We charged $155 per shelf. According to the customer had gotten a prior quote from the franchise shelf genie of $300 per shelf. Hopefully this will eventually lead to successful business venture.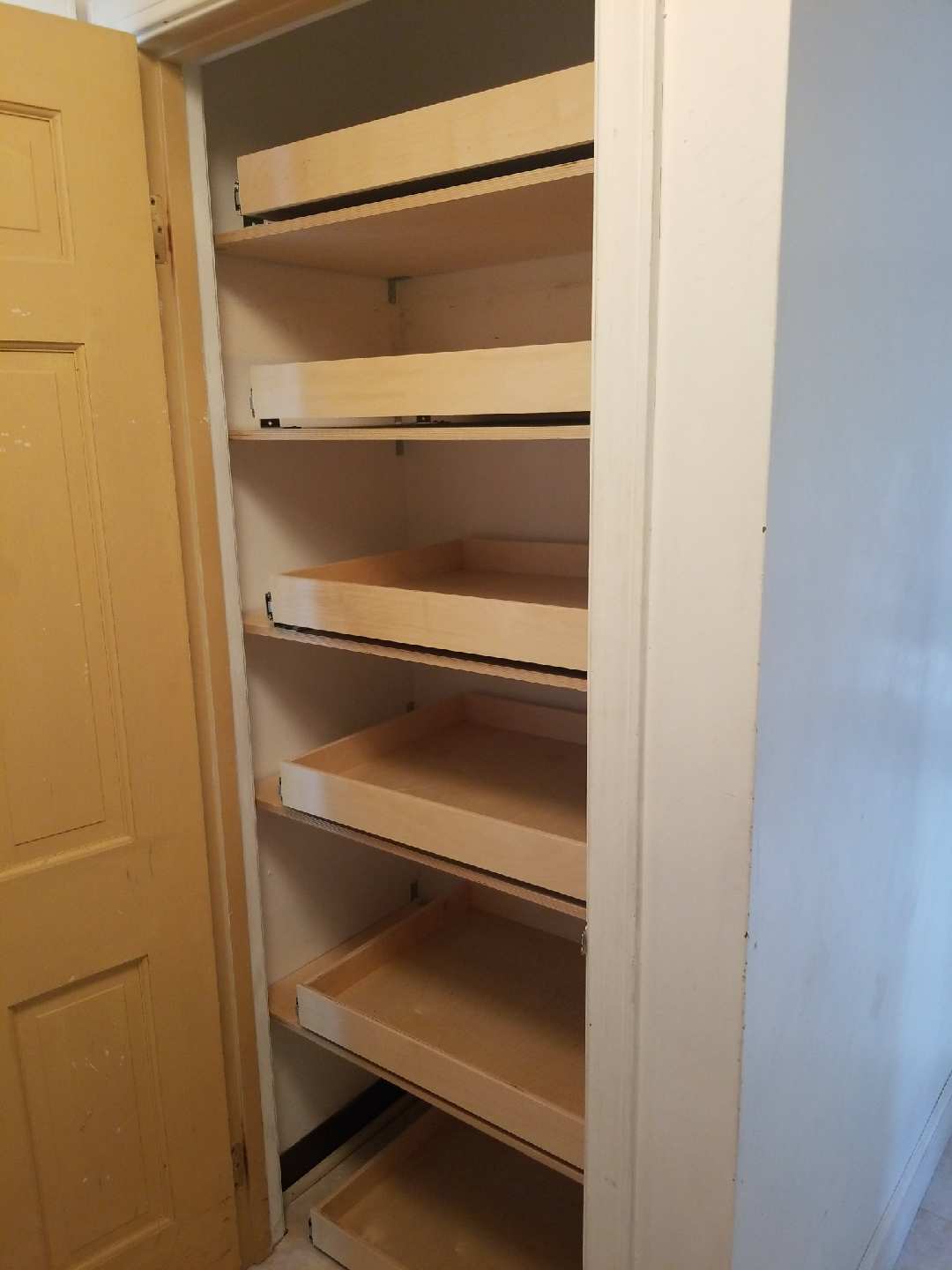 View higher quality, full size image (1080 X 1440)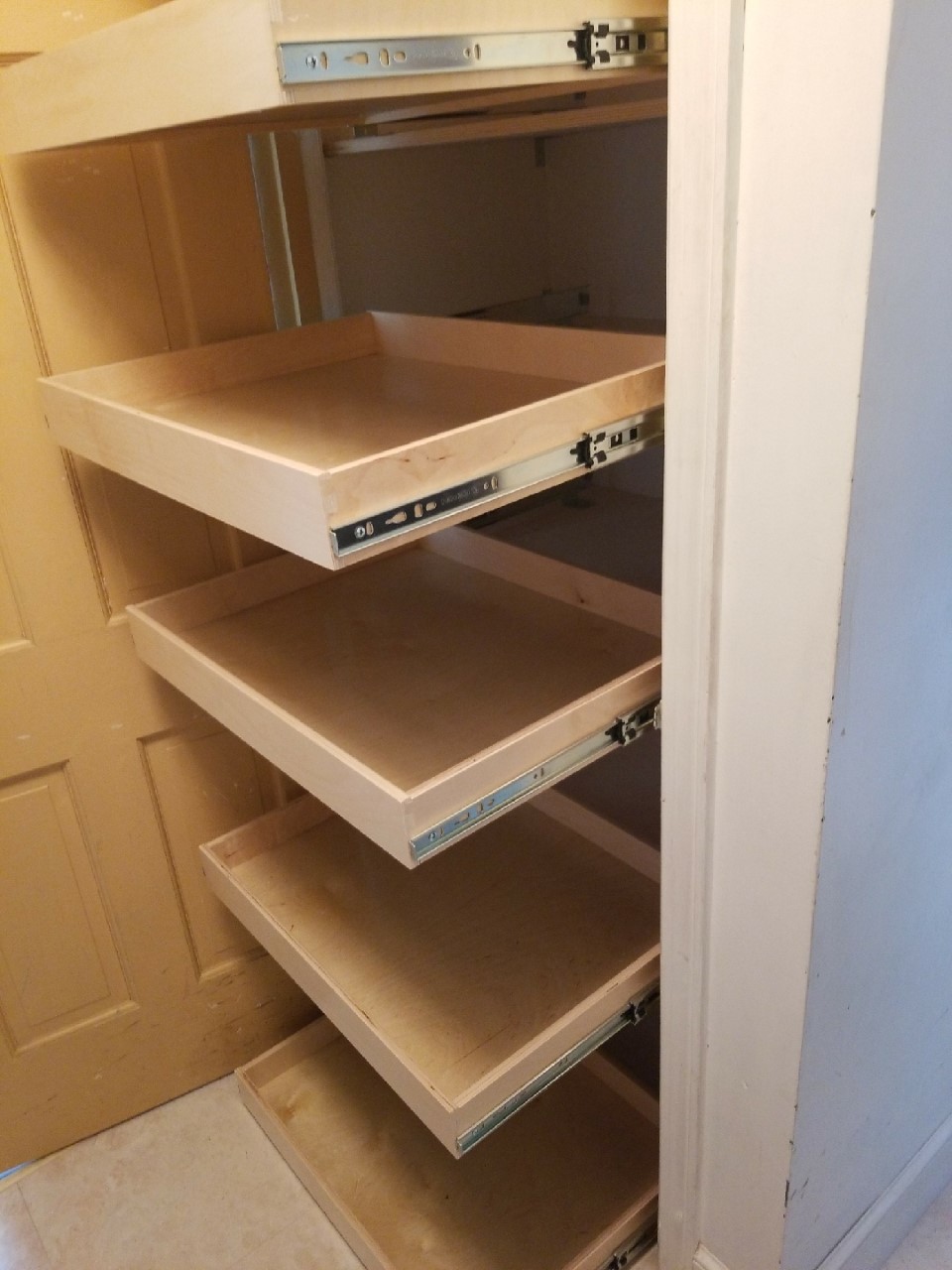 View higher quality, full size image (960 X 1280)

---
12/20 #32: Is Selling And Installing Rollout S ...

How did you get the job?
---
12/20 #33: Is Selling And Installing Rollout S ...

Advertised in a local paper
---

---
Buy & Sell Exchanges | Forums | Galleries | Other Resources | Site Map
---



Buy and Sell Exchanges



Job Opportunities and Services Exchange
Employment opportunities and services within the woodworking industry

Lumber Exchange
A worldwide buy/sell exchange for lumber and wood products

Machinery Exchange
A worldwide buyer and seller exchange for woodworking machinery and equipment.

Classified Ad Exchange
Classified advertising for the woodworking industry (for advertisements that do not include machinery, lumber products and employment listings)


---



Forums



Adhesives Forum
Discussing topics related to adhesives within the woodworking industry

Architectural Woodworking Forum
Discussing quality standards and production of architectural wood products

Business and Management Forum
A forum for the discussion of business topics: from sales and marketing to dealing with difficult customers.

Cabinet and Millwork Installation Forum
Discussing all aspects of installation issues encountered by cabinet and millwork installers.

Cabinetmaking Forum
Discussing 32mm and face frame cabinet construction including fabrication, casegoods design, and installation.

CAD Forum
Shedding light on the all-too-often shadowy world of CAD.

CNC Forum
Discussing CNC (computer numerically controlled) woodworking equipment, software, and automated product manufacturing.

Dust Collection, Safety and Plant Operation Forum
Discussing topics related to maintaining a safe and productive working environment.

Professional Finishing Forum
Finishing issues for the production environment

Forestry Forum
The science and art of forest cultivation and timber management, planting, surveying, tree diseases, silviculture and timber harvesting

Professional Furniture Making Forum
Helping professional furniture makers improve quality, save time, and increase profits

Laminating and Solid Surfacing Forum
Issues related to laminating and solid surface materials and processes

Commercial Kiln Drying Forum
Discussions covering issues faced be commercial drying operations that process at least 750,000 bd. ft. of lumber per year

Sawing and Drying Forum
Discussing topics related to primary processing and drying of lumber

Solid Wood Machining Forum
Discussing topics related to the machining of solid wood

Value Added Wood Products Forum
Learn how to improve your output, find new markets, and boost sales of your lumber products

Veneer Forum
Discussing topics related to veneer processing, manufacturing, and fabrication

WOODnetWORK
An electronic discussion group for woodworkers throughout the world


---



Galleries



Project Gallery
Where professional woodworkers can post examples of their work

Sawmill Gallery
Professional primary processing companies display and describe their sawmill facilities

Shop Gallery
Professional woodworkers display and describe their shop facilities, products and equipment

Shopbuilt Equipment Gallery
Professional woodworker's jigs, rigs, and shopbuilt equipment


---



Other Resources



Industry News
Late-breaking news from all sectors of the wood industry

Video Library
Index of industrial woodworking related digital videos on the web

Auctions, Sales and Special Offers
Advertisers offering woodworkers discounted prices on good and services, and announcements of upcoming auctions


FORUM GUIDELINES: Please review the guidelines below before posting at WOODWEB's Interactive Message Boards
(return to top)
WOODWEB is a professional industrial woodworking site. Hobbyist and homeowner woodworking questions are inappropriate.
Messages should be kept reasonably short and on topic, relating to the focus of the forum. Responses should relate to the original question.
A valid email return address must be included with each message.
Advertising is inappropriate. The only exceptions are the Classified Ads Exchange, Machinery Exchange, Lumber Exchange, and Job Opportunities and Services Exchange. When posting listings in these areas, review the posting instructions carefully.
Subject lines may be edited for length and clarity.
"Cross posting" is not permitted. Choose the best forum for your question, and post your question at one forum only.
Messages requesting private responses will be removed - Forums are designed to provide information and assistance for all of our visitors. Private response requests are appropriate at WOODWEB's Exchanges and Job Opportunities and Services.
Messages that accuse businesses or individuals of alleged negative actions or behavior are inappropriate since WOODWEB is unable to verify or substantiate the claims.
Posts with the intent of soliciting answers to surveys are not appropriate. Contact WOODWEB for more information on initiating a survey.
Excessive forum participation by an individual upsets the balance of a healthy forum atmosphere. Individuals who excessively post responses containing marginal content will be considered repeat forum abusers.
Responses that initiate or support inappropriate and off-topic discussion of general politics detract from the professional woodworking focus of WOODWEB, and will be removed.
Participants are encouraged to use their real name when posting. Intentionally using another persons name is prohibited, and posts of this nature will be removed at WOODWEB's discretion.
Comments, questions, or criticisms regarding Forum policies should be directed to WOODWEB's Systems Administrator
(return to top).

Carefully review your message before clicking on the "Send Message" button - you will not be able to revise the message once it has been sent.

You will be notified of responses to the message(s) you posted via email. Be sure to enter your email address correctly.

WOODWEB's forums are a highly regarded resource for professional woodworkers. Messages and responses that are crafted in a professional and civil manner strengthen this resource. Messages that do not reflect a professional tone reduce the value of our forums.

Messages are inappropriate when their content: is deemed libelous in nature or is based on rumor, fails to meet basic standards of decorum, contains blatant advertising or inappropriate emphasis on self promotion (return to top).

Libel: Posts which defame an individual or organization, or employ a tone which can be viewed as malicious in nature. Words, pictures, or cartoons which expose a person or organization to public hatred, shame, disgrace, or ridicule, or induce an ill opinion of a person or organization, are libelous.

Improper Decorum: Posts which are profane, inciting, disrespectful or uncivil in tone, or maliciously worded. This also includes the venting of unsubstantiated opinions. Such messages do little to illuminate a given topic, and often have the opposite effect. Constructive criticism is acceptable (return to top).

Advertising: The purpose of WOODWEB Forums is to provide answers, not an advertising venue. Companies participating in a Forum discussion should provide specific answers to posted questions. WOODWEB suggests that businesses include an appropriately crafted signature in order to identify their company. A well meaning post that seems to be on-topic but contains a product reference may do your business more harm than good in the Forum environment. Forum users may perceive your references to specific products as unsolicited advertising (spam) and consciously avoid your web site or services. A well-crafted signature is an appropriate way to advertise your services that will not offend potential customers. Signatures should be limited to 4-6 lines, and may contain information that identifies the type of business you're in, your URL and email address (return to top).

Repeated Forum Abuse: Forum participants who repeatedly fail to follow WOODWEB's Forum Guidelines may encounter difficulty when attempting to post messages.

There are often situations when the original message asks for opinions: "What is the best widget for my type of shop?". To a certain extent, the person posting the message is responsible for including specific questions within the message. An open ended question (like the one above) invites responses that may read as sales pitches. WOODWEB suggests that companies responding to such a question provide detailed and substantive replies rather than responses that read as a one-sided product promotion. It has been WOODWEB's experience that substantive responses are held in higher regard by our readers (return to top).

The staff of WOODWEB assume no responsibility for the accuracy, content, or outcome of any posting transmitted at WOODWEB's Message Boards. Participants should undertake the use of machinery, materials and methods discussed at WOODWEB's Message Boards after considerate evaluation, and at their own risk. WOODWEB reserves the right to delete any messages it deems inappropriate. (return to top)



Forum Posting Form Guidelines

Your Name
The name you enter in this field will be the name that appears with your post or response (return to form).
Your Website
Personal or business website links must point to the author's website. Inappropriate links will be removed without notice, and at WOODWEB's sole discretion. WOODWEB reserves the right to delete any messages with links it deems inappropriate. (return to form)
E-Mail Address
Your e-mail address will not be publicly viewable. Forum participants will be able to contact you using a contact link (included with your post) that is substituted for your actual address. You must include a valid email address in this field. (return to form)
Subject
Subject may be edited for length and clarity. Subject lines should provide an indication of the content of your post. (return to form)
Thread Related Link and Image Guidelines
Thread Related Links posted at WOODWEB's Forums and Exchanges should point to locations that provide supporting information for the topic being discussed in the current message thread. The purpose of WOODWEB Forums is to provide answers, not to serve as an advertising venue. A Thread Related Link that directs visitors to an area with inappropriate content will be removed. WOODWEB reserves the right to delete any messages with links or images it deems inappropriate. (return to form)
Thread Related File Uploads
Thread Related Files posted at WOODWEB's Forums and Exchanges should provide supporting information for the topic being discussed in the current message thread. Video Files: acceptable video formats are: .MOV .AVI .WMV .MPEG .MPG .MP4 (Image Upload Tips) If you encounter any difficulty when uploading video files, E-mail WOODWEB for assistance. The purpose of WOODWEB Forums is to provide answers, not to serve as an advertising venue. A Thread Related File that contains inappropriate content will be removed, and uploaded files that are not directly related to the message thread will be removed. WOODWEB reserves the right to delete any messages with links, files, or images it deems inappropriate. (return to form)