You are not logged in. Consider these WOODWEB Member advantages:

A personal "member history" that displays your posts at WOODWEB
Your forms at WOODWEB will be filled in automatically
Create your personal "My Favorites" page
Numerous automatic notification options
Benefits of 3D vs2D
3/10

I had a conversation this morning with a friend who used to work with me 20+ years ago. He is setting up his own shop now in Minnesota.
One of the things I recommended was that he install every machine that he could onto platforms that could be moved with a pallet jack. Pallet jacks can get into small spaces and are great for tweaking position of machinery.
This reminded me of a couple of other things I would recommend for anybody starting a shop. For really small spaces I would advocate getting a scissor lift workbench.
Scissorlifts on castors will allow you to pick up really big kitchen islands and thread them through tight corridors. The lift itself is about 30 inches wide. You merely raise the island to a distance taller than your machine and it's like increasing your aisleways by two feet.
Something I would advocate for shops of any size is to take the time early in your career to learn sketchup software. Relying on 2D drawings vs 3D software is like bringing a knife to a gun fight. Customers have a much easier time understanding 3D than 2D. So too do cabinetmakers.
The attached drawing shows some curved end panels we built. The customer wanted us to match something that was built 80 years ago but wanted the interiors of the cabinets to be pre-finished. When the work order came in I wasn't real obvious to me how we should approach this. I had never done a cabinet like this before. I was confident, however, that I could probably noodle it out on paper and better understand how the parts should come together. The color coding helped me explain it to the fellow who actually did the hand work.
Sketchup has helped me figure out interfaces many times in the past. It does take a small learning curve but the payoff is significant.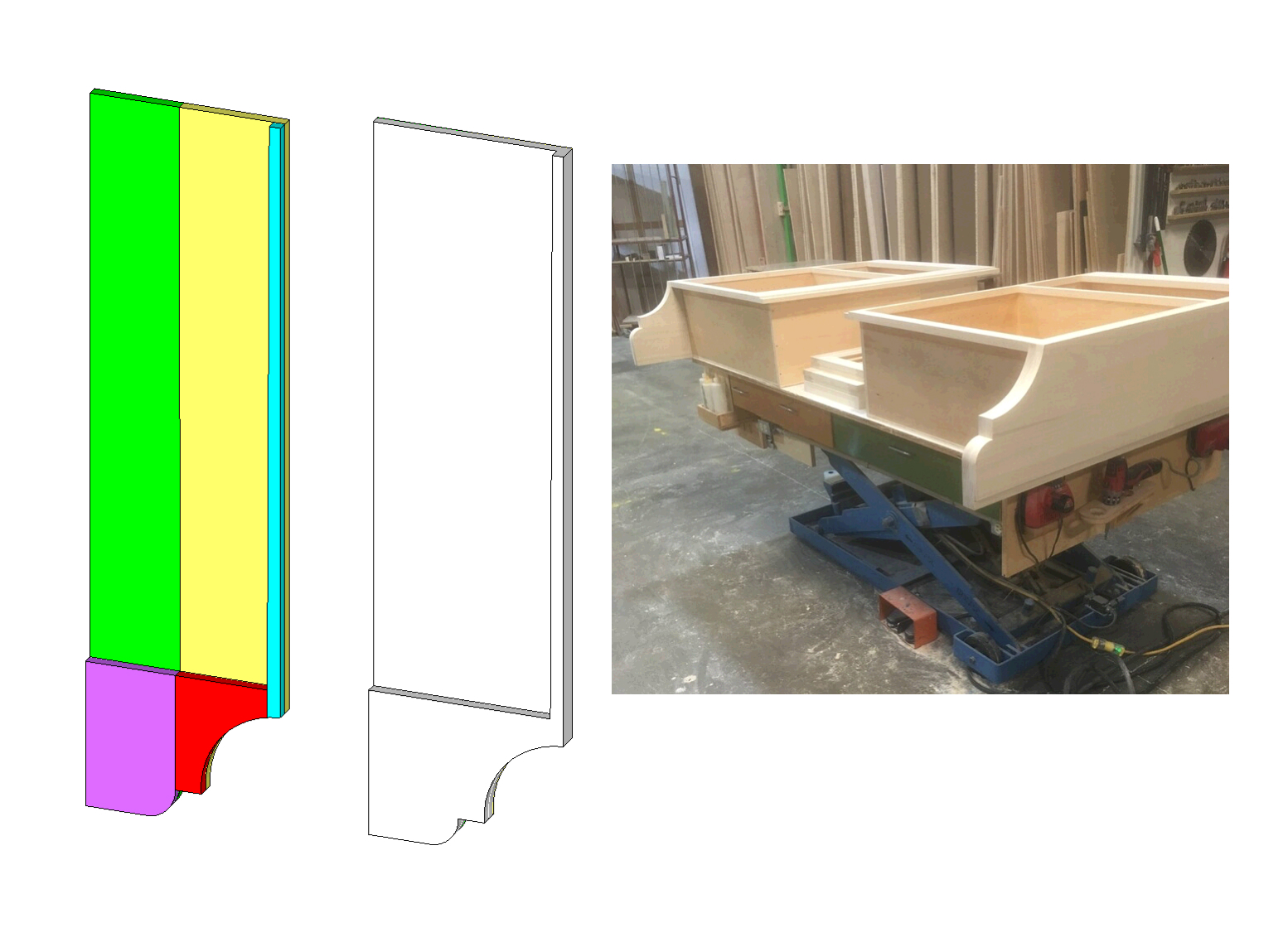 View higher quality, full size image (1554 X 1143)

---
3/10 #2: Benefits of 3D vs2D ...

Website: http://www.sogncabinets.com
Where in Minnesota?
I run a small shop south of Minneapolis about 45 minutes that I think is laid out pretty well. If he wants to snoop I'd be happy to show him around.
---
3/10 #3: Benefits of 3D vs2D ...

If I were to give a guy just starting out advice I would say here are the top ones.
1. Stay out of debt
2. Always deliver on time
3. Always email and call back within four hours, quicker whenever possible
4. learn how to finish and finish well as soon as possible
5. Have a simple and easy to navigate website with good photos ASAP
6. Be hungry enough to work your behind off and take risks and at the and time learn to say no. Whether its unprofitable work, something not suited to your skills or working for the wrong person. Nothing will sink your business faster than saying yes when you should be saying no.
7. Don't be afraid to outsource. You won't be the best at every aspect of woodworking or running a business and that is okay. Even the best aren't the best at every aspect, let alone the most cost effective, and it's no reason to not be proud of your business.
8. Learn what matters to the customer and don't cut corners. Rarely is what is most important to woodworkers what is most important to customers.
9. Figure the last guy did it wrong, even if it was you. Figure the next guy is going to screw it up without the right direction and plan, even if it is you. Get a system. Find the weak spots and ever be improving it.
10. Enjoy it and life. It goes by way too fast.
---
3/10 #4: Benefits of 3D vs2D ...

What FM said..
Be like Jesus.
Take responsibility for all problems.
---
3/11 #5: Benefits of 3D vs2D ...

I agree on the 3d thing.
But only if you are doing the kind of work that requires it. Otherwise Cabinet Vision is the way to go.
3d was important to my customers. I got quite a bit of work because of it and CNC and on time delivery.
The debt thing depends on the situation.
One of the best things I did was outsource the finishing, the finisher I used was like a partner dependable and excellent and allowed me to take on jobs that I would not have been able to otherwise.
My advise would be to find a niche and become the big fish in the small pond.
---
3/11 #6: Benefits of 3D vs2D ...

Website: http://MCCWOODWORKING.COM
These are all good comments and recommendations. I've had a shop for over 30 years and if I were to give someone advice on starting a shop, start with a computer. In the shop, start with a CNC router. I would say you will need a program to generate cut files for the router.
Sketchup or a program, we are using Blender is really helpful in generating 3D renderings. This really helps in sales, but it takes time and you have to have a powerful computer. We use AutoCAD and Cabetware for cut files. I don't know if Sketchup or Blender can generate cut files.
Start with doing what you know you can do and if the job is too good to be true, it probably is. Get deposits and progress billings. You cannot finance their project.
---
3/11 #7: Benefits of 3D vs2D ...

I have read a some good comments on Sketch Up.
Does it do sections?
The renderings on Paul's website are awesome. How are the renderings on SU?
How much work are the renderings?
---
3/11 #8: Benefits of 3D vs2D ...

Pat,
Sketchup has the capability of creating images so accurate you cannot tell if they are a drawing or a photograph. I don't have this skill and don't intend to acquire it.
One of the dangers of too much information is that your customer can have a negative subliminal reaction. You might, for example, use a brick wall or tile floor as a rhetorical point of reference but one of the decision makers looking at your drawing may be secretly shouting inside "No. No. No. I don't want a blue kitchen".
I was given this point of view by a friend of mine who managed the local Archicad Software franchise for many years. He and his partner set up the training systems for the software at the State University and used it within his own architecture practice. He told me that they had a much easier time communicating information and getting to decisions if they kept the drawing in a more salient black & white rendering.
I usually create 2 to 3 options for a given wall for my customer to see. The options are ostensibly to offer suggestions but in reality they serve as a rorschach test. Having three options gives me some tools to discuss ranges of budget. This is how I discover what is important to the customer. It provides a way to talk about money without committing to a budget.
I use Sketchup Pro though haven't had enough time to move past the options available in the free version. The pro version gives you the ability to create components. Components have attributes. Every thing you produce has an X-Y-Z dimension and an X-Y-Z position in space. This is how you create a parametric drawing that is accurately proportioned. These attributes can be exported as a CSV file that can be interpreted by a panel optimizer and eventually CNC router.
There are undoubtedly other pieces of software that can better provide this functionality but one big advantage to Sketchup is how ubiquitous it is in the marketplace. We regularly receive drawings that were originally launched in Sketchup. Makes it very easy to use their drawing as a starting point.
---
3/11 #9: Benefits of 3D vs2D ...

This is a drawing of a baking center that I know is important to the man in this household. He bakes bread a couple of times a week and he uses a white kitchenaide mixmaster.
The lady in the house mentioned that she liked column cabinets that come all the way down to the counter. She also has a lot of colorful mixing bowls that she likes to have on display.
I will show them this drawing with a version that has glass doors and one that converts the end panels from flat facets to being framed like the cabinet doors. I will likely also show a version with the oven below the countertop.
I am trying to get three things to happen here. I want to have a way to talk about budgets without talking about budgets. I want to figure out right away how important it is to have the oven at eyeball level so that my subsequent design work is more relevant and I want to get the customer to connect emotionally with the space and with my company. If I can get the customer to develop confidence in me and my ideas I will have a better chance to steer the job to the outcome I want to have happen.
These drawings will eventually make it to my website where I can amortize these efforts over more customers. Think of this (in a small way) like Toyota selling you a car then selling you some tires then offering you a discount on airline tickets if you'll use the "Toyota Club" credit card for meals once you reach your destination.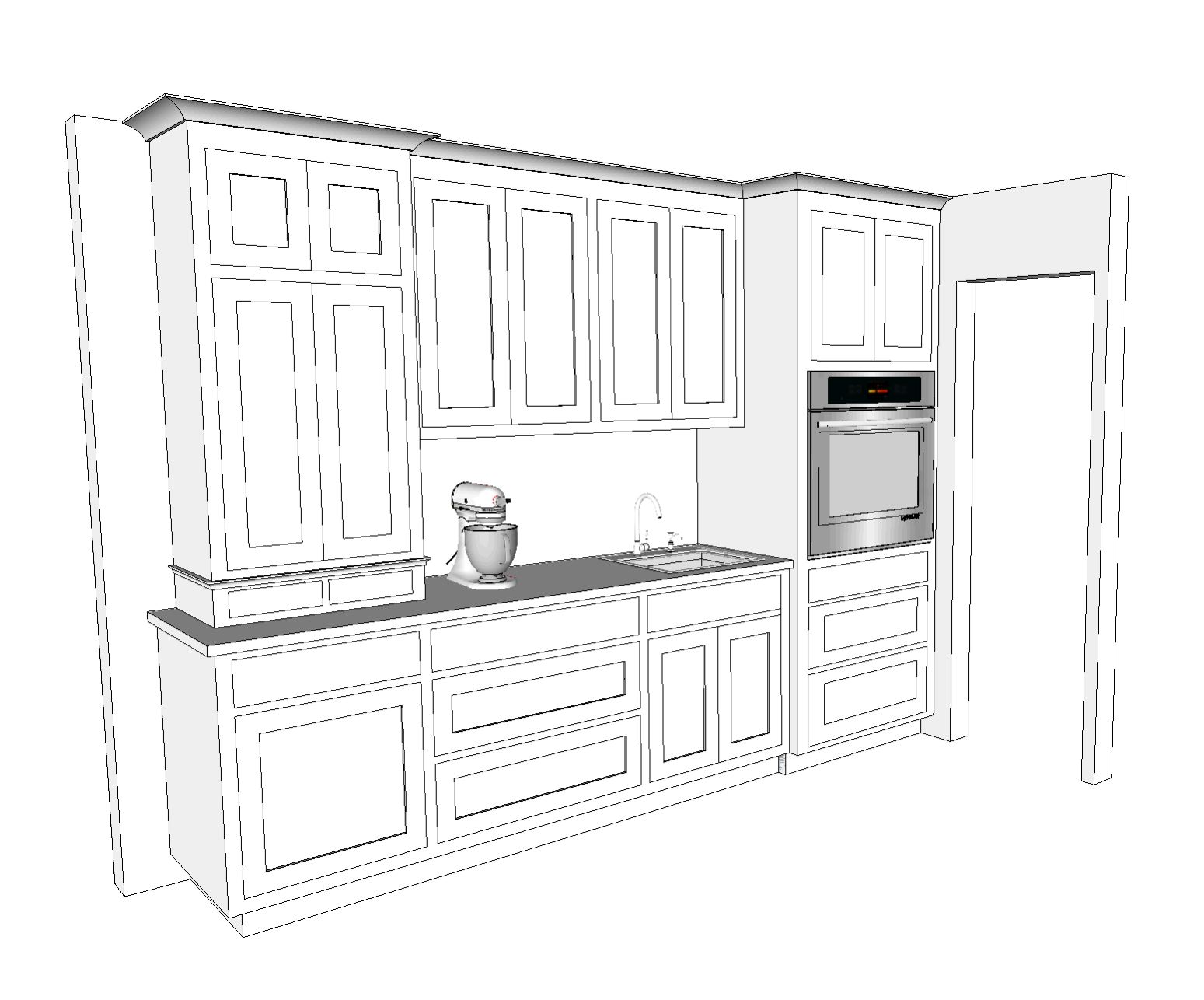 View higher quality, full size image (1549 X 1286)

---
3/11 #10: Benefits of 3D vs2D ...

As a side note: The little cubby drawers at the bottom of hutch should have a management algorithm attached to the manufacturing. Something like this contains proportions, processes and sequences.
Making one of these cubby drawer systems shouldn't be any more complex than making an omelette. We've built millions of these over the years. The most profitable ones were built by greenhorns following the algorithm. The most expensive ones were built by craftsmen who had already been to the rodeo.
---
3/11 #11: Benefits of 3D vs2D ...

That is a good point about the renderings.
As to the other, why not just use Cabinet Vision?
Sections are a big deal on custom work, not having them is a show stopper.
---
3/11 #12: Benefits of 3D vs2D ...

cabmaker,
Okay, with all that said how much time does it take you to design and sell that baking center and how much does it cost to the client? Without that information no one can properly judge the intel you are providing.
---
3/11 #13: Benefits of 3D vs2D ...

It takes more time than 2d drawings.
Which is why I said, I would not use it for regular cabinets. But technology is always changing. My experience is with Solid Works and Auto Cad, maybe it is different now.
OTOH if I had to build boxes I would not want to do this for a living.
---
3/11 #14: Benefits of 3D vs2D ...

Website: http://atlantacloset.com
I was wondering that too. I guess you can save those objects/componets and drop them into future jobs? I think most experienced CV users would spend less than 10 minutes building that wall, and have cutlists, machine code, and exact pricing with a few mouseclicks along with the 3D rendering
---
3/11 #15: Benefits of 3D vs2D ...

A local millwork company that was over 100 years old recently closed down in Seattle.
Doing business with them was always a pain in the ass. Whenever you needed to know the vertical or horizontal projection of one of the crown moldings in their catalog you had to either drive down and measure it yourself or else wait on hold while someone walked back to the warehouse to measure it for you. You had to, or course, decide for yourself what kind of confidence interval you wanted to assign to the measurement they gave you over the telephone. If the dimension was a critical one it was always safest to drive down and measure it yourself.
What they chose to include in their catalog was the diagonal dimension of the crown. They included this data to help the guy that ran the molder figure out how big the stick needed to be. It didn't matter what was important to the customer. The goal was to make it easy on the molder guy.
One day when I was standing in line to get a sample molding to measure I commented how useful it would be if they could also include vertical & horizontal dimensions in their online catalog.
The guy behind the counter was probably 35 years old. He was already kind of a barnacle. He'd had at least ten years in the millwork business to build up some calcification.
What he said to me was "We've been in business over 100 years. I think we know what we are doing".
---
3/11 #16: Benefits of 3D vs2D ...

Cabinet Visions is not comparable to 100 year old mill-work company.
---
3/11 #17: Benefits of 3D vs2D ...

I didn't say anything about Cabinet Vision.
I haven't looked in on that one in a long time.
My objection to most cabinetmaker software packages is that while they can generate useful information for the cabinetmaker the drawings they present for the customer tend to look like they came from a home center.
---
3/11 #18: Benefits of 3D vs2D ...

Wasn't OB that went out was it?
Is the job yours by the time you do these drawings or are you still selling?
---
3/11 #19: Benefits of 3D vs2D ...

So far as I know, OB is alive and thriving. They are a very well run company.
Our going rate for design work is $125 per hour though sometimes we will throw in a free car wash if that's what it takes to ink the deal. How much work I do for free depends on how much I want the job.
---
3/11 #20: Benefits of 3D vs2D ...

What's your closure rate on jobs then? It seems like your design process is very lengthy in comparison to ours.
---
3/11 #21: Benefits of 3D vs2D ...

We have an extremely high closure rate. The job is usually ours to lose before we even show up.
I don't worry too much about how much time I spend with a customer. The more interactions I can have the better. This is how we build relationships. Good relationships are how we get good referrals.
If possible I want to have at least two meetings with a customer to see who I am working with. Three meetings is better.
I never want to dine with Jeffey Dahmer.
---
3/11 #22: Benefits of 3D vs2D ...

CM,
Your perception of the customer is pretty spot on as far as I'm concerned. The importance of relationships, communication, high quality 3D drawings and for the most part things that you believe are important to the customer. With 2 notable exceptions that I'm curious about.
First, your insistence that the customer does not care about what kind of drawers they're getting, and 2nd, your insistence on providing a simple shaker door that you spend far more time and resources constructing than what I can possibly imagine a customer cares about. Would you care to elaborate on your thought process here?
DS
---
3/11 #23: Benefits of 3D vs2D ...

DS,
Like a lot of companies on the forum I used to outsource my doors and drawer boxes.
The drawer boxes were typically maple lumber dovetail. The doors were usually cope & stick maple.
As you know, there are a half dozen possible places for drawer boxes to fail.
They can be the wrong size, out of square, too much putty in the pins, too much hot glue on the bottom. Occasionally the groove on the bottom was produced with a cutter head that should have been replaced a couple of jobs before mine. Not all of these defects would be manifest in every job but it happened often enough that I would need to have something replaced.
The problem with the doors tended to be how flat they were. Most of them were acceptable but at least one or two weren't. The door company catalogs would usually include a caveat that stated a warp or twist of 3/16 inch is not considered a defect. This grade of door is fine for overlay construction and almost feasible with concealed hinges but most of my work is fully mortised butt hinges.
When I first started to build with smaller batches I noticed the work would start puddling up in the shop. This usually had something to do with a door or drawer box that wasn't in the building.
During this time I had a retail showroom at the front of my shop. One of the displays had three different types of drawer boxes. One of them was an outsourced dovetail drawerbox, one of them was a melamine drawerbox and one was an appleply drawer box with pocket screw construction.
All of these drawers looked the same when the drawers were closed. The only difference was the cost structure. My showroom sold to a random mix of customer. I sold $8,000 kitchens and $80,000 kitchens. We sold projects in excess of $100K so often that I didn't even bother to mention it to my wife. It was just what we did.
Just about every single customer I ever had simply did not care. Since we could cause a pocket screw drawer box to happen in about 20 minutes I just moved away from the dovetail.
I did, however, have a few customers that insisted on dovetail construction. With very rare exception these individuals also had other PITA characteristics. Dovetail drawers are now Step 1 in the rorschach test for us. We won't necessarily rule you out when you ask for them but we be a little more vigilant while we are interviewing you.
The doors are a different story. We have to have a really flat door. It has to start out flat and stay flat. For this reason we developed a process to build a flat door. It has a few extra steps but they are simple steps. We can teach a greenhorn woodworker to become pretty competent at making a flat door in about one week. Our system always produces a flat door.
Lumber quality is key to flatness. The problem is that only a portion of the tree is conducive to flat stiles and you never know whether or not this is the lumber that's going to show up. Once the lumber gets into the building you have to be able to read the board and you have to be able to coax straightness out of the board.
The process we use makes all those considerations moot. We bring our lumber in already ripped to 30x30 mm squares. The lumber sits at our distributor's warehouse for a couple of weeks before we see it. When it comes in we laminate it into three piece staves. Every stile and every rail in our cabinet doors is built out of three pieces of lumber.
This is an extra step but it is an entry level step. We built a pneumatic press to glue these pieces of lumber together.
This process generates intrinsically flat stock. The lumber will still expand and contract with changes in humidity but there is not an inherent difference in expansion and contraction from one side of the board to the other. Breaking the board into three pieces decreases the likelihood of warping or twisting later in the life cycle.
To better understand this take a look at the growth rings in a tree stump. Some years the tree grows really fast and the growth rings are plump. Sometimes there is a paucity of sunshine and/or rain and the growth rings are small. Your lumber stave represents a range of prosperity. Sometimes there isn't much difference in the diameter of the straws. Sometimes there is a lot. The arrangement of growth rings also is influential. If the arrangement is concentric the board can cup or swell differentially.
This is definitely way out in the weeds stuff but equally as important as it is tedious. We need a flat door. We get a flat door. With fully mortised butt hinges you can't really do it otherwise.
I am thinking, however, of launching on overlay style kitchen business. I want to do some experiments with price transparency. This business might rely more on outsourced doors. (We are planning to outsource boxes to you).
---
3/12 #24: Benefits of 3D vs2D ...

If that is the case than it seems like reinventing the wheel to try and information out of SU. IOW just draw the kitchen in SU and the information from CV or similiar.
BTW you will get a better drawing from Solid works.
---
3/13 #25: Benefits of 3D vs2D ...

Website: http://MCCWOODWORKING.COM
The renderings on our web-site are about two years old. Our work has improved. Renderings take a long time. I don't really know how much time,we have not done time tracking. We are still in the learning curve.
If someone is starting out, you probably do not need renderings right away, I don't know. We bid our jobs using Cabinetware or another program similar, I don't do that part so I cannot say for sure. Usually, there will be custom features to a job and we will show existing renderings from another job. If we have the job, we will provide renderings. We do not give copies away unless we have the job, and that means a deposit.
There is a curved stair we did in 2016 on our web-site. This stair was drawn in 3D with renderings before it was built and the owner paid for these drawings. From the initial drawing, changes were made after the owner reviewed it. We do not charge a lot for our drawings, $40 per hour. The owner paid $2,000 for drawings and that probably did not cover our total hours. That stair cost a little over $40,000 when finished.
I think renderings is the future and most likely, it will get a lot faster and much better quality. If I were a young person, and I was starting up a shop, I would look at all the technology out there that I could use and for sure, 3D and renderings.
---
3/13 #26: Benefits of 3D vs2D ...

Paul raises some good points about drawings.
I have had a few people draw for me over the years. The thing I would always tell them is to first ask what is the purpose of the drawing? What you are trying to get done with the drawing drives how you should approach it.
Sometimes it is for communicating with the installers or other trades. Sometimes it's communicating with your crew. Sometimes it is for romancing the customer.
We don't draw to scale for our shop. Accurately scaled drawings are hard to read. Imagine what 3mm looks like in perfect scale on an 11 x 17 drawing. You can't even see it.
We use pastel colors because they don't burn up as much ink and you can lay text inside them as needed. Pale green means 12mm. Pale yellow means 19mm prefin. Bright yellow means edgebanded 19mm. Blue is visible from face only. Red is visible from the front and the side.
Showing existing renderings from other jobs is a way to amortize costs over several projects. Getting decisions from a customer is already like Rhonda Roussey having to get them in an armbar. Anything you can do to coax this along is really useful, particularly if you are trying to get the decision you want.
Paul's comment about taking advantage of technology is pithy. Since you already got to put up with all the bad things associated with technology you might as well also get some of the good stuff. I think the future will be in video.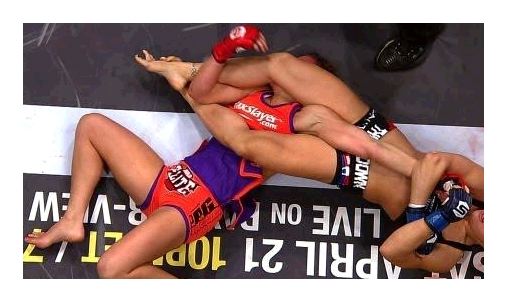 View higher quality, full size image (507 X 302)

---
3/13 #27: Benefits of 3D vs2D ...

The future will be holograms followed by a replicator. Although the replicator may be off a bit.
Scoff if you like, I have been drawing in 3d since the mid 90s. I'm used to it.
---
3/13 #28: Benefits of 3D vs2D ...

Cabmaker, just wondering what glue you use to glue up those three ply doors of yours? How often if ever do you get a bad glue line? What do you do for stain grade? As a suggestion to a fellow cabinet maker, for my high end paint grade work, I switched to quarter sawn maple and have had great luck with door warpage and itís darn stable. I always try to have an open mind when other people are generous enough to let their peers look at there techniques and processes. Yours is one that that is so different than what I am used to I might give it a try on large pantry doors to see how it works.
---
3/13 #29: Benefits of 3D vs2D ...

I use tight bond Type 1 and plenty of it. We never have a glue starvation issue.
After the glue hardens we run it through the planer on both sides to about 28mm. This gets the glue down to where you can start working it on the jointer.
After it goes through the planer we let it set for a week or so. We always have some of the laminations in the pipeline so waiting time is about non-existent)
You want to make sure that all of the moisture added from the glue is out of the board. It helps too that the staves we started with were initially ripped a couple of weeks earlier by our supplier. Gives the board a good chance to better acclimate in smaller pieces.
We fixed the stain grade problem at the marketing phase. We only build paint grade cabinets and somebody else paints it. Somebody else delivers it and, come to think of it, for the most part somebody else drills the handle holes. I think we have drilled handle holes for maybe four jobs in the last ten years. We had a recent rash of requests for this so I bought a pretty super duper fixture for this. One of my friends who has his own shop showed me his and I was sold.
---
3/13 #30: Benefits of 3D vs2D ...

What is the jig called?
---
3/13 #31: Benefits of 3D vs2D ...

Is a pretty awesome jig.
Like the plywood I use it's made in America.
Company is called True Position Tools.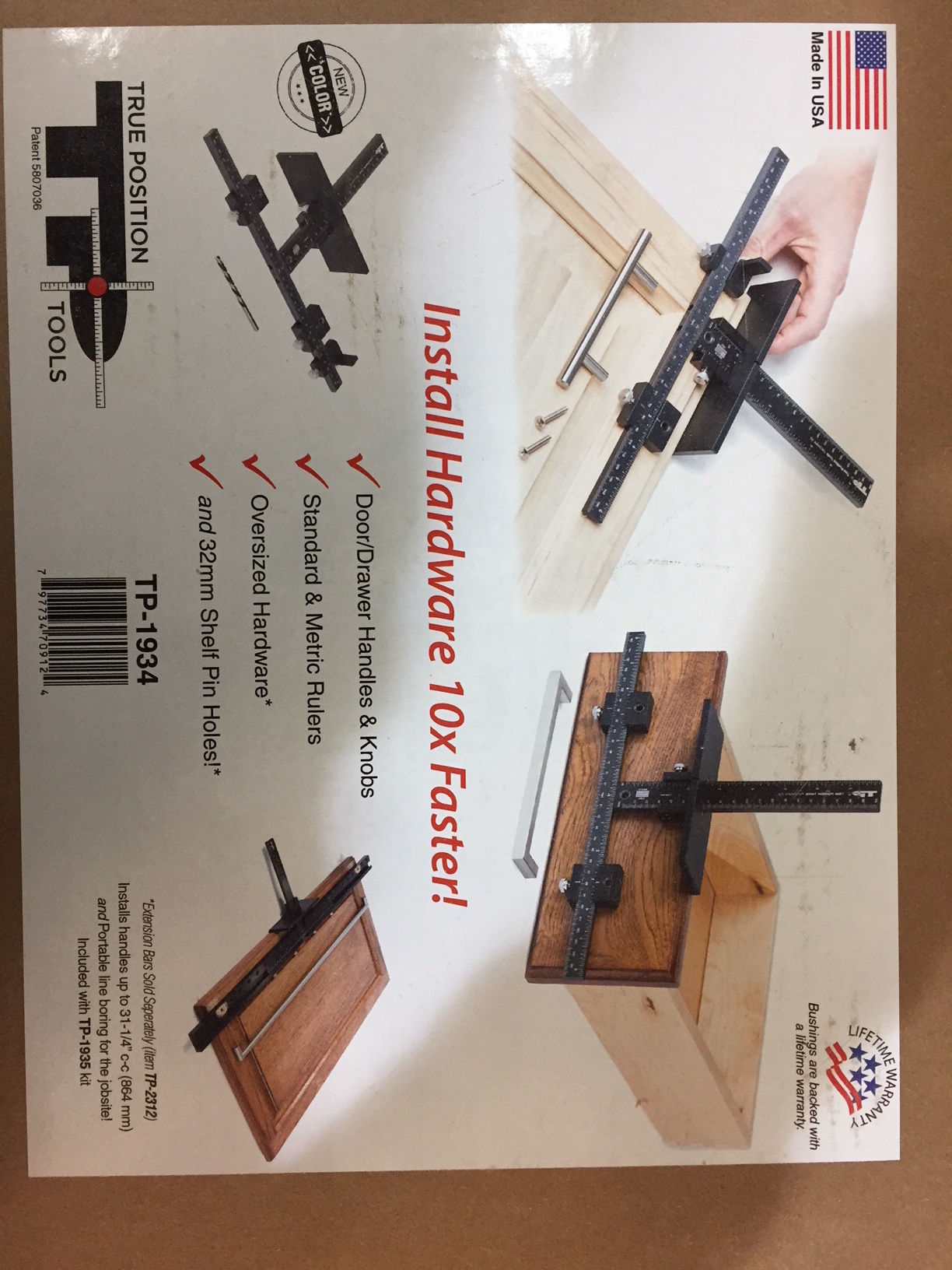 View higher quality, full size image (1224 X 1632)

---

---
Buy & Sell Exchanges | Forums | Galleries | Other Resources | Site Map
---



Buy and Sell Exchanges



Job Opportunities and Services Exchange
Employment opportunities and services within the woodworking industry

Lumber Exchange
A worldwide buy/sell exchange for lumber and wood products

Machinery Exchange
A worldwide buyer and seller exchange for woodworking machinery and equipment.

Classified Ad Exchange
Classified advertising for the woodworking industry (for advertisements that do not include machinery, lumber products and employment listings)


---



Forums



Adhesives Forum
Discussing topics related to adhesives within the woodworking industry

Architectural Woodworking Forum
Discussing quality standards and production of architectural wood products

Business and Management Forum
A forum for the discussion of business topics: from sales and marketing to dealing with difficult customers.

Cabinet and Millwork Installation Forum
Discussing all aspects of installation issues encountered by cabinet and millwork installers.

Cabinetmaking Forum
Discussing 32mm and face frame cabinet construction including fabrication, casegoods design, and installation.

CAD Forum
Shedding light on the all-too-often shadowy world of CAD.

CNC Forum
Discussing CNC (computer numerically controlled) woodworking equipment, software, and automated product manufacturing.

Dust Collection, Safety and Plant Operation Forum
Discussing topics related to maintaining a safe and productive working environment.

Professional Finishing Forum
Finishing issues for the production environment

Forestry Forum
The science and art of forest cultivation and timber management, planting, surveying, tree diseases, silviculture and timber harvesting

Professional Furniture Making Forum
Helping professional furniture makers improve quality, save time, and increase profits

Laminating and Solid Surfacing Forum
Issues related to laminating and solid surface materials and processes

Commercial Kiln Drying Forum
Discussions covering issues faced be commercial drying operations that process at least 750,000 bd. ft. of lumber per year

Sawing and Drying Forum
Discussing topics related to primary processing and drying of lumber

Solid Wood Machining Forum
Discussing topics related to the machining of solid wood

Value Added Wood Products Forum
Learn how to improve your output, find new markets, and boost sales of your lumber products

Veneer Forum
Discussing topics related to veneer processing, manufacturing, and fabrication

WOODnetWORK
An electronic discussion group for woodworkers throughout the world


---



Galleries



Project Gallery
Where professional woodworkers can post examples of their work

Sawmill Gallery
Professional primary processing companies display and describe their sawmill facilities

Shop Gallery
Professional woodworkers display and describe their shop facilities, products and equipment

Shopbuilt Equipment Gallery
Professional woodworker's jigs, rigs, and shopbuilt equipment


---



Other Resources



Industry News
Late-breaking news from all sectors of the wood industry

Video Library
Index of industrial woodworking related digital videos on the web

Auctions, Sales and Special Offers
Advertisers offering woodworkers discounted prices on good and services, and announcements of upcoming auctions


FORUM GUIDELINES: Please review the guidelines below before posting at WOODWEB's Interactive Message Boards
(return to top)
WOODWEB is a professional industrial woodworking site. Hobbyist and homeowner woodworking questions are inappropriate.
Messages should be kept reasonably short and on topic, relating to the focus of the forum. Responses should relate to the original question.
A valid email return address must be included with each message.
Advertising is inappropriate. The only exceptions are the Classified Ads Exchange, Machinery Exchange, Lumber Exchange, and Job Opportunities and Services Exchange. When posting listings in these areas, review the posting instructions carefully.
Subject lines may be edited for length and clarity.
"Cross posting" is not permitted. Choose the best forum for your question, and post your question at one forum only.
Messages requesting private responses will be removed - Forums are designed to provide information and assistance for all of our visitors. Private response requests are appropriate at WOODWEB's Exchanges and Job Opportunities and Services.
Messages that accuse businesses or individuals of alleged negative actions or behavior are inappropriate since WOODWEB is unable to verify or substantiate the claims.
Posts with the intent of soliciting answers to surveys are not appropriate. Contact WOODWEB for more information on initiating a survey.
Excessive forum participation by an individual upsets the balance of a healthy forum atmosphere. Individuals who excessively post responses containing marginal content will be considered repeat forum abusers.
Responses that initiate or support inappropriate and off-topic discussion of general politics detract from the professional woodworking focus of WOODWEB, and will be removed.
Participants are encouraged to use their real name when posting. Intentionally using another persons name is prohibited, and posts of this nature will be removed at WOODWEB's discretion.
Comments, questions, or criticisms regarding Forum policies should be directed to WOODWEB's Systems Administrator
(return to top).

Carefully review your message before clicking on the "Send Message" button - you will not be able to revise the message once it has been sent.

You will be notified of responses to the message(s) you posted via email. Be sure to enter your email address correctly.

WOODWEB's forums are a highly regarded resource for professional woodworkers. Messages and responses that are crafted in a professional and civil manner strengthen this resource. Messages that do not reflect a professional tone reduce the value of our forums.

Messages are inappropriate when their content: is deemed libelous in nature or is based on rumor, fails to meet basic standards of decorum, contains blatant advertising or inappropriate emphasis on self promotion (return to top).

Libel: Posts which defame an individual or organization, or employ a tone which can be viewed as malicious in nature. Words, pictures, or cartoons which expose a person or organization to public hatred, shame, disgrace, or ridicule, or induce an ill opinion of a person or organization, are libelous.

Improper Decorum: Posts which are profane, inciting, disrespectful or uncivil in tone, or maliciously worded. This also includes the venting of unsubstantiated opinions. Such messages do little to illuminate a given topic, and often have the opposite effect. Constructive criticism is acceptable (return to top).

Advertising: The purpose of WOODWEB Forums is to provide answers, not an advertising venue. Companies participating in a Forum discussion should provide specific answers to posted questions. WOODWEB suggests that businesses include an appropriately crafted signature in order to identify their company. A well meaning post that seems to be on-topic but contains a product reference may do your business more harm than good in the Forum environment. Forum users may perceive your references to specific products as unsolicited advertising (spam) and consciously avoid your web site or services. A well-crafted signature is an appropriate way to advertise your services that will not offend potential customers. Signatures should be limited to 4-6 lines, and may contain information that identifies the type of business you're in, your URL and email address (return to top).

Repeated Forum Abuse: Forum participants who repeatedly fail to follow WOODWEB's Forum Guidelines may encounter difficulty when attempting to post messages.

There are often situations when the original message asks for opinions: "What is the best widget for my type of shop?". To a certain extent, the person posting the message is responsible for including specific questions within the message. An open ended question (like the one above) invites responses that may read as sales pitches. WOODWEB suggests that companies responding to such a question provide detailed and substantive replies rather than responses that read as a one-sided product promotion. It has been WOODWEB's experience that substantive responses are held in higher regard by our readers (return to top).

The staff of WOODWEB assume no responsibility for the accuracy, content, or outcome of any posting transmitted at WOODWEB's Message Boards. Participants should undertake the use of machinery, materials and methods discussed at WOODWEB's Message Boards after considerate evaluation, and at their own risk. WOODWEB reserves the right to delete any messages it deems inappropriate. (return to top)



Forum Posting Form Guidelines

Your Name
The name you enter in this field will be the name that appears with your post or response (return to form).
Your Website
Personal or business website links must point to the author's website. Inappropriate links will be removed without notice, and at WOODWEB's sole discretion. WOODWEB reserves the right to delete any messages with links it deems inappropriate. (return to form)
E-Mail Address
Your e-mail address will not be publicly viewable. Forum participants will be able to contact you using a contact link (included with your post) that is substituted for your actual address. You must include a valid email address in this field. (return to form)
Subject
Subject may be edited for length and clarity. Subject lines should provide an indication of the content of your post. (return to form)
Thread Related Link and Image Guidelines
Thread Related Links posted at WOODWEB's Forums and Exchanges should point to locations that provide supporting information for the topic being discussed in the current message thread. The purpose of WOODWEB Forums is to provide answers, not to serve as an advertising venue. A Thread Related Link that directs visitors to an area with inappropriate content will be removed. WOODWEB reserves the right to delete any messages with links or images it deems inappropriate. (return to form)
Thread Related File Uploads
Thread Related Files posted at WOODWEB's Forums and Exchanges should provide supporting information for the topic being discussed in the current message thread. Video Files: acceptable video formats are: .MOV .AVI .WMV .MPEG .MPG .MP4 (Image Upload Tips) If you encounter any difficulty when uploading video files, E-mail WOODWEB for assistance. The purpose of WOODWEB Forums is to provide answers, not to serve as an advertising venue. A Thread Related File that contains inappropriate content will be removed, and uploaded files that are not directly related to the message thread will be removed. WOODWEB reserves the right to delete any messages with links, files, or images it deems inappropriate. (return to form)