All Listings
Nantucket Gate/Arbor
Listing #1466 Listed on: 09/28/2008


Company Name: Heritage Joinery Ltd.


Contact Name:
Rick
This is a reproduction of a Gate/Arbor that we saw on Nantucket Island. It is 100% solid mahogany with a barrier coat of epoxy, a coat of epoxy primer and two coats of exterior latex paint.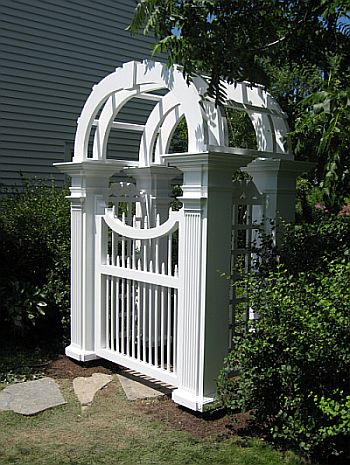 View Larger, Higher Quality Image
Viewer Comments:
---

Posted By: kol

[09/29/2008]


beautiful, I like it.

---

Posted By: shawn fender

[09/29/2008]


Very impressive! I want one in my living room!

---

Posted By: Robb carey

[09/30/2008]


Wow. Looks beautiful and a lot of work.

---

Posted By: Bonita

[10/06/2008]


Why did you use solid mahogany - an expensive wood - when the item was to be covered with several layers of epoxy and paint? Nice work even though.

---

Posted By: Erik Disler

[11/25/2008]


Wow, what a garden piece! I guess if you like to spend that kind of time on an outdoor piece, you might as well use the mahogany. A good woodworking friend of mine is restoring a painted mahogany higgins (makers of the ww2 pt boats) boat that has withstood the test of time in a marine environment. I'm sure this piece will be with you for generations.

---