WOODWEB Content Editor, Brett Hagstrom, Interviewed Blaine Vonhagen in February 2011.


Seventh grade woodshop class was Blaine Vonhagen's introduction to woodworking, however it wasn't until his twenties when Blaine went to work in a cabinet shop that he really became interested in the trade. At the cabinet shop Blaine started out making drawers and running a table saw. He then learned to set up shapers and grinders, operate a majority of the shop's machinery, and complete cabinet assemblies.


After the cabinet shop shut down, Blaine started collecting woodworking equipment, including a jointer from a battleship near Nasco Shipyard in San Diego that he eventually rebuilt, a Craftsmen tablesaw he repaired, and a drill press.


After acquiring the equipment, Blaine delved into residential cabinetmaking for a short time, and then pursued furniture making. He now works with a company making high-end Euro furniture. Since he started working at the furniture company he has traveled to sites including the J&G Steakhouse in Scottsdale, Arizona and Hawaii to complete a crown moulding project.


Blaine says that the knowledge he gained at the cabinet shop has benefited his work at the furniture company and in his home shop, where he spends his spare time. There, he uses oak, walnut, and African mahogany for his European cabinets and mission style furniture. Blaine says he enjoys problem solving, which helps him with the design process. He also uses AutoCAD. His tools include a hand plane and German chisels.


Blaine's new addition to his shop is a self-built sliding table saw, which took about three and a half months to complete. Blaine built the saw on weekends and says that "a lot of measuring and calculating was involved." He knew what he wanted to build – he just had to sit down, complete the design, and start building the saw.


The goal for the saw was simple - "functional and efficient." Blaine also wanted a saw that two people could "load and unload efficiently at a job site." Equipment used to build the saw included an early 1960's Craftsmen drill press, taps and die, a Dewalt miter saw, and various hand tools.


Blaine used 3x4 inch U-channel molding and 48 inch x 20 mm linear bearings and mounted the saw to 1/2 inch phenolic resin top with M6 12.9 flat head machine screws. He also used 12.9 high strength screws on all of the tablesaw components as well as 1/4 inch tension pins. The tension pins were used to ensure that correct alignment during the reassembling process.


Set screws enable all of the parts to be adjustable, and the cross cut fence was constructed to tilt. Blaine really likes this, as he doesn't have to unbolt it for various functions. Metric sizes were used for strength and he traded a router for his boss's Altendorf fence and used aluminum to make the fence lightweight. The saw was set up so the slider pivots fully around and 20mm full round bearings were used on the shaft to enable it to pivot down and away. The saw is built to cross-cut eight feet wide. Blaine mentions that it was a long process building the saw, but he is glad he took the time and is very happy with the results.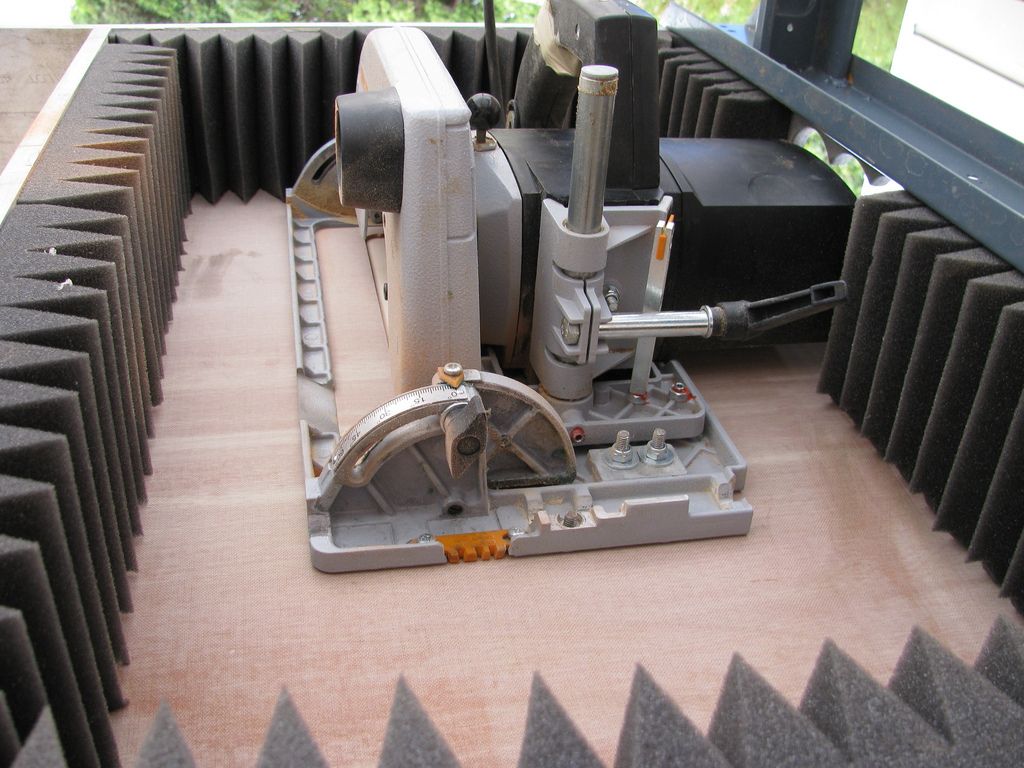 View Larger, Higher Quality Image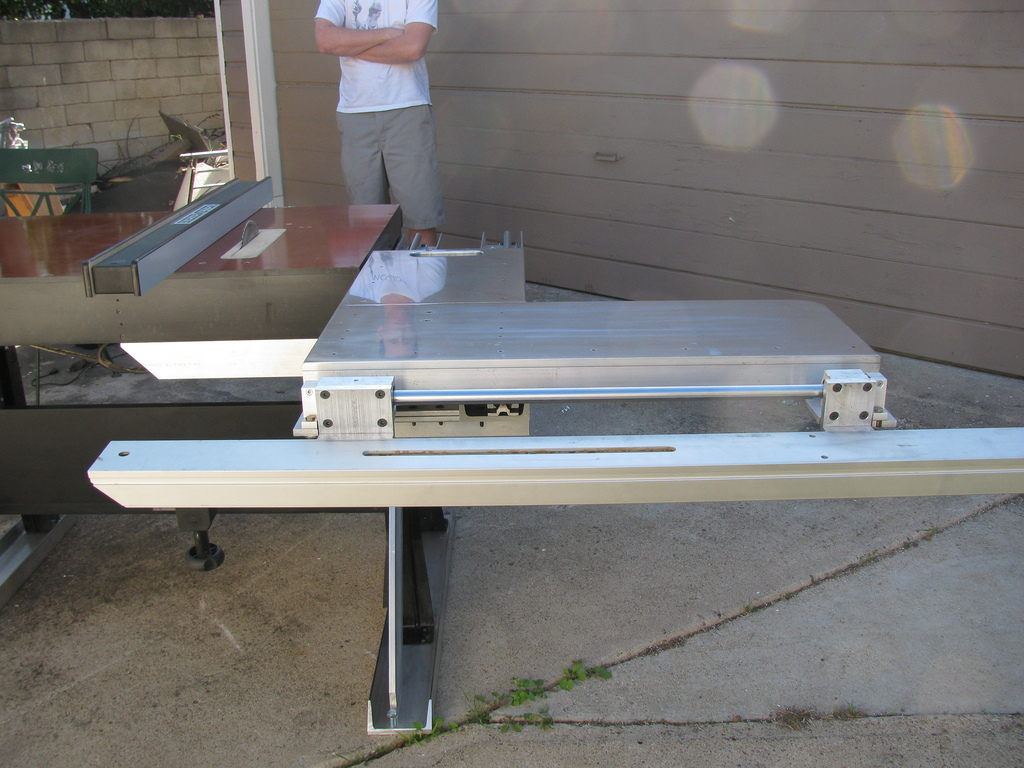 View Larger, Higher Quality Image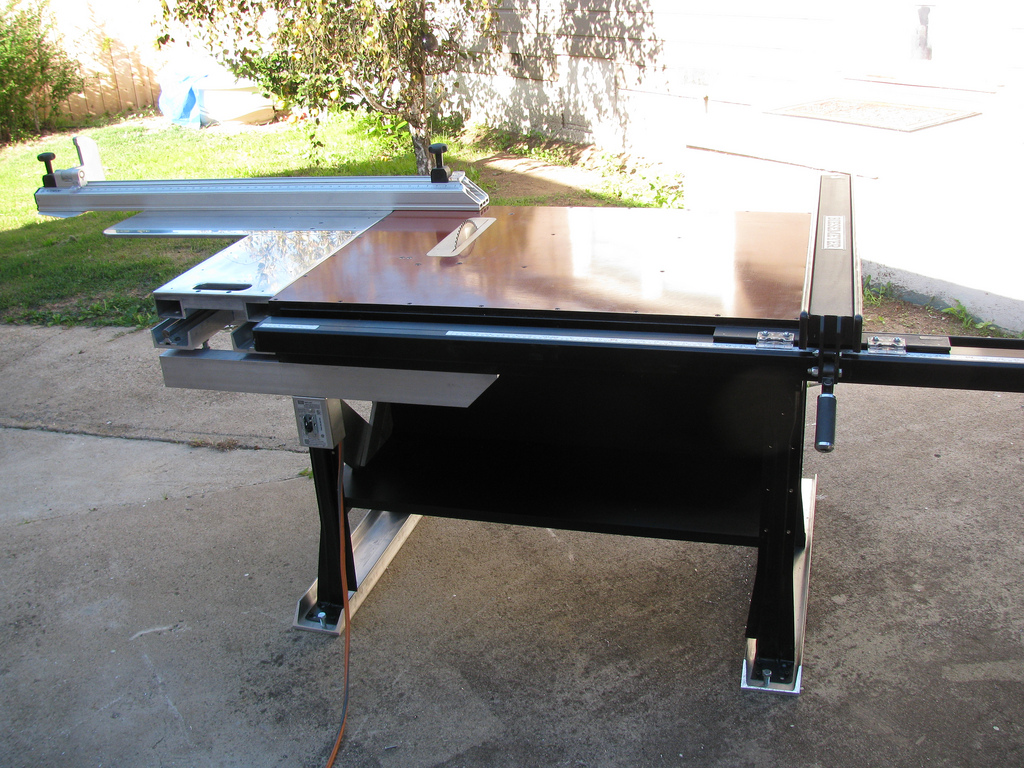 View Larger, Higher Quality Image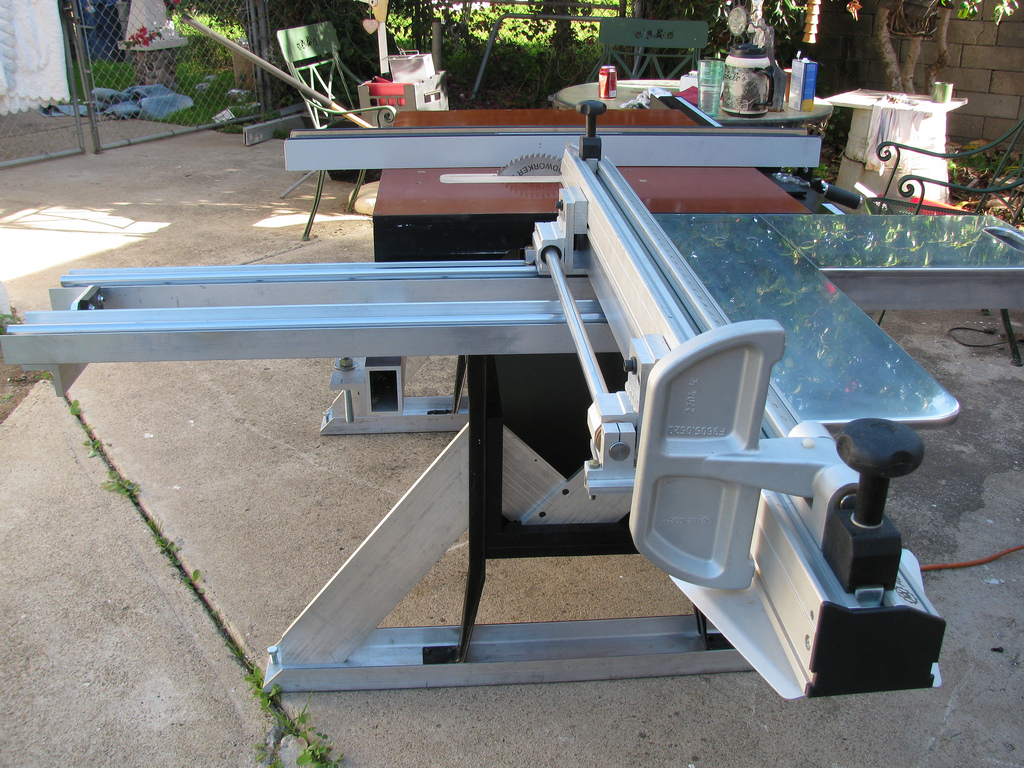 View Larger, Higher Quality Image