45-Degree Frameless Door Hinge Problem
A cabinetmaker gets input on making a five-knuckle hinge work with frameless cabs that meet at 45 degrees. December 27, 2010
Question
I am drawing some base and wall cabinets with the doors angled at 45 degrees. This would not be a problem using European style concealed hinges, but this job is spec'd for 5 knuckle hinges. Has anyone ever had this situation? Do we use a special hinge or add a 45 degree block to inside of the cabinet?
Forum Responses
(Cabinetmaking Forum)
From contributor J:
Build enough face frame to let the knuckle do its job.

---
From the original questioner:
This project is frameless.
---
From contributor J:
We only build frameless in my shop. This is the only application where we do this - it is not so much a frame as an inset filler to allow the right angle needed for the knuckle and the offset for the door.
I may be too close for this corner in order to allow the doors to open properly. This has been approved a few times for us.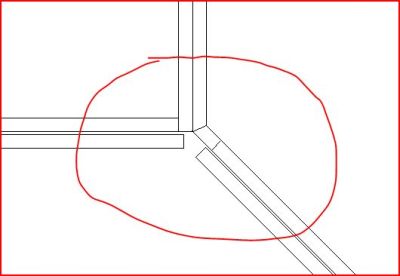 ---
From contributor N:
How do you use butt hinges on a frameless box? It seems you'd have a frame, but it's only 3/4" thick, and is also the box sides. Or is there some other kind of 5 knuckle hinge I don't know about?
---
From contributor J:
Rockford process; been using them for years.