A "Green" Finish for a Cuban Mahogany Bench
Thoughts on the meaning of environmental correctness for clear wood finishes, and some interesting history about Cuban Mahogany, a nearly-extinct wood that is making a comeback. March 4, 2009
Question
I have been contracted to build three benches from a slab of Cuban mahogany. The benches will be used in an art-fair trade show booth for a one week period. The client has requested a green finish to be used. I have no experience with these types of finishes and have one week to complete the job. Only the top surface of the boards will have a finish, and the live edge will be left natural. Reading other posts in this forum leads me to consider a polymerized tung oil finish. Will poly tung dry enough for sitting in a few days time? Or should I consider shellac or some type of hard quick drying wax? Your recommendations, including brand names, is much appreciated.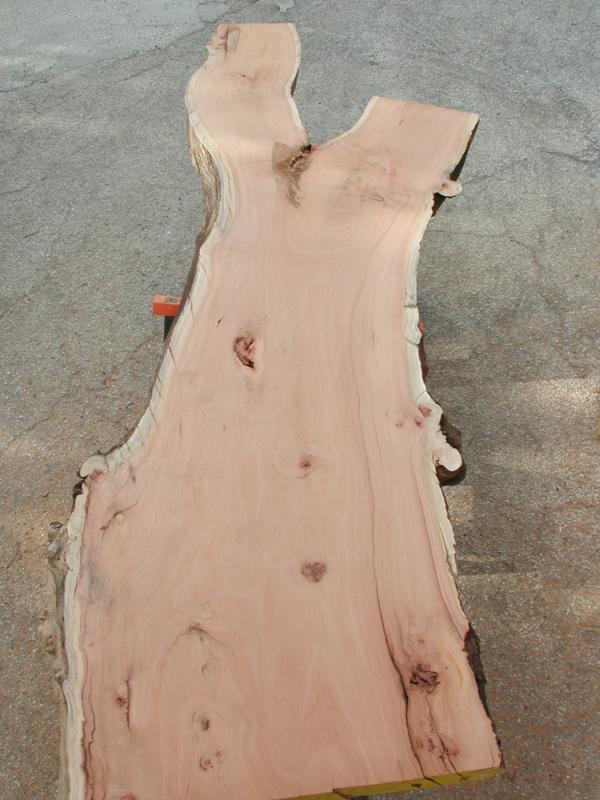 Click here for higher quality, full size image
Forum Responses
(Finishing Forum)
From Paul Snyder, forum technical advisor:
The key to choosing a "green" finish is to define what "green" means. There are a lot of possible definitions. If no one is defining the term for you, you can choose products that someone else has identified as being "green." For example, you can choose products that meet California's South Coast Air Quality Management District (SCAQMD) VOC emission standards or are on the Green Seal or GreenGuard lists. Currently, the Green Seal list only contains paints. The Greenguard list for clear finishes is limited to ML Campbell's new waterborne finishes.

---
From the original questioner:
The client has not specified what the definition of "green" is and no one is going to track my choice of finish. But I do want to make some effort at using a finish with lower VOC's or one that is more environmentally friendly. For instance, I assume the alcohol solvent in shellac is a greener choice than the solvents for a sprayed lacquer (which I have been asked not to use). A non-sprayed finish and low risk of problems in first time usage are my requests.
---
From contributor J:
I would do tung. You can also get Tried and True brand finishes at Woodcraft stores, which could be helpful if you have one locally (it needs some time to dry). A few days is enough time to dry, so long as there is air movement and some heat (not a 40 degree shop). You can get tips from the owner of Twisp. It's just a brush, wait and wipe finish. I like to apply the second coat with a grey Scotchbrite pad (Ultrafine) to smooth out the surface. Be sure to fill cracks or use compressed air to get any oil of them, as those parts will not dry in a couple of days.
---
From contributor K:
I'd try Targets products. As long as you have time for them to completely cure many of them would work well.
---
From the original questioner:
Thanks for all the responses. From Woodcraft Supply I obtained a water based product from High Performance. I first used a coat of their Seal-a-cell Clear Sealer, then their Water Based Topcoat. It was very easy to apply with a foam brush. Regarding the comments about the wood, Cuban Mahogany grows in the Caribbean islands and north into Florida up to the Ft. Lauderdale area. It is a common landscape tree here in Miami.
---
From contributor J:
I like the two products you use, but I would have been nervous using them together unless the sealer had a few days to dry. The Hi-Performance finish is hard to screw up and quite durable.