A Pull-Out Medicine Cabinet
Example (with picture) of a pull-out front with side-access shelves in a bathroom medicine cabinet. September 23, 2006
Question
This was a cabinet I just installed in a bathroom last week. The client requested that it be a pull-out unit. It was an interesting project. The cabinet is about 12" deep and the pull-out connects together what are essentially 3 drawer boxes.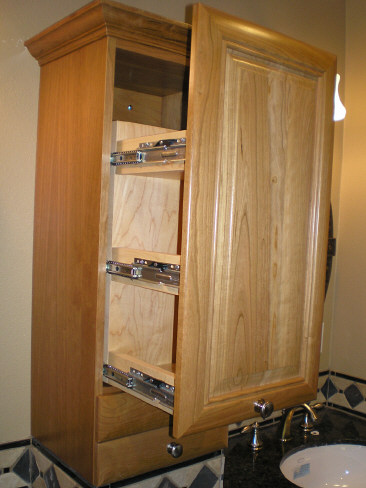 Click here for full size image
Forum Responses
(Cabinetmaking Forum)
From contributor A:
I've always wondered how drawers would look in an upper cab - it looks great! On a more practical level, can your client access the top level without a step stool? Out of curiosity, how did you attach the crown to the top of the frameless cab?

---
From contributor B:
It looks unique, but a client gets what a client wants. Crown was probably attached to some kind of nailer affixed to the top of the cab that you can't see because it's hidden behind the crown (at least that's how I imagine I would do it).
---
From the original questioner:
Thanks for the kind words. The crown is attached to a piece of plywood cut to fit the top. Actually it's not a completely original idea. The client saw something similar in a magazine. It's actually not that hard to reach the top shelf.
---
From contributor A:
Did you make that mitered raised panel door as well?
---
From the original questioner:
No, I usually outsource my doors unless my client wants something really special, like frame and panel doors made from bamboo. These doors are from Decorative Specialties.
---
From contributor C:
I did an entire pantry this way in my current project. There are nine 18" x 18" dovetailed drawers. I used two 250 pound slides at the bottom and a couple of guides up top. If you do more of these vanities you might want to consider replacing your slides with an undermount slide system.