A Smooth Honey Finish on Maple
Advice on achieving a warm, even tone on Maple cabinet doors. March 9, 2010
Question
Iím wondering if any of you pros know how to stain, and finish maple doors to the color below. Close is ok. Iím thinking of shooting a transtint dye combo but not sure what medium to use - alcohol, water, or shellac?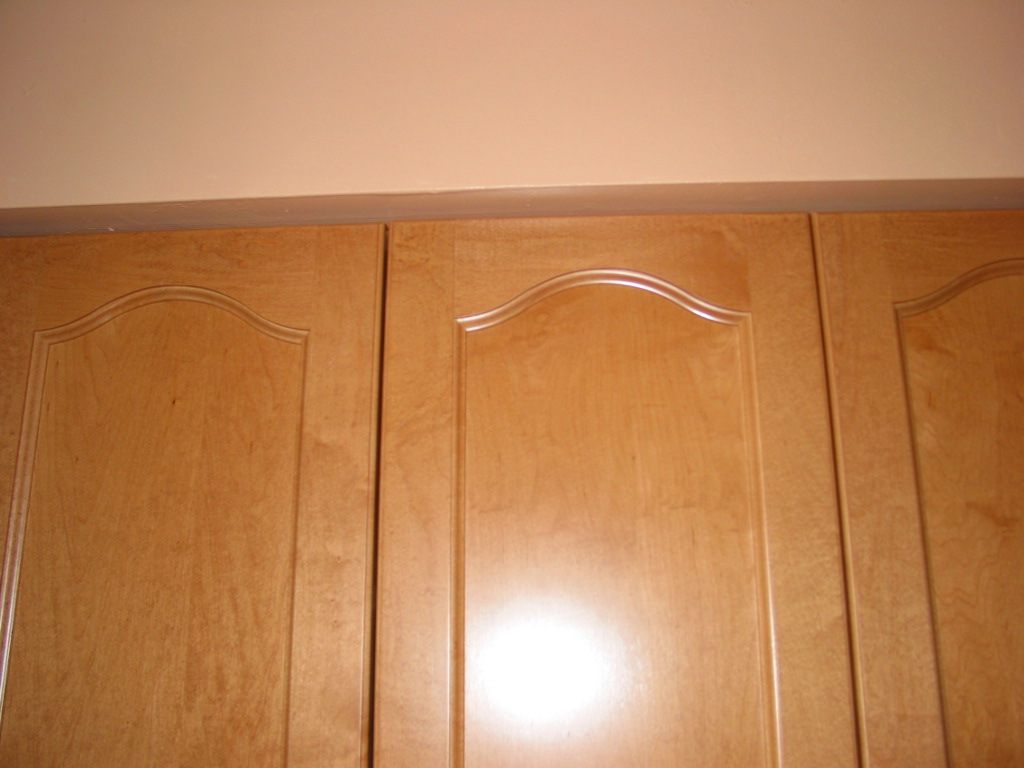 Click here for higher quality, full size image
Forum Responses
(Finishing Forum)
From contributor R:
Any of the options you have posted will work for you. Go for it but topcoat it with a finish thatís appropriate for the specific application that the project will be located in.

---
From contributor E:
That is a spray stain and it looks like a dye. You could mix up some acetone/water/dye at 60ml dye per 2L acetone and .1L water. Methanol works but dries slower so you can eliminate the water. It all depends on the dye concentration as well. The first mix is pretty strong so you may want to cut the dye down to 30ml in that mix. I would try to spray it about three or four times to get to that light color and then I would put a bit of the dye in the final topcoat. Not a lot mind you. Water only will not give you a successful look to the finish. If you are topcoating with waterborne, you will have to lay on the first coat very lightly or the dye will run if the finish runs.
You could seal it with shellac but it is probably not necessary given what I see. Make sure you keep the doors flat if you use dye so it does not run with the finish. If you use acetone and water, don't put shellac into it as it will precipitate out the shellac. You could add a bit of acrylic or urethane topcoat but not more than 100ml in that mix again because it will all gum up.

---
From contributor A:
I can do clear-only finishes that make maple look like that. The trick is in your choice of product. I use precats - and I find that Lenmar has a deep amber tone that will turn any raw wood finish that color (without reduction). Your best bet, as always, is to take a couple of sample pieces and try them yourself. Try your regular brand, and a couple of others if you happen to have them kicking around to see what happens. Other option is to (in my experience) get a color matcher to fix up an alcohol based wiping stain to match - then clear coat as necessary. If color coats are required to deepen the color, I do those first.
---
From contributor G:
I doubt very much that that is any type of a stain. It is way to even of a color, especially on maple. I would think if you put a sealer coat on and then sprayed a mix of a dye and your topcoat you would get that even coloration. As for the color, don't know other than it looks a bit lighter than a cherry stain. Finish up with at least one full wet clearcoat.
---
From the original questioner:
Thanks guys for the responses. I think I am going to shoot some shellac first to seal the wood followed by tinted lacquer with transtint dyes until I get the color, like a tonner kind of thing.
---
From contributor R:
What sort of product are you going to be finishing? The reason Iím asking is you might look into a more durable coating if youíre planning on using a shellac or nitrocellulose lacquer in a kitchen or bathroom setting.
---
From the original questioner:
Itís the same material as the doors below - hard maple.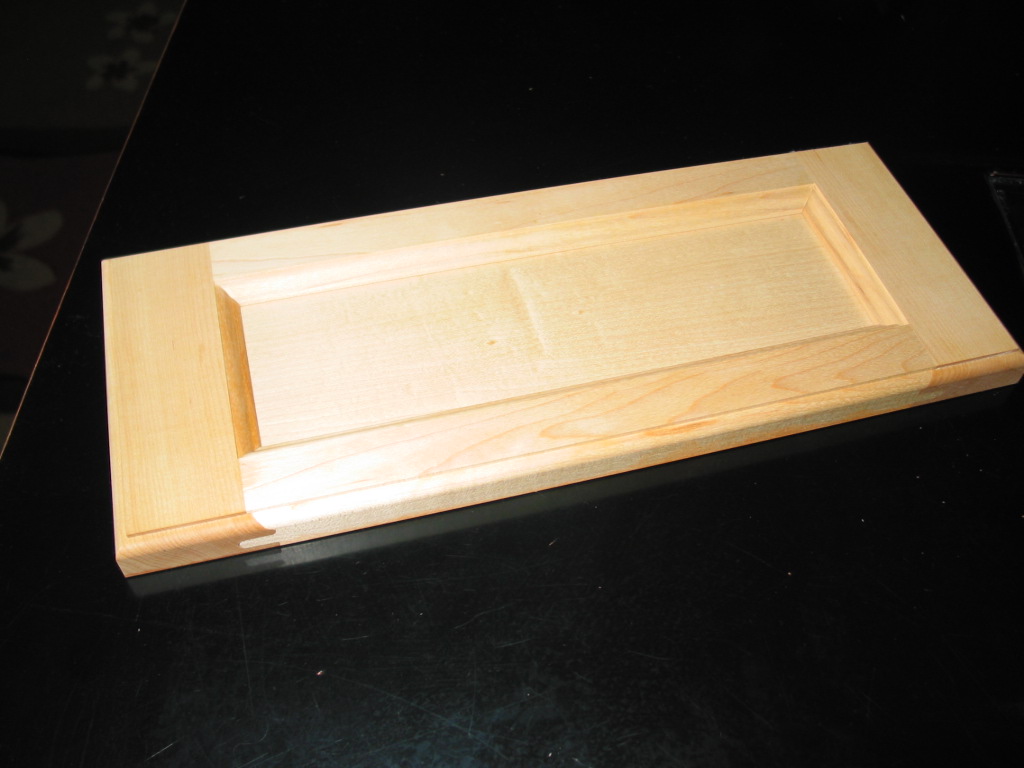 Click here for higher quality, full size image
---
From contributor R:
By material I was referring to the coating, not the species of wood. Anyway, Iíd re-think using shellac and a regular lacquer if the project is going to be in either a kitchen or a bathroom setting.
---
From contributor E:
I buy my dye from wood essence. That is the recipe I gave for use with the Wood Essence dye. You can probably get that color with the raw umber dye.
---
From contributor R:
Raw umber? Maybe a raw sienna. Itís more of an orange/yellowish color. A yellow ocher/ yellow ochre could work too but I donít see an umber color be it a raw or a burnt.
---
From the original questioner:
Raw sienna is the one I order.
---
From contributor S:
Maybe my computer monitor renders colors differently. It looks like a colonial maple to me. Colonial maple wiping stain is generally a muted brownish yellow, but on the green side of yellow. The grain of this maple is muted, as if shot with a pigmented colonial maple toner. Using a pigmented toner would also account for and translate into such nice and even coloring. That's how I do colonial maple.
---
From the original questioner:
I tried the Minwax colonial maple stain and it wasnít a match. This a spray on dye with maybe some lacquer on top.
---
From contributor R:
It is impossible to try and match a color from a picture on a computer so I am not going to try. This is a basic kitchen cabinet finish and production shops do this finish by spraying on a light dye stain (about 75% of the total color) and then get the final color with a shading coat. It is really important to lay out all of your door and drawer fronts by elevation when doing your color coats so you don't end up with light and dark panels. This is a very fast production finish, even though it sounds complicated to some people, and will produce a very nice high quality finish and blotchless color on maple if done correctly.
---
From contributor H:
I agree that a transtint will get you to this tone. It's "honey amber " that you want. I would use light coats of sealer mixed with 15-20 drops of transtint to quart of lacquer to build tone and finish while keeping your eye on matching your sample color. Color match is best achieved after 3-4 coats of finish so be careful not to go too dark with first couple of coats as color will seem darker after lacquer gets some build. If color does not match you can add-in a few drops of red, yellow etc transtints to fine tune your tone with later coats. Try this process on sample board/door first and record the amounts you use to achieve the desired color. Try this until you are satisfied with results and only then proceed to product. It will probably take you a few tries to get process right but almost any color can be duplicated this way.
---
From contributor G:
Cautions against using shading lacquer as the sole color on cab doors: it is unforgiving. You can't wipe off a mistake. If you get a run, sag, drip, stripes, solvent pop, or any other problem, there is no easy fix. It takes practice to spray into corners. Without making a conscious effort, the color will be lighter in the corners. The more coats you spray, the more obvious it will be. It takes good spray technique to avoid spraying stripes. You should thin the finish a lot so that each coat only adds a very thin layer. Too many coats of finish will lead to premature failure (cracking), especially if it is pre or post-catalyzed.
It's a good idea to spray at least one coat of clear over the color coat(s) to provide a wear layer. If you are going to thin the lacquer enough to allow building up the color without exceeding mil limits, you are effectively talking about a spray stain anyway, so you may as well use a spray stain in the first place and get some color into the wood and not just on it.