Aftermarket Dust Collection for a Sliding Table Saw
Product suggestions and a look at a shop-rigged example of a dust collection saw blade shroud for a slider. April 15, 2013
Question
I have a small shop (1,500 square feet) and have central dust collection hooked up, however my Felder slider does not have a shroud over the blade. This is causing a big problem. Does anyone have any advice on an aftermarket shroud?
Forum Responses
(Cabinet and Millwork Installation Forum)
From contributor U:
This may not work for you, but we cut some pretty large radius panels using a router mounted on a swing arm attachment. Our main dust collector is of no help with this, due to location and the need for flexibility of a dust hose while cutting.
Since this function produces a lot of dust, we made a bracket to hold a shop vac nozzle that sits by the cutting area. The bracket is attached to the router base or at least to the swing arm right by the router. We use an extra long shop vac hose (1 1/4" or 1 1/2") that is more flexible than our regular small dust collector hose (2"). We then sit a shop vac close by and go to work. The hose follows the router through its travel and catches 75 to 80% of the dust. It will not catch it all, but it is much better and lets us make the cut without problems from the dust buildup on the work surface.

---
From contributor V:
Try a search on "overarm saw guards". You will find a couple of aftermarket units that may work for you. I think most of these are designed for stationary tablesaws, so it's possible that you may need to be a little creative with your Felder.
---
From the original questioner:
I've seen the biesemeyer but I don't think it swings out of the way nor does it suck dust. It's just a shroud which forces dust down into the dust port on the bottom of the saw. Ultimately I want something like what I am used to from the F45 Altendorf I used to have. I'll check out the overhead saw guards.
---
From contributor F:
I made one for my slider. I used a little bit of steel welded up, a little bit of plexi, and a dust port and it works well.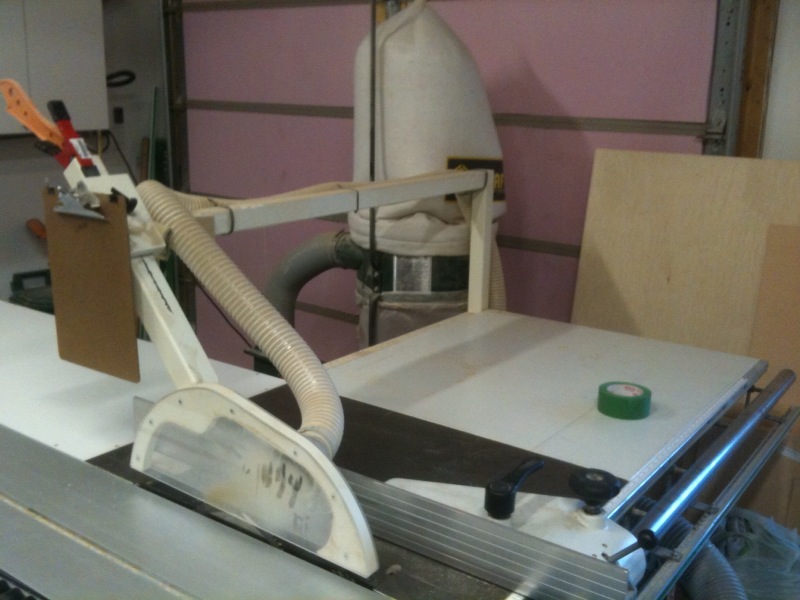 Click here for higher quality, full size image
---
From contributor J:
Our Felder has one that attaches to the riving knife, and it works pretty well provided you have enough suction. We have a 4" port coming to the saw, and then reduced to the 40mm or whatever size the hose is. We have a Biesemeyer overarm on our PM66 and it works ok but far from great. I had an Excaliber guard and I think it was a little better.
---
From contributor R:
I have heard good things about the shark guard. I don't have one myself so you'd have to research.
---
From contributor F:
I have the Excalibur. It swings out of the way and is not too hard to install but I don't know whether it would work with the Felder.