Air-Dried Pine for Exterior Siding and Trim
A discussion of keeping pitch from gumming up the planer, and on priming knots in Pine to avoid bleeding. Nice photos in this thread. May 30, 2011
Question
Here's an update on my problems with pitch from air dried white pine gumming up my Ryobi planer. If all else fails, read the directions! They said: apply a generous coat of paste wax to the planer table and let dry for 30 minutes and wipe off. Between doing that and avoiding the sapwood boards with obvious pitch, the planer works great, with little pitch removal required. I applied BIN to the knots and primed and painted and it looks good.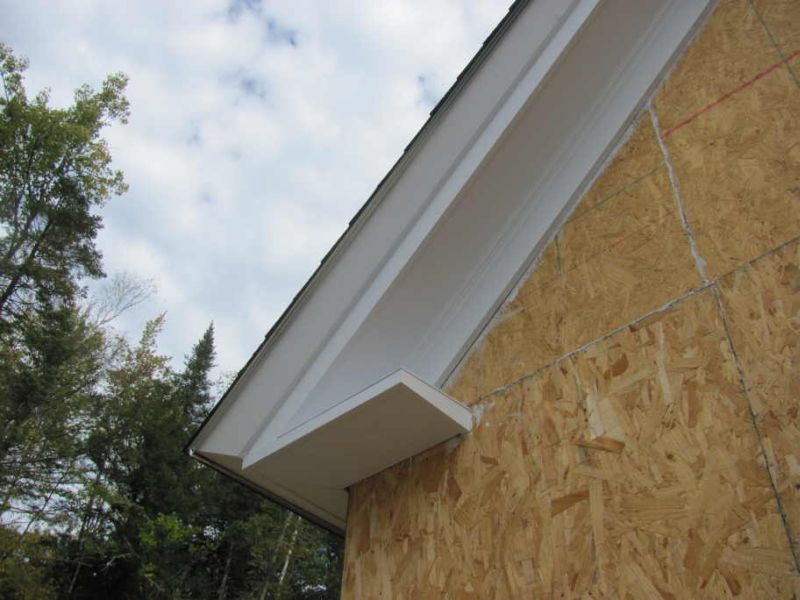 Click here for higher quality, full size image
Forum Responses
(Sawing and Drying Forum)
From contributor A:
Rubbing alcohol is good for cleaning up the pitch without hurting the machine as well as clothes and hands. Yes, the paste wax is good. I have used auto wax, floor wax and even Anchorseal. If you really want a mess, try some air dried SYP heart pine. It smells good, but what a sticky mess.

---
From contributor D:
Please keep us informed. Shellac (BIN) I've read is recommended, but I'm thinking next summer some of the knots will bleed out sap (?).
---
From contributor I:
Shellac works for indoors.
---
From contributor T:
I hope the little offset (don't know the proper name) is covered with more than just paint, like some type of metal/copper. In the old days these were just painted, with lead paint. Yes, it would hold up to the weather and rot, but is no longer legal or safe.
Several years back (prior to the new lead paint handling regulations) we built custom metal roof/covers for these offsets on a house over 100 years old. It was amazing to see the affects the lead had on the wood preservation. Where a chip was still attached, it appeared like a mesa and the wood slightly deteriorated around it like the Grand Canyon, but still solid. Several were 3/8" high. These were almost flat, with very little water drainage. Nowadays, the wood would've rotted within a year.

---
From the original questioner:
I have used BIN (white shellac) on air dried pine knots with good luck in the past. BIN seems like the only thing that knots will not bleed through. I usually use oil based primer then latex finish over that, but I am trying Kilz (sp?) latex primer/sealer/stain blocker over that, then a Behr latex finish coat.
---
From contributor D:
Thanks. I will try BIN and oil based primer in the future when needed. Had sap dropping for several summers after I built my shop with air dried SYP.
Contributor A, have you tried spraying PAM cooking spray on your saws before sawing SYP? It helps. Learned that from Barbara Gill, a sawyer in Virginia.

---
From the original questioner:
The oil based primer is hard to get with the new air quality restrictions, so I'm gambling on latex primer. It's certainly much easier with fast drying and cleanup with water.
---
From contributor A:
No, I have not tried Pam. I do keep a can of WD-40 handy when cutting SYP.
---
From Professor Gene Wengert, forum technical advisor:
Kilz has 8 different stain-blocking products. I suspect that the oil base would do well on pitch. I prefer and have used Zinsser's Bulls Eye1-2-3, but Kilz might work just as well.
---
From the original questioner:
Thanks, Gene. The Kilz was the Latex Primer/Sealer/Stain Blocker. I was hesitant to use latex, but hopefully the BIN will keep the knots from bleeding.
As a side note, the local mill ran 1100 BF of my 1x8 white pine through their planer and made me double clapboard siding (two 3-1/2" clapboard with a shiplap joint). They charged me $150/MBF, which I think is a heck of a deal! Their big planer had no problems and the siding looks great. Those double clapboards go up easy and look just like traditional clapboards.
Here's a picture of another project using the same air-dried pine. Really, most of the pitch came from the sapwood boards and the finished lumber looks pretty pitch-free.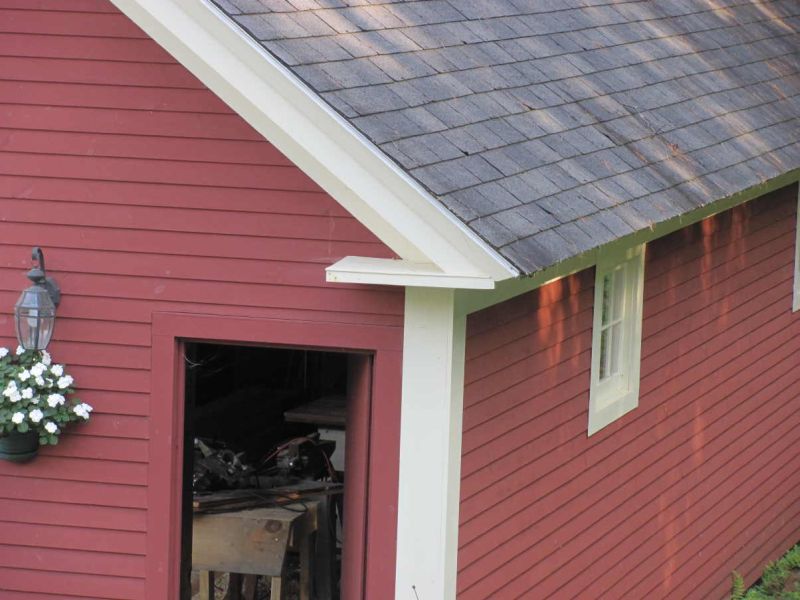 Click here for higher quality, full size image
---
From contributor P:
My 36X84 shop is sided with white pine clapboards and the knots bled through. About 8 years ago, I hired a friend's daughter to put two coats if BIN on the knots and then stain. The building looked like it had the white measles, but since it was stained it hasn't bled through yet.