Another Wood Identification Conundrum


Another unknown wood gets a close look from the Woodweb detective crew. Could it be Paulownia? January 18, 2012
Question
Well I have a mystery on my hands. It might be obvious to someone out there. I looked in all my wood books, Hoadleys wood ID book. I just can't seem to think what it might be. Seems to be in-between everything I can think of. Before you look at the pictures below let me describe some attributes.
Itís quite soft, I was sawing soft maple and thought the blade was getting dull, then switched to sawing this log and if felt pretty sharp again. Though itís quite heavy it must have a high MC content. Itís somewhat ring porous, the grain looks somewhat like ash - not like maple or poplar. The bark reminds me of some kind of elm. There is no colored heartwood, the whole log is one color. Hardly any knots.
The bark reminds me of white oak, with a somewhat yellow layer under the bark which is quite fuzzy. The knots remind me of poplar - dark, dead knots. I was thinking that the only thing that was close was box elder, but I think the grain is wrong. Does anyone have any ideas? Another curious thing is that I sawed the log in the morning and by afternoon it oxidized from an ash color, pretty white, to quite golden in a matter of hours.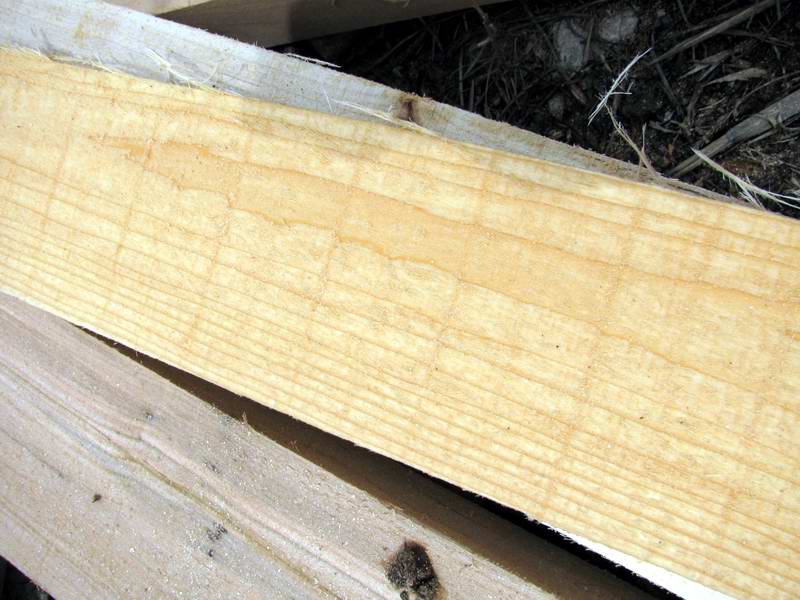 Click here for higher quality, full size image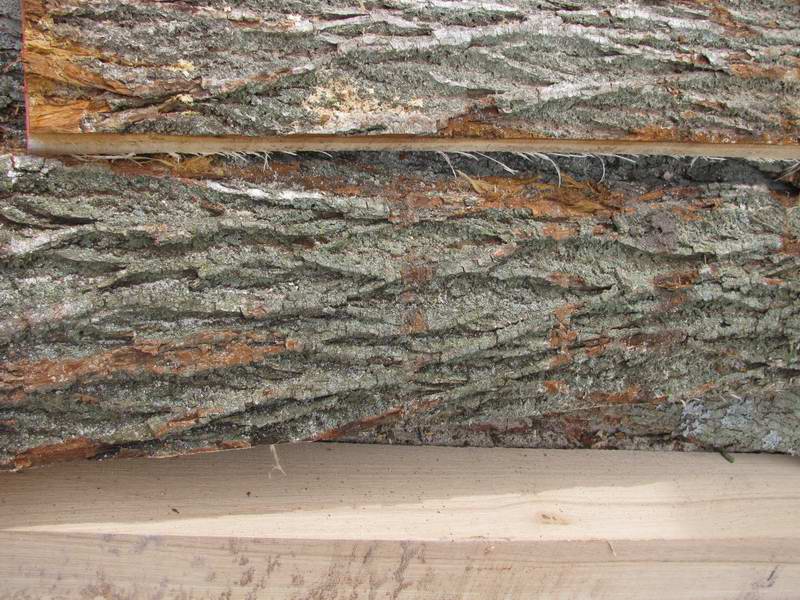 Click here for higher quality, full size image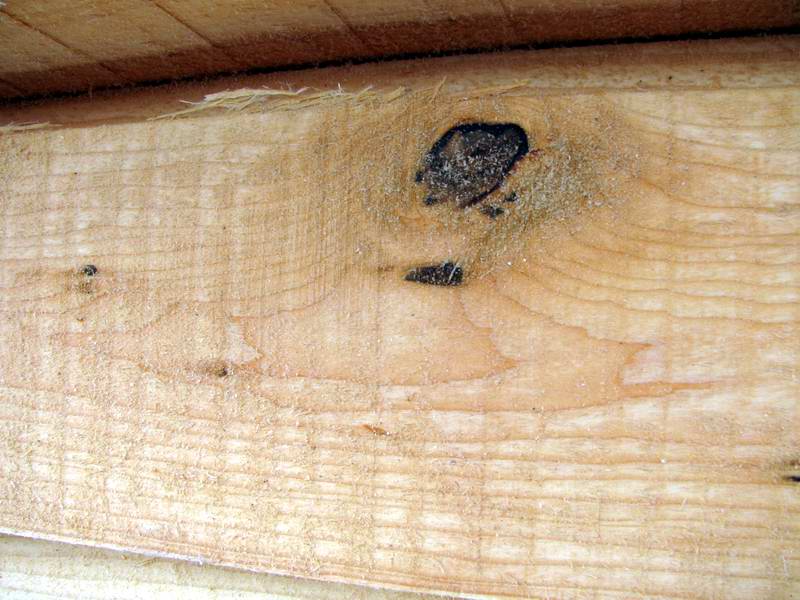 Click here for higher quality, full size image
Forum Responses
(Sawing and Drying Forum)
From contributor Z:
My first impression is hackberry.

---

From contributor R:
Seems like the wrong bark for hackberry.

---

From contributor A:
Royal paulowia.

---

From contributor X:
The bark looks sort of like pignut bark but the wood looks like a softwood, almost like pine. Maybe it's pignut pine. What color is the inner bark?

---

From contributor H:
Locust?

---

From the original questioner:
Well itís too soft to be any locust by a long shot. The tree of heaven sounds like a good candidate for not finding it often, but the bark looks wrong. This tree grew in a floodplain alongside soft maple and ash. I guess I may have to do some more scientific research. The grain does look like pine of some sort, thought it also may be some sort of soft ash.

---

From contributor N:
Basswood?

---

Richard
From contributor R:
Iím kind of inclined to agree with Contributor A. The bark fits and basswood is soft. Where are you located? Basswood is mostly located in central to northeast U.S.

---

From the original questioner:
Basswood sounds good. Does it have annual rings like this though? The color is right, density is right, and bark is close. No heartwood?

---

From contributor H:
I see now you said it was easy to cut so now I believe it is sassafras.

---

From the original questioner:
Can't be sassafras. I've had them before and you'd have to have lost your sense of smell not to know that one! I believe it must be basswood, but Iíve not seen grain in basswood before. Maybe the grain isn't as strong as it looks. I thought basswood had no grain, which is why carvers like it. This wood is definitely white colored, though quickly oxidizes to a golden color when exposed to the air. Any other ideas?

---

From contributor A:
You need to look at royal paulowia wood. The knot looks right, it is very light. It will dry very fast and not check or warp you can lay it on the ground and termites will not eat it and it is fairly rot proof. It grows fast so the growth rings are wide. There are like four different types of the same tree. You have the bark of the slower growing one. Look at the pith of the log or at a limb. The pith will be hollow, like walnut. I like the wood.

---

From the original questioner:
To contributor A: I've never heard of such a tree. It grows in central Michigan? It sounds tropical. Is there a common name I might recognize? I'm sure it must be some type of escapee as I think about the grain I can't see how it could be basswood, but all the other aspects fit it.

---

From the original questioner:
To contributor A: The bark doesn't look quite right and seems like it doesn't self seed up this far. It looks like zone six is as far north as it goes. Pretty flowers though, Iíd like to plant one in my yard. I guess I'll have to call this "grainy" basswood.

---

From contributor W:
Basswood is not ring porous. There is too much grain for basswood, and the bark is not right, at least for basswood that grows in the South. It sure looks like hickory bark, but from your explanation, it cannot be hickory. Can you get a clean, close-up end grain pic?

---

From contributor A:
I have seen a lot of basswood but none with grain like that.

---

From contributor D:
I second the paulownia. It makes a great finish board.

---

From contributor W:
After much deliberation, I am almost certain that it is box elder. Box elder will develop that interlaced bark pattern, and the grain looks like it could be box elder, almost a maple-like grain. Box elder would also have the same physical properties that you describe.

---

From contributor K:
Maybe a true hickory, not a pecan hickory?

---

From contributor X:
I've milled thousands of box elder logs and although it's a narrow view, it isn't quite right for box elder in this region. I know species can vary slightly from region to region so I am not adamantly against the idea, but don't think so. Also the color of the wood is wrong also if the picture accurately shows it. If you could post a wider view picture of the bark it would help. Here's some bark. As a box elder gets larger the bark does tend to change more than bark on other species. I can't show any lumber 99% of mine is flamed and would not be of any use to be compared to what is shown.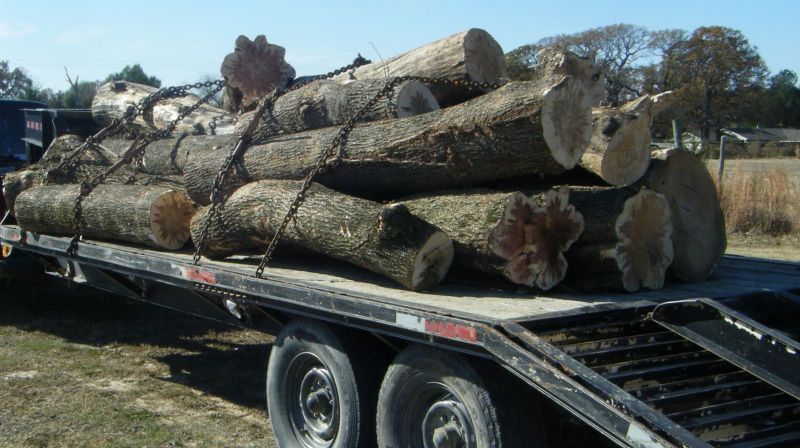 Click here for higher quality, full size image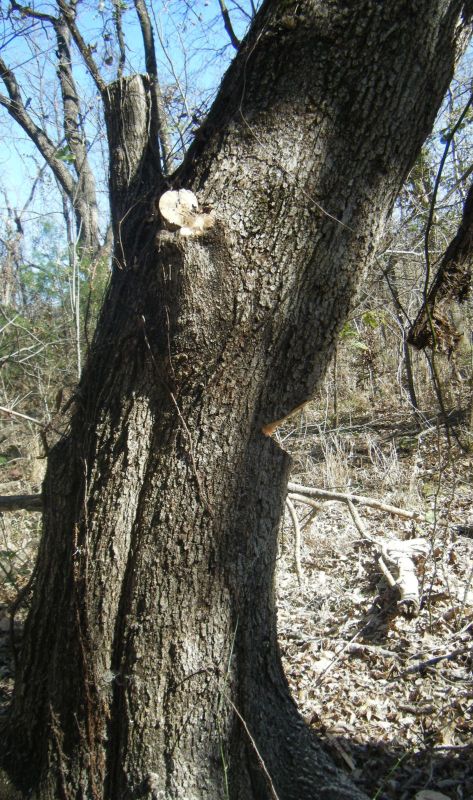 Click here for higher quality, full size image
---

From contributor K:
My second guess would be pumpkin ash, if it was from the south.

---

From contributor T:
That looks a lot like some chinaberry that I had sawn last year. Same color, grain pattern and has dried very straight and stable. Not sure if it grows in Michigan but is a weed where I live in SC.

---

From contributor V:
It looks like you posted two pictures of hard maple, and a bark picture off of a young walnut! It's absolutely not locust, ailanthus, sassafras or box elder. Appearance wise, hickories it could be, but you say it's soft and hickory is in the density range of locust.

I'd say basswood (linden), maybe paulownia. Paulownia's range is huge because some 100 years ago things getting shipped from Japan or China in crates contained paulownia seeds as packaging fluff.

There are a lot of white wooded trees out there that are uncommon, but they tend to be slow growers and considered "ironwoods" which are very hard. Your tree is soft and soft woods tend to be common species for the most part. I'm definitely leaning towards basswood or linden.

---

From contributor V:
What about Norway maple? Norway maple is not exactly soft but the grain and bark could match very well to what you supplied.

---

From the original questioner:
I still think itís none of the above. I've sawn quite a bit of box elder and have never seen bark on them like this, or grain in the lumber. I like the chinaberry idea, I'll have to look up as Iíve never heard of it. This wood is very soft, like basswood. Softer than soft maple, so that rules out a lot of hardwoods like elm, hickories, and the like. The bark looks like elm to me.

---

From the original questioner:
Here is the end grain picture. There is a knot in the sample, but I do think based on the density that its basswood as well. Though the fact that it looked to have heavy grain when first sawn made me think it wasn't possible. However over time the boards now look like basswood. The one thing that looked odd was the bark. This was only a 16" diameter tree so it wasn't very old. The lumber is super soft, like balsa wood. Only one thing I can think of, basswood, and I know there is basswood growing in this lot.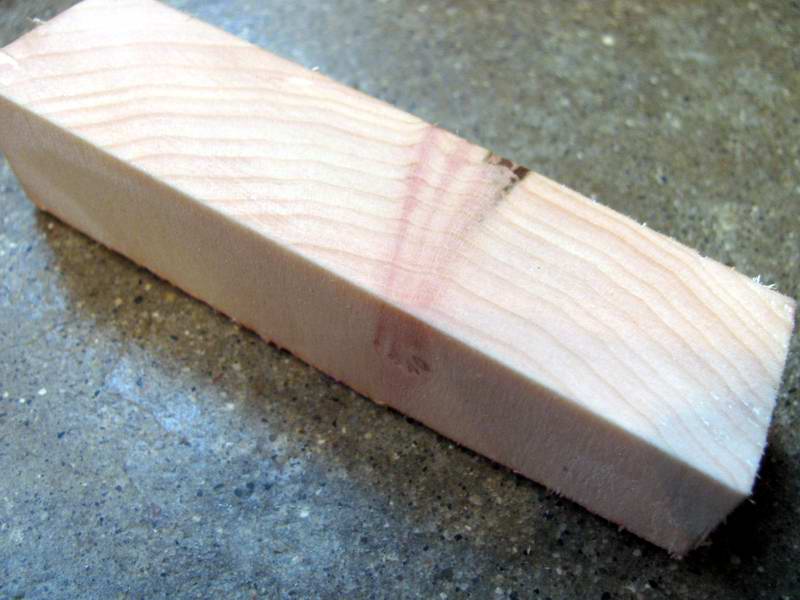 Click here for higher quality, full size image
---

From Gene Wengert, forum technical advisor:
When you say soft almost like balsa wood, then paulownia is your only choice. Basswood is not that soft or that light weight.

---

From contributor V:
I just very briefly read through this thread again and did not notice anywhere that mentioned that this is a hardwood or pine variety, or if you have any leaves. This makes me wonder if dawn redwood is a possibility. You say it's kind of ring porous and dawn redwood is so soft that it tears out end grain when crosscut, giving it a spongy appearance.

Your end grain photo is a little red shaded, it could pass for a dawn redwood easily. The board with the knot in the middle of it could pass for DR, but DR knots tend to have reddish pointed streaks above and below them, but not always.

I remember sawing up about 2,000 board feet of DR for a project five or six years ago and I had to square them up with a chainsaw into huge 26" plus cants just to get them to fit on my mill, when sawing it was like I was cutting 6" wide oak.

---

From the original questioner:
On the density I think itís similar to basswood. I've only sawn oak and hard maple and such so I was amazed how light this is. I'm not sure how it actually compares to balsa. It is a hardwood tree, and I never saw the branches or leaves, the log was dropped off.

---

From contributor D:
Maybe cypress?

---

From contributor V:
Butternut?

---

From the original questioner:
Itís not cypress, I've sawn that. This is definitely a hardwood tree. Not butternut, the lumber is white. The only thing that has me stumped is the bark. I have not seen any basswood look like this and the rings are a little too pronounced, but otherwise itís the best guess on density and growing conditions.

---

From contributor S:
It looks like basswood. The dark knots give it away. Basswood is a uniform yellow in color then dries white. It also has a characteristic musty smell which should give it away. It makes an excellent stable wood, and is good for moulding and trim. The grain is very faint.

---

From contributor V:
You know it could still just be poplar. Did you ever find out?

---

From the original questioner:
Iím 99% sure itís basswood.
---

Would you like to add information to this article?
Interested in writing or submitting an article?
Have a question about this article?

Have you reviewed the related Knowledge Base areas below?

---



All rights reserved. No part of this publication may be reproduced in any manner without permission of the Editor.
Review WOODWEB's Copyright Policy.

The editors, writers, and staff at WOODWEB try to promote safe practices. What is safe for one woodworker under certain conditions may not be safe for others in different circumstances. Readers should undertake the use of materials and methods discussed at WOODWEB after considerate evaluation, and at their own risk.

WOODWEB, Inc.
335 Bedell Road
Montrose, PA 18801

Contact WOODWEB Copyright © 1996-2021 - WOODWEB ® Inc.