Appearance Considerations with Sapele
Sapele wood darkens over time (as do Cherry and Mahogany), and its compatibility with the look of other woods is a matter of personal preference. April 11, 2008
Question
I have been receiving requests for pieces built from sapele and I was wondering if it darkens with age like cherry and mahogany. I have been asked this and have no answer. I was going to put a sample in the sun, but it's snowing again, so that test is out.
Forum Responses
(Furniture Making Forum)
From contributor T:
Yes, sapele darkens over time. It goes to a rich brown with much less red in it than mahogany (the real stuff, not khaya) or American cherry. Make sure when you buy it you know if your customer wants plain, quartered, or a mix. I've seen a lot of people go nuts when they see quarter sawn Sapele and were expecting something else; you either like it or you hate it.

---
From contributor D:
Here is a photo of some ribbon sapele cabinets I'm building for my home. These are not stained, just finished with a conversion varnish. There is still a lot of work left to do, including build some 8' curved pantry cabinets finished on all sides where the blue tape is on the floor. This job has been taking some time, since the owner doesn't pay well!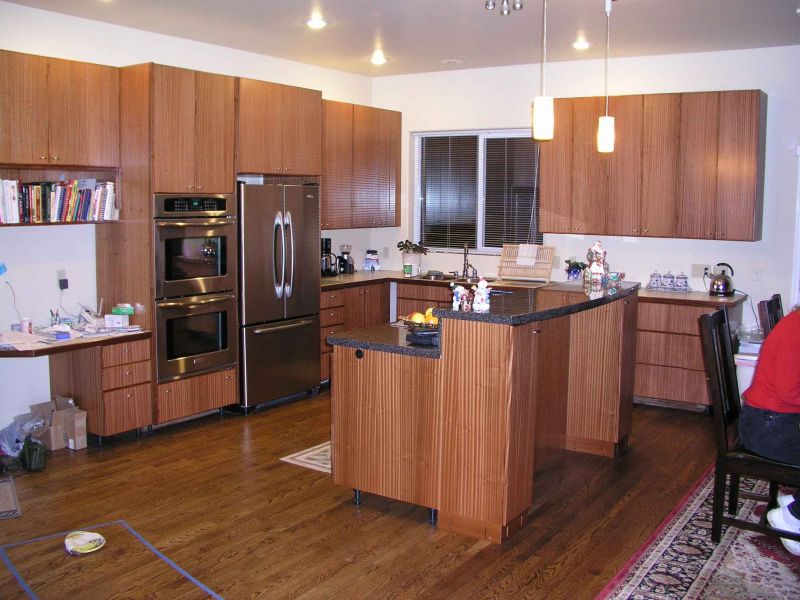 Click here for higher quality, full size image
---
From contributor T:
Nice cabinets. Not sure I like the look with the oak floor, but the cabinets are awesome.
---
From contributor D:
Thanks. I installed the white oak floor before we even decided on the choice of wood. You're the first to comment on the wood choices. I know it gets down to a personal choice... However, what type of floor would you, or anyone else, have considered? By the way, the location is Chehalis, Washington, if that's a consideration. Just curious.
---
From contributor J:
I did my kitchen the same way contributor D did. 1/4 sawn white oak and mahogany cabs. I've gotten nothing but compliments on it. As you can see, the uppers, the molding and handles aren't in yet. Actually they are, but this is an earlier picture.
To answer the comment on the choice of wood... If the floor and cabinets were all the same species, then it would be too boring. Too much of a good thing. As far as the combination of 1/4-sawn white oak floors and mahogany cabinets or furniture go, it seems like the Greene brothers were onto something good when they did the Gamble house in those two species.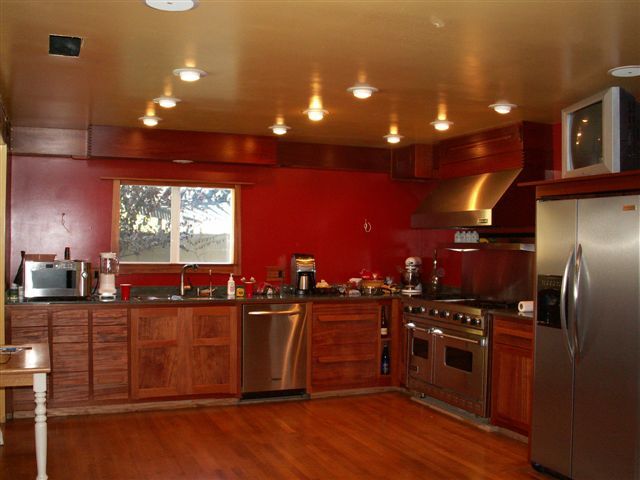 Click here for higher quality, full size image