Attaching Face Frames to Cabs
Preferred methods of joinery. January 28, 2004
Question
How are you attaching face frames? I dado my frames 1/4" in from the side and go 1/4" deep. I go the 1/4 in so I can put skins on the side of a run. I have read about a couple of you guys pocket screwing your frames on. I think that I am going to try this, as it may be a little faster.
Forum Responses
From contributor A:
Forget the dadoed frames - just pocket screw them on. Faster, easier, then you can move to the next step.

---
From contributor B:
I dado mine also. There have been times that in certain situations I have pocket holed a frame to a cabinet. Let me get this straight... you cut all the holes on the outside edge of the side and then on installation you put the skin on? Is this right? If it is, it would seem to me that the extra time you spend making the skins (not to mention the cost) would outweigh the time making the dados? I don't know; this is just my logic. We make our dados 3/8 deep and notch out the top for the crown to sit up against the side. The only time I ever use a skin is if one can't be coped to a wall, which is hardly ever.
---
From contributor C:
We dado the frames, along with pocket-holing. We used to just attach the frames with the pocket holes and adhesive (used to use liquid nails), but found that the 20 minutes spent running the dado made it easier to align the frame, and offset the time spent trying to align it. In addition, by pocket-holing the frames on, the load on the frame (doors, etc.) is shared by the cabinet, which is all 3/4" material.
Including the frame, we have an average of 40 - 50 PH screws in a cabinet. We are strong believers in the idea that once it leaves the shop, we don't want to see it again, unless it is in a magazine...
A lot of guys may call it overkill, but it works. We never had a service call relating to cab construction, so it is time well spent, as the average service call costs about $200.00 in time away from the shop (drivetime, to and from, time with customer, actual service - if any or warranted, etc.).
Here's an example of the cab construction.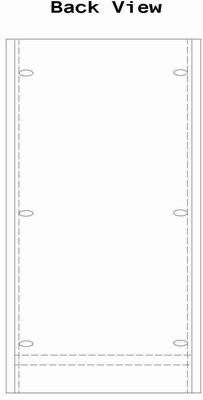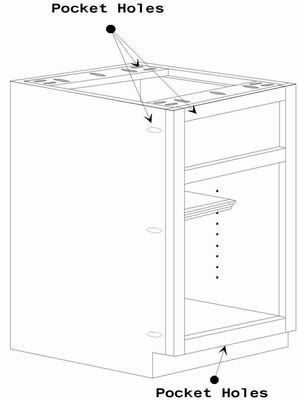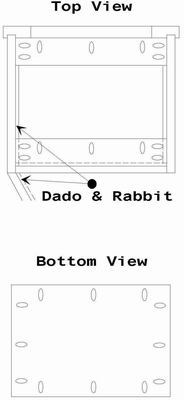 ---
From the original questioner:
Thanks for your input. A lot of guys swear I should switch to frameless, but I am a firm believer in the strength of a framed cab. Contributor C, it sounds like you could park a tank on your boxes. Good. The quality is what keeps our customers coming back and referring us to their friends.
---
From contributor D:
"A lot of guys swear I should switch to frameless, but I am a firm believer in the strength of a framed cab."
As long as your customers are requesting them, and they are paying you for the extra time and effort, a framed cabinet is superior in all aspects of cabinet construction. The frameless crowd firmly believes in what they do. They tend to be more hi-tech and on the cutting edge, but 25 years from now I wonder how many frameless cabinet jobs will have been replaced for sagging shelves, worn out finishes on melamine, worn out shelf peg holes used to support all of the hardware used. I was looking at a job I'm working on that had frameless cabinetry in another room that was 12 years old. It's heading for the dump soon or should be. Framed cabinets made with quality plywood should last 50 years or more.

---
From contributor E:
Contributor C, if you dado your frames, I assume you dado the rails only and cut the tops and bottoms of the case narrower by the depth of the dado. Is that right?
What are you using to make your pocket holes with?

---
From contributor C:
We dado the stiles, not the rails (leaving 1/4" for side panels or adjustments) and cut the sides to 23.5" and top and bottom to 23.25". The cabinet is pocket-holed all the way around, and the FF is attached with glue and 1" (sides) and 1.25" (top and bottom) pocket-hole screws. Our reason for doing this is that it relieves a lot of the stress on the frame from the weight of doors, etc. Like I said, we never had a service call related to cab construction.
Pocket-holes - this should draw a few laughs, but believe it or not, we are still using the manual (Kreg) pocket-hole jig. It is a source of irritation, but we haven't committed to the automatic yet, as we are moving to a larger facility next spring/summer, and have put off all new equipment purchases until at least that time, as we keep changing the floor plan, due to planned updates/purchases, workflow planning, material storage, etc.

---
From contributor F:
I use biscuits. Fast, accurate and strong. Don't like to see metal in the front of a cabinet
---
From contributor G:
I also use biscuits.
---
From contributor H:
How would you like the fastest and the strongest method? I know it sounds arrogant, but try this: I used PL Premium polyurethane construction adhesive for all the years I did FF cabinetry - pinned on to locate and hold until glue sets.
If you don't mind a few small finish nail heads to fill, this glue is cheap and amazing. It will bond stronger than any other adhesive because it fills the voids of the case sheet edges, whether ply, particleboard or MDF. Yellow glue will be starved due to soak-in. Not PL. Bonds extremely well to melamine face, too.