Badly Streaking Stain Job
For everyone's amusement — here is a horrendously bad finish job. June 4, 2012
Question
Can you tell if this was a staining or sanding problem? The doors should have gone through directional sanding and edge breaking machines, all with the grain. The stain was applied with a foam brush.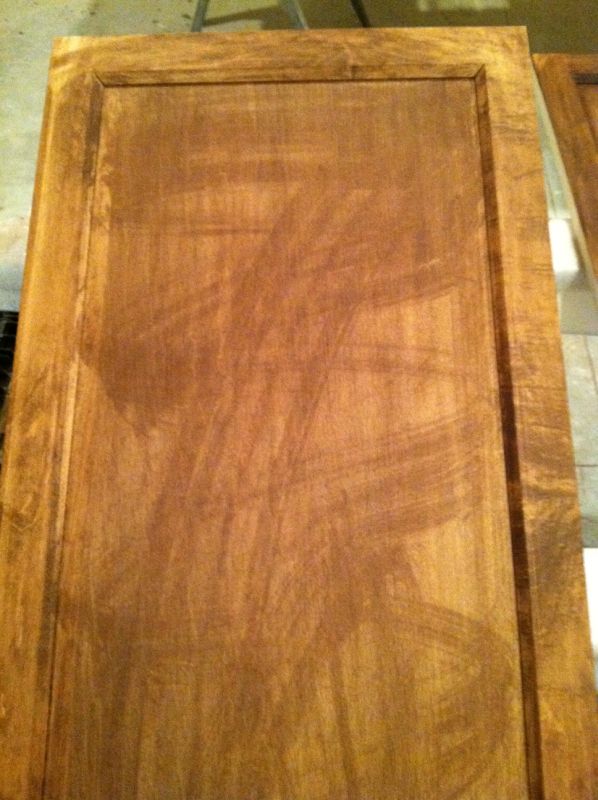 Click here for higher quality, full size image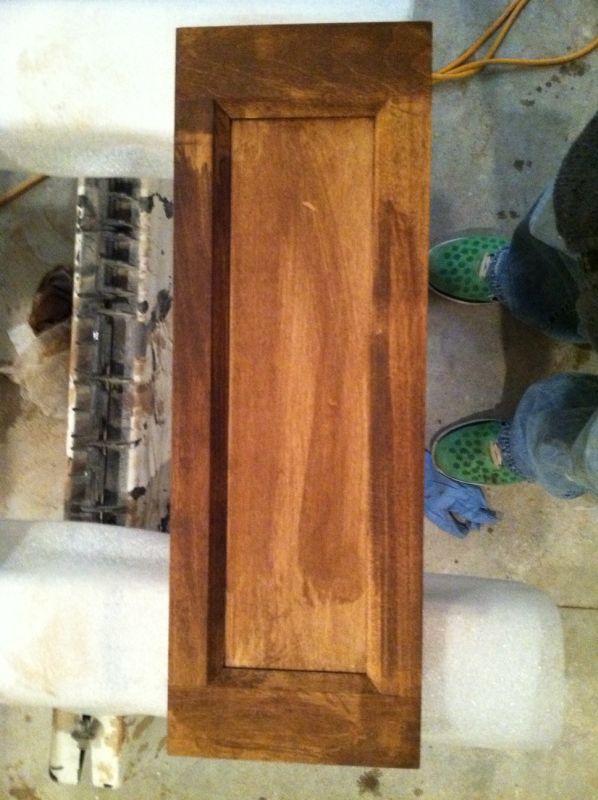 Click here for higher quality, full size image
Forum Responses
(Finishing Forum)
From contributor M:
No offense, but that's a mess! Looks more like a stain application problem, and like someone wiped the pieces with a wet rag prior to staining.

---
From contributor J:
Did you steal my help again? I know where he's been now. That is seriously messed up. You should go ahead and seal and topcoat it now, so you can blame the cabinetmaker.
---
From contributor E:
Was it an oil base stain? Minwax? Looks like the stripes are the foam brush, then it was hand wiped.
---
From contributor A:
Can't say I've ever seen anything that looks like that before. Looks like a staining problem - a big one.
---
From contributor L:
The guy applying the stain is an idiot. Hope it's not you. Looks like they didn't wipe it off properly.
---
From contributor D:
It is a sanding-it-off and staining-it-again problem. Possibly with a washcoat first?
---
From contributor A:
It's funny you post this today, as I was out looking at a project this afternoon with similar issues. You can see here in the photo that the stain was not properly wiped, which is much the same as your photos. Only fix is to sand it all off and start over.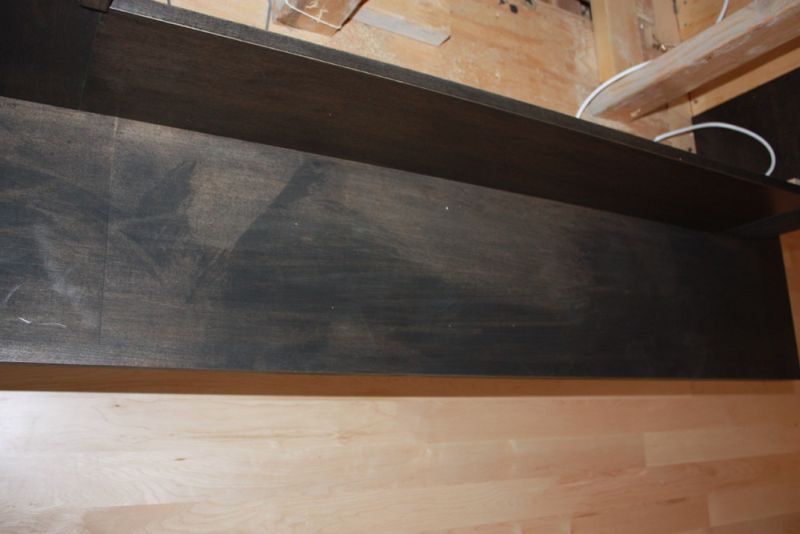 Click here for higher quality, full size image
---
From contributor B:
I've seen this before when the bench guys were using rags damp with solvents to wipe off excess glue. Really shows up on maple.
---
From contributor I:
To me it looks like someone tried to quickly clean the piece with sandpaper before staining, and what you see is how it was sanded and the stain collecting in the scratch pattern. You've got to sand with the grain. I don't think it's just a stain problem because without a sanding problem, it should have been easily seen while it was being stained, and without a sanding defect that is too late to fix, that is a lot of mess to leave behind. I have never seen a bad stain application that is anywhere close to that bad.
---
From the original questioner:
Am I correct that the sanding error would have to have been by hand, based on the appearance of the scratches? The doors were supposed to go through directional sanding with the grain and an edge breaking machine. Shouldn't that make it impossible for those kinds of patterns?
---
From contributor I:
Had a closer look at the pictures and the way the wipe pattern continues onto the frame of the door makes me think it's a solvent/wet rag wiping pattern. Hard to tell exactly from the pictures. No offense, but it looks like it got into the hands of someone who didn't know what they were doing in the finish/prep room, not something that would happen during manufacture. What were the steps taken in prepping and finishing up to this point?
---
From contributor S:
Looks like it was ruined on purpose to me.
---
From contributor E:
Those marks are from a nearly dried out foam brush. This doesn't look that difficult to figure out to me. They're too consistent to be a rag mark or sandpaper scratch. You've got someone who completely doesn't know what they're doing.
Is this hard maple? I'm curious what stain you used. The drawer front in the second pic looks terribly blotched in addition to not being wiped properly. You're not being stingy with your stain rags are you?

---
From contributor M:
You need to invest in a spray gun for applying the stain. If you don't have the extra money to get good equipment, at least go get a cheap one that you can spray the stain on with, then wipe it off. You can get a cheap gravity fed gun at Lowes for $50, which will work a lot better than a foam brush.
---
From contributor L:
If you spray the stain on and wipe it off in the same manner as that first picture shows, there will be no change. But using a spray gun to put it on is 100% improvement over applying with a brush or rag.
---
From contributor E:
It looks to me like these doors have everything going wrong for them. Glue, sanding marks, stain marks, rag marks, etc. Were they even prepped before being stained? I'd be very interested to see your prep and finishing schedule.
---
From the original questioner:
I really appreciate all the feedback. I am not the one who stained the doors, so I have no idea what he did to them. I provided the doors to the customer, and he stained them. All he said was that he applied the stain with a foam brush. He is blaming it on sanding, but we have had no other complaints on our sanding and it seems like everyone is leaning towards the stain application as the culprit. That's what I was hoping to hear!
---
The comments below were added after this Forum discussion was archived as a Knowledge Base article (add your comment).
Comment from contributor Z:
There's nothing wrong in my opinion using a sponge brush to apply stain. It does look like they may have attempted wiping dust from the surface with a damp cloth. When you apply stain with a rag or foam brush it is important that they are saturated with stain. Butting stain on sparingly and slowly will produce a finish similar to what you see here. Also, you must move quickly or else it will penetrate unevenly.