Baltic Birch for Slab Doors and Fronts
Is Baltic Birch stable enough to use for cabinet doors? April 15, 2013
Question
I have a moder kitchen to do. It will have base cabs with slab doors and df's, rift ash veneer, and horizontal grain match all the way down. The customer likes the edge look of Baltic birch, and I prefer not to edgeband dozens of parts. The biggest door would be 20" wide, 24" tall or so. Do I need to worry about it staying flat? The panels will be hot pressed and ash on both sides. If a door warps with this horizontal match it could be trouble.
Forum Responses
(Cabinetmaking Forum)
From contributor J:
I seem to recall an type of edgebander that mimics veneer core birch edge. You could edgeband with that, and then press the faces. I would be concerned about warp using veneer core only.

---
From contributor L:
The Baltic birch we've used has not been stable enough for doors!
---
From contributor O:
I didn't have any problems with this. All exposed edge multi-layered birch ply.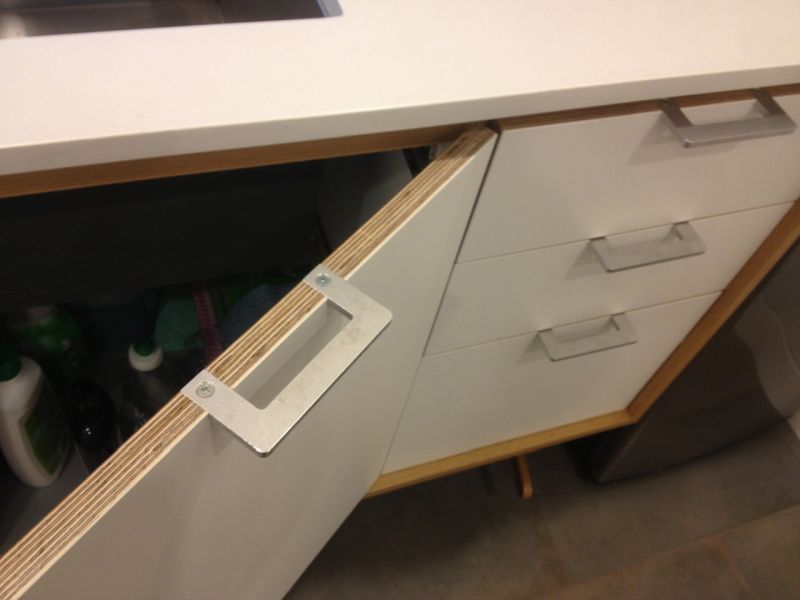 Click here for higher quality, full size image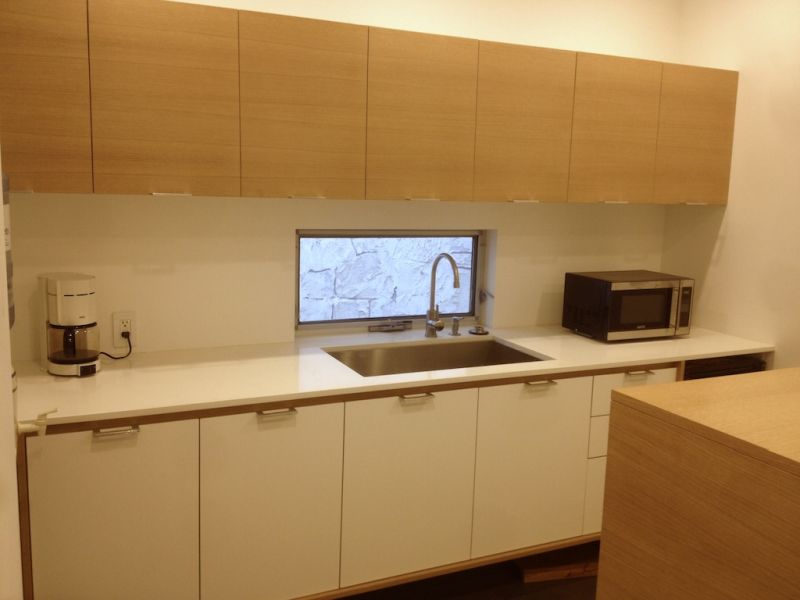 Click here for higher quality, full size image
---
From the original questioner:
It looks like you p-lam'd just the outside face also? I'd have figured that an invitation for disaster. Good to know it worked for you for sure. How long since the install? I'm the one who suggested this to the client and I'm trying to figure out how to retract the offer without looking silly.
---
From contributor O:
Both sides were laminated, one with color core, and the inside with thinner cabinet liner. The top oak veneer doors were also exposed edge veneered both sides. This job was at least a year ago. It's a copy of a Henerybuilt kitchen. All their kitchens are done like this. I guess the quality of the board would be the only factor I would worry about. There are a few different ones. There is edge banding that looks something like multi-ply. I did that myself in a few places where I didn't want to buy a whole sheet. Just cut up strips of the birch and glued them to MDF but way too much work when the whole point is not to have to edge band everything in the first place.
---
From contributor M:
I have several kitchens in service with Baltic birch slab doors, the oldest being about six years. I saw it last year, no problems. The better grades are often hard to come by, but I've noticed they tend to be flatter panels with a more consistent core even though the grades suggest veneer-grading only. I won't use less than b/bb for this application. I've never tried a veneered application, but wouldn't think that the substrate would be suitable for veneer thicknesses less than 1mm without filling.
---
From contributor K:
I have seen Baltic slab doors warp so itís a scary thing to do in my opinion as well. I was thinking the next time I had to do some of these doors I would laminate two sheets of 1/2" together, making a 1" thick door in my veneer press. My thought is that it would end up more stable this way, and the 1" thickness would make a nice door.
---
From contributor L:
If you go the 1" door route make sure the euro hinges you use work for that.
---
From Gene Wengert, forum technical advisor:
One common problem with Baltic birch is that the quality varies from supplier to supplier, and maybe even from time to time with the same supplier. You need to set up a quality inspection for incoming material to assure that the high quality you need is present (and you can easily return inferior material for full credit).