Bandmill Blades for Metal-Infested Wood
Advice on where to find and buy blades for a bandsaw mill that can survive an encounter with nails, wire, et cetera in the log. December 31, 2013
Question
WOODWEB Member:
Anyone know if there are reasonably priced blades that can withstand a few nail encounters while sawing? A project coming up calls for resawing some barn beams, which have been de-nailed for the most part but some heavily rusted off nails may still lurk inside. I thought I had seen some bi-metal 1 1/4" blades advertised somewhere that were made for this type of cutting.
Forum Responses
(Sawing and Drying Forum)
From contributor M:
Quick answer… No.
Longer answer, blades designed for metal cutting have finer teeth and will not move sawdust. At times, you will hit a nail that is perpendicular to the blade and it will not cause much blade damage, and metal shavings that attach to the blade can be removed. Most times, the nail will cause blade misery and it will have to be changed.

---
From contributor K
:
Old cut nails are much harder and brittle and cause more damage than modern wire nails. My Wood-Mizer double hards handle cutting 10d-16d modern wire nails okay, and can be resharpened if I hit them just right. A square cut nail from old timber frame barns will wreck most anything. I would invest in a sensitive metal detector to remove all, or saw deep enough on the faces where they are to avoid them.
The new Lumber Wizard hand held is much more sensitive than it was before. Goes about 4" deep for around $100. Kind of a pain to keep adjusting, as it seems fidgety to me, but I'm going to call them on mine as it may be a problem in my unit. Dirt is also a problem in the wide open cracks. Charge a lot for this type of work. In my experience it yields terrible material, wrecks the saws, and is annoying as all get out.

---
From contributor D
:
Yes, there are special blades that are designed for cutting pallets apart. These are cobaltized or bi-metal blades. They are stiffer, slow cutting, leave a rougher surface, and are at least twice the cost of regular blades, but they do work. I purchased a couple for my Norwood mill specifically to cut up a walnut log that I knew had fence wire in it. It did a fine job, cutting through at least fifty nails and strands of wire with no noticeable loss of performance. The walnut made beautiful wave-like patterns around the fence wire, and one slab more than paid for the blade. I'm sure they're available for other mills, as well. Unfortunately, even this blade was no match for a 3/8" anchor bolt. Now, anyone know how to surface one of these without nicking the planer blades?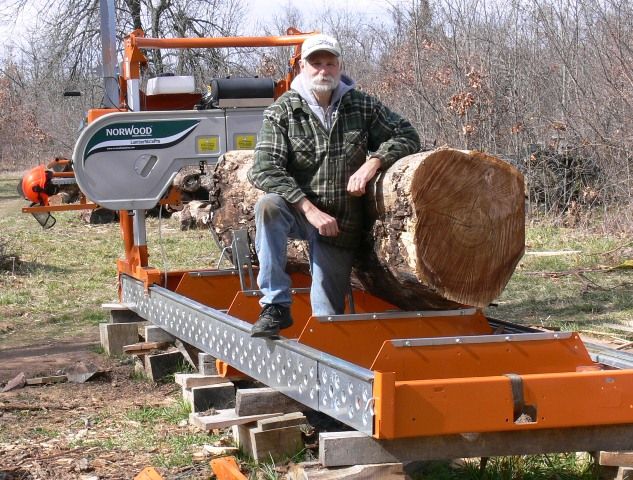 Click here for higher quality, full size image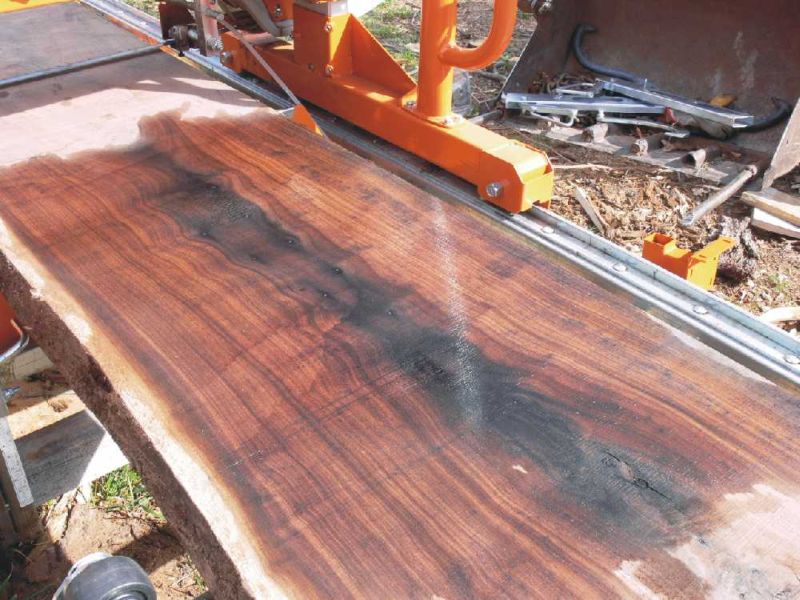 Click here for higher quality, full size image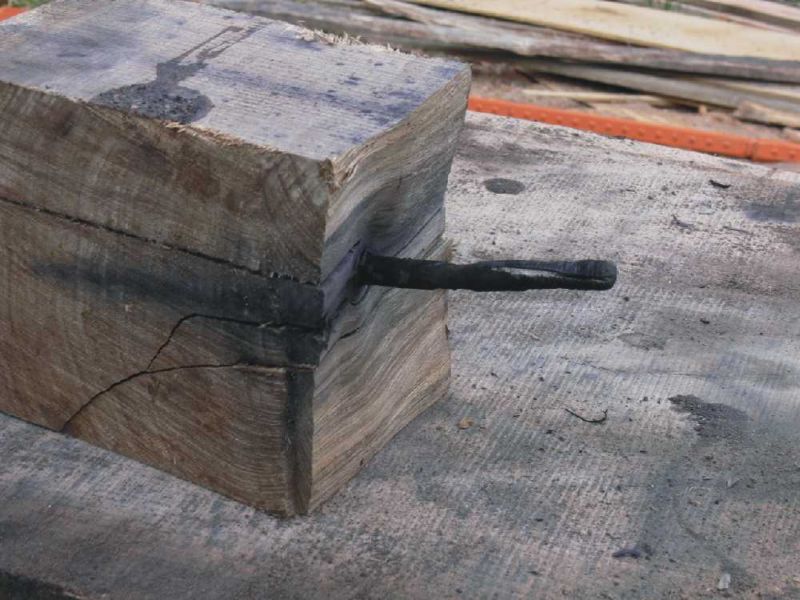 Click here for higher quality, full size image
---
From contributor K
:
Do you remember the brand and or where you found the pallet cutting blades? I've got a couple nice big walnut logs in my yard with fence and too much junk to saw, that I think I'd try with a special blade.
---
From contributor D
:
I'm not sure who manufactures the blade I use, since I bought it directly from Norwood. You might check with your sawmill manufacturer. I did find a listing for a bimetal blade from Lenox, but I'm not sure if it is the same. Suffolk Machinery also lists a cobalt blade designed for cutting wood with metal. Either place will make blades any length you need. I'm guessing my Norwood blades are from one of these two sources.
You also might contact Menominee Saw. They deal with several manufacturers and might be able to steer you in the right direction.

---
From contributor R
:
If you are looking for an inexpensive blade that works pretty good and does not cost a bundle, Jerry's Resharp has a blade called Ripper. I have probably purchased well over 200 of the Rippers. He also has Lennox and other brands. I have also purchased bi-metal blades from him. He has also sharpened a few hundred blades for me at $5.75 ea. Super to deal with and you speak with him personally when you call.
---
From contributor E
:
I also use Jerry's Resharp for blades and sharpening. The blades Jerry recommends for my Timberking work great. Each time you call you talk to him.
---
From contributor J
:
My saw blade supplier is sawblade.com. I've been ordering blades with them for several years. They have carbon, bi metal, blades, etc.
---
From contributor K
:
I tried ordering 3 different metal cutting bandsaw blades from Menominee saw. One was the pallet buster blade. Had terrible luck with them. None seem to saw wood, so I'm not sure what happened based on the above comments on these blades. The cheaper 5-8 tooth blade wandered through the cut brand new out of the box on 12" wide walnut. Couldn't cut flat at any speed. The 3 tooth courser blade cut okay in plain wood, but as soon as I hit a plain 16d nail its set went out and started chattering as the metal impregnated the blade's teeth the same way my Wood-Mizer blades do. It simply couldn't cut wood with metal in it. I bought the bimetal $28 blade and the carbon $18 blade. Not sure why some folks have success with this type blade, as I'm pretty careful with my mill setup and believe everything to be square. The one thing that was different was that these all came in 1 1/2" width and heavy gauge, probably .55 which made me have to adjust the cant tracking to have the blade run correctly on the back up bearings. I haven't had a chance to call Menominee Saw yet, as I'm working when they are open. Any ideas?