Bandsaw Mill Choices
Sawmill owners tell what they like about their equipment. August 29, 2006
Question
I'm considering purchasing a Lumbermate 2000 with 23 hp b/s engine, and am looking for some input on my purchase. I live in northeast Ohio and will be sawing mostly for myself - poplar, oak and cherry. If everything works out, maybe some custom sawing for others. Also, after doing some research on the web, Lucas and Peterson mills come into the picture. My budget is in the less than $10,000 area. Also, the Timberking 1220 and Baker 16m are nice mills. Being a novice sawyer, it's all very confusing.
Forum Responses
(Sawing and Drying Forum)
From contributor P:
I purchased the LumberMate 2000, 23hp B & S two years ago, and am very happy with the performance of the mill. It cuts good and is very easy to operate.

---
From contributor C:
The Lumbermate 2000 is a great little mill for what you were talking about doing. It is a great mill to learn how to saw on. I sawed over 100,000 bf on mine before I sold it and bought a Wood-Mizer lt40hd. The Lumbermate could handle the volume that I was cutting, but my back could not.
---
From contributor N:
I too bought my Lumbermate 2000 almost exactly 2 years ago with the 23 hp B&S engine, and have had no problems with it. The engine cranks every time and seems to be a good engine, and the mill is great. I saw part time, and like you, wanted to cut my own lumber and hopefully make enough on the side to pay for the mill. I haven't seen other mills in action, so I can't compare, but I think it is a good mill for the money.
---
From contributor O:
Ten years ago, I bought a new Lumbermate and it served me well. Two years ago, I upgraded to a new LM2000 with the B&S 23 motor. I'm even happier with the LM2000, as it is stiffer, has more power and has many great features. It saws very well. I'm very happy with my Lumbermate and I think it is the best buy in its class.
---
From contributor R:
I like my Turner mill because you don't need water on the band blades.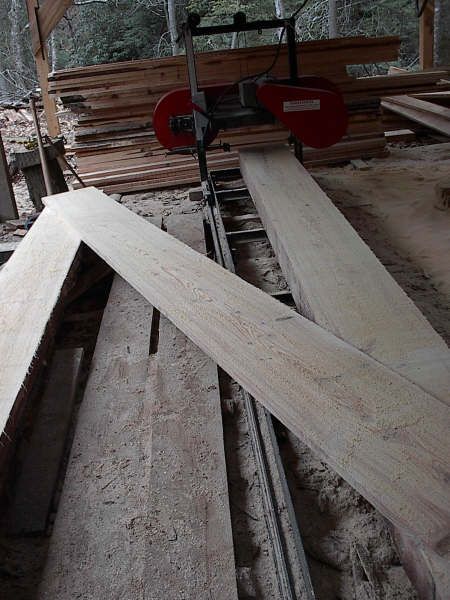 Click here for full size image
---
From contributor O:
Why doesn't a Turner mill need a blade lube, and all others do? I haven't seen a band blade yet that didn't saw better with lube on the band, no matter what brand mill it's on.
---
From contributor A:
Before you purchase a mill, take a look at Cook's MP-32. I own two of these and have cut more than 1,000,000 B.F. with the two. The price is the reason I bought the first one. This weighs more than any other mill of the same size, which means it takes a lot more abuse. The mill has almost no special parts, like a Wood-Mizer. A very basic mill without any fancy design. Less things to worry about, like a Wood-Mizer. The Cooks mill has a 3x6x3/16 main frame rails. Some of the other mills use 3x3x3/8 angle for frame rails. This is a real problem, unless you want a flimsy base. These mills are cheap. Talk to Steven or Tim Cook.
---
From contributor R:
The Turner has tires for band wheels, which takes the heat out of the blade.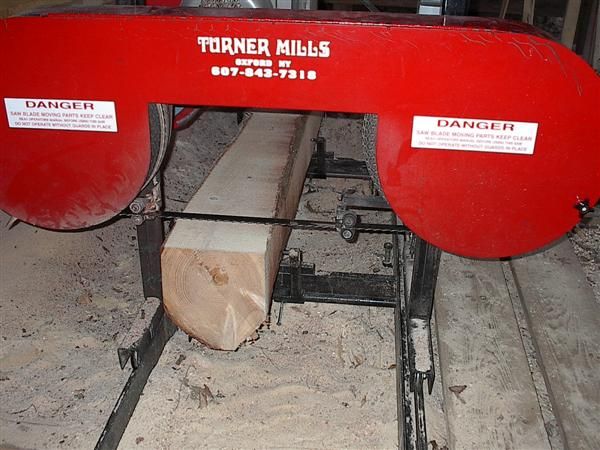 Click here for full size image
I've cut up loads of logs and never use any water.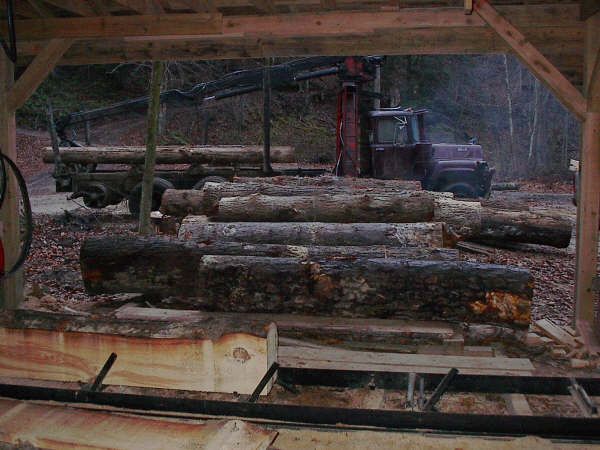 Click here for full size image
And the parts for the Turner mill, if you need any, you can get at a car parts store. All but maybe the band wheels. You would have to go to a tire store, but I've never heard of anyone wearing out the tires. Also, the tires act as a cushion on tension, which means you don't have any problems with tensioning the blade and the blades don't break nearly as much as when they are running steal on steal. My mill has a 10hp electric motor.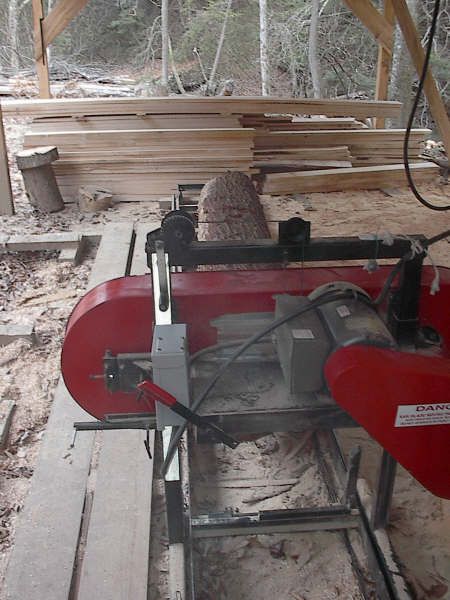 Click here for full size image
---
From contributor E:
You won't go wrong with the Lumbermate 2000. I have had one for 3 years. I had a couple of other brand name mills before the Lumbermate and the Norwood is by far the best for me.
---
From contributor J:
I live in Western Australia (land down under) and I can only say how good Norwood has been to deal with. They responded to all my questions promptly. Some of the other companies in this thread would not even answer, let alone give a quote. The freight cost was much less, as it can be transported on a pallet.
Have not bent anything yet, and have put some large slabs on the mill. 12' long 24" wide and 30" high = 1.96 tones. The mill is handling this type of wood constantly. Straight after assembly, we were able to cut lumber 24'' wide and 10' long with no problems and no adjustment.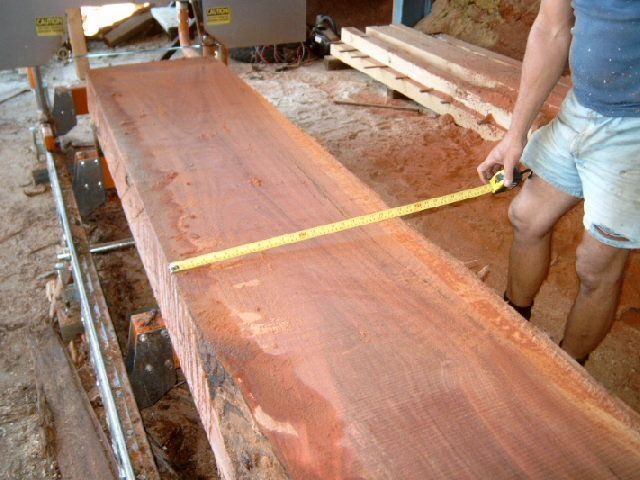 Click here for full size image
---
From contributor M:
I agree the Lumbermate is the best value in its class. I had one for a year and it worked well for me and the customer support was excellent. When I decided that I wanted to build this into a full time business, I upgraded to a Wood-Mizer, because I feel they are more suited to a high volume operation.
---
From contributor R:
Also, with a Turner mill, the back stops are raised and lowered with a lever that you can see at the lower part of the photo. Also, it has 4 log dogs for clamping down the log, and it comes standard cutting logs up to 16 1/2'.
Did I say it was built heavy duty? I've moved my mill by hooking a log chain to the bed and drug it to a new spot without no damage. And with a Turner mill you don't need any support because there's nothing you can break on it (all but the motor that is, and maybe a belt and bearings that you can get at any auto parts store).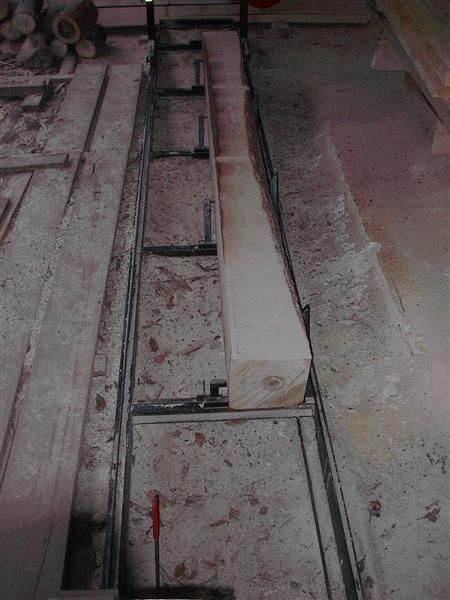 Click here for full size image
---
From the original questioner:
Thanks for the input. I'll research the Cook and Turner mills also. The pictures are great.
---
From contributor R:
Some mills have a hard time clamping logs so they won't move. No problem with the Turner mill. I tighten the clamp a bit and hit the bottom of the clamp with the end of the cant hook, driving the point of the clamp into the log and making the log tight against the back stops.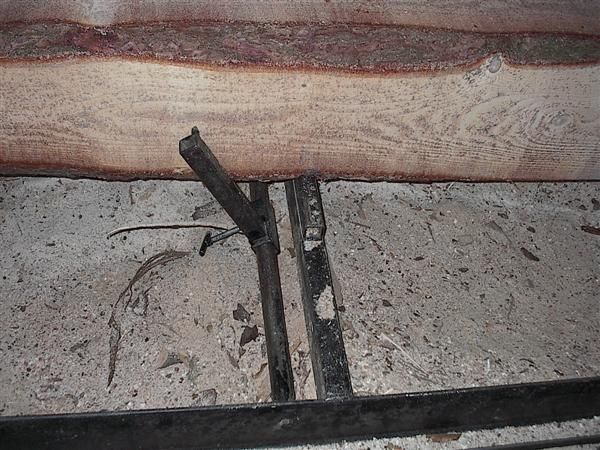 Click here for full size image
---
From contributor O:
On the Lumbermate, the dog easily screws into the cant with as much holding power as you want. You don't need to bump, kick or hammer it into place. Just push it over and turn the crank. I'm wondering, how do you keep the pine pitch off the bands without lube?
---
From contributor R:
Also, the Turner mill has 4 back stops and the sawdust shoots out past the back stops, while other mills shoot it where you are walking. And Bill Turner himself builds every mill, so he makes sure everything is right before it leaves his shop. If not, you know who to complain to.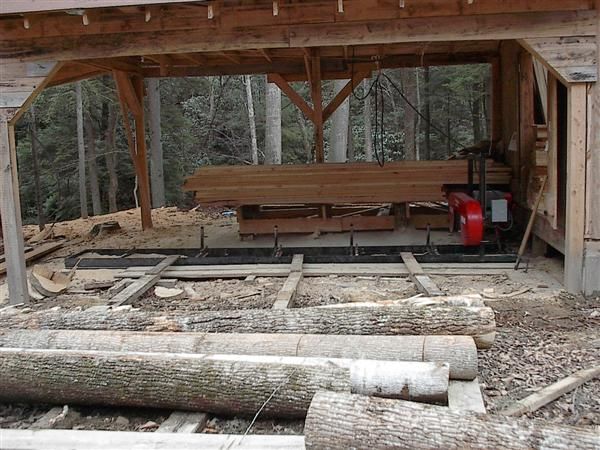 Click here for full size image
---
From contributor O:
And Norwood has the neatest manual log turner for the Lumbermate that really saves your back. It easily turns even the biggest logs.
---
From contributor R:
I do a half turn on the crank and bang on the cant hook and I'm done clamping. It's a fast way, in my opinion. And I don't get any buildup of any pitch on the blade, which I guess might be because the blade runs cool.
---
From contributor O:
And how about Norwood's new manual hydraulic toe board package? It will easily lift the biggest logs to level them for milling. You get two lifts and you can raise the whole log, allowing you to easily position it on the mill as it's raised on rollers. Another neat thing is it can be used for an inbetween bunk, for short logs! By the way, you do not walk through the sawdust on a Lumbermate.
---
From contributor R:
Also, a big cant hook like the ones from Logrite would make easy work on flipping those big cants. And do the back stops on the Norwood work? Do you have to adjust each one?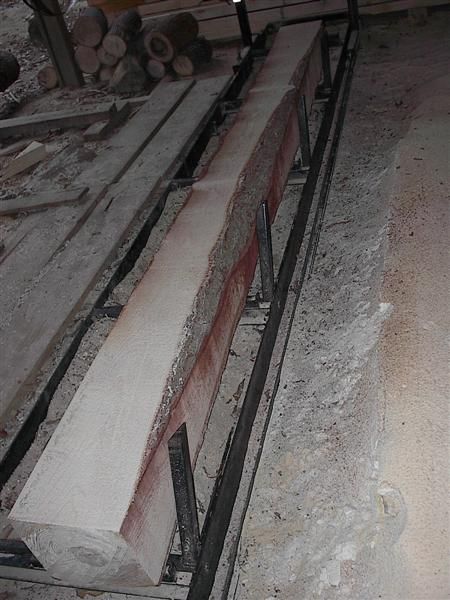 Click here for full size image
---
From contributor A:
I'm starting to laugh now. I see bad design flaws on the pictures that have been posted. Never use cables to lift anything, and wrap around a drum to lift the head. The cable stretches on one side more than the other.
Never use a clutch to drive band saw. The only saw I ran the clutch was slipping. $200.00 or more to replace the clutch. A single idler pulley engagement arm is foolproof.
A true four post design, blade run stable and does not wobble or wiggle. Spring loaded blade tension system. No need to keep an eye on the gauge when the blade grows. Self-adjusting blade tensioning.
The bed rails are 24" apart, not 48". How to you cut a 36" long log?
Metal band wheels are a must. My first mill had the belts, and you know the second one had the all metal wheels. The blade runs so much smoother. When a band does break, it does not tear up the belts. I wish both my mills had this.
I do have the upgrades of power feed and power up and down. I cut three logs at once. Yes, you heard me correct, 3 logs at one time. I just did a job at a tree farm on Saturday; cut 42 logs or more in less than 6 hours. I average 3-600 per hour. In one day, two years ago, I cut 9,000 bf in 9 hours.
For a small mill, I'm sure the Lumbermate would be fine. It just seems like a toy to me. I would want to spend my money on something that could produce more lumber and faster in the future. All these items are all standard on the Cooks MP-32 mill.

---
From contributor R:
Contributor O, so then if you don't walk thought the sawdust, does that mean you push the mill from the right side?
---
From contributor G:
Consider buying a used mill with hydraulics. You can get a nice used mill in your price range.
---
From contributor Z:
Here is the Norwood LM2000 with a large 28" pine log after one turn.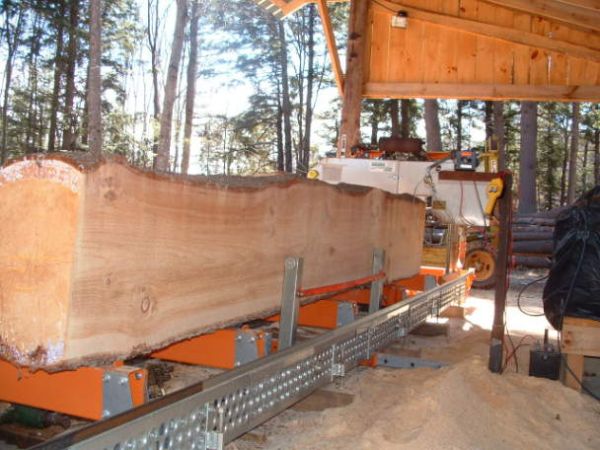 Click here for full size image
---
From contributor R:
Contributor A, to be able to make money sawing volume for a living around here you would have to cut 20,000 board feet a day or more. You don't see any small bandmills going job to job up and down the roads in West Virginia where the whole state is covered in trees.
---
From contributor O:
The sawdust comes out the other side.
The cables do *not* have stretching problems on the Lumbermate. There are hundreds of these mills out there sawing every day, and I've yet to hear of even one owner having that problem.
The Lumbermate saws very well, and Norwood has a huge amount of mills out with happy owners. I'm one of them.

---
From contributor R:
Here's a 16 1 foot yellow pine I cut up with a 10hp electric motor that runs off the same size electric breaker as an electric cook stove, 40 amp. And I also work alone.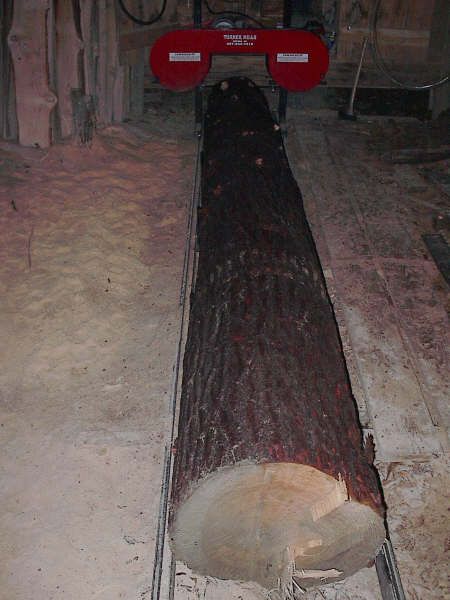 Click here for full size image
---
From contributor A:
There may be a lot of mills out there with cables on them. But cable has the properties of a rubber band. They do stretch; the longer the cable, the more it will stretch. That's what the design is.
The other item that I forgot about is rollers with shoulders on them to guide the blade through the cut. Rub blocks are a bad way to guide a high speed blade… heat. I spent at least 100 hours researching a lot of mills many years back. I bought the Cooks mill because it was the cheapest and heaviest. It was so good I bought another, for here at the house. I charge $75.00 per hour, with a 6 hour min. I have 15 jobs to do on the books now. I have to turn down jobs because I'm too busy. I'm the only portable sawmiller in the greater Seattle area (that's about 3,000,000 people). One of these days I will post some pictures of my two mill heads and the three frames that I use.

---
From contributor V:
If you are looking for a good priced package, the mp32 with trailer kit and lights, 16' cut, power up and down, 25 hp, 10 blades, free cant hook, blade alignment tool. I'm sure there are other extras for about $9300. I ordered one, then found one slightly used for less, so plan to go get it Wednesday. Check out Cooks.
---
From contributor R:
The Turner mill guides have 5 bearings on each side and there is no lip on the back like all the other guides have, which will cause heat buildup and wear out the blade. And if you do wear out a bearing, all you have to do is go to an auto parts store and get a new one.
Ground Model (8 screw style track levers)
with 10 HP Briggs & Stratton Intech $4,100.00
with 9 HP Honda $4,325.00
with 13 HP Honda $4,505.00
with 13 HP Honda Electric Start $4,770.00
with 20 HP Honda Electric Start $5,255.00
with 24 HP Honda Electric Start $5,405.00
Hydraulic Model:
Hydraulic Feed with 24 HP Honda $13,900.00
Hydraulic Clamp & Turner $1,500.00
Drag Back Option $250.00
Increase to 36" Carriage $900.00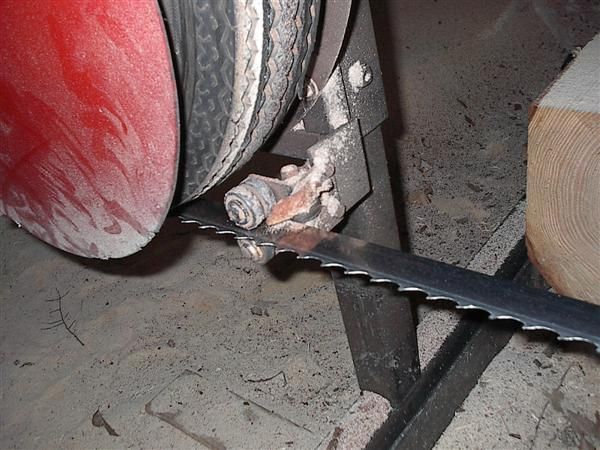 Click here for full size image
---
From contributor D:
Sure is a lot of brand loyalty, ain't there? I've had my Norwood for a little over two years, custom portable sawing, and while it's not the ultimate mill, it is a great mid-range mill. Both the Cook's and the Turner seem to be good mills. I guess it's kind of like the Ford/Chevy/Dodge thing. I looked at a lot of mills before I bought Norwood. I still believe it's the best mill for the money. If and when I upgrade to a hydraulic mill, it will probably be a Cooks - good engineering, and good people. I buy my blades from them, and they are a great help with blade questions. Just as a point of reference, I ran two Wood-Mizer mills on a former job, and they were the first mills to be disqualified in my mill selection.
---
From contributor R:
And if you can't find any help, I'd say a log this size is about as big as you will want to go. A board that is 16'x2''x16'' is kind of heavy to pick up off the mill and stack in the lumber pile. I like small logs the best. Everything is a lot lighter. But big logs are nice too, because you can get a lot of footage out fast.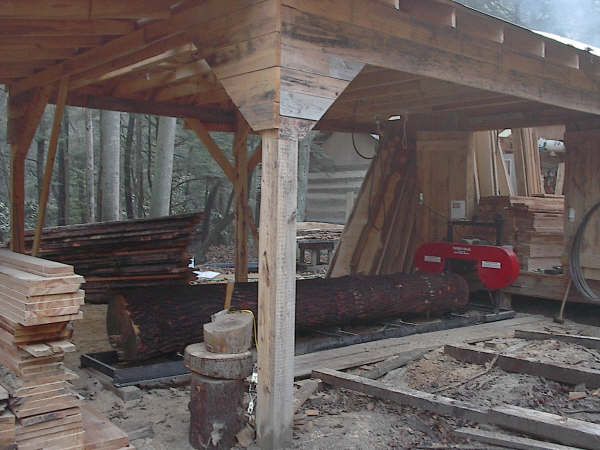 Click here for full size image
Also, I had to put cross ties under the mill and bolt the mill to the cross ties because those big logs keep moving the mill a little bit each time I loaded and flipped them. I heard of guys who have put a big log on their mill and flipped the mill on its side.

---
From contributor D:
Contributor R, could you post a good picture of your log post raising lever? Sometimes I disremember to let all of my squaring arms down. Of course, an expert sawyer like me (ha ha) never hits any part of the mill with the blade.
---
From contributor R:
Sure can. All 4 log stops are hooked to this lever.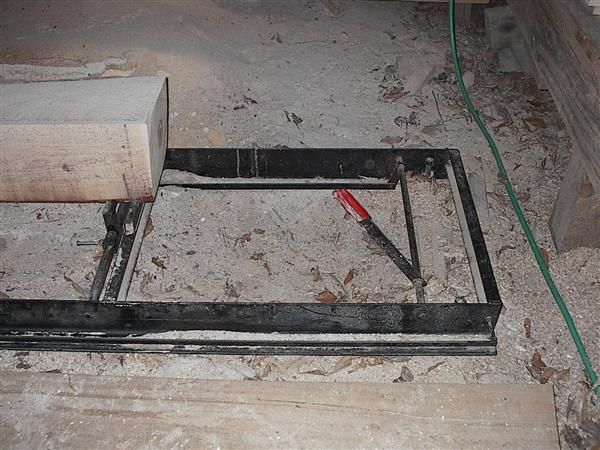 Click here for full size image
Also, I don't see any need for toe boards on a mill. If you want to get the good side of a log level with the mill, turn the opposite side of the good side of the log up and make that side level, then flip the log 180 degrees, then that side will be level with the sawmill. Toe boards would come in handy if you had lot of logs with 2 good sides, but most of the logs I get aren't that good for cutting grade.

---
From contributor J:
Contributor R, what size tires do you have on your mill and what pressure do you run in them? The main advantage I think a Norwood LM2000 has over your mill is the bearers are higher than the mill track and you can load and unload large logs/cants with a forklift or loader and save your back.
---
From contributor O:
Toe boards are important with logs with heavy taper, or if you're grade sawing and want to keep the top of the log level to get the first slab off (among other things). I use mine often. The old Lumbermates didn't have raised cross bunks like the new ones do. The new raised bunks are a huge improvement!
---
From contributor R:
It has 20'' dim tires and I have no idea what the tire presser is because I've never checked them. And if I had a forklift, I would tilt the forks down and let the log roll onto the bed.
---
From contributor J:
The trouble with rolling logs off forklifts onto mills is a 1 or 1.5 ton log, when rolling, will do a lot of damage to your log posts, if not the bed as well. Not a good idea. Better to place the log on the mill gently, from my experience. Have worked with large logs on large mills and they do damage.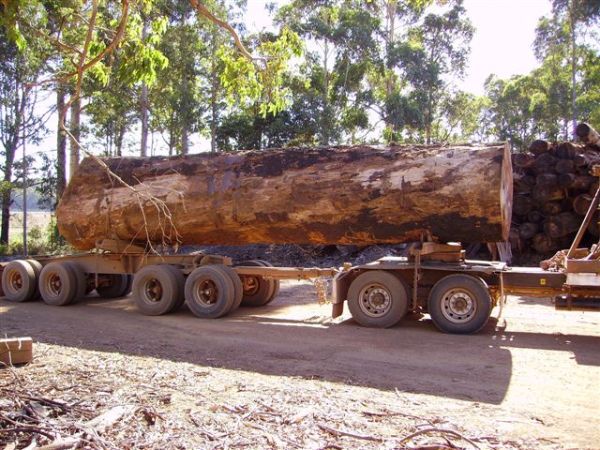 Click here for full size image
---
From contributor R:
It wouldn't do no damage to a Turner mill to drop a 2 ton log on it, or the back stops. On the Norwood, I'd say you are right, though, because the bed does look to be a little flimsy, so that must be the reason for the raised bed on them.
---
From contributor B:
A few observations: To get the best, smoothest, straightest cuts, the wheels have to be perfectly round and balanced (no vibration or moving of the blade up and down). I don't see how the plain rubber tires on Turner mills can meet that condition, and I don't see how rubber tires can "take the heat" out of anything. Rubber is a very poor conductor of heat. If you want your blades to run cool, then let a small jet of water run on them while cutting.
I ran a mill for 6 years with a centrifugal clutch, never a problem at all... ever. It's like choosing a car with an automatic or a manual tranny. The Cook's mills are like that car with the manual tranny... sure they're foolproof, but that extra step to get sawing each time (and disengaging the blade at the end of the run) is a pain in the **s, and they definitely are not the cheapest.
I also disagree with the idea that cables used for raising/lowering the carriage have a stretching problem. My saw had cables, and there was never a problem caused by stretching cables... Never had to adjust or fix anything because of this.
I looked at a lot of mills, and at this point it looks like the Lumbermates have the most bang for the buck. Anything less expensive is getting into shoddy design and construction.

---
From contributor Z:
I load the mill with the forklift every day. The LM2000 seems to take it in stride and every now and then I have to cam it back 3-4" to its original position (if a disaster did happen, and the bed was crushed, I could remove the damaged section and replace it).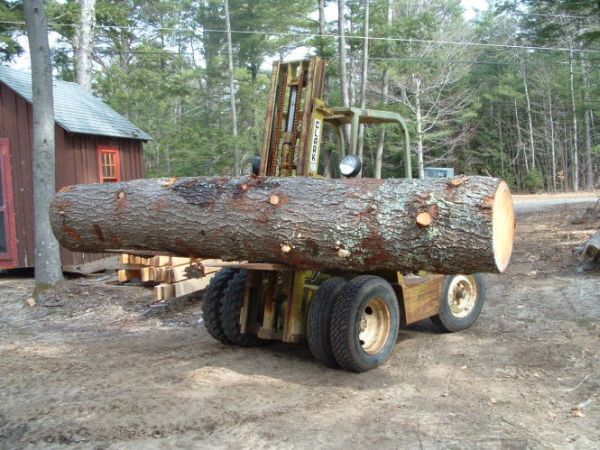 Click here for full size image
---
From contributor R:
I don't know how the tires take the heat out, but it works and you don't need to use water and the guides are what makes the blade cut true.
I use a log deck. I figured it would take too long to load each log with a forklift. The most I've had on my log deck was 2200 board feet of 8, 10, and 12 logs.

---
From contributor K:
It looks to me like it's not the rubber tires that remove the heat from the blade, but the air spaces in the tread.
---
From contributor S:
I haven't graduated from a Granberg mill with a Stihl 066 yet. I will be using it on a cherry tree that is coming down from my mom's (she is 90) yard in southern NJ. It is about 24" at the base. Which of these mills (Lumbermate, Turner, or Cooks) will hold up better as a portable/trailer unit? Cost is a factor for me, so I am looking at the $5,000 - $10,000 range.
---
From contributor J:
Your best bet is to get some owners to demo them. Have a good look and talk to the owners. There are some extremely one-eyed owners in this thread. I think they are all probably good mills. I bought a LM2000 and am very happy with it. The frame is strong and we have not been able to bend or crush it so far, despite what some say. Some of the cants put on the mill are in excess of 2 tons. Putting the mill together takes some time, but you get to know what makes it tick. All these small mills seem to use similar sized wheels and bands. The log size is similar as well. Talk to the dealers and get some names and phone numbers of operators near you and see if you can get a demo. Make your decision from that.
---
From contributor B:
If the Turner mills run cool, and the ones with metal wheels don't, could it be the way blades have to flex around the wheels? The typical metal wheel has a slight crown that holds the blade centered on the wheel. It works, but forces the blade to warp slightly as it comes around the wheel. This warping or flexing of the steel causes heat buildup in the blade, and eventually work hardens the steel to the point of blade failure. The more blade tension you have, the worse this condition gets. Could it be that blades are not flexed as much on a rubber tire system, therefore don't heat up as much? Maybe, instead of the blade flexing, the tire does instead... Like maybe the tire goes concave a little where it meets the blade, instead of the blade going concave, and that is how it stays centered on a tire? Theory: Turner mills don't "take the heat out," but rather they don't heat up in the first place. Do blades last longer on a Turner mill? I don't know... I've never used one. Anybody out there actually used both systems and can tell us? I've seen plenty of blade failure on a metal-wheel type system, though... Cracks appear, then the blade comes apart. Now, why all this would make any difference on needing water/lube, or not needing it, I can't tell you…
---
From contributor R:
On Turner mills you don't need much tension because the rubber grips the steel blade while the steel on steel you need lots of tension on the blade to keep it from slipping and I'd say that's the reason steel wheel blades break much sooner. Plus, steel wheels can get hot and hold a lot more heat than rubber on steel. And the tracking on the tires is with a hing on 1 of the wheels.
---
From contributor T:
The Norwood mills have steel wheels with V-belt tires; not a slippage problem on them. The blade tension has nothing to do with the slippage on the wheels. A properly tensioned blade is a must to get maximum performance from the mill. After reading all of the posts here about blades not getting hot, I am beginning to think his blades don't get hot because he don't saw much.
---
From contributor R:
On a Turner mill, tensioning of the blade is not a must to get maximum performance from the mill.
Maybe it is on a Norwood. Here's 750 board feet I cut up by myself yesterday and the blade never got hot.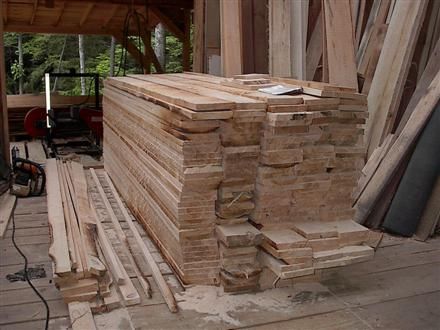 Click here for full size image
---
From contributor L:
The folks that used a low end Wood-Mizer do not seem happy. Those that upgraded did not say if they are happy with the upgrade. I am reading up on what to get, and appreciate folks' honesty and things they like about each brand.
I must say I like what I saw with the Norwood comments, but will look deeper into the Cook and Turner models. One question - water in the winter an issue? I assume the blade keeps it warm enough and this is not an issue.
The rubber drive may not allow the blade to slip as easily with the steel wheel. Also, I assume heat comes from the cutting (assuming no slippage with either), therefore, the steel wheel will absorb the heat along with all the remaining components attached to the wheel. Can anybody say the steel wheel gets hot, too? Without water, I have to believe the steel wheel will get hot. Rubber is a good insulator and may not take on the heat and subsequently, the blade does not stay hot. I believe car tires cool quite rapidly. If there was slippage on the rubber, you would smell it.
Wheel balance, whether rubber or steel, would be important. Ironically, I am surprised there is not oil lubrication, like there is with chainsaws. With the band saw, I assume being thin enough and no heat sink (with water cooling) to build up any heat, the oil lubrication is not needed? Chainsaw motors are fairly close to the chain too, so that may be another factor.
With the engine types, 23-25 HP will get 'er done? I need the engine right now; no electrical power available. I assume electric would be much quieter.
I am just starting out, looking at building my own place with my own wood. Some options with power up and down sounds like it would be good. What about hydraulic loading/rolling? Cant hooks and a Polaris sufficient over the hydraulic loading/rolling, and maybe a helper on the big stuff every now and then? Leverage goes a long way, whether with hooks or cable/pulley.

---
From contributor W:
I doubt these manual mills mentioned increase the BF produced by day's end one over another. How much are you really sawing per 8 man hour day, working alone with only a peavey, maybe even as opposed to having forks? I realize the variables, but please just average your results, not stating your best day. This would really cut through the hype in my making a choice between these mills.
---
From contributor Z:
I can produce 600-800 bf per day, average full day. 1000-1100 bf on a "best day." However, I would not operate a mill without a small tractor with loader and some type of forks. Bringing in the logs, dumping the slabs, taking away and sticking product all use the tractor and take much more time than actually sawing.
---
From contributor A:
I have run a LT-70 from Wood-Mizer. Not impressed with the wavy cuts, and for $50,000, it is pricey.
Everyone has been stating that there is some kind of heat in the blade when cutting. On my two mills, I have v-belts on one and solid steel on the other. I wish that both had the steel wheels. If you do any production sawing, you will break blades. The v-belts do not like this very much. They only last me about 150 hours.
As for water or diesel, I started out years ago only using water. The problem I found is that it froze in the winter and pitch would build up on the blade cutting Douglas fir. I switched to diesel and have no problems since. I used to use 5 gallons of water a day; now 5 gallons of diesel lasts about 2 months or about 250 hours.
I don't have heat in the blade when I cut. If a blade has proper set and is sharp, there is very little heat from cutting. It is only when the blade gets dull that you start to have heat in the blade. Most of the heat that I get in the blade comes from the bending of the blade as it goes around the band wheels. Try this - run the mill full throttle for a hour, without cutting anything. Stop the mill and see if the blade gets warm. It should, if you understand the properties of steel and changing of directions when it travels around the wheels, at the proper tension. I really like Cook's mills, which is why I own two of them. The Turner and Norwood mills would be okay for sawing small jobs and for yourself. But if someone buys a mill and might want to do production sawing in the future, the MP-32 from Cooks allows you to upgrade without buying a new mill. Food for thought.

---
From contributor R:
My problem is not so much how much I can cut in a day, it's that I keep running out of room to stack the lumber. It seems like it rains all the time and I don't like stacking the lumber outside where it gets warped, wet, gray, and moldy.
It all depends on what you are cutting, what your production is. Little trees will slow you down a lot, and cutting for grade will slow you down more. I've lost track of how may board feet I've cut with the manual Turner mill, but I'd say I have about 10 tractor trailer loads of slabs laying over the hillside. There is a whole lot more to this sawmill than just cutting wood.

---
From contributor A:
I agree with contributor R. It is hard to find places to dry cut wood. Last summer I bought a 16 foot wide, 40 foot long, 13'-6" high tent. It is supposed to last 15 years. It came from Tek supply, and was $1300.00 for the base model. Now I stack two 4 foot high pallets on top of each other and weight them down with a log rack that has about 1500 bf of logs in it. Great use of space, for me. I do have 40,000 bf of lumber cut around here, and stacked everywhere.
Both my mills have power feed and power up and down. I can cut 3-600 bf per hour. That is 2-3 logs at a time. I also use a forklift here at the house, as well as the portable jobs I do. I tried long ago to load a 36" wide by 28 foot long log on the mill. The forklift saves my back and I use it to move firewood and lots of other things (rich man's wheelbarrow). No matter what mill you have or want, be safe! I can't stress this enough.

---
From contributor Q:
A Norwood will work you to death, as will most manual mills. I have a LM2000 and regret every time I go out to crank t up. The only thing I like about it is the Briggs 23 HP engine (and it is made in Japan, I understand, which is why it runs so well). I would advise anyone to avoid getting a manual mill at all costs unless you absolutely can't afford it. The LM2000 has serious engineering defects, in my opinion. Yes, it's cheap, but you get what you pay for.