Basic CNC Setup and Maintenance
Leveling, tuning, and caring for a new CNC. April 21, 2011
Question
I have a new Chinese built CNC router, with 4.5 kw Italian spindle and 5.5 kw vacuum bed. The machine works fine, but to get the optimum performance I would like some guidelines for setup. I have learnt a lot already by reading your forum entries on spoil boards, but can you give me tips on accurately leveling the bed, and weekly maintenance, belt replacement, etc.?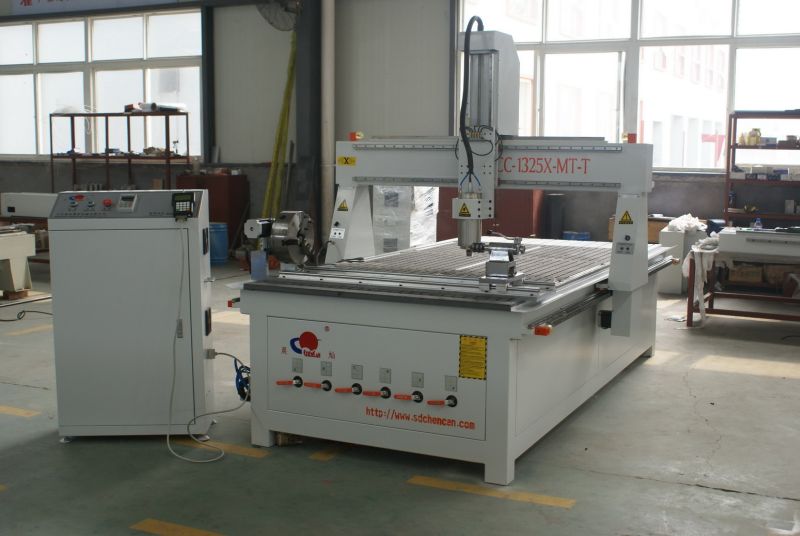 Click here for higher quality, full size image
Forum Responses
(CNC Forum)
From contributor M:
You should not have to level the bed. Just run the spoil board surfacing program. Also the ins and outs of a CNC are a brand specific thing. That is why buying from a local distributor is a big deal - they will provide you with a good tech to get you going.
At this point you will likely have to hire a tech on an hourly or daily basis to help you, and they will not really know the details of the machine. They are likely to complain about the lack of features and user friendliness of a lower-end Chinese machine.
Just be patient and tackle the issues one at a time. There are tons of CNC forums. You are likely to get the help you need through the Net, but it will take a lot longer that way. Spending 2K to have a tech work with you for a couple days would pay itself off nicely.

---
From contributor J:
Where are you located? What type of business are you in?
---
From contributor K:
I recommend leveling the machine, but probably not for the reasons you may think. An unleveled machine means that something is running uphill half the time and downhill have the time. This unbalance can cause some components to wear and subsequently fail faster due to unbalanced loads (which are amplified when actually routing!). This can be even more critical with economically manufactured machinery where economical components are used to keep overall cost low.
Also, the other consideration is, you do not want the machine in a bind or twist for the same reasons. If you allow it to be sit in a bind or twist, over time the bed (if steel construction) will stress relieve itself and the bind will set in. Again, the components are working harder where the bind is.
That said, I won't level a CNC woodworking machine with the same degree of accuracy I would use on a CNC metal working machine. For most woodworking applications a good quality machinist's level is more than adequate. I recommend Starret brand levels.
Whatever brand, price point or type of machine, I strongly urge you to develop a maintenance routine and stick to it religiously. It truly is the lifeblood of your investment.

---
From the original questioner:
Brilliant - thanks gentlemen. I have a small but very efficient cabinetmaking business in Portugal. CNC routing has really helped (especially as I specialise in curved work), but I am very new to the process.
I use Art Cam Pro 2008 to generate the G codes, after importing the drawings from AutoCad 2008.
I am aware of the importance of setting the machine level and true. My workshop here in Portugal is far from level. It was built on a gradient deliberately for another purpose and runs out by nearly 30mm over 10 feet! So I need to spend some time casting pad stones to sit the machine on, rather than MDF and rubber blocks. My cabinetmaking and site levels will be quite adequate, but I wondered if the spindle itself could then be used to fine tune the leveling?
After 3 months of tinkering and production, we had a belt failure on one of the Y drives.
What a pain it was to change. The Chinese aren't very forthcoming with technical info, but to their credit they did agree to send a maintenance video to help with future failures.
My reason for writing was to get some general tips on care and routine maintenance. The machine is cleaned before each day's work, the oil levels checked, and the vacuum water level checked. The spindle is checked and the cutter tightened. (I rarely use anything else but 6mm negative cutters, but I will be experimenting with 8 mm compression soon. I cut mostly MDF, and melamine faced MDF.)
The water trough in the vacuum pump stinks after a while of operation. I was thinking of adding some sort of non-foaming scented liquid, or perhaps bleach or antifreeze to help?
If I wanted to machine both sides of a piece of material - for instance, cut a rebate along two edges of a 25 mm MDF door, how do I register the work piece on the table to the exact same position once turned over?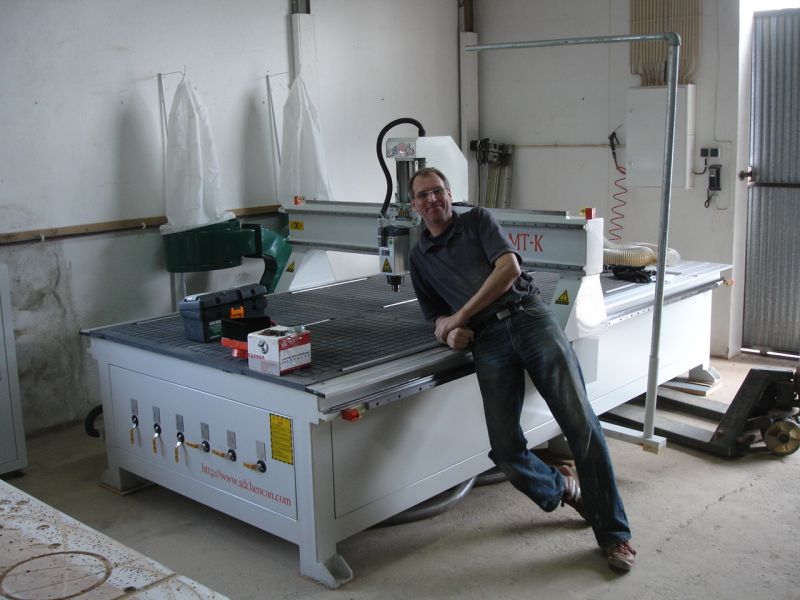 Click here for higher quality, full size image
---
From contributor O:
You'll need to get a proper cyclone dust extractor. A CNC router generates a lot of dust and fine chips (especially with MDF) and the unit in your photo will clog its bags in the first 10 minutes or so - you will be forever fighting with it.
---
From the original questioner:
Thanks. It seems to be handling the light workload okay so far, but my workshop is about to have a new extraction system installed that will replace the individual units that each machine currently uses. I will research the best 3 or 5 bag unit that will handle all the machinery.
---
From contributor D:
Some weekly maintenance tips include:
1. Check your machine oil levels - turret, B-axis, ATC and magazine gear boxes, spindle gear box, hydraulics. If you have a leak, fix it. You are contaminating your coolant, reducing your tool life and putting more contaminants into the oil system every time you fill the tank.
2. Clean chips out of every corner of the machine.
3. Pull back the way covers and clean out the troughs in the ball screw area and allow coolant to drain properly and avoid flooding into your bearing housings.
4. Check for lube on your box way machines. There should be a line from the wiper every time you reverse the axis on the leading edge.
5. Check the clamp force of the spindles every 3 months - this is a 15 second check. This PM check is so important - you could save a spindle, increase tool life and part quality.