Beaded Face Frame Basics
Advice on how to add the "cheese cove" or "quirk bead" detail to beaded face frame cabinets. February 28, 2012
Question
A client is requesting that we fabricate a sizable and lucrative kitchen project with the same specifications as the picture. It is face frame with inset doors. The problem is the little molding around the openings of every door and drawer space. This little detail has thrown me for a loop. How is the molding installed to create that reveal? Is it the frame first, then you come back and apply this molding, then paint?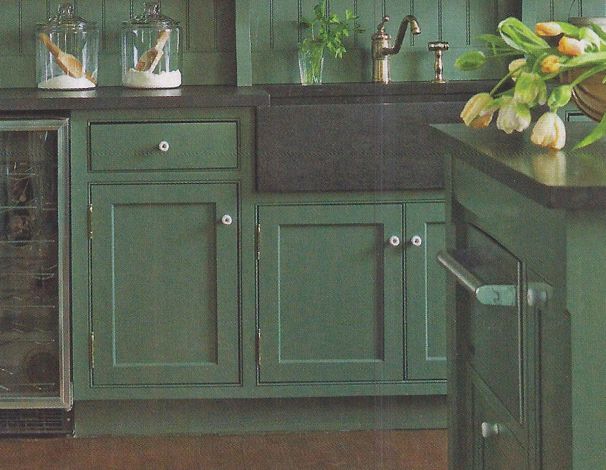 Click here for higher quality, full size image
Forum Responses
(Cabinetmaking Forum)
From contributor J:
That is referred to as beaded face frame inset door. You should find different techniques for making it in WOODWEB's Knowledge Base. We use a hauncher to fit the joints. You can also use a table saw, or Kreg makes a router table setup. Or, like you mentioned, you can fit the moulding separately.

---
From contributor P:
Most of my inset door cabinets have this same detail. I apply it to the face frame. I know it as "quirk bead" or "cheese cove." I can't explain it, but I am from New England.
---
From contributor O:
Don't cut the doors until you deduct the bead size (obvious, I know, but it's easy to overlook if you cut the doors before applying the bead). Apply as stated above to the face frame, to the face frame depth (3/4 or 1", whatever you use). Just a 1/4" x 3/4" bead strip. Then mortise the hinges into it. Just think of it as a face frame in a face frame.
Note: The strip between the doors is tacked to the edge of one of them. When cutting 2 doors for an opening, be sure to deduct 1/4" on top of your deduction for the gap. Otherwise when you add the strip you will have to joint 1/8" off each of the edges, which throws off the reveal.

---
From contributor M:
I find it hard to believe in today's trend that you have not been exposed to beaded inset framework, which has been a best seller for the kitchen industry for many years - it accounts for probably 50% of custom kitchen builders. I see your portfolio consists of all frameless construction, so I'm assuming that's why you have not come across this. Some of our local shops build only frameless cabinetry and do not offer beaded - we benefit as they send those customers to our shop.
Take a look at the Hoffman beaded machinery. This makes beading frames a cakewalk, though an expensive investment if you are not using it often. I can guarantee you will bring in much more lucrative work if you start offering beaded frames - they are a hot seller with today's trendy buyers. Most of the door manufacturers offer beaded frames with their doors (Conestoga, Meridian, etc.) so that might be your best bet to outsource.

---
From contributor W:
We do beaded face frames all the time. We join the face frames together, then rout a 1/4 inch rabbet around all the openings. Then I mill a 1/4" bead on the moulder and apply it in the rabbet. This is the fastest way I've come up with.
---
From contributor Q:
That's an interesting approach. Do you manually square off the corners?
---
From contributor W:
I use a corner chisel.
---
From contributor N:
Contributor M, it depends on where you are. I consider myself to be on the higher end of cabinetry, and while I do beaded inset, here in southern California I have not had a request for beaded frames in a few years. Some inset and a lot of real techy looking euro stuff, so you can't roast a guy whose customers have not asked him to build beaded inset. I still remember my first beaded job.
For your first time, just buy the bead molding from your molding supplier and apply it to the frames with glue and a 23g pinner. Then double check your door sizes, which may require a little trimming here and there to really get a tight reveal (3/32). If you end up getting a lot of this type of work, consider purchasing one of the more advanced systems.

---
From contributor G:
I like the Kreg beaded face frame jig. In combination with the small table top pocket screw machine it will make this job fun to do and cost you about $1500. You do need a router table with a T profile inset into it at the proper distance from the bit center.
---
From the original questioner:
Thanks so much for all the amazing information. This is why I enjoy being a member of this site so much.
We are still contemplating if this is a project was are willing to take on. Incredibly, this is the first request we've gotten out of hundreds of projects for face frame construction. We are set up efficiently for frameless and I'm thinking I prefer to stick to what we do well and not venture into the "we do everything" market. Of course this will mean rethinking or rebranding our custom approach. Have to give it all a bit more thought.

---
From contributor D:
Your comment "stick to what we do best" makes sense. Instead of making the face frames, why not outsource them? Use your Euro boxes and overlay the face frames. I use a local company, Keystone Doors, that will make them to your spec, assembled or in pieces, and fit the doors. I am sure there are a lot of other companies doing the same work. If you use system holes to mount your hardware you may want to spec 1" thick face frames or move the front line of holes from 37mm to 39mm to allow for some adjustment.