Beaded MDF Door Panels
Info on buying or making MDF beaded stock for cabinet door panels. October 15, 2009
Question
Any suggestions for a painted beaded panel inside a shaker frame? MDF, planks, or solid wood?
Forum Responses
(Cabinetmaking Forum)
From contributor H:
1/4" (easy) or 3/8" (more difficult) MDF. I machine my beads, grooves with 2- 1/4" dado chippers I had match ground with 45 points with 1/8" spacer between. Itís quick and easy and I usually go 2" oc for easy math.

---
From contributor R:
I would do MDF. It takes a little more sanding work on the machined portions, depending on the sealer, but the panel won't shrink and lead to unhappy clients. We use a Magic Moulder head for V groove and beaded panels.
---
From the original questioner:
Thanks for the responses. What about moisture and MDF? I will be spraying Target water base lacquer.
---
From contributor R:
I don't normally do finishing, I just build doors, but I have had good luck sealing MDF with shellac before using a waterborne. A swipe with a sanding sponge should deal with any fuzz in the bead fixed in place by the shellac.
---
From contributor A:
I do 3/8" MDF rabbeted or backcut and glued into the stiles/rails (not much glue is required). Then I use a BIN white shellac primer. We've made 100's of these either with flat panels or beaded.
---
From contributor R:
I use 1/2" ranger board (MDF), run it through the table saw with a LRH magic moulder, back cut the panel so it fits inside the 1/4" groves. One solid piece of goods and you can set the off set to any dimension you want. I prime my doors with Mohawk pvc primer Ė itís a lacquer base dries quick does not raise grain much sands easily. I did this same method for my kit cabinets doors and also my interior passage doors.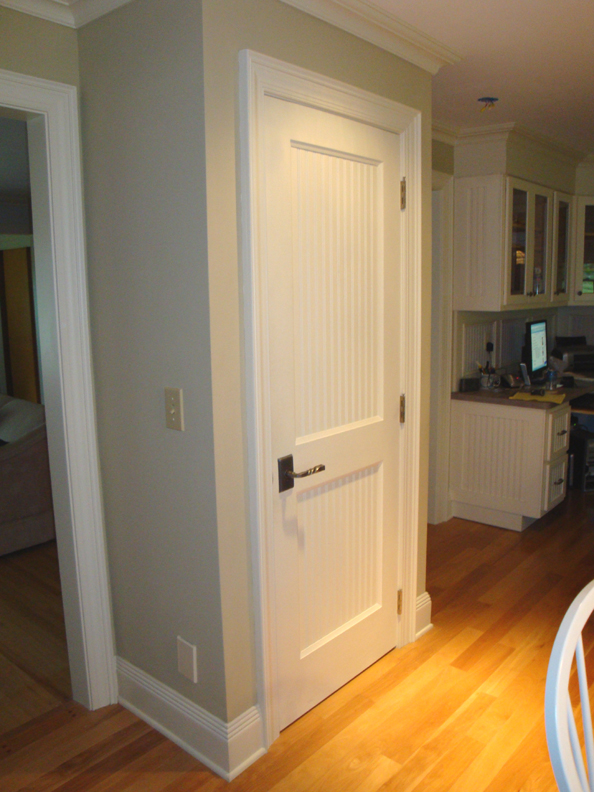 Click here for full size image
---
From contributor L:
Check your supplier. They may have 1/4" bead board in MDF.