Best Bit for Cedar?
Choosing a good bit to mill solid cedar boards for curved decking. May 27, 2014
Question
(WOODWEB Member):
I occasionally get KD vertical grain WR cedar cut by a CNC shop. I'm wondering what the best type of bit would be? I'd like to buy one for my CNC guy to use just on my projects. As an example, these are some 2x12s I had milled. They didn't cut all the way through each board, but my current CNC shop does.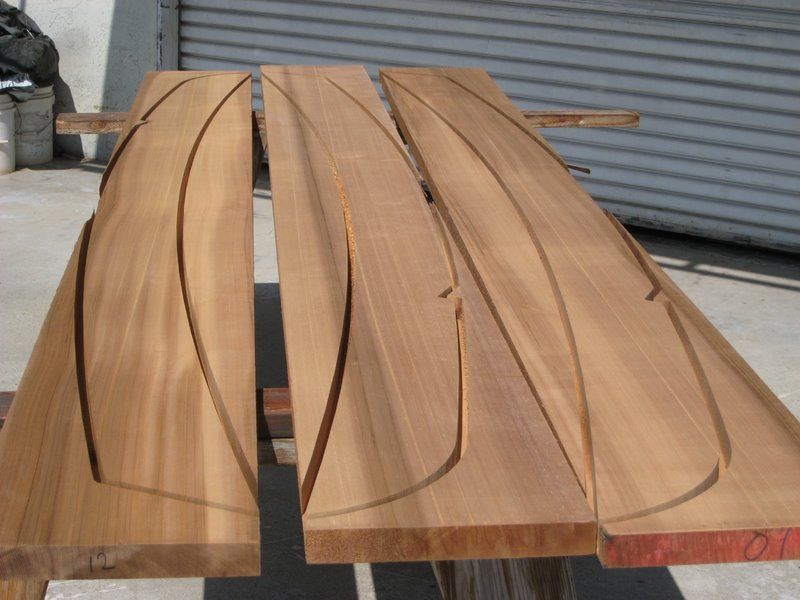 Click here for higher quality, full size image
Forum Responses
(CNC Forum)
From contributor C:
We have had the best results with a 3 flute solid carbide upcut slow spiral. If you are not cutting all the way through, the upcut will help extract the chips but will give you a cleaner cut on the top side versus a standard twist spiral.

---
From the original questioner
:
We're cutting all the way through now. What does the slow part mean? Do you have a distributor out here in San Diego?
---
From contributor C
:
If you are cutting all the way through, I would still use an upcut unless you are cutting on pods. The slow part means the twist of the spiral. Standard spirals are a 30 degree twist, the slow spirals are about half of that. Yes, we have distributors all over. Give us a call and we will get you taken care of.
---
From contributor D
:
Depending on how many you want to cut, you could use a hogger or rougher and leave 0.03125, then go back and finish with the slow helix. This will save some wear and tear on your finish bit.