Board and Batten Wainscot
"Board and batten" conjures up images of barn siding, but the term could also refer to a well-made and distinctive wainscot. Here's a well-informed conversation about wainscoting. January 2, 2012
Question
A client has asked if I can make and install board and batten wainscotting in the den. It would be about six feet tall, and would have a plate rail at top. I typically make cabinets and furniture. I don't do much in people's homes, so I'm not sure the best way to make and install these. These would be quarter sawn oak, and I think I'd use 1/4" plywood for the "panel" and 3/4" solid wood for the rest. If I rip a dado on the 3/4" wood, can I simply install the "panel", making what is in essence a large door?
A contractor friend told me a better way is to simply apply the plywood on the wall, and glue the batten on top, which would be quicker. But I wonder if this could cause trouble, especially if the batten began to warp a little bit. Any thoughts or ideas are welcome.
Forum Responses
(Architectural Woodworking Forum)
From contributor N:
I once cut all my rails and stiles and pocket screwed them together like a face frame. Then installed that on the wall and cut my plywood panels to fit each opening. I then mitered 1/2" quarter round and installed that against the plywood.
Another way would be to make up your rails and stiles with pocket screws then install your 1/4" plywood panel to the back using 5/8" narrow crown staples.

---
From contributor O:
Board and batten is typically an exterior siding technique. I do not think it is ever used in interiors. Historically, this type of work is frame and panel, mortised and tenoned, with either matched veneer panels or solid wood panels, raised or flat. Shop built and site installed. Moldings can be added to the panel openings and can also be run as base and cap.
This is the correct way to make the item and will certainly outlive any other method. Putting 1/4" ply on the wall and covering with 1x is a carpenter/site solution to satisfy the pressures of low bid and lack of appreciation for the real thing. The cut-rate method is widely practiced now to the point where many woodworkers have never seen the real thing, much less entertained the notion of building in such a way. If longevity is a factor of green woodwork (not disposable), then good woods and methods and design will produce a product that adds value instead of being torn out at the next remodel a few years down the road.

---
From the original questioner:
Thanks for the comment about the low-bid mentality. That was indeed my concern when I heard of that method from my contractor colleague (if indeed itís fair to call that a method). I agree 100% that doing it right is much wiser than doing it quick. I forgot to mention that the house this is going in is a Craftsman style home: and in those, they did use B&B wainscot.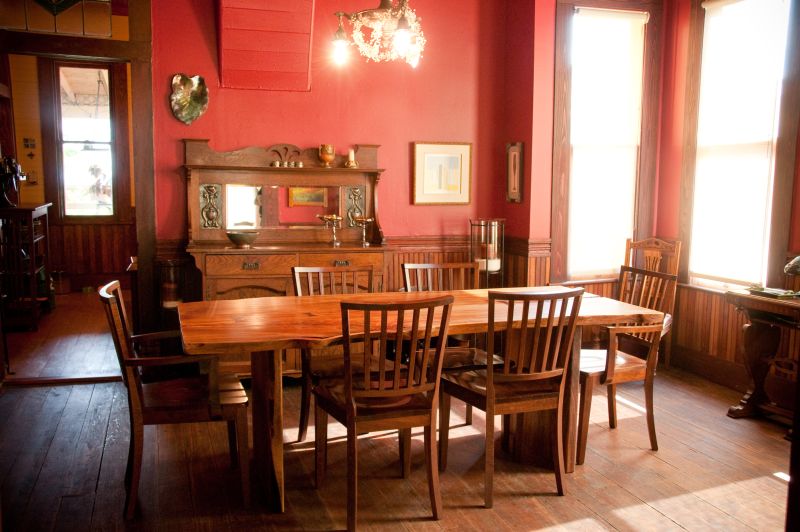 Click here for higher quality, full size image
"Photo by Bob Card of Greenwood Bay Woodworking Studio".
I feel much more confident based on your comments, and Contributor N's as well. I now have a better plan of attack.

---
From contributor O:
It may be just a matter of semantics, but I think the image you offered is frame and panel, and built with mortise and tenon. The intermediate stiles are all vertical, and the only horizontals are at the top and bottom. All the members would be plowed, and receive the panels. Panels should be thick enough to not deflect on contact, perhaps even reverse raised.
Good to hear you are on the right track here. Being a natural cynic, I shake my head whenever I hear Craftsman and budget in the same sentence. People forget - or don't know - that the essence of Craftsman style was to celebrate the worker's craft and to design work that had to be done by hand, keeping the soulless machine work in a secondary position to the craftsman's abilities.

---
From the original questioner:
Contributor O - I think you're right. It comes down to semantics and you are correct. The image I showed is pretty much the look we are going for, but is not truly board and batten. I referred to it as board and batten to differentiate from the more common raised panel appearance that seems to be everywhere (which also often seem to be poorly made.) Thanks for the clarification.
Indeed, this is really a frame and panel design, which means (and getting back to my original question) it can be shop made for the most part and installed in sections with just some minor job site tweaks.
I also agree with your comment about what Craftsman style really represents, particularly how it was a response of sorts to the mass (machine) produced excesses of Victorian design. I think that's why so many people today are drawn to Craftsman, A&C, Mission style homes, and furnishings.

---
From Gary Katz, forum technical advisor:
I've seen the very type of board and batten wainscoting you're talking about, with very wide boards that must have been plywood, and very thin battens, installed in Frank Lloyd Wright's homes, particularly the Robie House in Chicago and it looked awesome. The Prarie Style is also considered of the arts and crafts period, but had much lighter woodwork.
I saw similar wainscoting at Falling Water. Wainscoting doesn't always have to be mortise and tenon or stile and rail. Bead board paneling is also considered wainscot paneling, and you find that throughout colonial homes. I agree with Contributor O about workmanship and quality, but there are so many architecturally pleasing styles of wainscoting that we shouldn't limit the choices based only on joinery techniques.