Bowed, Round Top Double Hung Top Sash
Arched top windows that will fit into a curved wall. How are you going to build that? Well ... here's a book recommendation and some general ideas. November 29, 2014
Question
We have been contacted by an architect to build a bowed round top double hung sash. We have built bowed double hung windows but have not experienced the round top on the top sash. Before we commit to the architect that we can do this type of work I wanted to get some advice. I was thinking that some stair makers may be able to help me out. We have a CNC but it is a 4 axis machine so we would be building the windows with shapers and tenoners with jigs. Does anyone have any thoughts and tips?
Forum Responses
(Architectural Woodworking Forum)
From Contributor O:
As I understand it, you have a curved head sash/frame to go into a curved wall (in plan). I learned to call those compound curves, or curved in two planes. You are right - I learned to do that work in a curved stair shop. It isn't easy. Basically, we bend laminated (or brick-laid) the vertical members at a wider width so we can get the plan radius out of it, then projected the plan radii onto those parts and then sawed them out. Lots of twisted parts added to make the jamb. We just built some curved pocket doors that had some of the same problems. Also, here is a shot of a small, flat, fixed window in a curved wall, where the trim was the difficult part.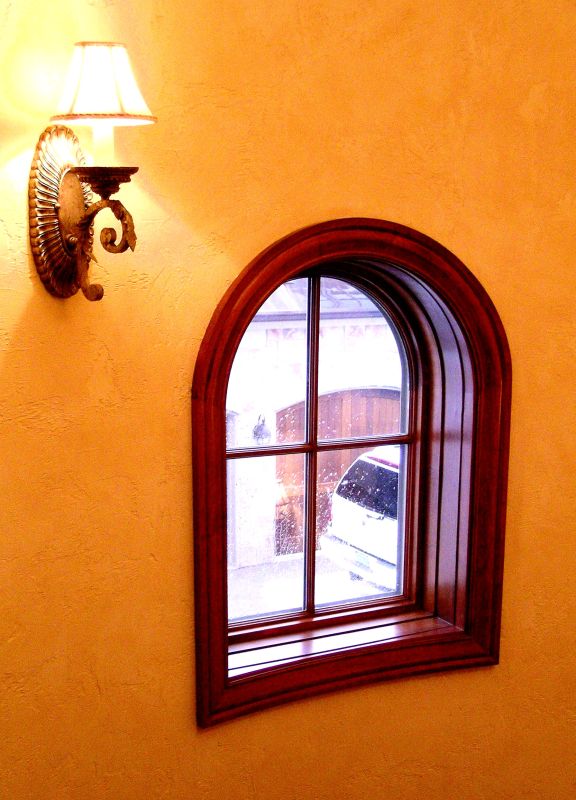 Click here for higher quality, full size image
---
From the original questioner:
Do you make fences and jigs to accomplish these compound curves and run these parts on a shaper?
---
From Contributor B
:
We do this type of compound curve work now and then. Here are a couple photos from others.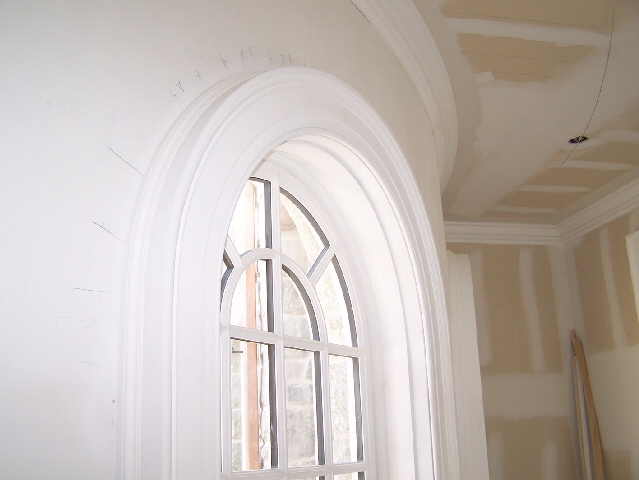 Click here for higher quality, full size image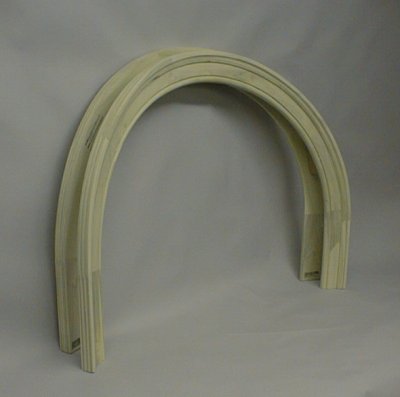 ---
From Contributor O
:
To the original questioner: Nope, no CNC here. We do it with bent laminations and band saws and the shaper and routers. It is more additive - putting smaller pieces together to make larger pieces than it is reductive - cutting out large blocks of wood. Like twisted stair volutes and transitions, curved doors or sash show the skill of the maker and the financial horsepower of the buyer. These were done by extensions of other common methods - flat curve work - that allow the grain to be followed and limited end grain to show.
Today, if this can be converted to 3D programming, I honestly don't know that it will be any easier, less costly or successful. In fact, I see it as much more difficult to actually execute but I am very limited on CNC capabilities. Contributor B's casings are a perfect illustration of the difficulty faced when using traditional methods, yet would be relatively easy to make on CNC, am I right? The sash and frame are more complicated for both traditional and CNC.

---
From Contributor B
:
Sometimes we are cutting parts for the glued up blanks for our compound curve casings on the CNC but not always. It depends upon the particular project. If it's an MDF casing I might just lay up 1/8" or 1/4" thick sheets on a form matching the wall radius and then cut the curve out of that curved rectangular blank. If it's a solid wood moulding then the casing and wall radius specifications will dictate how we approach the project - everyone can be different.
Since we have a standard 3-axis CNC profiling a compound curve on the CNC is not practical, or sometimes not even possible. People with 5-axis machines can profile a compound curve right on the CNC as long as the projections fit within the vertical clearance capabilities of the route. The one thing I could do on our CNC but haven't yet is cut the wall surface radius onto the back face of a overthick glued up blank. Even this though would only work on a shallow wall radius moulding. As I mentioned we aren't doing this every day. As such I've made pages of notes I review every time I start to lay out one of these projects for the guys. There is a lot of interconnecting and sometimes complex geometry going on with these compound curve mouldings. My hat is off to the stair guys who work with spirals every day.

---
From the original questioner:
Thanks for the information. Have you guys seen or read any books or manuals regarding making complex curves. My guys in the shop said they have come across one in the past - but of course can't find it now. I understand these methods take a lot of experience, documentation and trial and error. A manual to get us in the right direction would be helpful. It is difficult to agree to work that is unknown but at the same time my guys are pretty excited to take on this challenge. It's hard to keep your business wits in these situations.
---
From Contributor O
:
"Circular Work in Carpentry and Joinery" by George Collings published by the venerable Linden Press in Fresno. It has been 20 years since I opened it. Amazon has it. As I recall, one part is single curve, one is double curve or compound, and the third is odd curves. Business wits? If we had any wits, we'd be in another business, eh? I always love the challenge that this type of work presents, and had to resist the temptation to give it away. I do have a pat speech about craft, skill, and a buyer's desire to showcase the craft (and their financial horsepower) that I use just before suggesting that the project must be open ended, though we will do everything we can to keep it within reason. Though of course, no one can say what is reasonable since it is so rarely done. Rest assured your customer will not be able to shop your price, should you give him one.
---
From contributor N:
I have the book that Contributor O mentioned above and will second his recommendation. It can probably answer any questions that you might be wondering and even some that you may not even know to ask yet.