Buckling Tongue-and-Groove Siding
An example of Ipe siding falling victim to expansion caused by moisture. April 3, 2012
Question
I came across this at a sales call recently. The IPE was on strapping 16" O.C. fastened with 3" spiral finish nails. My thoughts were that this was an installation issue, as it would seem the siding was installed too tight. Any thoughts on this? Does anyone have experience with IPE tongue and groove?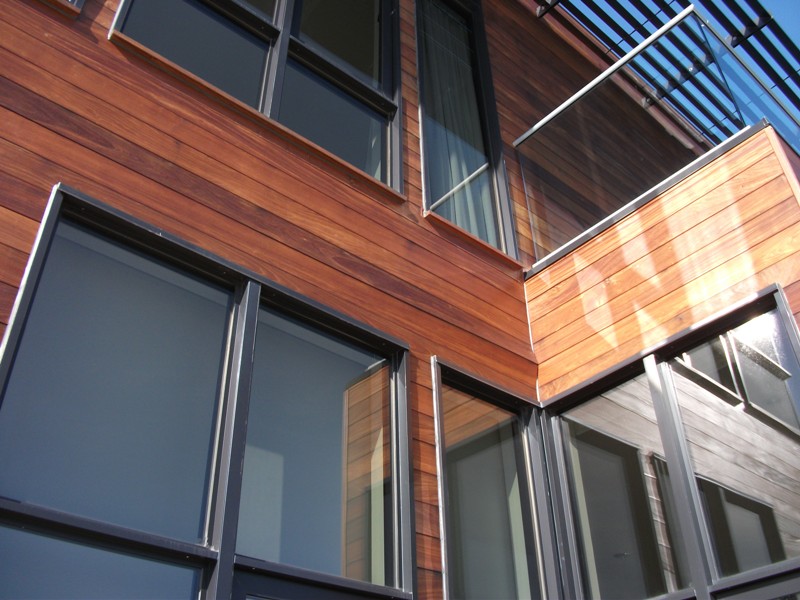 Click here for higher quality, full size image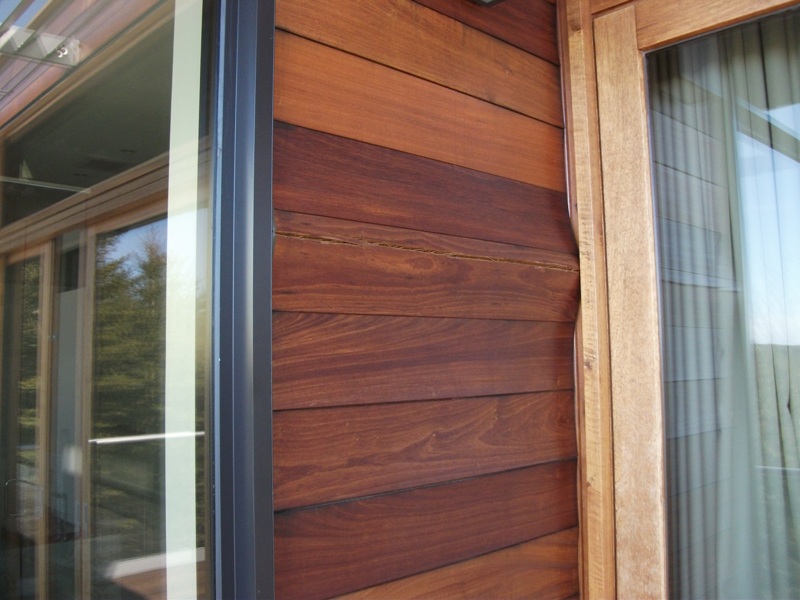 Click here for higher quality, full size image
Forum Responses
(Architectural Woodworking Forum)
From contributor G:
Wood expands. Looks like you have the right idea of where the problem came from.

---
From the original questioner:
I guess what I find puzzling in this instance is that there is roughly 30 courses of tongue and groove exposed to the same conditions, and installed in the same manner, yet in each instance only 1-2 courses actually "give"?
---
From Carl Hagstrom, Systems Administrator at WOODWEB
This appears to be an issue tied to the original MC of the wood. In exterior applications, the MC of wood will acclimate to around 11%. Hardwoods are typical expected to be delivered at 6-8% MC. This increase in 4% MC translates in to 1/8 inch per foot (see WOODWEB's shrinkage calculator).
I'm curious - did anyone measure the MC of the material when it was delivered? You mention 30 courses, and they appear to be 1X6's - this would be roughly 14 feet. At 1/8th inch per foot expansion, this translates to 1-3/4 inches.
"Yet in each instance only 1-2 courses actually "give"?" My guess is in that situation, it has to "give" somewhere, and the buckling occurred at the weakest link. Maybe we'll be lucky, and Prof Wengert (the Wood Doctor) will weigh in with his opinion. The WOODWEB shrinkage calculator (which can be used to calculate expansion as well) can be found at the link below.
WOODWEB's Shrinkage Calculator

---
From Gene Wengert, forum technical advisor:
Accurate advice so far. If it rains on the siding, it can temporarily go over the 11% MC and expand even more. This problem is why lap siding and also board and batten siding are popular. They can expand without difficulty. I am curious who suggested Tongue and Groove for outside siding. Is this a common usage? Similarly, for T&G that might dry, it is best to make sure the tongue is extra long so that when the board shrinks the tongue will not pull out.
---
From contributor O:
A couple more thoughts, I have seen this happen from moisture trapped in a wall from improper venting, moisture barriers or leaking roofs. In our Colorado climate sometimes you can get an ice dam on the roof and it backs up and runs down a wall. The tongues should be up for this type application.
---
From contributor H:
Gene, in 1995 I built my shop building with a single layer of horizontal T&G pine siding. The idea was that it would look good until I changed the use of the building and applied clapboards.
That pine T&G siding was maintained and exposed until we put clapboards on the building this past fall. It never moved or buckled, although it wept water at the butt joints which had unfortunately been installed without a scarf joint. Even with some water getting behind the boards we never had a problem.
However all this of this took place with pine which has nowhere near the strength of the ipe siding that caused the problem here. Any expansion in the pine was probably taken up in forced compression. That wasn't going to happen with ipe. The ipe situation is identical to what I've seen in hardwood plank flooring in kitchens when a dishwasher has overflowed, or near a leaking exterior door, and yes always tongue up.

---
From contributor K:
I have used green WRC T&G for siding on smaller structures before, without the issues these guys encountered. My experience with ipe is limited to decking. I have not seen the siding details, or a full set of drawings for this job so I don't know what they called for. It seems an unfortunate situation for all involved, as the expansion is happening randomly and it's been two years since the siding was installed. Is it safe to assume that with time the moisture content and strength of the IPE will find an equilibrium?
---
From contributor H:
The green WR Cedar is only going to shrink as it dries out. This problem is caused by expansion. Whether this continues or stabilizes depends on the season humidity changes at your location. I suspect your best option is to pop out the two offending boards at each problem area and rip them slightly narrower. Machine on a new tongue and groove and re-install. Time will tell if it is a permanent fix, but I think there is a good chance.
---
From contributor P:
I would check the flashing and the stool as the water could be going behind the siding especially in the corner. You might want to run a hose above the problem area and see if the water comes out in the affected areas.
---
From contributor M:
The first thing I thought of was the issue of putting flat T&G horizontal on an outside wall. There is a reason all the traditional sidings aren't made that way, tongue up or not water will siphon. The installer may have had some help if he spaced every third or fourth row using a washer type thickness but still no guarantees. If this is built as per plan throw it back at the architect.
We have had issues with consistent moisture in ipe and I believe it is a wood that is difficult to dry and quality control of foreign mills may add to the problem. I have also seen this in hardwood flooring over large areas that are too tight to the walls. Something has to give and it's usually the weakest point. Gymnasiums will have an inch and half gap around the outside walls to allow for expansion.

---
From contributor W:
I have found that individual suppliers of ipe tend to mill requested profiles in house. As a result the expansion gap between the top of the tongue and bottom of the groove can range from o" to 1/8". An improper expansion gap may have similar consequences to the results shown above, especially if the milling process is irregular. Also T&G siding should have grooves milled into the back of the pieces to allow for movement, similar to ipe porch flooring and other hardwood flooring.