Building Up a Two-Inch Trestle Table-Top Edge
Advice on how to fake a two-inch slab thickness by building up the edge of a table top. May 6, 2010
Question
I have a designer who asked me to build a trestle table with a two inch thick cherry top without it being a solid two inches. Iíve done this type of top with a frame underneath so I can hide the fillers. With a trestle having the underside of the top exposed Iím just seeing if anyone around here has done one and whether itís even worth the trouble, cost wise.
Forum Responses
(Cabinetmaking Forum)
From contributor Z:
I would price it both ways. When they see that there isn't much of a difference in overall cost, I would expect that they would go with the full 2" thick top. Even a 36"x72" top would only be about $100 more for 2" thick material. Most of that will be eaten up in extra labor. I would also be concerned with the thinner material sagging, cupping, or warping.

---
From contributor D:
I've done several dining tables like this that worked out well. With expensive materials like cherry or walnut, I think it's worth the extra time, especially if it's a large table. I do mine by first laying up a panel 6" longer and wider than the finished top, then crosscut 2-3/4" off of each end, then rip 2-3/4 off each side. Flip the rips over and glue them back on to the underside of the edge they were ripped from. This gives you a bookmatched edge. Then take your crosscuts from the ends, flip them over to bookmatch the end grain, trim them to length to fit in between the side rips and glue them on. Your panel will now be a 1/2" oversize in length and width. Rip a 1/4" off each side, and crosscut a 1/4" off each end, and you'll have a top with the appearance of twice its actual thickness. If you use fairly straight grain boards on the outside of your panel, the bookmatched edge will look like one solid board.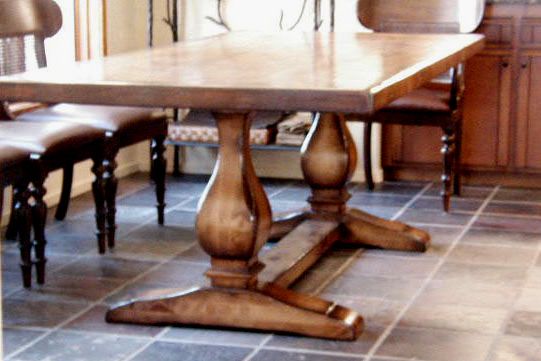 Click here for higher quality, full size image
Here's another one I did in walnut.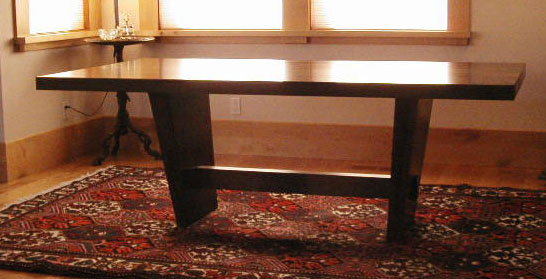 Click here for higher quality, full size image
---
From contributor F:
Did you make the legs in the picture?
---
From contributor D:
I made all the parts for both tables. Which one were you referring to?
---
From contributor T:
Did you fill in the remaining under side of top? If so, what did you use and how did you attach it? Have you ever had any problems with the end grain glue-on such as top shrinking and cracking the smaller glue-on?
---
From contributor D:
I don't fill the remainder of the underside. I make a cleat out of the same thickness material (in these photos I was using 1-1/4") and attach that to top of the pedestal. Then I bore holes on the underside of the cleat to attach the top. The bottom face of the cleat ends up flush with the bottom edge of the table top. I've had no problems with the end grain glue on, because it's from the same panel with the grain running in the same direction.