Building your own bandmill (maybe)
Advice is offered on building your own or buying factory-built. January 21, 2002
Question
Are garage-built, weld-yourself bandmill plans ($53) worth the trouble, or is there a good portable band mill available, ready to go for under $5,000?
Forum Responses
From contributor G:
The Norwood Lumbermate with 13 hp Honda is affordable. It includes 1 bed extension, so you can saw 16 feet long.

---
The Wood-Mizer LT15 is right around your price range. With electric start, a little over.
Iíve fabricated lots of things both simple and complex, but mostly because what Iíve needed was not available. It would be hard to fabricate a small band mill and really save any money, considering the investment in materials, labor, and tools. I guess if you had the major components like the engine, bearings, steel and wheels, etc., and had a reasonably good metal fabrication shop, experience, and counted your time as worthless, then maybe. Then even if you could build a mill, would it work as well as a factory built? Where is your factory support? Where is your re-sale value? Then if you figure your time building your own mill could be spent sawing lumber, I think youíd find you could pay for the store-bought mill.
Lots of other things to consider, but letís say you could saw at a rate of 100 bf/hour with one of these small mills and you figured the value of the sawing was .25/bf. It would take 200 hours of sawing to return $5,000 worth of value, and thus the mill would have paid for itself. 200 hours sounds like a lot, but thatís only using it one 8-hour day every two weeks.

---
I have seen many mills built off of Bill Reek's prototype, some good, some great. The type of mill you need is completely dependent upon your need. I built a small mill from his plan and quickly outgrew it, but it was a heck of an experience.
---
I am a professional welder/fabricator by trade and considered building my own mill. When I figured the cost of materials and time to put it together, I bought a new mill instead. That's right about factory support--if you build your own mill and something goes wrong, it's hard to chew your own butt out. Check out what the small factory-built portable bandmills have to offer. It's a whole lot cheaper to buy one than it is to build one. I'm glad I bought mine.
---
I have never built something that had perfect alignment, so I would never try to build a unit that is adjustable in almost every direction as well as able to glide down a set of tracks.
I think the commercially produced $5000 sawmills are definitely the way to go.

---
I built a beefed-up version of Bill Rakes' design. I had the time one winter and had wanted to for quite some time. I think the biggest investment is in the time involved.
The one I built exceeded my expectations and was a satisfying experience. If your intentions are to save money, building your own is probably not the way to go.
---
From contributor D:
Building machinery that works is a great challenge. It requires everything to be bolted together for adjustment, so a part that doesn't work can easily be removed and thrown away. The band mill from Rakes uses car tires for the wheels. It would be a problem to get them balanced and trued so that you don't have vibration.
A better solution would be to buy the carriage from a small sawmill manufacturer and install your own motor and build the track. This way you would have a mill that has proven design and will work with few headaches. If you build something, everything you buy for it is retail. The companies in the business buy at OEM prices. When you get through and figure your costs, you have worked for nothing.

---
I agree with you about the OEM purchasing power of large manufactures. A couple of years ago I replaced my 18hp B&S engine with a 20hp Onan. The Cummins/Onan distributor wanted something like $1,600 for the engine. I could get one through Northern Tool for $1,200. At the same time I noted Samís Club was closeout pricing their 42Ē riding mowers for around $1,000 with the same engine!
---
Linn Lumber Mills offers some good choices to suit however much you want to build yourself.
---
I built my own mill. It cuts fine. Would I do it again? Nope. I'll take the Norwood and add on. If you want to, buy just the saw head and carriage. Tracks are easy to build.
---
From contributor R:
I've just nearly completed a mill based on Bill Rake's design. While his plans are vague, they do get you going in the right direction, which translates into a lot shorter fabrication time. Cost of materials is not an issue, as I spent about $200 buying new steel. I did have some 3" channel iron already, but steel is cheap. As far as the time spent, it depends on your work ethic. I built my own mill because I liked the idea of doing that and was not under any economic pressure to do so. I started on it last spring and probably have 100 equivalent full time hours in it. Overall, the project was enjoyable and I know bandsaw mills inside and out. In the end, it's about what you want to do: build sawmills or saw wood. I had a place to work and the equipment on hand. Now I'm going to see if I can cut some wood with it!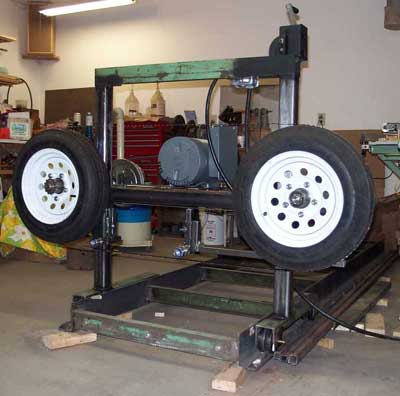 ---
Do the plans call for shields and guards?
---
From contributor T:
I hope so. I have a store-bought mill that will clear the area for 20 feet when a band breaks, and it has shields. Those bands can find their way out sometimes and fly around like a bullwhip.
---
I've had many blades break but never has one flown off. But then I'm sure Woodmizer built it that way.
---
From contributor T:
My WM hasn't, either. A broken blade there is a benign experience, other than the sound--that'll get your attention. There are other manufacturers out there with mills that can be a bit more dangerous, though, and it's a good idea to keep all the sheet metal and guards intact for safety's sake. It's hard to go back and undo an injury.
---
From contributor R:
Yes, I've got some fenders I'm mounting over the bandwheels. It looks pretty scary when that blade is whipping around at 5300 FPM.
---
From the original questioner:
What are your opinions on Norwood's Lumbermate 2000 model versus Baker, Wood Mizer, Lucas and Timber Harvester similar models?
---
I purchased a Linn bandmill minus the motor and tracks. This has been a wonderful machine so far. It cuts very true and fast. I mounted a 25 hp Onan and used 6 and 4 inch channel for the base. The carriage rides on 3-inch angle. I have absolutely no complaints about the machine. I'm able to cut lumber with very little money invested. This mill, of course, is labor intensive, but I'm in good shape and big so for the moment I don't need all the bells and whistles of the much more expensive machines. In doing my research of the machines available that met my criteria for simplicity of build and reasonable price, I quickly narrowed the choice to one.
---
From contributor D:
I ordered the carriage from Linn Lumber 10 years ago and build the track and installed a 7 1/2 HP motor. Mine has 19-inch wheels. If I were buying a mill today, it would be the 22-inch machine. The larger wheels give better blade life. Buying just the carriage allows more options--you can customize the mill to your requirements. I've heard the Norwood mill has problems holding alignment since it is put together like an erector set.
---
Contributor D, this just isn't true. The only people who have problems with the track on their Lumbermates are those that didn't have them level and straight when they bolted them together. I've helped a couple guys get them right after they assembled them wrong. Once re-bolted properly, they had no more problems.
---
From contributor G:
I've had no alignment problems with my LM. I think they are put together very well and strong. I moved my LM this summer by lifting it in the middle with a fork truck. Set it on blocks, leveled it up and was sawing perfectly again an hour later.
---
My Lumbermate is 1 1/2 years old and has been on and off the axle more times than I can count. It still cuts great.
---
I fabricated my own rig and would do it again. Only problem is torque on a 35-inch cut. The left front wants to torque up on the track, about 1/4 inch. I will fix that problem. It works beautifully on smaller cuts. I designed it to cut 34" x 20'.
This morning I finished my blade sharpener. A 6" chop saw, 8", 2x2 tubing, 1 1/2" tubing, 2 sch 80 pipe, 1-1/2" sch 80 pipe, 2 pieces of old bed rall nuts, bolts, 1/2 round rod, springs and 6"x6" 1/4" plate saw.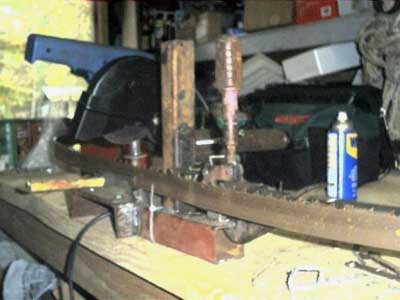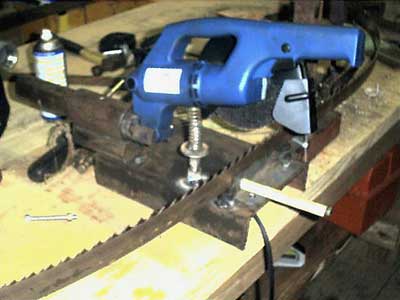 ---
Sometimes it isn't totally about making a buck. The challenge and the outcome can be as satisfying as the economic value (more fun to make than it is to use). If you have the desire, equipment, patience and time, you will be proud of your accomplishment. I am doing the same. I built a Procut mill and am now building a bandmill to run on the track. Full time job, wife and 2 small kids dictate that I can't spend big bucks and I will not have the available time to be milling for a living. However, the thought process and the satisfaction is more than enough for me. Not only that, when people say "You have a band mill?" I can reply "Yeah, don't you?"
---
The comments below were added after this Forum discussion was archived as a Knowledge Base article (add your comment).
Comment from contributor A:
The last message says it all. The satisfaction (fun) of making any tool from scratch and seeing it work as you hoped outvalues any money saved or hours spent. If time is an issue, take your bucks to a mill store.

---
Comment from contributor B:
I am a mechanic engineeer and I have built 7 resaws (horizontal), a sawmill cariage for a 5" wide band cutting headrig, and now I am building 2 horizontal sawmills from scrach and one really big, for 46" diameter logs, 17' long. It is not easy but also not impossible. Alignment can be achieved, but milling fan turning can become expensive. Last weekend I profiled 2 36" diameter bandwheels for a 4" wide band resaw. I did it with an angle grinder and a 2 axis bench vise. With some thought you can turn simple tools into everything you need.
But the truth is that if you want to bulid a sawmill because you need it to saw a lot of timber today, better buy one and include it in the cost of your operation.
If on the other hand, you have the time, a lot of scrap iron, and some pulleys you can turn into bandwheels, and want the fun and joy of building it yourself, then go for it.
I live in Colombia where sawmills are expensive, so for me it is a good business to build and recover some of the money lost.