Built-in Washer/Dryer Issues
Advice on building a washer/dryer cabinet into a kitchen layout. December 14, 2009
Question
We have a client requesting a built-in washer/dryer combo within the kitchen layout. It's a laminate kitchen. Has anyone else successfully done this before? Will I need to create some type of breathing room for the units? Can the client run the units with the doors open or is a louvered type door required?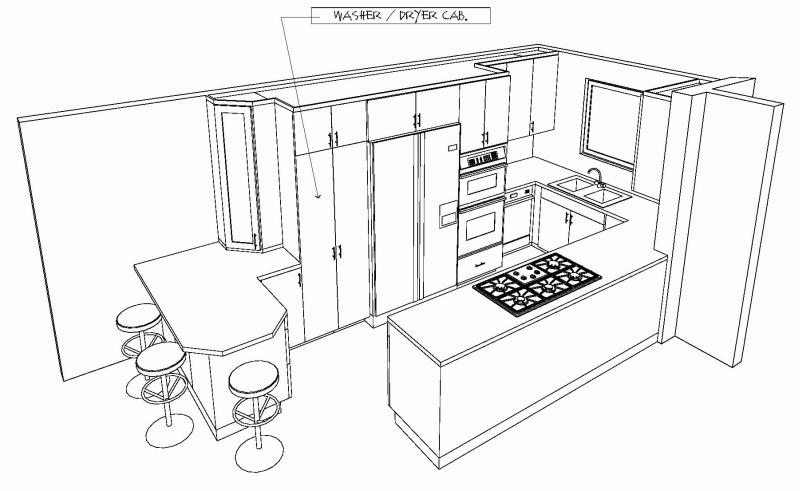 Click here for higher quality, full size image
Forum Responses
(Cabinetmaking Forum)
From contributor E:
Did this once in a very tight space. Not fun but it worked out well. A few thoughts on this setup...
- Definitely place washer on the floor, as the weight and vibration are much greater. Dryer needs a thick and strong shelf!
- I would consider splitting the doors into four and using pocket/retractable hardware so they can be out of the way on laundry day.
- A little breathing room always helps, especially for the dryer.

---
From contributor A:
I'm not sure what size the wall behind it is, but you might make it a 2x6 wall and then put a rect. duct in it that lets fresh air come in from the attic, basement, 2nd floor system, etc. And I agree with contributor E regarding the pocket doors. It is going to vibrate, but no more than anywhere else. Contributor E, were you thinking the w/d would be two separate pieces or one tall unit?
---
From contributor R:
I am assuming that you are making the cabinets on the W/D wall 30" deep. Make the cabinet over the W/D 24" deep and leave a 6" space behind the cabinet open to above. That will allow the heat from the dryer to escape naturally. It seems like the poor refrigerator is getting double teamed between the dryer and oven.
---
From contributor P:
Like any appliance, get the specs from the manufacturer and check the minimum clearances. My front loaders are big - 40H x 30D, plus you need lots of room behind for plumbing. Maybe another 6", unless you set the supply lines, drain and dryer vent into the wall behind. There are probably some code issues regarding access to the supply (and gas) shutoffs.
Also, consider the vibration. The new front loading washers spin at really high speeds. It'll shake the glasses off any shelves within 10 feet. Maybe you can come up with some way to isolate the washer/dryer vibrations. Some kind of floating floor in the cabinet, maybe?