CNC Carving Capabilities
A discussion of custom carving and entry-level CNC equipment. December 14, 2009
Question
I am starting up a custom solid wood furniture business and would like to incorporate carvings into the furniture. I have been looking at purchasing a CNC machine to do the carving. Would a machine less than $50,000 be sufficient (Shopsaber, Shopbot, etc.) to carve up to 1" deep in materials such as birch and cedar? This will be a one-man shop that is definitely not high production, but instead, high-quality that is capable of producing carvings of varying depth with a good finish.
Forum Responses
(CNC Forum)
From contributor G:
Absolutely! I have incorporated CNC carving into my work.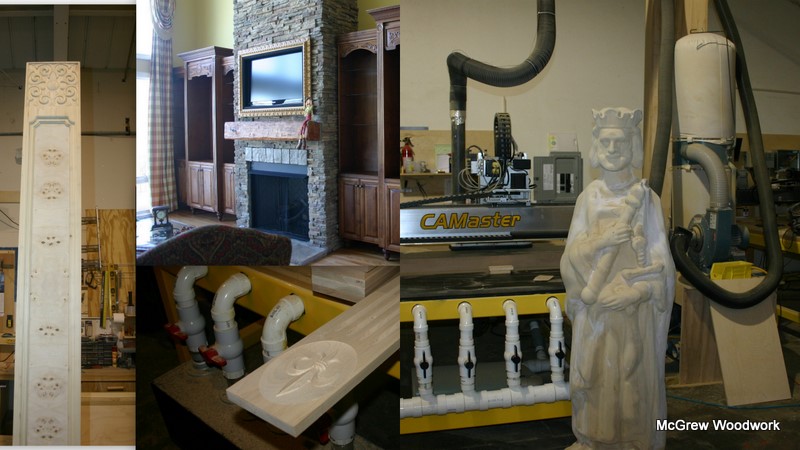 Click here for higher quality, full size image
---
From the original questioner:
Thanks contributor G. Is this your first CNC machine? I was a little spooked by the amount of negative threads about the less expensive machines.
---
From contributor G:
It is my second. I have a ten year old CAMmaster 408 and a new x3. I carved the knight of a chess set in 3" thick MDF on the 408 and nested cabinetry on the x3 more recently.
---
From contributor P:
In your search for the best machine for your application, give a careful look at the Eco from Omnitech. For just slightly more than your budget quoted you get a machine spindle with automatic tool changer that is twice the horsepower, with a second spindle for the drill block.
---
From contributor D:
Take a look at the Owen S510 from Anderson America. Complete package is within your stated budget. It's one of the best entry level offerings I've ever seen.
---
From contributor M:
Right now I would recommend looking at used machines that are less than five years old. There are a lot of bargains out there. You might be surprised at how much machine you can get for your money right now. Getting a more robust used machine will make you a lot happier down the road as you will always find more and more things you can or want to do with it.
---
From contributor G:
Here is the carving of the raad columns for a master bath. The second video shows that high rapids are not limited to machines with current resale values that are determined by the price of ground up metal, cut speeds are determined by material and bit tolerances. Rapids are great (I stick close to 800-1000) but they are not my selling factor when I purchased my machine (the new one) as far as tool changing the muliti head has 1/5th the turnaround time. In my shop custom is everything and I needed a machine I could afford without being married to a massive need for a tech or a warranty.
---
From the original questioner:
Very nice contributor G. What is the ballpark cost for the lathe attachment and what are its capacities (stock size)?
---
From contributor G:
The biggest one I have seen is 10' x 12" diameter.
---
From contributor D:
I have a question for you. How long did that bathroom carving take to cut out? You only show the last pass of the tool in your video. That is a really cool chess carving, but that requires a lathe attachment (can you say money to get). I think the original poster is just looking for a simple machine to carve out solid wood.
---
From contributor G:
The chess pieces are 24" diameter at the base and 72" tall. We are using the slicing method in aspire. In the photos you can see that the base is 24 1" layers of MDF glued into 3" slabs. The "parts" are machined in sections and glued together. In one photo you can see the slices profiled, 3-D roughed, and finish 3-D machining in five hours and forty five minutes (at this resolution .5 inch ballnose and endmills with .15-20% stepovers will do the trick) feed speeds at 450=/-, this was done on a ten year old Camaster that was built to cut sign lettering. I raised the gantry 2" for this application. I cut out the weight in the middle.
In the other photo you can see a cherry kitchen I nested with shelves and backs. I did this in four hours by myself using Cabinetparts pro and Aspire. I teach this to the other CAMmaster owners and have a few others who will teach now as well.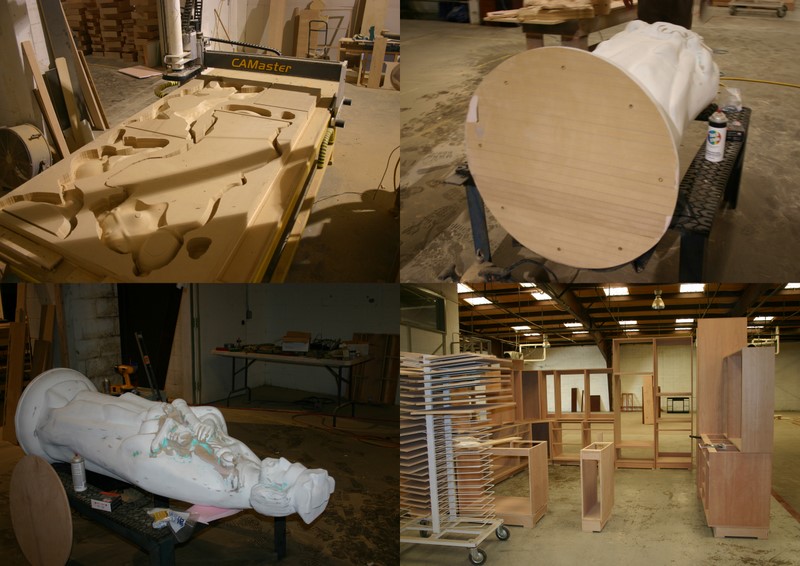 Click here for higher quality, full size image
---
From contributor G:
P.S.
The bath elements take 24 minutes!
---
From contributor W:
I've had both machines that you mentioned in your opening post. That said I built my own machine. None of the fastest machines can carve quickly. It is a slow process that really can't be made to go faster due to chipload. If you want smooth, you pay for it with time because of stepover.