CNC Router for Guitar Parts
A newcomer to automation gets basic advice about using CNC to make guitar necks and bodies. August 30, 2005
Question
I am new to the CNC world. I am looking to manufacture electric guitars. Can anyone recommend a good machine (under $6000) for this purpose?
Forum Responses
(CNC Forum)
From contributor R:
You might be able to pull this off, but I'm looking at $40,000.00 being reasonable for this task.

---
From contributor L:
The very cheap machines can probably get you there given enough passes and time. I would guess cutting solid wood on a $6K router will kill it much sooner than a $40K moderate duty machine. I've seen what our router goes through and keeps right on ticking, but it is fairly heavy.
---
From contributor G:
Find someone near you who has the equipment to cut your parts. Pay them for the parts and you can concentrate on building guitars, not running a machine.
---
From the original questioner:
It looks as though everyone recommends outsourcing until I reach enough volume to go with a better quality machine. Can you give a ballpark estimate on routing a body or neck if I outsource? $20-$30 per piece?
---
From contributor R:
More like $80.00 to $100.00. Check with Steve Carlson at NC Solutions in Berlin, MT. He makes necks for me, Roger Sadowsky, and many others.
---
From contributor B:
We are a jobber shop in the Greater NYC area that machines necks and bodies for different builders. The builders we provide a service for have found that outsourcing to a shop like ours provides them with a high quality product and allows them to build, finish and sell a great instrument. From a machining aspect, you are far better outsourcing to a competent, reputable job shop. These shops are well equipped and have vast experience in programming the often intricate surfaces found on the necks and sometimes bodies of instrument parts. So my obvious advice is to research and locate a reliable production shop. Ask the shop for references from customers that have had parts machined that are similar to your needs. Also be cognizant of the prototype policies that the job shop may employ. Consider the scope of your project and the time investment that will be required of both you and the job shop. There are plenty of shops around - just assure that you are comparing apples to apples. It is also important to develop a comfortable working relationship with the shop you finally decide to use.
---
From contributor E:
I agree with those that recommended outsourcing. You need to make sure you have a viable business before you purchase something as large and expensive as a CNC router.
That said, if you really, really want a CNC router, look to the used market. You can pick up solid older machines at auction in the $5 - 10K range. A fine little Kitako router sold at auction in North Carolina on the 12th of this month for $4500. The bed was small (about 48" X 90"), but the construction was as robust as any Heian or Shoda. I serviced this machine until the factory closed, and know it to be ideal for heavy machining in small solid parts.
Consider also the cost of moving, installation, training, programming system, DNC system, fixturing, compressed air, dust collection, factory space, three phase service, maintenance, tooling, and the inevitable crashes. The purchase price of the router could be just the tip of the iceberg.

---
From contributor A:
We've used CNC for the past 5 years but I've never tried making a guitar. We bought a neck on E-bay and I made this thinking at best I'd have a nice wall hanging. Would you believe it? It actually plays, has nice tone and action. I'm working on necks right now. Please excuse the Strat style neck on the Gibson style body.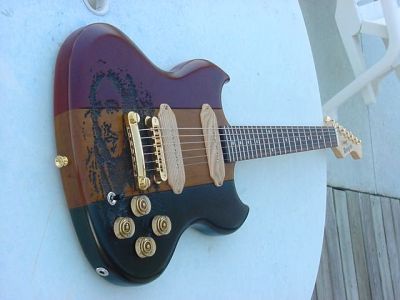 ---
From contributor I:
You might take a look at Shopbot. An AlphaPRT with an indexer attachment (which enables the machine to do lathe type work) would cost $10k-$15k.
---
From contributor W:
I know two guys that use a Larken 2424 router to do guitar work. They make some nice Stats and Les Pauls.